Looking for the best lead generation software for your company?
Generating leads can be a challenging and time-consuming process.
However, generating high-quality leads is an essential part of the sales process. And without it, your product or service is going to have a hard time achieving success.
Fortunately, you can utilize lead generation software to generate quality leads with ease.
In this article, I'll highlight the eight best lead generation software tools. I'll also show you how to capitalize on your leads once you've found them.
This Article Contains:
(Click on a link to jump to the specific section.)
Let's get started.
What Is Lead Generation Software?
Lead generation software helps streamline the process of generating qualified leads.
It lets you identify qualified leads from various channels such as email, social media platforms, and landing pages and forward them to the sales team for lead nurturing.
However, as there are several potential channels to find a new lead, generation software tools may differ in the channels they target.
For example, some tools specifically focus on creating engaging landing pages or utilizing live chat to generate a quality lead. Others may take a more comprehensive approach to automated lead generation, combining various strategies.
Top 8 Lead Generation Software
There are hundreds of lead generation tools available on the market. 
So how do you pick the right tool for your business?
Some essential criteria that help you make this decision are:
What are the key features of the generation software?
How much is it going to cost you?
What do other users say about the software tool?
To help you make an informed choice, I've highlighted the eight best software tools and included the details about the criteria I mentioned:
1. VideoAsk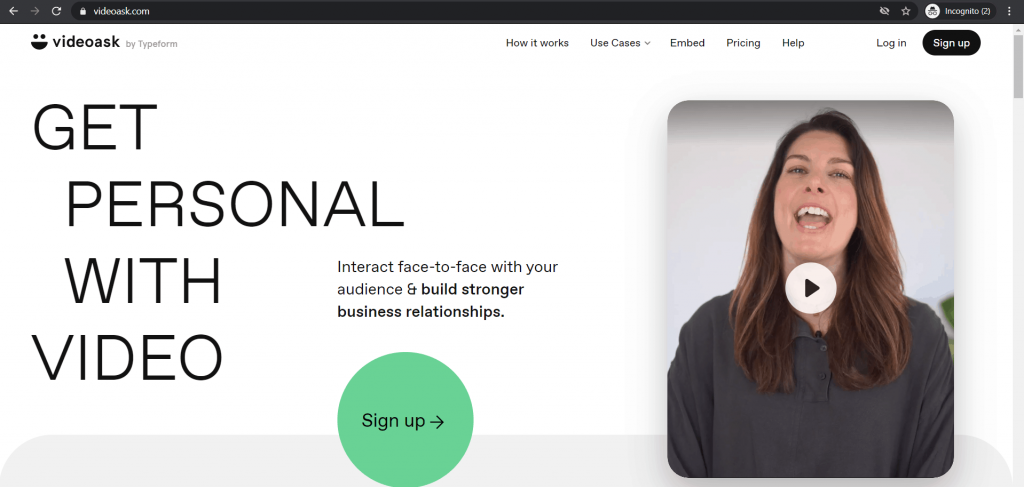 VideoAsk improves your ability to generate leads by allowing you to share pre-recorded interactive video messages with your website visitors.
Each video clip is followed by multiple-choice options that lead the visitor through a conversion funnel based on conditional logic.
For example, a marketer's first video can introduce their product and ask you what your team size is. Based on your response, the second video would share the most relevant features related to your company size.
Key Features
Conditional logic helps improve the quality of your conversations.
You can redirect people using a custom URL at any point so that leads can find more information or schedule meetings.
You're able to reply directly to leads who have left their names and email addresses.
Video conversations are transcribed using AI.
Pros
View all responses from one centralized dashboard.
Creating personalized videos for leads makes a fantastic first impression.
The well-designed interface makes navigating the software easy.
Limitations
As far as lead generation goes, it only lets you interact with website visitors.
The transcribing process can take a while.
Pricing
VideoAsk offers three plans.
Start: free — contains all the core video features, 20 minutes of video or audio processing per month, and up to three users.
Grow: $30/month — includes everything in the "Start" plan, plus 100 minutes of video or audio processing a month, conditional logic, support for five users, and more.
Brand: $50/month — includes everything in the "Grow" plan, plus 200 minutes of video or audio processing a month, domain white-labeling, support for up to 10 users, and more.
Additionally, you have the option of adding more minutes to the Brand plan, starting at $67/month for 350 minutes.
Customer ratings
2. Voila Norbert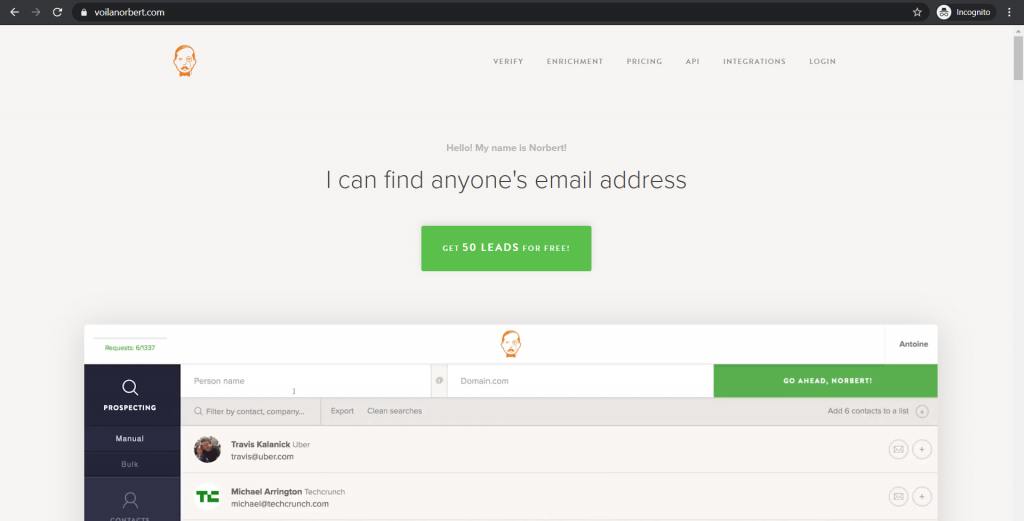 Voila Norbert is a lead generation tool that helps you generate potential B2B leads using a vast database of B2B email addresses. When this generation tool receives an email search request, it checks against its database to ensure the address is an active ID.
Key Features
Verify bulk email addresses quickly.
Populate your email list data with information on your leads' job titles, company names, locations, and social media profiles.
It provides detailed results to improve your conversion rate.
It automatically removes duplicate email addresses to ensure you don't email the same person twice.
Pros
Can remove invalid or inactive email addresses
Norbert doesn't charge users if they can't find the email address.
Integrates with tools like Zapier, Google Chrome, Salesforce, and more
Limitations
Can be challenging to find the email addresses of employees working in large companies
The free trial only supports 50 email addresses
Pricing
Voila Norbert offers a prepaid prospecting plan starting at $50 for 500 credits — each credit validates one email.
There are also four pricing plans for their prospecting services:
Valet: $49/month for up to 1,000 leads/month
Butler: $99/month for up to 5,000 leads/month
Advisor: $249/month for up to 15,000 leads/month
Counselor: $499/month for up to 50,000 leads/month
It also offers pay-as-you-go options for email verification (starting at $2 for 500 email addresses) and email enrichment (starting at $4 for 100 email IDs).
Customer ratings
Capterra: 4.7/5 (5+ reviews)
G2: 4.8/5 (330+ reviews)
3. Leadfeeder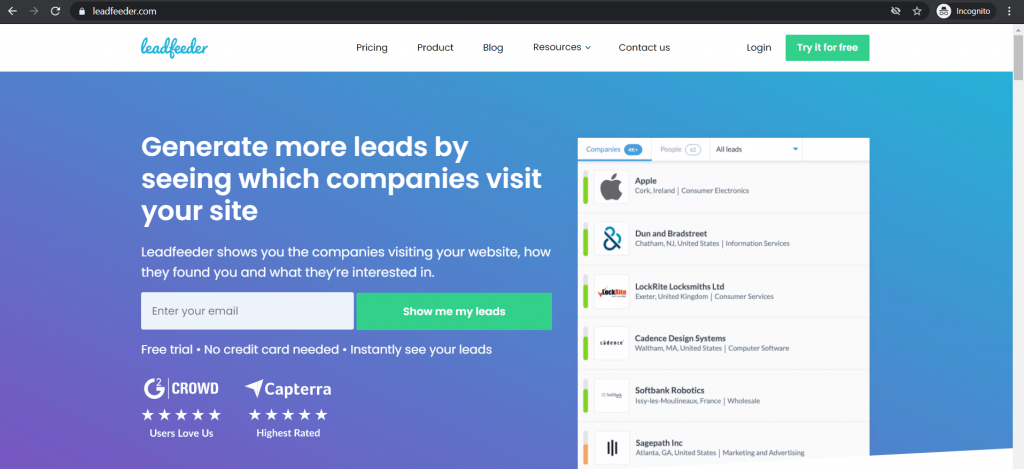 Leadfeeder is B2B lead generation software that helps with inbound marketing. It can show you who's visiting your website, how they found you, and what they were hoping to find on your website.
The software can also find the contact details of employees of the company that visited your website — even if they've never contacted you.
Key features
Improves the lead generation process by highlighting the best quality leads at the top
Notifies you when people visit your website
Uses behavioral intelligence to guide your lead generation strategy
Automatically updates your CRM when a lead visits your website
Can set up your own lead filter and utilize the built-in lead scoring system to identify promising leads
Pros
Can track visitors as they navigate your website
Supports integrations with platforms like Salesforce, PipeDrive, and Zapier
Ability to see how the visitor found your website (via referral, Google search, or directly)
Limitations
Information filters can be tricky to set up.
Can't view your lead's company information in the free version
Paid plan can be expensive for small teams
Pricing
Leadfeeder offers two pricing plans:
Lite: Free — supports 100 leads + shows leads from the last three days.
Premium: starts from $79/month for up to 100 leads and offers features like company details, CRM integrations, powerful filtering, and more.
Customer ratings
Capterra: 4.3/5 (80+ reviews)
G2: 4.4/5 (360+ reviews)
4. Unbounce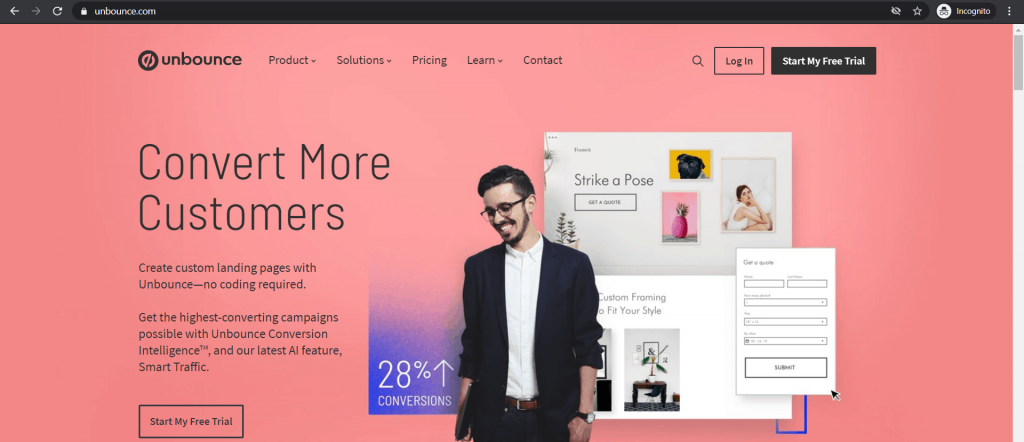 Unbounce is a B2B sales and lead generation tool that enhances your sales pipeline by allowing you to build, customize, and optimize landing pages with ease.
It also lets you create pop-ups and sticky bars to increase your conversion opportunities further.
Key features
Includes over 100 pre-designed templates
Pop-ups are optimized for mobile devices
Automatically optimizes images to balance quality with file size
Built-in AI and A/B testing functionalities to help analyze your lead generation strategy
Pros
The generation software can integrate with several tools, such as Salesforce, Marketo, and Zoho CRM.
A/B testing makes it very easy to see which landing page is generating the most traffic.
Supports industry-specific landing page templates
Limitations
Pricing can be expensive for smaller businesses.
Can't A/B test landing pages created with other software
The mobile editor can be difficult to use.
Pricing
Unbounce offers four paid plans:
Launch: $80/month — ideal for small businesses just getting started with landing page development
Optimize: $120/month — includes everything in the "Launch" plan + A/B testing and conversion intelligence tools
Accelerate: $200/month — includes everything in the "Optimize" plan + quick-loading AMP pages and increased conversion and visitor limits
Scale: $300/month — includes everything in the "Accelerate" plan + support for up to 50,000 visitors, 3,000 conversions, and more.
Customer ratings
Capterra: 4.6/5 (220+ reviews)
G2: 4.4/5 (230+ reviews)
5. OptinMonster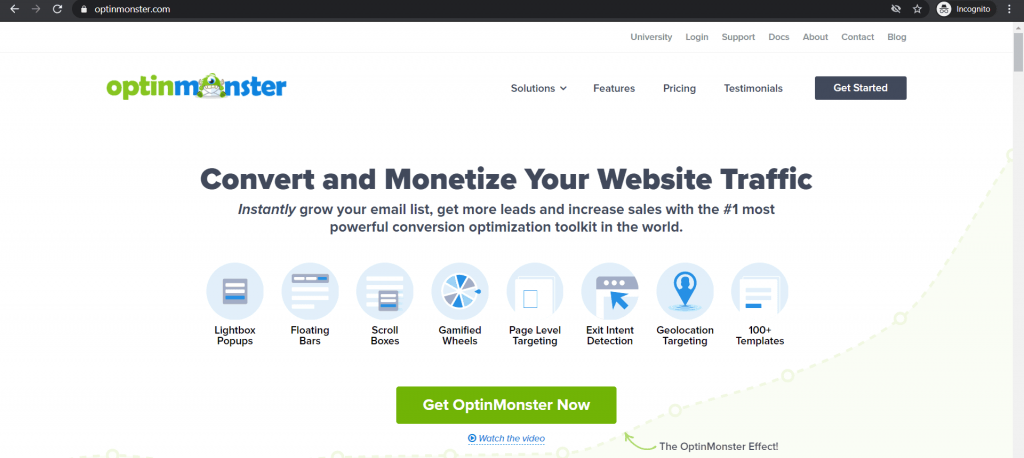 OptinMonster is a lead capture tool that allows a marketer to create a lead capture form on their website. You can create email sign-up forms, lightbox pop-ups, floating bars, and more.
Key features
Drag-and-drop pop-up builder to create pop-ups and overlays easily
Exit-Intent Technology tracks a user's mouse movement and displays a pop-up when they're about to exit your website.
Advanced geolocation targeting to target your visitors based on their location
Offers analytics to help gauge how effective your lead generation strategy is
Can optimize your campaigns for mobile phones and tablets
Pros
Intuitive user interface makes creating forms a breeze.
Free WordPress plugin available from the WordPress plugin repository
Offers a wide range of pre-designed templates
Limitations
Building templates can be difficult.
The basic plan lacks essential features like A/B testing and priority support.
Templates lack advanced customizability.
Pricing
OptinMonster offers four pricing plans:
Basic: $9/month — ideal for small businesses and offers unlimited campaigns, basic integrations, simple reporting, and more
Plus: $19/month — great for fast-growing businesses and includes everything in the "Basic" plan + advanced integrations + integrated A/B testing + full reporting, and more
Pro: $29/month — includes everything in the "Plus" plan + pro integrations + Exit-Intent Technology, and more
Growth: $49/month — includes "Pro" plan features + behavior automation + adblocker detection + geolocation targeting, and more
Customer ratings
Capterra: 4.1/5 (40+ reviews)
G2: 4.1/5 (40+ reviews)
6. CallPage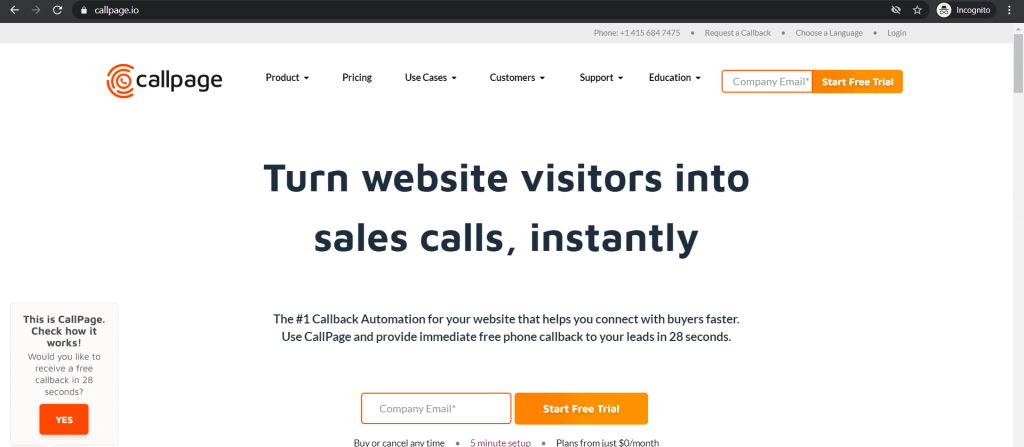 CallPage is a great B2B lead generation tool that can enhance your marketing efforts by creating engaging pop-ups to encourage website visitors to leave their phone numbers.
Key features
Supports Interactive Voice Response (IVR) — an automated telephony system that lets you interact with clients
Ability to set specific hours when consultants are available
Send custom SMSes to prospects
Offers call scheduling so that customers don't have to wait in line
Provides pop-up personalization to be on-brand
Pros
Provides analytics and customization for each lead generation campaign
A well-designed user experience makes configuring widgets easy.
Supports integrations with multiples tools, such as Google Analytics, Zapier, and Facebook
Limitations
No personalization features in the basic plan
The various widgets are not accessible
The dashboard can be tricky to navigate
Pricing
CallPage offers a free plan with 15 callbacks a month and basic widget customization.
They also offer two paid plans:
Professional: $159/month — supports up to 150 callbacks a month with advanced widget customization + call recording and more
Premium: $379/month — includes "Professional" plan features + up to 400 callbacks with custom SMS and caller IDs + click-to-call ads + custom widget buttons, and more.
Customer ratings
Capterra: 4.3/5 (30+ reviews)
G2: 4.6/5 (20+ reviews)
7. Intercom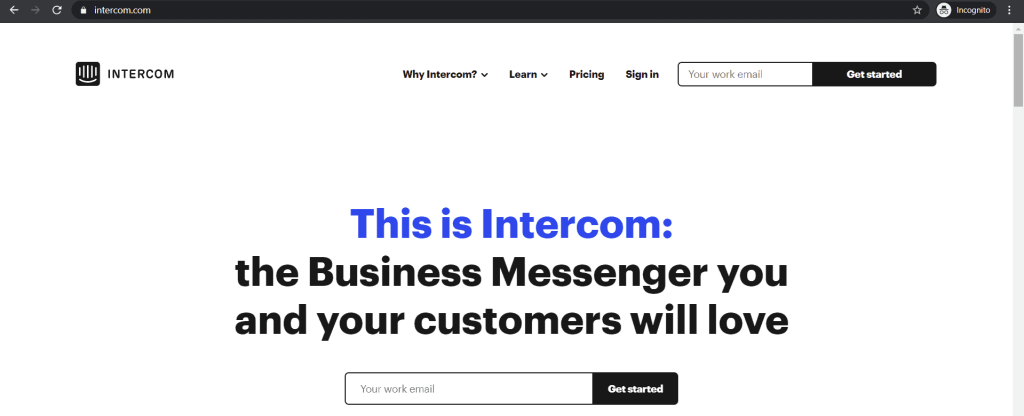 Intercom is a lead generation tool that can generate and capture sales leads through a live chat on your website. It automatically initiates the chat with potential leads, qualifies those leads with chatbots, and sends the best leads to your marketing team.
Key features
Offers customizable chatbots
Supports product tours, banners, and mobile carousels
Reporting tools provide accurate and customizable reports containing lead data
Split testing to determine whether individual messages or a series of messages are effective
Dedicated dashboard to manage all your lead interactions in one place
Pros
Can automate and simplify customer support
Simple, well-designed user interface
Android and iOS apps available
Limitations
The software can be complicated to use.
Features like A/B testing and push messages require additional add-ons costing $200-$500/month.
Only offers four pre-made email templates
Pricing
Intercom has four paid plans to choose from:
Start: $59/month — supports one seat (one dedicated user login) + basic live chat and outbound messaging features
Grow: $119/month — includes five seats + saved replies + conversation ratings + banners, and more
Accelerate: $499/month — includes ten seats + custom bots + team performance reporting, and more
Scale: $999/month — includes features such as advanced workflows + permissions + custom API rate limits + workload management, and more
Customer ratings
Capterra: 4.5/5 (740+ reviews)
G2: 4.4/5 (1270+ reviews)
8. HubSpot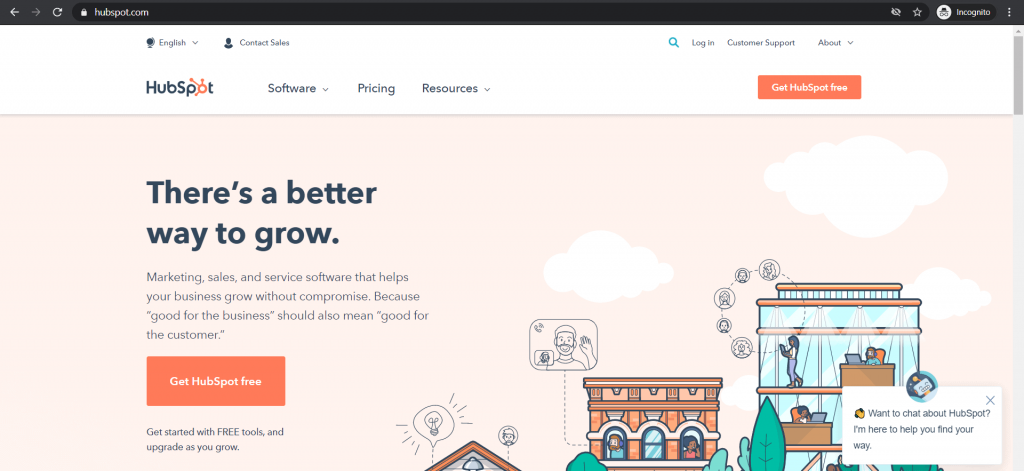 HubSpot is a popular marketing platform that offers several features, such as dedicated CRM software, lead management software, and marketing automation software. It can also create landing pages, post to your blog, and more.
Key features
Create personalized ad campaigns.
Easily publish content to your social networking accounts.
Chatbot builder
Track ROI with revenue attribution recording.
Account-based marketing to create personalized buying experiences
Pros
Packed with useful lead generation features
Integrates with tools like  Zapier, WordPress, and Shopify
User-friendly interface
Limitations
It can be too expensive for most smaller teams.
Can be challenging to set up the marketing hub
The free version offers minimal functionality.
Pricing
HubSpot Marketing offers three paid plans: 
Starter: $50/month — includes all the free tools plus landing pages + live chat + ad management, and more
Professional: $890/month — includes all the "Starter" plan features + marketing automation + A/B testing, and more
Enterprise: $3,200/month — includes all "Professional" plan features + partitioning + field-level permissions + single sign-on, and more
Customer ratings
Capterra: 4.5/5 (4400+ reviews)
G2: 4.4/5 (6490+ reviews)
How to Make the Most of Your Lead Generation Software with GMass
While each software tool I covered above is great for online lead generation, you also need a way to interact with your prospects to maximize the chances of moving them successfully through the sales process.
Fortunately, GMass can handle all your lead communication needs.
GMass works right inside Gmail and can automatically personalize the content of your emails, schedule follow-up emails to leads, and more.
But what is GMass?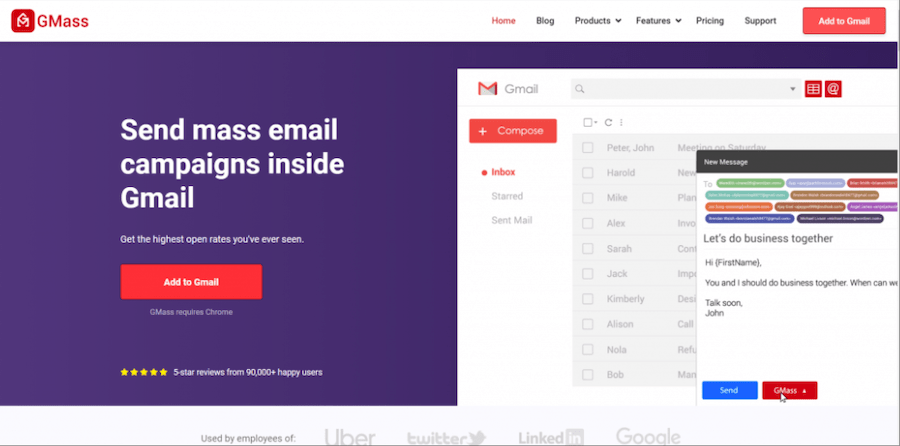 GMass is a powerful email outreach tool used by employees from tech giants like Twitter, Google, and LinkedIn.
And whether you run your own business or manage your church's newsletter, GMass can overhaul the way you email.
The best part?
To get started with GMass, just download the Chrome extension and sign up with your Gmail account.
Here's a quick peek into some of GMass' excellent features:
Automatic email personalization: Sending a personalized email is crucial for boosting response rates. GMass can auto-personalize almost anything about your email, including the recipient's name, images, links, and more.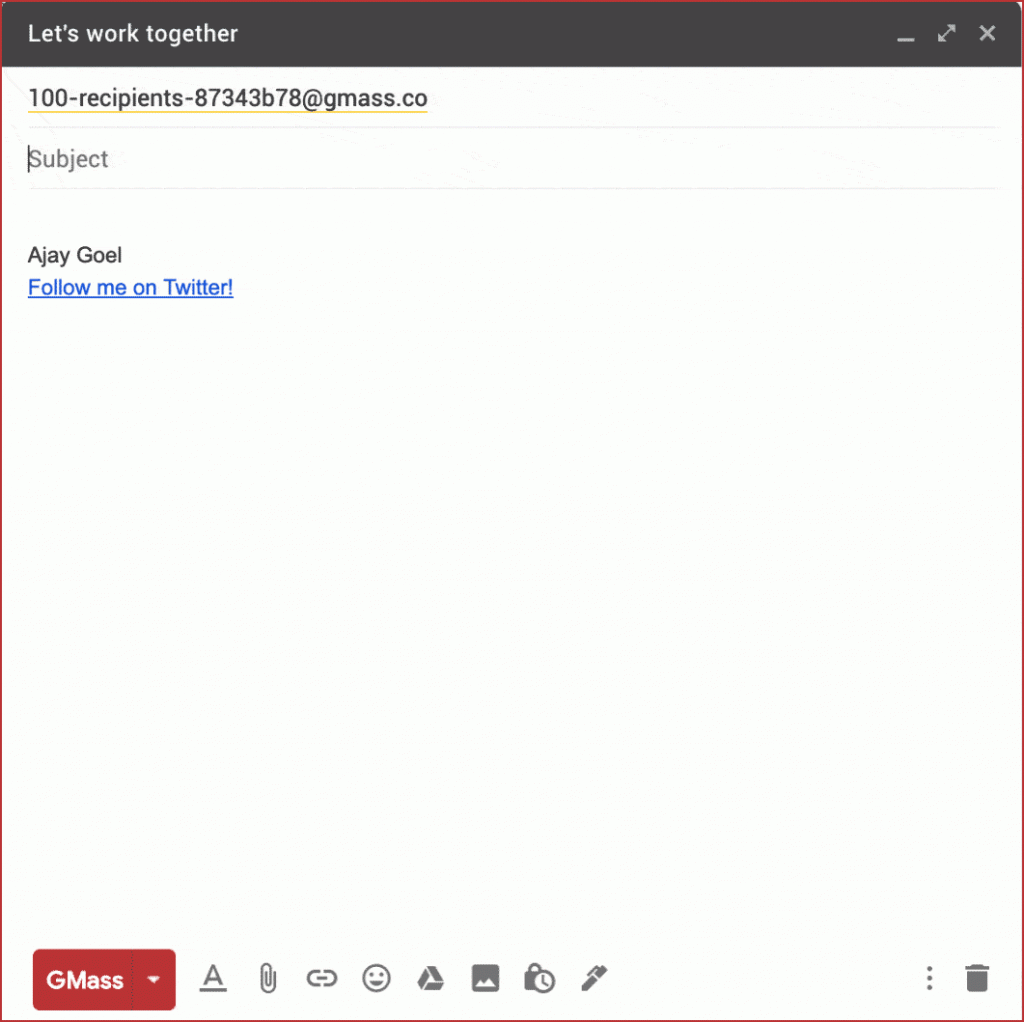 2.  Email analytics & reporting: See how your leads interact with your email marketing campaign with GMass' accurate reports. Know core email metrics such as the open rate, click rate, and more.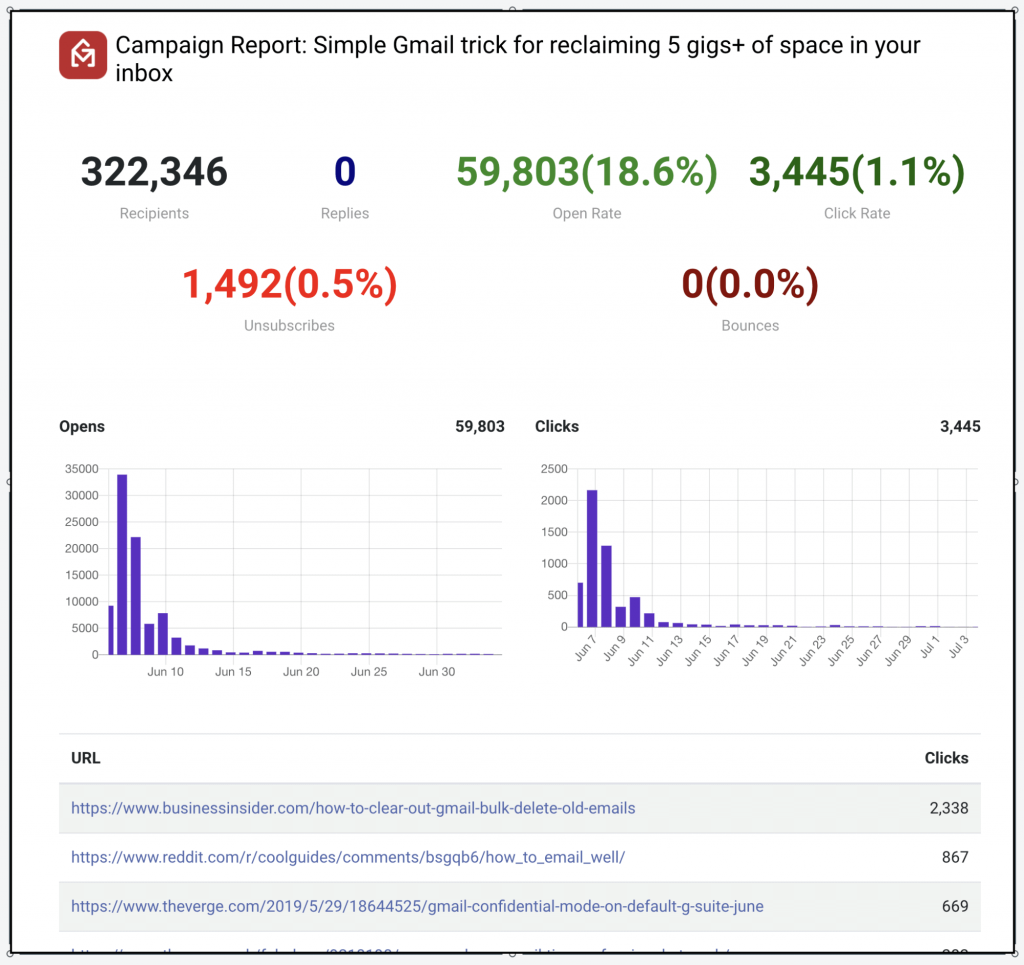 3. Automatic follow-ups: You can personalize the content of each follow-up, customize how many follow-ups to send, and how long to wait before sending them.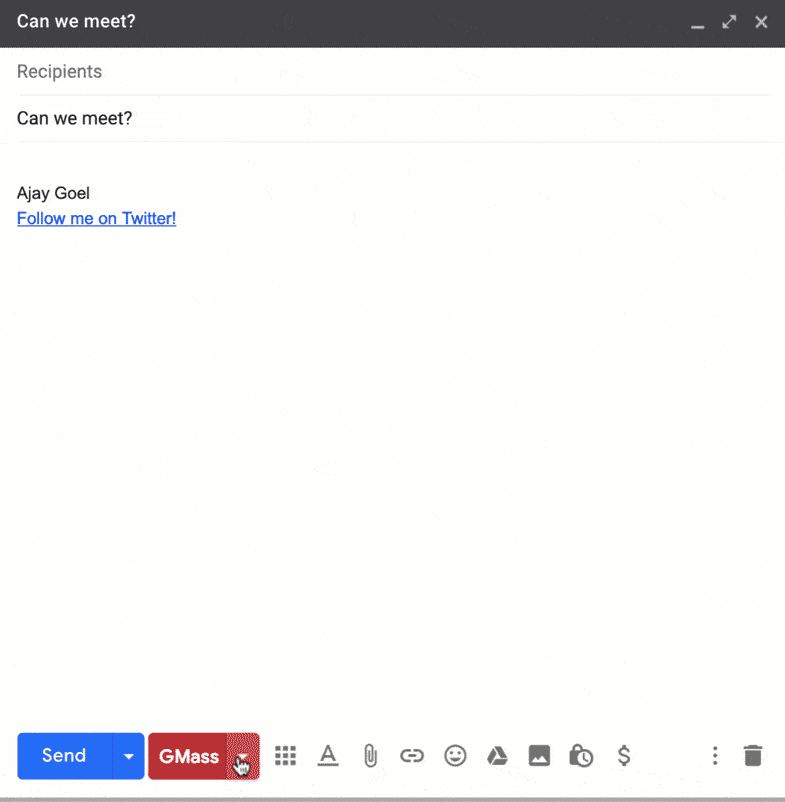 4. Email scheduling: Compose your email when you have time and schedule your emails to be sent later. This way, GMass ensures that your message reaches your lead at the right time.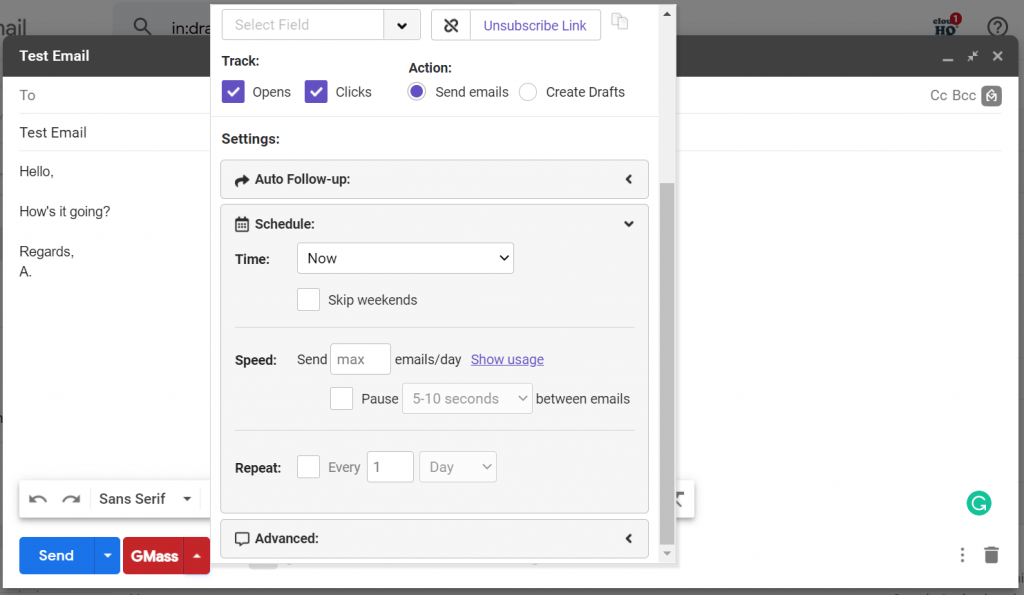 5. Bypass Gmail's sending limits: Depending on your Google account, Gmail limits the number of emails you can send each day. GMass lets you bypass these sending limits entirely by integrating with popular SMTP services like SendGrid, Sendinblue, and others.
Check out my in-depth SMTP guide to learn more.
Wrapping Up
Lead generation is the crucial step in finding your next potential customer.
Unfortunately, it can also be a very time-consuming process.
That's why you should take advantage of technology and let one of the tools I mentioned handle all the tough parts for you.
However, once you've generated your leads, you'll still need an effective method to reach out and ensure those potential leads become customers.
Fortunately, GMass is the only tool you'll need for this.
With features like automatic personalization, email scheduling, and automatic follow-ups, GMass has everything you need.
Download the GMass Chrome extension today and supercharge your lead generation campaigns!
Ready to

transform Gmail

into an email marketing/cold email/mail merge tool?

Only GMass packs every email app into one tool — and brings it all into Gmail for you. Better emails. Tons of power. Easy to use.

TRY GMASS FOR FREE

Download Chrome extension - 30 second install!
No credit card required
Love what you're reading? Get the latest email strategy and tips & stay in touch.