Sales prospecting involves finding potential customers for your products or services.
However, developing an efficient sales prospecting process that can churn out one customer after another is easier said than done.
But don't worry.
In this article, I'll cover the basics of sales prospecting and highlight seven effective techniques you can use today. I'll also guide you through the right way to perform sales prospecting and suggest three sales tools to help you out.
This Article Contains:
(Click on links to jump to specific sections)
Let's jump right in.
What is Sales Prospecting?
Sales prospecting involves identifying potential customers who can benefit from your product or service.
Why is this important?
You'll likely come across numerous B2C or B2B sales leads for your business.
But most of these leads won't become customers.
A sales professional must focus their prospecting effort on leads who might convert and provide long-term business value.
And that's where the difference between a sales lead and a sales prospect comes in handy.
While there's no universal definition, a sales lead is usually someone who has expressed interest in your product or service. For example, they visit your website, have signed up for your newsletter, etc.
On the other hand, a prospect is a qualified sales lead — meaning that they:
My point?
In sales prospecting, your goal isn't lead generation.
It's to uncover a qualified potential buyer for your offerings and nurture them into a paying customer.
However, that's not all there is to sales prospecting.
Here's why it's also important:
Why Sales Prospecting Matters
Here are three ways in which sales prospecting tactics add value to your business:
1. Sustains Your Sales Pipeline
To achieve your long-term vision for your business, you'll first need to meet your short-term revenue goals.
And for this, you require an active sales pipeline.
Sales prospecting helps you sustain this pipeline by providing a steady stream of qualified leads your sales rep can pursue and convert.
Read my article on sales pipelines for more info.
2. Improves Sales Productivity
Focusing on every lead you find will get you nowhere.
Your salesperson might end up expending much prospecting effort on people who were never going to be your customers in the first place.
By focusing your sales team's efforts on B2C or B2B sales leads who match your buyer personas and customer profile, you can improve your sales productivity and streamline customer touchpoint examples.
This way, you can improve your sales productivity and focus on closing more good-fit leads.
3. Offers Insights
Effective sales prospecting provides insights into other categories of solutions your potential client is exploring.
You can use these insights to understand what "job" an ideal prospect would hire your product or service to do. Later, you can find ways to do these jobs better than your direct or indirect competitors.
Now that you know why sales prospecting matters, let's explore the different types of sales prospecting methods:
What are the Different Types of Sales Prospecting Methods?
Broadly speaking, you've got outbound sales prospecting and inbound sales prospecting.
In outbound prospecting, you reach out to prospects who haven't expressed interest in your offerings. And this involves using cold calls, cold emails, social media messages, etc., to connect with prospects.
On the other hand, under the inbound prospecting method, you approach potential B2C or B2B buyers who've expressed interest in your product or service. They could've downloaded a case study, subscribed to your newsletter, or requested to talk to a salesperson.
Both types are just as essential to most businesses.
7 Effective Sales Prospecting Techniques
Here are seven sales prospecting techniques you can use to increase your customer base:
1. Cold Calling
Cold calling is an age-old sales prospecting technique where you ring up a potential client to see if they're interested in your product or service.
However, most prospects now view cold calling as an intrusive and annoying sales strategy.
Your potential prospect probably won't be too thrilled about getting calls from a random salesperson, which can derail your entire sales prospecting process.
2. Email Marketing
Unlike cold calls, email marketing offers a less intrusive way to discover B2C or B2B buyers for your business.
In this prospecting technique, you send personalized emails tailored to your prospect's unique needs. You aim to convince your ideal prospect why you're an excellent solution for their needs through your email message.
And while it might seem challenging, you can use the right email tool to track prospect engagement automatically, send follow-up emails, and do so much more with ease.
Bonus: Read how to write the perfect prospecting email.
3. Content Marketing
In content marketing, your goal is to attract inbound leads and convert them into customers.
You create and share value-added content assets like blog posts, case studies, whitepapers, and infographics relevant to your ideal customers. This way, you can establish yourself as a trusted resource they can turn to.
4. Social Selling
Social selling helps you discover and communicate with the right leads via social media platforms like LinkedIn, Facebook, Instagram, and Twitter.
However, note that this prospecting strategy only works if you approach a potential client on the channels they use.
5. Conversational Marketing
Conversational marketing uses chatbots to communicate with website visitors based on predefined scenarios or by using artificial intelligence.
They help you:
Promote your product or service.
Collect lead info.
Qualify leads.
And more.
Essentially, chatbots save you time by automating parts of your lead qualification process.
6. Referrals
Using referrals is an excellent sales strategy.
Here, your current customers refer a potential client to you. Their recommendations carry weight, feel authentic, and can convince a qualified prospect to become your customer.
However, for referrals to work, you must consistently deliver on your commitments to current customers and provide a fantastic customer experience.
7. Networking Events
You can also find new sales opportunities by attending events like tradeshows and conferences. Events also offer the added benefit of helping you keep tabs on what your competitors are up to.
But to effectively use prospecting tactics during events, you'll need proper sales training and a solid game plan.
So what does good sales prospecting look like?
How To Perform Sales Prospecting The Right Way
Let's explore the ins and outs of sales prospecting to help you do it the right way:
1. Create Your Ideal Customer Profile and Buyer Personas
Before you can identify prospects, you'll need clarity on what makes a lead qualified. And creating your ideal customer profile and buyer persona can help with that.
A. What is an Ideal Customer Profile?
An ideal customer profile provides a checklist of essential criteria a potential client for your business should satisfy.
It can include information like:
Industry or niche.
Company revenue.
Number of employees.
Location.
And so on.
For example, let's say you're in the real estate business.
Your ideal customer profile can specify that:
The prospect is looking for an apartment in Seattle.
They must have a budget between $700,000 and $900,000.
They have a good credit score.
Having a customer profile will help you quickly eliminate outbound or inbound leads from your sales funnel who aren't the right fits for your offerings.
B. What is a Buyer Persona?
A buyer persona is a semi-fictional representation of your target customer.
While an ideal customer profile talks about things like the industry and revenue of a prospect, a buyer persona focuses more on their:
Company role.
Behavioral traits.
Demographic details.
Specific needs and challenges.
For example, in real estate, you can have separate buyer personas for first-time homebuyers, families, property flippers, and so on.
In short, a customer profile defines your target market, while buyer personas identify the specific types of clients within that market. And together, they help your sales professional decide whether you have a good-fit customer for your product or service.
2. Identify the Key Decision Makers Associated with a Prospect
Once you've got yourself a qualified lead, it's time to check their buying authority.
Why?
Sometimes, the qualified prospect you make a sales pitch to may not have any buying authority at their company. It wouldn't be up to them to decide whether to purchase your solution.
To increase conversions, you'll need to identify the key decision-makers related to a prospect.
If you're a B2B business, you might want to look for senior employees who could influence the buying decision-making process. And if you're a B2C business, it could be friends, relatives, or other peers that influence the prospect's purchase decisions.
Either way, go through a prospect's networks to determine who has a say in their buying decisions.
A professional network like LinkedIn can be your go-to tool here.
You can use the social networking platforming to connect with your potential buyer, explore their networks, and derive more insights into what makes them tick.
Bonus sales prospecting tip: Explore how to leverage LinkedIn to boost your prospecting efforts.
3. Reach Out to Your Prospects
Once you know who your prospects are and what interests them most, it's time to reach out.
You can use calls, emails, social media networks, and more to approach your prospects. However, make it a point to approach prospects on the channels they use.
If your ideal prospect is active on LinkedIn, send out a connection invitation or drop an InMail message. And if you can't find them on social networks, you could send out a personalized email that's tailored to their specific needs.
When you have their attention, take the opportunity to fully understand the true nature of their unique challenges and goals. And then analyze if your solutions would help them achieve their objectives.
4. Provide Value to Your Prospects
When communicating with your prospects, focus on adding value through relevant content.
For example, you can send them:
Helpful how-to guides.
Industry stats.
Case studies.
Whitepapers.
And so on.
Educate your prospects on the consequences of inaction and the positive implications of addressing their challenges. Talk about any pain points your potential buyer hasn't noticed, and help them explore the different categories of solutions that can assist them.
Then, use your expertise to empower them to understand the pros and cons of each solution category. And finally, describe to your prospects how you're uniquely positioned to help them boost their mission.
5. Follow Up with Your Prospects Consistently
Reaching out to your prospects once doesn't conclude your sales prospecting process.
You'll need to follow up with your prospects consistently to encourage them to advance along the sales cycle. You may need to send follow-up emails or remind them through social media messages.
Whatever channel you end up choosing, remember not to be pushy.
Why?
Your prospects don't want to feel like they're being coerced into purchasing your product or service. Your goal is to help them recall how much they can benefit from your offerings.
If you don't have a pretext for reaching out to your prospects again, forward some more helpful content, or maybe ask them if they'd like your assistance on anything else.
Remember, the key is to stay on top of their minds without being too aggressive.
Bonus: Read how to write excellent sales follow-up emails.
Feels like sales prospecting is too hard to master?
Don't worry.
With the right tools on your side, sales prospecting becomes a breeze.
3 Excellent Sales Prospecting Tools to Find and Convert Qualified Leads
Here are three powerful sales prospecting tools that can help you identify, manage, and convert your prospects into revenue-generating customers:
1. GMass for Sales Email Automation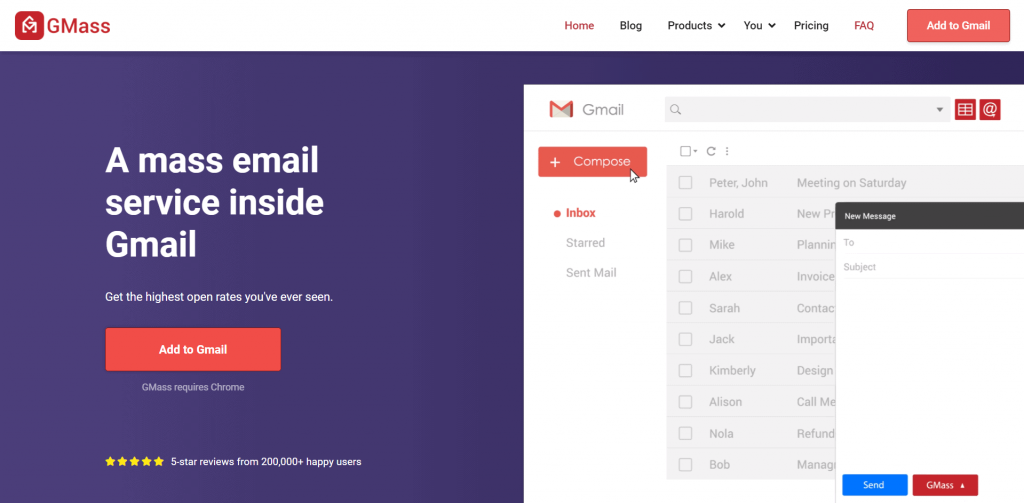 GMass is a powerful email outreach and marketing automation tool that's perfect for managing sales conversations with your prospects.
It's a popular tool used by employees in powerhouses like Google and Uber as well as social media giants like Twitter and LinkedIn.
It's also suitable for a startup or solo sales professional.
And the best part?
GMass works entirely inside Gmail. So there's no need to get adjusted to a new prospecting tool interface.
GMass Key Features
GMass helps you:
Auto-personalize your sales emails at scale, including images, links, and paragraphs, to create emails tailored to the specific needs of a potential customer.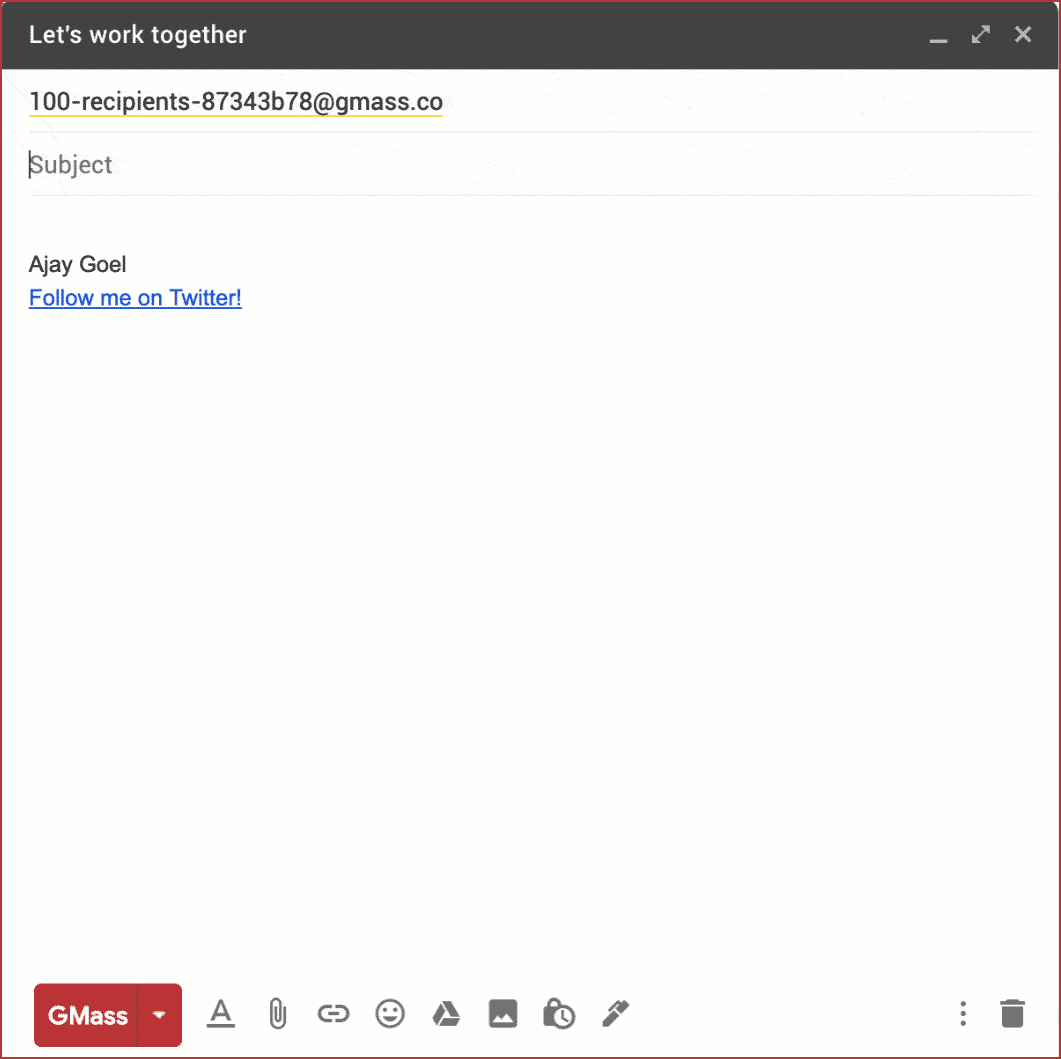 2. Track the delivery and engagement of your sales emails through detailed analytics reports generated right inside your Gmail inbox.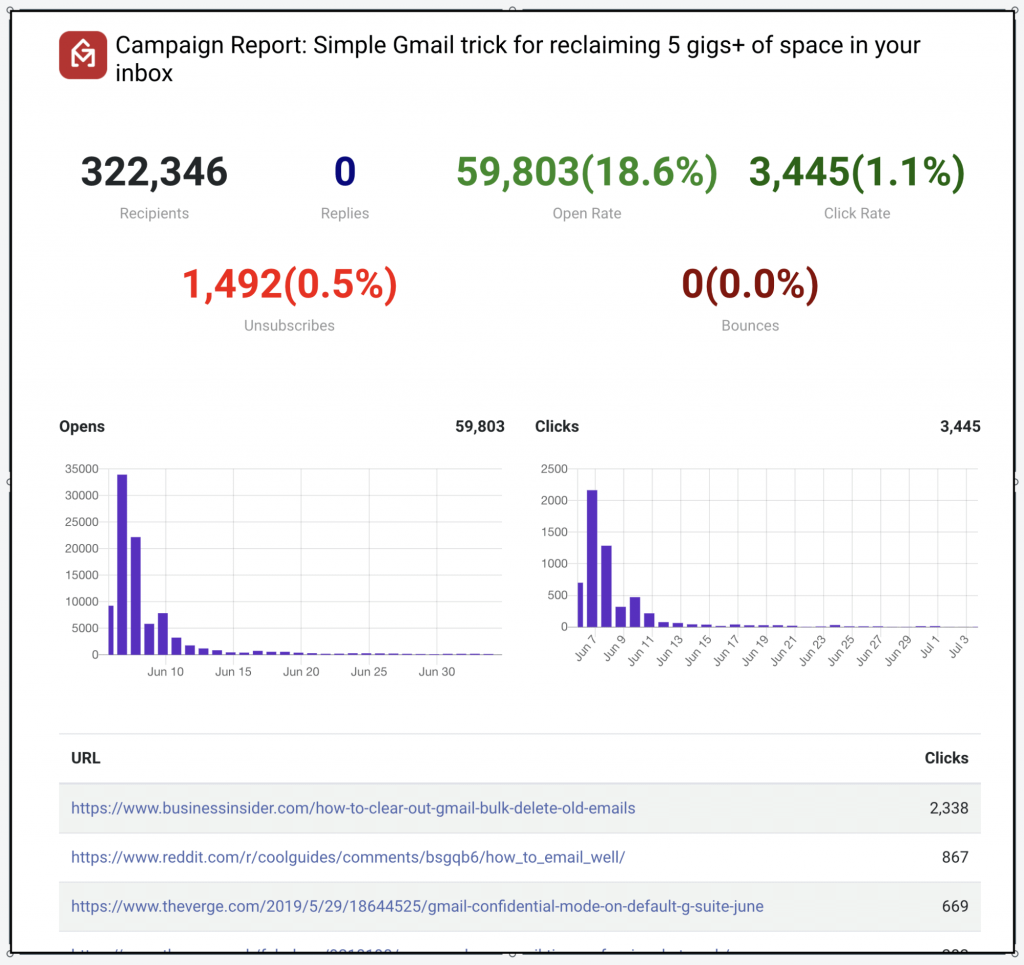 3. Send out automated follow-up emails to your B2C or B2B buyers to encourage them to take action.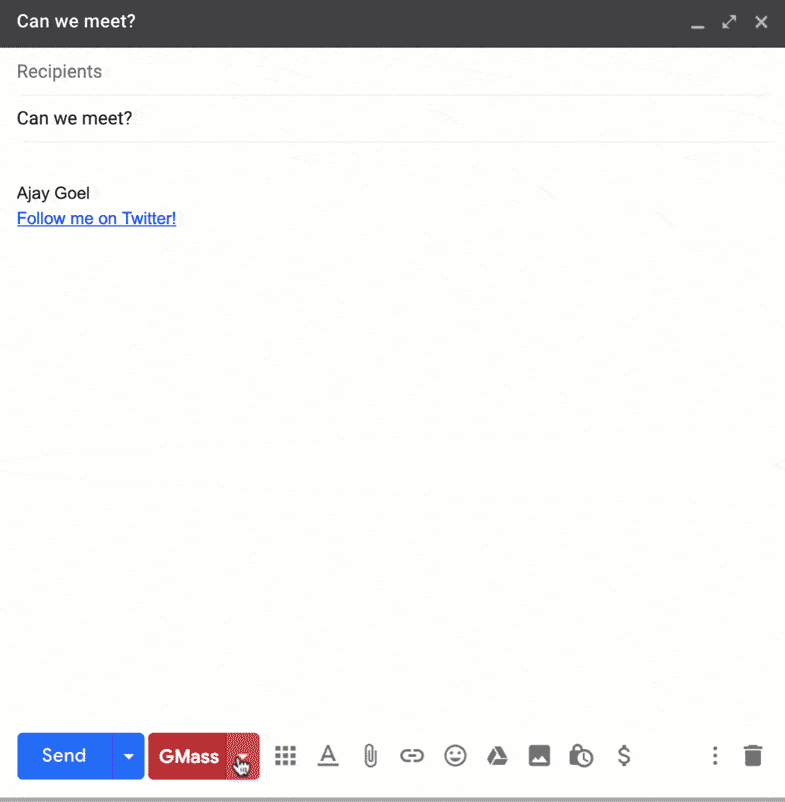 4. Schedule your sales emails to go out at optimal times to reach your B2C or B2B sales prospect when they're most likely to engage.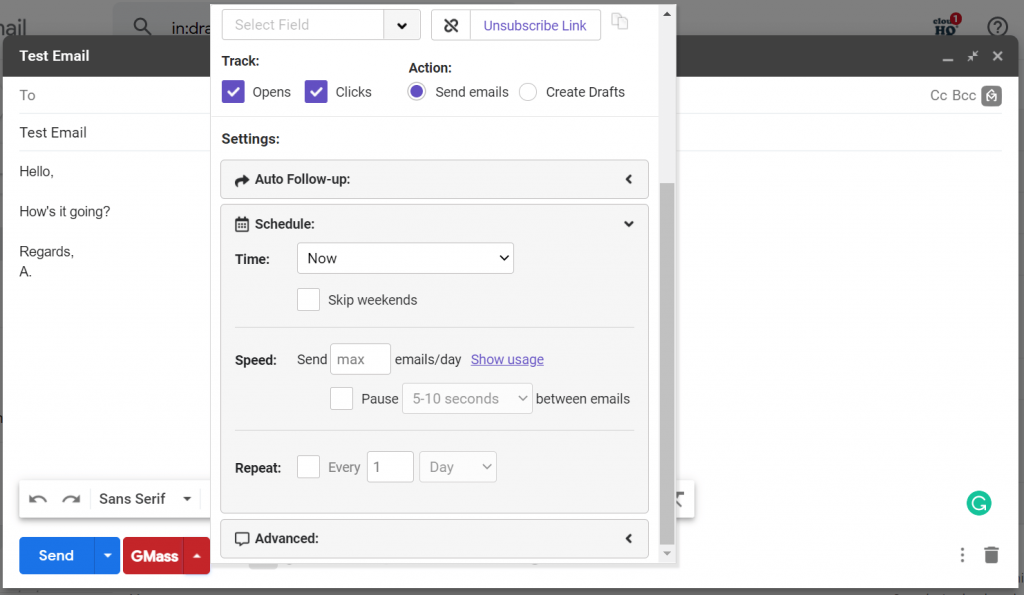 5. Build an email list of sales prospects directly from your Gmail search results based on keywords relevant to your target audience.

6. Leverage behavior-based campaigns to send out emails based on how a potential customer responded to your previous emails.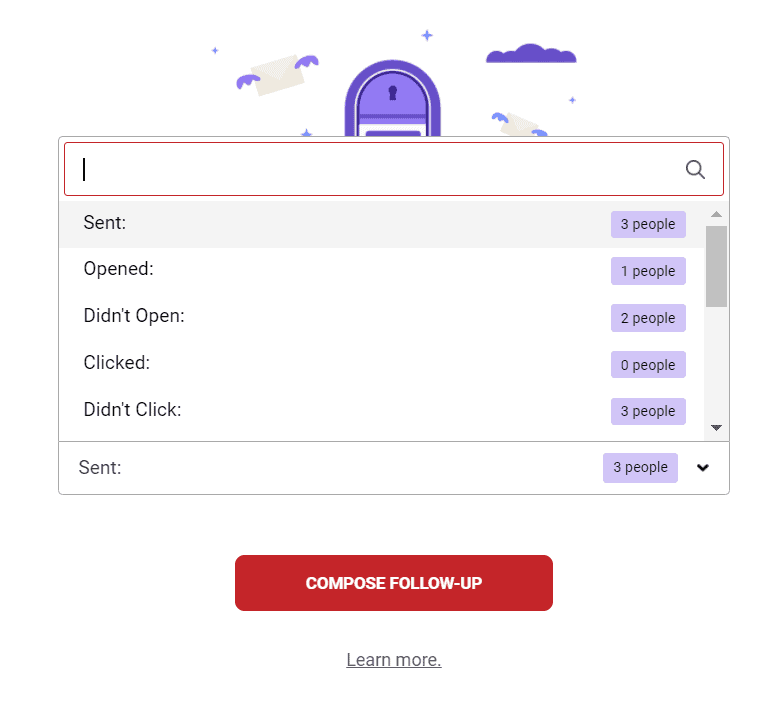 7. Access GMass' sales email outreach and marketing automation functionalities from your smartphone through the add-on for the Gmail Android app.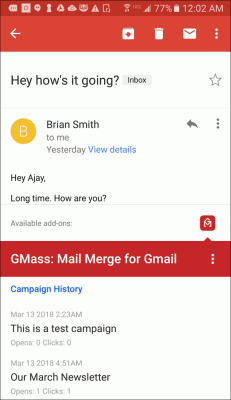 GMass has three comprehensive pricing plans to support different user requirements:
Send 50 emails/day.
Includes all features.
Send unlimited emails a day.
All features except sequences and automated follow-ups.
Offers all "Standard" plan features + sequences and follow-ups.
Premium (starts at $89/month for a team of five):
GMass Ratings
Capterra: 4.9/5 (580+ reviews)
G2: 4.8/5 (560+ reviews)
To use this marketing automation and sales prospecting tool, download the Chrome extension and sign up for free using your Gmail account.
2. LinkedIn Sales Navigator for Social Selling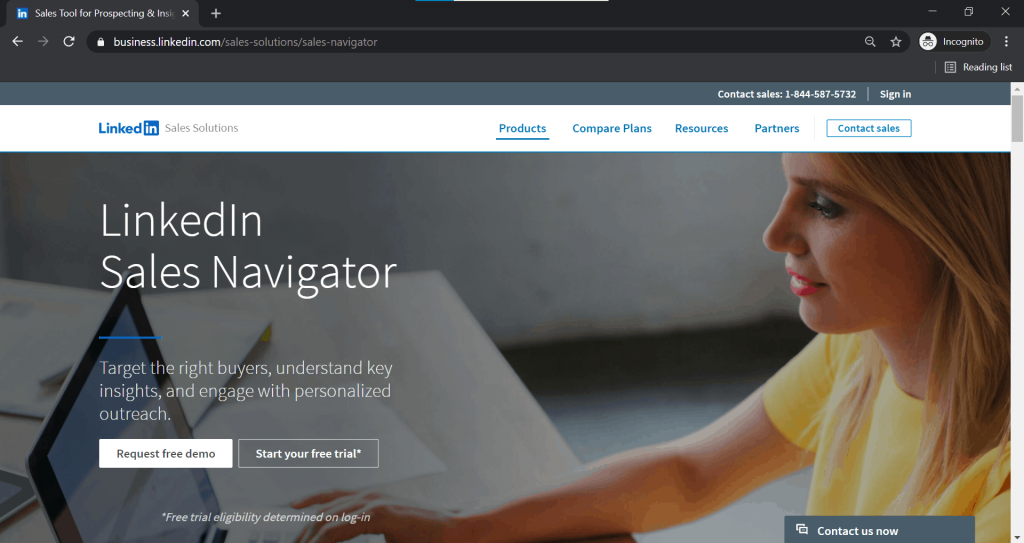 LinkedIn Sales Navigator helps you discover prospects for your business on LinkedIn. You can use it to connect with a potential prospect, analyze your competitors' networks, and identify decision-makers associated with your qualified prospect.
LinkedIn Sales Navigator Key Features
Lead Recommendations help you discover the right people at a target company's account.
InMail messages allow you to reach out to a potential prospect on LinkedIn even if you're not connected with them.
CRM Integration lets you automatically save the leads and accounts you're targeting and save their activity log to your Customer Relationship Management (CRM) database.
LinkedIn Sales Navigator Pricing
Paid plans that start at $79.99/user per month.
LinkedIn Sales Navigator Ratings
G2: 4.2/5 (1290+ reviews)
3. HubSpot Sales Hub for Customer Relationship Management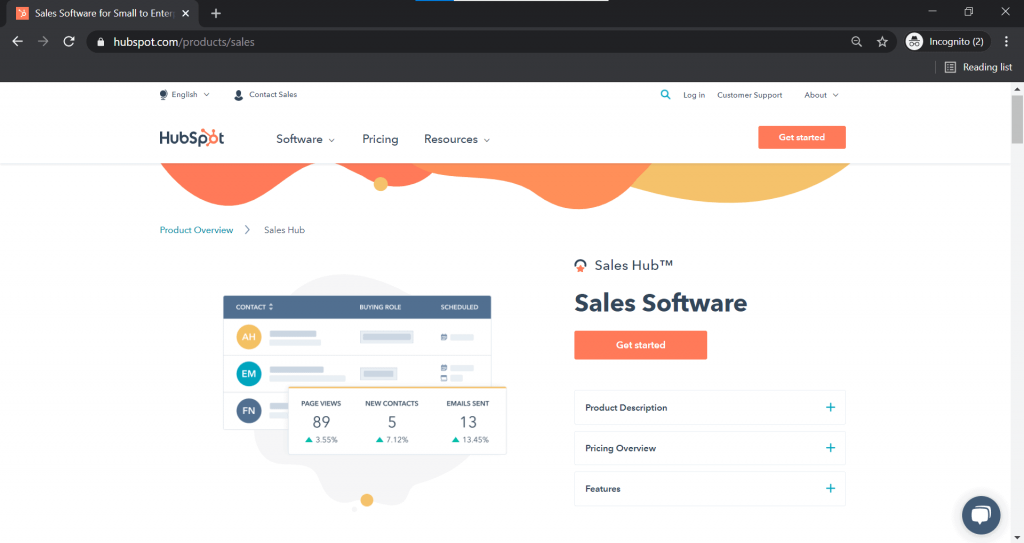 HubSpot Sales Hub is a CRM database that can help streamline your prospecting process and other sales activities.
HubSpot Sales Hub Key Features
Call Tracking & Recording enables you to prioritize sales calls and automatically logs them to your CRM.
Document Management & Tracking helps you build a sales content library for your entire team.
Sales Automation allows you to automate your sales process and engage with your prospects.
HubSpot Sales Hub Pricing
HubSpot Sales Hub has a free plan and paid plans that start at $50/month for 10 users.
HubSpot Sales Hub Ratings
Capterra: 4.5/5 (280+ reviews)
G2: 4.3/5 (6930+ reviews)
Explore more excellent prospecting tools to determine what fits your needs best.
Final Thoughts
Sales prospecting is a long process that involves researching sales opportunities, reaching out to prospects, adding value to their lives, and convincing them to buy your product or service.
But with the proper techniques and tools like GMass, sales prospecting is far less daunting than it sounds.
With GMass, you can auto-personalize your emails based on the prospects' interests, track their engagement, schedule your emails to go out at the best times, and leverage many more prospecting tactics.
So why not try GMass today and power up your sales prospecting efforts?
Ready to

transform Gmail

into an email marketing/cold email/mail merge tool?

Only GMass packs every email app into one tool — and brings it all into Gmail for you. Better emails. Tons of power. Easy to use.

TRY GMASS FOR FREE

Download Chrome extension - 30 second install!
No credit card required
Love what you're reading? Get the latest email strategy and tips & stay in touch.