Searching for excellent ActiveCampaign alternatives?
ActiveCampaign is an email marketing tool packed with email marketing automation and CRM (Customer Relationship Management) capabilities.
While ActiveCampaign is offered as a one-stop email marketing solution, it does have its downsides and may not be the right online email marketing tool for everyone.
To help you choose a better tool, I'll highlight the top five ActiveCampaign alternatives in this article. I'll cover their key features, pros, pricing, and limitations to give you a comprehensive view of each software option.
This Article Contains:
(Click on a link to jump to that specific section.)
Let's get rolling.
What Is ActiveCampaign?
ActiveCampaign is a versatile email marketing platform and CRM tool designed for small and mid-sized businesses.
It comes equipped with powerful marketing features such as marketing automation, SMS message marketing, and a drag-and-drop email editor.
But before I cover the alternatives, here's an overview of ActiveCampaign's key features, pricing plans, and limitations.
Feel free to skip ahead to the alternatives section.
Key ActiveCampaign Features
Build ActiveCampaign automation workflows to send automatic responses to specific triggers on your website.
Send personalized messages and bulk emails to large audiences.
Analyze user behavior on your website and segment your mailing list based on user page views, contact details, etc.
Automatically create lead scores based on custom criteria to prioritize leads and convert prospects into customers.
Test different subject lines and email content to determine what works best.
ActiveCampaign Pricing
ActiveCampaign offers four paid plans:
Lite: starts at $15/month – supports up to three users + unlimited emails + subscription forms + marketing automation workflow + live chat and email support
Plus: starts at $70/month – offers all "Lite" features + supports up to 25 users + CRM with sales automation tool + landing page builder + integrations + dynamic content, and more
Professional: starts at $159/month – includes all "Plus" features + supports up to 50 users + predictive sending + conversion attribution reporting + split automation features, and more
Enterprise: starts at $279/month – supports all "Professional" features + unlimited users + custom reporting, and more
ActiveCampaign Limitations
While ActiveCampaign is a popular tool, it comes with several downsides:
Unlike other email marketing tools that offer a forever free plan, ActiveCampaign does not have a free plan.
Since ActiveCampaign comes loaded with advanced features, it can be overwhelming for new users to navigate and access its various functionalities.
Read my in-depth ActiveCampaign Review for more information.
Top 5 ActiveCampaign Alternatives
Here are the top five ActiveCampaign alternatives available today:
To help you zone in on the right tool for your needs, I'll highlight each tool's key features, pros, pricing, and limitations.
GMass is an advanced email marketing and marketing automation platform that works inside Gmail. Its powerful outreach capabilities and ease-of-use make it a popular tool used by employees at Google and Uber, as well as social media giants like Twitter and LinkedIn.
GMass' versatility also makes it the perfect tool for casual Gmail users, SMBs, and even churches to send emails to their recipients.
Key GMass Features
Sending personalized emails to your customers can improve their customer experience to boost engagement. However, if you have an extensive subscriber list, manually personalizing hundreds of emails could take forever.
GMass can auto-personalize bulk emails by automatically adding recipient names, personalized paragraphs, images, links, and more.
This way, you can send relevant content to a broader audience with minimal manual input!
Sending follow-up emails is a smart way to increase customer engagement.
But what if you have a massive mailing list?
Don't worry.
GMass lets you set up automated workflows to send follow-up emails until you get an email open, a click, or a response from the recipient.
You can also customize everything about these follow-up emails, including:
The content of the follow-up message
The number of follow-ups to be sent
The time interval between follow-ups
The trigger for sending a follow-up email
Each time you send an email campaign, GMass generates a detailed Campaign Report describing your campaign performance.
The report highlights core email metrics like:
Total recipients to whom the campaign was sent
Unique opens and clicks
Reply and unsubscribe rate
And more
GMass' Campaign Report gives you a better understanding of how your campaign performs and offers valuable real-time insights on when to improve your email marketing efforts.
4. Email list builder
It's incredibly easy to create massive email lists from scratch using GMass' Email List Builder feature.
Enter keywords (related to the segment of customers you wish to approach) in the Gmail Search bar and hit Search. For example, type in "enterprise" to identify all the emails you've sent to customers that contain the word "enterprise."
Once the quick search results are displayed, GMass lets you quickly build an email list from those results — and automatically adds the email addresses to a new email's To address field.
Check out this article for more information.
With GMass, you can schedule bulk email marketing campaigns in advance to ensure optimal engagement.
Just compose your message, and then schedule it. When the time comes, GMass will automatically send out your email campaign.
This is particularly useful to email marketers because:
You can systematically plan your email campaigns well in advance.
You don't need to be online when the campaign gets sent, helping you deal with time zone differences.
You can approach your subscribers at those optimal times when they're most likely to respond.
To use GMass, just download the Chrome extension, and sign up with your Gmail account.
GMass Pros
Intuitive user interface that works right inside Gmail
Helps you optimize your deliverability rate for bulk emails
Send cold emails and drip campaigns directly from your Gmail inbox
Can effortlessly integrate with Salesforce CRM to manage your contacts and mailing lists
Can retain older emails as templates that can be reused anytime as the basis of your next campaign
GMass can detect a receiver's first name automatically from their email address
Bypasses most pixel tracking blockers to give you accurate email tracking metrics
Integrates with Google Sheets to help drive your mail-merge campaigns from inside Gmail
Access email marketing capabilities from your smartphone using the mobile add-on for the Gmail Android app
GMass Limitations
Desktop version only works on Google Chrome
Requires a Gmail or Google Workspace account to function
GMass Pricing
GMass offers three broad pricing plans:
Free: supports all features + supports sending 50 emails/day.
Individual:

Minimal: $8.95/month — includes all features except auto follow-ups + sending unlimited emails
Standard: $12.95/month — includes all Minimal features + removes the GMass footer from emails
Premium: $19.95/month — includes all Standard features + auto follow-ups
2. SendGrid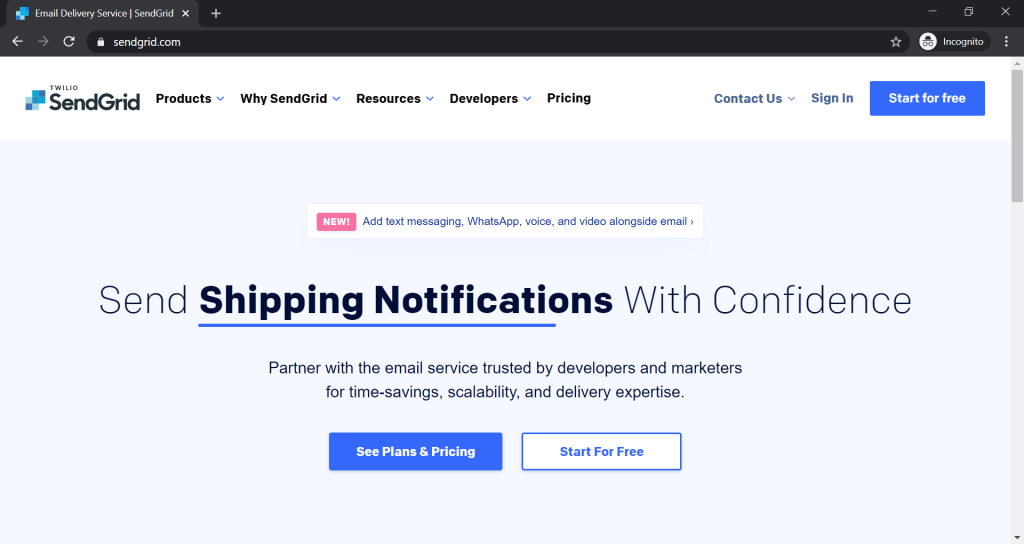 SendGrid is an email marketing and SMTP service that can improve your email deliverability for bulk email campaigns. The cloud-based platform also allows you to send transactional emails with ease.
Check out my in-depth SendGrid review.
Key SendGrid Features
Integrate email lists, email validation, and dedicated IP capabilities to send effective bulk email campaigns.
Set up automatic emails based on user-interactions on your website, web app, or mobile app. For example, an ecommerce website can send customers cart abandonment updates as automatic emails.
Create personalized emails using the built-in email library as well as the drag-and-drop HTML editor.
Track your email performance in real-time with metrics like emails delivered, unique opens and clicks, and bounce rates.
Connect to other robust tools like Zapier and Google Cloud Platform for better functionality.
SendGrid Pros
Customer support through email, phone, or chat to assist you with any email campaign roadblocks
Scalable email marketing platform that can give you reasonable email deliverability rates
Powerful email API capabilities to send emails effortlessly from your website or mobile app
SendGrid Limitations
Basic plan lacks many essential features like email marketing automation.
User-interface can be confusing to use, making it hard for novice users.
Pricing may not be cost-effective for small businesses.
SendGrid Pricing
SendGrid offers three pricing plans:
Free: supports 2,000 contacts + 6,000 emails/month + segmentation capabilities + A/B testing (split testing) + 1 sign up form
Basic: starts at $15/month — supports 5,000 contacts + 15,000 emails/month + all "Free" features except marketing automation + 5 signup forms + customer support via chat
Advanced: starts at $60/month —  supports 10,000 contacts + 50,000 emails/month + all "Basic" features + marketing automation + dedicated IP + customer service via phone
3. Sendinblue
Sendinblue is an email marketing service and marketing automation tool. The software also supports transactional emails, CRM functionality, landing page support, Facebook Ads management, and more.
Check out my in-depth Sendinblue review.
Key Sendinblue Features
Manage your contact lists within the email marketing platform based on specific client characteristics.
Increase email engagement by targeting your customer base through customized ads on social media marketing platforms like Facebook.
Send personalized SMS marketing campaigns to a targeted audience of potential customers.
Set up customizable transactional emails as automated responses based on customer behavior on your application or service.
Sendinblue Pros
Straightforward interface that's relatively easy to learn and use
All-in-one solution for a wide variety of email marketing needs like list management, email automation, newsletter creation, etc.
Offers a free plan that works well for teams with limited budgets
Sendinblue Limitations
Key email marketing features like A/B testing and advanced marketing analytics cost extra when you're using the basic Lite plan
Can be challenging to set up as you may have to set preference details, create complex automated workflows, import active contacts into the tool, etc. just to get started
Multiple-user access available only in the Enterprise plan
Sendinblue Pricing
Sendinblue offers a free plan and four paid pricing plans:
Free: offers 300 emails/day + SMS campaign management features + unlimited contacts + Zapier integration
Lite: starts at $25/month — offers 100,000 emails/month + all "Free" plan features + removes daily email sending limit
Premium: starts at $65/month — offers 1,000,000 emails/month + all "Lite" plan features + landing page + Facebook Ads + live chat + unlimited automation
Enterprise: contact Sendinblue for a custom quote — offers all Premium plan features + priority customer support + dedicated account manager
4. HubSpot Marketing Hub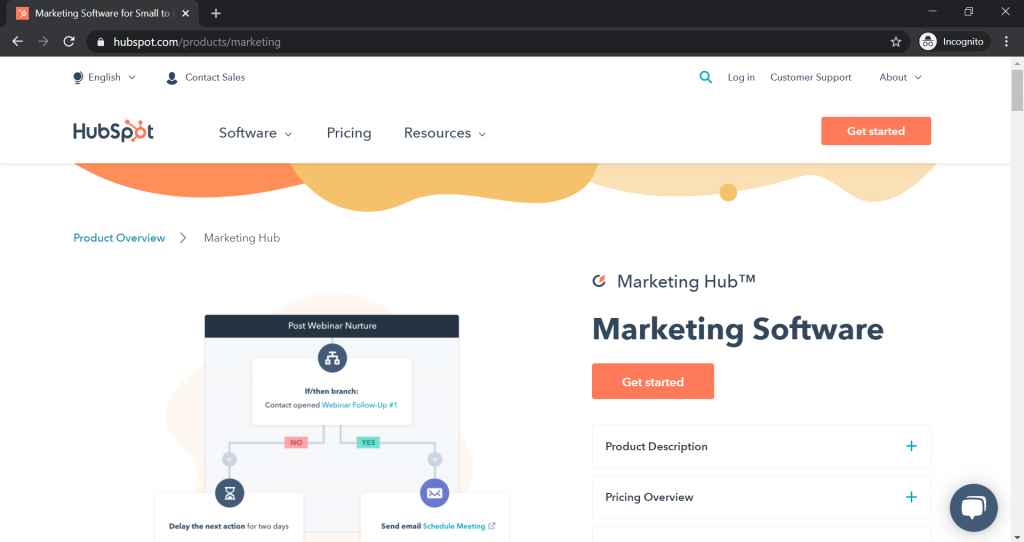 HubSpot Marketing Hub is a powerful marketing automation platform that works well for large marketing teams and businesses. It's a great marketing suite that comes with free CRM support to manage and segment your contacts.
Key HubSpot Marketing Hub Features
Pre-made templates and custom workflows help with marketing and sales automation.
Send personalized emails with custom subject lines and email content to increase engagement.
Access detailed email performance metrics like landing page and email statistics, contact performance, and so on.
Format your emails to work effortlessly with mobile devices.
Create a shared inbox to access the different types of team-wide emails from one place.
HubSpot Marketing Hub Pros
Easy integration with HubSpot CRM and Salesforce to manage your contacts and mailing lists with ease
Quickly visualize and manage your marketing funnel or sales funnel
Streamlined marketing automation set-up and website builder to run quality campaigns
HubSpot Marketing Hub Limitations
Pricing plans spike very quickly with disproportionately low increases in the number of contacts allowed. For example, it goes from $50/month for 1,000 contacts to $890/month for 2,000 contacts.
User-interface and marketing functionality can be challenging to use since the solution comes with an overwhelming suite of marketing options and features.
Users can't send out cold emails using HubSpot tools as it violates their user policies.
HubSpot Marketing Hub Pricing
HubSpot Marketing Hub offers a free plan and three paid pricing tiers:
Free: supports 1,000 contacts + CRM + landing pages + list segmentation feature + team email + live chat + reporting dashboard + messenger integration + HubSpot mobile app
Starter: starts at $50/month — supports 1,000 contacts + all "Free" plan features + email health insights + ad retargeting
Professional: starts at $890/month — supports 2,000 contacts + all "Starter" plan features + phone support + content strategy + multi-language content + marketing automation + Salesforce integration
5. Salesforce Email Studio
Salesforce Email Studio is a cloud-based email marketing tool with automation capabilities. This software for email allows you to leverage your customer data to help you create smarter email campaigns.
Key Salesforce Email Studio Features
Schedule emails at scale to reach customers at the optimal times.
Access detailed email performance metrics.
Segment your customers on the basis of specific criteria, and send out targeted email campaigns for improved campaign effectiveness.
Create responsive, mobile-optimized smart content to reach email users on any device.
Use the drag-and-drop interface to create content that better engages your segmented subscribers.
Salesforce Email Studio Pros
Create, personalize, and send bulk email campaigns, targeted emails, and transactional emails.
Capabilities like the automation feature, dynamic messages, and data import and export help you drive effective email marketing campaigns.
Salesforce Email Studio Limitations
Every pricing tier is expensive and may not be budget-friendly for small businesses.
Navigating the platform can be difficult due to the wide range of features available.
You can send emails to a maximum of 5,000 email addresses per day.
Salesforce Email Studio Pricing
Salesforce Email Studio offers four pricing options:
Basic: $400/month — includes A/B testing + API access + content builder + deployment manager + drag-and-drop smart segmentation + standard reports + transactional email messaging
Pro: $1,250/month — includes all "Basic" plan features + automation studio + landing pages + email conversion tracking + high priority email messaging + analytics + sender authentication package
Corporate: $3,750/month — includes all "Pro" plan features + journey builder + SMS messaging + mobile in-app messaging
Enterprise: contact Salesforce for a custom quote — includes all "Corporate" features + shared item + shared subscribers, and more
Which one should you choose?
If you're looking for advanced email analytics and marketing automation features, powerful personalization features, and a familiar, responsive interface, I'd recommend choosing GMass for your email marketing processes.
But if you're one of those marketing professionals who prefers an overwhelming suite of email marketing features, you can go for an email marketing tool like Sendinblue.
Unless you're in a large company with a big budget for email marketing, going for HubSpot Marketing Hub or Salesforce Email Studio might not be the best option for you.
However, note that these aren't all the ActiveCampaign alternatives out there.
You can also check out other email marketing software such as SendX, AWeber, or GetResponse.
Each of these email marketing software systems is a great ActiveCampaign competitor, offering essential functionalities at an affordable price.
Final Thoughts
There are plenty of email marketing options when it comes to finding an alternative to ActiveCampaign. However, software like GMass, SendGrid, Sendinblue, HubSpot Marketing Hub, and the Salesforce Email Studio are your best bets.
These tools help with marketing automation, personalization of bulk emails, email analytics, building and organizing mailing contact lists, and so much more.
If your preference is an easy-to-use tool with powerful features and advanced marketing automation capabilities, opt for GMass as your ActiveCampaign and Mailchimp alternative.
GMass allows you to schedule mass emails, set up an automation workflow for scheduled follow-ups, perform mail-merge with Google Sheets, and lots more.
So why not sign up on GMass today and take your emailing experience to the next level!