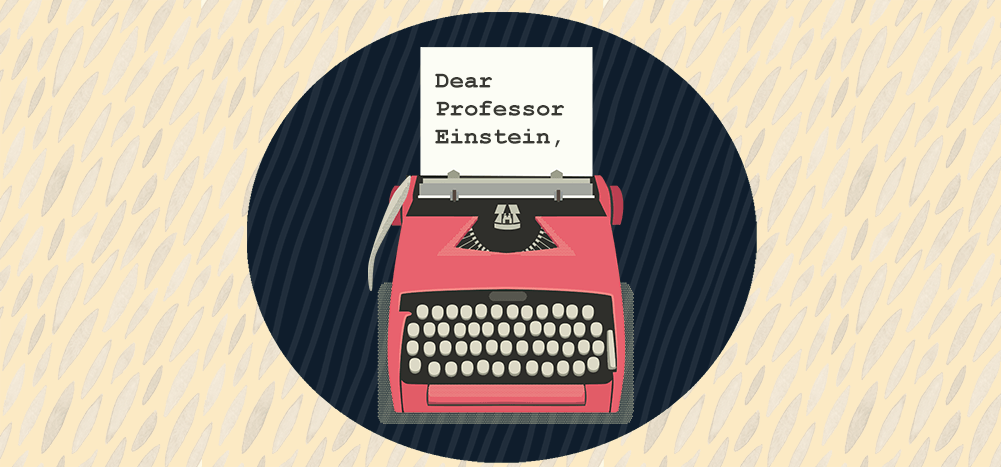 How you start a business email is incredibly important.
Your subject line, salutation, and opening line need to be just right. Otherwise, the recipient may decide to ignore your message or stop reading after the first sentence.
But don't worry.
In this article, I'll explain how to start a business email and how to format its beginning. Then, I'll provide six examples and templates you could use. I'll also discuss five things you should check before sending out a business email.
Finally, I'll highlight the best way to send business emails to multiple recipients.
This Article Contains:
(Click on links to jump to specific sections)
Let's jump right in.
How to Start Your Business Email
There are three essential elements you should include at the start of every business email.
They are the:
You must pay attention to how you craft these elements to ensure that your emails succeed.
To help you out, I'll go over how to write each element, including examples of which ones to use and which to avoid.
A. Subject Lines
Around 47% of email recipients open an email based on the subject line alone. After all, your business email subject line is the first thing your audience sees.
What does this mean for you?
Your subject line has to be perfect.
Let's take a look at several subject lines you can use as well as a few you should steer clear of.
5 Subject Lines to Use in Your Business Emails
Here are five subject lines that can increase the chances of your email being opened:
1. Interested in [Your Offering], [Recipient's Name]?
A subject line that mentions your offering alongside the recipient's name is likely to be effective.
Why?
This subject line offers a quick peek at what you can offer, making it easier for the recipient to see how your email is beneficial. Besides, personalized subject lines have proven to boost email open rates by 50%.
2. Five Minutes for a Quick Call, [Recipient's Name]?
This subject line works because it speaks directly to the recipient and gets straight to the point.
Your reader will appreciate that you personalized the email by mentioning their name and that you respect their time enough not to beat around the bush.
3. [Mutual Contact] Said We Should Connect
Another good strategy when writing a subject line is to mention a mutual contact.
Mentioning a mutual connection can pique the recipient's interest and establish some level of trust.
4. [Recipient's Industry] Has a Real Problem — Here's the Solution!
Email subject lines personalized based on the recipient's industry are likely to elicit responses.
Such a subject line works because it promises a solution that's relevant to the recipient's industry. As a result, the recipient becomes intrigued and has more incentive to open your email.
5. 5 Days to the [Niche] Conference
This subject line reminds the recipient that an event you're organizing is right around the corner.
Moreover, it creates a sense of urgency, pushing the recipient to open your email — subject lines conveying urgency are 22% more likely to be opened.
Now that you've seen some subject lines that work, I'll cover a few that you shouldn't use.
3 Subject Lines to Avoid in Your Business Emails
Here are three subject lines you should avoid in your business email messages:
1. One Time Free Email Offer
This combination of phrases is one of the worst you could use as a business email subject line.
Why?
Because it sounds spammy and too good to be true.
Moreover, this email subject line may trigger the recipient's spam filter, sending your email to the spam folder. As a general rule, avoid any subject lines or phrases that sound like clickbait, as these could trigger the spam filter.
Discover why your emails go to spam and how to solve it.
2. Important
Although it's advised to keep subject lines short, it's unwise to use one-word subject lines.
One-word subject lines can be perceived as lazy and unprofessional. Besides, such subject lines may not provide any context for your email, so the recipient has no incentive to open it.
3. $$$
Like one-word subject lines, a subject line that contains only symbols won't encourage recipients to open the email because such a subject line offers no context.
Additionally, spammers have used this subject line way too often. As a result, recipients aren't likely to believe your email is legit. Instead, they'll probably take one look and flag your business email as spam.
In short, stay away from subject lines that can damage your sender reputation and decrease the deliverability of any future email marketing campaign.
Need more help with crafting effective subject lines?
Check out my article on 43 cold email subject lines that get your emails opened for additional information. 
Once you've crafted the perfect subject line, you'll need to choose the ideal greeting. I'll now go over some of the best and worst email greetings to use.
B. Salutations
The salutation is the first line where you address the target audience you're writing to. As a result, you must pick an email salutation that's relevant to the situation.
You can choose the right salutation based on:
Your familiarity with the audience.
The number of readers.
The readers' positions in an organization.
First, I'll cover five email greetings you could use. Then, I'll go over three email salutations you should avoid in business emails.
5 Salutations to Use in Your Business Email
Here are five excellent salutations you could use:
1. Dear [Person's First Name] or Dear [Person's Last Name]
A common email greeting like this one is a safe bet no matter who you're writing to.
Why?
This subject line is both respectful and polite.
Depending on the email's purpose and your relationship with the recipient, you could use the recipient's first name, last name, full name, or title (for example, Dear Mr, Dear Professor / Prof, Ms, Mx, Dr, etc.).
2. Good morning, Good afternoon, Good evening [Name]
If you know the recipient's time zone and the time of day when they'll probably read your email, you can use a time-sensitive greeting like "Good morning".
It's also a good idea to add the recipient's name for a more personalized experience.
3. Hello, Hello there, Hello Everyone, Hello [Name]
Whether you're sending a business email to a colleague, customer, employer, or team, "Hello" is an acceptable greeting.
This email greeting works well with recipients you've emailed before. It's slightly friendlier and more personal than you'd want to be with someone you've never emailed before.
4. Hi, Hi there, Hi Everyone
Using "Hi" works perfectly if you're writing less formal emails.
This salutation is ideal when your target audience is from industries like tech or marketing, where the culture is more informal.
5. Greetings
This greeting is appropriate for when you're addressing a team or group of people. The salutation also works if you don't know the recipients' names.
Now, I'll cover a few salutations that you should avoid.
3 Salutations to Avoid in Your Business Emails
Here are three greetings you should stay away from:
1. To whom it may concern
This salutation comes across as impersonal and archaic.
Additionally, it gives the impression that you haven't taken the time to find out the recipient's name.
2. Dear Sir/Madam
"Dear Sir or Madam" is another outdated greeting commonly used in the past for business letter and formal letter writing.
The bad news is that today it's considered too stiff for business email writing. Moreover, it shows a lack of interest in finding out the recipient's name.
A more suitable greet would be Dear Professor, Mr, Ms, or Mx [recipient's name].
3. Hey
While this greeting is acceptable in informal emails, it's best to avoid this greeting when writing a business email.
Such a greeting may come across as too nonchalant and unprofessional for business settings.
Now that you know the best greetings to use and those to avoid, I'll show you some great opening lines for your formal business emails.
C. Opening Lines
Your subject line got the recipient to open your email, and the greeting was good enough for them to continue reading. Now, you need to impress the recipient with your opening lines.
To give you a hand, I'll cover five effective opening lines and go over three opening lines to avoid.
5 Opening Lines To Use In Your Business Email
Here are five effective openings you could use:
1. "Allow me to introduce myself."
This opening line works well if you're sending an email to someone for the first time.
Why?
It gives you the chance to politely introduce yourself first before moving on to the purpose of your email message.
2. "It was great meeting/hearing from you."
If you've just attended a conference or made a new business contact, this opening line is perfect for when you send them an email for the first time.
3. "Thank you for getting in touch."
If you're responding to a business email or some other business correspondence, this opening line is a polite and appropriate choice.
4. "I'm reaching out about …"
This opening line gets straight to the point, which is great when you're emailing a customer, colleague, or any busy professional.
It lets the recipient know why you're emailing as they read the opening line.
5. "To follow-up on our meeting/call …"
This is an opening line that works well when you're sending a follow-up email to a customer, prospect, or even a colleague. It reminds the recipient about your last conversation and lets you pick up from where you left off.
Next, let's take a look at some opening lines you should stay away from.
3 Opening Lines to Avoid in Your Business Emails
Here are three of the worst opening lines you could use in professional emails:
1. "I know you're really busy…"
When sending formal business emails, you don't know the recipient well enough to know how busy they are. Whether with subscribers or prospective business partners, it's best to avoid email opening lines that are too presumptuous.
2. "Can you do me a favor?"
This is one of those phrases you should never use in professional emails.
Why?
Not only is this opening line unprofessional, but it also focuses on the sender instead of the recipient. Besides, not many people will bother to continue reading emails asking them for something instead of presenting a value proposition.
3. "Sorry to bother you, but …"
The bad news about using this opening line in business correspondence is that it immediately undermines the sender's credibility.
Moreover, instead of coming across as polite, it comes across as insincere.
Next, I'll show you how to format the beginning of a professional email message properly.
How to Format the Beginning of Your Business Email
Writing effective professional emails isn't the same as writing a formal letter.
Here's how you can format a business email correctly:
Step 1
Write the email greeting or salutation on the first line.
Step 2
Add a comma after writing the greeting or salutation.
Step 3
In a new paragraph, state the purpose of your business communication (the opening line). Then, move on to the body of the letter.
Step 4
Write the introduction in the next paragraph.
Step 5
The choice of font is also important in formal writing. Stick to a standard readable font like Arial or Verdana that is supported by all email platforms.
Here's an example with all the five elements in place: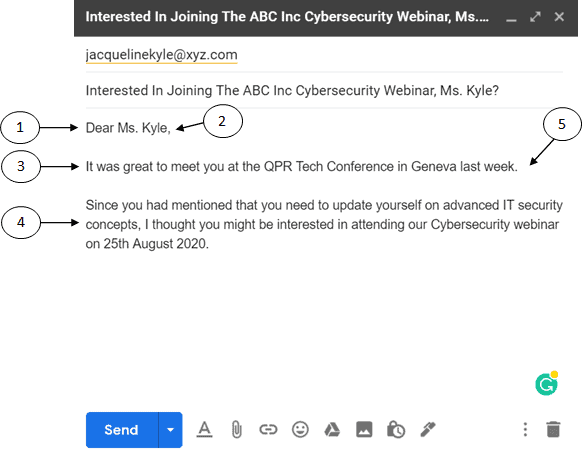 Now that you know how to format the beginning of your formal business emails, I'll go over a few examples that you could use to start your email the right way.
6 Examples and Templates to Start a Business Email
Let's take a look at six examples of how to start an email in various scenarios.
While you can use any of these email templates for your business email, remember to personalize your subject line, greeting, and opening lines based on your relationship with the recipient.
1. Cold Email for Lead Generation or Sales
The beginning of your sales email should be interesting and convincing enough to:
Hold their attention long enough to get them to read the entire email.
Come across like you have their best interests in mind.
Example
Subject Line: Mr. Duggan said we should connect.
Dear Ms. Miles,
During lunch yesterday with Mr. Duggan, he mentioned your firm is looking to increase its social media presence — and it happens my company specializes in web hosting, social media marketing, and branding.
It may be mutually beneficial for us to meet since I recently helped ABC Inc meet its social media goals by implementing the XYZ campaign on Instagram, Facebook, and Twitter.
2. Cold Email Writing for Networking
These emails are meant to build rapport with a shared connection, a sales prospect, or someone with shared interests.
Example
Subject Line: Clean Technologies Initiative — Time for a Quick Chat?
Hello Mr. Cyrus,
I noticed you and I are both members of the CleanTech Association on LinkedIn and that you just opened a new office in the Bay Area.
Since you're a Bay Area local and share similar ideas on clean technologies, I wondered if you'd be interested in catching up over a cup of coffee next week. I'd love to know your thoughts on a sustainability initiative I'm developing.
3. Cold Email for Backlink Outreach
Here's a simple business writing template you could use for writing effective emails for your link building strategy:
Example
Subject Line: Useful Stats for Your Next Blog Post
Hello James,
I know you've been closely following the impact of COVID-19 on startups, and I wanted to show you this interactive chart on startup responses triggered by the pandemic. I created this from my survey of 200 startup business owners.
I noticed that your blog publishes a weekly news roundup, and I wondered if you thought this infographic could be a good inclusion.
4. Email to a Potential Recruiter While Looking for a Job
A job application cover letter to a potential employer could start like this:
Example
Subject Line: Marketing Management Position Enquiry
Hi Shane / Dear Hiring Manager,
I read the recent Entrepreneur article about ABC Inc's rapid growth since landing $4 million in venture capital last April. That's very exciting and makes me wonder, do you have plans to expand your sales and marketing team?
I've had great success as the brand manager for XYZ Company for the past seven years working on a diverse range of marketing campaign strategies. I'm planning to move into a broader marketing role, and ABC has been on my radar. 
Note: Use a greeting with a job title (for example, "Dear Hiring Manager") in a cover letter only if you're emailing the person for the first time and you don't know the recipient's name. Once they respond to you, even if it's a form letter, make a note of their name and use it in the future. 
5. Email After Completing an Interview
If you're wondering how to start a business email with your potential employer after an interview, here's a great example of a thank you note.
In this case, because you're now acquainted, address the recruiter by their first name and not as "Dear Hiring Manager".
Example
Subject Line: Thank You for Your Time
Hello Julia,
Thanks for taking the time to speak to me yesterday. I enjoyed our conversation about the customer service and sales manager position and appreciated learning more about working with your team.
It sounds like a rewarding role, given the opportunities for networking and advancement. I think my master's degree in international business, as well as my customer service experience, make me an excellent candidate.
Please don't hesitate to call me if you need any details or references.
6. Business Email to Your Manager
Let's see what a formal letter or email to your CFO about a budget increase could look like.
Example
Subject Line: Budget Increase Request for Advanced Product Testing
Dear Andy,
I am submitting this request for your approval of a budget increase relating to our XYZ project. To complete the project successfully, I request an increase of $5,000 from the initial $50,000 budget. 
The reason for this increase is the need for additional raw materials required for advanced product testing before the final release. With this increase, we can ensure the perfect implementation of our tool as a working product. 
Next, I'll show you five things to check before hitting send on that business correspondence email.
5 Things to Check Before Sending a Business Email
Here are five things to check before sending your business email:
1. Spelling Mistakes and Grammatical Errors
The recipient may excuse typos or spelling mistakes in informal emails. But they're a big no-no in a business letter or email, as it can lower your credibility.
Check your grammar and spelling using any of the relevant tools available online.
Moreover, double-check the spelling of your recipient's name in all formal emails. You don't want to put off the audience with a misspelled name in the greeting or salutation.
2. Exclamation Points
Using exclamation points in formal emails can be perceived as rude.
Additionally, your reader may feel like you're trying to create a false sense of urgency. It's best to avoid using these punctuation marks unless it's a very informal greeting or letter.
3. Maintain The Right Tone
Your tone shouldn't be too flowery, abrupt, or curt.
Keep your formal written communication conversational, polite, and positive.
A simple test is to read your emails aloud to see how they sound. If the letter sounds fine, it probably reads fine, too.
4. Writing in All Caps
Avoid writing anything in all caps as this denotes shouting in text form. Although your aim may be to emphasize a particular word or phrase, your recipient is likely to interpret all caps as you yelling at them.
5. Avoid Colloquialisms and Jokes
Colloquial and slang terms have no place in any business writing — be it letters, emails, memos, etc. because they'll make you appear highly unprofessional.
Additionally, the colloquial language of one generation may not make sense to another. You can't just assume the person reading your email will understand your slang or find your joke funny — they may find it offensive.
Now that you know how to start a business email, I'll introduce an email outreach tool that can help streamline all your business emailing efforts.
The Best Way to Send Business Emails to Multiple Recipients
Formatting and proofreading your business email using all the tips I mentioned can help you craft better business emails. However, simply writing the perfect business email will not boost your email engagement rate.
Besides, when emailing multiple recipients, you may need to preserve their privacy.
How can you do that?
You could add each business email address to the Bcc field.
But sending multiple emails this way means you won't be able to personalize each email.
If only you could turn your regular Gmail or Google Workspace (formerly G Suite) account into a super effective mass email platform…
That's where GMass comes in.
What is GMass?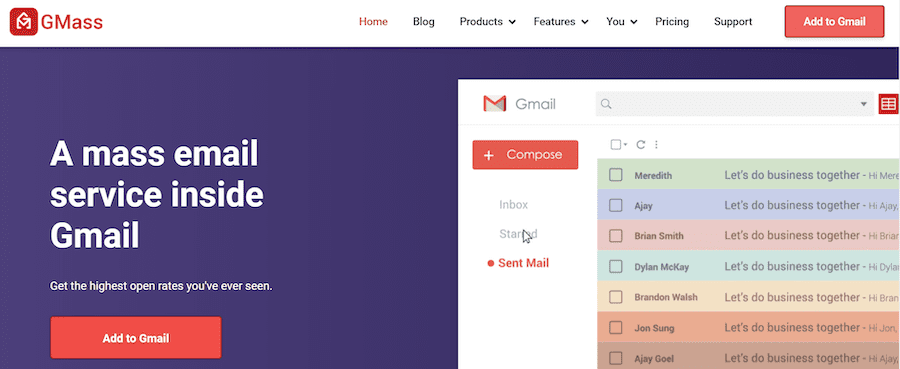 GMass is a powerful email outreach platform that lets you send email campaigns right from your Gmail inbox. With impressive mail merge capabilities, it's a popular Chrome extension used by employees from major companies like Google, LinkedIn, and Twitter.
But it isn't just for large companies.
Anyone — from individuals to small business owners and churches — can use GMass to improve their formal emailing experience and send emails!
With GMass, you can:
How do you get started with GMass?
It's incredibly simple — you only need to download the GMass Chrome extension to your browser, sign up with your Gmail or Google Workspace (formerly G Suite account), and you're ready to go!
Final Thoughts
To build the desired connection with your reader, you'll need to craft the beginning of your business email perfectly.
Just follow the tips and practices I've covered here to create effective emails. And with an email marketing tool like GMass, you can take your Gmail experience to the next level!
Simply install the GMass Chrome Extension to supercharge your outreach emails!
Ready to

transform Gmail

into an email marketing/cold email/mail merge tool?

Only GMass packs every email app into one tool — and brings it all into Gmail for you. Better emails. Tons of power. Easy to use.

TRY GMASS FOR FREE

Download Chrome extension - 30 second intall!
No credit card required
Love what you're reading? Get the latest email strategy and tips & stay in touch.