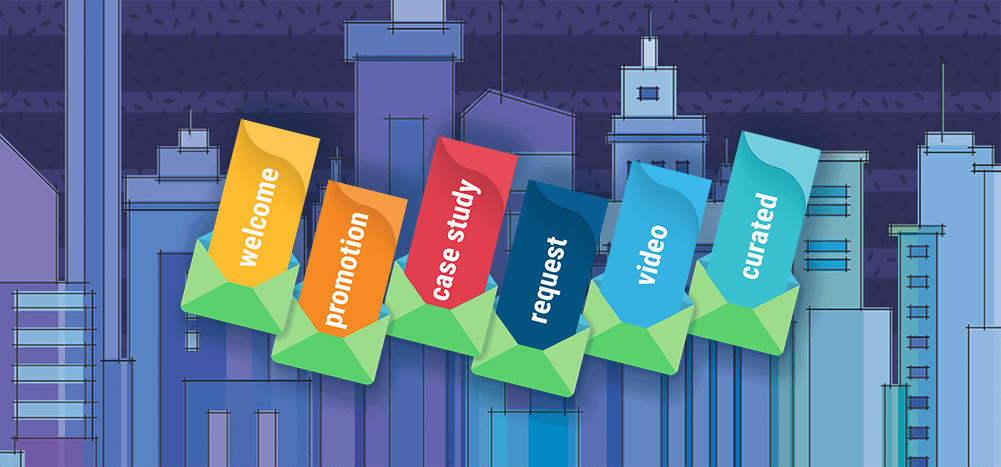 As a B2B marketer, you need to master writing different types of B2B emails to help you generate leads, drive sales, and build lasting client relationships.
To help you out, I'll provide you with a step-by-step guide on how to write effective B2B emails and seven proven B2B email templates you can use right away.
I'll then share five handy tips to enhance your B2B emails and answer two related FAQs.
I'll also mention an excellent B2B email automation tool to take your marketing and sales email results to the next level.
This Article Contains:
(Click on links to jump to specific sections)
Let's go!
How to Write Effective B2B Emails (Step-by-Step Guide)
Here's a detailed guide showing you how to write B2B emails that resonate with your recipients:
Step 1: Use a Compelling Email Subject Line to Catch Readers' Attention
Your B2B email subject line is the first thing subscribers notice about your email, and it can decide whether they open your email or not.
A study shows that almost 47% of email recipients open an email message based solely on its subject line.
Moreover, your subject line is a warm-up to the conversation you're about to have.
My point?
Spend time getting your subject line right!
An intriguing subject line, which hints at the email content, can:
Capture a prospective customer's attention.
Drive the recipient to open your email.
Make an excellent first impression.
Pro tip: Personalizing your B2B email's subject line with the recipient's name is a smart way to boost your open rate and response rate.
Need help writing your subject line?
Check out 43 exceptional cold email subject lines to boost your open rate.
Step 2: Address Your Audience's Pain Points in the Email Body
While an exciting subject line may get a B2B buyer to open your email, only relevant and coherent content will hold their attention.
In fact, most readers skim through the email body, spending just about 8 seconds to read it.
How do you pique a reader's interest within such a short period?
Simple — draft a concise email body addressing your audience's pain points.
Essentially, spin a narrative that:
Echoes their problems.
Empathizes with them.
Offers them viable solutions.
Step 3: Conclude with an Impactful Call to Action
Creating interest in your product/service is only half the journey.
Your next goal is to prompt action, getting your target audience to:
Sign up for your newsletter.
Go to your landing page.
Download a case study or whitepaper.
Request a demo.
Subscribe to your services, and so on.
But how do you do that?
Use a persuasive call-to-action (CTA) to urge subscribers to take action.
When crafting your CTA, remember to keep it direct, clear, and easy to act on ⁠— otherwise, your reader may ignore your email and move on to the next one.
Now that you know what goes into a B2B sales or marketing email, let's look at some effective email templates you can use today.
7 Exceptional B2B Email Templates
Here are seven top-notch B2B email templates for your marketing and sales email campaigns:
1. Welcome B2B Email Template
A welcome email is a friendly way to establish a relationship with your prospect once they sign up on your website.
You can use this B2B email template to introduce yourself, share your value proposition, and welcome a client onboard:
Subject line:Welcome aboard, [prospect's first name]
Hello [prospect's first name],
I'm [your name], the founder of [your company name], and I'd like to welcome you to our family. 
We're a team of [number of employees] innovative professionals working to [mission/values of company].
Here's a brief run-through of what we offer companies looking to achieve [objective]: [URL]
If you have any questions, feel free to schedule a meeting here: [meeting scheduler URL].
We're always here to help you.
Best,
[Your name]
[Your designation]
[Your company name]
[Your phone number]
[Links to your social media profiles]
2. Product Promotion B2B Email Template
A product promotion email lets you inform a prospect about some promotion you're running.
It helps generate interest in your offerings and incentivizes prospects to try out your product/service.
Subject line:Get [X]% off on [product/service name], [prospect's first name]!
Hi  [prospect's first name], 
We're thrilled to announce a [X]% discount on [your product/service]. 
You can now leverage the strategies [prospect's competitor] used to accomplice [goal] at a pocket-friendly price!
If you're unsure about [your product/service]'s fit for your company, drop us a line. 
We can get on a call at your convenience, and our subject matter experts will answer all your questions — even the tricky ones!
Schedule your call here: [meeting scheduler URL]
Best,
[Your email signature]
3. Case Study B2B Email Template
Buyers need to know that your product or service can solve their pain points.
How do you do that?
Sharing a case study — which showcases your success with an existing customer —  in your B2B marketing email can help you build trust with the prospective customer.
Subject line:Here's how we helped [client] reach [milestone]
Hello [prospect's name],
If you're struggling with [pain point], you need to start using [product/service] today.
But don't take our word for it.
Check out a case study showing how we helped [client] overcome [pain point]: [case study URL]
It covers:
Where and when to use [your product/service]
How to use [your product/service]
Benefits of using [your product/service]
Best,
[Your email signature]
Pro tip: A B2B cold email template with a case study is a fantastic option for marketers working on B2B lead generation.
4. Request Demo B2B Email Template
A prospective customer may request a product demo before making a purchase.
The demo lets the prospect observe your product's features/capabilities firsthand and make an informed purchase decision.
Subject line: [Prospect's first name], schedule your [your product/service] demo here
Hi [prospect's first name],
Thank you for the demo request!
The demo will show you how [your product/service] can help you accomplish:
[Goal A]
[Goal B]
[Goal C]
Pick a date and time for your demo here: [calendar URL]
If you'd like answers to any specific questions during the demo, please drop us an email with your questions. Our seasoned experts will answer them during your demo.
Thanks,
[Your email signature]
5. Video Email Template
Adding a video to your B2B marketing or sales email makes it more exciting and shortens the recipient's reading time.
Here's an email example showing you how to include a video in your email message:
Subject line: [Prospect's first name], here's that tutorial you wanted
Hi [prospect's first name],
We know you've been struggling with [pain point]. 
And guess what?
We offer the perfect solution to your problem.
[Your team member's first name] will help you navigate the nitty-gritty of overcoming [pain point] in this video: [URL to video]
Get in touch if you have any questions.
Best,
[Your email signature]
6. Curated Content Email Template
Research-based content is hard to find since it's often fragmented across different websites.
If a B2B company is looking for such information, you can offer an easy fix by compiling a curated list of well-researched content, as shown in the template below.
Subject line:Learn how experts solve [problem], [prospect's first name] 
Hi [prospect's first name],
Tired of browsing the internet looking for solutions to [problem]?
Don't worry.
Here's a curated list of inputs from industry experts about [problem]: [URL]
If you have any more questions, let's get on a one-on-one consultation call to get it all sorted.
Just book a slot in my calendar: [calendar URL]
Best,
[Your email signature]
7. Free Trial Email Template
Offering a free trial of your product or service is an effective strategy for enticing a B2B buyer and driving them along your sales funnel.
Use this email template to share your free trial:
Subject line:Enjoy your free trial, [prospect's first name]!
Hi [prospect's first name],
My name is [your name], and I'm excited to guide you through your free trial for [your product/service] today. 
I hope you've logged in and taken a tour of our [your product service]. 
If not, don't worry. 
Our "Getting Started Guide" will provide you a quick walkthrough of [your product/service] and help you get things up and running.
During your [X]-day free trial, you can:
[Value proposition #1]
[Value proposition #2]
[Value proposition #3]
To learn more about using [your product/service], subscribe to our email newsletter today: [URL]
Best,
[Your email signature]
Next, I'll share some handy tips to make your B2B outreach and transactional emails stand out.
5 Useful Tips to Improve Your B2B Emails
Here are five actionable tips to help you level up your B2B emails:
1. Know Your Audience to Write Emails that Resonate
While crafting a B2B email, knowing whom you're talking to is as important as what you say.
If you know what matters to your subscribers, you can then effectively craft a B2B sales email or email marketing campaign that addresses their pain points or helps them reach their goals.
But how do you do that?
Start by collecting some basic info about your target audience's:
Industry or niche.
Business size.
Pain points.
Financial situation, and so on.
These details help you build your buyer persona — a detailed description of someone who represents your target audience.
For example, let's say you provide cybersecurity products. One of your buyer personas could be the Chief Security Officer of a Silicon Valley-based IT enterprise with about 1,000 employees and an annual turnover of $15 million.
Once you build a buyer persona, it's easier to create content that resonates with your audience.
2. Define Your Objective to Maximize Conversions
When crafting your B2B message, ensure that you're clear about the purpose of your email.
What do I mean by purpose here?
Marketers and salespeople can use a B2B email to:
Sell a product or service.
Raise brand awareness.
Invite subscribers to a webinar.
Share information about a product launch.
Secure new subscribers for an email newsletter and more.
Once you clearly state your intentions, draft the email to drive readers towards fulfilling your purpose.
Get them to act with a convincing CTA specifying the next steps a subscriber can follow.
3. Personalize Content for B2B Customers
Even if you're sending out a mass email campaign, your B2B customers expect you to treat them as individuals and not as faceless names on a list.
Essentially, your B2B outreach or B2B sales email shouldn't look like a generic message — you should personalize it.
By personalizing your emails, you remind prospects that they're important to you and that you care about solving their problems.
And when your email messages look tailor-made, recipients will take them more seriously.
To personalize your B2B marketing email, you can:
Address the recipient in the subject line.
Add the reader's name at the beginning of the body.
Offer solutions to the potential client's unique pain points.
Customize the email content to reflect the reader's industry or niche.
4. Keep Your B2B Email Concise and Focused on Triggering Action
A study shows that business professionals send and receive about 121 emails a day.
What does that mean for you?
Since it's impractical for recipients to go through each email message, keep your B2B email:
Concise: stick to around 100-250 words for your email.
Engaging: use a conversational tone in your emails and avoid jargon.
Valuable: share valuable content, like blog posts, case studies, relevant stats, etc.
Actionable: ensure that you include a compelling CTA that stands out.
5. Use an Efficient B2B Email Tool to Enhance Your Campaigns
If you're a B2B marketer, it can be tedious to email every prospect manually.
Instead, use an email automation tool in your B2B email marketing strategy to automate repetitive tasks and scale your B2B emailing efforts.
A B2B email software solution can help marketers:
Automate their marketing or sales email campaign.
Analyze email metrics like click, bounce, and open rates of their B2B sales email or marketing campaign.
Overcome email sending limits.
Test email addresses to reduce bounces and avoid spam filters.
But which email marketing automation tool should you go for?
Meet GMass.
The Best B2B Email Automation Tool for 2022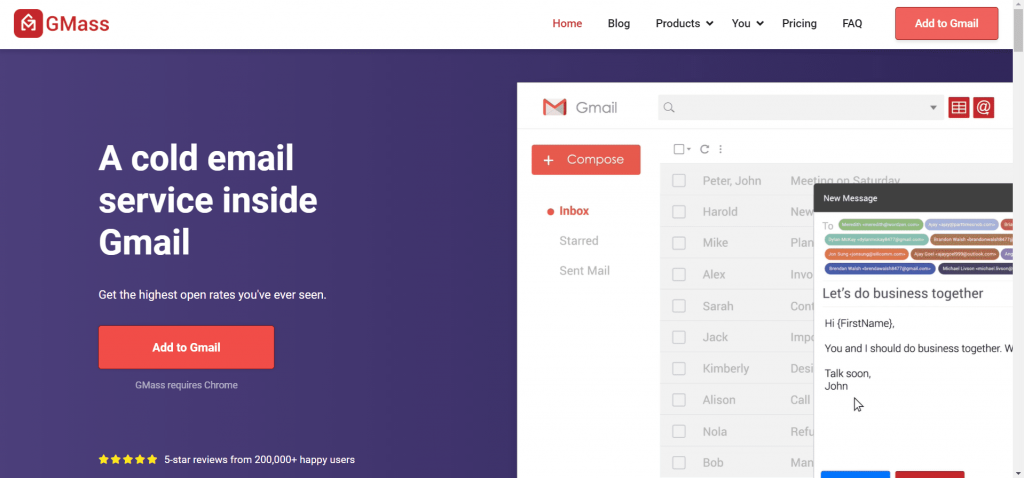 GMass is a robust email marketing automation tool that lets you draft and send personalized email campaigns at scale.
Its advanced capabilities make GMass the perfect digital marketing solution for marketers, sales professionals, business owners, etc. GMass is also a popular email marketing tool among employees at social media giants like Twitter and LinkedIn.
With GMass, you can:
To use these incredible features and more, download the GMass Chrome extension and sign up for free with your Gmail or Google Workspace account.
I'll answer some commonly asked questions related to B2B emails next.
2 FAQs about B2B Emails
Here are answers to two questions you may have about B2B emails:
1. What's the Difference Between a B2B and B2C Email?
B2B sales or marketing emails are messages sent between two business enterprises.
They are professional and benefit-driven, with a clear objective. Moreover, these emails address industry pain points and are sent over a longer buying cycle.
On the other hand, B2C email marketing is usually more friendly, casual, and includes emotional triggers. It's comparatively more personal and lasts over a shorter buying cycle.
Note: A buying cycle refers to the different stages a lead goes through while buying a product or service.
2.  What Are the Different Types of B2B Emails?
The three prominent types of B2B emails are:
Cold Email: Email sent to a potential customer who hasn't engaged with you yet but can benefit from your product or service.
Nurture Email: Follow up email sent to existing leads to nurture and advance them along the sales pipeline.
Drip Email: A class of transactional emails triggered by your recipients' actions.
Wrapping Up
B2B email constitutes a critical part of any B2B marketing strategy.
My step-by-step guide for writing B2B marketing emails and handy tips for improving them can help with your B2B email marketing strategy.
But if you want to really level up your B2B email marketing campaign, use a powerful email automation tool like GMass. It helps you build an email list, automatically personalize your B2B email campaign, send automated email messages, and do so much more.
Download the free GMass Chrome extension today and take your B2B emailing efforts to the next level!
See why GMass has

300k+

users and

7,500+

5-star reviews

Email marketing. Cold email. Mail merge. Avoid the spam folder. Easy to learn and use. All inside Gmail.

TRY GMASS FOR FREE

Download Chrome extension - 30 second install!
No credit card required
Love what you're reading? Get the latest email strategy and tips & stay in touch.