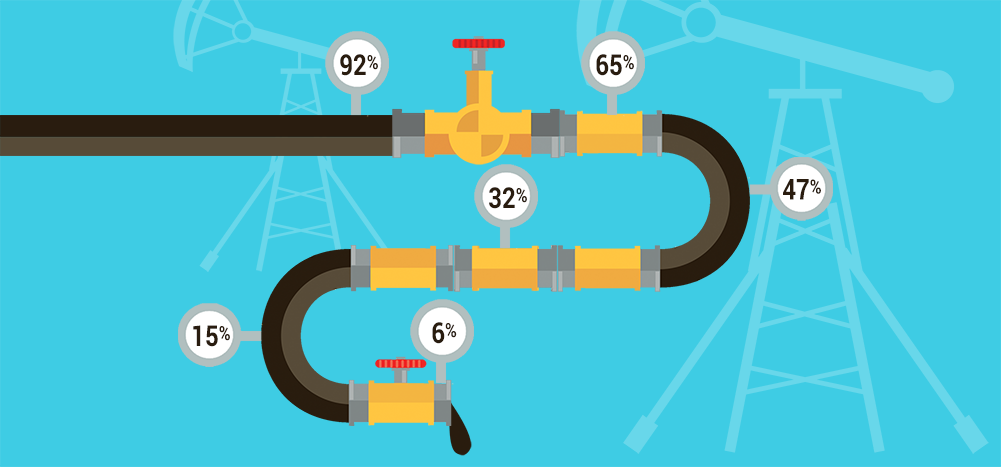 A sales pipeline represents the different stages prospects go through as they transition from leads to customers of your business.
A well-managed sales pipeline will help you pinpoint where prospects are on their buyer's journey, calculate predictable revenue, and improve sales performance.
But what are the stages in a sales pipeline, and how do you build an efficient pipeline?
In this article, I'll explain what a sales pipeline is, its key benefits, and its nine typical stages.
I'll also show you how to build your own high-converting sales pipeline and highlight three tools you can use for sales pipeline management.
This Article Contains:
(Click on links to jump to specific sections.)
Let's go.
What is a Sales Pipeline?
A sales pipeline highlights the different stages a prospect goes through as they transition from a lead to a customer of your business. It helps you visualize your sales process in a highly organized manner.
A pipeline will also give you insights into how effective your sales efforts are at all times.
How do you build one?
When it comes to building your sales pipeline, there's no right way to do it.
Why?
The stages in your sales pipeline will depend on your buyer's journey — which is the process a customer goes through when purchasing your offering, and it's unique to each business.
Additionally, if your business offers a variety of products or services, you'll require multiple pipelines to match each offer's distinct sales process. It's also essential to understand that leads will advance at different velocities along your pipeline.
For example, eager early adopters will likely transition into customers quickly and have a higher pipeline velocity. On the flip side, others may take a while to warm up and move forward in your pipeline, resulting in a lower pipeline velocity.
My point?
Your sales pipeline expectations shouldn't be set in stone. Every pipeline must evolve based on the changing needs of your potential customers and the various buyers' journeys.
Does all of this sound like the sales pipeline resembles a sales funnel?
Sales Pipeline vs. Sales Funnel
Many people confuse a sales pipeline with a sales funnel — but they are two different things.
While the sales pipeline depicts the different conversion stages a prospect goes through, the sales funnel shows the number of leads at each stage and the percentage of leads advancing through each stage.
By analyzing the sales funnel, you can identify which pipeline stages tend to lose prospects and take preventive measures accordingly.
Now that you clearly understand what a sales pipeline is, let's see why it's crucial to your business' success.
3 Key Benefits of Using a Sales Pipeline
Here are three reasons why you need a sales pipeline:
1. Provides Detailed Insights into Your Deals
A sales pipeline offers in-depth insights into each lead's progress and who is likely to convert.
This gives you visibility into the effectiveness of your sales process and helps a sales leader make more informed sales decisions. This way, you can focus more energy on closing sales-ready leads and less on deals with lower chances of conversion.
2. Helps Forecast Your Revenue Accurately
By analyzing your sales pipeline, you can accurately determine the monthly, quarterly, or yearly sales revenue estimates based on the monetary value of likely-to-convert deals.
This sales forecast info is critical to decision-making at other departments in your company like finance, marketing, human resources, operations, and so on. For example, your finance team can use the info for better budget estimates.
3. Improves Your Sales and Marketing Teams' Performance
With an effective sales pipeline that accurately reflects your sales process, you can quickly identify anything that impedes your sales progress — like follow-up delays, lack of quality marketing materials, and more.
Based on this knowledge, you can adopt preventive measures to overcome roadblocks before they pop up and improve the performance of your sales and marketing team.
Additionally, the pipeline also provides insights into each sales rep's sales activities, how close they are to meeting their sales quota, and more. This way, if you notice underperforming salespeople, you can coach them and help them to improve their sales performance.
But what makes for an effective sales pipeline? 
To understand that, let's check out the different stages you can expect to see in a high-performing pipeline.
9 Stages in a Typical Sales Pipeline
Remember, there's no one-size-fits-all approach when it comes to building sales pipelines.
The number of sales stages in your pipeline depends on several factors like your business type, sales process, sales cycle length (the time it takes to close a sale), and more. However, most sales pipelines share some standard stages like lead generation, outreach, and follow-up, etc.
Here are nine sales pipeline stages you can pick from for your business:
1. Lead Generation
Lead generation is usually the first stage in most sales pipelines. The objective at this sales stage is to get noticed and attract potential buyers to your business.
You find people who are interested in your offerings through:
Advertisements
Social media marketing
Content marketing
And so on
Want to learn how to find and nurture email leads in 2021?
Check out my comprehensive article on email leads for helpful info.
2. Lead Qualification
In the lead qualification stage, you gauge whether a new lead you generated is a good fit for your business.
To determine that, you can research the new lead and analyze them based on your:
Ideal customer profile: Defines the essential criteria that a lead must satisfy to qualify as a potential customer for your business.
Buyer persona: Specifies things like behavioral traits, demographics, and unique needs of the people who want to buy your product or service.
Leads matching both your ideal customer profile and buyer personas can become qualified leads, a.k.a. prospects.
Ajay's Sales Tip
You can combine the lead generation and lead qualification stages to form a single prospecting stage — one where your salesperson only searches for prospective buyers who match your ideal customer profile and buyer personas.
Check out my ultimate guide on sales prospecting to learn more.
3. Prospect Outreach
Once you've found your prospects, it's time to reach out to them via channels like phone calls, social media, emails, and more.
The critical thing here is to meet your prospects on the channels they use. This way, your prospects will be more comfortable engaging with your sales rep.
And in professional settings, the best way to approach your prospects is via email — it's fast, reliable, cost-effective, and super popular.
Fortunately, with powerful email marketing software like GMass, you can:
4. Relationship Building
After initiating contact with your prospects, you need to build meaningful relationships with them.
How do you do that?
By adding value to their lives — identify what's troubling them, locate helpful resources, and regularly share relevant content with your prospects.
Additionally, your salesperson can leverage this opportunity to help prospects understand the complete nature of their challenges and explore different solution categories.
The goal here is for your sales rep to become a prospect's trusted advisor and subject matter expert.
5. Product or Service Demo
When a prospective buyer seems willing to explore your solution, the next step is to do a demo.
Ask the prospect when they'd like to see a demo of your product or service and schedule a meeting accordingly.
Additionally, be sure to inquire who else will be attending the demonstration. This helps you tailor your sales conversation during the demo to your audience.
For example, when meeting with C-suite executives, you'd talk about the big picture and how your offering helps them there. But with junior employees, you might discuss immediate challenges and goals instead.
6. Sales Proposal Submission
If the demo went well and the participants are interested, you can submit your sales proposal to the potential customer.
Summarize the prospect's biggest challenges in your proposal and explain how you're uniquely positioned to solve their problems. Additionally, you can add your market research findings to demonstrate awareness of their business context.
The sales proposal must also mention your:
Deliverables
Associated costs
Scope of work
Social proof
And more
Remember, the proposal's objective is to provide the prospective buyer with the info they'll need to make a nuanced purchase decision.
Read my article on writing great sales proposals for more pointers.
7. Prospect Follow-up
Many sales professionals wrongly assume that sending a sales proposal marks the end of your sales pipeline.
However, even after receiving your sales proposal, the prospect could:
Have some unanswered questions
Receive sales proposals from your competitors
Feel reluctant to commit at the moment, and so on
What should you do?
Have your salesperson follow up with the prospect and offer support. If they've got objections, let them know how you can work around them.
As for competitors, reassure the prospects why your solution is best suited to address their needs. And if they're reluctant, keep nurturing the prospect until they're sales-ready.
As a rule of thumb, unless a prospect explicitly tells you that they're not interested in your product or service, it could be okay to follow up. But remember not to go overboard with the number of follow-ups you send, or you might come across as pushy.
Fortunately, sending follow-up emails is a breeze with an email marketing tool like GMass.
GMass lets you set up automated follow-up workflows, adjust the number of follow-ups you send, fine-tune the follow-up frequency, and more.
Want to write great sales follow-up emails?
Check out my sales follow-up guide for handy tips and templates.
8. Sales Close
A sales manager can expect to negotiate with the prospect at this sales stage. For example, there could be specific concerns you'll need to work around, some discounts you might have to offer, and so on.
If your negotiation is successful, you'll add to the win rate and your business's bottom line. And if you lose, don't worry — your salesperson can nurture that sales opportunity into conversion in due time.
9. Post-Sales Management
The "sales close" is usually the final sales pipeline stage for most businesses.
However, a company with an exceptional sales organization would also include a post-sales management stage in their sales pipeline.
Why?
The post-sales management stage ensures that:
Your customers have an excellent onboarding experience.
Your product or service helps the customers overcome their challenges and accomplish their goals.
You delivered on your promises to customers.
This way, you can sustain a meaningful relationship with your customers and ensure customer loyalty. Moreover, it helps you ask for referrals from existing customers and cross-sell or upsell your offerings to them.
Once you've got a solid understanding of the different stages possible in a sales pipeline, you're ready to build your own sales pipeline.
How to Build and Manage a High-Converting Sales Pipeline (Step-by-Step)
I'll cover the five key steps that will help you create and manage an effective pipeline for your business.
Step #1: Choose Your Sales Pipeline Stages
Remember, the number of stages in your sales pipeline will depend on factors like your:
Type of business
Revenue goals or sales targets
Conversion rate, and more
For clarity, you can analyze your sales process to see which stages are crucial to increasing your conversion rate and bottom line.
Step #2: Organize Your Prospect List
After choosing your pipeline stages, you should organize the list of prospects.
Consolidate critical info about the people and businesses who want to buy from you in a sales CRM platform. This includes their contact info, demographic details, revenue, interaction history, and so on.
Based on these data points, you can assign potential buyers or customers to different stages of your pipeline.
Step #3: Define the Sales Activities of Each Pipeline Stage
Now, you should clearly define the activities your salesperson will perform at a particular sales pipeline stage.
For example, in the outreach stage, your sales rep should send out emails, share relevant content, or call your prospects.
This way, you'll have a clearer and smoother sales process, and your salesperson will understand precisely when a potential customer is ready to move to the next sales pipeline stage.
As a sales leader or sales manager, define the activities for each sales stage and ensure that each sales activity:
Ultimately helps you close a B2C or B2B sale
Is best suited to a particular sales pipeline stage
Is easily understood by your sales team
Step #4: Review Your Sales Pipeline Periodically
A sales pipeline is rarely perfect out of the box.
And that's why you must analyze the sales performance of your pipeline regularly.
But how do you analyze a sales pipeline?
By using sales pipeline metrics. Sales metrics allow you to put together a sales pipeline report that carefully analyzes the sales effectiveness of your pipeline.
Some critical sales pipeline metrics you can monitor include:
The number of deals: how many qualified leads you've got in the pipeline
Average deal size: the average financial value of your sales contracts
Win rate: the percentage of your sales leads who become paying customers
Sales velocity: the average time a lead stays in your pipeline before they convert
Step #5: Hone Your Sales Pipeline
After your sales pipeline review, you should address any roadblocks in your sales process and implement improvement strategies.
Feel free to add more stages or cut the number of stages.
Just remember that it could take several attempts to build multiple pipelines that successfully reflect your sales processes and contribute to your business' bottom line.
Moreover, a pipeline is just one of several things your sales organization needs to manage.
You have prospecting, outreach and engagement, sales demos, and more to stay on top of — your reps can't focus all their sales efforts on just the pipeline.
Fortunately, with the right tool, sales pipeline management becomes much more accessible.
But which tool do you need?
Don't worry.
Here are some powerful tools you can use to simplify your sales pipeline creation and management process.
3 Excellent Sales Pipeline Management Tools
Here are three tools that help make sales pipeline management a breeze.
1. Pipedrive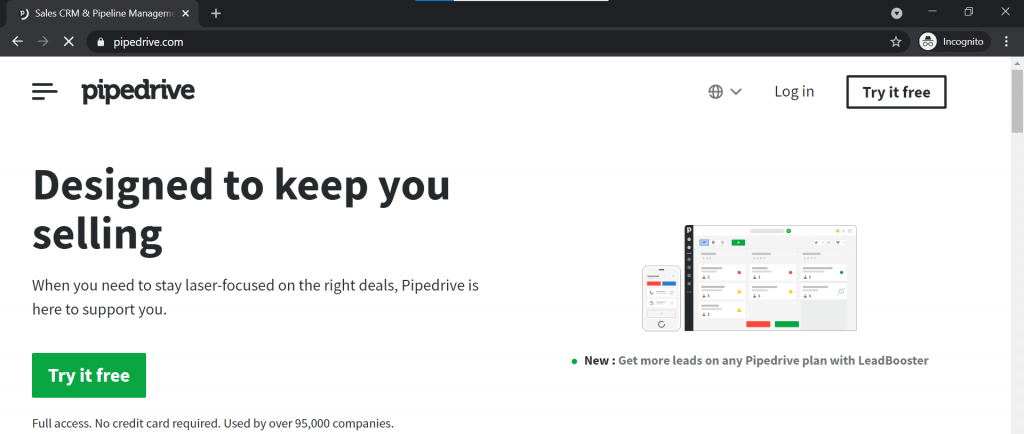 Pipedrive is a sales CRM platform that helps you create visual sales pipelines that highlight exactly where each sales deal is.
Pipedrive Key Features
Automated repetitive tasks to streamline your sales process
Custom chatbots and forms add a new lead directly to your sales pipeline
Customized metrics to provide insights into the company's sales performance against predefined sales goals
Pipedrive Pricing
Pipedrive's plans start at $15/user per month.
Pipedrive Ratings
Capterra: 4.5/5 (2270+ reviews)
G2: 4.3/5 (1330+ reviews)
2. Pipeline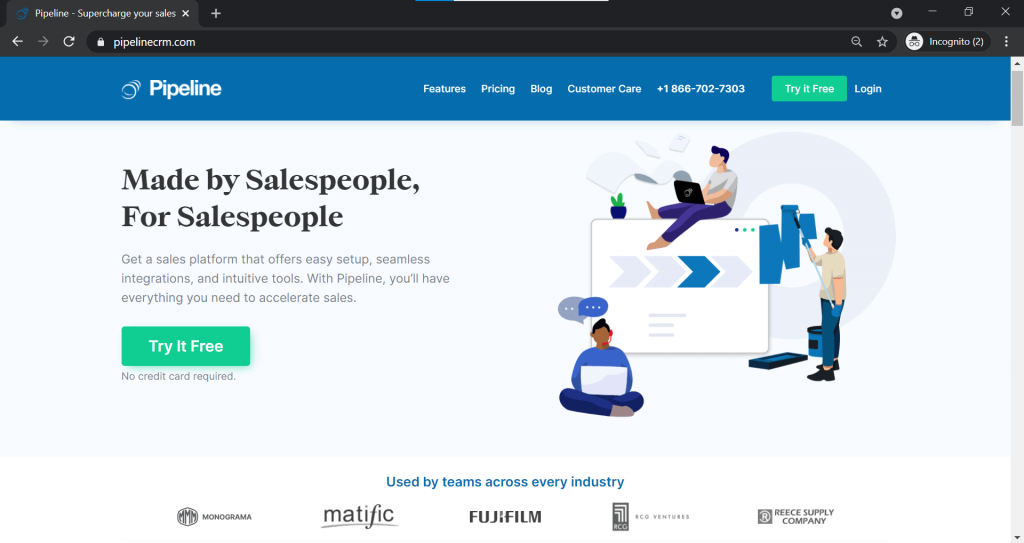 Pipeline is a sales platform that helps you build efficient sales pipelines and accelerate your deal closing process.
Pipeline Key Features
Performance Pulse offers insights into your sales pipeline, revealing bottlenecks, sales coaching opportunities, and more.
Organize all sales-related tasks and conversations in one place.
Generate a daily agenda that shows what you need to do for any prospect or deal.
Pipeline Pricing
Pipeline's plans start at $29/user per month.
Pipeline Ratings
Capterra: 4.4/5 (600+ reviews)
G2: 4.3/5 (840+ reviews)
3. HubSpot Sales Hub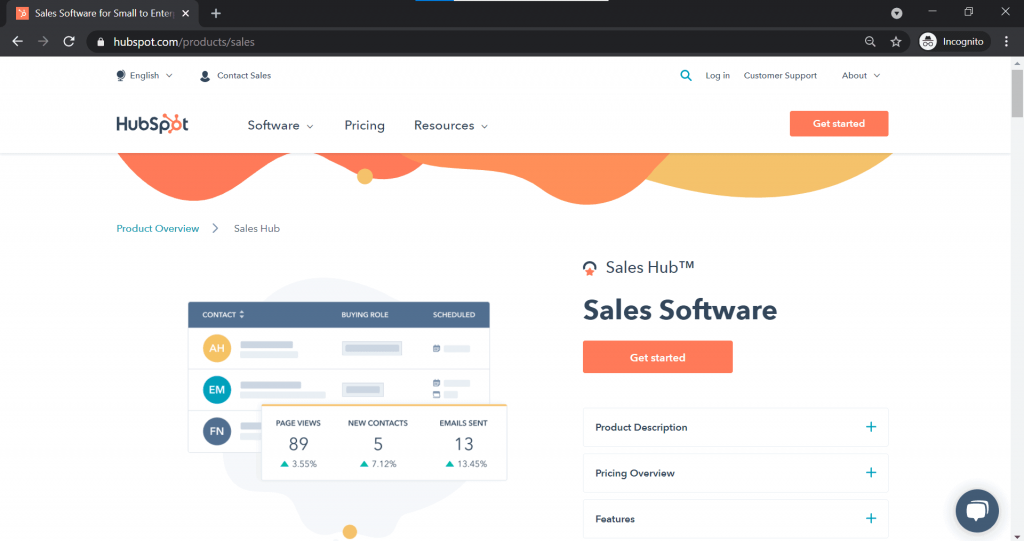 HubSpot Sales Hub is a sales tool designed to help you manage your sales pipeline and build better prospect relationships.
HubSpot Sales Hub Key Features
Sales management playbooks provide call scripts, positioning guides, and more to empower your sales team.
Sales analytics and reporting features let you visualize your sales performance.
Mobile apps for Android and iOS let you manage contacts, deals, and tasks on the go.
HubSpot Sales Hub Pricing
HubSpot Sales Hub offers a free plan, and their paid plans start at $50/month for two users.
HubSpot Sales Hub Ratings
Capterra: 4.5/5 (280+ reviews)
G2: 4.3/5 (6950+ reviews)
Final Thoughts
A sales pipeline is a visual representation of your sales process, covering everything from prospecting to closing a B2C or B2B sale and beyond.
The objective of your pipeline is simple: to help you convert leads into customers efficiently.
However, remember that reaching out to prospects is an essential part of any sales pipeline. Fortunately, with email marketing software like GMass in your arsenal, email outreach has never been easier.
GMass helps you auto-personalize your outreach emails, analyze campaign performance, build automated workflows to send out timely follow-ups, and do so much more.
So why not try GMass today to power up your sales pipeline?
See why GMass has

300k+

users and

7,500+

5-star reviews

Email marketing. Cold email. Mail merge. Avoid the spam folder. Easy to learn and use. All inside Gmail.

TRY GMASS FOR FREE

Download Chrome extension - 30 second install!
No credit card required
Love what you're reading? Get the latest email strategy and tips & stay in touch.