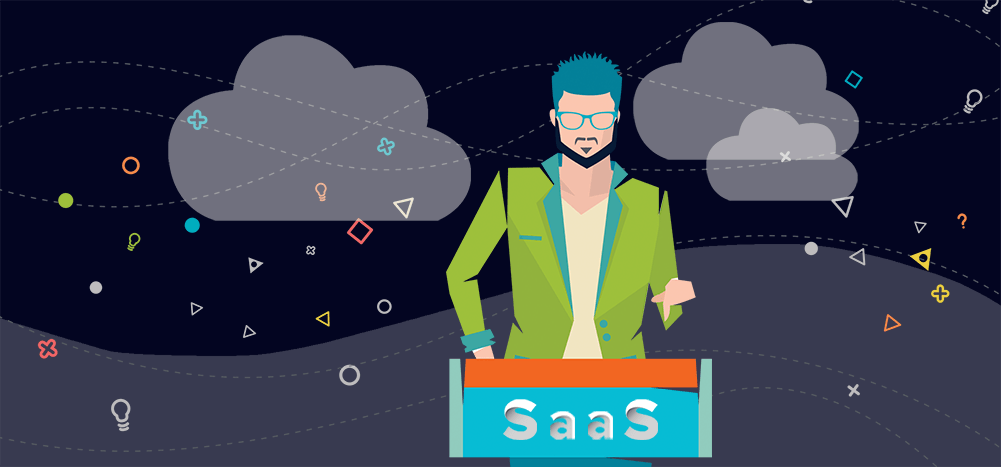 Unlike traditional sales, SaaS sales can turn out to be very challenging.
The SaaS space is also highly competitive — as of June 2020, more than 15,000 businesses engaged in SaaS sales!
That's why, when it comes to SaaS selling, you'll need a different approach to seal the deal.
In this article, I'll cover the essentials of SaaS sales. I'll go over its seven key stages and provide four practical tips to boost your revenues. I'll also answer four FAQs about SaaS sales to clear up any questions you may have.
This Article Contains:
(Click on links to jump to specific sections)
Let's get started.
What Are SaaS Sales?
SaaS (Software-as-a-Service) sales involve selling web-based software to customers.
Instead of downloading and installing a software application on their computer, customers can access the SaaS solution directly over the internet, like Gmail.
But why do you need a different sales approach for SaaS solutions?
What Makes SaaS Sales Unique
Here are four ways in which SaaS sales differ from traditional sales:
1. Complex Solutions
While it's true that SaaS products like Gmail are easy to use, most other SaaS solutions tackle some very challenging problems your customers may face, like customer relationship management or project management.
And the SaaS solutions that try to solve such problems can be complex and advanced.
As a result, selling these solutions usually isn't easy.
Your sales development rep will need to spend lots of time educating potential clients about the nature of your solution and its technical details before they're ready to buy. This is especially true for software that is expensive or involves multiple user licenses.
2. Subscription Pricing Model
A SaaS company usually adopts a subscription-based pricing model — customers pay you a subscription fee on a time-defined basis (for example, per month) to use your software services.
As a result, losing existing customers can have an immediate impact on your recurring revenue stream.
Moreover, since a SaaS business prioritizes upselling and cross-selling to existing customers, your SaaS rep will need to focus extra-hard on customer satisfaction and long-term retention.
3. Unique Customer Needs
Some SaaS solutions support extensive customization of their features to match customers' unique requirements.
However, as customizations increase, so will the sales cycle length.
This happens because it can become increasingly time-consuming to put together custom solutions that best match the unique needs of a potential client.
4. Highly Competitive Market
The SaaS solution space can be very competitive.
To give you an idea of how competitive the SaaS space can be, consider this statistic: as of June 2020, over 15,000 companies were selling SaaS solutions.
Why does that matter?
This means that it can be challenging for you to differentiate your SaaS offerings and stand apart from your competitors. As a result, you might need to put in more work to convince potential customers why your SaaS product is right for them.
But don't worry.
With a proper understanding of the essential stages in the SaaS sales process, your SaaS sales team can create winning strategies to boost your conversions.
The 7 Essential Stages in a SaaS Sales Process
Here are the seven stages common to most SaaS sales processes:
Stage #1: Lead Generation
Finding people who can benefit from your solution is usually the first step in any sales process.
But since SaaS solutions are complex, you can't rely on traditional customer acquisition tactics like cold calling or billboard ads to build awareness. Instead, you should turn to digital strategies like inbound marketing, Google AdWords, or highly targeted cold emails.
What's inbound marketing?
Inbound marketing is an approach that leverages relevant content like blog posts, case studies, infographics, etc., to attract potential customers.
The idea is that people looking for a SaaS provider will come across your content on search engines, newsletters, or social media groups. And if they find your content relevant and helpful, they are more likely to reach out to you.
In addition to your inbound marketing efforts, you can also find leads for your SaaS business by attending trade shows and conferences that cater to your customer base. This way, you can personally gauge the interest of a potential customer and possibly pitch to them. This is especially useful while selling Enterprise-grade software like complex CRMs or HR software.
Stage #2: Lead Qualification
Not everyone who reads your blog, downloads your whitepaper, or gives you their contact info will be a good fit for your SaaS solution.
That's why, in the lead qualification stage, you identify and qualify leads who can actually benefit from your SaaS product.
But how do you know if a lead is a good fit?
Your sales development rep can check whether the lead matches your ideal customer profile and buyer personas.
An ideal customer profile specifies the essential criteria a lead must satisfy to become your customer. On the other hand, a buyer persona clarifies the behavioral traits, demographics, company role or job title, and more that characterize your lead.
If a lead satisfies these criteria, they become a prospect, and your SaaS rep can move them to the next stage of your SaaS sales process.
Stage #3: Prospect Outreach
After determining who your prospects are, your SaaS salesperson needs to reach out to them via phone or email, sometimes even social media channels like LinkedIn if you don't have their contact details.
However, I recommend using email as your outreach channel — it's non-intrusive, professional, widely used, and cost-effective.
Additionally, with the right email marketing tool, your salesperson can easily send out automated email campaigns to many prospects, customize your messages, and analyze their performance to identify opportunities for improvement.
Your objectives at this stage are to:
Capture the prospects' attention and build a connection with them.
Schedule a meeting with them.
Ajay's Bonus Tip:
Outreach software can significantly simplify your prospect outreach efforts. To discover the right outreach tools for you, read my article on the top five outreach tools.
Stage #4: Sales Presentation
If a prospect is interested in your SaaS product, they could ask you for a sales presentation.
Of course, your sales presentation can significantly influence whether they ultimately buy your SaaS solution.
That's why you'll need to be proactive about how your salesperson does the presentation — ask your prospects beforehand who will be attending the meeting, and customize your SaaS selling presentation based on your audience.
During your sales presentation, remember to focus more on how you, as the SaaS provider, can solve the prospect's problems and less on your features.
You can:
Talk about the negative consequences of not overcoming the prospect's challenges.
Mention the positive implications of using a SaaS product like yours.
And if the sales presentation goes well, you can then send the prospect a sales proposal outlining your:
Relevant features
Key benefits for the specific customer
Pricing structure, and more
Wondering how to write a sales proposal?
Check out my article on how to write great sales proposals for some helpful pointers.
Stage #5: Negotiation
Your SaaS sales process doesn't conclude with the sales proposal delivery.
Given the complex nature of SaaS solutions and the level of customization possible, you may need to work out the finer details of your deal with the prospects, especially with enterprise-level customers.
For example, your prospects may need more clarification on the:
Pricing structure
Features offered
Terms and conditions, and more
Listen carefully to your prospect's concerns and determine how you can solve them. The prospect may also try to negotiate the price and customizations with you.
Stage #6: Sales Close
This is what all your SaaS sales efforts come down to: closing the sale.
If the prospect signs off on your deal, you can advance them to the final stage of your sales process.
And if the deal falls through, don't abandon the prospect immediately. You might be able to convert them at a later point in time.
Instead, you can:
Ask prospects for feedback to see what didn't work out.
Have your marketing team nurture the prospect more so that they might confidently purchase in the future.
Stage #7: Customer Enrichment
In traditional sales or transactional sales, a sales conversion is usually the final stage.
However, things are a little different for SaaS sales.
Since SaaS sales are usually subscription-based, you need to focus on retaining existing customers to sustain your recurring revenue stream. Moreover, to increase your revenue, you'll have to upsell and cross-sell existing customers.
However, for increased customer retention and upselling to work, you must first deliver on all your commitments to existing customers and ensure that they consistently have an outstanding customer experience.
That's why at the final stage of your SaaS sales process, you'll need to:
Follow up with prospects to see whether they're satisfied with your service.
Ask if there's anything you can do better.
Share more relevant content to enrich and educate your current customers.
Now that you've seen the different stages in a SaaS sales process, I'll cover how you can boost your SaaS sales:
4 Practical Tips to Boost Your SaaS Sales
Here are four tips to help improve the outcomes of your SaaS sales process:
1. Identify and Leverage Upsell and Cross-Sell Opportunities
Upselling and cross-selling to existing customers is a key part of any SaaS company's sales strategy.
Start by analyzing the data on how current customers use your SaaS offerings.
For example, if a specific customer reaches their subscription's usage limits, you could ask them if they'd like to upgrade to a better plan or try out other solutions you're offering.
And if the customer is interested, you can upsell and cross-sell them to generate more revenue.
2. Align Your Sales and Marketing Teams
Your SaaS sales team and marketing team should never work in silos.
Why?
Marketing material is crucial to educate your leads about your SaaS offerings — and without that, your SaaS sales team could have a hard time closing sales.
On the flip side, your SaaS sales team has first-hand knowledge of the types of questions your prospects ask and what they're most interested in knowing.
Your marketing team can create helpful content answering those questions, and then your SaaS reps can use that content and insight in their sales meetings.
Essentially, by aligning your sales and marketing teams, you can do a better job of helping prospects and closing deals faster.
3. Keep Track of SaaS Sales Metrics Consistently
SaaS sales metrics help you measure the effectiveness of your SaaS sales process.
You can use a sales metric or key performance indicator (KPI) to oversee your sales progress and identify opportunities for improvement.
Here are four vital SaaS sales metrics you should keep track of:
Monthly Recurring Revenue (MRR): the total amount of money your SaaS business makes every month.
Churn Rate: percentage of customers who stop using your SaaS solution during a specific period.
Customer Acquisition Cost (CAC): the amount of money it takes you to attract and acquire a new customer.
Customer Lifetime Value: the average amount of revenue you can generate from a customer during their entire subscription period.
4. Leverage Technology to Optimize Your SaaS Sales Process
Since SaaS sales usually involve many touchpoints, it can be challenging to stay on top of multiple activities like lead generation and outreach.
However, with the right tools, you can easily simplify your SaaS sales process.
For example, you can use a sales CRM tool like Salesforce or HubSpot CRM to:
Store all info related to your leads and customers in one central place
Track customer interactions
Manage your sales funnel effectively, and do so much more
You can also use lead generation software, like Leadfeeder or Unbounce, to determine quickly who visits your website, what they're looking for, and so on.
And for email outreach, there's no better tool than GMass — a powerful email marketing tool that works entirely inside Gmail.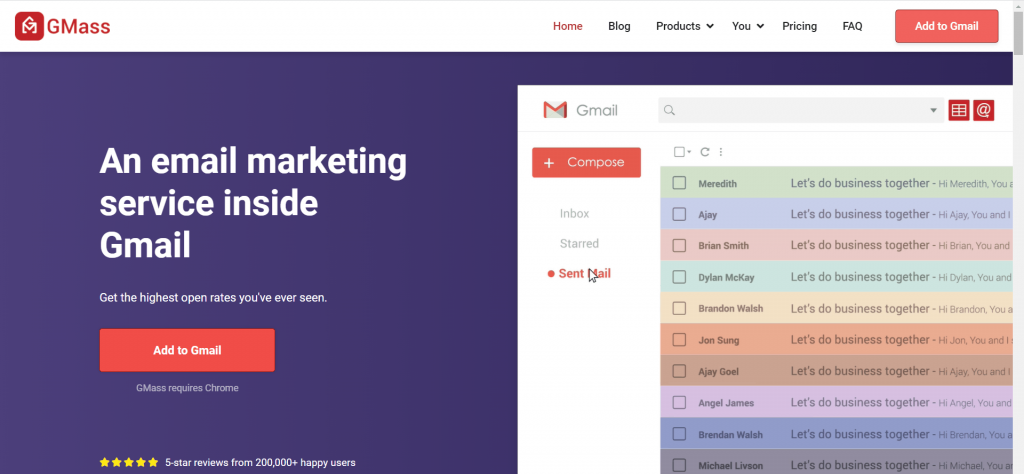 Suitable for any SaaS startup or corporate company, GMass lets you:
To get started with GMass, just download the Chrome extension and sign up with your Gmail email address. It's that simple!
Now that you know how to boost your SaaS sales conversions, let's go over some FAQs related to SaaS sales:
4 FAQs about SaaS Sales
Here are the answers to four FAQs about SaaS sales:
1. How Long Is a SaaS Sales Cycle?
Usually, the SaaS sales cycle length can vary between one week to six months or longer if it's a high-value deal with an enterprise-level customer.
However, the exact length of a SaaS sales cycle depends on things like:
Type of SaaS customer. Typically, small businesses and solopreneurs take less time to close — unlike enterprises that involve multiple stakeholders influencing the decision-making process.
SaaS product pricing. Expensive SaaS solutions generally take longer to sell since they represent a significant investment on your prospects' part. They'll need more time to become convinced about purchasing.
SaaS solution complexity. If your software has many customization options, it could take more time to put together a solution that will perfectly match your prospect's needs.
2. What are the Different SaaS Sales Models?
Generally, you'll come across three types of SaaS sales models:
A. Self-Service SaaS Sales Model
In a self-service sales model, people usually purchase your SaaS solution with little to no help from your side. Your SaaS company can use blog posts, tutorials, and other forms of educational content to guide your prospects along the sales process.
One of the main advantages of this model is the potential to earn a lot while keeping your support and sales costs to a minimum.
However, it's important to remember that a self-service sales model will work only for less complex and easy-to-understand SaaS solutions or lower-priced products.
B. Transactional SaaS Sales Model
A transactional sales model usually deals in more complex and expensive solutions when compared to a self-service model. It requires sales professionals who can effectively convey the complex value of the solution.
However, for a transactional sales model to stay profitable, you'll need to streamline your sales process to achieve a shorter sales cycle.
C. Enterprise SaaS Sales Model
You could use an enterprise sales model if your SaaS solution is extensively customizable and requires a significant investment from your prospects.
Under the enterprise sales model, your focus would usually be on mid-to-large companies.
However, since you're selling expensive solutions, you'll probably need exclusive sales professionals working on different prospect accounts. You'll also need a sales leader or sales manager to oversee your team's sales performance.
Moreover, your sales organization will need to provide personalized onboarding, high-priority support, and ad-hoc conflict resolutions to your prospects.
Wondering which SaaS sales model is right for you?
Ultimately, the sales model you need will depend on the cost of your SaaS solution and the type of customer you serve.
For example, it's not feasible to have several sales professionals assisting a potential customer when selling low-cost SaaS solutions. In this case, a self-service SaaS model will work best.
On the flip side, you must be very strategic about your outreach strategy when selling to large companies. For this, you'll need a specific SaaS salesperson to manage each prospect account.
3. How Do You Hire a SaaS Sales Rep?
When hiring a sales rep for your SaaS company, your SaaS sales leader or sales manager must ensure that the candidate understands your SaaS solution well.
Additionally, your potential SaaS rep should also focus on long-term goals.
They shouldn't solely prioritize achieving the sales quota. Instead, they must focus on customer retention, recurring revenue, and building long-term relationships.
If your company uses a transactional or enterprise sales model, you'll also need to ensure a potential SaaS rep is skilled at engaging in meaningful conversations and technical discussions.
Without this crucial skill, the rep will find it too difficult to convey the merits of a high-value solution and actually sell it!
4. What is the Typical SaaS Sales Compensation for Sales Reps?
Most sales reps selling SaaS offerings enjoy lucrative sales compensation plans. On average, a SaaS sales rep gets a base pay of around $81,000 in the United States.
Moreover, SaaS sales reps can also earn additional commission on revenue from new customer acquisition, monthly recurring revenue from existing customers, or crossing their sales quota.
Final Thoughts
SaaS sales can be challenging since the solutions you sell are generally complex, cater to unique customer needs, and have a subscription-based pricing structure.
However, with the right strategies and tools, SaaS sales management becomes easier.
For instance, with an email outreach tool like GMass, you can auto-personalize your outreach emails to prospective clients, analyze email campaign performance, send automated follow-up emails, and do so much more.
So why not try GMass today to start streamlining your SaaS sales efforts?
See why

99%

of users say they've had their best deliverability ever with GMass

Email marketing, cold email, and mail merge all in one tool — that works inside Gmail

TRY GMASS FOR FREE

Download Chrome extension - 30 second intall!
No credit card required
Love what you're reading? Get the latest email strategy and tips & stay in touch.