Looking for powerful sales management software?
Sales management software can streamline your sales process to help you save time and boost conversions.
But with several products available today, how do you find one that suits your needs?
In this article, I'll cover what sales management software is and how it can help your business. I'll also highlight seven powerful sales management tools.
This Article Contains:
(Click on a link below to jump to a specific section.)
Let's dive into it.
What Is Sales Management Software?
Sales management software is a platform designed to help your sales team achieve their goals. For example, you can use sales CRM software platforms to track each lead, monitor where they are in your pipeline, and more.
The sales manager can also utilize sales software to send emails, track sales data, minimize administrative tasks, identify sales trends, and detect improvement opportunities.
Some of the key benefits of using sales management software include:
Sales tracking software can help you save time by tracking and consolidating all your customer data in one place, making it easily accessible.
These platforms provide valuable insights that help a sales manager analyze revenue goals, optimize the sales process, and generate high-value opportunities.
Sales management software can also enhance teamwork by facilitating coordination between various departments in real-time to maximize your chances of conversion.
You'll usually have to use multiple sales management software tools to streamline the various stages in your sales process.
For example, you can use an email marketing tool and a CRM system together to manage leads and reach out to them whenever they're at the right stage in your sales pipeline.
Top 7 Sales Management Software in 2021
Here are the seven best sales management tools available today:
1. GMass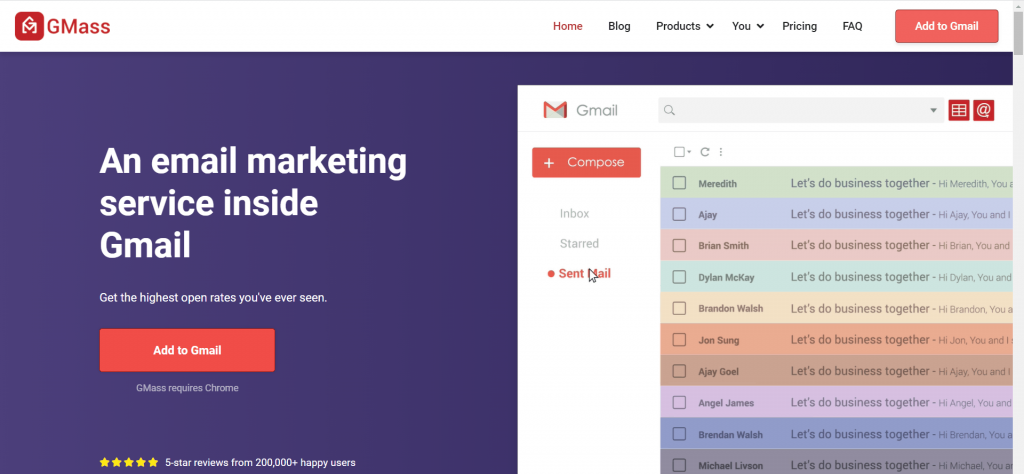 GMass is a powerful email marketing tool that works directly inside Gmail and can boost your sales conversions. Its robust outreach and mail merge features have made it a popular tool used by small businesses as well as employees at companies like Twitter, Uber, LinkedIn, and Google.
And to get started with GMass, all you need to do is download the Chrome extension and sign up with your Gmail account.
Here's a quick peek into some of GMass' impressive features:
A. Automatic mass email personalization
Personalizing your sales outreach emails is crucial as it improves your chances of making a connection with a lead and prevents your email from looking like spam.
In fact, 88% of recipients agree they are more likely to respond to an email that's personalized for their needs.
However, no one has the time to personalize every email manually.
Fortunately, you don't have to go to those extremes.
GMass has an automated personalization feature that can automatically tailor each email based on your recipient's needs.
GMass can automatically: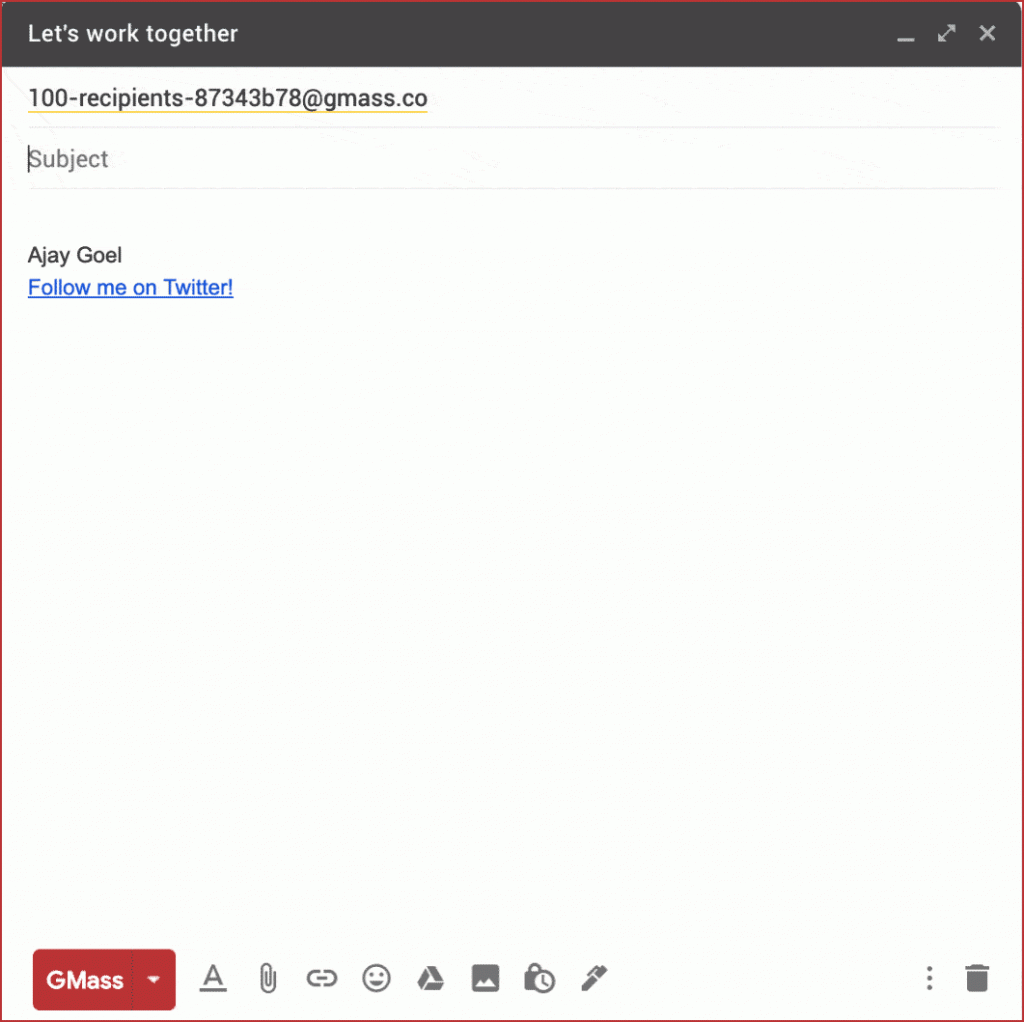 B. Accurate email campaign analytics
Accessing information about which emails bounced or the number of unsubscriptions is crucial in analyzing your outreach campaign's effectiveness.
And to help you out here, GMass auto-compiles detailed reports each time you send an email campaign — tracking various metrics, including opens, clicks, replies, bounces, and more.
GMass then collates this data and presents it in a Campaign Report. Users also have access to a live feed, showing various metrics in real-time.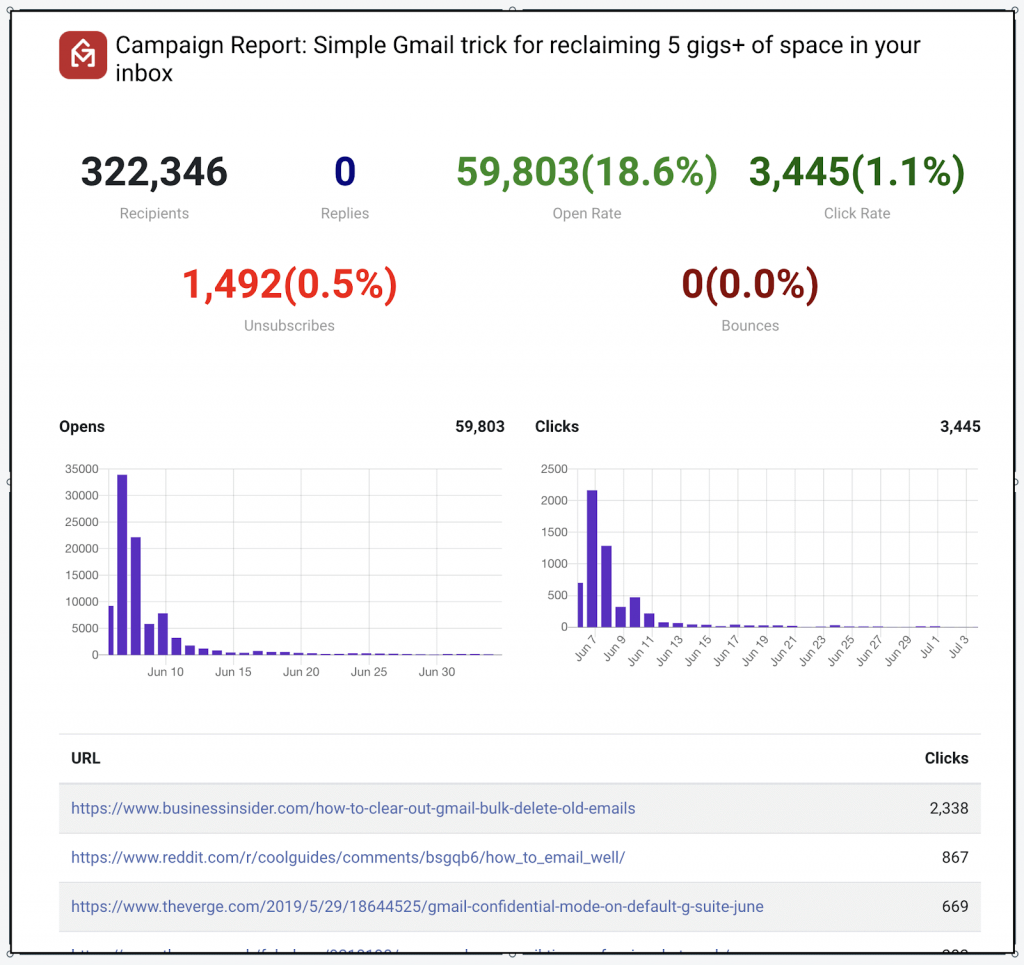 C. Automated follow-ups
Sending follow-up emails to prospects is a crucial step in each sales outreach campaign — it can even triple your reply rate.
GMass lets you send automated follow-up emails to help maximize prospect engagement. It also offers several customization options to send follow-ups based on prospect behavior.
For example, you can send a follow-up email when the recipient clicks on a link in the email.
You can also adjust the time between each follow-up, how many follow-ups to send, and the total number of follow-ups each recipient will receive.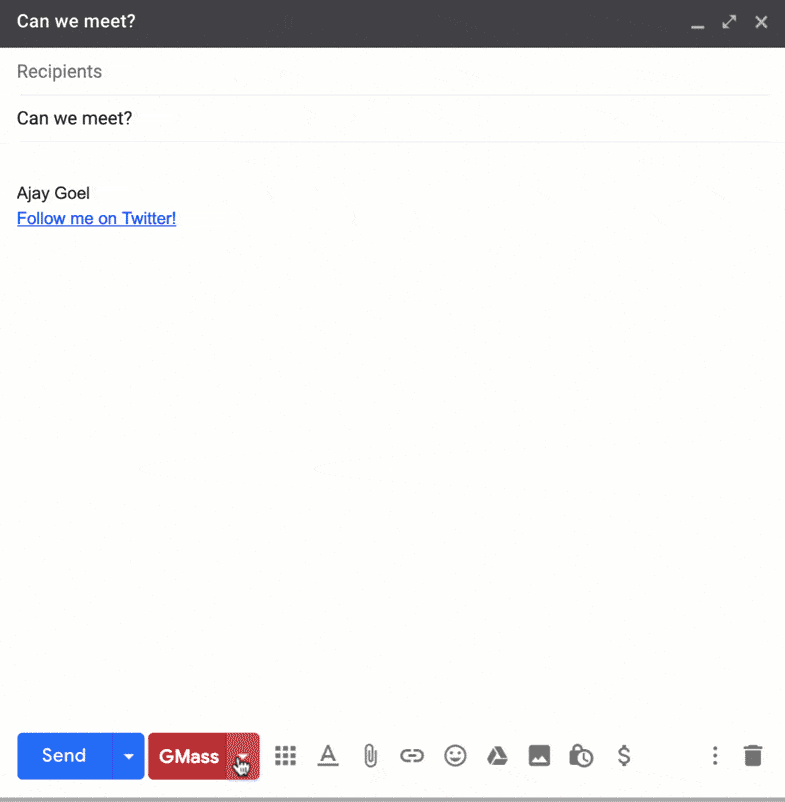 D. Automatic email list builder
Maintaining a mailing list is an important part of email marketing and sales campaigns.
And with GMass, building large emailing lists is easy.
Here's how:
Once you've linked your Gmail account to GMass, all you need to do is type relevant keywords into Gmail's search bar and click the search button.
Then, Gmail will display a list of results.
Next, click the build email list button (the red magnifying glass) close to the search bar.

GMass will then automatically compile an email list using the email IDs from your search results and add them to the To field in a new Compose window.
You can now craft your personalized email and send it with GMass.
What's more…
If your email lists are stored in Google Sheets files, you can quickly send mass email merges with the GMass-Google Sheets integration.
E. Schedule your emails to send at the perfect time
GMass lets you compose your emails and schedule them to be sent later, at any date and time.
This way, you can schedule your emails to reach prospects when they're most likely to check their inboxes — ensuring your emails don't go unnoticed.
And if you want to update the schedule, simply reschedule any unsent emails directly from your Drafts folder.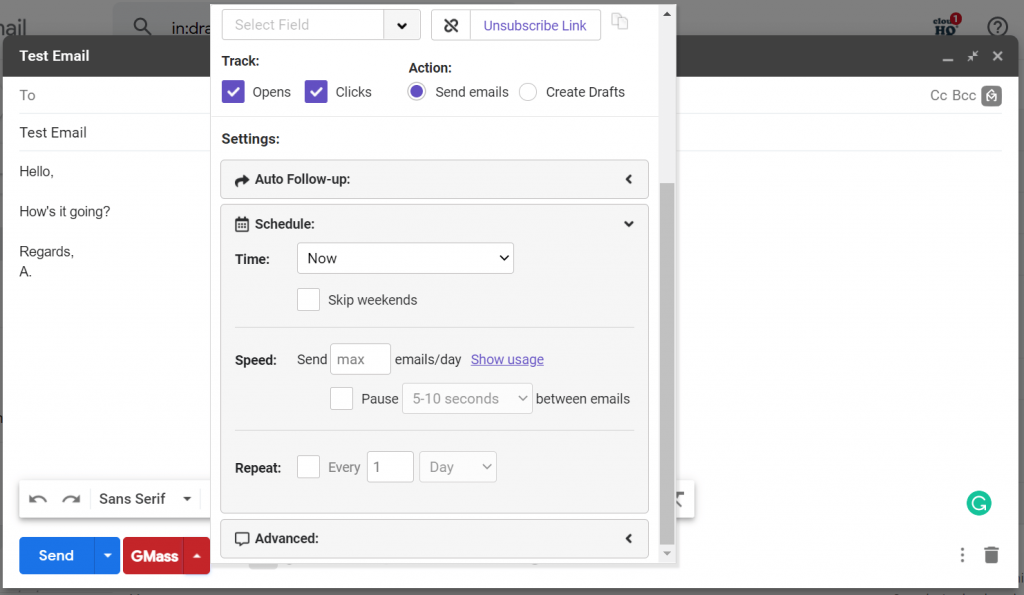 GMass Pros
GMass Limitations
Only compatible with Gmail
GMass Pricing
GMass offers three plans: 
Includes all features
Can send up to 50 emails a day
Includes all features except follow-ups and sequences
Unlimited tool usage

Premium ($19.95/month):

Includes everything in Standard plus follow-ups and sequences
Premium ($89/month for five users)
GMass Ratings
Capterra: 4.9/5 (600+ reviews)
G2: 4.8/5 (580+ reviews)
2. Pipedrive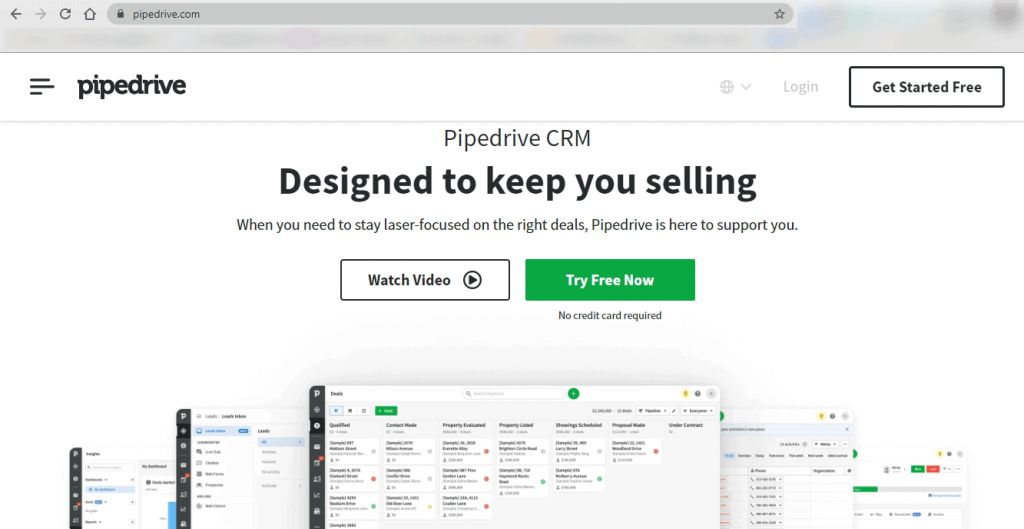 Pipedrive is a cloud-based customer relationship management (CRM) tool that can help small teams streamline their sales funnel. Its pipeline management features let sales managers and team members easily track their sales performance.
Pipedrive Key Features
Can track calls, emails, and contact history
Compiles customizable reports on deals and sales analytics
Customizable sales pipeline with several sales stages, activities, and team members
Pipedrive Pros
Has a mobile app for Android and iOS devices
Supports 200+ integrations with apps like Trello, Klenty, and Slack
Live chat allows a customer to connect to your sales team in seconds.
Pipedrive Limitations
No email marketing capabilities
Less suited to the needs of larger organizations
No workflow automation capabilities in the basic plan
Pipedrive Pricing
Pipedrive offers four paid plans: 
Essential ($15/user per month):
Provides customizable pipelines
Data import and export
Sales Assistant AI
And more
Advanced ($29/user per month):

Sales docs
Workflow automation
A customizable product catalog
And more
Professional ($59/user per month):

Caller to make sales calls from the web.
eSignatures
Unlimited visual dashboards
And more
Enterprise ($99/user per month):

Unlimited advanced user permissions
24/7 phone support
Automate up to 100 tasks
And more
Note: All plans come with an optional lead generation add-on billed at $39/month per company.
Pipedrive Customer Ratings
Capterra: 4.5/5 (2260+ reviews)
G2: 4.3/5 (1320+ reviews)
3. Salesforce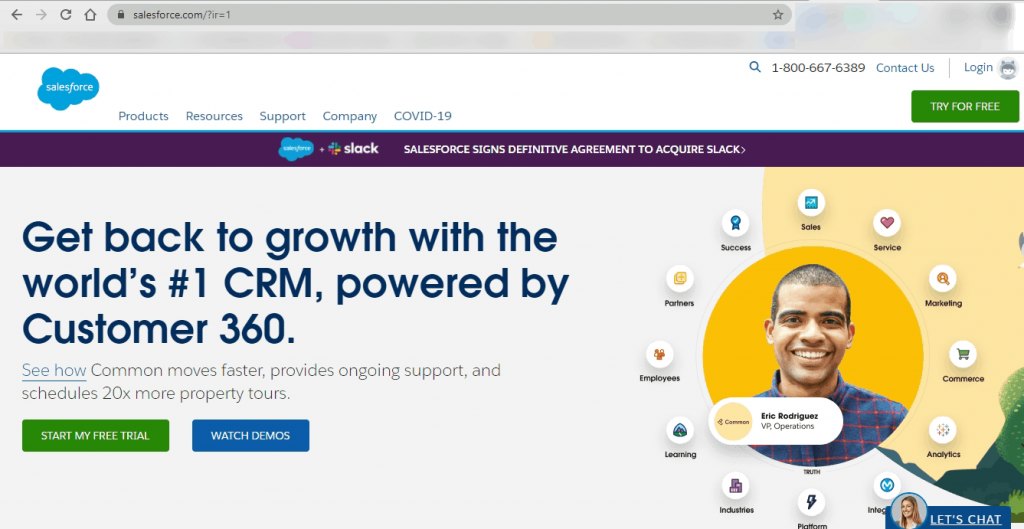 Salesforce offers several software products for various business needs, such as marketing automation (with their Pardot software) and lead management. Their CRM system, called Sales Cloud, enhances your sales management operations with contact management, collaboration, and marketing tools.
Salesforce Key Features
Customer management features provide a quick overview of your customers, their activity history, communications, and more.
With sales forecasting, you get a real-time view of your sales team's forecast, including in-line forecast adjustments.
Integrated AI can predict which deals are likely to close, suggest steps for each lead, and automate admin tasks.
Salesforce Pros
Salesforce provides detailed, customizable reports.
Built-in quoting capabilities automatically fill out relevant customer data.
A dedicated sales console gives your sales representative an efficient way to follow up on leads, identify key contacts, and more.
Salesforce Limitations
Often requires training to understand how to use the tool
Can be expensive for small businesses
No offline access
Salesforce Pricing
Salesforce is available in four pricing plans:
Essentials ($25/user per month):

Includes access to the Salesforce mobile app
Email integration
Account, lead, opportunity management
And more

Professional ($75/user per month):

Includes lead registration
Rules-based lead scoring
Collaborative forecasting
And more
Enterprise ($150/user per month):

Access to the sales console app
Opportunity splits
Advanced reporting features
And more
Unlimited ($300/user per month):

24/7 support and configuration services
Unlimited roles and permissions
Access to Developer Pro sandbox
And more
Salesforce Customer Ratings
Capterra: 4.5/5 (260+ reviews)
G2: 4.2/5 (11,000+ reviews)
4. Freshworks CRM

Freshworks CRM is sales management software designed to accelerate your sales process by offering in-depth sales management.
Freshworks Key Features
Create your own contact lifecycle stages based on your business processes.
Intelligent workflow automation makes it easy to automate sales tasks.
Conversion rate optimization helps optimize your website with A/B testing, heatmaps, and more.
Freshworks Pros
Android and iOS mobile app to manage relationships on the go
Provides insights into your sales process with win-loss analysis, attribution, conversion reports, and more
AI-enabled features to enhance sales professionals' productivity
Freshworks Limitations
There are no radial/territorial mapping features to analyze the physical location of your visitors or compare sales in various regions.
Pricing can be expensive for smaller businesses as you pay per user.
Freshworks Pricing
Growth ($35/user per month):

1,000 active contacts (those you engage through your marketing campaign)
Live chat and Facebook Messenger
Website tracking
And more
Pro ($85/user per month):

3,000 active contacts
WhatsApp and Apple Business Chat
Conference calling
And more
Enterprise ($149/user per month):

5,000 active contacts
Auto-profile enrichment
Call recording
And more
Freshworks Customer Ratings
Capterra: 4.6/5 (480+ reviews)
G2: 4.6/5 (880+ reviews)
5. Zoho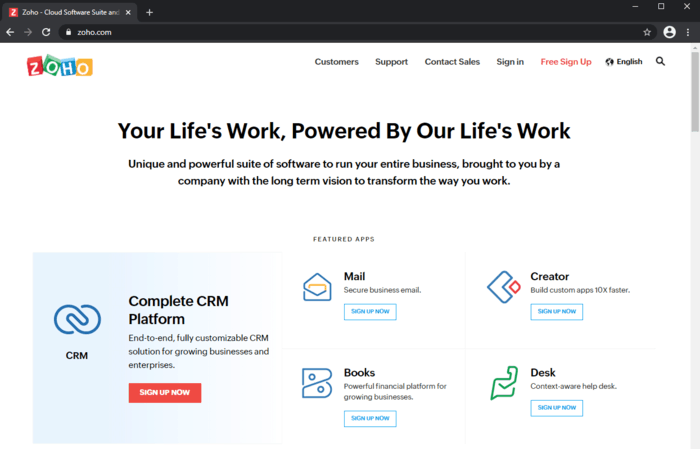 Zoho is sales performance management software that can help you manage every sales activity better. The CRM tool does this through a host of useful features, such as an integrated calendar, sales forecasting, and more.
Zoho Key Features
Automate your routine sales, marketing, and support functions.
The Command Center allows you to create personalized customer journeys.
You can generate price quotes and invoices within the CRM.
Zoho Pros
Can create notes and tag sales team members for better collaboration
Mobile app to stay connected to colleagues and clients wherever you are
AI to fetch information, take notes, predict future sales, and more
Zoho Limitations
Learning the ins and outs of the program can take some time.
Pre-designed templates offer limited customization options.
Base pricing plans don't support lead conversion and forecasting features.
Zoho Pricing
Their pricing plans include:
CRM views
Advanced filters
Page customization
And more
Standard ($18/user per month):

Sales forecasting
Email insights
Custom dashboards
And more
Professional ($30/user per month):

Real-time customer notifications
Web-to-case forms
Validation rules
And more
Enterprise ($45/user per month):

Conversational AI assistant
CommandCenter to personalize customer journeys
Mobile SDK and MDM
And more
Ultimate ($55/user per month):

BI and analytics software
The highest possible feature limits
And a 30-day free trial
Zoho Customer Ratings
Capterra: 4.2/5 (4,700+ reviews)
G2: 4.0/5 (1,830+ reviews)
6. HubSpot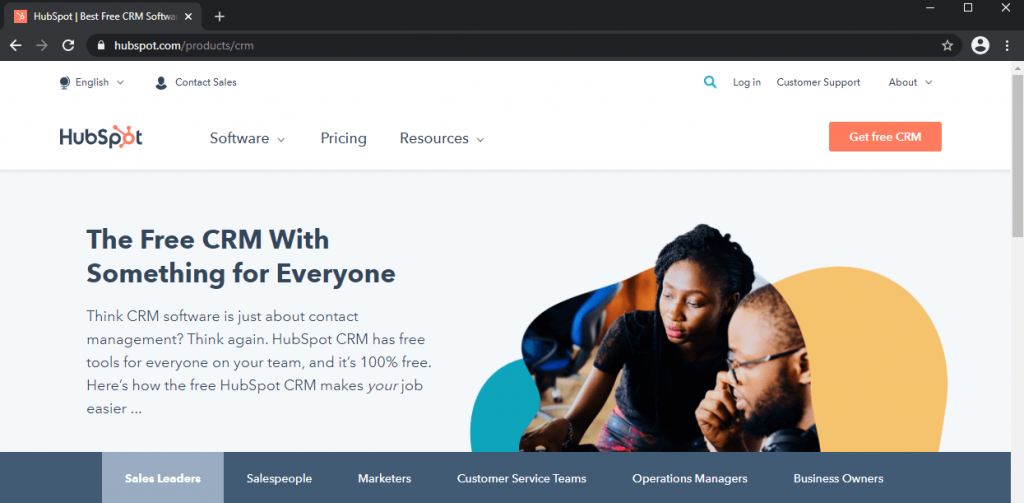 HubSpot offers a suite of sales and marketing tools, including a free CRM and some sales automation tools. The HubSpot Sales software can help you automate tasks to free up time for your salespeople.
HubSpot Key Features
Predictive lead scoring to qualify leads easily
Document management functionality to create a shared library of sales content
Supports call tracking and recording features
HubSpot Pros
Has a free plan
Provides real-time access to your entire sales pipeline through one dashboard
Automatically enriches your contact records with data from over 20 million businesses
HubSpot Limitations
HubSpot can't track the time a prospect spends in each stage of the sales pipeline.
In-app email service is very basic.
The paid version can be expensive for smaller businesses.
HubSpot Pricing
This sales management software solution offers several plans:
Automated contact management
Live chat
Reporting dashboards
And more
Starter ($50/month):

Simple automation
Live chat
Meeting scheduling
And more
Professional ($500/month):

SEO recommendations and optimizations
Smart content and reporting
A/B testing
And more
Enterprise: ($1,200/month):

Record customization
Field-level permissions
Webhooks
And more
HubSpot Customer ratings
Capterra: 4.5/5 (280+ reviews)
G2: 4.5/5 (1,000+ reviews)
7. monday.com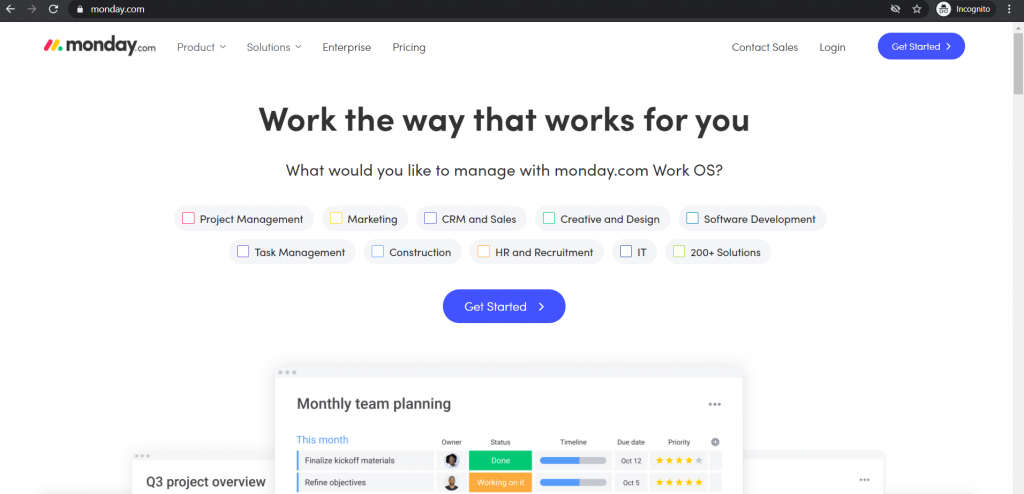 If you have heard of monday.com, you must be surprised to find it here!
If monday.com is project management software, why is it on our list of sales management software?
It's because you can customize monday.com to work as a simple CRM. You can also integrate it with email, forms, and other tools to create a decent sales management system.
monday.com can simplify your sales management processes and increase your sales performance by organizing company data into one centralized database.
This functionality is quite enough for companies with just one or two salespeople — or even with no dedicated salespeople!
monday.com Key Features
Sales order tracking to follow a customer's order through every step of the process
Supports Kanban boards, Gantt charts, and more to map tasks and track deadlines
Integrates with tools like Zapier, Pipedrive, and HubSpot
monday.com Pros
Mobile app to communicate, share files, receive feedback, and more
Automates repetitive tasks so the team can spend time focusing on sales
Customizable dashboards to bring all your data into one place
monday.com Limitations
The software isn't very intuitive, which can make it difficult to learn.
It lacks efficient notification management features.
Basic pricing plans don't support automations and calendar views.
monday.com Pricing
monday.com charges by the seat (per user) with a minimum of three seats. The four paid plans are charged monthly based on how many seats you choose.
Basic ($10/seat per month):

Unlimited boards to organize your work
200+ templates
20+ columns
And more
Standard ($12/seat per month):

Timeline and Gantt views
250 automated actions per month
A dashboard combining up to five boards
And more
Pro ($20/seat per month):

Private boards
25,000 automations per month
25,000 actions per month
And more
Enterprise (Contact monday.com for a quote):

Enterprise-scale automations and integrations
Advanced reporting and analytics
Combines up to 50 boards
And more
monday.com Customer Ratings
Capterra: 4.6/5 (2230+ reviews)
G2: 4.6/5 (1460+ reviews)
Wrapping Up
Attracting and converting a sales lead can be a difficult and time-consuming task if you're manually performing all the steps involved.
Fortunately, with the right sales management tool, you can streamline this process and reduce the time and effort required to convert leads into paying customers.
For instance, GMass helps you reach out to prospects and engage with them using powerful email campaigns. With features like automatic email personalization, detailed reports and analytics, email scheduling, Salesforce integration, and more, GMass can help you reach out to prospects efficiently and boost your sales conversions.
Download the GMass Chrome extension today and experience the benefits for yourself!