Looking for a free email tracking tool?
Tracking your marketing and sales emails is a great way to understand how prospects engage with them and optimize your outreach strategy for better results.
And the easiest way to do that is by using free email tracking tools.
In this article, I'll highlight ten free email tracking software, including their crucial email tracking features, pricing, and customer ratings, so that you can make the right choice for your business.
This Article Contains:
(Click on the links to jump to a specific section)
Let's go.
Top 10 Free Email Tracking Software in 2022
Here are some of the best free email tracking software available for your large or small business:
1. GMass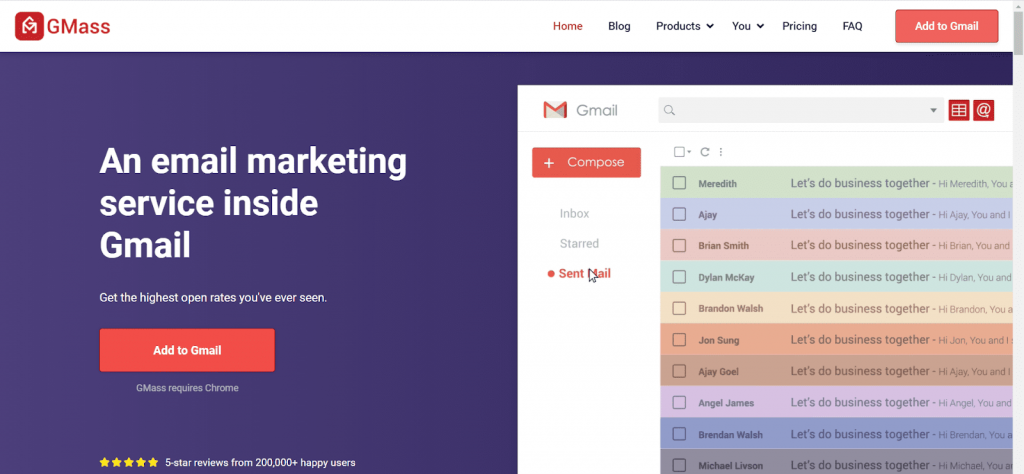 GMass is an all-in-one email tracker and marketing automation tool that works entirely inside Gmail.
Its robust email tracking capabilities and ease of use have made it a preferred outreach tool for salespeople, startup founders, small business owners, influencers, and even employees at top companies like Google and Twitter.
How do you get started with GMass?
Simply download the Googe Chrome extension from the Chrome web store and sign up for free with your Gmail or Google Workspace (formerly known as GSuite) account!
Key Features
Here are five features that make GMass stand out as an email tracker from the rest of the tools in this list:
GMass accurately tracks multiple email metrics and provides detailed breakdowns of your email campaigns to help you analyze engagement.
When you send an email campaign using GMass, it automatically generates a Campaign Report in your Gmail inbox, which tracks core email metrics like:
Unique Opens: The total number of unique email addresses that opened your email.
Didn't Open: The total number of email addresses that didn't open your sales email.
Unique Clicks: The total number of your recipients who clicked at least one link in your sent email.
Replies: The total number of recipients that replied to your email.
Bounces: The total number of undelivered emails sent to invalid email addresses.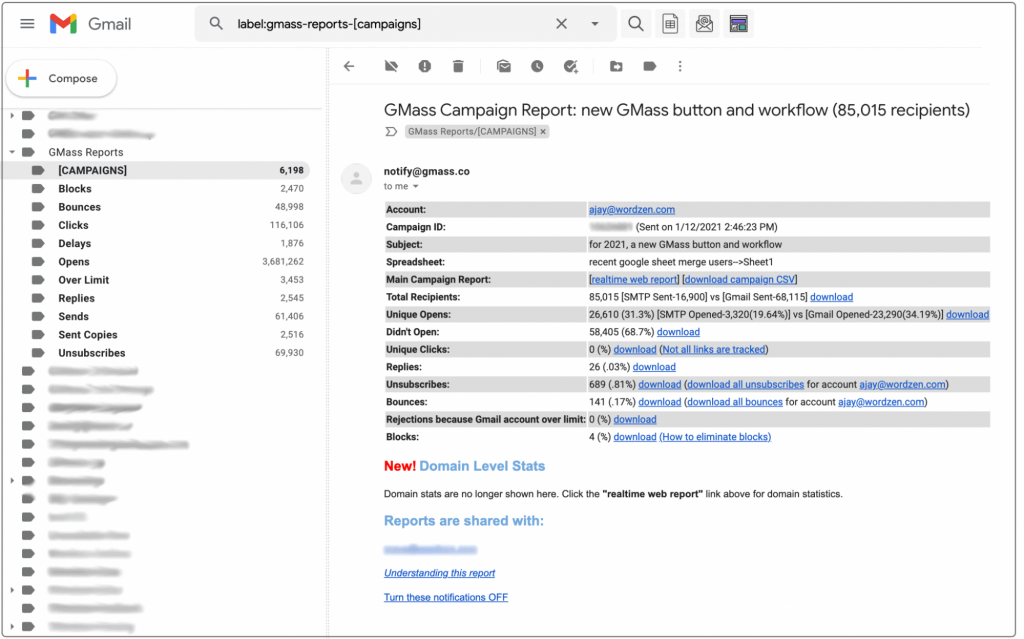 For convenience, GMass also lets you track your bulk emails and campaign performance in two other ways:
Go to the GMass dashboard to access all your current email campaign reports.
Click on the links on the dashboard or your Google Inbox to obtain a web-based report of your campaigns.
If you want to grab and retain a prospect's attention, your email must stand out in their inbox — instead of getting lost with all the other important emails.
How do you do that?
A great practice is personalizing your outreach messages based on who you're emailing.
However, manually personalizing each email is impossible when you have a long prospect list.
Don't worry.
Just use GMass' automatic personalization feature!
As one of the best email software solutions in the market, GMass lets you automatically personalize almost everything about your email, including: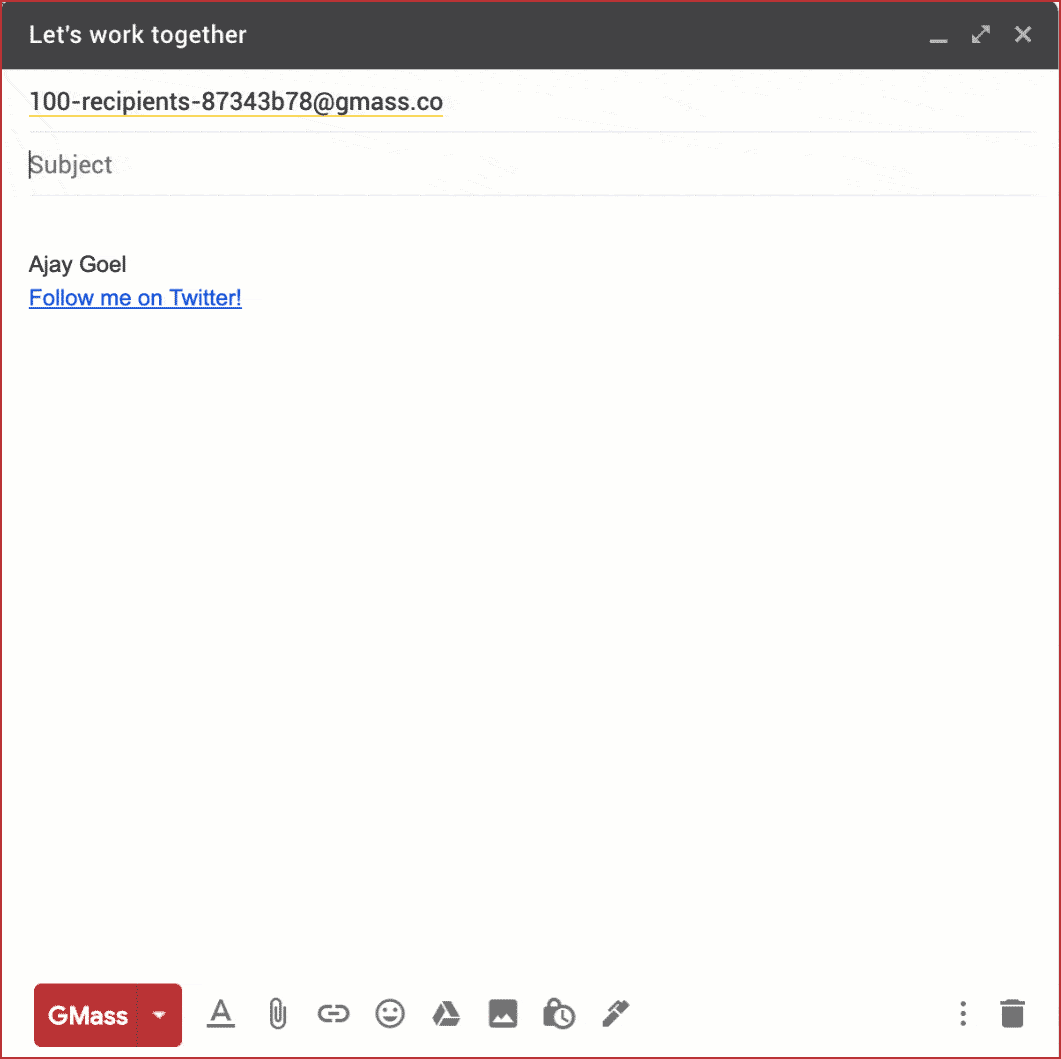 Based on how prospects interacted with your first email, you may have to send out follow-up emails to boost response rates.
But what if you've to follow up with hundreds of recipients?
Enter GMass' automatic follow-ups!
It lets you automate up to eight stages of follow-up emails and offers customizations like:
Choose when to send a follow-up — when a recipient opens your email message, clicks a specific link in your email, or when they don't reply for a few days.
Decide how many follow-up email messages each person receives.
The time between follow-ups.
The follow-up email content.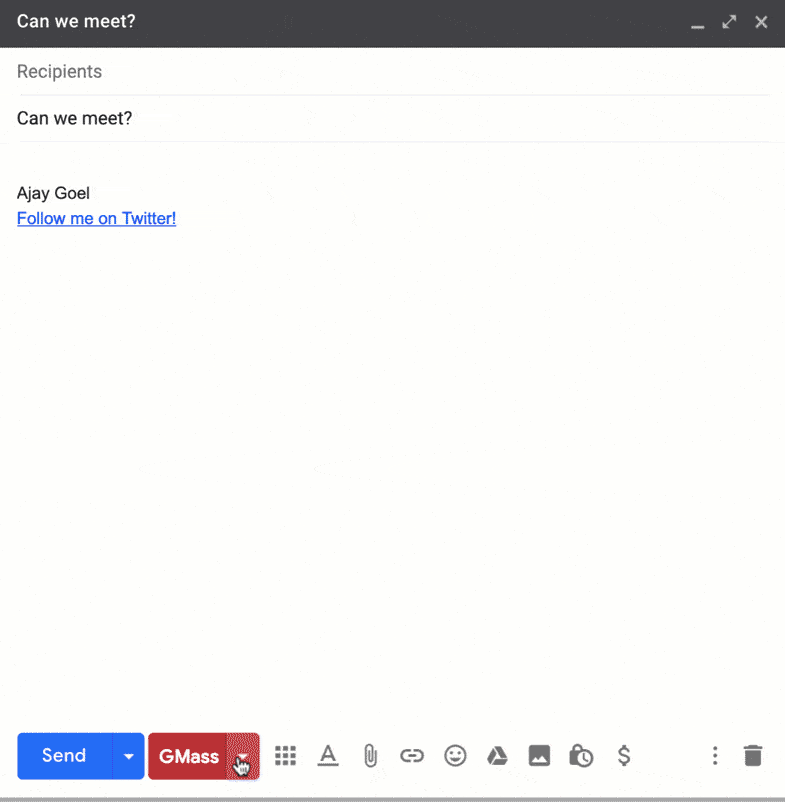 With the GMass email scheduling feature, you can automatically schedule emails to be sent at a date and time you prefer.
This feature lets recipients receive your email when they're most likely to respond.
Scheduling emails is quick and easy to do from a simple dropdown menu inside Gmail's Compose window. And if you wish to reschedule your emails, you can easily do so from the Gmail drafts folder.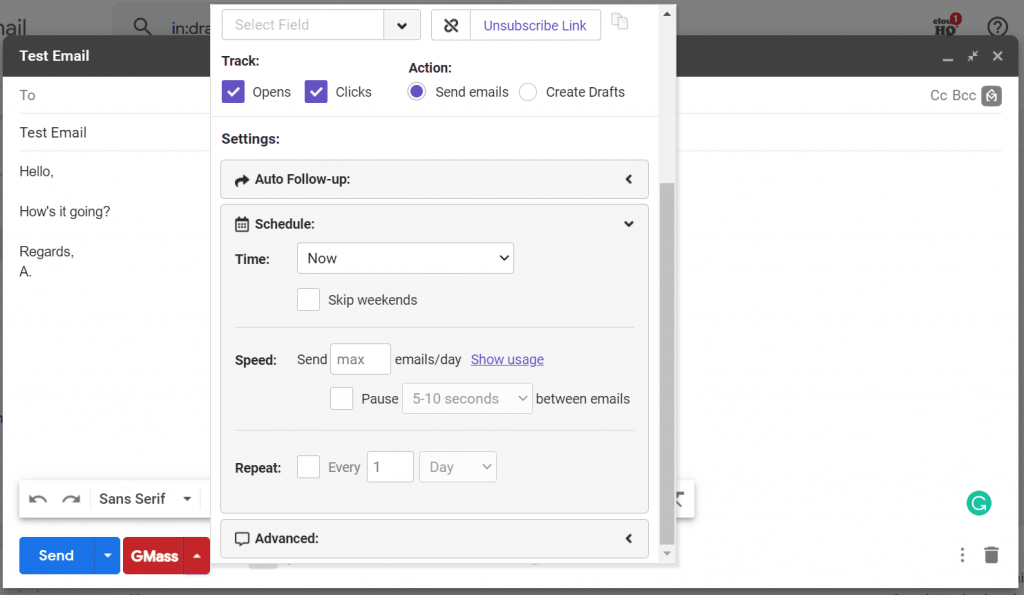 GMass's mailing list feature allows you to send emails to targeted groups of people.
It helps you search for keywords related to your target audience in Gmail and automatically builds a mailing list based on the search results.

Moreover, if you already have a mailing list stored on Googe Sheets, Excel, or as a CSV file, you can also easily connect it to GMass.
Additional GMass Features
GMass offers many more advanced features to help your marketing and sales team with their email outreach efforts.
GMass has different pricing plans to suit various customer needs:
Free Plan (up to 50 emails/day) & includes all features.
Individual:

Standard ($19.95/month):

Unlimited email tracking.
Basic email campaigns.
Address verification.
And more.
Premium ($29.95/month):

Includes all "Standard" features.
Email sequences and follow-up emails.
A/B testing.
And more.
Enterprise ($49.95/month):

Includes all "Premium" features.
High Priority customer support.
And more.
Team ($125/month for 5 users) and includes all "Enterprise" features.
Customer Ratings
G2: 4.7/5 (790+ reviews)
Capterra: 4.8/5 (820+ reviews)
2. Benchmark Email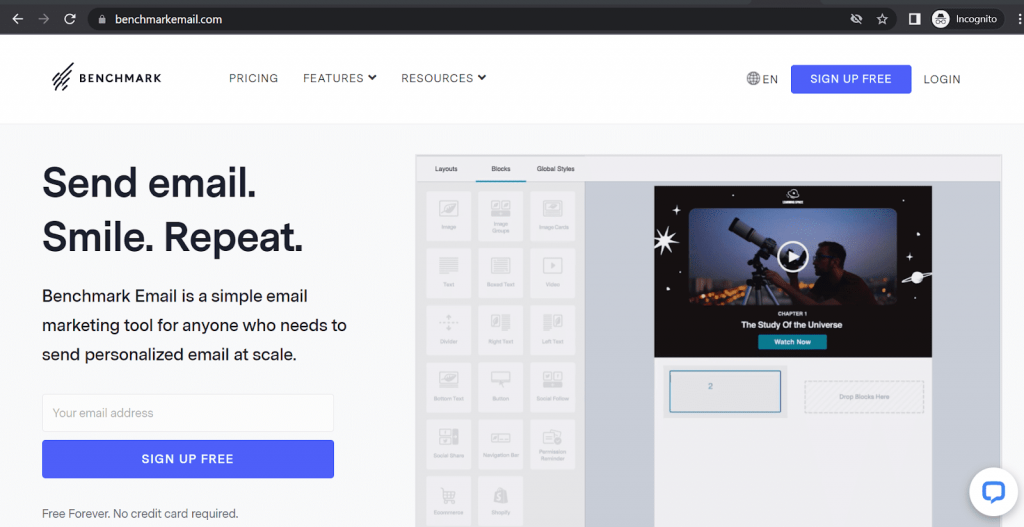 Benchmark Email is a simple email marketing tool for sending personalized emails at scale.
Key Features
Use pre-built email templates for any occasion.
Create better email campaigns by understanding how subscribers interact with your emails through A/B testing and other reporting features.
Use list builders, automations, surveys, and polls to build a loyal fanbase that engages with your message.
Integrate with over 1500 services, including WordPress, Google, Zapier, Shopify, and more.
Pricing
Benchmark Email has a free plan with basic email marketing and automation. Paid plans start at $15/month for 500 contacts.
Customer Ratings
G2: 4.2/5 (60+ reviews)
Capterra: 4.2/5 (150+ reviews)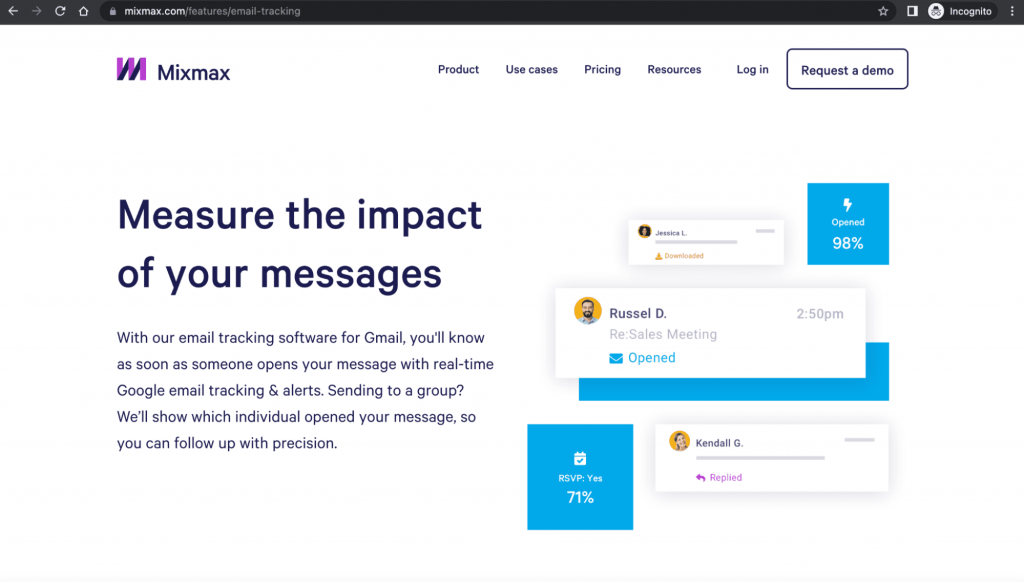 Mixmax is a sales engagement and email marketing platform that helps you easily create, edit, and track email sequences.
Key Features
Create personalized email sequences for your prospects.
Monitor engagement metrics like email opens and click-through rates.
Set up flexible alerts depending on email engagement across text, email, or Slack.
Analyze the performance of links and attachments in your sales campaign sequence.
Pricing
Mixmax has a free plan for tracking 100 emails a month. Paid plans start at $12/user per month.
Customer Ratings
G2: 4.6/5 (1000+ reviews)
Capterra: 4.5/5 (170+ reviews)
4. Boomerang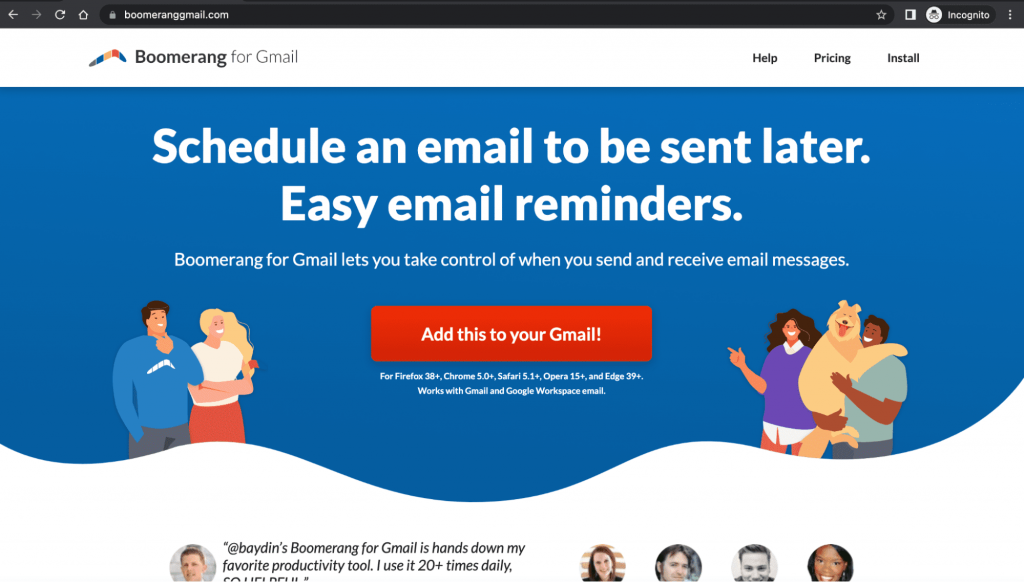 Boomerang is an email tracking and scheduling software solution you can use with your Gmail or Microsoft Outlook accounts.
Key Features
Get notified when prospects open your email or click on an included link.
Use the response tracking feature to follow up with recipients who don't respond within a certain time.
Schedule your emails to reach prospects at their peak hours.
Use Boomerang's Respondable AI feature to draft highly effective emails and follow-ups.
Pricing
The free plan lets you send 10 emails per month and supports tracking and scheduling features. Paid plans start at $4.98/month for Gmail and $4.99/month for Microsoft Outlook.
Customer Ratings
G2:

Boomerang for Gmail: 4.4/5 (220+ reviews)
Boomerang for Outlook: 4.3/5 (50+ reviews)

Capterra: 4.7/5 (140+ reviews)
5. HubSpot Sales Hub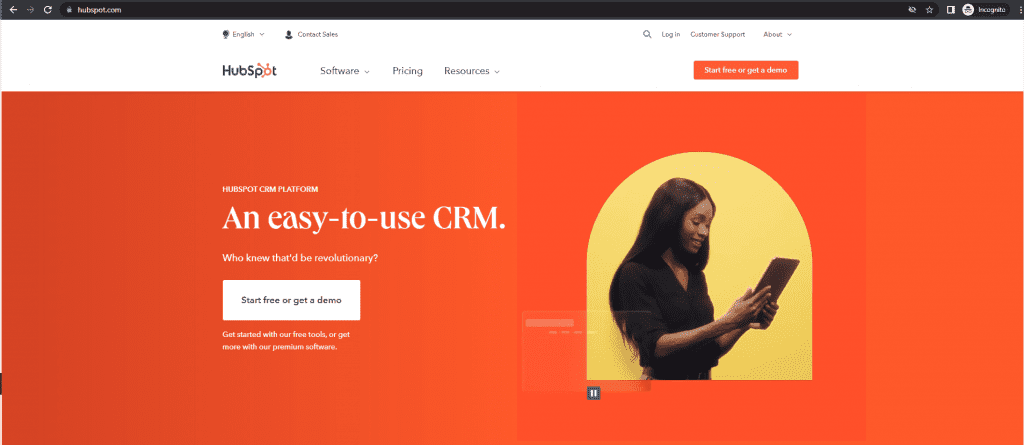 HubSpot Sales Hub is an outbound sales and email platform offering deep insights into your prospects and helping you automate the email outreach process.
Key Features
Know when a lead opens your email so you can follow up with them at the right time and close deals faster.
Set up a series of personalized email messages and follow-up tasks to ensure you stay top of mind throughout the sales process.
Develop a library of helpful sales content for your entire team and share documents from your Gmail or Microsoft Outlook inbox.
Eliminate friction by bringing all your tools and data together on one easy-to-use, powerful CRM platform.
Pricing
HubSpot Sales Hub offers a free plan with no credit card required, while paid plans start at $45/month for 1000 contacts.
Customer Ratings
G2: 4.4/5 (8,900+ reviews)
Capterra: 4.5/5 (320+ reviews)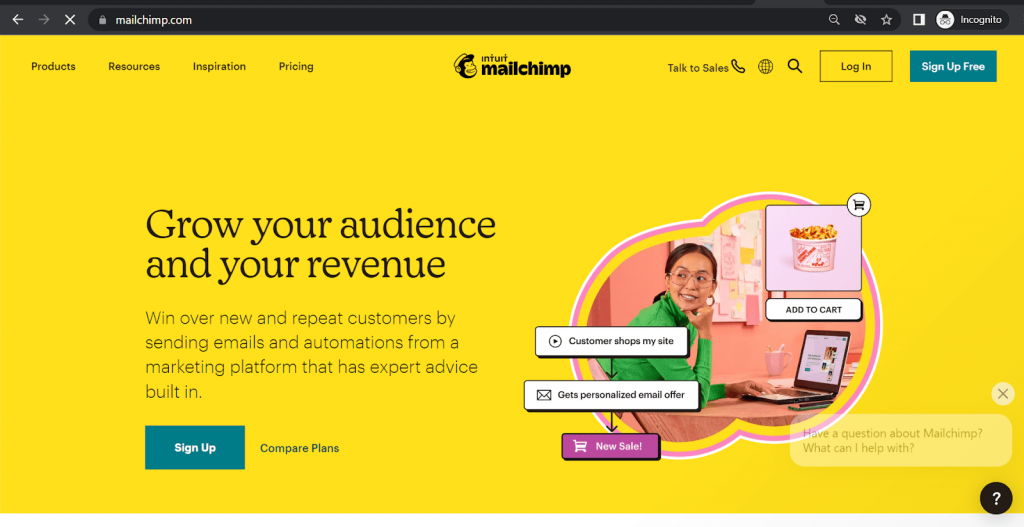 MailChimp is a marketing automation software tool and email marketing service for managing mailing lists and creating email marketing campaigns.
Key Features
Draw your readers in with the right subject lines based on feedback from its Subject Line Helper.
Draft more relevant emails with behavior-based automated journeys created in its Customer Journey Builder.
Focus on establishing relationships with your audience and see a higher return on your efforts.
See what's working in your email campaigns and track your sales with Reports.
Pricing
MailChimp has a free plan with a monthly send limit of 10,000 emails. Paid plans start at $11/month for 500 contacts.
Customer Ratings
G2: 4.3/5 (11,900+ reviews)
Capterra: 4.5/5 (14,700+ reviews)
7. MailTrack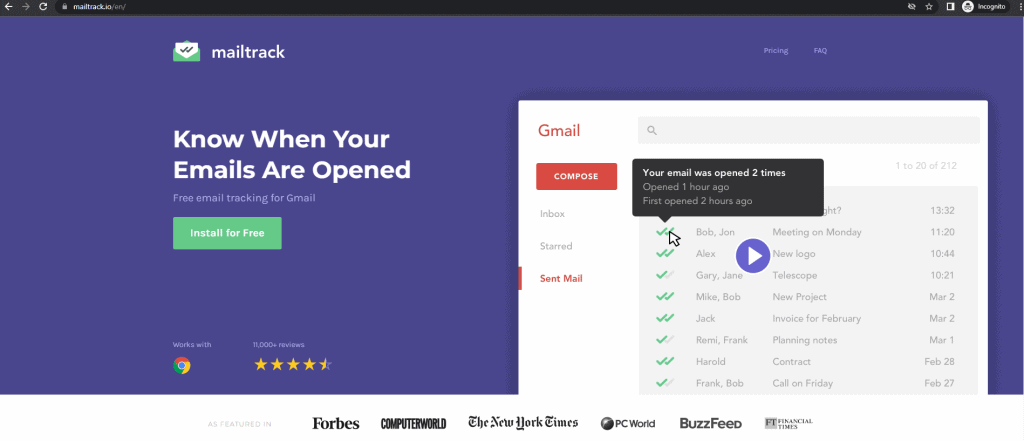 MailTrack is an email tracking tool for Gmail web, iOS, and Android. It provides detailed insights into your engagement levels with comprehensive metrics about your tracking email history, an activity dashboard, and a daily report.
Key Features
Receive a read receipt in your inbox if recipients read your email.
Get a real-time desktop notification when a recipient reads your email through the informed delivery feature.
The incoming tracked email indicator lets you know if a sender is tracking your incoming emails.
Receive daily reports about emails you've sent, including the number of sent emails, percentage of opened emails, and percentage of links recipients clicked on.
Pricing
MailTrack offers a free plan with unlimited email tracking, while paid plans start at $1.99/user per month.
Customer Ratings
G2: 4.6/5 (100+ reviews)
Capterra: 4.5/5 (160+ reviews)
8. Right Inbox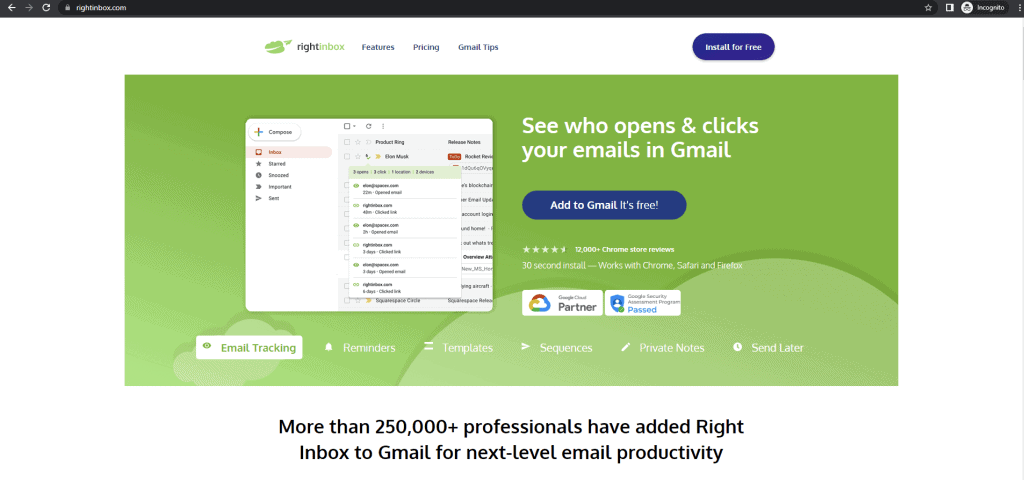 Right Inbox is a free email tracker that lets you and your sales rep view who opens and clicks your emails. It also allows you to schedule the emails to be sent later and follow up with reminders.
Key Features
Notifies you when an intended recipient has engaged with your email.
Its link click tracking informs you when a recipient has clicked on a link in your email.
The tool scans your replies and sends the perfect email template to interested parties.
Helps you create different email signatures and apply the perfect one for every situation.
Pricing
Right Inbox offers a free plan with 10 emails/month and unlimited CRM sync. Paid plans begin at $7.95/month.
Customer Ratings
G2: NA
Capterra: 4.3/5 (10+ reviews)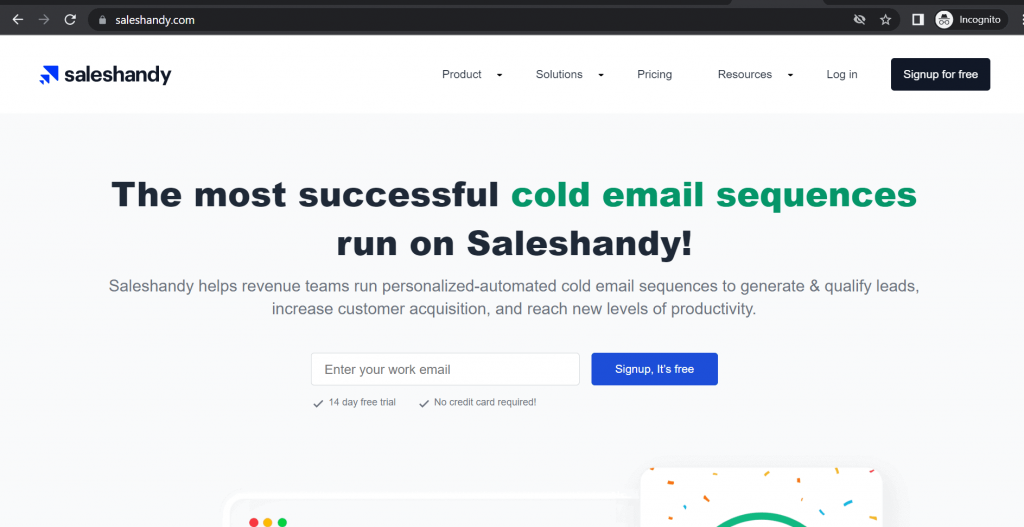 SalesHandy is a sales engagement software platform that enables sales teams to scale their email outreach operations seamlessly.
Key Features
Get notified about when and how many times recipients opened or replied to your email.
Receive a real-time desktop notification when someone opens your email.
Enable the "Link Tracking" option from Settings in your email compose box to track the link in your email.
Quickly identify the important email replies in your otherwise flooded inbox.
Pricing
SalesHandy offers a free plan with email scheduling, unlimited email open tracking, and a Gmail integration. Paid plans start at $12/user per month.
Customer Ratings
G2: 4.5/5 (160+ reviews)
Capterra: 4.5/5 (110+ reviews)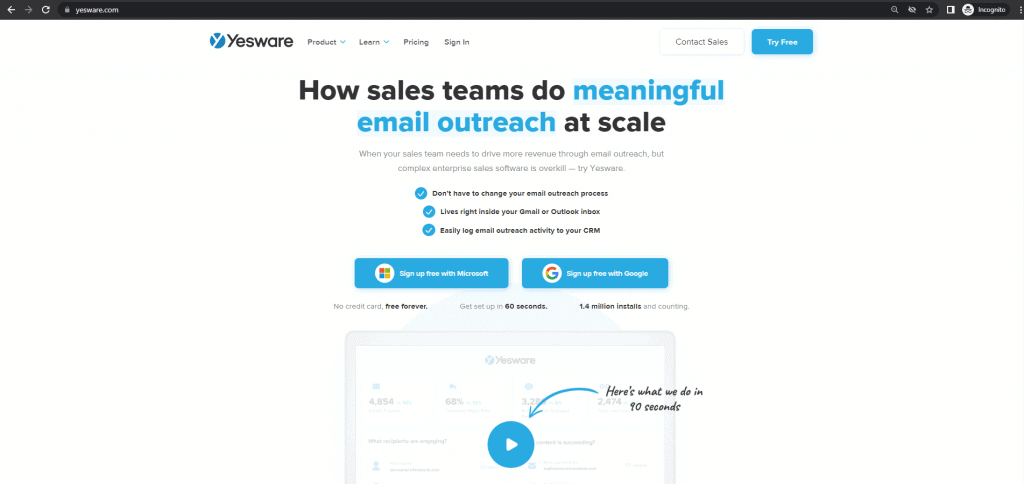 Yesware is an email tracking solution that helps email marketers monitor outreach campaigns through helpful tracking reports and analytics.
Key Features
Track email opens and clicks to analyze engagement.
Connect with multiple recipients personally with multi-channel email campaigns.
Draft emails and save them as templates to reuse the perfect ones at the right time.
View detailed statistics regarding which emails, links, and attachments recipients engage with recipients the most.
Pricing
Yesware offers a free plan with basic email tracking, while paid plans start at $19/user per month.
Customer Ratings
G2: 4.4/5 (750+ reviews)
Capterra: 4.3/5 (160+ reviews)
Wrapping Up
Email trackers help monitor your outreach efforts and provide insights into a prospect's behavior. This enables you to minimize wasted opportunities and improve your chance of getting a reply.
If you're looking for a free email tracker solution to boost your engagements, why not try GMass?
Its advanced email tracking features help you easily analyze your email campaign performance. It also helps you drive behavior-based campaigns, personalize your outreach efforts, and do so much more for free.
Download the GMass Google Chrome extension and track all your emails today!
See why

99%

of users say they've had their best deliverability ever with GMass

Email marketing, cold email, and mail merge all in one tool — that works inside Gmail

TRY GMASS FOR FREE

Download Chrome extension - 30 second install!
No credit card required
Love what you're reading? Get the latest email strategy and tips & stay in touch.