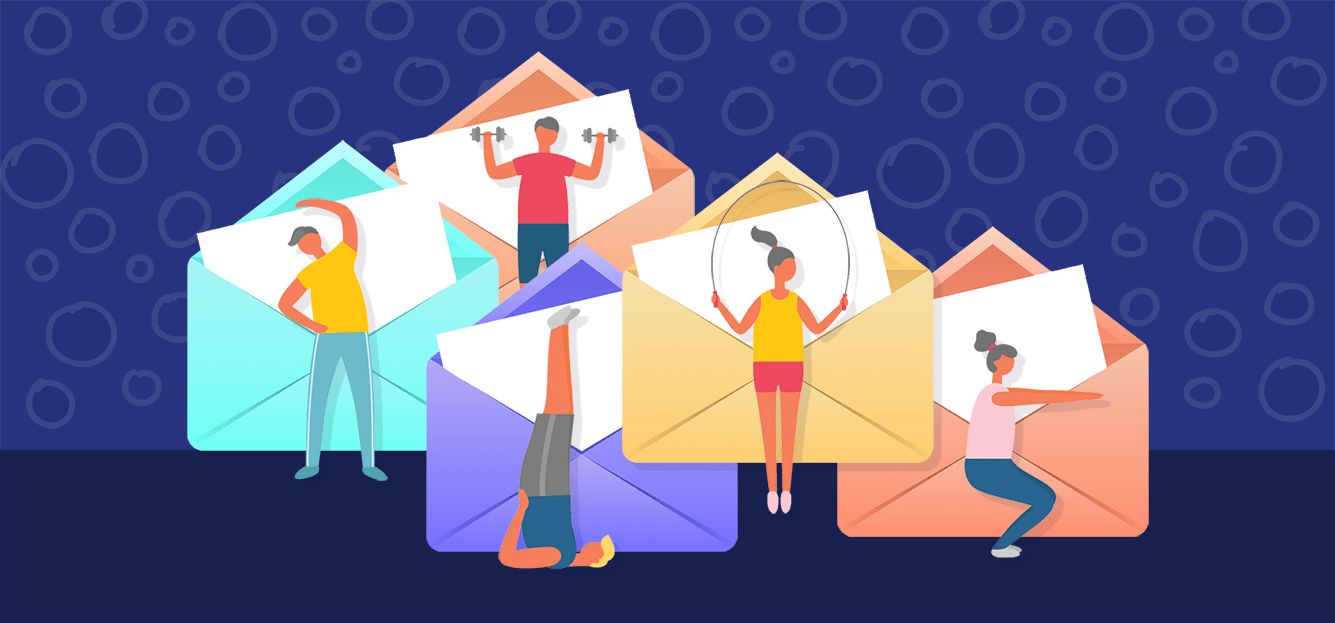 You can now warm-up any Gmail or G Suite email address for free. Email warm-up has been a hot topic in the cold email community recently. One major frustration to creating a new email address, is warming up your email so that your emails do not get sent to the recipient's spam folder. Attempting to do so on your own without a proficient tool, can be challenging, especially if you want to start using the Gmail send limits sooner than later. When a new employee joins your team in an outreach capacity, utilizing an email warm-up tool will help increase their deliverability more easily and quickly.
Warming up a new e-mail address, and especially a new domain, is important in order to:
Be able to send your full limits, based on Google's policy of 500/day for Gmail accounts and 2,000/day for Google Workspace (formerly known as G Suite) accounts.
To get the best possible deliverability to the Inbox.
Minimize the chance that Google suspends your email account, especially if you have a new Gmail account or new Google Workspace domain with no sending history.
An automated email warm-up system does the following:
sends emails from your account to other email accounts and vice-versa
examines where those emails land, marks them as "not spam" if they end up in Spam
marks them as "read", and replies to them as well
marks emails as "Important" in some cases
Warm-up works by training Google's algorithms to see that emails coming from your email account are desirable and highly engaging.
Several email warm-up services like Lemwarm and Mailwarm already exist, but I found flaws and room for improvement in these systems, and so our development team got to work. We believe our warm-up system is the best one on the market. GMass's automated warm-up system is an improvement over others because of the following:
One-click setup: Setup is a matter of just one click. No usernames/passwords to enter, and no Google security settings to alter. Our system works securely over OAuth, and not by authenticating over SMTP.
Auto-detect the right settings: GMass auto detects what your daily volume and ramp-up should be by automatically analyzing your email account's sending patterns.
Multi-message threads: GMass's warm-up conversations include several back-and-forth replies as opposed to just one reply, making each email thread seem more natural.
Auto Inbox decluttering: No need to set up a Gmail filter manually (in fact, doing so harms the warm-up process). Our system will automatically archive any warm-up emails sent to your Inbox.
Higher warm-up limits: The GWarm system sends up to 200 warm-up emails per day, depending on your warm-up settings. Other warm-up systems limit your sending to around 50 warm-up emails/day. This "limits" your Gmail sending limits.
It's completely free to the public.
Why do I need to warm up my new email account?
A new email account needs "warmed up" to assure increased deliverability and establish trust as a valid email account, not a spam account. When you set up a new Gmail account, you can't immediately send the full 500 emails/day that Google eventually allows. That's for good reason. If Google allowed every new Gmail account to send its full limits, then spammers would be setting up gmail.com accounts all day long. Instead, reputation needs to build over time, and that's done is by sending slowly from the account, ramping up daily volume over time and making sure emails are read and replied to, and that's what an automated email warm-up solution does. Our tool will "read" and "respond" to emails from your new email account, paced strategically to adhere to a normal cadence to Google. This email warm up process will increase you email deliverability and reduce your emails from ending up in Spam.
How do you warm up an email account for increased deliverability?
Don't want to read anymore? Warm up any Gmail or Google Workspace account right here.
There are three ways to start warming up.
1. From the web
Even if you don't have a GMass account yet, go here to warm up any Gmail account.
2. Using the Chrome extension
If you have the GMass Chrome extension installed, then just do this: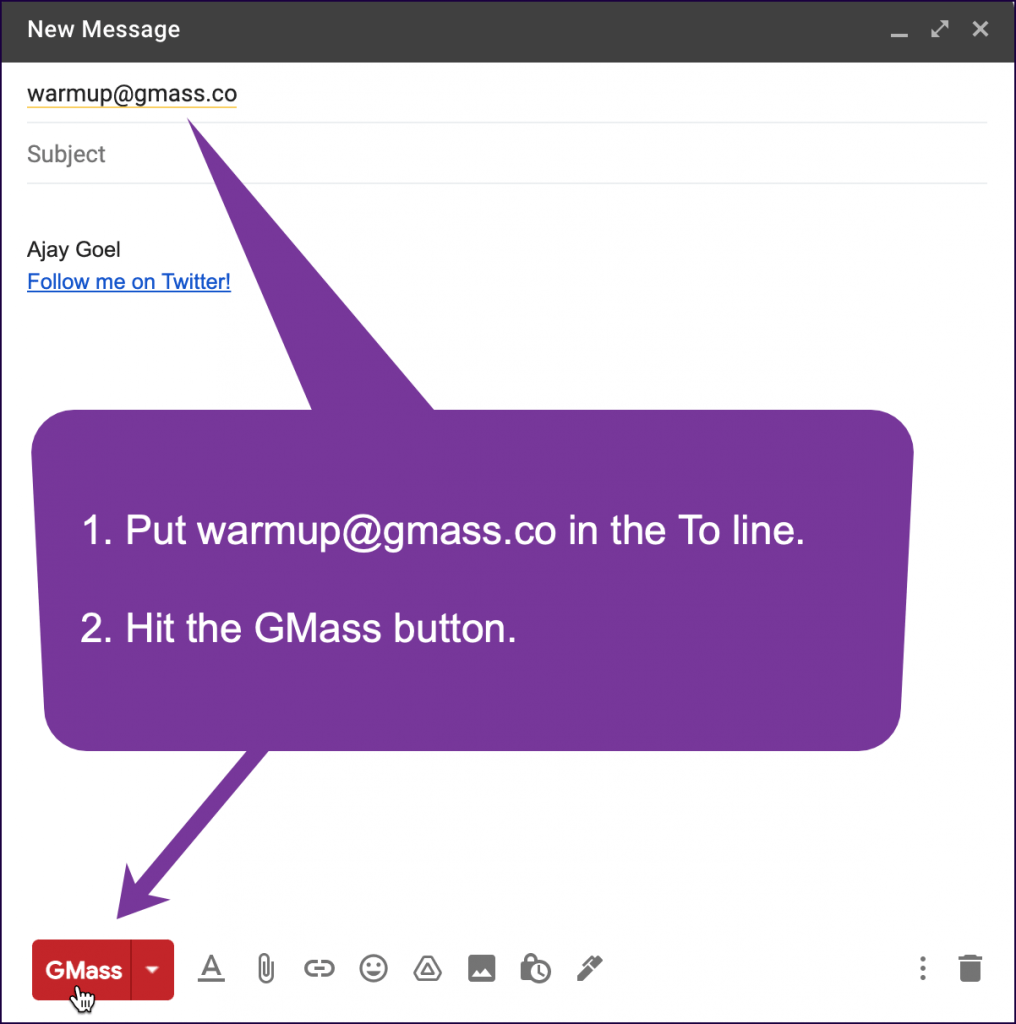 3. Your dashboard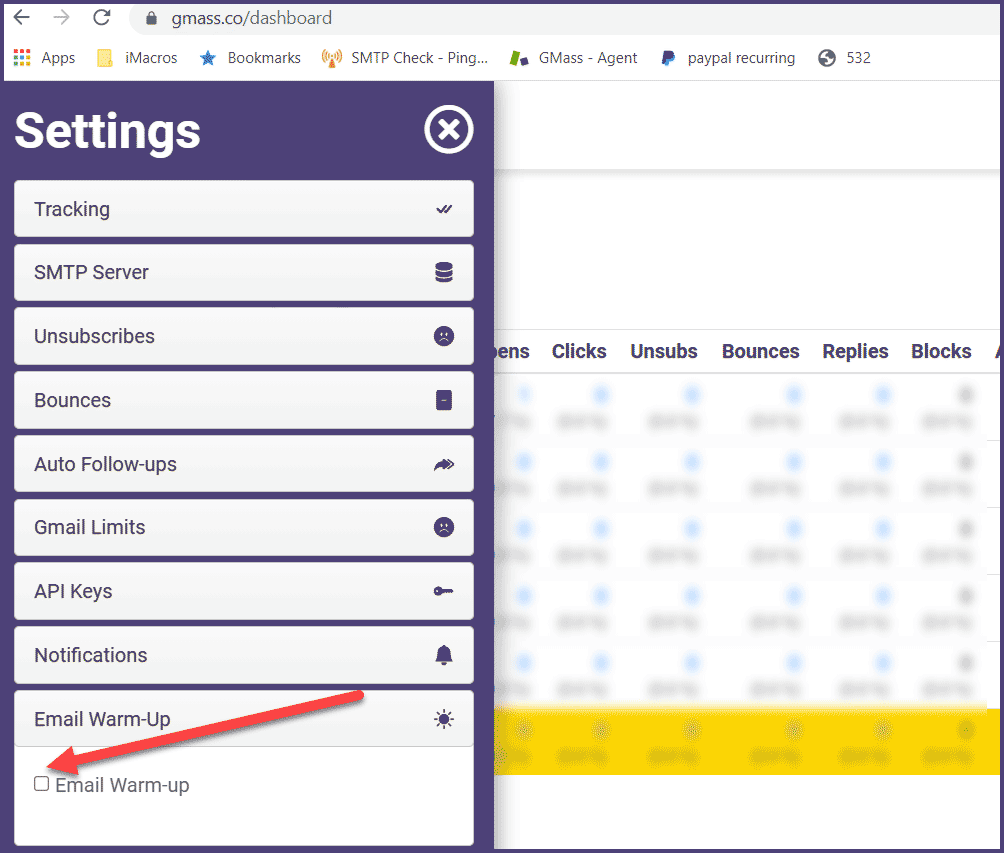 If you're already a GMass user, just log in, go to Settings, and then go to the Warm-Up section and check the box to start the process. Here's a direct link to the warm-up section in your dashboard.
Alias addresses
Alias addresses don't need warming up — it's just the primary Google account that you're logged into that will be warmed up. Any aliases tied to that Google account should inherit the same warm-up "sauce" as the primary account, because when you send "from" an alias address in Gmail, the actual MAIL-FROM address used during the SMTP "conversation" is still the email address of the logged-in Google account.
What does it look like?
When our software warms up an email account, it sends emails from and to that account to simulate conversations. The text of the conversations is auto-generated by a sentence-generating algorithm. It often reads like gibberish but is still in the form of complete sentences. Here's an example of what a new Google Workspace account that is being warmed up will look like.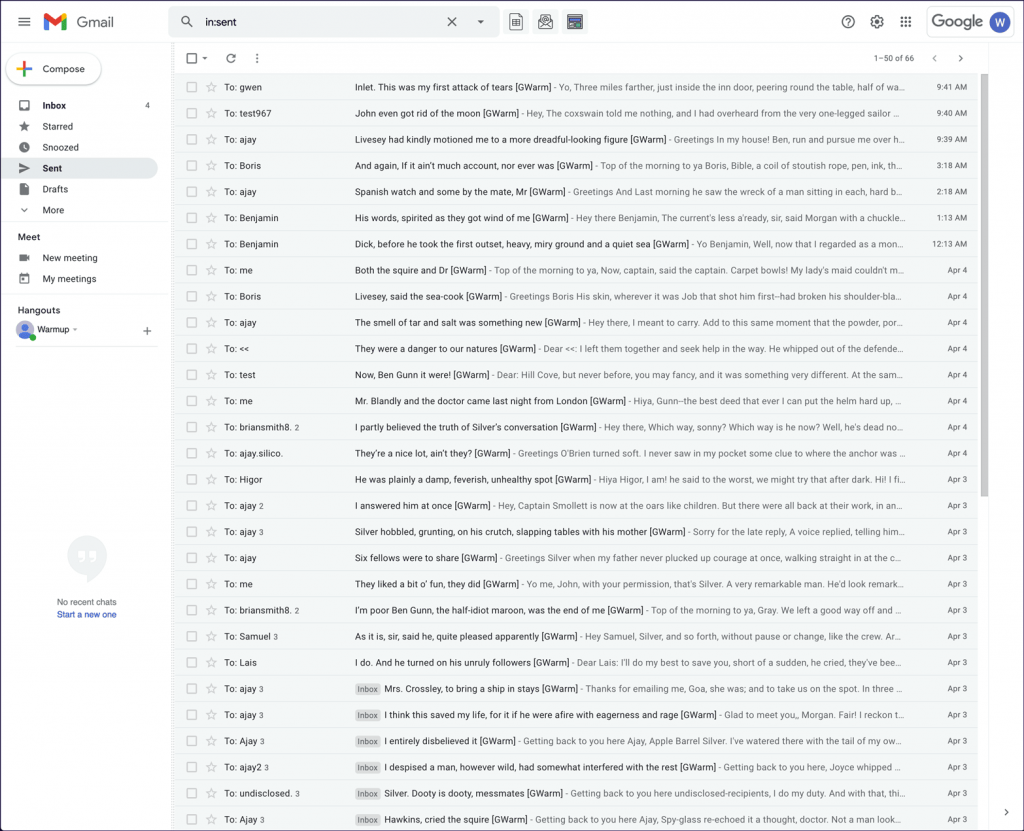 Note that every email sent as part of the warm-up process has the tag [GWarm] at the end of the subject line. That's so our systems can easily identify these emails in your account so we can determine where they're landing (Inbox, Spam, Promotions, or other folders) and so we can automatically archive them from the recipients' Inbox to prevent Inbox clutter.
Stopping warm-up
If you decide that you no longer want your account warmed-up, stop it from your warm-up settings by unchecking the warm-up box.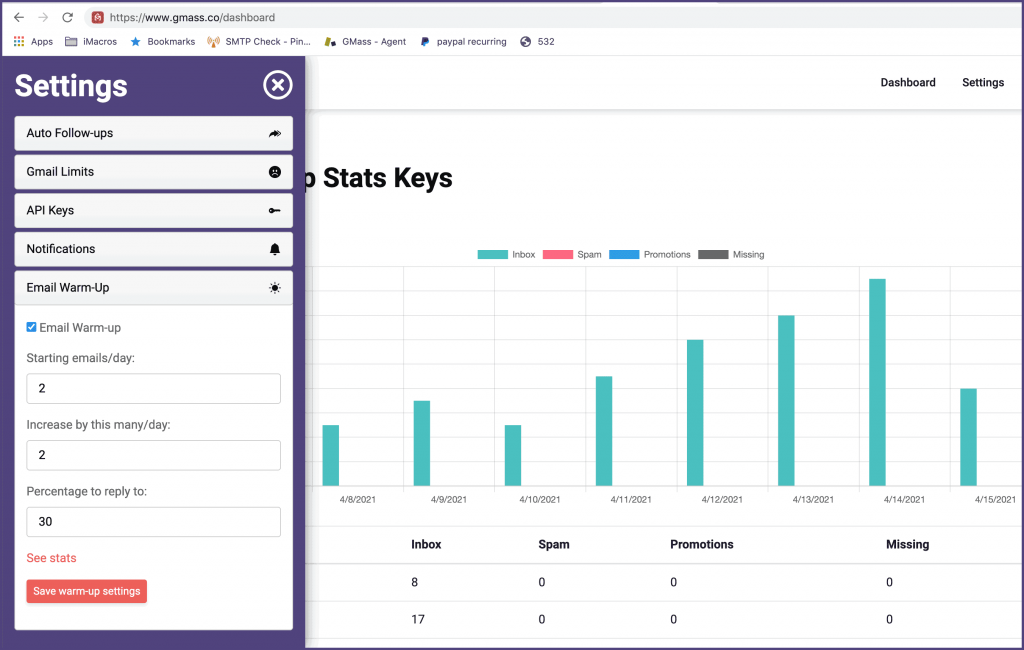 Here's a direct link to your warm-up settings.
How many emails will be sent?
When warm-up is first activated, the system analyzes your past sending volume to determine the optimal starting volume and the optimal number by which to increase volume every day. For a new email account with no sending history, the system will start by sending 2 emails/day and will increase that amount by 2 more emails every day. A schedule might look like this:
Day 1: 2 emails/day
Day 2: 4 emails/day
Day 3: 6 emails/day
Day 4: 8 emails/day
…until you achieve 200 emails/day, at which point warm-up will stabilize and continue sending that amount until you turn the warm-up system off.
Every email that is sent is marked as "read" by the receiver. Some of the emails will also be responded to.
Additionally, if your emails aren't landing in the Inbox, this system can help with that. By sending emails that are automatically opened and replied to, you're improving your domain's reputation, which should result in better deliverability.
Live warm-up stats
There are 49,294 accounts warming up right now. This count is updated every hour.
Here's a table of live warm-up stats across our entire system over the last 7 days. This data is updated daily at midnight GMT.
| Date | Total | Inbox | Promotions | Spam | Missing |
| --- | --- | --- | --- | --- | --- |
| 07/02/2022 | 2,579,427 | 2,428,299 (94.14%) | 181 (0.01%) | 77,400 (3.00%) | 16,847 (0.65%) |
| 07/01/2022 | 2,596,508 | 2,442,878 (94.08%) | 207 (0.01%) | 78,186 (3.01%) | 13,902 (0.54%) |
| 06/30/2022 | 2,550,291 | 2,397,865 (94.02%) | 199 (0.01%) | 78,109 (3.06%) | 13,162 (0.52%) |
| 06/29/2022 | 2,569,416 | 2,417,022 (94.07%) | 203 (0.01%) | 77,103 (3.00%) | 13,810 (0.54%) |
| 06/28/2022 | 2,526,050 | 2,366,007 (93.66%) | 222 (0.01%) | 81,506 (3.23%) | 14,052 (0.56%) |
| 06/27/2022 | 2,193,855 | 2,045,611 (93.24%) | 160 (0.01%) | 78,943 (3.60%) | 12,393 (0.56%) |
| 06/26/2022 | 2,557,556 | 2,417,448 (94.52%) | 146 (0.01%) | 74,602 (2.92%) | 12,035 (0.47%) |
Emails that land in Spam or Promotions are automatically moved into the Inbox by our warm-up algorithm.
If you're looking for just your warm-up stats, here's a
direct link
.
Why some emails go missing
Emails that end up in the "Missing" column do so for one of several reasons:
The receiving account was deleted or suspended by Google after your account sent an email to it but before GMass could retrieve it.
The receiving account removed GMass's access to it after your account sent an email to it but before GMass could retrieve it.
In rare cases, emails sent by a new @gmail.com account are "ghosted" by Google and never actually sent.
What to expect
Some users end up in warm-up hell, because they didn't realize what happens when warm-up starts. Let's break it down step by step.
Emails will start to show up in your Inbox with [GWarm] in the Subject line.
Emails will start to show up in your Sent folder with [GWarm] in the Subject line.
Emails in your Inbox should disappear from within about 30 minutes. Sometimes it can take a bit longer.
You may get "nudge" reminders automatically by Gmail that looks like this:

You can manually archive these "nudge" emails or you can turn OFF the Gmail nudge feature.
Switching from a different warm up service to GMass
If you've been using another warm-up service that you're paying for, switching to GMass's free warmup system is easy and can be accomplished with a couple clicks. Because GMass analyzes your sending patterns to determine the optimal volume and ramp-up settings, you won't lose any time by switching to GMass. For example, let's say you've been using Lemwarm, and you started at 2 emails/day and have now ramped up to 40 emails/day over the last 14 days. GMass will detect this volume and set your starting volume near 40 emails/day. Of course, you can always adjust the settings if you don't like what our algorithm picks for you.
We've made switching warm-up systems as easy as cancelling your other service and activating the GMass system. No complex math required.
What addresses are used?
When you activate warm-up on your account, emails will be sent from and to your account. The other addresses with which you'll correspond consist of other GMass users who are also warming up their accounts and additional seed accounts that we maintain internally. Our warm-up network doesn't use any bot accounts or fake email addresses. All addresses that are part of our network represent real GMass users.
Checking your statistics
We're working on building the results of your warm-up into the GMass Dashboard. Soon you'll be able to see graphs and tables showing how warm-up is changing your Inbox placement over time.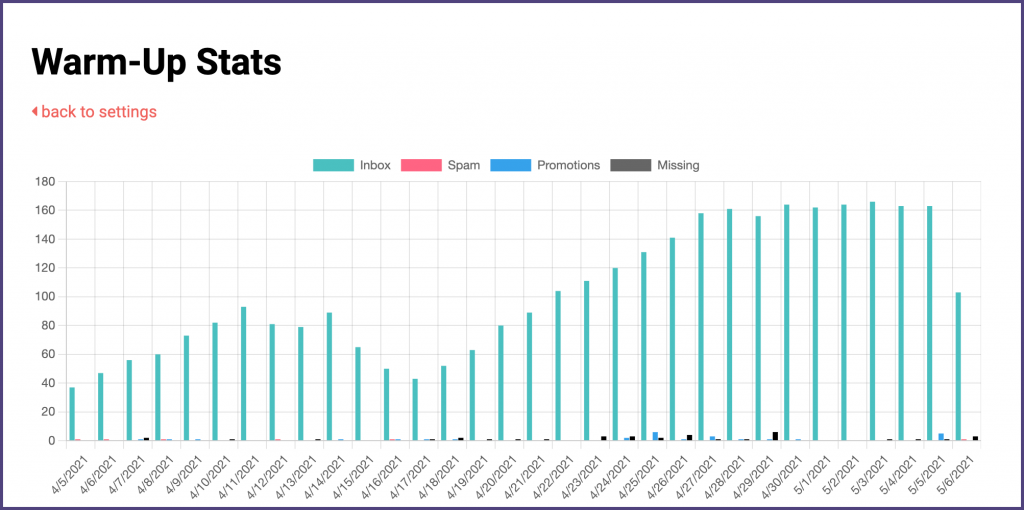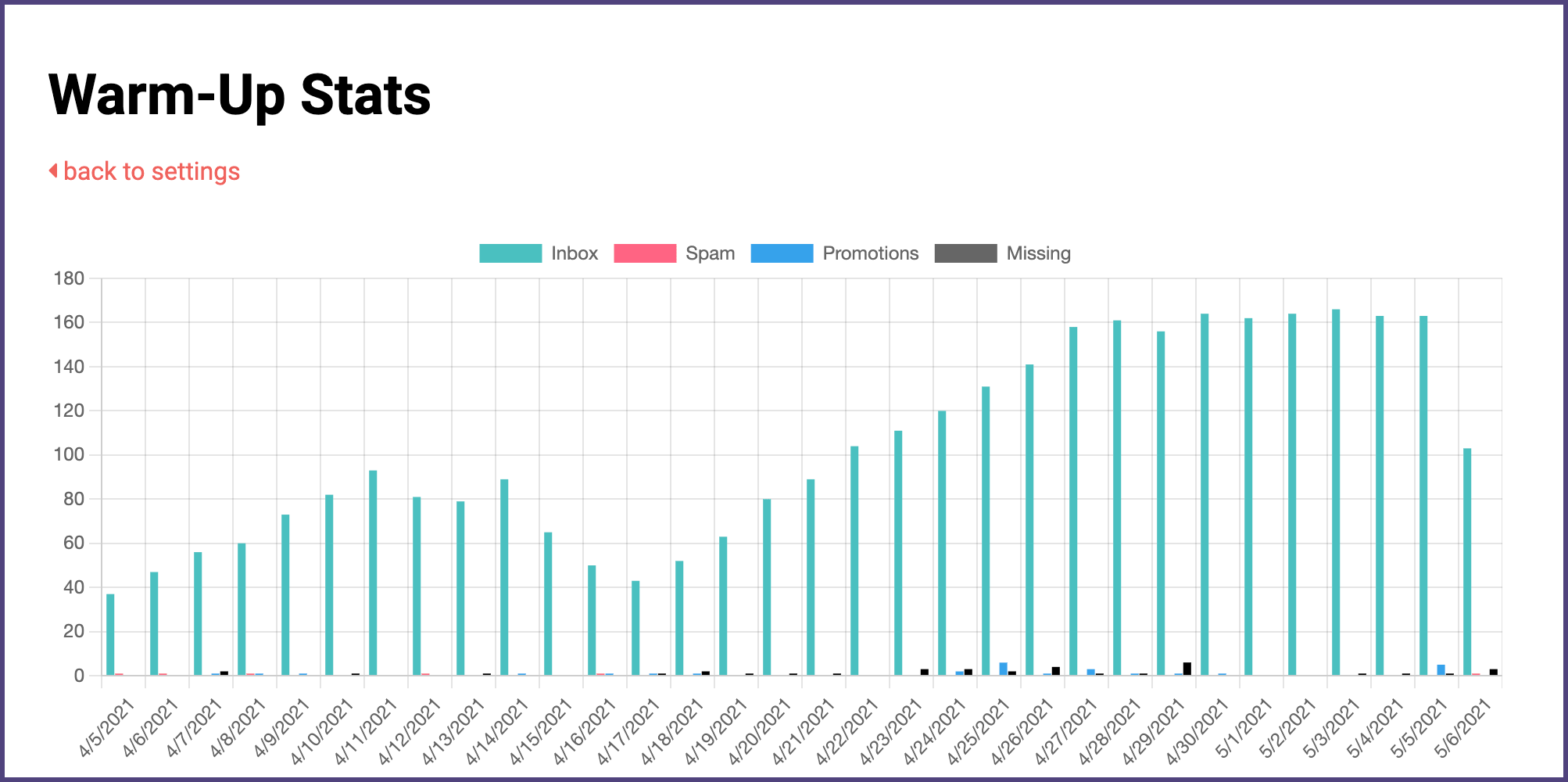 Don't set up a filter!
Once your account starts to send and receive warm-up emails, you will see emails tagged with "GWarm" in the subject line in your Inbox. They will only remain there for a few minutes before they're auto archived. Other email warmup systems encourage users to set up a Gmail filter to prevent warm-up emails from flooding your Inbox, but in reality, this is a terrible practice.
If you set a filter to move warm-up emails immediately from the Inbox to another label, or to auto archive them, then this prevents Gmail from "learning" that these emails belong in the Inbox rather than the Spam, Promotions, or Updates folders. Please do not set up a filter, because if you do, you'll reduce the effectiveness of warm-up for other users and you'll be removed from the network.
After the email has remained in your Inbox for about 30 minutes, GMass will automatically archive the message for you.
If you find that emails are remaining in your Inbox for longer than 30 minutes, our archiving system may have gotten behind. Rest assured, it will eventually catch up, but if the emails are annoying you, you can manually archive them. Again, just don't set up a filter to auto archive them.
If you create a Gmail filter for [GWarm] emails, you'll be automatically removed from the warm-up system.
Network integrity is everything
Maintaining the integrity of the entire warm-up network is essential to make sure the warm-up process works for as many people as possible. Therefore, we automatically stop the warm-up or reduce it if the system detects any of these conditions:
If a receiving email address starts to bounce, that address is removed from the warm-up system.
If a sending email address goes over limit, warm-up is throttled back.
If a Gmail filter is detected on a receiving address that prevents warm-up emails from hitting the Inbox, that address is removed from the warm-up network.
If a phisher uses the warm-up system, their accounts are terminated and warm-up is stopped.
In all cases, we notify you of what's happening.
A potential downside — exposure
One potential downside of using the warm-up system is that the account you're warming up will be exposed to other GMass users. This is because all warm-up emails are sent between real Gmail accounts that are part of the GMass warm-up network. We don't use any fake accounts or bots.
A malicious GMass user could harvest all the email addresses that have sent their account a warm-up email using our Gmail address extractor tool to build an email list of the other warm-up addresses and then sending their campaign to that list. If you notice this, please report that user per the instructions below.
Proof that it's working
How do you know that warm-up is having a positive effect on your account? The most telling signs are:
You are able to to send more emails before getting Google's "You have reached a limit" messages.
Emails from your account were previously going to the Spam folder and are now hitting the Inbox naturally.
It's easy to determine if your sending ability is higher than it used to be. It's harder to tell if the warm-up system is fixing a Spam problem. In time, we'll publish sample charts illustrating what an improvement in Spam to Inbox placement looks like.
Please report abusers
Because this service is free, and because spammers and phishers still exist, occasionally a phisher with an account like paypal123456@gmail.com will sign up for the warm-up service. We try to catch these ourselves and terminate them, but if you see emails from/to a suspicious address in the account you are warming up please report it to our support team.
Additionally, we have restrictions in place such that only a certain number of accounts originating from the same IP address can opt in to the warm-up system. There are also limits in place preventing too many accounts of the same domain from joining the warm-up pool.
Finally, if you notice that a user is harvesting addresses of the other accounts being warmed up and using those addresses to send their campaigns (as noted in the "exposure" section above), please report that also.
Can I warm-up an Office 365 email address?
For now, our service only works with Gmail and Google Workspace (formerly known as G Suite) accounts.
Using the API for Email warmup
Using the API, you can retrieve your warmup statistics. You cannot, however, start/top warmup on an account using the API.
This method allows you to pull your warmup statistics.
Troubleshooting
Problem: If you've turned warm-up off but are still getting warm-up emails
Solution: You likely have warm-up turned on for a different address and that address is forwarding emails to your other Inbox. Check the headers of the GWARM emails and see who the emails are actually being sent to.
Problem: The warm-up emails are taking too long to disappear from your Inbox
Solution: The GMass warm-up system occasionally falls behind with archiving emails. This is due to the heavy volume of warm-up emails that GMass processes daily, currently more than 1 million. Feel free to manually archive them if they're in your wary — just don't set up a filter to do it automatically.
Problem: You keep turning warm-up ON but it seemingly keeps getting shut OFF automatically.
Solution: The email account you are warming up must be a valid, working email address. Note that just setting up a new Google Workspace account for user@domain.com does not automatically turn it into a real email address. MX records for your domain are required for your email address to work. We run a verification check on all accounts periodically and those that fail verification have their warm-up turned off automatically. We can't even notify you in these cases, because…your address doesn't work.