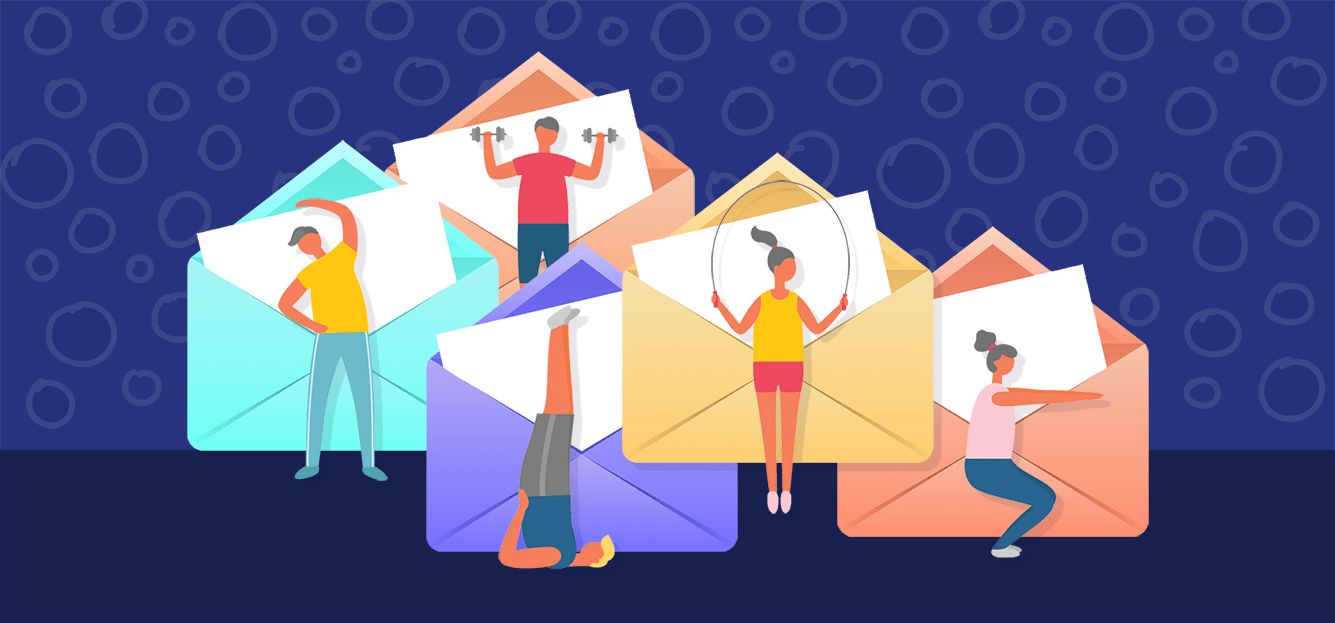 Email warmup is an eternally hot topic in the cold email community. So we created a tool you can use to warm up any Gmail or Google Workplace (formerly called G Suite) email address for free.
Don't want to read anymore? Warm up any Gmail or Google Workspace account right here.
Here's everything you could possibly need to know about email warmup, GMass's tool, the other tools out there, and more.
Email Warmup: Table of Contents
What Is Email Warmup?
Email warmup is the process of building trust for an email account so its emails, especially cold and mass emails, go to recipients' inboxes and not their spam folders.
Email warmup tools use an automated system to improve the reputation for your account, increase its sending limit, and boost its deliverability.
An email warmup tool will:
Send email from your account to other designated accounts
Open those emails and "read" them
Respond to a strategic percentage of your emails
Mark them as "not spam" if they go to the spam folder
Mark some as "important"
That lets Google and the other email clients know you're sending valuable, anticipated emails that recipients want — which are the exact types of emails that make it to the inbox, not the spam folder.
The email warmup tools will start by sending a small number of emails (GMass starts at two emails on the first day), then gradually ramp up from there. GMass's tool peaks at 200 warmup emails per day, which is higher than most other options.
As much as it's tempting to jack up the pace to try to get your account warmed up faster, the slow ramp up is strategic. It simulates a normal cadence to Google and helps train Google's algorithm to see that emails coming from your email account are desirable and highly engaging.
All of this warming up serves one main purpose: You're "priming" your account for bigger campaigns. And, in the case of cold emails and mass emails, you'll be sending campaigns featuring lots of very similar messages.
Once your address is warm, the email clients shouldn't blink at a cold email or mass email campaign — after all, you now have a reputation for sending high volumes of quality emails that belong in people's inboxes.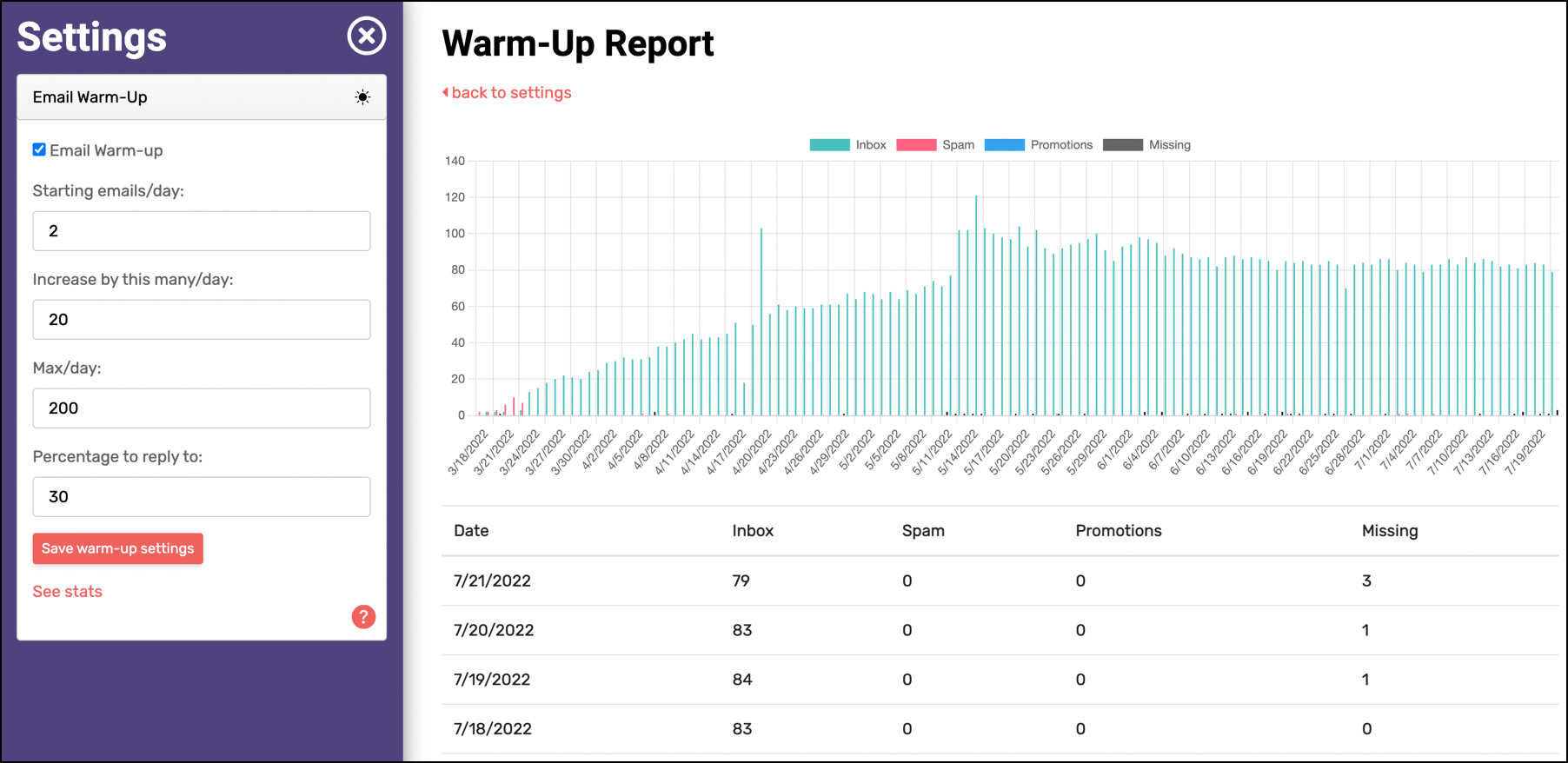 Why Do I Need to Warm Up My New Email Account?
A new email account needs "warm up" to increase deliverability and establish trust as a valid email account, not a spam account.
Warming up a new e-mail address, and especially a new domain, is important in order to:
Be able to send your full limits, based on Google's policy of 500/day for free Gmail accounts and 2,000/day for Google Workspace (formerly known as G Suite) accounts.
Get the best possible deliverability to the inbox.
Minimize the chance that Google suspends your email account, especially if you have a new Gmail account or new Google Workspace domain with no sending history.
So do I need to warm up an old email account too?
Yes. If you're going to use an existing email account for high-volume sends, cold email, email marketing, and/or other mass emails, it's good to warm it up too. That way, you'll train the email clients to anticipate larger campaigns from you — and that those campaigns belong in people's inboxes.
What Makes GMass's Email Warmup Tool Better Than Others?
Several email warm-up services like Lemwarm and Mailwarm already exist, but I found flaws and room for improvement in these systems, and so our development team got to work.
We believe our warm-up system is the best one on the market. GMass's automated warm-up system is an improvement over others because of the following:
One-click setup: Setup is a matter of just one click. No usernames/passwords to enter, and no Google security settings to alter. Our system works securely over OAuth, and not by authenticating over SMTP.
Auto-detect the right settings: GMass auto-detects what your daily volume and ramp-up pace should be by automatically analyzing your email account's sending patterns.
Multi-message threads: GMass's warm-up conversations include several back-and-forth replies as opposed to just one reply, making each email thread seem more natural.
Auto inbox decluttering: No need to set up a Gmail filter manually (in fact, doing so harms the warm-up process). Our system will automatically archive any warm-up emails sent to your inbox.
Higher warm-up limits: The GMass email warmup system sends up to 200 warm-up emails per day, depending on your settings. Other warm-up systems limit your sending to around 50 warmup emails/day. This "limits" your Gmail sending limits.
No bots: All emails are sent to real email accounts, not bot accounts.
It's free: GMass's email warming is completely free to the public. Whether you're a GMass user or not, you can warm up your email addresses here. Other services charge anywhere from $9 to hundreds of dollars for the service you get here for free.
Warm up an email alias: You can use GMass's warmup tool to warm up any "from" address connected to your Gmail account. That means you can warm up Outlook accounts or accounts on any other server. You can even warm up a SMTP server.
Get started with GMass's free email warmup tool now — you'll be up and running in a matter of seconds.
Two One potential downsides to GMass's email warmup (and one myth)
While we've aimed to build the best email warmup tool on the market, there are two (and sort of a third) potential downsides.
You can't warm up non-Gmail accounts. For now, GMass's warm-up tool only works with Gmail and Google Workspace accounts. You won't be able to warm up Office 365 accounts or other email providers here. With GMass's email alias warmup you can now use this tool to warm up any email on any provider.
Your email address is shown to some other GMass users. All warm-up emails are sent between real Gmail accounts that are part of the GMass warm-up network. We don't use any fake accounts or bots. That's a net positive… but has a downside. In theory, a malicious GMass user could harvest all the email addresses that have sent their account a warmup email using our Gmail list builder, then send a campaign to that list. If you notice this, please report that user per the instructions in the "Please report abusers" section. (Also note: Most of the other prominent email warmup tools have the same downside as they're also using networks of real email addresses.)
The gibberish myth
When our software warms up an email account, it sends emails from and to that account to simulate conversations. The text of the conversations is auto-generated by a sentence-generating algorithm. It often reads like gibberish but is still in the form of complete sentences.
There's been some chatter in the cold email world that warmup emails that seem like gibberish are less effective or won't "fool" the email clients. However, we have seen no proof this is the case across the hundreds of thousands of accounts that have successfully used GMass warmup — and we believe it to be a myth. If we ever do see a downturn in deliverability for accounts using GMass warmup, we'll re-investigate the gibberish question.
How to Get Started with Email Warmup for Improved Deliverability
Let's get you set up on GMass's free warmup system now. It should be a matter of seconds — yes, seconds — before you're rolling.
The three ways to get started with GMass's email warmup
There are three ways to get rolling with GMass's free warm up for your Gmail account.
1. Free web-based email warmup tool
Even if you don't have a GMass account yet, go here to warm up any Gmail or Google Workspace account .
2. Starting warm up in the GMass dashboard
If you're already a GMass user, go to your dashboard, open the Settings, then go to the Email Warm-Up section and check the box to start the process. GMass will determine the ideal starting frequency for your account. Here's a direct link to the warm-up section in your dashboard.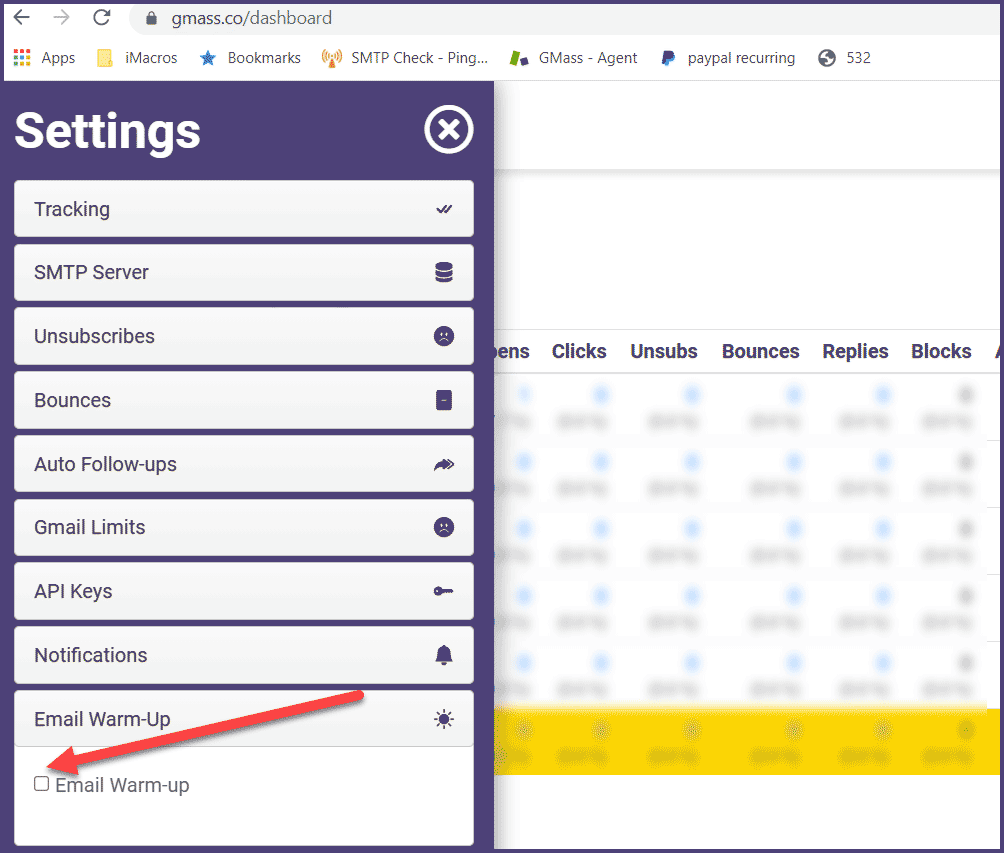 3. Using the GMass Chrome extension
If you have the GMass Chrome extension installed , you can send an email to a specific address (and hit the GMass button, not the Send button, to send the email). GMass will then begin warming up that address.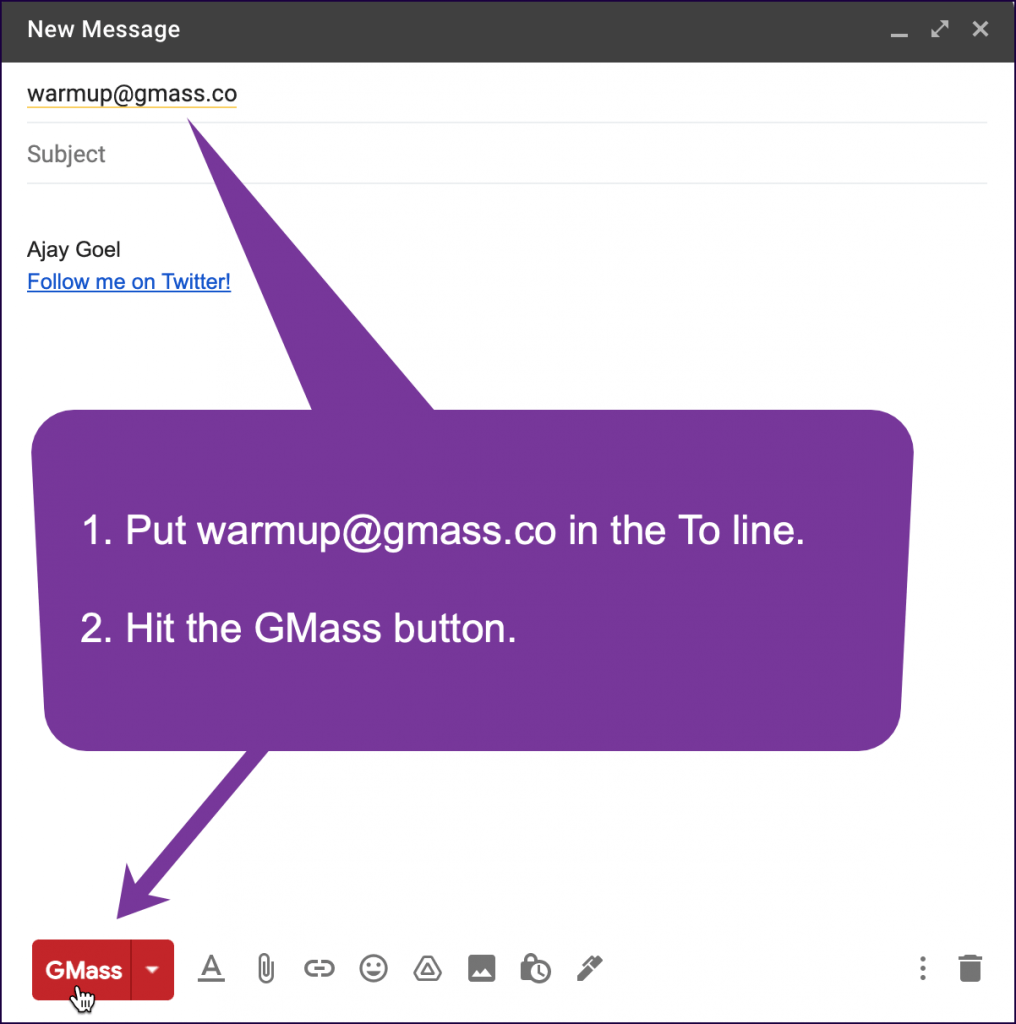 Important: Don't set up a filter!
Once your account starts to send and receive warm-up emails, you will see emails tagged with "[GWarm]" in the subject line in your inbox. They will only remain there for a short time before they're auto archived.
Other email warmup systems encourage users to set up a Gmail filter to prevent warm-up emails from flooding your inbox, but in reality, this is a terrible practice.
If you set a filter to move warm-up emails immediately from the Inbox to another label, or to auto-archive them, then this prevents Gmail from "learning" that these emails belong in the Inbox rather than the Spam, Promotions, or Updates folders.
Please do not set up a filter, because if you do, you'll reduce the effectiveness of warm-up for other users and you'll be removed from the network.
After the email has remained in your Inbox for about 30 minutes, GMass will automatically archive the message for you.
If you find that emails are remaining in your Inbox for longer than 30 minutes, our archiving system may have gotten behind. Rest assured, it will eventually catch up, but if the emails are annoying you, you can manually archive them. Again, just don't set up a filter to auto archive them.
If you create a Gmail filter for [GWarm] emails, you'll be automatically removed from the warm-up system.
Checking your email warmup statistics
You can see the results of your warm-up info in the GMass Dashboard . Click on Settings, then Email Warm-Up, then "See Stats." (Here's a direct link to your email warmup stats to save you the clicks.)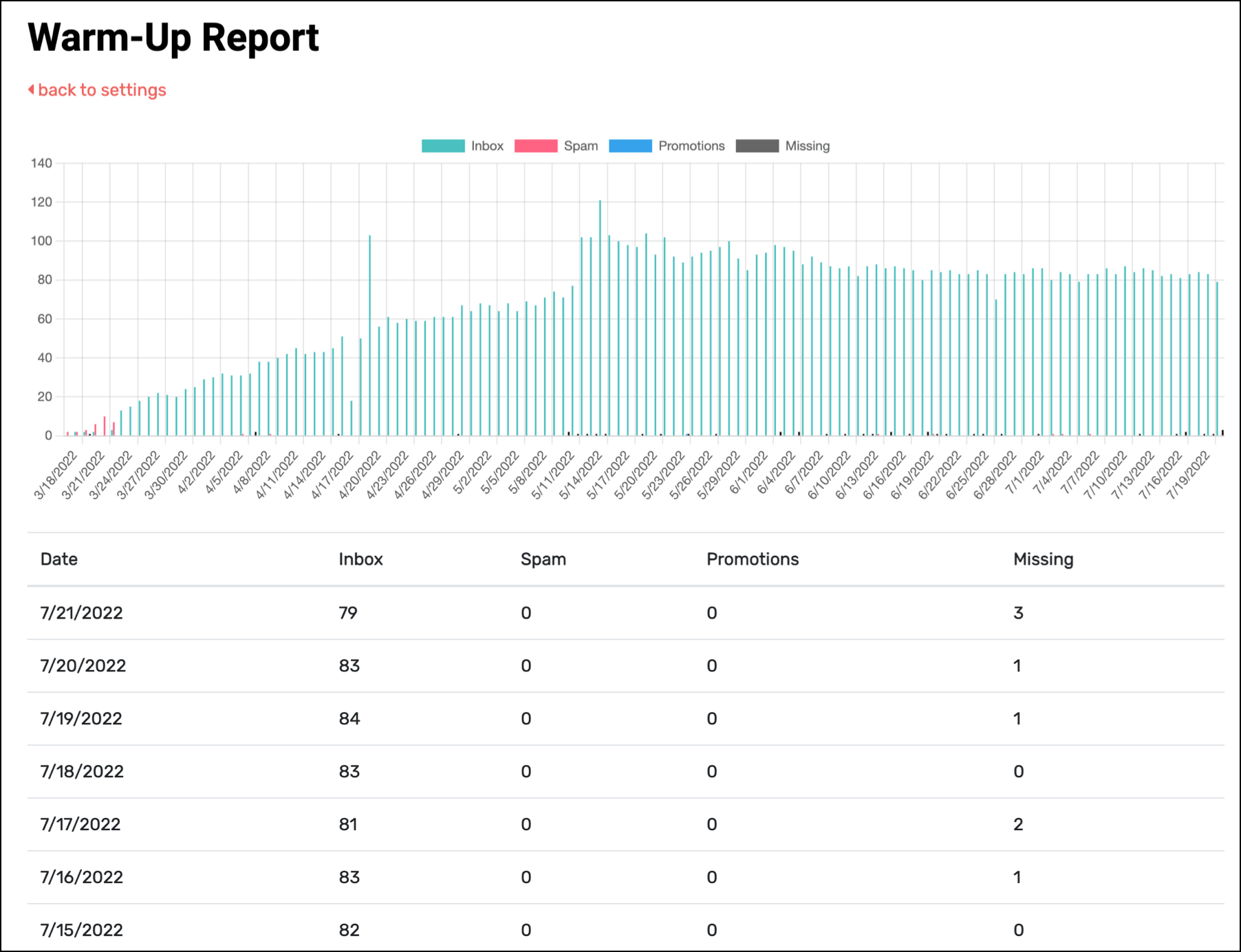 The email warmup statistics show you a full historical log of your warmup progress including how many emails per day landed in inboxes, went to spam folders, went to promotions folders, and went missing.
Using the GMass API for email warmup statistics
You can retrieve your warmup statistics using the GMass. You cannot, however, start or stop warmup on an account using the API.
This method allows you to pull your warmup statistics.
Proof that email warmup is working
How do you know that warm-up is having a positive effect on your account? The most telling signs are:
You are able to to send more emails before getting Google's "You have reached a limit" messages .
Emails from your account were previously going to the Spam folder and are now hitting the Inbox naturally.
It's easy to determine if your sending ability is higher than it used to be. It's harder to tell if the warm-up system is fixing a Spam problem. In time, we'll publish sample charts illustrating what an improvement in Spam to Inbox placement looks like.
How we maintain the integrity of the GMass warmup network
Maintaining the integrity of the entire warm-up network is essential to make sure the warm-up process works for as many people as possible. Therefore, we automatically stop the warmup or reduce it if the system detects any of these conditions:
If a receiving email address starts to bounce, that address is removed from the warm-up system.
If a sending email address goes over limit, warmup is throttled back.
If a Gmail filter is detected on a receiving address that prevents warmup emails from hitting the Inbox, that address is removed from the warm up network.
If a phisher uses the warm-up system, their accounts are terminated and warm-up is stopped.
In all cases, we notify you of what's happening.
Please report abusers
Because this service is free, and because spammers and phishers still exist, occasionally a phisher with an account like [email protected] will sign up for the warm-up service. We try to catch these ourselves to terminate them, but if you see emails from/to a suspicious address in the account you are warming up please report it to our support team .
Additionally, we have restrictions in place such that only a certain number of accounts originating from the same IP address can opt in to the warm-up system.
There are also limits in place preventing too many accounts of the same domain from joining the warm-up pool.
Finally, if you notice that a user is harvesting addresses of the other accounts being warmed up and using those addresses to send their campaigns (as noted in the "exposure" section above), please report that also.
Live Daily Warmup Stats from the GMass Free Email Warmup Tool
There are 74,576 accounts warming up right now. This count is updated every hour.
Here's a table of live warm-up stats across our entire system over the last 7 days. This data is updated daily at midnight GMT.
| Date | Total | Inbox | Promotions | Spam | Missing |
| --- | --- | --- | --- | --- | --- |
| 12/06/2022 | 2,688,633 | 2,547,439 (94.75%) | 196 (0.01%) | 24,803 (0.92%) | 57,042 (2.12%) |
| 12/05/2022 | 2,823,527 | 2,677,789 (94.84%) | 266 (0.01%) | 30,253 (1.07%) | 51,451 (1.82%) |
| 12/04/2022 | 1,954,963 | 1,860,657 (95.18%) | 131 (0.01%) | 18,604 (0.95%) | 36,627 (1.87%) |
| 12/03/2022 | 2,540,330 | 2,420,821 (95.30%) | 181 (0.01%) | 23,059 (0.91%) | 45,348 (1.79%) |
| 12/02/2022 | 2,472,090 | 2,349,741 (95.05%) | 212 (0.01%) | 23,202 (0.94%) | 44,993 (1.82%) |
| 12/01/2022 | 2,438,539 | 2,315,099 (94.94%) | 208 (0.01%) | 23,132 (0.95%) | 46,283 (1.90%) |
| 11/30/2022 | 2,423,167 | 2,303,193 (95.05%) | 226 (0.01%) | 23,593 (0.97%) | 42,292 (1.75%) |
Emails that land in Spam or Promotions are automatically moved into the Inbox by our warm-up algorithm.
If you're looking for just your warm-up stats, here's a
direct link
.
8 Popular Email Warmup Tools: A Comparison
Here's a look at eight of the leading email warmup tools, their cost, and what you get for the price.
GMass's free warmup tool
Price: Free (even without a GMass account)
Network size: 50,000+ inboxes
Benefits: Warm up all your Gmail and Google Workspace accounts for free. Uses conversation threads and real email addresses with no bots. High warmup limits of up to 200 emails per day.
Downsides: Gmail and Google Workspace only, no other account providers.
Link: GMass warmup tool
Warmup Inbox
Price: $9 per moth for one email address
Network size: 20,000+ inboxes
Benefits: Calculates a "Reputation Score" to compare you against other users. Works with virtually all major email providers.
Downsides: Though it's the least expensive of the paid tools, it's hard to justify the price when free email warm up tools provide equal (or better) services.
Link: Warmup Inbox
QuickMail Auto Warmer
Price: Free (for up to 50 addresses with QuickMail account)
Network size: Not listed
Benefits: Free with a QuickMail account. Deliverability stats break down results for Google and Office accounts. Works with Gmail and Office 365.
Downsides: Signing up requires bookkeeping on your part: Sign up for a 14-day trial of QuickMail's email service, then, once that 14 days is over, manually switch to a free auto-warmer plan. Another downside: There's a limit on the number of addresses you can warm up.
Link: QuickMail Auto-Warmer
Lemwarm by Lemlist
Price: $29 per month for one email address, or included in Lemlist's email plans (which start at $59 per month).
Network size: 20,000 inboxes
Benefits: Work with any email providers. If you use Lemlist for email, using this keeps everything in one place.
Downsides: Pricey with no notable differences between this and less expensive or free options. You won't get it for free if you're using a trial of Lemlist to send emails.
Link: Lemwarm
WarmUpYourEmail by Mailshake
Price: $29 per month for one email account, sending up to 50 emails per day. $49/month for three accounts, $99/month for eight accounts.
Network size: Not listed, but likely small (since it's staff-held accounts)
Benefits: Unlike many other tools, WarmUpYourEmail by Mailshake has its own staff engage with your warmup emails.
Downsides: Expensive. Low limits on the number of warmup emails sent. Your warmup emails are going to a smaller subset of email addresses than other tools, so some email clients might spot those patterns.
Link: Warm Up Your Email
Mailwarm
Price: $69 per month for one account and up to 50 emails per day. $159/month for three accounts, $479/month for 10 accounts.
Network size: 1,000 inboxes
Benefits: Works with any email client (though some people have had difficulty with Gmail).
Downsides: The most expensive option. Requires a SMTP setup which can be challenging for less technical users. Sends to a tiny number of inboxes. Encourages you to set up a filter to remove warmup emails from your inbox, which can actually hurt deliverability for the other people using the warmup system. (And can hurt you when it happens to the warmup emails you're sending.)
Link: Mailwarm
Warmy
Price: $49 per month for one account and 50 emails per day. $129/month for 200 warmup emails per day. $189/month for 1,000 emails per day. $279/month for 2,000 emails per day.
Network size: 8,500 inboxes
Benefits: Gives you a mailbox health score. Works with all major email address providers. Lets you choose the topic of the emails you send (content is AI generated around that topic) — although the benefit of that is untested.
Downsides: A very expensive option. Hard to get an understanding of the product from real users since the reviews on G2 and Capterra all follow identical templates.
Link: Warmy
Mailreach
Price: $25 per month for one account sending up to 90 emails per day. Sliding scale for more accounts (for example, 50 accounts is $900/month, or $18 each).
Network size: 12,000+ inboxes
Benefits: Works with multiple email providers. They say the emails are "human, natural, and make sense" (although we haven't seen evidence this makes a difference in warmup effectiveness).
Downsides: There aren't any standout benefits to separate Mailreach from the free options.
Link: MailReach
Email Warmup FAQ and Troubleshooting
Can I switch from another email warmup service to GMass?
Yes, you can switch to GMass's free email warmup tool if you've been using another service. (And if you've been using a paid service, you should.)
If you've been using another warm-up service that you're paying for, switching to GMass's free warmup system is easy and can be accomplished with a couple clicks.
Because GMass analyzes your sending patterns to determine the optimal volume and ramp-up settings, you won't lose any time by switching to GMass.
For example, let's say you've been using Lemwarm, and you started at 2 emails per day and have now ramped up to 40 emails per day over the last 14 days. GMass will detect this volume and set your starting volume near 40 emails/day. Of course, you can always adjust the settings if you don't like what our algorithm picks for you.
We've made switching warmup systems as easy as cancelling your other service and activating the GMass system. No complex math required.
What can I expect once I start email warmup with GMass?
Some users end up in warm-up hell, because they didn't realize what happens when warm-up starts. Let's break it down step by step.
Emails will start to show up in your Inbox with [GWarm] in the Subject line.
Emails will start to show up in your Sent folder with [GWarm] in the Subject line.
Emails in your Inbox should disappear from within about 30 minutes. Sometimes it can take a bit longer.
You may get "nudge" reminders automatically by Gmail that looks like this: You can manually archive these "nudge" emails or you can turn OFF the Gmail nudge feature .
How many emails will be sent when I'm warming up my email?
When GMass's warm-up is first activated, the system analyzes your past sending volume to determine the optimal starting volumeand the optimal number by which to increase volume every day.
For a new email account with no sending history, the system will start by sending 2 emails/day and will increase that amount by 2 more emails every day. A schedule might look like this:
Day 1: 2 emails/day
Day 2: 4 emails/day
Day 3: 6 emails/day
Day 4: 8 emails/day
…until you achieve 200 emails/day, at which point warm-up will stabilize and continue sending that amount until you turn the warm-up system off.
Every email that is sent is marked as "read" by the receiver. Some of the emails will also get replies.
Additionally, if your emails aren't landing in the inbox, this system can help with that. By sending emails that are automatically opened and replied to, you're improving your domain's reputation, which should result in better deliverability.
Can I do email warmup on an alias address?
Yes. You can use GMass's warmup tool on any "from" address connected to your Gmail account (whether it's an alias or a non-alias account).
What will email warmup look like in my account?
Here's an example of what the sent folder might look like for a new Google Workspace account during the warmup process.
Note that every email sent as part of the warm-up process has the tag [GWarm] at the end of the subject line. That's so our systems can easily identify these emails in your account so we can determine where they're landing (Inbox, Spam, Promotions, or other folders) and so we can automatically archive them from the recipients' Inbox to prevent inbox clutter.
What email addresses are used for warmup?
When you activate warm-up on your account, emails will be sent from and to your account. The other addresses with which you'll correspond consist of other GMass users who are also warming up their accounts and additional seed accounts we maintain internally. Our warm-up network doesn't use any bot accounts or fake email addresses. All addresses that are part of our network represent real GMass users.
Why do some emails go missing during warmup?
When you check your email warmup stats, you may see some emails marked as "missing." (Overall, roughly 0.4% of emails wind up missing.)
Emails that end up in the "Missing" column do so for one of several reasons:
The receiving account was deleted or suspended by Google after your account sent an email to it but before GMass could retrieve it.
The receiving account removed GMass's access to it after your account sent an email to it but before GMass could retrieve it.
In rare cases, emails sent by a new @gmail.com account are "ghosted" by Google and never actually sent.
How do I stop email warmup?
If you decide you no longer want your account warmed-up, stop it from your warm-up settings by unchecking the warm-up box. Here's a direct link to your warm-up settings .
When should I stop warming up my email address?
You probably shouldn't.
Unless you're maxing out your Gmail send limit on a regular basis, email warmup isn't doing your account any harm — and it's keeping your account primed and ready for the next time you send a wave of cold emails or a mass email.
(Also, if you are maxing out your Gmail send limits, you should take a look at how GMass can help you break Gmail's limits to send virtually unlimited emails from your account.)
How long does it take to warm up an email address?
The general consensus is about eight to 12 weeks is the "safest" amount of time to warm up an email address before sending.
If you're using a brand new domain, you should aim for that time frame.
If you're using a domain that already has some email history, you can consider sending campaigns sooner (like after three to four weeks).
Watch your warmup stats to see how your deliverability looks before you dive into your first campaign. And consider sending your first few campaigns to tight initial lists (where you'll get lots of opens and replies, and preferably no bounces).
Do you have to do mail warmup when using an already established email domain?
Yes. Warm up your specific email address on that domain before sending large campaigns.
However, if you are using a domain with some history, you may need less warmup time than you would for a brand new domain.
Is email warmup safe for my account?
Email warmup is safe for any email account. As long as you're using a reputable warmup service like GMass you'll improve deliverability with no risk. We've never heard of an email provider shutting down an account for using a warmup service.
I turned off warmup — why am I still getting warmup emails?
You likely have warm-up turned on for a different address and that address is forwarding emails to your other inbox. Check the headers of the [GWarm] emails and see who the emails are actually being sent to.
Why are the warm-up emails are taking too long to disappear from my Inbox?
The GMass warm-up system occasionally falls behind with archiving emails. This is due to the heavy volume of warmup emails that GMass processes daily, currently more than 2.5 million. Feel free to manually archive them if they're in your way — just don't set up a filter to do it automatically.
I keep turning warm-up ON but it seemingly keeps getting shut OFF automatically.
The email account you are warming up must be a valid, working email address. Note that just setting up a new Google Workspace account for [email protected] does not automatically turn it into a real email address. MX records for your domain are required for your email address to work. We run a verification check on all accounts periodically and those that fail verification have their warm-up turned off automatically. We can't even notify you in these cases, because… your address doesn't work.
Email Warmup: Next Steps
When we set out to build an email warmup tool at GMass, our goals were simple:
Build the best email warmup tool possible
Make it free
More than 50,000 people are now using GMass's free email warmup tool on a daily basis which (we believe) makes it the most popular warmup tool on the planet.
You can get started with GMass's email warmup tool in a matter of seconds.
And, of course, we hope you'll also consider GMass for your cold email and mass email campaigns. I mean… if we put this much thought, care, and development effort into our free warmup tool, imagine what kind of hardcore lunatics we are about our paid email tool. (Although, because we are lunatics, GMass has the best pricing in the industry — especially when you consider the feature set.)
Get started with the email warmup tool here. You also may want to check out GMass's other totally free deliverability tools, like the free email verification tool, Spam Solver, and our free email analyzer (for SPF, DKIM, DMARC, blacklists, and more).
And if you want to try out GMass for your email needs for free (and send up to 50 emails per day), you can get started by downloading the Chrome extension from the Chrome Web Store.
Ready to

transform Gmail

into an email marketing/cold email/mail merge tool?

Only GMass packs every email app into one tool — and brings it all into Gmail for you. Better emails. Tons of power. Easy to use.

TRY GMASS FOR FREE

Download Chrome extension - 30 second intall!
No credit card required
Love what you're reading? Get the latest email strategy and tips & stay in touch.