Inside sales vs. outside sales — which is the better sales model for your business?
Both sales models can help you convert leads, but their approaches vary greatly.
In an inside sales model, reps sell remotely to a vast lead pool. In an outside sales model, reps sell to prospective clients in person.
In this article, I'll cover what inside sales and outside sales are.
Then, I'll highlight five critical differences between these sales models and tell you why you should combine them for better results.
Finally, I'll answer three FAQs to clear any doubts you may have about the skills required for each sales role and the typical salary of an inside sales or outside sales position.
This Article Contains:
(Click on links below to jump to specific sections.)
Let's go.
What Is Inside Sales?
Inside sales (also known as virtual sales or remote sales) involves selling products or services remotely. Your sales force would typically leverage various digital channels to reach and engage potential customers.
These channels include:
Email
Social media
Phone calls
Video conferencing
Text, and more
Since an inside sales model doesn't rely on in-person, face-to-face interactions, it's convenient in scenarios where it's just not possible to meet with the client in person — for example, during a pandemic like COVID-19. This approach is also cost-effective and allows you to sell to customers regardless of their location.
With an inside sales model, your inside salesperson can usually approach, nurture, and potentially convert a higher number of leads from the safety of their office or home.
Next, we'll go over the basics of outside sales.
What Is Outside Sales?
Outside sales (aka field sales) involves in-person meetings with sales leads to sell your product or service.
For outside sales, your rep would normally meet the potential client at:
Their office
A restaurant
A trade show or conference, etc.
An outside salesperson usually goes out of their way for a face-to-face meeting because closing an outside sale can often depend on the pitch and the relationship that your sales rep builds with a prospective client.
Now that you have a basic idea of what inside sales and outside sales are, let's dive into their key differences.
Inside Sales vs. Outside Sales: 5 Key Differences
While both inside and outside sales models focus on revenue generation, the sales strategy that each model uses is different.
Here are five key differences between inside sales and outside sales:
1. Sales Cycle Length
Sales cycle length is the amount of time it takes to close a sales deal.
Here's a comparison of the sales cycle lengths of inside and outside sales models:
A. Inside Sales
Usually, the inside sales model has a shorter sales cycle.
Why?
The inside sales model is commonly used for selling things like technology solutions that solve simple problems and aren't very expensive.
It's typically easy for an inside salesperson to convey the value of the functionalities of a product that solves a simple problem (like a simple SaaS product). As a result, a sales rep won't need to spend much time to close prospective customers — making it a shorter sales cycle.
Additionally, if the product or service matches a potential customer's requirements and isn't expensive, the prospect could have fewer reservations about making the purchase.
However, with a low-cost product or service, your profit margins could be low as well. And to turn in a good profit, your inside salesperson may need to close a higher volume of deals.
B. Outside Sales
The outside sales model generally has a longer sales cycle.
Why?
Outside sales is normally preferred for selling products, services, and solutions that are complex and expensive.
When selling complex solutions (for example, enterprise software), it can be challenging for your outside salesperson to convey the actual value of all the different functionalities of your offering.
Your outside sales personnel may need to meet in person with potential customers and walk them through the many features, customization options, pricing tiers, and more.
Additionally, more stakeholders tend to get involved in the decision-making process with an expensive solution or a larger deal size. As a result, it will take longer on the client side to reach a consensus on the purchase decision. 
That's why the sales cycle length in outside sales is generally long.
2. Close Rate
Close rate is the percentage of leads that your sales reps convert into revenue-generating customers.
Let's see how the close rate compares for inside sales and outside sales.
A. Inside Sales
Inside sales generally have a low close rate.
Why?
Businesses relying on the inside sales model tend to leverage strategies like inbound marketing to generate tons of leads.
But when an inside sales representative reaches out to one of these B2C or B2B sales leads, and it doesn't pan out, they usually move on without a second thought.
A remote sales professional can walk away from challenging leads because:
There are more qualified prospects that they can pursue instead.
Customer acquisition cost is low — so when a lead doesn't buy from you, it won't feel like a significant loss.
Since inside sales professionals can easily walk away from leads, they often lose out on many sales opportunities, resulting in a low close rate. Fortunately, they usually have a large pool of leads from which to choose.
B. Outside Sales
Usually, the outside sales model has a high close rate.
This is because outside sales professionals spend a lot of time, money, and energy on a single lead. And when a B2C or B2B sales lead they've invested so much into doesn't convert, it becomes a significant loss for the outside rep and their company.
For this reason, the field sales rep carefully chooses which leads to pursue and tries their best not to lose out on even a single potential customer. As a result, outside sales personnel tend to have higher close rates.
3. Maintenance Cost
By maintenance cost, I mean the money you'll need to support your inside or outside sales rep in their selling efforts.
This doesn't include the salaries and commissions of your sales representatives.
Let's see which sales model tends to have higher maintenance costs and why.
A. Inside Sales
An inside sales model usually incurs a low maintenance cost.
Why?
Inside sales professionals require only essential equipment (like laptops and mobile phones, etc.) and access to different software applications (CRM, video conferencing tools, etc.) for their sales job.
But apart from the cost of essential equipment and software, there are typically no additional expenditures that contribute to the maintenance cost of inside sales professionals.
B. Outside Sales
On the other hand, an outside sales team generally has a high maintenance cost.
This is because your outside sales representative will often need to travel to various locations to meet potential clients. Naturally, their airplane or cab fares, hotel accommodation, and other costs can quickly add up.
Moreover, your outside sales personnel rely heavily on client relationships to close deals.
Your company may need to foot the bill of corporate hospitality initiatives like dinners, tickets to shows or sports events, and more.
This usually results in an outside salesperson being more expensive to maintain.
4. Scalability
In the context of inside and outside sales models, scalability is the ease with which your sales team can cater to a more extensive customer base when provided with additional resources.
Let's see which sales model is easier to scale.
A. Inside Sales
An inside sales team and its sales process can be easy to scale.
Why?
Your inside sales rep communicates with leads from the comfort of their laptop or mobile phone.
Equipped with the right communication tools and sales automation software, your inside sales representative can conveniently engage and manage relationships with an increasing number of potential customers.
Moreover, since an inside sales representative sells remotely (through cold calls, scheduled video calls, etc.), they don't have to meet with potential customers in person. This means that a remote sales rep isn't necessarily bound by location.
For that reason, if the sales representative wants to pursue leads in new territory, they can do so almost effortlessly.
Not just that.
For inside sales, you don't need to be very particular about hiring experienced reps since they would rarely meet with customers. All you need to do is provide these reps with proper sales training, and they're good to go.
In short, your inside sales process and team are easily scalable in most cases.
B. Outside Sales
Outside sales efforts can be very challenging to scale.
Why?
Success in a field sales role depends on the ability of your field sales rep to build meaningful and long-term relationships with potential customers.
But customer relationships take a lot of time and effort to build.
Every outside sales representative will need to be highly receptive to the needs of the potential client and will need to come up with a tailored sales process for them.
Additionally, an outside sales job normally involves targeting a specific territory. And so, an outside rep may be uncomfortable about moving to and pursuing leads in new territories.
On top of that, the outside sales reps you hire will need to be well-experienced since they'll need to handle in-person interactions and large-ticket sizes.
5. Sales Tools
Sales tools are designed to make the lives of your sales force a lot easier.
They can help you execute your sales strategy effectively, streamline your sales process, and allow your sales force to reduce the time spent on administrative tasks, etc.
However, the type of sales tools that an inside sales team and an outside sales team use differ.
A. Inside Sales
An inside rep heavily relies on sales tools that help them discover, reach out to, and manage prospective customers.
Here are seven technologies that someone in an inside sales position commonly leverages:
Email outreach tools like GMass to communicate and engage with prospects with ease.
Lead generation software like Leadfeeder or OptinMonster to find leads from your website.
Prospecting tools like Datanyze or Owler to gather sales intelligence on B2B sales prospects (for example, details of the decision-makers at a company).
Customer Relationship Management tools like Salesforce or HubSpot CRM to organize lead data.
Appointment scheduling tools like Calendly or Doodle to schedule meetings effortlessly.
Video conferencing tools like Zoom or Skype for holding video calls with potential clients.
Sales automation tools like Pipedrive or Pega Sales Automation to automate repetitive tasks in your sales process.
B. Outside Sales
Companies using the outside sales model primarily adopt sales tools that complement their field sales activities.
An outside sales job may require:
Sales territory management software like Zoho CRM or EasyTerritory to monitor and compare revenues from different sales territories.
Sales rep performance tracking tools like SPOTIO or Outfield to help a sales leader or sales manager oversee the sales performance and quota attainment of your field reps.
Email automation tools like GMass to keep in touch with potential customers.
Generally, an outside sales team needs fewer sales tools since an outside rep does most of their selling in person.
However, whether you adopt an inside sales or outside sales model, you'll need to stay on top of the minds of prospective customers to close deals.
And while you can keep in touch with prospects on various channels, I recommend using emails.
Why?
Emails are non-intrusive, professional, cost-effective, and scalable — making it the ideal channel to contact and engage with inside and outside sales prospects.
Additionally, with software like GMass in your toolkit, you can take your email outreach efforts to the next level.
What's GMass?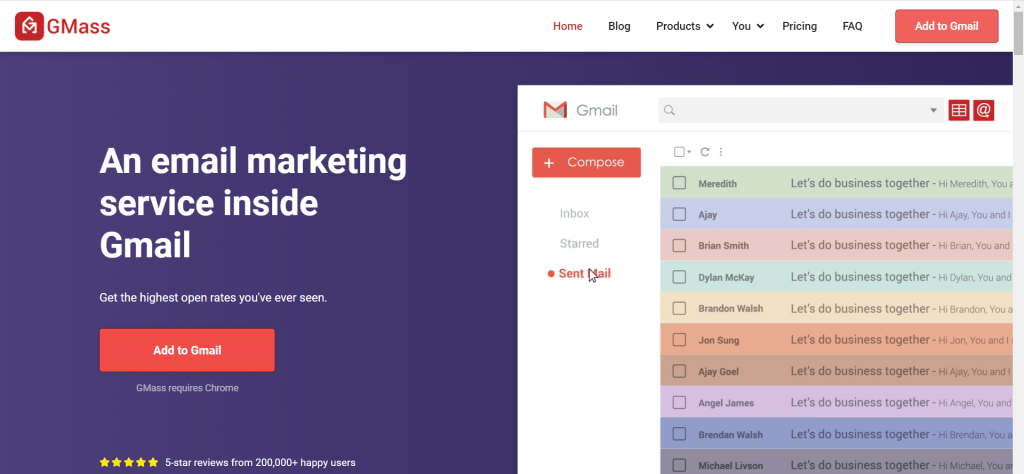 GMass is a powerful email marketing and sales email automation tool that works entirely inside Gmail.
Used by employees in large companies such as Google, Uber, and LinkedIn, GMass is also perfect for people in an inside sales or outside sales position, business owners, startup founders, solopreneurs, and more.
GMass helps you:
To start using GMass for free, just download the Chrome extension and sign up using your Gmail account.
Now, while exploring the critical differences between inside sales and outside sales, you may have realized that sticking to just one sales model may not be ideal for your business.
Instead, what if you combined the best of both these sales models?
Why You Should Combine Inside Sales and Outside Sales
As more and more businesses serve global markets and customers become better informed, the traditional divide between inside sales and outside sales is slowly blurring.
Many companies have combined the positive aspects of both these sales models to create a more robust and effective hybrid sales model.
With a hybrid B2C or B2B sales model, your sales rep:
Does most of their selling virtually, meeting with the prospects only for important occasions.
Builds and sustains long-term customer relationships with the help of sales technology solutions.
Uses a customized sales approach for each lead.
Essentially, a hybrid sales model enables your sales organization to sell more, improve customer retention, and remain flexible.
Next, let's look at some common questions asked about inside sales vs. outside sales.
Inside Sales vs. Outside Sales: 3 FAQs
Here are answers to the three most frequently asked questions about inside sales vs. outside sales.
1. What Skills Does an Inside Sales Rep Need?
Inside sales personnel rarely, if ever, meet with a potential client face-to-face.
For that reason, excellent written and verbal communication skills are must-haves to be successful in the inside sales profession.
Inside sales reps should be able to:
Perform online presentations
Handle prospect communications
Use tools like CRM software, lead generation software, etc.
Engage in professional discussions, and more
2. What Skills Does an Outside Sales Rep Need?
Outside sales personnel will frequently need to meet in person with prospective customers.
That's why they must be:
Confident
Excellent at building strong relationships
Adept at non-verbal communication
Skilled at delivering sales presentations
Able to manage their own schedule effectively
Proactive at problem-solving
Additionally, in an outside sales role, they may be expected to be something of a sales engineer — someone who's analytical and capable of explaining complex technical concepts to potential customers.
3. What is the Average Sales Rep Salary?
Both inside sales and outside sales professionals receive base salaries and performance-based commissions on top of that salary.
The average annual base salary of an outside sales representative is more than $50,000.
However, when you add in the bonuses, commissions, and profit-sharing, the pay scale of an outside sales rep can go up to an average of $70,000 annually.
Note, in cases where a product or service is very expensive, complex, or high-profile, and your company has to compete for the most experienced and successful salespeople, outside sales salaries and bonuses can easily become double or triple this average.
On the other hand, the average annual base salary of an inside rep is around $44,000. After adding bonuses, commissions, and profit-sharing, an inside sales rep's salary can go up to an average of $60,000 per year.
In high-profile companies with complex products and services, these salaries may grow, but usually not more than about 25% above average.
However, these numbers depend on the industry, location, and experience level.
Final Thoughts
The type of sales model you choose can vary depending on the solutions you sell and the resources at your disposal.
If you're selling a low-cost product to a large and distributed lead pool, I'd recommend you choose the inside sales model. And if your business primarily deals with complex, large-ticket items, the outside sales model could be suitable for you.
However, your sales organization might do even better if they can combine these models into a single hybrid sales model.
Whatever sales model your sales organization uses, staying on the prospects' radar is vital for closing deals.
Fortunately, a sales email automation tool like GMass can help.
You can use GMass to send auto-personalized emails to potential customers, set up workflows to send follow-ups until new prospects respond, monitor your email campaign performance, and do so much more.
Why not try GMass today and maximize the effectiveness of your sales model?
Ready to

transform Gmail

into an email marketing/cold email/mail merge tool?

Only GMass packs every email app into one tool — and brings it all into Gmail for you. Better emails. Tons of power. Easy to use.

TRY GMASS FOR FREE

Download Chrome extension - 30 second intall!
No credit card required
Love what you're reading? Get the latest email strategy and tips & stay in touch.