How can sales automation increase your revenues?
Sales automation streamlines the repetitive tasks in your sales process to help you focus more on selling your product or service and spending less time on admin work.
In this article, I'll cover what sales automation is and how it adds value to every salesperson. I'll then go over how your organization can implement sales automation easily. Finally, I'll highlight five powerful sales tools to boost your sales productivity today.
This Article Contains:
(Click on a link to jump to a specific section)
Let's jump right in, shall we?
What is Sales Automation?
Sales automation is the process of streamlining repetitive and time-consuming sales tasks with software-based solutions. This can power up sales productivity and help you increase the revenue of your company.
You can automate a variety of manual tasks in your sales process, like:
Finding leads' contact info
Data entry and maintenance
Emailing qualified leads
Scheduling meetings
Logging sales progress
And much more
There are a few things you'll need to take care of for effective sales automation:
First, carefully evaluate your sales process and look for automation opportunities.
Then, create a sales automation strategy and research different sales automation tools like email automation software, CRM software, lead management software, and more.
Finally, fine-tune your sales process automation for maximum efficiency.
But is automating your sales processes actually worth the effort?
Note: In the following sections, I'll talk about the advantages of using sales automation and implementing it in your organization. If you're just looking for automation tools, feel free to skip ahead to my top 5 sales automation tools.
How Sales Automation Benefits Sales Professionals
Sales automation helps you:
Automate routine tasks in your sales workflow so that your sales professionals can focus more on selling
Provide improved customer experience by reducing response time
Maintain sales data consistency and quality across the organization
Reduce human error when updating sales-related info
Gain deeper insights into individual sales rep performance, channel success, and more
In a nutshell, automation simplifies your sales process while amplifying your sales efforts.
How to Implement Sales Automation in Your Organization
There are different ways to implement sales automation in your organization — you can automate the entire sales workflow or just some parts of the process.
Ultimately, your automation strategy will depend on your specific requirements and budget.
To help you, I'll highlight some crucial parts of your sales process that can benefit hugely from automation software:
A. Prospecting and Research Automation
It's tempting to sell your product or service to everyone. However, trying to close a sale with people you know nothing about is rarely effective.
Your sales team needs a solid basis to qualify and prioritize your leads.
Prospect research can help with that.
It's about studying your prospects and their businesses extensively, trying to determine how well they fit your ideal customer profile, and figuring out what buyer persona they embody.
But how do you find the relevant info for a prospective customer?
By using a research automation tool, your sales team members can effortlessly gather info about leads, their specific interests, affiliations, social media presence, and more.
And this information can help you identify qualified leads that you can nurture as you advance them through the sales funnel.
B. Email and Communication Automation
Your sales team will likely approach a large number of qualified leads in the hope of meeting your sales conversion goals.
But sending the same generic message or email to every lead is a bad strategy.
Why?
Your leads usually prefer communications tailored to their specific interests — rather than a generic, boring message that doesn't address their particular needs.
However, it's not practical to manually craft custom messages for each lead on a massive prospect list. Additionally, if you need to follow up consistently, it will be an even more painstaking task.
And this is where communication automation comes in handy.
It allows you to automate communication efforts like emails, meetings, follow-up messages, and sales proposals, etc., so you can conveniently approach a larger audience.
C. Sales Activity and Lead Management Automation
Sales is a multi-step process.
You go through a series of interactions and conversations with a prospective customer as you try to advance them along the sales pipeline. Every sales manager should keep tabs on this interaction history to evaluate the rep's sales productivity.
You should track details on sales calls made, emails sent, and meetings arranged.
Most importantly, you'll need to ensure that the sales team reaches out to a lead qualified by your marketing team as soon as possible — ideally, within 24 hours. Doing so can drastically improve your sales conversion chances.
However, manually tracking the sales activity log with a spreadsheet can quickly become confusing — especially if you've got many reps and leads.
Automating activity logging with CRM (Customer Relationship Management) software allows you to store and track sales activities from one central place accurately. This way, you can devote more effort to analyzing and honing your sales strategy.
A CRM can also help you keep track of the metrics related to crucial questions:
How many leads do you have at different stages of the sales funnel?
Which leads should be prioritized?
What are your conversion rates at each stage?
How is each salesperson performing at each stage?
How long does it take to close a deal on average?
What are the conversion rates according to demographic criteria?
D. Sales and Marketing Alignment Automation
You need to keep track of  potential people who:
Visit your website
Fill out a subscription form
Download a whitepaper
And more
Ideally, all this data should be captured in your marketing automation software. Additionally, you should integrate the marketing automation software with your CRM software. This will allow sales-ready prospects to be handed over to the sales team automatically.
For example, if a newsletter subscriber visits a product page on your website, you can set up a trigger to send an immediate sales email to that subscriber offering a product demo.
Moreover, aligning your sales and marketing teams helps them work together with the shared goal of achieving and exceeding your target revenue consistently.
Top 5 Sales Automation Software Tools to Close Leads Efficiently
Here are five powerful sales automation tools that will streamline your sales efforts:
I'll cover their key features, pricing, ratings, and alternatives to give a glimpse at their capabilities, fit, and potential ROI:
1. GMass for Sales Email Automation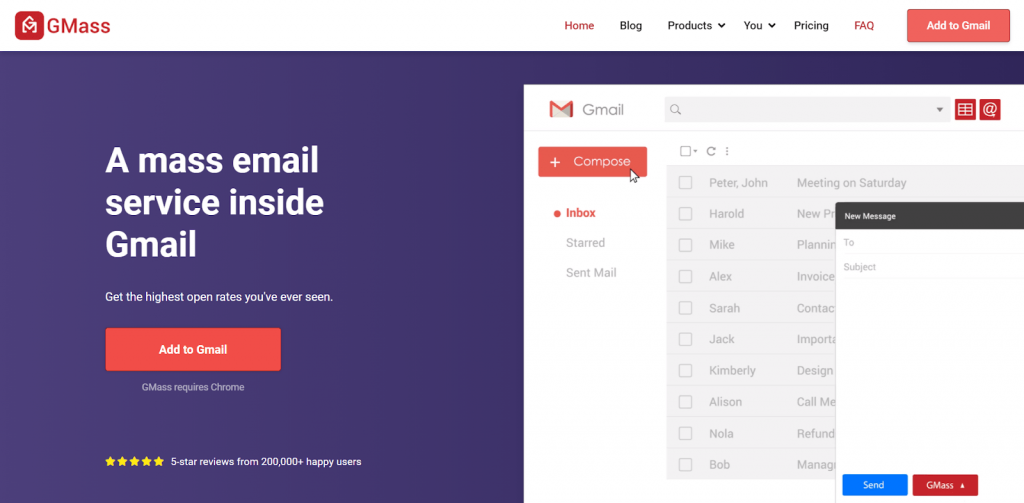 GMass is a powerful email marketing and sales email automation tool that works inside Gmail.
Its superior outreach and marketing automation abilities have made it a popular tool with employees in large companies like Google and Uber and social media giants like Twitter and LinkedIn.
GMass is also the perfect email automation software for startups, small business owners, and sales professionals.
GMass Key Features
With GMass, you can leverage powerful sales email and marketing automation features like:
Personalizing your emails for each recipient can increase sales engagement and conversions — with 72% of consumers only engaging with personalized messaging.
However, manually crafting unique mass emails isn't practical.
Don't worry.
With GMass, auto-personalizing mass emails is a breeze.
This sales email automation tool allows you to add personalized paragraphs, links, and images automatically to your emails in seconds. These highly customized messages can quickly boost your sales conversion rates.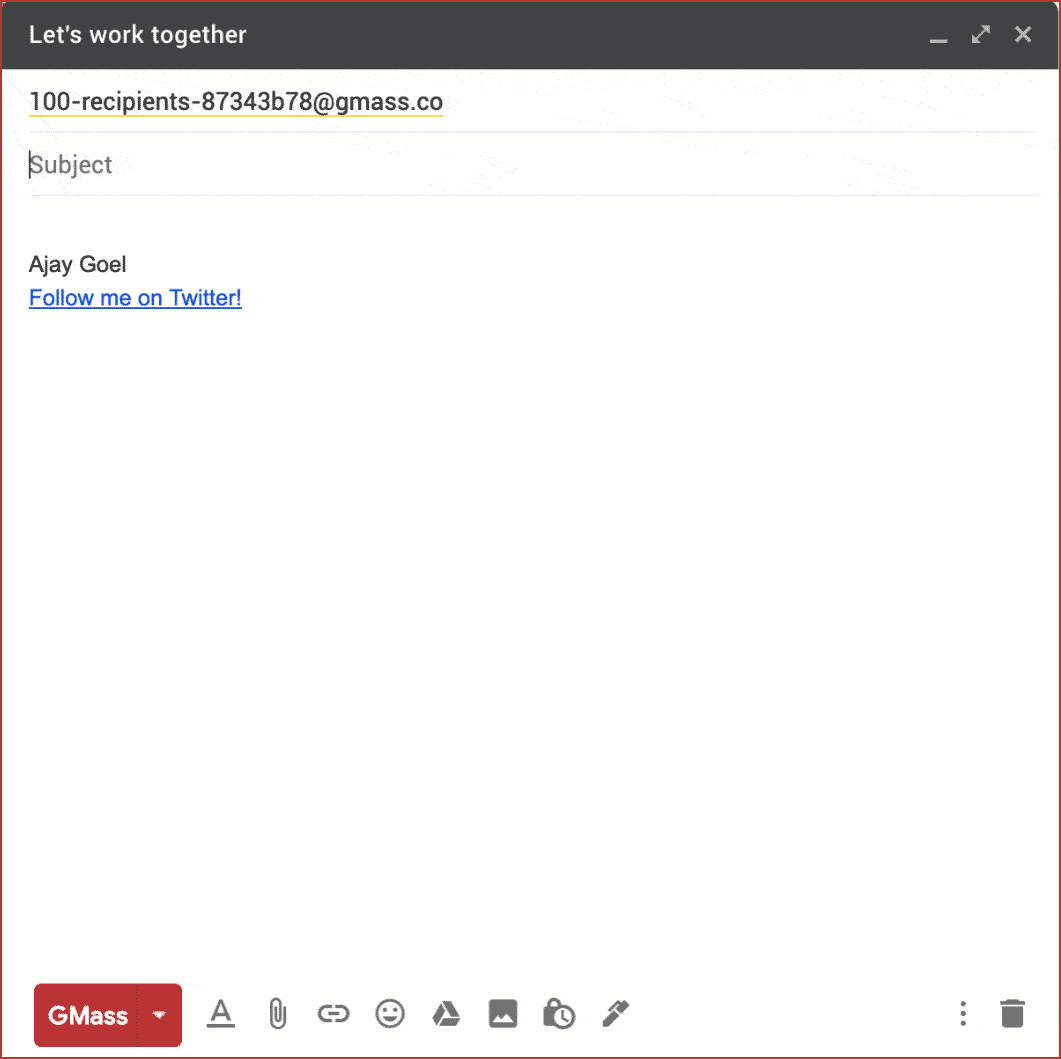 To improve conversion rates, you need to hone your sales and marketing process continuously.
To do this, you'll need to analyze your previous sales campaign's performance.
GMass can help you with that.
This email marketing automation tool automatically generates in-depth reports right inside your Gmail inbox each time you send a campaign — covering crucial email metrics like open rates, click-through rates, bounces, and more.
These core statistics help you measure different sales campaigns' effectiveness and continuously improve your sales tactics and strategy.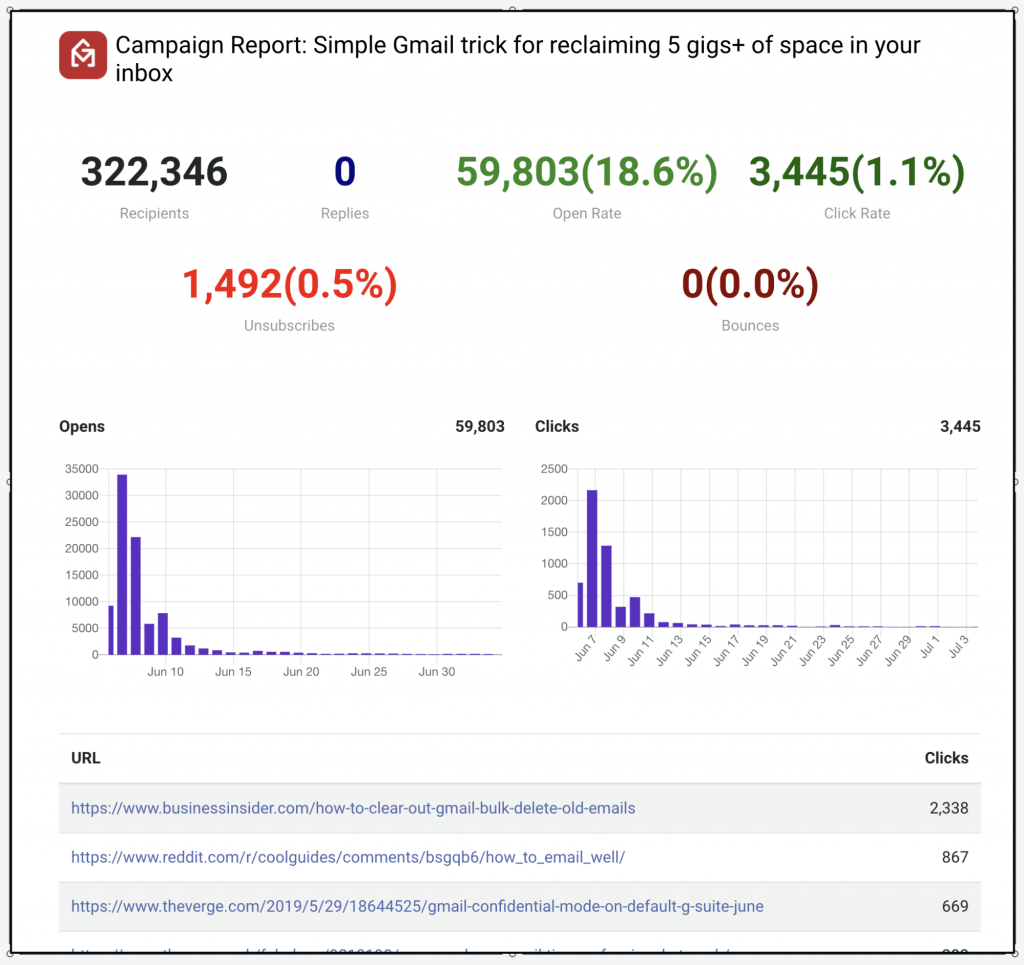 Additionally, GMass' email deliverability wizard provides data-driven insights that could help you achieve improved inbox placement, increased open rates, and better sales prospect engagement.
Sending follow-up emails to leads can significantly improve your sales lead engagement. Sending just a single follow-up email can increase your reply rate by around 40%!
With this automation software, you can easily create automated workflows to send follow-up emails to leads until they take action — like opening your email or clicking a link within your email message.
Moreover, you can customize various aspects of these automated emails in GMass, like the:
Total number of follow-up emails to send
Time interval between follow-up emails
Triggers to send follow-up emails
And more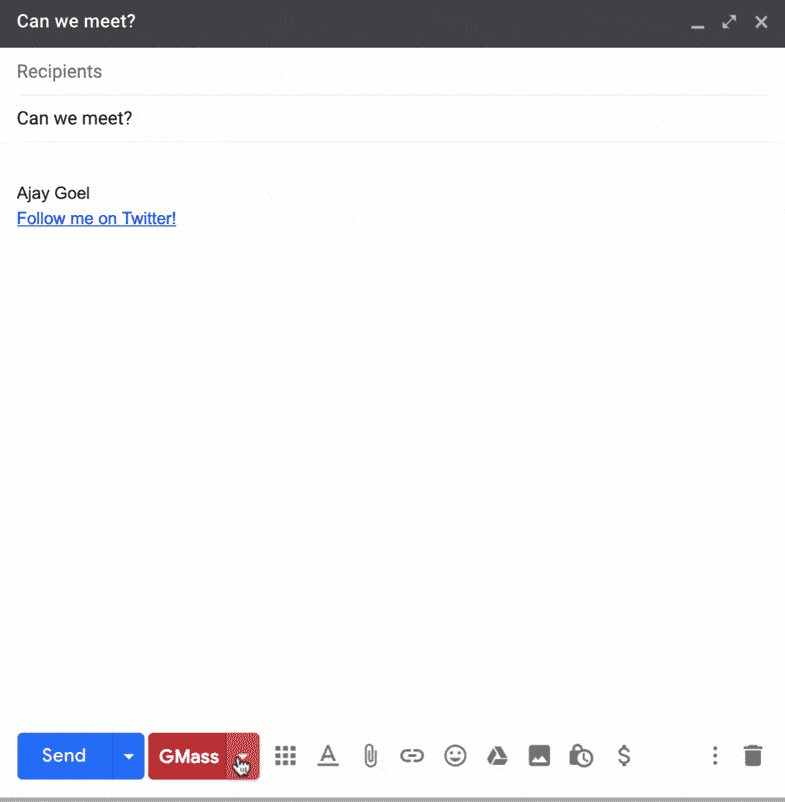 Manually building a prospect list can be a time-consuming process — you'll need to gather the email addresses, check their buyer persona fit, and prioritize them.
Fortunately, GMass helps you automate list-building.
Here's a rundown of what you'll have to do:
Input some keywords related to your ideal customer profile in the Gmail search bar and hit Enter.
Once the search results are generated, click the red "Build an email list from search results" button at the top.
GMass will automatically build an email list using email addresses from your search results and add it to the To address box of a new Compose window.
Craft the email message and subject, and click the GMass button to email your new prospect email list.

Moreover, you can create an email list in Google Sheets and quickly connect it to GMass to send mass mail-merge campaigns with ease.
With an email automation platform like GMass, you can reach out to a prospective customer when they're most likely to engage with your emails.
How?
Just schedule your email campaigns in advance to reach your prospective customer at optimal times. Compose your email, set the schedule, and GMass will automatically send out your bulk sales email campaigns when it's time.
Moreover, you can conveniently reschedule a sales email campaign by modifying the schedule via the Drafts folder in Gmail.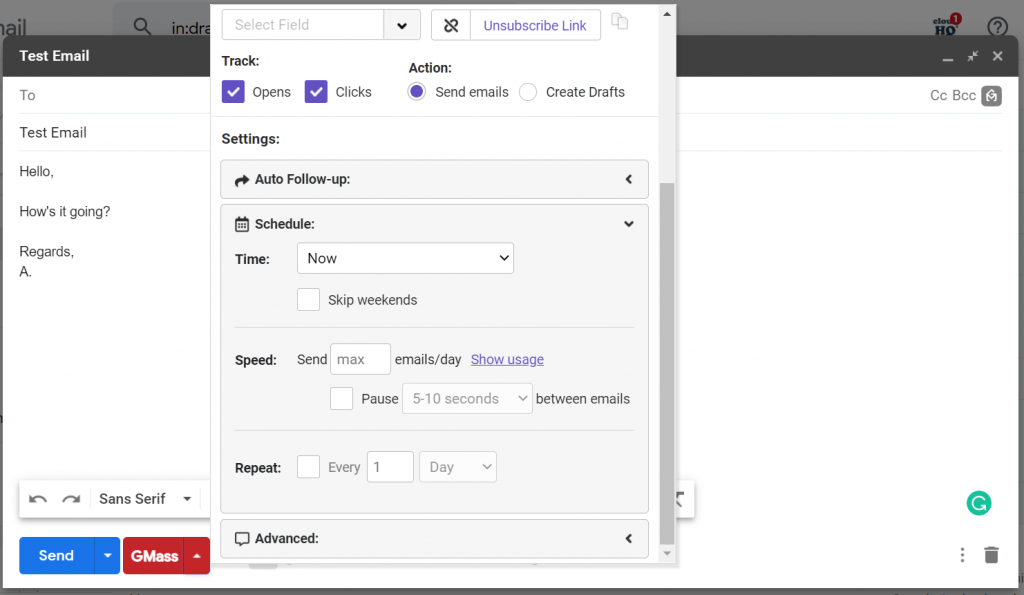 GMass Pros
Feature-rich free version
Works within Gmail's interface, so you won't have to get familiarized with a new UI
Helps you overcome Gmail's email sending limits by integrating with an SMTP tool like SendGrid
Allows you to save older marketing or sales emails as templates to modify and reuse later
Provides free email verification to ensure that your sales or marketing emails don't bounce
Lets you send cold drip campaigns to prospects
Can automatically detect your prospects' first names from their email IDs
Lets users access the tool's email sales automation and marketing capabilities from their Android phone through the Gmail app add-on.
GMass Pricing
GMass has three comprehensive pricing plans:
Can send 50 emails/day
Includes all features
Supports unlimited emails per day
Includes all features except sequences and automated follow-ups
Provides all "Standard" plan features + sequences and follow-ups
Premium (starts at $89/month for a team of five):
GMass Ratings
Capterra: 4.9/5 (580+ reviews)
2. LeadFuze for Lead Generation and Research Automation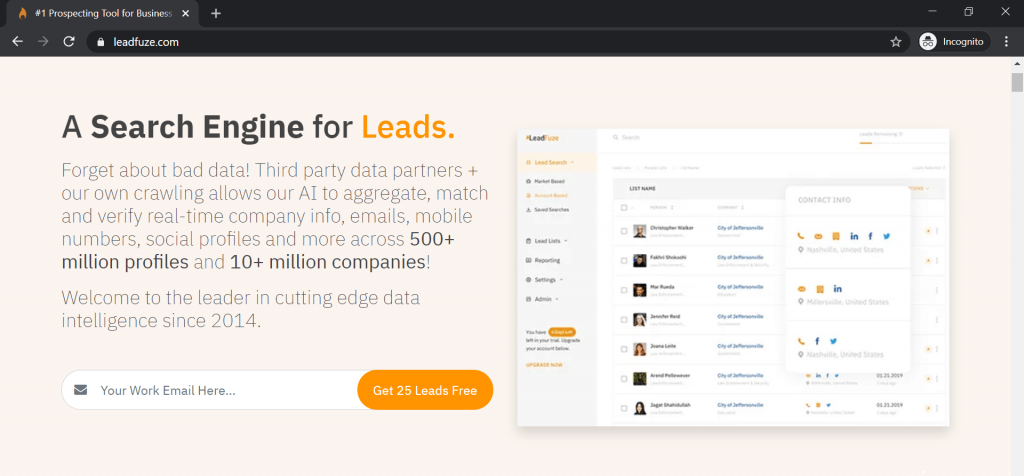 LeadFuze is a sales automation tool that specializes in lead generation, research, and prospecting.
LeadFuze Key Features
Automated list building to crawl the web for prospects matching your predefined criteria
Consolidate contact info of leads like social profiles, phone numbers, and emails
Data exporting to transfer your lead data into a CSV file or Google Sheets
LeadFuze Pricing
LeadFuze has three pricing plans:
Starter (starts at $132.30/month):
Supports an unlimited number of lists
Market-based search filters
Supports data export to CSV
And more
Scaling (starts at $447.30/month):
Supports all "Starter" features
Account-based search filters
Deduplication features
And more
Custom (contact their sales team for a custom quote):
Supports 5+ users
Provides custom feature access
And more
LeadFuze Ratings
Capterra: 4.7/5 (80+ reviews)
LeadFuze Alternatives
3. Pipedrive for Sales Pipeline Automation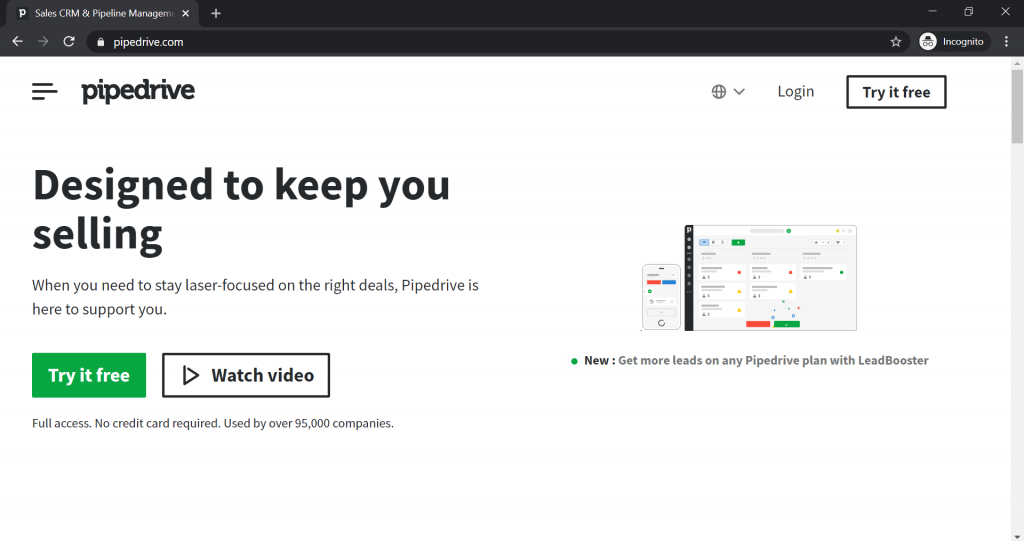 Pipedrive is a CRM and sales automation platform that helps you visualize your sales process and enhance sales productivity. This sales engagement platform leverages activity-based selling that involves scheduling, tracking, and completing sales activities.
Pipedrive Key Features
Custom chatbot and webforms to feed leads from your site directly into your sales pipeline
Insights and reports to measure sales performance against set goals
Workflow automation to streamline your sales processes
Pipedrive Pricing
Pipedrive has four pricing plans:
Essential ($15/user per month):
Supports deal management
Customizable pipelines
Supports data import and export
And more
Advanced ($29/user per month):
Supports all "Essential" features
Email open and click tracking
Workflow automation
And more
Professional ($59/user per month):
Supports all "Advanced" features
Revenue forecast reports
Supports team management
And more
Enterprise ($99/user per month):
Supports all "Professional" features
Can automate up to 100 workflows
Custom onboarding and support
And more
Pipedrive Ratings
Capterra: 4.6/5 (2250+ reviews)
G2: 4.3/5 (1300+ reviews)
Pipedrive Alternatives
Pega Sales Automation
monday.com
4. Calendly for Sales Meeting Automation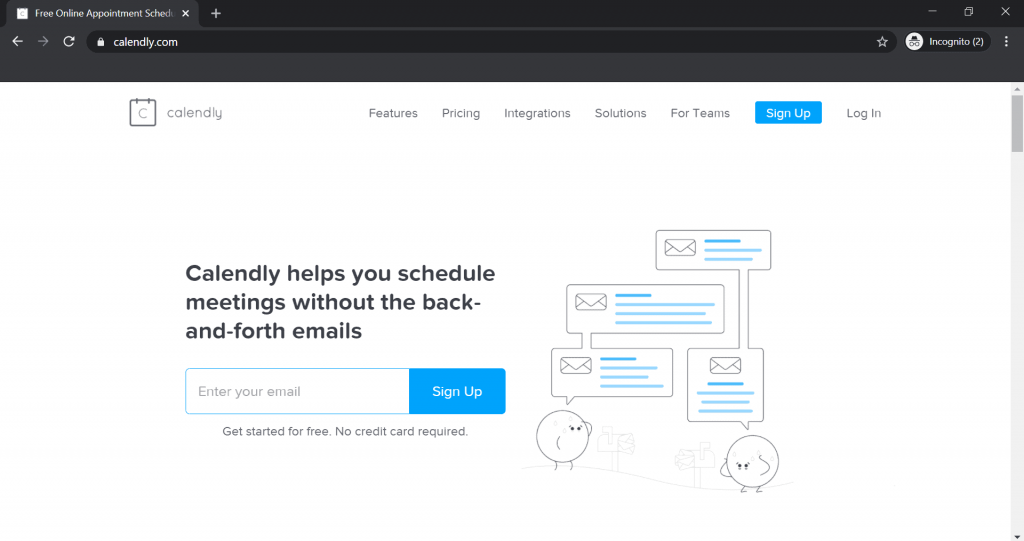 Calendly is an automated appointment scheduling and sales automation platform that helps you arrange meetings with sales prospects.
It shows prospects a list of slots when you are available, and they can easily pick one that works for them. This solves the maddeningly irritating problem of sending back-and-forth emails to schedule a mutually convenient time.
Calendly Key Features
Lets you schedule group events, one-to-one, and sales team meetings
Offers time zone detection to display availability in your sales prospect's time zone
Integrates with Google, Outlook, and other calendars to add bookings to calendars automatically
Calendly Pricing
Calendly has three pricing plans:
Schedule unlimited events for one event type
Personalized links
Automated event notifications
And more
Premium ($10/user per month):
Supports all "Basic" features
Unlimited event types
Customizable email reminders
And more
Pro ($15/user per month):
Supports all "Premium" features
Up to 6 calendars per user
Supports SMS notifications
And more
Calendly Ratings
Capterra: 4.6/5 (1390+ reviews)
Calendly Alternatives
5. HubSpot Marketing Hub for Marketing Automation
HubSpot Marketing Hub is a marketing automation platform that helps you attract, engage, and convert the right audience.
By aligning marketing automation software like HubSpot with your other sales enablement tools, you can improve your sales conversions and boost revenue.
HubSpot Marketing Hub Key Features
CMS, landing pages, and pop-ups to capture leads from your website
Marketing automation to assist with lead nurturing and scoring, data management, and more
Revenue attribution reporting to analyze the ROI on your marketing efforts
HubSpot Marketing Hub Pricing
HubSpot Marketing Hub has four pricing plans:
Reporting dashboard
Forms
Conversations inbox
And more
Starter (starts at $50/month for 1,000 marketing contacts):
Supports all "Free" features
List segmentation
Contact website activity
And more
Professional (starts at $890/month for 2,000 marketing contacts):
Supports all "Starter" features
Marketing automation
SEO recommendations and optimizations
And more
Enterprise (starts at $3,200/month for 10,000 marketing contacts):
Supports all "Professional" features
Single sign-on
Webhooks
And more
HubSpot Marketing Hub Ratings
Capterra: 4.5/5 (4430+ reviews)
G2: 4.4/5 (6530+ reviews)
HubSpot Marketing Hub Alternatives
Pardot by Salesforce
Zoho MarketingHub
Final Thoughts
Sales automation is one of the easiest ways to streamline your sales process and increase productivity.
And if you're looking for a sales automation strategy with massive ROI, opt for automating your sales email process. It's the easiest way to create meaningful outreach to multiple leads quickly.
As an email sales automation solution, there's no better tool than GMass!
This email automation software helps you create auto-personalized emails, automate mass email scheduling, send automated follow-ups, build email lists automatically, and do so much more.
So why not try GMass today and take your sales automation process to the next level?
Ready to

transform Gmail

into an email marketing/cold email/mail merge tool?

Only GMass packs every email app into one tool — and brings it all into Gmail for you. Better emails. Tons of power. Easy to use.

TRY GMASS FOR FREE

Download Chrome extension - 30 second install!
No credit card required
Love what you're reading? Get the latest email strategy and tips & stay in touch.