Looking for powerful marketing software to grow your business faster?
The right marketing software stack can help you streamline your outreach efforts and improve your marketing campaign efficiency. It also helps you engage your target audience better to maximize conversions.
In this article, I'll highlight seven powerful tools to skyrocket your marketing campaigns in 2021. I'll cover their key features, pros, limitations, pricing, and ratings to give you a clear picture of what each tool can offer you.
This Article Contains:
(Click on a link to jump to a specific section.)
Let's get started.
What Is Marketing Software?
Marketing software programs make your marketing efforts more efficient and effective. They help you execute campaigns, tap into target markets, engage with your audience, and convert leads into customers with ease.
Marketing software can help you:
Automate repetitive marketing tasks so that you can focus on critical aspects
Streamline your marketing efforts across multiple channels
Build and nurture better customer relationships
Track and analyze marketing progress to evaluate marketing campaign effectiveness
What Are the Different Types of Marketing Software?
Let's look at the different marketing tools every marketer needs:
Email Marketing Software: craft, send, test, and optimize your marketing email campaigns.
Marketing Automation Software: automate repetitive tasks in your marketing process to manage your pipeline efficiently.
Customer Relationship Management Software: store and organize your sales and marketing data in one place.
Social Media Marketing Software: generate leads and manage your marketing campaigns across multiple social media platforms.
Content Marketing Software: create, publish, and analyze content campaigns to build awareness, find leads, and generate revenue.
Search Engine Marketing Software: create and manage organic content and paid advertisements on search engines like Google, Bing, and more.
Landing Page Software: make your website a lead magnet and drive traffic to your other marketing avenues.
Now that we've covered what marketing software is and what it can do for you, let's go over the top 7 tools:
The Top 7 Marketing Software Tools for 2021
Here are seven marketing tools to amp up your marketing efforts:
I'll cover their key features, pros, limitations, pricing, and ratings to give you an in-depth idea about each tool: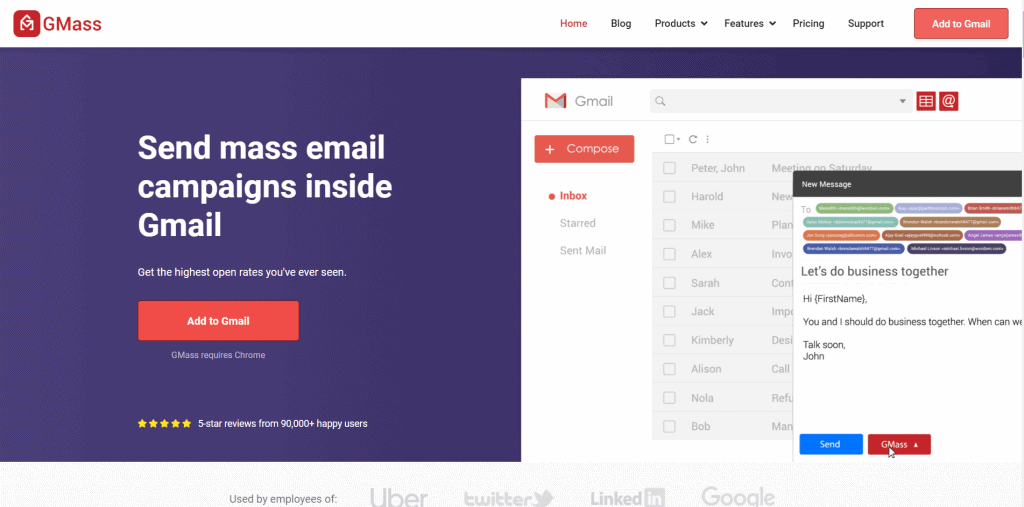 GMass is powerful email marketing and marketing automation software that works inside Gmail.
Its advanced outreach features and ease of use have made it a popular tool used by employees in social media companies like LinkedIn and Twitter and tech giants like Google and Uber.
GMass is also perfect for small business owners, B2B marketers and B2C marketers, marketing agency professionals, and even institutions like churches.
Let's see why GMass is a must-have email marketing tool:
Your marketing outcomes directly depend on how many people you approach and convert into customers. Naturally, the more people you can effectively reach, the higher your marketing success.
And the easiest way to reach multiple people is via email.
However, your recipients prefer personalized emails — these are messages that feel tailor-made to their specific interests. So, sending a generic message to everyone won't cut it.
That said, it's impractical to personalize each email message manually, especially if you have a massive mailing list.
Don't worry.
With GMass, you can auto-personalize bulk emails in seconds.
You can auto-customize several aspects in your email, including:
And more within your email message.
These personalized messages improve engagement and conversion rates — making your campaigns so much more effective.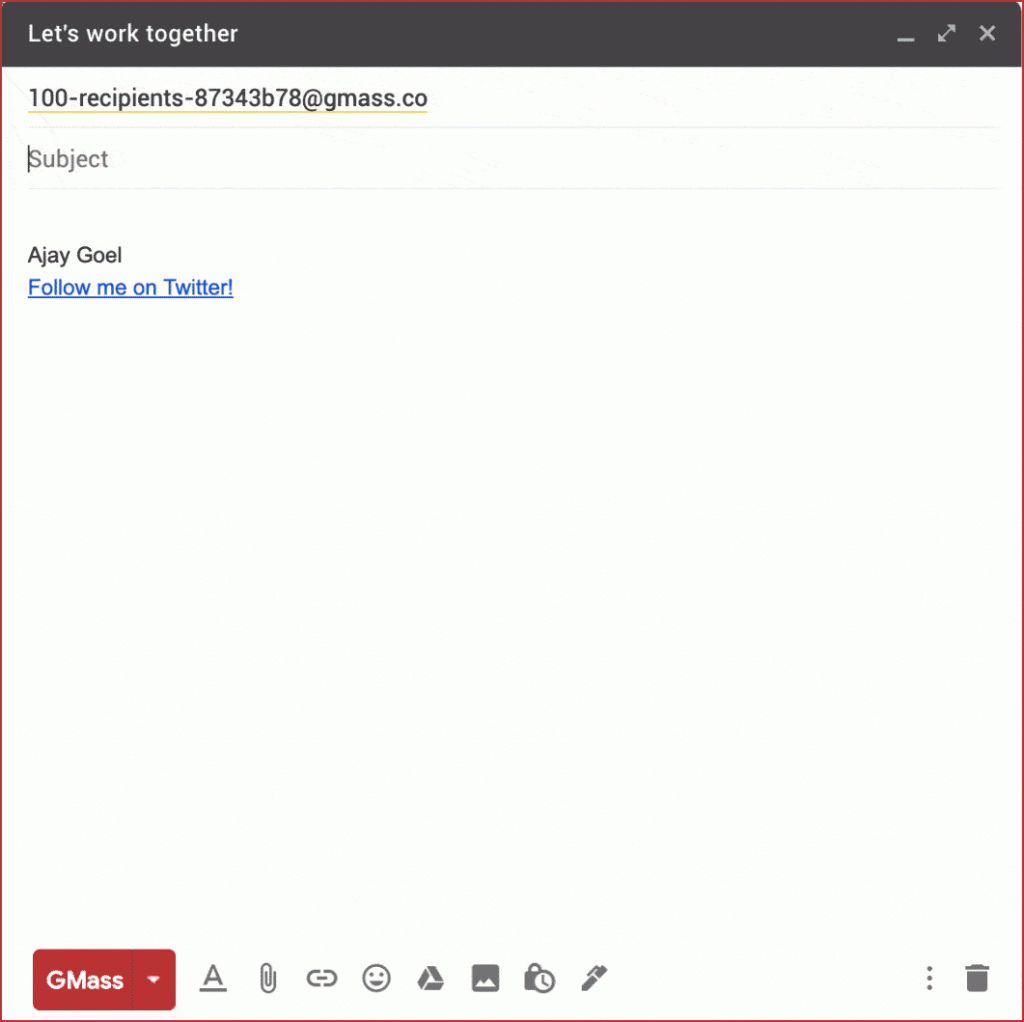 Smart marketing professionals review their outreach efforts regularly to improve their email campaign performance.
GMass provides in-depth email campaign analytics and reports right inside your Gmail inbox. You can use it to evaluate your campaign efforts and identify opportunities for improvement.
You'll get insights into crucial email metrics like open rates, click-through rates, unsubscribes, bounces, and more.
But how accurate are these metrics?
GMass can bypass most tracking pixel blockers, so your email analytics reports are as accurate as possible.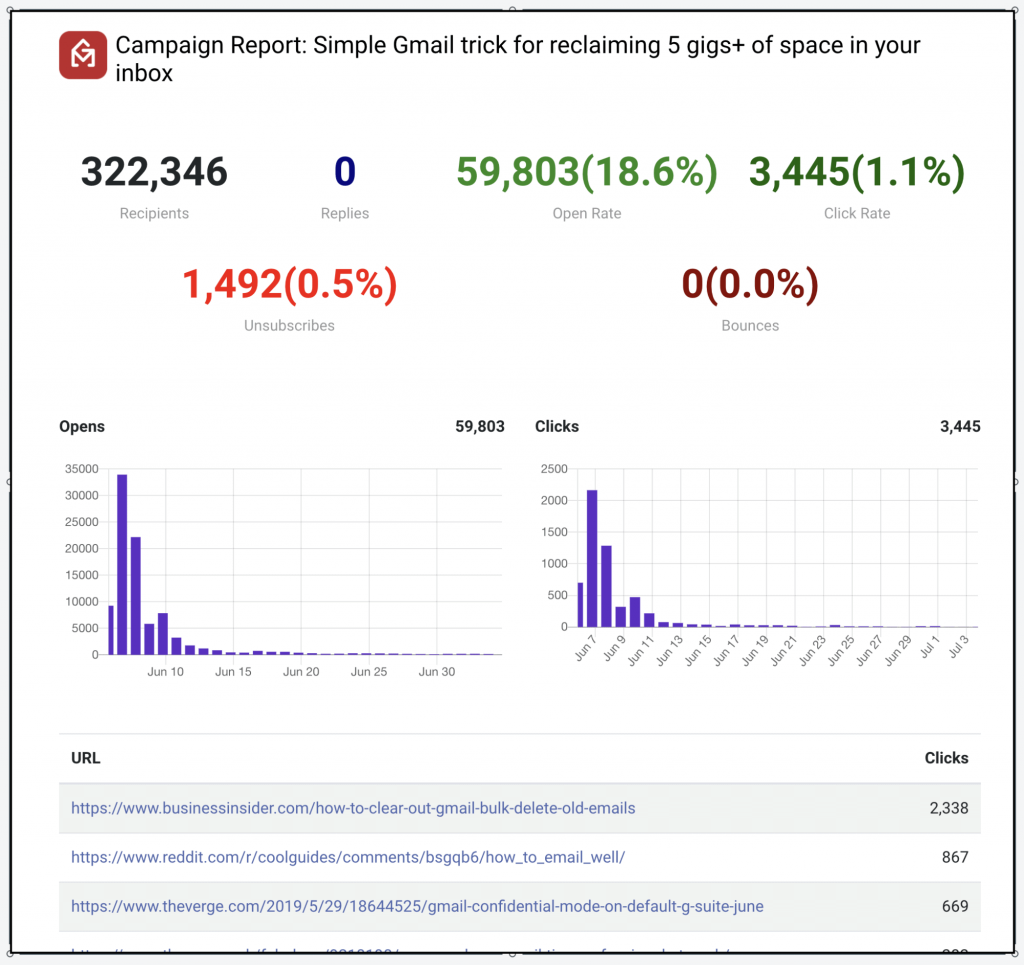 To maximize your email marketing campaign engagement, you'll have to send follow-up emails to potential customers.
Fortunately, GMass can send automated emails as follow-ups to save you the trouble of manually composing and sending them.
You can create automated workflows to keep sending follow-ups until a recipient:
Opens the email
Clicks on a link within the message
Responds to your communication
And more
GMass also lets you customize several aspects of these automated emails, like the:
Triggers to generate automated follow-ups
Number of follow-up emails to be sent
Time gap between these emails
Email message content
And more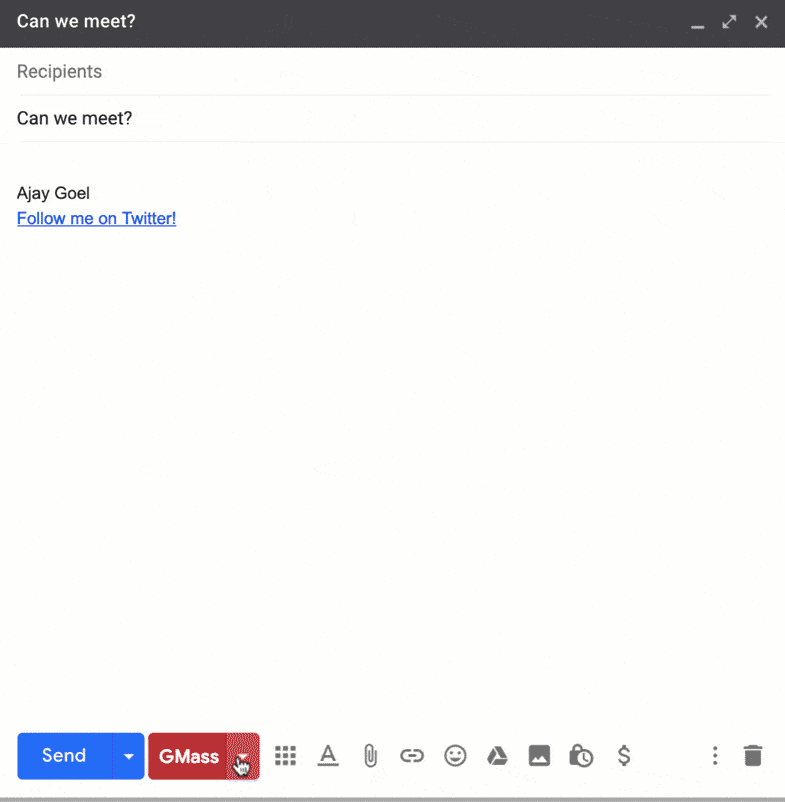 Building targeted mailing lists to reach out to people is easy with GMass.
How does it work?
Just follow these simple steps to build your email list inside Gmail quickly:
Type in a keyword related to your target audience in the Gmail search bar (for example, "Bay Area"), and hit the Gmail search button.
Now, Gmail will display all emails related to your keyword — people connected to the phrase "Bay Area."
Click the "Build Email List" button (red magnifying glass) near the search bar, and GMass will automatically start building an email list using the IDs found in your search results.
A new Compose window will open, containing those email IDs in the To address box.
Craft your email message and subject, and click the GMass button to send your email.

You can also build your email list in Google Sheets and connect it to GMass to send mail merge marketing campaigns!
If you don't regularly update your mailing lists, you might encounter email bounces while sending email marketing campaigns.
Why does that matter?
As some email addresses within a mailing list might be invalid or inactive, your messages can go undelivered. This negatively affects your sender reputation with internet service providers (ISPs) and brings down your email deliverability rates.
Moreover, you'd be wasting your marketing resources and time on non-existent email addresses that won't contribute to conversions.
But don't worry.
GMass' free email verification service can help you with this.
Once you enable Verify in the GMass settings while sending email campaigns, GMass will verify each address in your mailing list.
If an email address verification fails, GMass will skip sending your campaign to that address, add the address to your Bounce list, and log it for your analytics reports.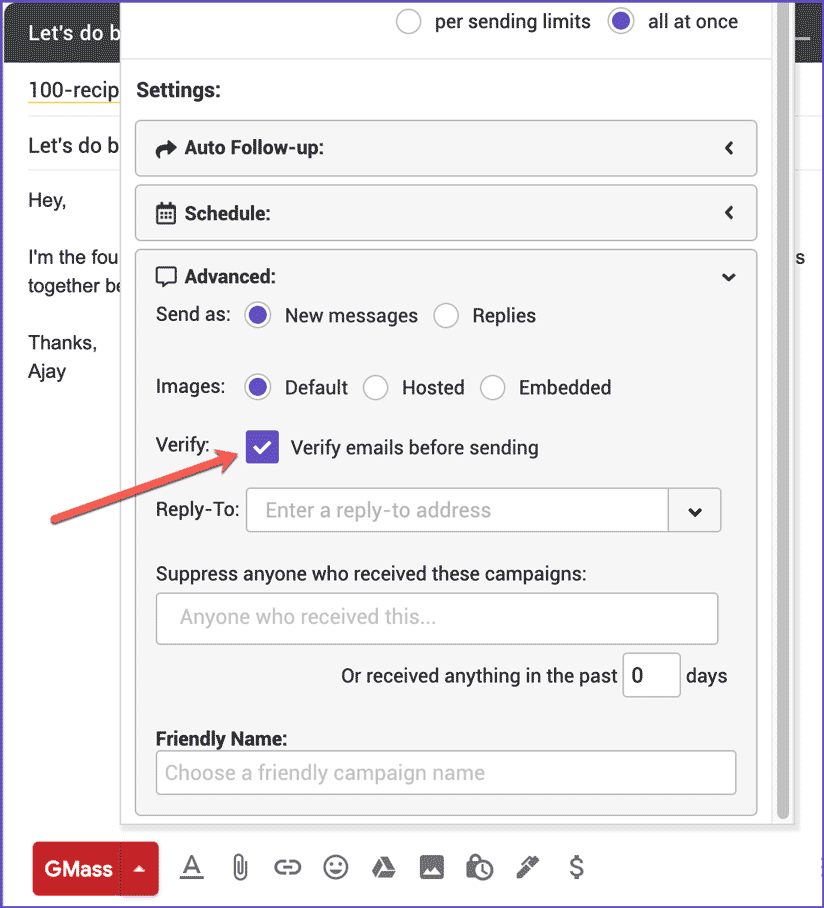 As a marketer, you may want to analyze the impacts of specific strategies on your email deliverability and conversion rates.
For example, you might look for answers to questions like:
Which SMTP service should you rely on for bypassing Gmail's email sending limits?
How does email verification affect your deliverability rates?
Does adding a delay between emails you send enhance inbox placement rates?
GMass' Email Deliverability Wizard provides data-driven answers to such questions.
Additionally, the wizard can help you understand how to achieve better inbox placement and higher open rates for your campaigns.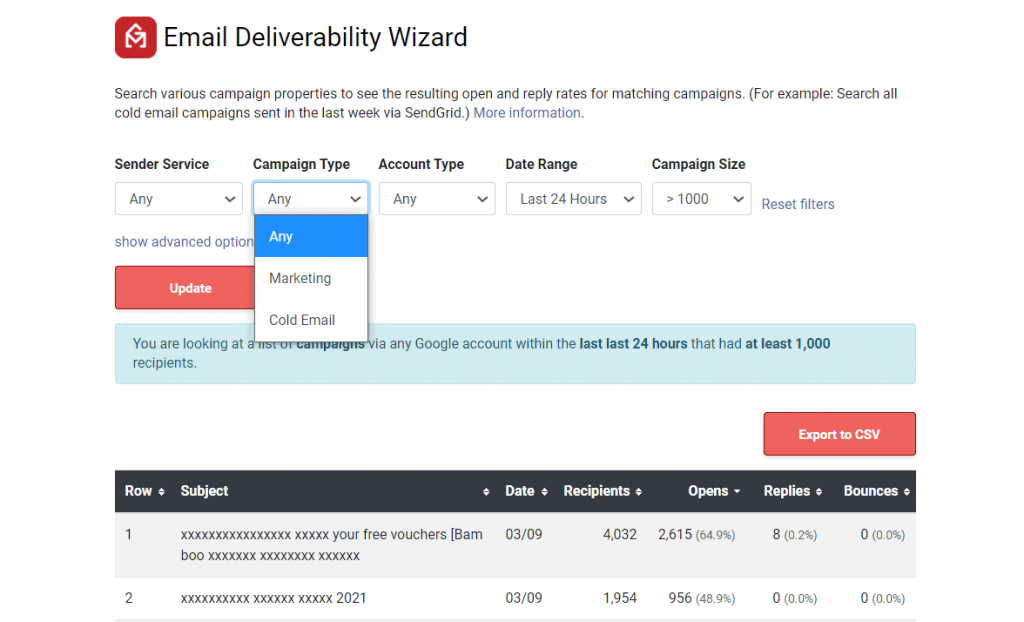 GMass lets you schedule your emails in advance to ensure they reach your recipients when they're most likely to check their inboxes.
Just compose your email, set the schedule, and GMass will automatically send your mass email campaign when the time arrives.
Additionally, you can reschedule email campaigns just as quickly. Simply head to your Gmail Drafts folder and set the new schedule.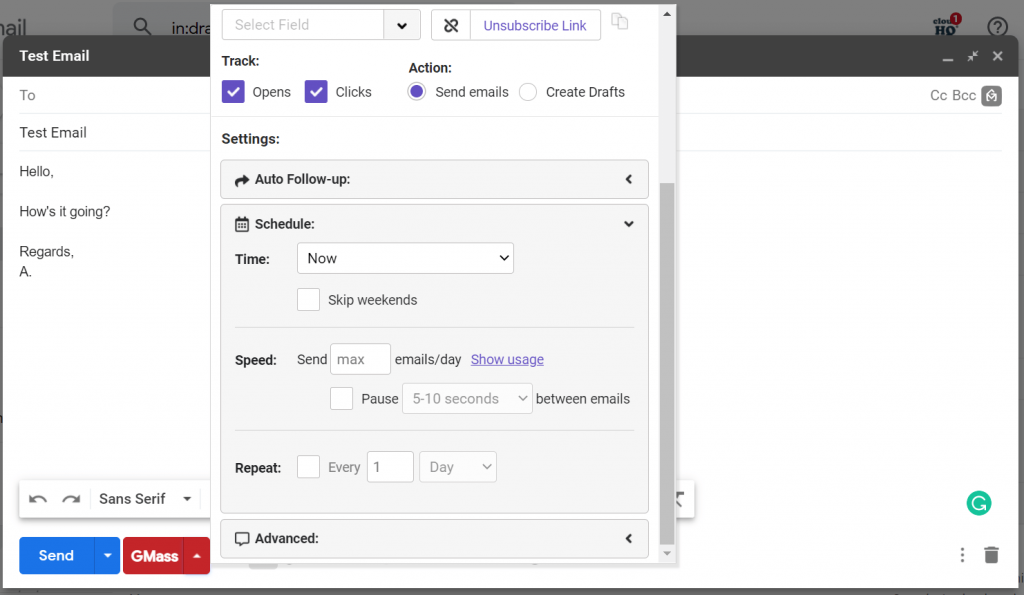 GMass Pros
Powerful free version
Works right inside Gmail's intuitive interface
Can overcome Gmail sending limits through integrations with various SMTP services, like SendGrid
Can enhance your email deliverability rates
Lets you save campaigns as templates so you can reuse them in the future
Can automatically detect the first names of recipients from their email addresses
You can access email marketing functionalities from an Android phone through the add-on for the Gmail app
To use GMass, just download the Chrome extension and sign up with your Gmail account.
GMass Limitations
GMass Pricing
GMass offers three comprehensive pricing plans to match various user requirements:
Can send up to 50 emails/day
Supports all features
Supports unlimited tool usage
Supports all features except follow-ups and sequences
Supports all "Standard" plan features + follow-ups and sequences
Premium (starts at $89/month for a team of five):
GMass Ratings
Capterra: 4.9/5 (580+ reviews)
G2: 4.8/5 (560+ reviews)
Bonus: 15 no-nonsense tips to boost your email marketing efforts today.
2. Instapage for Building Landing Pages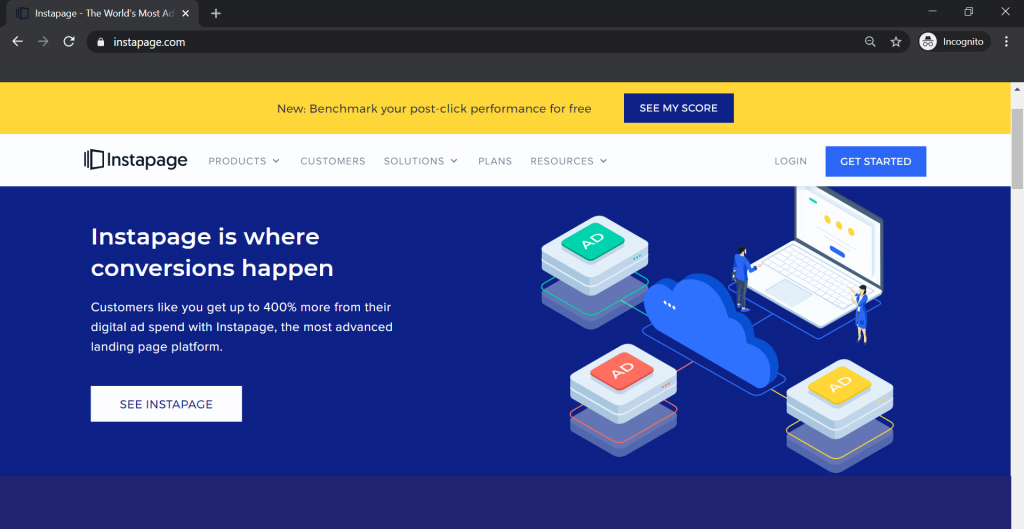 Instapage is a personalized landing page builder that helps you capture leads from ads, email campaigns, organic traffic, social media, and other marketing campaigns.
Instapage Key Features
Customizable builder to create conversion-centric and mobile-friendly landing pages
Heatmaps to get detailed insights on how visitors interact with your landing pages
Dynamic text replacement to improve PPC (pay-per-click) performance by matching the content copy on your landing page to the visitor's search
Instapage Pros
Integrates with CRM tools like Salesforce
Allows you to include customizable forms on landing pages with a few clicks
Supports single sign-on for added security
Instapage Limitations
Paid plans can be expensive (starting at $199/month).
Limited design flexibility
Offers only a limited number of landing page templates
Instapage Pricing
Instapage offers two pricing plans:
Provides a landing page builder
Supports heatmaps
Complies with GDPR
And more
Converting (contact their sales team for a custom quote):
Supports all "Optimizing" features
Provides audit logs
Offers page migration services
And more
Instapage Ratings
Capterra: 4.5/5 (300+ reviews)
Instapage Alternatives
3. Semrush for SEO and SEM (Search Engine Marketing)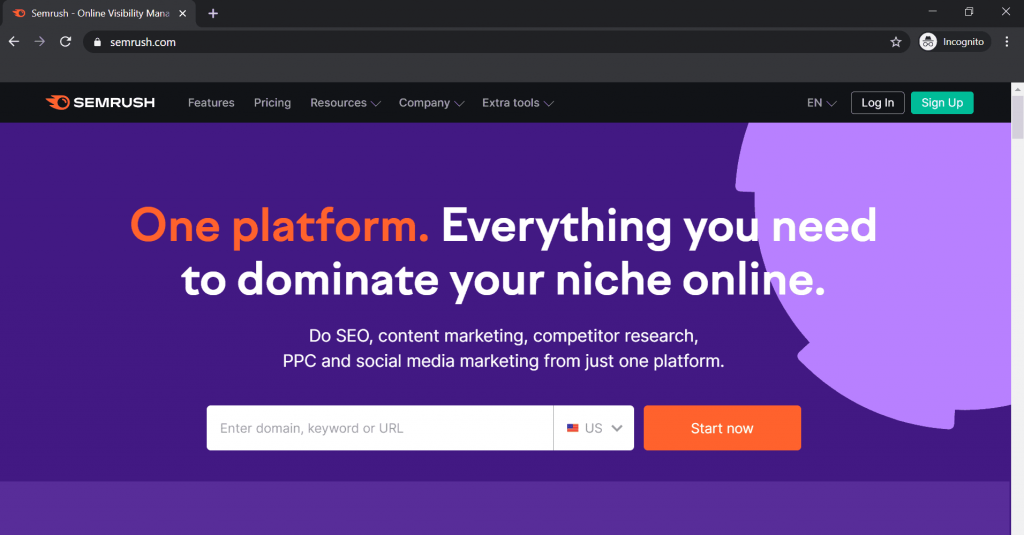 Semrush is an online visibility management and search engine marketing platform that can help you with search engine optimization (SEO), content, and competitive research.
Semrush Key Features
Keyword research to discover keywords that can increase website traffic
On-page SEO to audit your web pages to improve SEO performance
PPC (pay-per-click) keyword tool to optimize your Google Ads campaigns
Semrush Pros
Competitor analysis helps you improve web traffic by leveraging competitors' winning strategies.
Content optimization provides recommendations on how to optimize content to drive more organic traffic.
Link-building features help you identify opportunities to build your backlink profile.
Semrush Limitations
No free plan is available.
The tool can be challenging to use.
There are limited customization options for performance charts.
Semrush Pricing
Semrush offers three pricing plans:
Allows up to 5 projects
Supports up to 3,000 reports/day
Provides mobile rankings
And more
Allows up to 15 projects
Supports up to 5,000 reports/day
Provides historical data
And more
Business ($449.95/month):
Allows up to 40 projects
Supports up to 10,000 reports/day
Provides other APIs access
And more
Semrush Ratings
Capterra: 4.6 (1290+ reviews)
G2: 4.8/5 (1410+ reviews)
Semrush Alternatives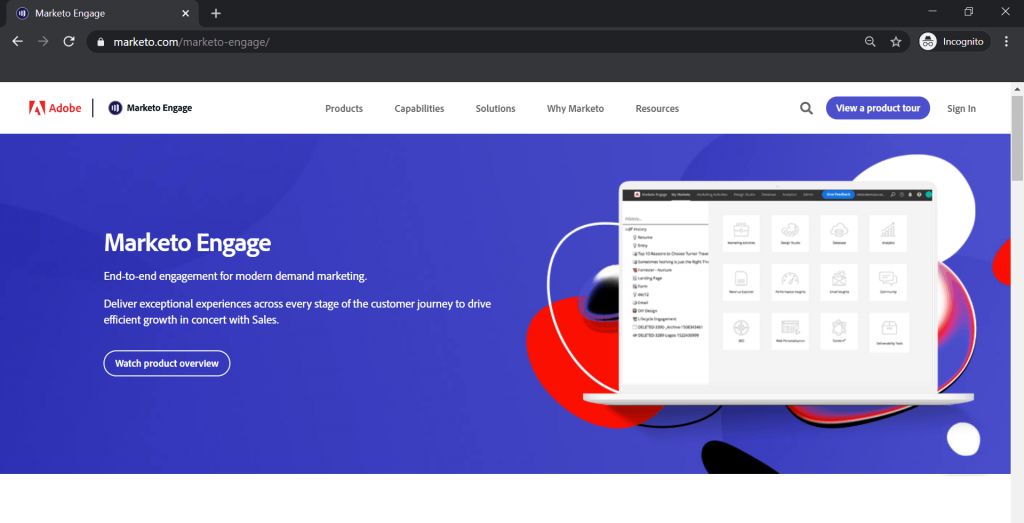 Marketo Engage is a marketing automation tool that helps you create and manage personalized engagement experiences across web, email, and mobile platforms.
Marketo Engage Key Features
Holistic marketing data environment to prioritize leads by centralizing marketing, sales, and third-party customer data
Supports content personalization at scale to engage with customers based on their fit, intent, offline customer data, and more
Marketing impact analytics to identify the campaigns and channels delivering maximum ROI
Marketo Engage Pros
Supports cross-channel marketing, including email, SEO, social media, SMS, and more
CRM integration with tools like Salesforce
Provides marketing automation capabilities like triggers and actions, automatic lead and account scoring, and more.
Marketo Engage Limitations
The automation software can be expensive for small businesses.
The interface can be challenging to use.
There is limited mobile usability.
Marketo Engage Pricing
This marketing automation platform offers four pricing plans:
Select (contact their sales team for a custom quote):
Allows up to 25 users
Supports daily API calls
Provides ROI dashboards
And more
Prime (contact their sales team for a custom quote):
Supports all "Select" plan features
Allows website retargeting
Offers advanced customer journey analytics
And more
Ultimate (contact their sales team for a custom quote):
Supports all "Prime" plan features
Offers premium multi-touch attribution
Provides sandbox functionality
And more
Enterprise (contact their sales team for more info):
Supports multiple brands
Allows distributed teams
Supports automation customizability
And more
Marketo Engage Ratings
Capterra: 4.2/5 (580+ reviews)
G2: 4.1/5 (2180+ reviews)
Marketo Engage Alternatives
5. Sprout Social for Social Media Marketing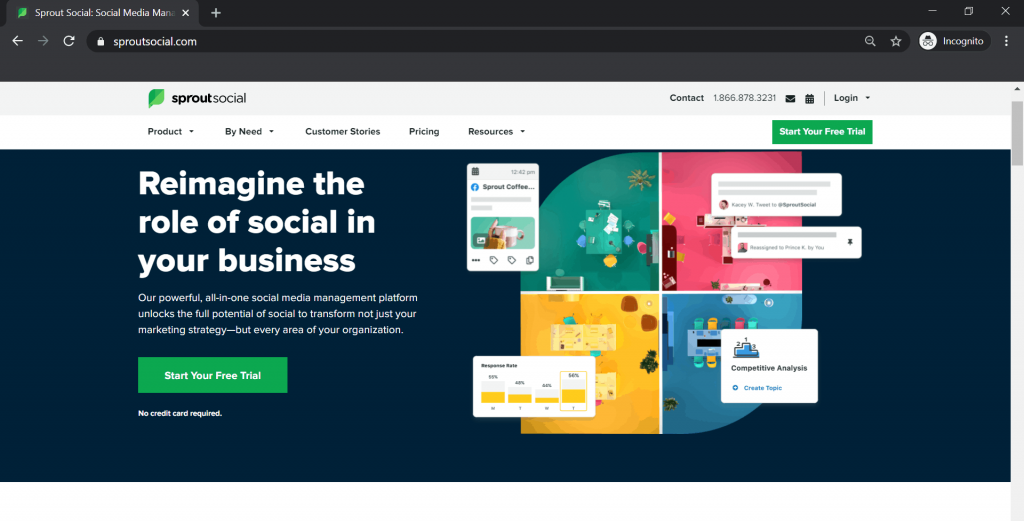 Sprout Social is a social media management and marketing platform that helps businesses connect with existing and potential customers.
Sprout Social Key Features
Social listening to discover actionable customer insights from social media data
Analytics to access an overview of marketing performance across connected social media profiles
Calendar to organize social media posts across multiple profiles and networks
Sprout Social Pros
Supports inbound marketing across multiple social media platforms like Facebook, LinkedIn, Instagram, Pinterest, YouTube, and more
Android and iOS mobile apps to manage your social media marketing campaign on the go
Has an intuitive and easy-to-use dashboard
Sprout Social Limitations
Paid plans can be expensive for large teams (starting at $99/user per month).
Users can't export data to Google Drive folders.
Provides limited local search and visibility
Sprout Social Pricing
Sprout Social offers three pricing plans:
Standard ($99/user per month):
Allows up to 5 social profiles
Provides an all-in-one social inbox feature
Supports paid promotion tools to boost Facebook posts
And more
Professional ($149/user per month):
Allows up to 10 social profiles
Supports all "Standard" plan features
Provides competitive reports for Facebook, Twitter, and Instagram
And more
Advanced ($249/user per month):
Supports all "Professional" plan features
Allows automatic link tracking
Sends message spike alerts for increased message activity
And more
Sprout Social Ratings
Capterra: 4.4/5 (440+ reviews)
Sprout Social Alternatives
6. Contently for Content Marketing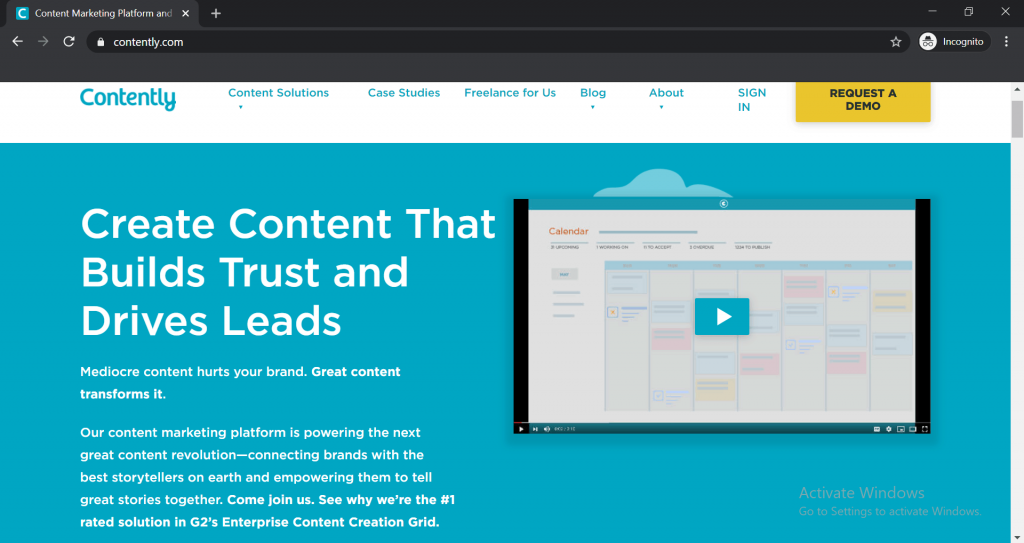 Contently is a content marketing solution that helps you develop relevant content that can add value to your audience and enhance sales conversion.
Contently Key Features
Advanced audience insights to understand what types of content topics, formats, and marketing channels work best with your audience
SEO-driven ideation to generate ideas for high-ranking articles to drive web traffic
Content value dashboard to measure the returns on your content marketing campaigns
Contently Pros
Uses artificial intelligence to optimize your content for search, brand guidelines, and more
Provides access to a network of vetted journalists, illustrators, and more for your content strategy
Helps you identify white-space opportunities to identify new sales opportunities and increase engagement
Contently Limitations
The content management platform can be expensive for small businesses.
It offers limited automation functionality.
There's no mobile app, so users can't easily access content marketing functionalities on their smartphones.
Contently Pricing
Contact their sales team for a custom quote.
Contently Ratings
Capterra: 4.5/5 (10+ reviews)
Contently Alternatives
7. Insightly CRM for Customer Relationship Management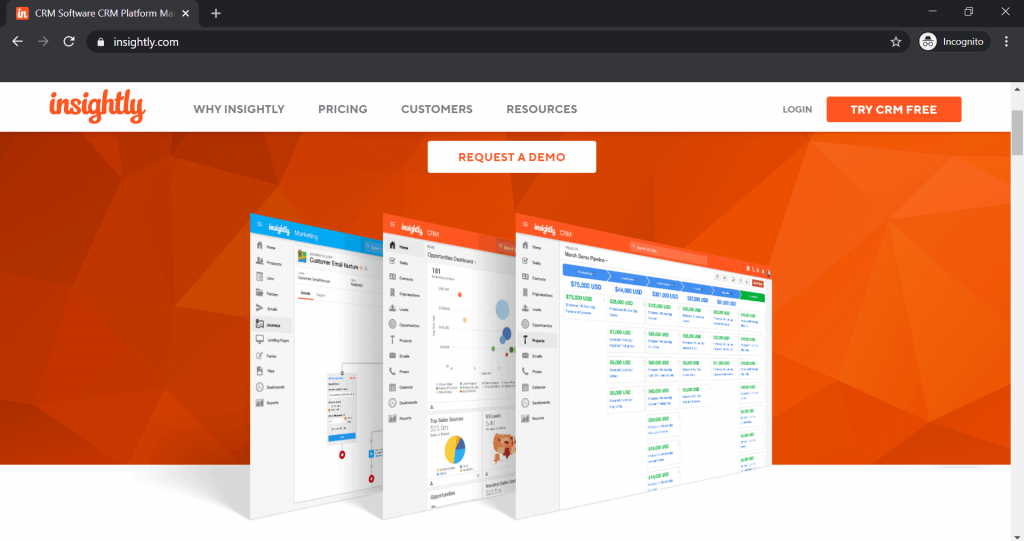 Insightly is a powerful lead generation, marketing, and sales CRM software that lets you manage sales, customers, relationships, and more in one platform. It also has a free version, which is why it's a good choice for many small sales and marketing teams.
Insightly CRM Key Features
Lead routing to track relevant info like activity timeline, calls, meetings, and more
Relationship linking to get a clear picture of an organization's structure
Workflow automation to streamline complex business processes
Insightly CRM Pros
Lets you build databases in minutes with dashboards, reports, workflow automation, and validation rules
Manages client relationships when you're on the move with Android and iOS mobile apps
Integrates with apps like Google Workspace, Mailchimp, and Zapier
Insightly CRM Limitations
The tool involves a steep learning curve.
It offers limited marketing project management capabilities.
Paid plans can get expensive if you've got a large marketing team.
Insightly CRM Pricing
Insightly CRM offers four pricing plans:
Supports contacts, sales, and project management
Allows up to 2 users
Plus ($35/user per month):
Supports lead management
Provides email templates
Delivers configurable reports
And more
Professional ($59/user per month):
Supports All "Plus" features
Allows complete workflow automation
Can build and share customized BI dashboards
And more
Enterprise ($129/user per month):
Supports All "Professional" features
Provides custom validation rules
Allows unlimited file storage
And more
Insightly CRM Ratings
Capterra: 3.9/5 (480+ reviews)
Insightly CRM Alternatives
Final Thoughts
Marketing software streamlines the creation, execution, and optimization of your marketing campaigns.
And with the different types of marketing tools available today, you can easily manage the various aspects and channels of your marketing strategy.
However, when choosing digital marketing software, remember to pick one that offers you all the features you need at a friendly price-point.
For instance, when it comes to email marketing and marketing automation, there's no better tool than GMass!
GMass helps you auto-personalize bulk email campaigns, set up automated follow-up workflows, build powerful email lists, and do so much more.
So why not try GMass today and take your email marketing campaigns to the next level?