Let's face it — most people hate having their inboxes clogged with cold emails!
That's because 99% of these emails essentially have zero relevance to the recipients.
However, experienced email marketers know that a well-targeted and smartly written cold email outreach process can produce millions of dollars in revenue.
A cold email helps you start a conversation with someone you have no prior connection with — it could be a potential customer, a person you want to build a network with, or perhaps someone you want to ask for a backlink.
Essentially, cold sales emails offer you an opportunity to build a relationship with a cold lead.
In this article, I'll show you how to write a powerful cold email that immediately captures a prospect's attention and can ultimately drive up your conversion rate.
Also, I'll share a few tried and tested cold email templates that you can start using right away.
This Article Contains:
(Click on links to jump to specific sections.)
Let's get started.
What Is a Cold Email?
A cold email is an outreach message you send to a person you haven't interacted with before.
In a way, cold emailing is similar to cold calling, where you ring up prospects to see if they're interested in a product or service. The difference is that, unlike cold calling, your cold emails are less intrusive, and the intelligently written ones don't push a hard sell.
When written correctly, cold emails engage your ideal customer and give them the necessary information to encourage a response.
However, crafting successful cold emails that receive good engagement is a lot easier said than done.
Why?
First, you don't have a prior relationship with the person receiving your cold email, so an email making a cold pitch might not be welcome. Second, you can't rely on any non-verbal feedback to determine their reaction, like you would in sales meetings.
However, despite that, cold emails are incredibly popular since they're:
Easy: You only need email addresses to reach out to prospects.
Great for ROI: Emails offer huge returns on investment as they cost next to nothing to send.
Scalable: email tools can quickly help you create scalable campaigns for a large audience.
But wait…
Aren't cold outreach emails usually just spam?
Cold Email Is Not Spam
Here's how cold emails differ from spam:
A sales rep sends cold emails only to qualified leads, while spam emails go out to an indiscriminate mailing list.
Successful cold emails are usually personalized on a one-to-one basis. On the other hand, spam floods tons of recipients' inboxes with the same message.
While cold emails provide information and add value, spam emails usually mislead their recipients or spread malicious content.
Check out my in-depth article on spam emails for more information on what spam emails are. 
Also, learn why emails end up in the spam folder.
This will help you craft emails that don't end up flagged by a spam filter.
When to Use Cold Emails
You now know what cold emails are.
But, when and where can you use them?
You can use cold emails for:
Let's get into how you can use cold emails for each of these use cases:
1. Lead Generation
The most common cold emailing use case is lead generation by a salesperson.
You email a potential customer to introduce your product or service. You talk about the benefits of what you're offering and how it could be useful to the cold prospect.
If the recipient feels like you two would make a good fit, you've got a warm lead with whom you can continue the sales conversation.
2. Partnerships
Partnering with an influential person or organization can help you grow your business and audience.
Whether you're looking for a referral or searching for affiliate partners, sending partnership emails is an effective cold email strategy.
You can use cold emails to approach a potential partner, deliver your proposal, and convince them that you're a good fit and the partnership is mutually beneficial.
3. Influencer Marketing
Influencer marketing is a digital marketing tactic that lets a marketer promote a product or service to a large, targeted audience.
Here, you reach out to influencers in your target niche — like key opinion leaders, bloggers, podcast hosts, YouTubers, and celebrities.
You can send them cold emails requesting a review, shoutout, or a feature on their platform(s). Doing so could help you generate more leads for your business.
4. Link Building
Let's say your product or service website has a blog offering tons of helpful content.
That blog isn't going to help you as a marketer or salesperson unless your target audience actually visits it, right?
To help your blog gain more visibility, you could consider link building.
Link building is a process used by B2B marketers where a partner's blog or channel will add a link to a blog post on your website. Doing so drives more traffic to your site and amplifies your content marketing efforts.
5. Recruiting
A company is only as good as its employees.
And if you want to grow quickly, your hiring manager or recruiter needs to seek promising candidates actively for various roles in your organization.
Often, your recruiter will discover that the best candidates are "passive candidates" — people who are not actively looking for a job at the moment.
Cold outreach emails are perfect for this purpose since they allow the recruiter to approach multiple passive candidates non-intrusively.
6. Public Relations
Public relations is a common way to gain massive publicity for your product, service, or initiative.
If your organization has an inspiring journey, interesting data, or anything newsworthy to share, send a cold email to a journalist to see if they'd be interested in covering your story.
This kind of media mention in a top publication can elevate your brand image and bring more visitors to your website or social media profiles.
7. Market Research
Cold emails make market research easy.
A marketer can leverage cold emails to understand better the pain point experienced by the target audience or to check a new product's viability. Additionally, you could use these emails to conduct surveys and gather market research data.
How to Write Successful Cold Emails
Cold emails are helpful in a variety of use cases.
So how do you get started?
Several steps go into creating an effective cold email.
Here are some crucial cold email guidelines to follow:
Let's go over each one:
A. Create an Intriguing Subject Line
Your subject line is the first thing your recipient sees, so make sure you get it right.
Why?
As many as 33% of recipients open emails based solely on the subject line!
You want to keep the cold email's subject line short and interesting — something that can quickly capture your prospect's attention.
The idea is to craft a subject line that builds curiosity while still clearly conveying what your email is about.
How do you do that?
When creating your subject line, think about your target audience:
Will they find this relevant?
What appeals to them?
What's the buyer persona?
Once you've got a grip on answers to such questions, craft a brief yet intriguing subject line.
Try to make your subject line sound empathetic and not pushy.
Most importantly, never use a misleading subject line to entice a recipient or potential client to open a cold email. Using a clickbait subject line can compromise the trust they have in you and hurt your credibility. Moreover, they will likely mark your message as spam.
Examples of effective subject lines:
"A quick idea for improving [topic of interest for the prospect]"
"Save [dollar amount/%] on [business expenses]"
"Did you know [competitor] ranks higher than you for '[keyword]?' This is why."
Check out these 40+ cold email subject lines that'll get your emails opened instantly.
B. Personalize Your Cold Email Content
If you're going to send a generic message, don't expect a response.
After all, your prospect's inbox gets flooded with hundreds of emails every day.
That's why you need to demonstrate that you are not a spammer, emailing hundreds of people about whom you know nothing.
To create efficiently personalized emails, B2B marketers need to do thorough research. Study the recipient's organization, understand what matters to a specific potential client, find a common interest, and evaluate how you can help boost their mission.
After enough research, create tailor-made outreach emails that match your recipient's needs — highlighting how only you can help them with what they want.
Even if you have dozens or hundreds of emails to send, you can still create personalized emails. Software like GMass can easily personalize the name, company name, company data, and other fields you have gathered during the prospecting research phase.
Remember, the more personalized and specific your B2B sales email is, the higher the chances a potential client will respond.
C. Establish Your Credibility
Remember, your recipients know nothing about you.
That's why it's vital for your cold email to clearly explain who you are (for example, a sales manager, sales rep, or customer relationship executive) and why you're the right person to talk to about their needs.
In your cold email, explain your credentials — what you represent, whether you share a mutual connection or common interest, and your reasons for reaching out to them.
An excellent way for B2B marketers and B2B sales reps to build trust during cold outreach is to include social proof examples from companies you've worked with in your emails.
You could use:
Testimonials
Media mentions
Social media shares
And more
Social proof can make you seem less of a stranger to an ideal customer and establish that you're the right person for the job.
D. Highlight Your Recipient's Pain Points
When conducting your research, always try to identify a pain point that your recipient might be struggling with and include it in your cold emails.
It shows that:
You've done your research on them.
You share a common interest: boosting their mission and helping them achieve their objectives.
Here are a few ways to identify a pain point your prospects face:
Look up company press releases and news coverage.
Follow their social media updates on LinkedIn, Twitter, Facebook, and others.
Observe their digital marketing campaigns through tools like Ahrefs or SpyFu, etc.
Find out what software they use by studying their website.
Speak to people familiar with the company.
Take the opportunity to re-emphasize how a pain point or issue negatively impacts their short-term objectives and long-term goals and why it's necessary to address them.
Through your sales emails, help them visualize how much better off their business or initiative could be if it weren't for a specific pain point. Finally, show how you're the right person to help them with that.
Note: Not all cold emails have to feature a pain point. For example, when you're reaching out to a journalist for a media mention, talking about their pain point would be irrelevant. 
E. Specify What You Can Offer
Specifying your value proposition is the most crucial part of your cold email message. It's the whole reason you're emailing a prospect in the first place.
After explaining who you are and what the recipient might be struggling with, ensure that your cold sales emails describe what you can do for a cold prospect through your value proposition.
It doesn't matter if you're trying to sell something or simply giving them some direction about specific issues (for example, a helpful blog post or tutorial) to build a long-term relationship.
Specify how you can add value to their lives and why going through this cold email was worth their time.
F. End Your Email with a Call-to-Action
Let's say your recipient was impressed with your outreach email and might consider doing business with you.
What then?
You need to guide them to what comes next (i.e., what you want them to do), and this is where a call-to-action comes into play.
A simple call-to-action highlights the next steps that your cold prospect can take if they're interested in your value proposition.
It can be:
Scheduling a meeting with you
Signing up for a free trial
Downloading a white paper
Visiting a blog post
And so on
The goal is to make it easier for qualified leads to keep the conversation going — without them having to think a lot about what you expect them to do.
G. Use a Well-Constructed Signature
A great email signature is the cherry on top of your well-crafted cold email.
It tells your recipient who you are, what company you represent, your role, and alternate ways to contact you — like a secondary email address or mobile phone number.
An email signature reaffirms your credibility and makes it easier for a recipient to reach out to you.
Just remember to include these elements within your email signature:
Your first and last name
Company name
Company website
Company address
Secondary contact info
Mobile number
Links to relevant social media profiles on LinkedIn or Twitter, etc.
Check out my article on email signatures for some handy examples.
3 High-Converting Cold Email Templates
I understand that crafting effective cold emails can be a challenge.
And even with all the tips I mentioned, you could find yourself a little confused over where to start.
But don't worry.
Here are three popular cold email templates every sales manager or sales rep could try:
I'll expand on each of these frameworks to illustrate why they work:
1. AIDA Template
AIDA stands for Attention-Interest-Desire-Action.
It's a popular cold email template where you start with a remarkable claim that captures your prospect's attention.
Then, you provide some sort of social proof to pique their interest. Later, you make a cold pitch highlighting what you could do for your recipients and transform that interest into desire.
Finally, you encourage them to take action on your cold pitch.
Subject: [X point] from your [press release/ newsletter/ website/ social media profile]
Hi [prospect's first name],
I was going through [press release/ newsletter/ website/ social media profile] and I noticed [challenge].
Would you be interested in exploring a solution for [overcome challenge] and [accomplish goal]?
I am from [sender's company name] a [sender's product/solutions] company. We've helped clients like [client A], [client B], and [client C] achieve [goal A] and [goal B] consistently, and we'd like to explore whether we can do the same for you, given the opportunity.
Here are a few case studies (provide link) which highlight how we have helped [accomplish goals].
Can we get on a call at [time and date] to discuss how [sender's product or service name] can help you achieve these results?
[Outcome A]
[Outcome B]
[Outcome C]
And more
Regards,
[Sender's name]
[Sender's designation]
[Sender's company name]
[Sender's contact info]
[Sender's social media icons]
2. BAB Template
BAB is short for Before-After-Bridge.
It's a simple cold email template that helps recipients visualize better versions of their lives and business results after using your product or service.
Subject: Are you facing [problem A]? 
Hi [prospect's first name],
Are you facing [problem A] and [problem B]?
You're not alone. 
[Client A] struggled with the same issue until they started using [sender's product or service name].
Thanks to [sender's product or service name], [client A] has achieved:
[Milestone A]
[Milestone B]
[Milestone C]
[Milestone D]
If you're interested, I'd love to show you how you can accomplish all this and more with [sender's product or service].
Would you be interested in a quick 10-minute call to explore if this is a good fit for you?
Sincerely,
[Sender's name, designation, company name, contact details, social media buttons, etc.]
3. PAS Template
PAS refers to Problem-Agitate-Solve.
In this cold email template, you first highlight some pain points that your recipient might be facing. You emphasize how it makes their lives more difficult, and then you offer a solution that addresses these problems.
Subject: Stop worrying about [problem A] and [problem B]
Hi [prospect's first name],
I was going through [press release/ newsletter/ website/ social media profile] and I noticed [challenge].
Are [problem A], [problem B], and [problem C] taking a toll [recipient's business]?
I understand how they can severely limit you from achieving [goal A] and [goal B], and I'd like to explore whether you are interested in a solution.
[Sender's product or service] helps businesses like yours attain [outcome A], [outcome B], and [outcome C]. We've worked with companies like [client A] and [client B] and have helped them achieve consistent results.
If this interests you, would you like to get on a call to discuss your requirements and see how we can assist you?
Feel free to book some time on my calendar: [Calendly URL]
Best,
[Sender's name, designation, company name, contact details, social media buttons, etc.]
For more templates, check out:
The 10 Best Cold Email Practices
Now that you're equipped with the templates you need to craft excellent cold emails, here's a list of ten cold email practices to follow before sending out your cold emails:
1. Keep Your Cold Email Message Concise and to the Point
Your goal as a salesperson is to start a conversation with cold emails — not to overwhelm your readers.
Your recipient could be a busy person and may not have the time or patience to go through lengthy messages. So use shorter emails that include only crucial information.
If your recipient finds the email attractive, they will reach out for more information, and then you can proceed to the next step in your sales process.
2. Add Some Personality to Your Cold Emails
Don't make your emails sound like robotic, automated messages — add some personality to them.
Addressing the recipient by their name is one of the quickest ways to do this. This way, the recipient feels valued and interested, and this can significantly improve your open rate.
3. Make Cold Emails about the Recipient and Not You
You're probably sending out a cold email to promote a product or service.
However, instead of focusing on your offering, make your recipient the center of attention.
Talk about things they find valuable. Otherwise, your cold email will come off as self-serving, harming any chance of improving your conversion rate.
4. Talk about Benefits and Not Features
It's tempting to include all the incredible features your tool offers in a cold email to the ideal customer.
However, think about how it comes across your recipient.
They could get bored by your email body and fail to realize why any of this matters to them.
So instead of talking about features, talk about the benefits your product or service has to offer. Highlight how it eases their pain points, how it solves their problems, and how you can be of valuable assistance.
5. Time Your Cold Emails Right
Remember, your recipients receive tons of emails every day.
So if your emails reach a prospect's inbox when they're not active, it's going to get buried underneath tons of other messages, and you'll probably end up with a poor open rate.
That's why it's always essential to reach your prospect's inbox when they're most likely to engage. Usually, this is around 8 AM, 1 PM, or 5 PM in your recipient's time zone.
6. Always Proofread Your Cold Emails
It's vital to proofread your emails to ensure that no spelling mistakes or grammatical errors creep into the text.
Validate all the links in your email and if there are any images, verify that they load appropriately.
Additionally, check to make sure that your emails are mobile-friendly since many recipients will access your email from a mobile device.
Why should that matter?
Because almost 42% of emails are opened on smartphones or tablets!
7. Send Cold Emails Only to Qualified Leads
Remember, one of the key differences between a cold email and spam is that cold emails are only sent to qualified leads.
Identify recipients who could benefit from your service and only send emails to those qualified leads.
If you simply send emails to everyone in your address book, some recipients might mark your emails as spam — negatively impacting your sender reputation, which leads to email deliverability issues.
Read my article on email deliverability for a clearer picture of this.
8. Track Your Cold Email Deliverability Metrics
Simply sending a cold email isn't enough.
You need to track emails to determine if they're effective or not.
And how do you do this?
To understand your cold email's performance, consider tracking email metrics like:
Bounce rate: percentage of total emails that have failed to reach your recipients.
Open rate: percentage of unique recipients who have opened your emails.
Reply rate: percentage of total recipients who have replied to your emails.
Click rate: percentage of unique recipients who click on a link (for example, a call-to-action) within the email.
These metrics help you realize how effective your cold emails are where they're falling short. You can use this data to fine-tune future campaigns to deliver better results.
9. Remember to Follow up with Your Recipients
Since your recipients receive hundreds of emails every day, chances are, they could miss your cold emails.
Additionally, if your recipient is a busy person, they might see your email but forget to get back to you. Sending follow-up emails a day or two after your initial cold email offers more opportunities for your recipients to engage with you.
Check out my guide on writing follow-up emails for more information.
10. Leverage a Cold Email Tool to Make Things Easier
When it comes to cold emailing, there's a lot that you have to manage.
Whether it's maintaining your email lists, managing personalization, sending follow-ups — the list goes on and on!
Understandably, trying to manage all of this on your own isn't ideal, especially if you're a sales manager at a small business or an extremely busy person with lots of other responsibilities.
You need an email tool designed to take care of each aspect of your cold email process…
What you need is GMass.
What's GMass?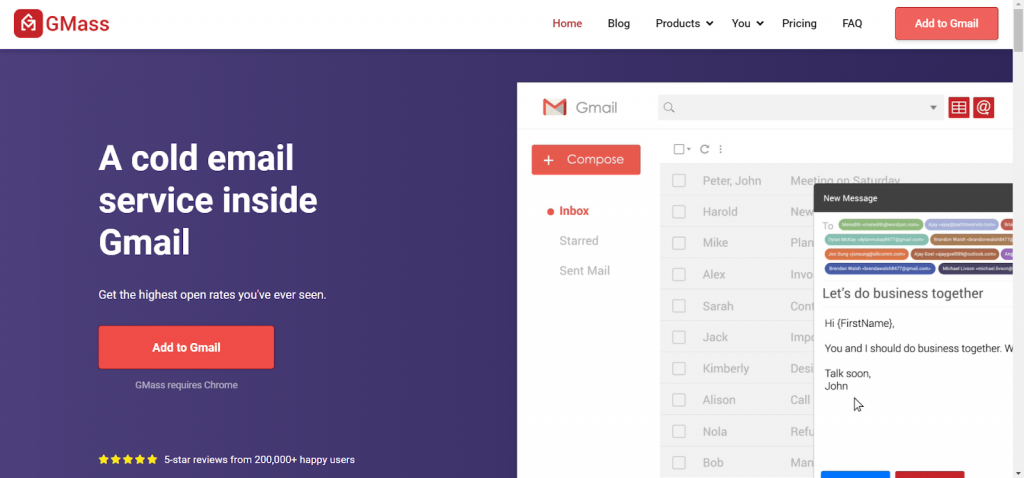 GMass is a powerful cold email outreach tool with advanced marketing automation capabilities. Its ease-of-use makes it a popular email marketing tool used by employees in companies like Google and Uber and social media giants like Twitter and LinkedIn.
GMass is also perfect for solopreneurs, small business owners, consultants, B2C or B2B sales professionals, and institutions like churches.
The best part?
To use GMass, all you have to do is download the Chrome extension and sign up with your Gmail account!
Here's a quick look into how GMass helps you simplify your sales process and ace your cold email outreach:
Automatically personalize your cold emails at scale — GMass can automatically customize names, paragraphs, images, links, attachments, and so much more in your emails.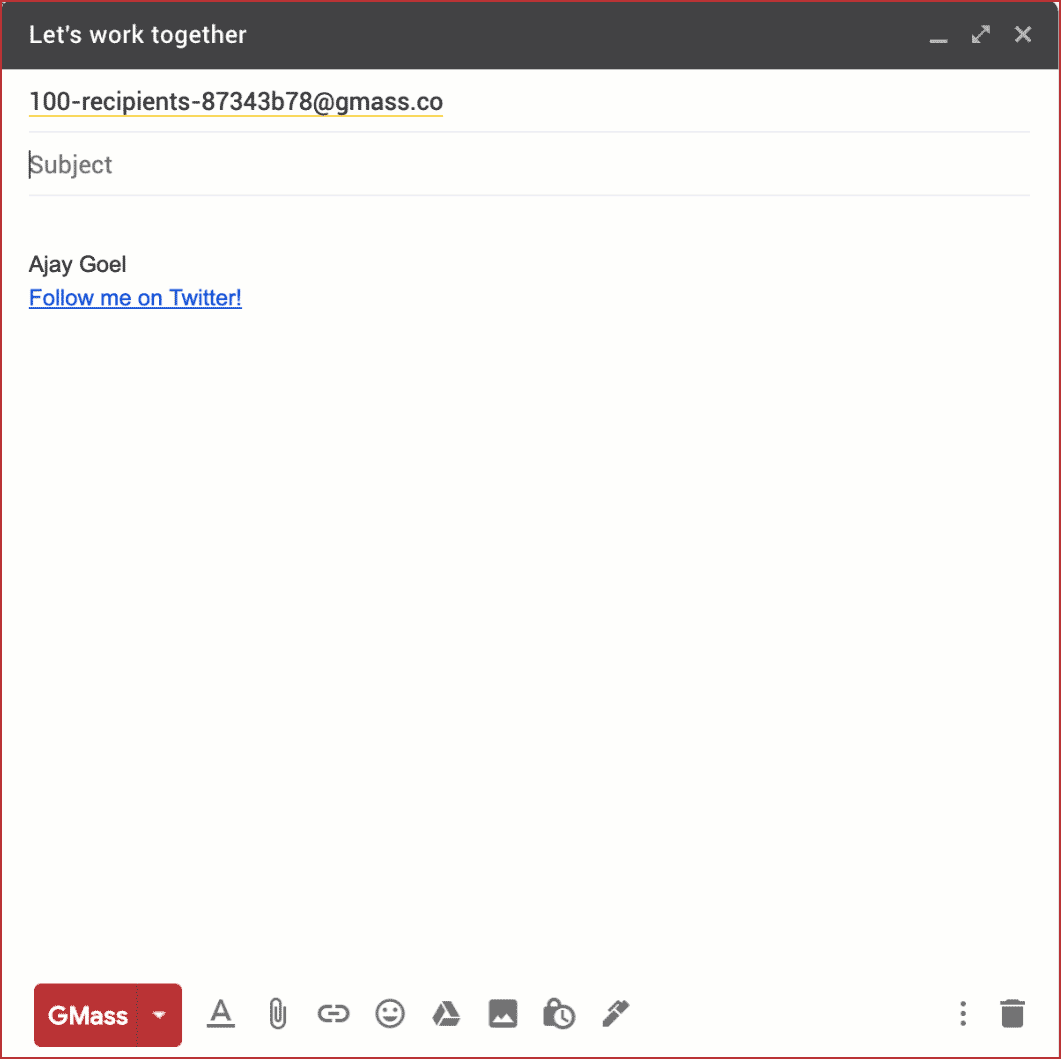 2. Analyze your cold emails' performance to see the number of bounces, unique opens, replies, unsubscribes, and more.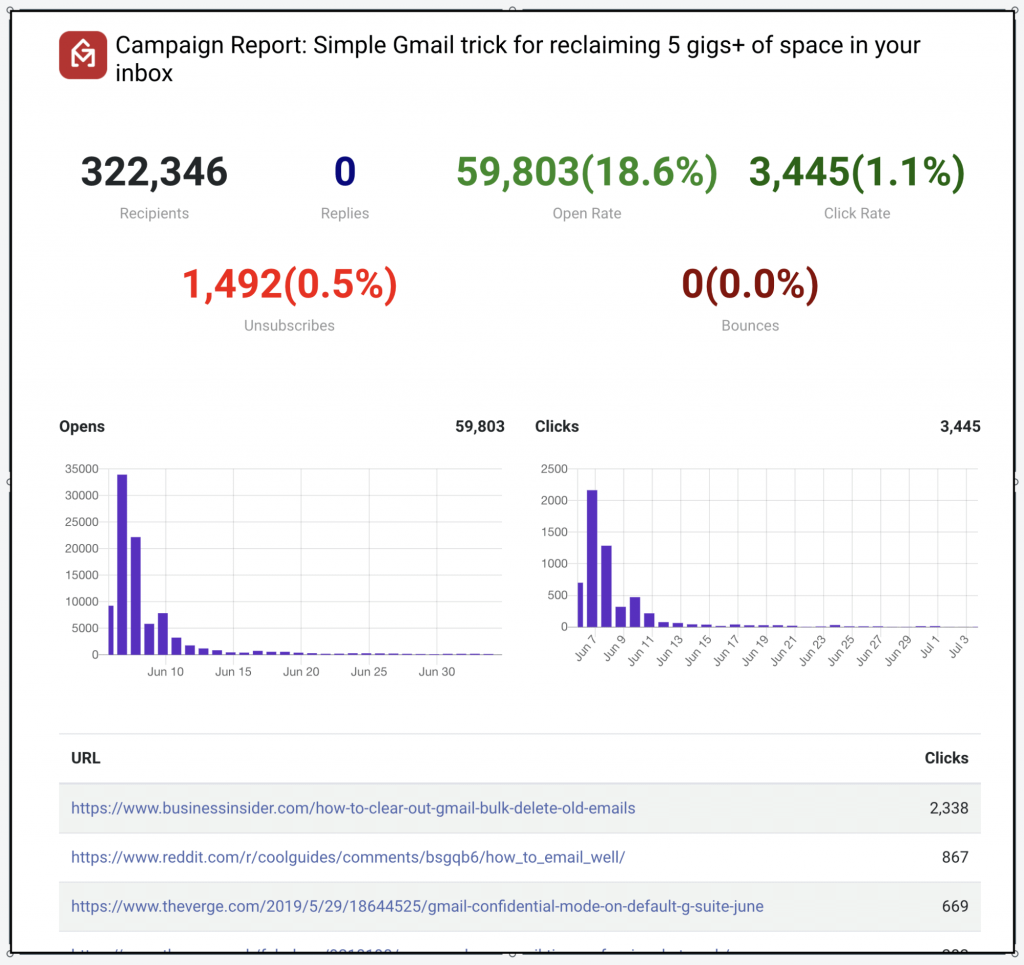 3. Schedule your cold email campaign to reach your recipients when they're most likely to engage with your content.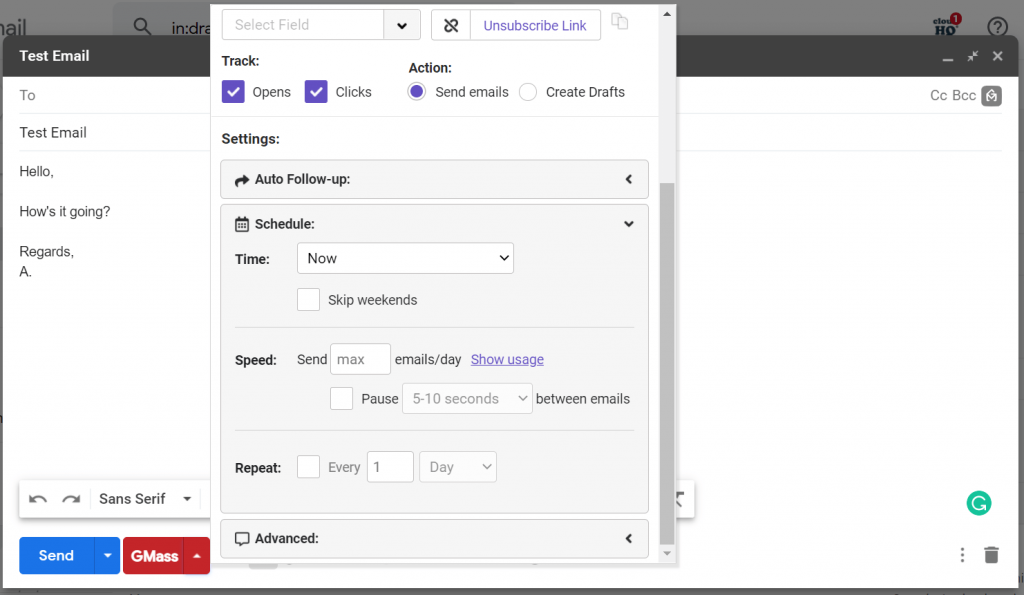 4. Every email you send is saved as a template in GMass, which you can later modify and reuse.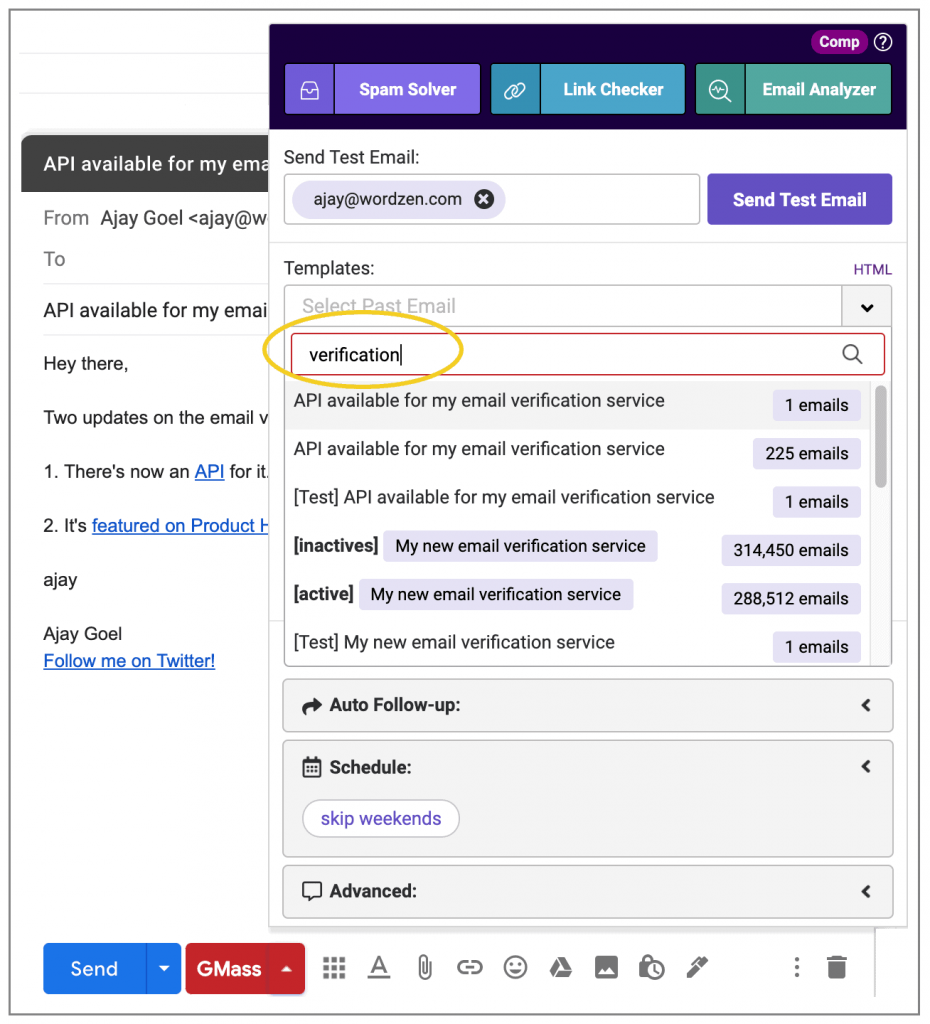 5. Send automated follow-up emails to improve your sales process outcomes by customizing when and how many follow-ups each recipient receives.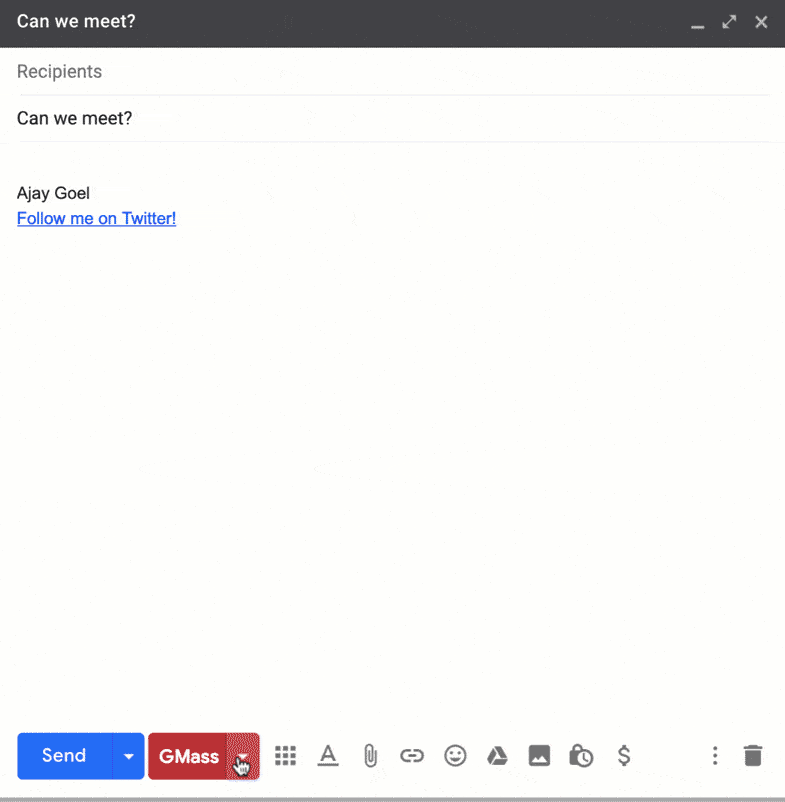 6. Send a drip campaign to your prospects to persuade them to take action.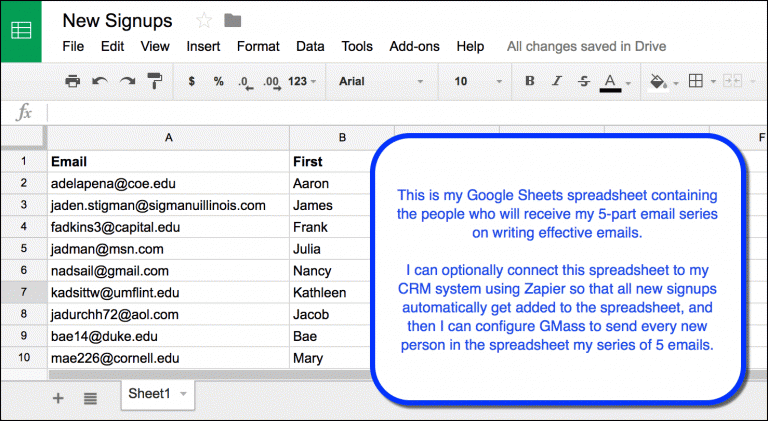 7. Access GMass's cold emailing features from your smartphone through the GMass add-on for Android devices.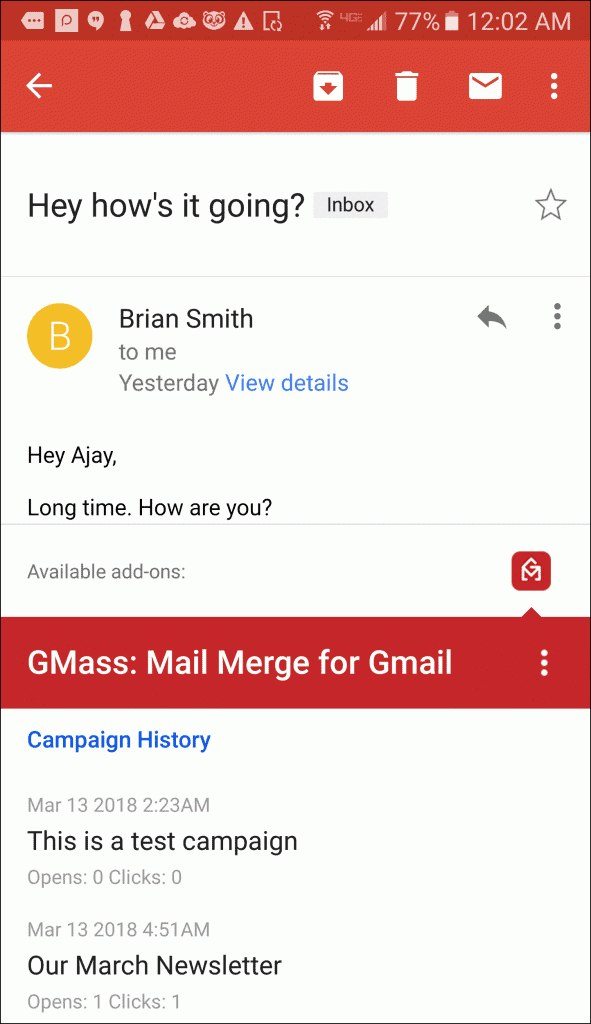 Final Thoughts
Effective cold emails help you start conversations with people with whom you have no prior connection.
However, when creating cold emails, remember to personalize them, establish your credibility, and talk about how you can help the recipient.
And while managing all of these aspects on your own can be challenging, it doesn't have to be.
Just use GMass — the best cold email tool available today.
GMass helps you:
Create personalized cold emails at scale
Schedule them to go out at the right times
Track various performance metrics
Set up automated follow-ups
And so much more!
So why not try GMass today and start creating the most effective cold emails ever?
Ready to

transform Gmail

into an email marketing/cold email/mail merge tool?

Only GMass packs every email app into one tool — and brings it all into Gmail for you. Better emails. Tons of power. Easy to use.

TRY GMASS FOR FREE

Download Chrome extension - 30 second install!
No credit card required
Love what you're reading? Get the latest email strategy and tips & stay in touch.