Today, 97% of buyers go online to research companies and their products or services.
What does that mean for businesses?
Buyers are more educated than they have ever been in the past and no longer want to be sold to. They don't need to be told what a product can offer; they already know it.
As a result, the modern salesperson needs to change their sales approach. Sales reps must now use their soft skills to create lifelong relationships with customers instead of aggressively selling products.
And what's the best way to do this?
By employing a soft-sell approach.
In this article, I'll explain what the soft sell is, how it differs from the hard sell, and give you 7 tips to master this approach.
This Article Contains:
(Click on a link to jump to the specific section)
Let's get started.
What is the soft sell?
The soft sell is a technique that employs a more subtle sales approach.
Instead of pressuring the lead to make a purchase right away, you create a low-pressure sales experience for the buyer.
How?
You limit aggressive sales tactics and instead focus on conversations and subtle persuasion to keep the prospect engaged. This way, salespeople remain active throughout the sales process — even though they aren't pushing for a sale.
Now, before we dive into how to perform soft selling, let's first see why it's far more effective than the hard sell when it comes to generating repeat sales and creating lifelong customers.
Hard sell vs. soft sell
Soft sell advertising and sales are more indirect, aiming to subtly persuade a potential client or customer to make a purchase. In fact, most sales reps who use the soft-sell technique don't view sales as their ultimate goal.
Instead, they focus on building lasting customer relationships. For example, if your company has a blog, you could share a blog post containing value-adding content to a prospect to kick-start a relationship with them.
On the other hand, hard-sell tactics are much more straightforward, aiming to make a sale as quickly as possible.
And while the hard-sell approach may result in more sales in the short term, most customers perceive it as overly aggressive, uncomfortable, and pushy. They may end up avoiding the product — or worse, avoiding the brand altogether.
After analyzing 4,500 emails in a B2B context, a recent study found that while more aggressive emails (hard-sell emails) had a slightly higher response rate than soft-sell ones, a greater percentage of those responses were negative.
The softer, more subtle emails received a 31% positive response rate versus 13% for the more aggressive emails.
This highlights the importance of allowing customers to make the decisions for themselves, rather than sales professionals making the choices for them.
However, higher response rates aren't the only potential benefit from implementing soft selling. Take a look at a few other major benefits:
3 Major Benefits of Soft Sell
Here's a quick look at the three key benefits of soft-sell marketing and sales:
1. Less pressure on customers
In soft selling, you don't push your products or services onto the customer.
As a result, it makes them feel less pressured to make a purchase, and they can reach a purchasing decision in their own time.
Creating a low-pressure sales environment can help you avoid resistance (the fear/doubt that prevents the prospect from purchasing), increasing the likelihood of the potential customer making a purchase.
2. Creates trust
With the soft sell, you're essentially providing your audience with value without asking for anything in return. This shows them that you care about more than just making a sale and genuinely want to help them overcome their unique challenges and achieve their goals.
As a result, they'll be more willing to engage with your brand.
Moreover, since soft selling is a far more comfortable process for the buyer, you're much more likely to build trust — which is essential to building long-term relationships with your customers.
3. Increases brand awareness
Even though you're not pushing your brand onto prospects, a soft-sell approach can be very effective at creating brand awareness.
How? 
With soft sell, the focus is on the quality and relevancy of the content and less on the sale.
By creating high-quality, helpful content that speaks to your target audience, they'll be far more likely to share it with friends and colleagues.
This promotes word of mouth knowledge sharing, which in turn boosts brand awareness — helping you gain extra followers.
7 Simple Tips for an Effective Soft-Sell Approach
Now that we've outlined why soft selling is effective, let's take a look at seven tips that can help you master it:
Tip #1. Perform in-depth research
Before you reach out to your prospect, learn as much as you can about their goals and challenges.
This gives you a clear understanding of how you can help your customer achieve these goals or overcome their challenges.
Here are some of the things you should do:
Perform in-depth research on the company or individual you're hoping to engage. This demonstrates your commitment, improves your credibility, and gives you the information you need to offer specific, practical solutions to your customers.
Communicate with your advertising partners to gain insights into what your target audience finds appealing. You could also analyze site usage and your best traffic sources to understand what resources on your website the prospect finds interesting and focus on highlighting them during your interactions.
This way, when you eventually begin to do business with your prospects, you'll be better positioned to make recommendations as you'll know more about the prospect's unique needs.
Tip #2. Employ active listening
Active listening is one of the secrets to effective soft selling.
Not only does it make the prospect feel heard, valued, and respected, it also helps a salesperson understand if the prospect is actually a great fit for their offerings.
Here are some active listening techniques you can use when interacting with prospects:
Listen with genuine interest to what your prospect tells you. This is more about hearing what the prospect says to understand their needs and challenges rather than looking for an opportunity to respond. Let the prospect talk first, and you can use what they've mentioned to steer the conversation.
Paraphrase what the prospect said. The goal here is to convey your understanding of their situation. When your prospect tells you something important about their challenge or goal, confirm your understanding by saying what they've told you in your own words. This will create an immediate impression on your prospect and make them feel heard.
Confirm you've understood the prospect. After you've conveyed your understanding of their situation, ask them if you've understood their goals and challenges accurately. If they answer no, you have the chance to improve your understanding with follow-up questions, like asking them to clarify what you may have missed.
Ask relevant follow-up questions to gain a deeper understanding of their situation. Ask open-ended questions that encourage the prospect to share more about their goals or challenges. The benefit of open-ended questions is that the prospect can convey how they feel in their own words and on their own terms.
Pay attention to more than their words. This means going beyond just hearing what they're saying. Pay attention to their language, tone of voice, facial expressions, and body language to pick up subtle cues that'll help you understand their needs better.
Tip #3. Build positive relationships
Fostering positive relationships is at the core of soft-sell advertising.
Take the time to get to know your prospects.
With time, the lead will begin to see you as a trusted advisor and will be in a much better position to make a purchase.
How do you build positive relationships?
Don't dive straight into talking about business.
Instead, take a few minutes to get to know them personally. It doesn't have to be a long or complicated process; you could start with a simple "how has your day been?"
Doing so will show your prospect you have a genuine interest in them.
Tip #4. Give your prospects enough time and space
Another core aspect of soft selling is to allow your prospects the space they need to make their own decision. Do not try and bombard them with sales emails and calls right away.
Instead, send the prospect relevant information that will help their decision-making process without pressuring them to make a purchase.
It's generally a good tactic to wait about 48-72 hours before contacting them again. And when you do reach out, check if they have any further questions or if you can provide them with more relevant content to help them out.
What's an easy way to reach out appropriately?
With an email marketing tool, you can schedule your outreach emails to send at just the time you need, or you can set a trigger to send an email once your prospect has taken a specific action.
Tip #5. Be friendly
While it's important always to remain professional, you don't need to be overly formal when communicating with potential customers.
Be empathetic in your communication and offer genuine recommendations to help the prospect solve their problem. Your personality will play a significant role when making a soft-sell sales pitch.
Additionally, keep a conversational tone during your meetings to make yourself more approachable. You can easily achieve this by not directly reading from a sales script or following your presentation word-for-word. Alternatively, you could begin with a personal anecdote they shared in a previous meeting.
You can also use email marketing tools to personalize your emails automatically, reflecting each prospect's needs accurately. Doing so will create a more natural and casual conversation.
Tip #6. Ensure mutual benefit
Soft selling is as much about the prospect as it is about making a sale.
In essence, it's about creating a win-win situation.
Sure, you benefit from their purchase. But if the customer leaves feeling pleased, you also benefit from a better brand image, potentially increased brand awareness, and knowing you might have created a long-term customer.
The prospect benefits, too, as they feel like they've left with the right product and are happy about the decision they made.
However, a big part of soft selling is knowing when to walk away if the deal isn't right.
Remember, if you sell someone something that they don't need, they probably won't renew the contract, won't purchase any cross-sells, and won't refer your product to their friends or family.
Tip #7. Use technology to automate processes
Capitalizing on automation is a fantastic way to boost several soft-selling aspects of your sales and marketing campaigns.
For example, providing value at every stage of the buyer's journey is a crucial part of soft selling. But manually keeping track of which leads could use additional information, and then delivering that, can be time-consuming.
In addition to having a dramatic impact on your efficiency, automating various aspects of the soft-sell approach can help better align your marketing and sales departments.
In fact, automation can result in a 14.5% increase in sales productivity and a 12.2% reduction in marketing overhead.
And one powerful tool to help automate your email outreach efforts is GMass.
What is GMass?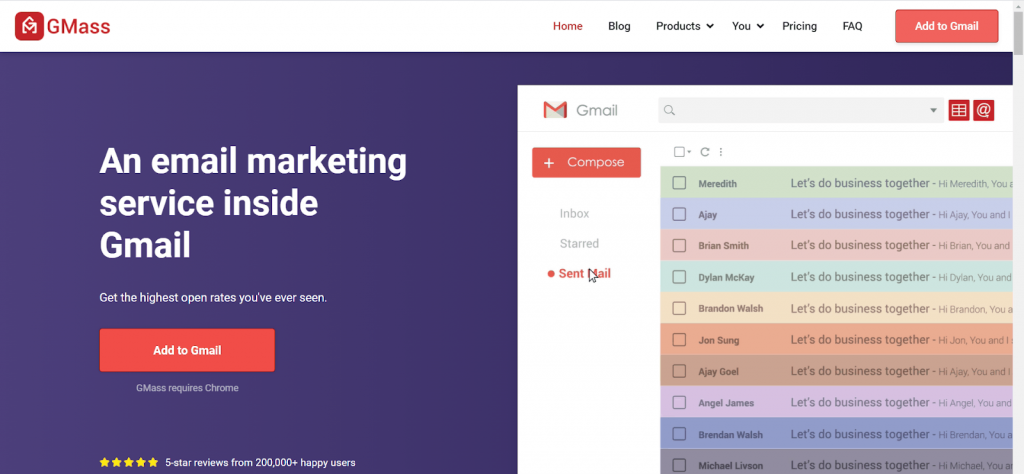 GMass is a powerful email marketing and communication tool that operates directly inside Gmail. Its suite of advanced features has made it a popular tool among employees in social media giants like LinkedIn and Twitter and large firms like Google and Uber.
The best part?
GMass is a perfect tool for small business owners and solopreneurs, too.
To use GMass, all you need is to download the GMass Chrome extension and sign up with your Gmail account.
Here's a quick look at how GMass can boost your email outreach:
Automatically personalize your emails: GMass' powerful personalization features can automatically personalize various aspects of your email, such as names, paragraphs, images, links, attachments, and more.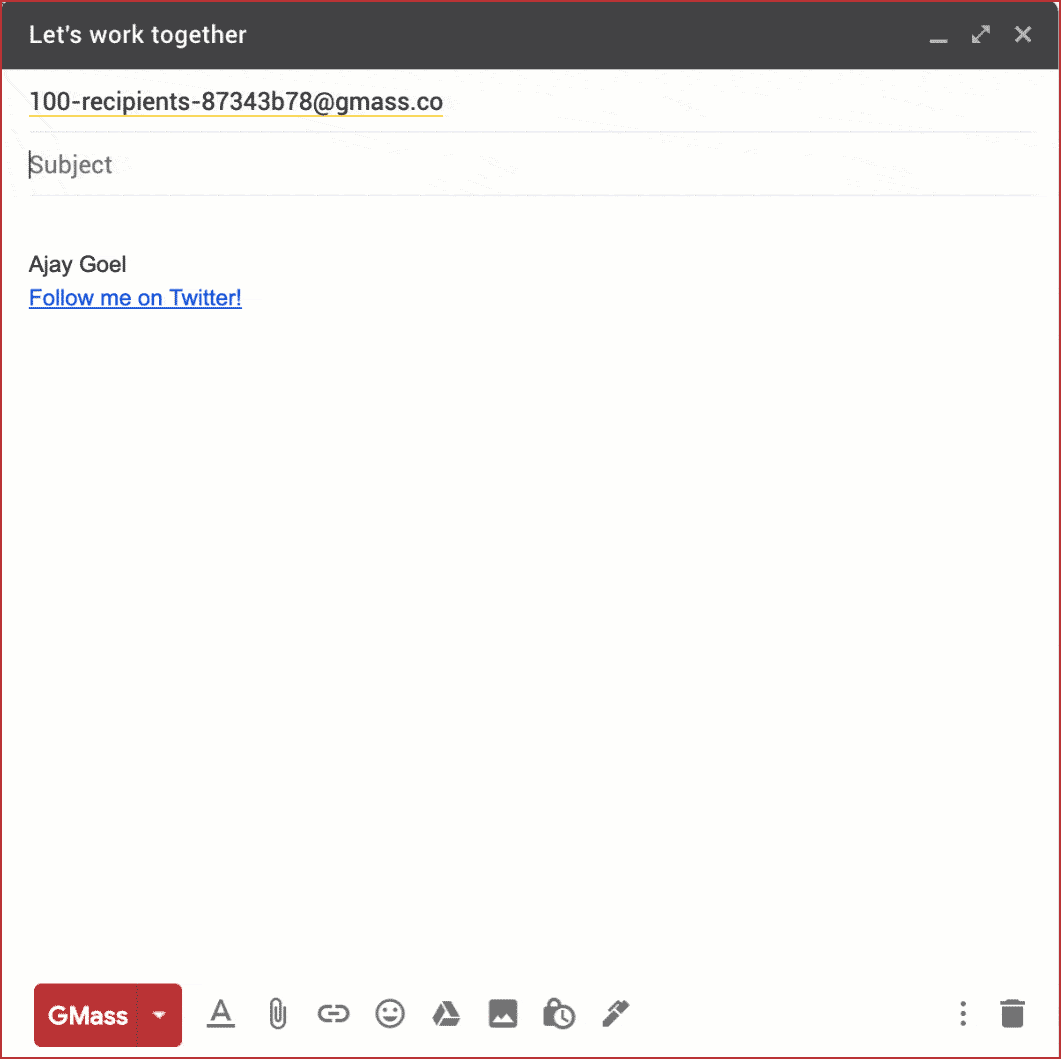 2. Build extensive emailing lists right inside your inbox: Easily build comprehensive email lists simply by running a search in your Gmail account.

3. Analyze your email campaign efficiency with detailed reports: Quickly analyze the performance of your emails with insights into core email metrics like the number of unique opens, replies, bounces, unsubscribes, and more.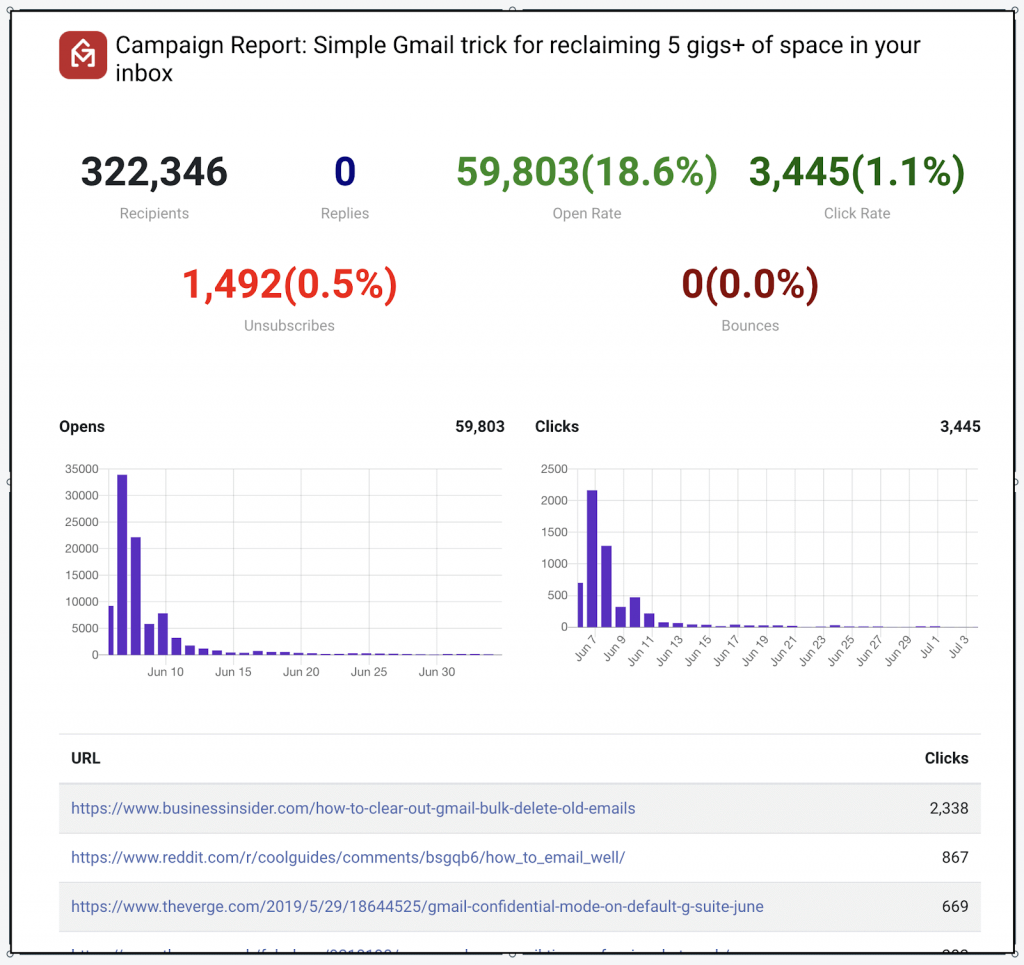 4. Send behavior-based email campaigns: Send emails based on how recipients interacted with your previous emails, such as those who replied, those who clicked a URL, and so on.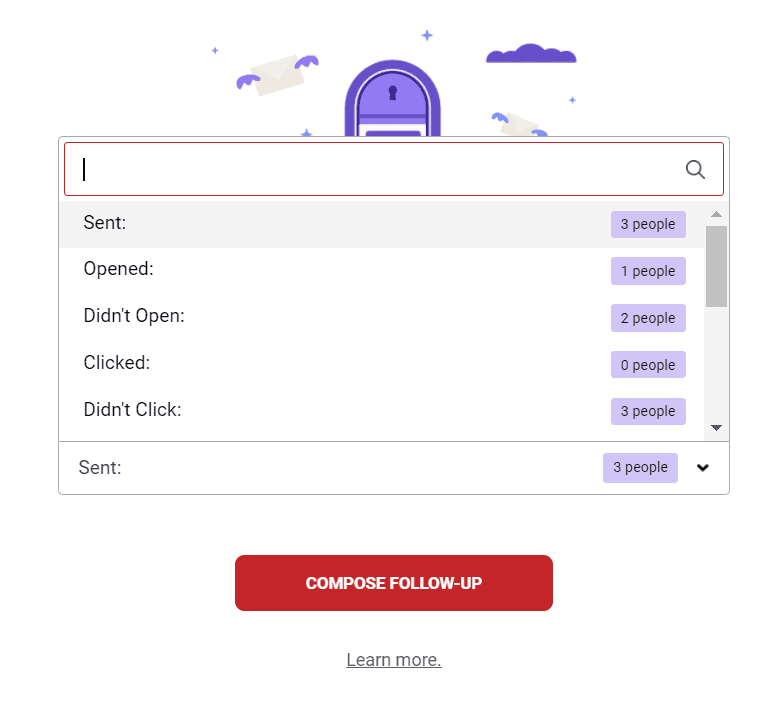 5. Send automatic follow-ups: Improve your recipient engagement levels by customizing when and how many follow-ups each prospect receives.
6. Schedule your emails to be sent at the right time: Set the date and time when your emails will be most impactful, and GMass will automatically send them when the time arrives. You can even reschedule emails from within the Gmail Drafts folder.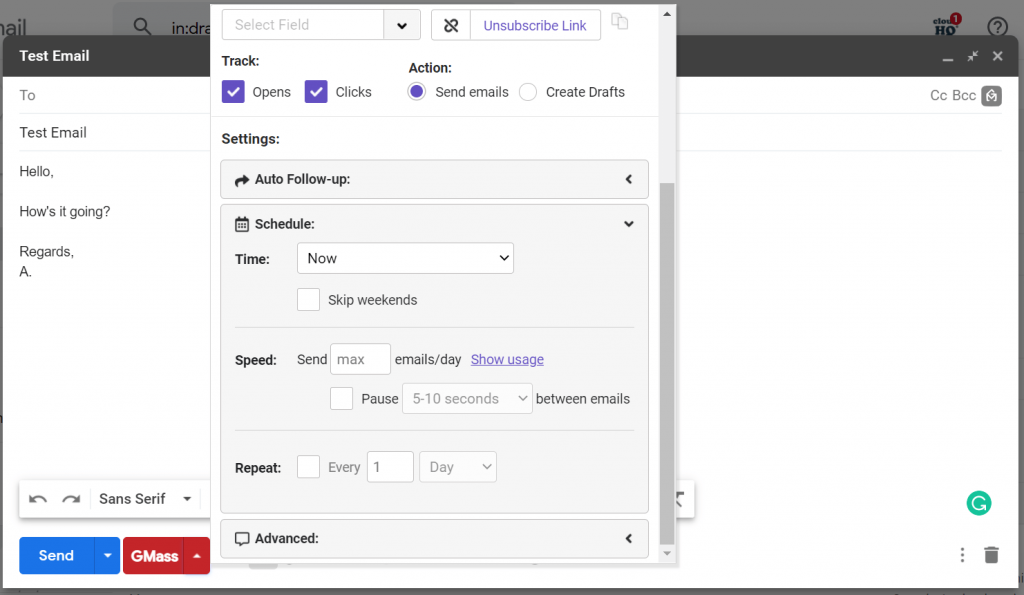 7. Integrate with Salesforce CRM: if you use Salesforce CRM to manage your prospect details, you can integrate it with GMass to track and analyze all your email communications with ease.
8. Send a drip campaign to your prospects: Provide value regularly by sending an automated series of emails to your prospects based on a set schedule or triggers.
Final Thoughts
Soft selling has several advantages over hard selling tactics and can help you create a more pleasant experience for your prospects.
Remember, soft selling is about relationship building and providing value at every stage of the buyer's journey — rather than aiming to close a sale as quickly as possible.
And a consistent way to provide value is by utilizing an email outreach tool like GMass to automate many of the time-consuming aspects of the process. GMass can personalize your emails, send drip campaigns, schedule your emails to send at the perfect time, and more.
So why not download the GMass extension and take your soft-selling efforts to the next level?
Email marketing, cold email, and mail merge

inside Gmail



Send incredible emails & automations and avoid the spam folder — all in one powerful but easy-to-learn tool

TRY GMASS FOR FREE

Download Chrome extension - 30 second intall!
No credit card required
Love what you're reading? Get the latest email strategy and tips & stay in touch.