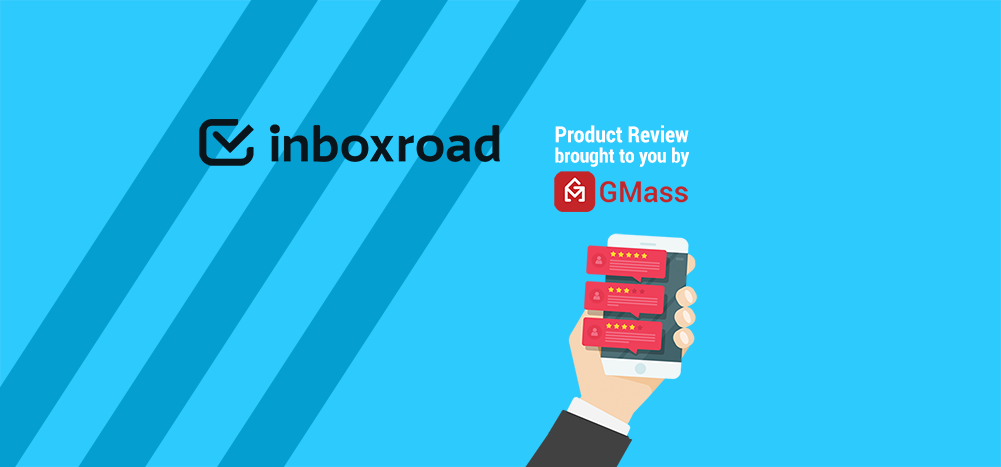 Looking for a comprehensive Inboxroad review?
Inboxroad is an SMTP relay service that offers features like email APIs, detailed analytics, and a dedicated IP to improve your email delivery.
But is it the right software for you?
In this Inboxroad review, I'll highlight its key features, limitations, and pricing details to help you decide. I'll also recommend the best way to add more functionality to Inboxroad.
This Inboxroad Review Contains:
(Click on a link to jump to a specific section.)
Let's jump right into it.
What Is Inboxroad?
Inboxroad is an email marketing and automation platform based in Amsterdam. With a powerful SMTP service, a dedicated IP address, and personalized support, it helps businesses of all sizes send bulk emails and transactional emails efficiently.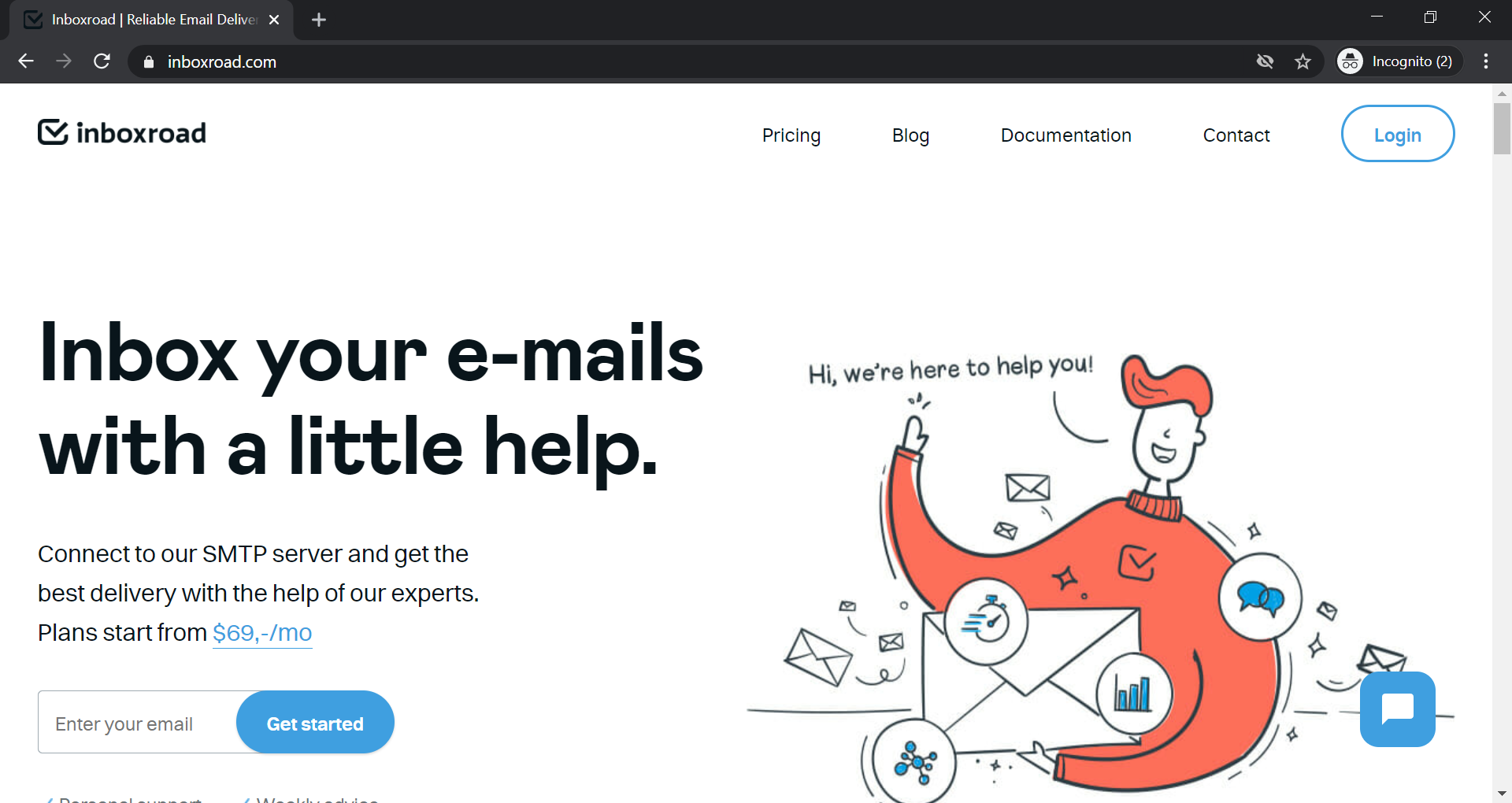 Emails with Inboxroad are sent via it's SMTP relay service or its email API. And once sent, you'll get tons of email deliverability metrics to monitor your emails in real-time.
Confused about what an SMTP service and email API is?
Let's have a quick look at each:
What Is SMTP?
(You can skip these sections if you'd like, and head directly to the tool's key features.)
SMTP (Simple Mail Transfer Protocol) is an email protocol that helps you send outgoing emails.
Why do you need it?
If you're using an email client, like Gmail, for sending any email (including promotional emails or transactional emails), there's a limit to the number of emails you can send.
For a regular Gmail account, that limit is 500 emails/day, and with a G Suite account, you can send up to 2,000 emails over 24 hours.
However, if you're an email marketer, you'll probably need to send more than 2,000 emails every day, and such email sending limits can severely restrict your reach.
This is where an SMTP relay service comes handy.
An SMTP service provider, like Inboxroad, allows you to bypass the sending limit of your email service provider — enabling you to send unlimited emails with ease!
For more information regarding the SMTP protocol, read my ultimate guide to SMTP.
What Is an Email API?
An email API allows you to access an email marketing tool's features and functionalities right from your website or mobile app.
For example, if you own an eCommerce website, an email API can be set up to send you notifications when someone signs up, makes a purchase, or unsubscribes from your newsletters.
With Inboxroad, email APIs can be used to obtain this data in real-time. This way, you can analyze campaign engagement, helping your tailor future campaigns accordingly.
What Are the Key Features of Inboxroad?
In this Inboxroad review, I'll highlight the four key features of Inboxroad:
1. SMTP Service
When you're running a campaign, it's safe to assume that you'll have thousands of emails to send to a large number of subscribers.
To stay ahead of the competition and maintain excellent customer relationships, just sticking to an email client, like Gmail, isn't practical.
Remember those sending limits?
However, using the Inboxroad SMTP service, you can bypass any sending limits imposed by your email client. Inboxroad also tries to improve your emails' inbox placement by helping them reach the recipient's inbox — not the spam folder.
To support the SMTP relay platform, Inboxroad uses a custom SMTP server that also natively connects to front-ends like MailWizz, Mautic, Ongage, and Interspire.
2. Email API
Inboxroad's email API feature can be used in two ways:
First, you can use the email API feature to send emails directly from your website or mobile app.
Second, you can program a set of Inboxroad email APIs to process email deliverability metrics, like hard/soft bounces, complaints, and expired messages.
This way, the email APIs help you keep your customers and leads informed while also giving you detailed insights into what you can improve.
3. Email Analytics
Whenever you send promotional emails — or any other campaign email — you probably want to know how they're performing, right?
You'll need answers to questions like:
What's the email delivery rate in real-time?
Which is our best-performing ISP?
Where do we face the most bounces?
Inboxroad helps you answer these questions.
With its dashboard, you can find relevant data on:
Deliveries and bounces
ISPs sorted by delivery volume
List of ISP bounces
Based on these analytics, you can refine your email marketing strategy and run more effective email campaigns.
Ajay's Email Tip
One effective way to boost your engagement rates is simply to start and end your emails appropriately. Read my detailed guide on how to start and end emails the right way.
4. Weekly Advice
Customers who opt for the Premium ($349/month for 1,000,000 emails) and Custom plans (custom pricing for 1,000,000+ emails) get personalized deliverability advice offered by a delivery expert on a weekly basis.
The delivery expert offers practical and actionable advice on how to run your campaigns better, based on previous deliverability metrics. This could be particularly useful if you're new to email marketing.
Additionally, "custom plan" customers get the added advantage of having a personal account manager from a dedicated team to oversee campaign performance.
Inboxroad Pricing
Inboxroad offers four plans to choose from based on your monthly email volume requirements.
However, Inboxroad doesn't offer a free trial.
Here's a quick look at Inboxroad's pricing model:
Basic plan at $69/month: support for 100,000 emails per month + SMTP relay and APIs + DNS setup guide + dedicated IP + dashboard + email support.
Pro plan at $139/month: support for 250,000 emails per month + all features of Basic plan +  Inboxroad monitoring.
Premium plan at $299/month: support for 1,000,000 emails per month + all features of Pro plan + personal deliverability advice.
Custom plan (request a quote): support for 1,000,000+ emails per month + all features of Premium plan + personal deliverability advice.
What Are the Limitations of Inboxroad?
While Inboxroad can help you improve email deliverability, it has some limitations.
In this Inboxroad review, I'll cover two major drawbacks of the tool:
1. Very Limited Email Marketing Features
Sure, Inboxroad is a good SMTP provider that also gives you advice on how to improve your deliverability.
Unfortunately, when you look at the big picture, you'll be missing out on crucial email marketing features if you use it as a standalone SMTP service provider.
Inboxroad doesn't support essential email marketing features, like:
Email personalization: to generate personalized email campaigns at scale, adjusting name, subject line, and media, etc.
List builder: to easily segment your mailing list into various categories based on location and interests, etc.
Mobile support: a mobile app for both Android and iOS devices to manage campaigns on the go
Automated follow-ups: to send automated follow-up emails after sent messages, cart abandonment, and trip updates, etc.
This is a significant reason why using this SMTP provider as your only solution for all your marketing needs isn't a good idea.
2. Expensive Pricing
Compared to other SMTP providers like SendGrid, Inboxroad is relatively expensive.
The base plan that offers limited features and yet costs $69/month — and remember, this doesn't include the personalized advice that Inboxroad is known for providing.
For a small business, using an SMTP relay service at such rates can be quite costly.
The Best Way to Enhance Inboxroad: GMass
Inboxroad is a decent email marketing service and SMTP service provider, but it lacks essential marketing features beyond sending emails to massive mailing lists.
Luckily, you can connect it with an email marketing platform like GMass to skyrocket your email campaigns.
What's GMass?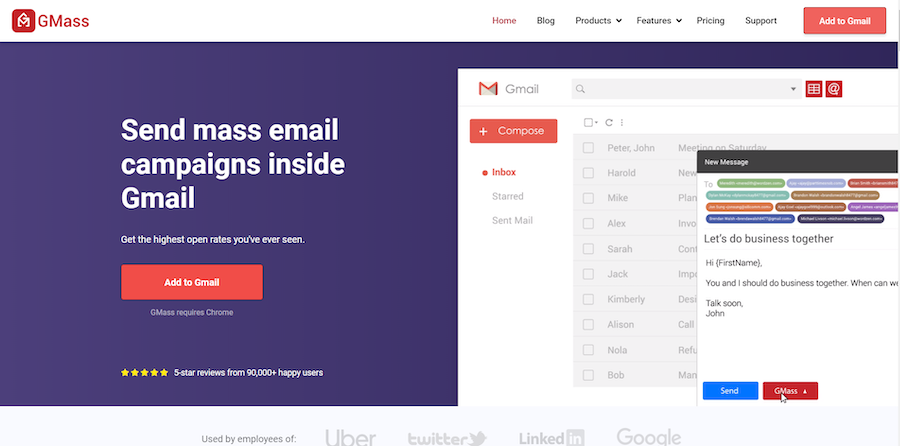 GMass is your ultimate solution for email marketing and marketing automation requirements.
Its powerful outreach features and ease of use has made it a popular mail-merge tool used by employees of social media giants like Twitter, Facebook, and LinkedIn, and large companies such as Google and Uber.
However, GMass isn't meant solely for tech giants.
It's an equally ideal marketing tool for a small business, church, or solopreneur.
And the best part?
GMass works within the Gmail interface itself.
Just download the Chrome extension and sign up with your Gmail account to start using GMass. It's that simple!
How Does GMass Enhance Inboxroad?
It's clear that when it comes to email marketing, Inboxroad isn't a sufficient solution for your typical email marketer.
Here's how GMass can help you. In a couple of simple steps, you can link Inboxroad with GMass to send unlimited outgoing emails from Gmail.
1. Powerful Email Marketing and Automation Features
In terms of email marketing features, GMass is an excellent addition to Inboxroad.
With GMass, you can:
And all these features work within the comfort of your Gmail inbox interface. This makes it all the more familiar, intuitive, and useful.
In addition to these, GMass also offers several other features to help maximize your outreach and conversions. Check them out here.
This way, you won't need to worry about whatever you're missing out with Inboxroad. Connect it with GMass, and have all the functionality you need!
2. Affordable Pricing
Inboxroad isn't cheap, so paying for another tool to add some functionality to it doesn't make sense, right?
Luckily, GMass is no ordinary tool.
With GMass, you can address all your marketing campaign for next to nothing!
GMass' pricing model offers three plans:
Free plan: supports automated email tracking for 50 emails/day + all other features except auto follow-ups.
Individual plan:

Minimal: $8.95/month – unlimited email tracking + all features except auto follow-ups.
Standard: $12.95/month – includes "Minimal" features + removes GMass footer for sent emails.
Premium: $19.95/month – includes "Standard" features + auto follow-ups.
3. Uses the Gmail Interface
GMass is one of the few Gmail-based outreach tools that can be set up with an SMTP relay service like Inboxroad.
Once you link GMass and Inboxroad accounts, you can use the SMTP server capabilities of Inboxroad within the Gmail interface to send unlimited emails.
This way, as a marketer, you can focus your time and energy on analyzing marketing campaign performances, testing strategies, and running more effective campaigns — right from Gmail. No more complicated user interfaces!
How to Connect GMass with Inboxroad
Here's how to link Inboxroad with GMass to send unlimited outgoing emails on Gmail:
Sign up with Inboxroad.
Sign up with GMass.
Link your GMass account to Inboxroad's SMTP relay service by changing the SMTP settings on the GMass account.
For more details on linking the SMTP service with GMass, read my guide to setting up Gmail SMTP settings.
Conclusion
While Inboxroad is a powerful SMTP relay service, it also has some limitations when it comes to email marketing.
So if you're looking for a comprehensive email marketing tool, Inboxroad isn't going to solve your problems… by itself.
Fortunately, there's a perfect way to enhance the functionalities of Inboxroad — just use GMass, your ideal email marketing and marketing automation platform.
With a host of advanced email marketing features, a user-friendly interface, and proactive customer support, GMass helps you make the best of Inboxroad.
Sign up for GMass today, and run your best campaigns with inboxroad.com!
And in case you wanted to check out some Inboxroad alternatives, read my reviews on:
Email marketing, cold email, and mail merge

inside Gmail



Send incredible emails & automations and avoid the spam folder — all in one powerful but easy-to-learn tool

TRY GMASS FOR FREE

Download Chrome extension - 30 second install!
No credit card required
Love what you're reading? Get the latest email strategy and tips & stay in touch.