Why Email Marketing Should Be a Part of Your Saas Marketing Strategy
In an increasingly crowded SaaS marketplace, it's more challenging than ever before to get noticed. With the influx of SaaS companies in recent years, it has become increasingly difficult to compete through Google Ads and search engine optimization (SEO).
Many SaaS providers rely on email marketing as a primary source of customer acquisition and engagement. Email marketing is essential in the SaaS industry because it provides personalized and proactive customer experiences through scalable email campaigns. It is one of the best tools a SaaS company can use to reach out to prospects that are not yet customers or those who have already purchased your product/ service and may need some additional support.
Email marketing softwares are incredibly powerful in attracting and converting potential customers for SaaS businesses. In addition to increasing customer interest with well-crafted messages, automation can help ensure consistency in ongoing marketing efforts. For many SaaS companies, a high engagement rate with customers has become fundamental to their success.
With a solid email marketing strategy, your SaaS company can thrive in the competitive ecosystem. The correct email automation strategy can significantly improve your marketing effectiveness and help you get more leads, increase customer retention rate, and boost sales.
What Are the Challenges of SaaS Email Marketing?
As a SaaS marketer, you may have experienced these common challenges:
1) Growing inbound marketing pipeline with the right leads
2) Reaching out to target customers faster and more effectively
3) Getting a better ROI for marketing spends
4) Planning and optimizing the campaigns for conversions
5) Automating your email marketing workflow
Effective email campaign automation can help you automate email campaign workflows for your SaaS business. With the GMass chrome extension, you can now send bulk emails from Gmail easily and quickly. You also get additional features like advanced personalization, segmentation, click tracking, and A/B testing.
How to Increase Saas Demos and Trials with Gmail Automation
As email continues to be one of the top marketing channels for lead generation, it can help grow your SaaS business by increasing on-demand demos and trials. With the GMass chrome extension, it's easy to set up automation and send campaigns straight from Gmail.
This article will explain how you can use GMass to create an automated SaaS email marketing campaign that will help generate more leads. It includes:
The exact Gmail automation workflow you need to create a successful SaaS email campaign.
Tips and tricks to send targeted email campaigns straight from Gmail
How GMass can help your sales, marketing, and customer success teams drive more saas trial signups
How to create multiple campaign templates with GMass and Gmail
How to scale your SaaS email marketing efforts with GMass
SaaS Email Marketing Strategies
Here are some tips on how SaaS email campaigns work and how to optimize them for maximum success.
1.Find, Understand and Segment Your Target Audience
Don't send the same promotional email to everyone on your list. Remember, not all potential customers will have similar interests, and it's crucial to segment campaigns.
Successful SaaS marketing campaigns focus on buyer personas and putting together campaigns targeted to meet their needs. One way to do this is segmentation, which involves dividing the audience into groups based on different attributes.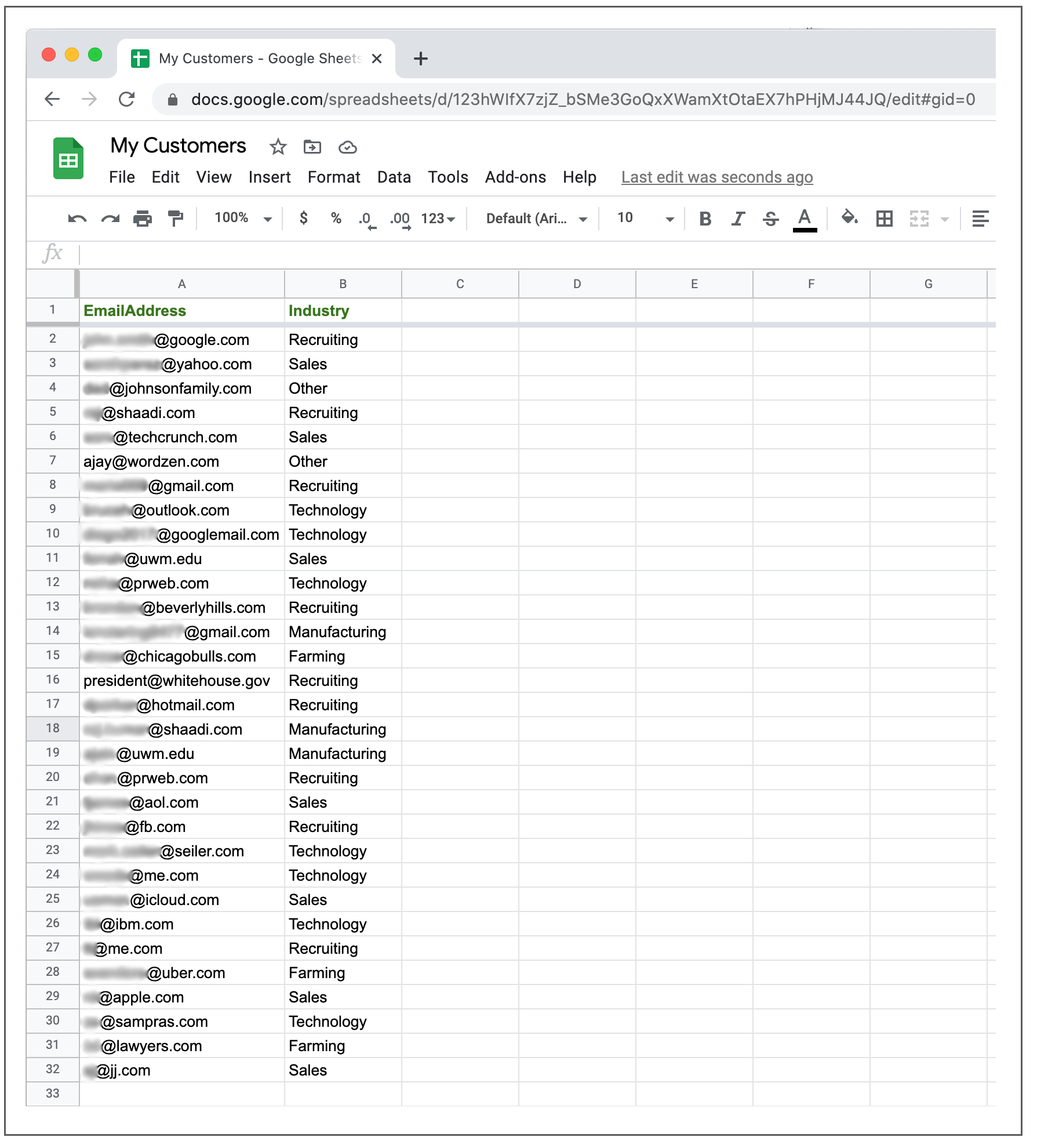 Segmenting email campaigns by target audience and product features and benefits will result in more targeted, relevant emails. This will lead to increased conversion rates. You can determine the best strategy for segmentation by looking at your customer data and thinking of how you might fit them into different segments. It could be:
Demographics: Determine the age, gender, education, and job roles of your customers to know what marketing message will work best. For example, the recipient should be a marketing manager between 30-45 years of age and live in New York.
Functional considerations: As not all the features or benefits of your software will be helpful to all of your customers, you need to identify a relevant target audience — and send specific, relevant emails to those groups to address their needs and pain points. This strategy helps you to prioritize relevant features and benefits higher in your marketing strategy.
Pain points: What challenges does your product help overcome? Segmenting based on pain points will help you understand how to best address customer concerns and needs.
Behavioral: You can also segment the users as per past email opens/ clicks on certain links. Or, If people are visiting a specific section of your site or using a feature on your app too often, segment them into unique email lists to provide them more information about that particular feature.
Stage in the funnel: A customer journey typically consists of a series of stages before the final purchase. The most effective way to reach customers at different stages is to segment them, then create targeted email marketing campaigns that speak directly to their needs.
Subscription Level/Status: Segmenting your email list based on past purchase behaviors or the subscription level will allow you to send customized messages that create the most personalized experience for customers.
2. Advanced Personalization: Look Beyond "Basic" Email Personalization
Personalization can extend far beyond basic name changes in your email templates. You should send highly personalized emails to prospects at different stages of the sales funnel. Deep personalization combined with promotional tactics such as discounts, coupons, or other incentives will generate a better open rate and more click-throughs for SaaS email campaigns.
You'll love how GMass takes personalization to the next level. It allows you to personalize your plain text emails or HTML emails at scale, including the subject lines, paragraphs, images, attachments, links, and more.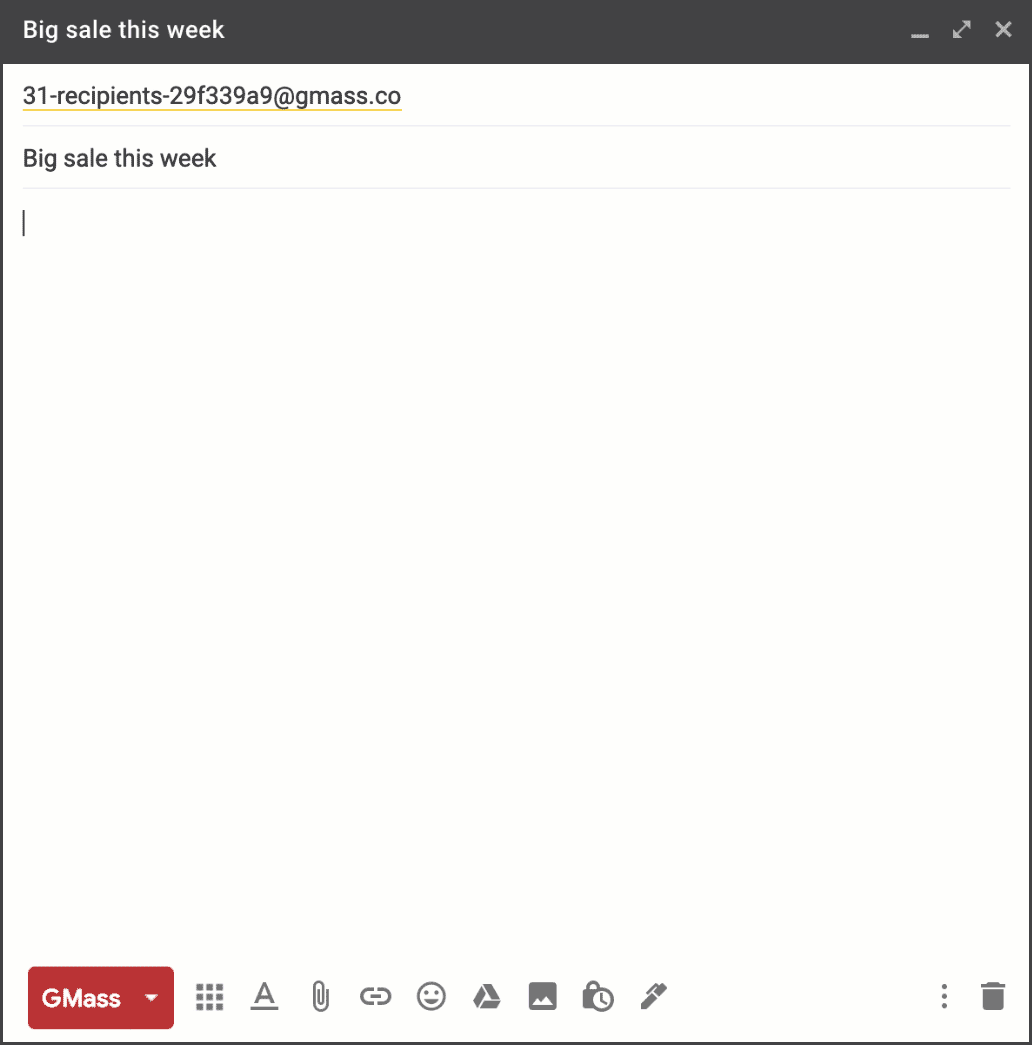 Simple personalization is limited to changing the Name, Company, Date of birth, etc. in the email templates. Want to be extra creative? GMass allows the creation of special email templates designed for specific individuals! The majority of email marketing softwares lack these advanced personalization features:
hyper-personalize your outreach emails by personalizing your outreach emails with conditional content using simple If/Then statements.
Personalize links and URLs for each recipient, including anchor links.
Personalize attachments by sending individual images, documents. or invoices to each recipient in a mass email.
Personalize images for each recipient to include a different logo, SaaS feature or benefit, etc.
Personalize large blocks of text according to the needs of customers, for example, a different promotional offer for various levels of SaaS customers. GMass lets you personalize the main body of your email by pulling in a whole paragraph of text to put right into the message.
Send your campaign to a personalized CC or BCC address so the sales team in charge of their territory or account can stay up-to-date on what's happening.
Personalize the To header of each individual email so that the contact's full name appears as part of the To line.
3. Automate Saas Lead Generation Funnel to Nurture and Convert Leads
The most crucial factor in SaaS email marketing is to create an automated lead generation funnel that converts leads into paying customers. SaaS email engagement funnel follows a strategic email sequence from awareness and education to pricing details and special offers.
Every SaaS business is unique, and that's why it's essential to understand how you can effectively generate leads for your business. Choose a marketing automation strategy based on what works best for you and your customers, whether it's growing leads for demos, trials, or sales.
You can design a scalable SaaS email engagement funnel by automating these sequences:
Welcome email – a simple email welcoming the leads and introduce them to your SaaS product.
Product offer email (or email series) – a series of emails on different product offers for leads who show an interest in your solution but haven't bought yet.
Nurturing email – a series of emails to the leads, building brand trust, and showing the value add on your product.
Cross-sell email – cross-selling even more features or related products once leads have started using the initial solution they signed up for.
Upsell email – an email with offers to upgrade or renew existing service plans.
Exit email – email once the lead is about to exit, with the last call to action to keep engaged.
Tip #1: Strategically Plan Automated Email Sequences Depending on Where Users Are in the Funnel:
Create routine automated email sequences to push the leads through the marketing funnel. For example, when customers opt for a free trial for your SaaS product, you can't just wait for trial users to come back and upgrade. Rather than waiting around, consider sending out drip email campaigns that remind them about the benefits of upgrading every few days.
Tip #2: Choose the Right Email Frequency: Finding a balance between frequency and engagement is essential. Sending too many promotional emails will likely provoke users to unsubscribe from your mailing list, but sending too few may not be effective in generating relevant leads.
Benefits of SaaS Email Automation with GMass:
With GMass's automation features, you can decide which template emails will be used for each stage of the campaign. You are also able to schedule when those emails will go out. For example, you can schedule an email to be sent out one week after the initial sign-up. Or, maybe you can create a drip campaign to send out emails every week automatically.
There are plenty of ways email automation can come in handy when executing an email campaign:
Send emails at the right time to increase engagement. The best way to find the right time is by analyzing past engagement details (past days and the time when most emails were opened or clicked).

Automate behavioral triggers: You can use triggers to send emails based on a user's actions with your website or product:
Setting up automated follow-up emails will increase your chance of converting prospects into leads. Say you email 100 new leads to set up a demo of your SaaS product.

You may want to make a follow-up sequence in your automation funnel for those who don't reply within three days.

Send a new campaign based on subscribers' actions in previous campaigns: You can a follow-up message to the people who DIDN'T open your last campaign. You can also send follow-up messages to people who opened but didn't click on any links in your previous email campaign.

 

Whenever someone navigates to a specific section of your website or a feature on your app, you can send an email with guidance on using that particular feature more effectively. You can also send automated email follow-ups when users leave your site without completing a purchase.
4. Track the Right Metrics and Optimize Accordingly
Once you have your campaigns set, it's crucial to track the right metrics and optimize accordingly.
Emphasize Focus on Email Deliverability: One of the most critical aspects of a successful email marketing campaign is ensuring your emails are delivered to subscribers. Having your messages marked as spam will cause you to lose credibility with your ISP/email client. This harms your sender's reputation and email deliverability rates. Here are some tips to help you achieve a higher deliverability rate for your SaaS campaigns.
Track your conversions at each step of your customer journey so that you know what is working and what isn't.

You should know where your leads are coming from and your conversion rates for each email campaign.

Remember that it might take more than one campaign to convert a prospect into a lead.
Monitor drop-offs: Don't only focus on the numbers that end in a purchase or subscription; look for high drop-off rates at various points throughout the conversion process too. With re-engagement emails, you can invite customers back to your mailing list.
Track Micro-conversions: In addition to identifying your overall conversion rate, be sure also to identify micro-conversions: landing page visits, click on a specific link in the email, or open rates. You might want to try optimizing for some of these in your copy as well.
It would help if you track these email marketing KPIs closely:
Email deliverability rate: Percentage of emails that were delivered in the recipient's inbox.
Open Rate: Open Rate is the number of recipients who open a given email out of all your recipients.
Click-Through Rate (CTR): This is the percentage of users who click on a specific link in an email. It includes your entire emails list (all the emails that were delivered).
Click To Open Rate (CTOR): The email Click To Open Rate can be calculated as (unique clicks/unique opens) x 100. The number of people who click a link in your emails, out of how many opened the email.
Unsubscribe Rate: The percentage of subscribers who unsubscribe from your email lists.
Goals: Goal conversion is when a visitor completes an action you are tracking. It could be clicking a specific link in your email or signing up for a newsletter.
Conversion Rate: Divide the number of conversions (purchases) from your email campaigns by the total emails sent and multiply it by 100. For example, if 500 people purchased with 20,000 total emails delivered, your conversion rate will be 2.5%.
Reply rate: The percentage of total recipients that have responded to your cold email.
Spam placement rate: The percentage of emails that went to spam
GMass takes a better approach to reporting and analytics than other providers. It provides a user-friendly dashboard that allows you to track these email marketing KPIs in detail.

The web-based campaign dashboard is easy to access and works on both desktop and mobile. It looks like this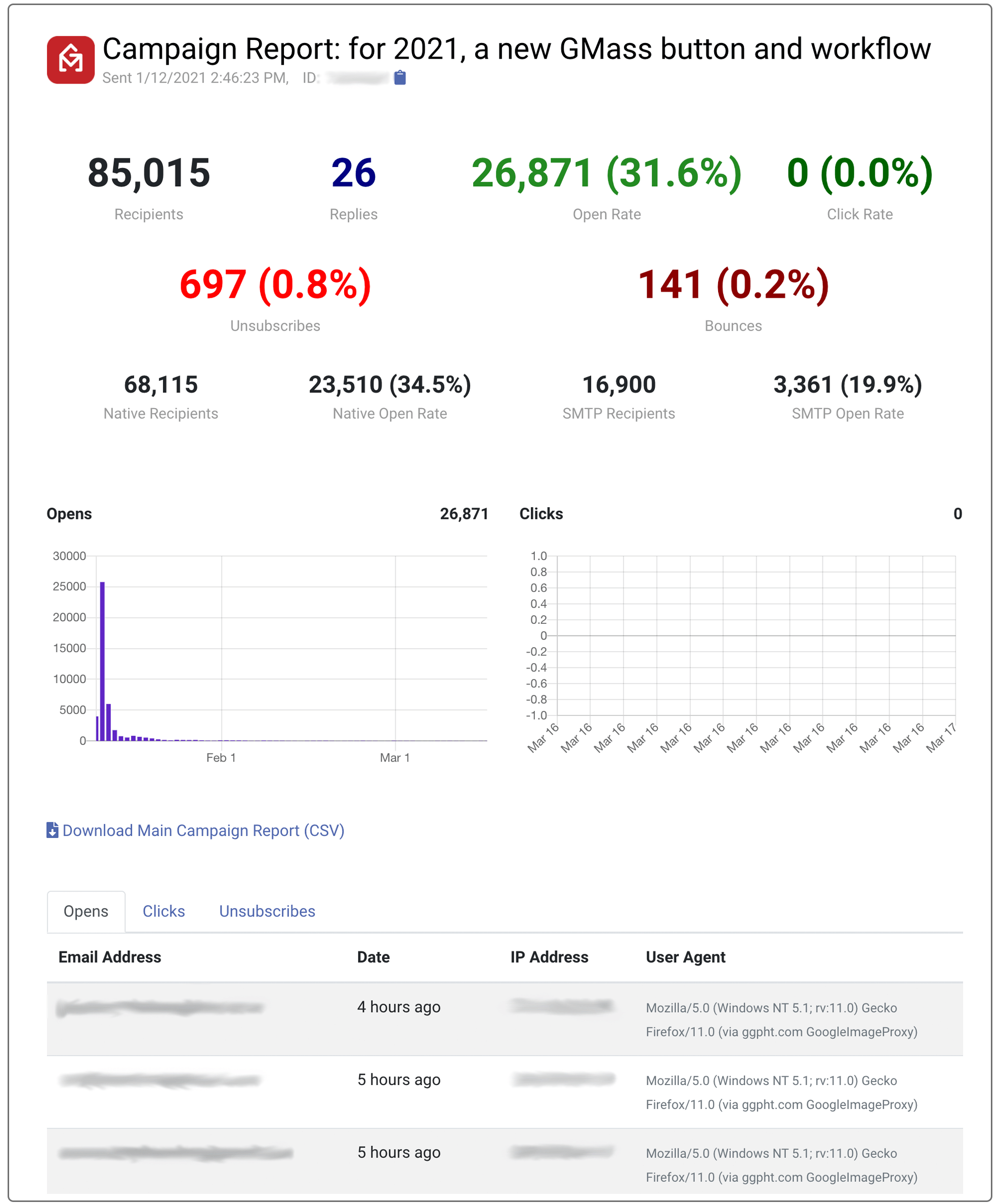 One of the best ways to optimize your email campaign is by running A/B tests. A/B testing involves sending two versions of emails to select recipients and seeing which one performs better on metrics like open rates, click-through rates, or conversion rates.
You can also use A/B testing to track user behavior with your pricing and feature pages and test new variations that could increase sign-ups.
With GMass, you can A/B test your SaaS email campaigns.
Vary your Subject line/Message with different sets of content.
Get separate open, click, and reply statistics on each variation sent.
Send the messages to a smaller portion of your list, decide which variation is the best, and then send the "winner" the rest of your list.
The

"winner"

 can be chosen automatically by our algorithm or by you.
6. Choose the Right Email Marketing Platform
When choosing an email provider, ensure it has the necessary features and functions to manage your SaaS marketing campaigns. GMass is a robust SaaS cold emailing and digital marketing automation software that functions entirely inside Gmail. It's been used by employees of companies like Google, Uber, and social media platforms like LinkedIn and Twitter.
With GMass, you can:
To begin using GMass for your SaaS campaigns, download the GMass Chrome extension and sign up for free using your Gmail account.
For more info on paid plans, visit the GMass pricing page.