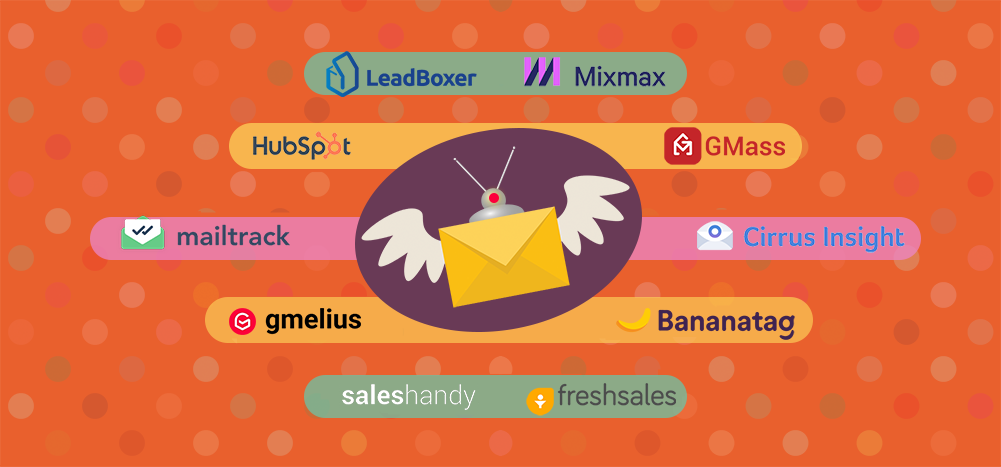 Looking for the best email tracker Chrome extension for Gmail or Outlook?
An essential tool in any email marketer's arsenal, email trackers help you keep track of how your email campaigns are doing. And with tons of email trackers now available as simple Chrome extensions, tracking your email campaigns is easier than ever!
But with so many of these Chrome extensions, which one do you choose?
In this article, I'll go over the ten best Gmail and Outlook email tracker apps and cover their key features, pricing, and customer ratings to help you decide.
10 Best Email Tracking Apps (Chrome Extensions) for Gmail and Outlook:
(Click on the links to jump to a specific tool.)
Top 10 Email Tracking Chrome Extensions (Apps) for Gmail/ Outlook
Here's a detailed look at the ten best Chrome extensions for email tracking in Gmail and Outlook: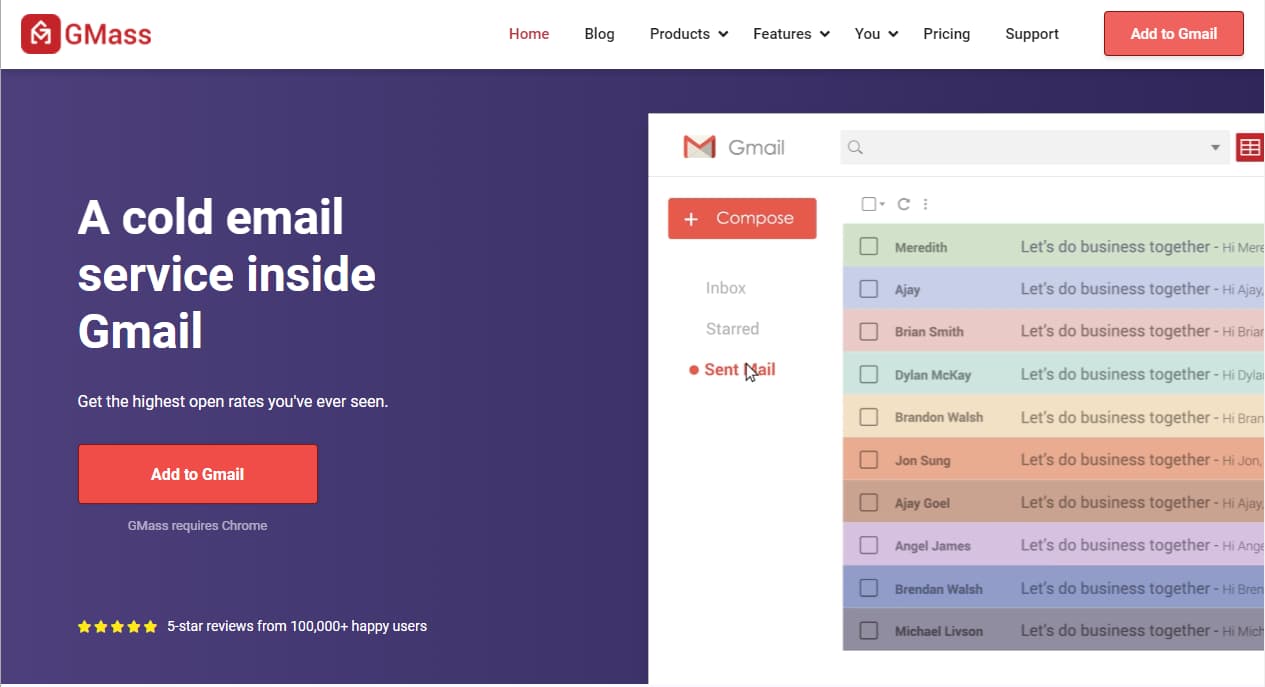 If you're a Gmail user looking for an all-round email tracker Chrome extension, then look no further than GMass.
GMass is a powerful email tracker and outreach tool used by employees from large companies like Twitter, Google, LinkedIn, and Uber to skyrocket their email campaign management.
However, its outreach capabilities aren't just used by large companies.
It's also perfect for solopreneurs and organizations like schools and churches to send email campaigns right from the familiar Gmail interface!
GMass helps you:
Personalize your email outreach campaigns right from your Gmail inbox
Measure campaign performance with detailed reports and analytics
Schedule your emails and follow-ups easily
Automate the follow-up email process
Perform extensive mail merges in no time
Additionally, it's super easy to get started with GMass.
Simply download the Chrome extension from the Google Chrome web store and start using it!
Ideal for: Large companies, startups, email marketers, solopreneurs, and anyone else looking to boost their email outreach.
Compatibility: GMass works with Gmail and can even connect with the Gmail mobile app for Android.
GMass Key Features
Here's a quick look at some key features of the GMass Chrome browser extension:
A. Detailed Analytics
Since email tracking is all about knowing how well your emails are doing, GMass offers you all the email tracking metrics you'll ever need!
When you run an email campaign, GMass generates a Campaign Report that contains metrics like:
Total Recipients
Unique Opens
Unique Clicks
Replies
Unsubscribes
Bounces
Emails not sent due to Gmail's email sending limit
Blocks
This way, you can quickly determine how well your emails are doing and where you can improve your email performance.
B. Automatic Email Personalization
If you want your emails to really resonate with your audience, you need to personalize them.
After all, nobody likes receiving generic, templated emails, right?
Manual email personalization can take hours, but GMass lets you personalize within a few minutes!
When you're looking to send out a bunch of emails in one go, GMass will help personalize your emails by:
Check out GMass' complete personalization features here.
C. Simplified List Building
One of the core parts of any email campaign is an email list.
And with GMass, building one doesn't have to take forever.
You get tons of different ways to create an email list quickly in GMass, like:
Run a search in your Gmail account and let GMass compile a list from the results.
Pick a label in the Gmail interface, and GMass will compile a list from that label.
Build an email list through email notifications.
D. Automate Follow-ups
Not everyone is going to respond to your emails all the time. Fortunately, GMass automates your email follow-ups to ensure that your emails always stay on your recipients' radar.
You can even customize several aspects like:
The frequency of follow-ups to be sent
The total number of follow-ups each recipient receives
The message each follow-up email contains
E. Bypass Email Sending Limits
Most email clients (like Gmail and Outlook) limit the number of sent emails every day.
For example, with G Suite, the limit is 2,000 emails per day, while Gmail caps the daily limit at 500 emails.
However, these restrictions can severely limit your outreach if you're running a massive email marketing campaign.
Don't worry! GMass has a way around this and can connect with external SMTP providers like SendGrid and Mailjet to send a virtually unlimited number of emails every day — right from your Gmail inbox!
F. Email Scheduling
With GMass' email scheduling feature, you choose when you want to send out a mass email campaign.
You can:
Pick from a list of pre-configured future times.
Enter a custom date or time.
Alter the time or date after scheduling an email.
GMass Pricing
Unlike most other tools, GMass has an extremely user-friendly pricing structure:
Free: supports automated email tracking for 50 emails/day + all other features
Individual:

Minimal: $8.95 per month – unlimited email tracking + all features except auto follow-ups
Standard: $12.95 per month – includes "Minimal" features + removes GMass footer for sent emails
Premium: $19.95 per month – includes "Standard" features + auto follow-ups

Team:

Premium: starts at $89 per month for a group of 5 and includes all features
GMass Customer Ratings
2. Mailtrack

Mailtrack is a compact mail tracker app designed to let you know when your sent mail has been opened. It does this by adding a tracking pixel and a series of checkmarks to your email within the Gmail interface.
Mailtrack will also send you a push notification when someone has read your email and works with Gmail's "schedule emails" feature.
Ideal for: Gmail account users who want to know who has read their emails.
Compatibility: Mailtrack works with Gmail and has an add-on for Android/iOS devices.
Mailtrack Key Features
Active email indicator to identify which emails are generating interest
Real-time desktop notification when someone opens your email
Not-opened reminders when someone hasn't opened your email
Unread messages filter to identify unread emails quickly
Incoming tracked emails indicator alerts you when emails you receive are being tracked
Mailtrack Pricing
Mailtrack offers two pricing plans:
Free plan: offers unlimited tracking, but no other features and also includes a "sent with Mailtrack" signature to your sent mail.
Pro plan: starts at $4.99/month: The paid plan includes all the features and removes the "sent with Mailtrack" signature.
Mailtrack Customer Ratings:
3. Mixmax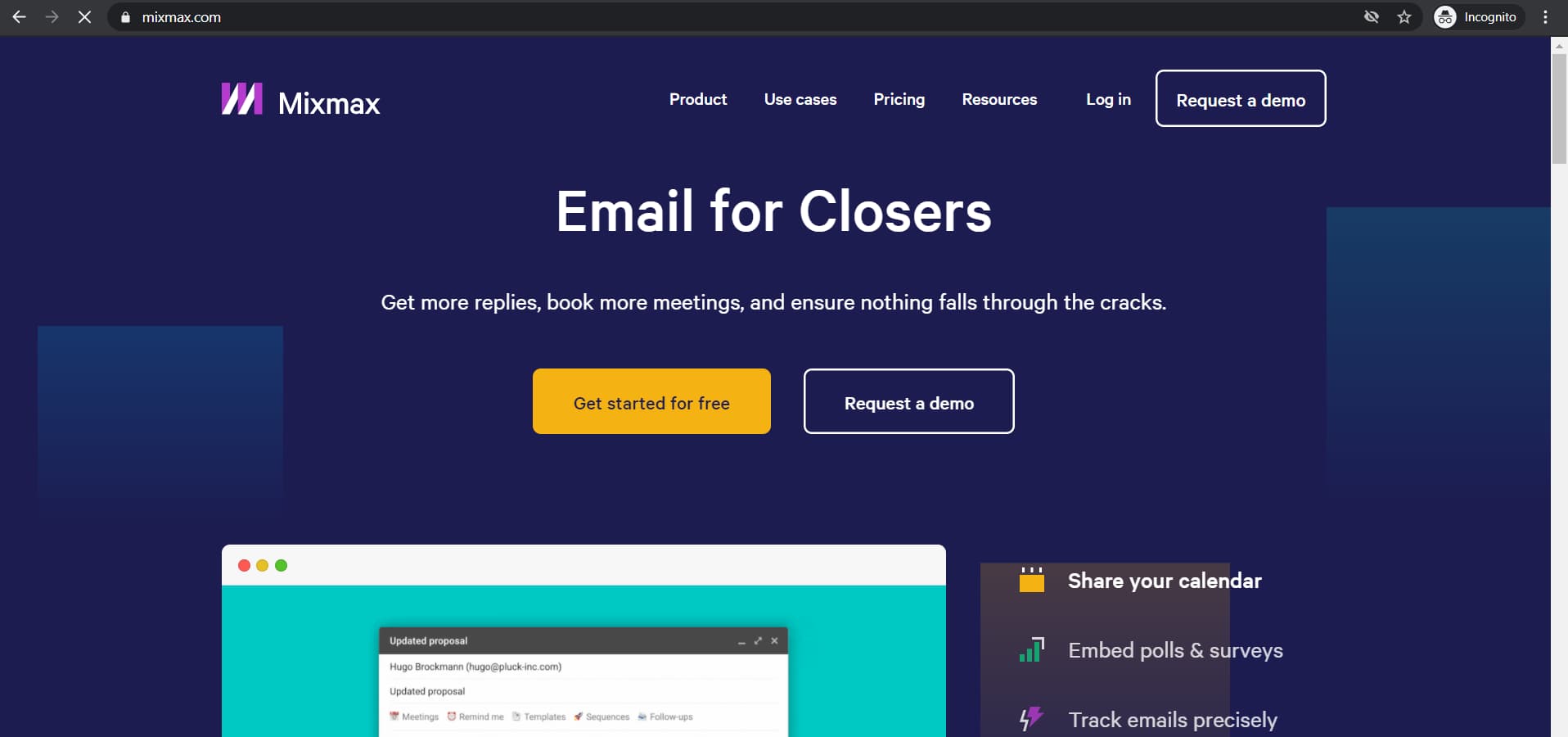 Mixmax is another powerful mail tracker Chrome extension that uses a tracking pixel to identify who has opened your sent emails.
The platform comes with several other useful features that include tracking your sent mail with a tracking icon, monitoring read receipts with a push notification, calendar scheduling, automated email follow-ups, and in-email polls.
Check out my in-depth Mixmax review here.
Ideal for: Large email marketing teams, entrepreneurs, and sales reps.
Compatibility: Mixmax doesn't work with an Outlook account. It's strictly for your Gmail inbox and can also integrate with SalesForce, Slack, and several other platforms.
Mixmax Key Features
Detailed mail tracking and analytics that include click and download tracking
Schedule emails to send at a designated time
Custom templates to customize your emails with the addition of external images
Integrates with Salesforce and Slack to streamline your workflows
Read receipt desktop notification when emails have been received and opened
Mixmax Pricing
Mixmax offers four pricing plans:
Free plan: offers unlimited scheduling, 100 tracked emails per month, email polls, and surveys
Starter: $12/user per month – includes everything in the free plan + unlimited tracked emails
SMB: $29/user per month – includes everything in "Starter" + email sequences, shared calendars, and shared email templates
Growth: $65/user per month – includes everything in "SMB" + a Salesforce integration, round-robin calendaring, custom branding, and workflow automation
Mixmax Customer Ratings
4. Gmelius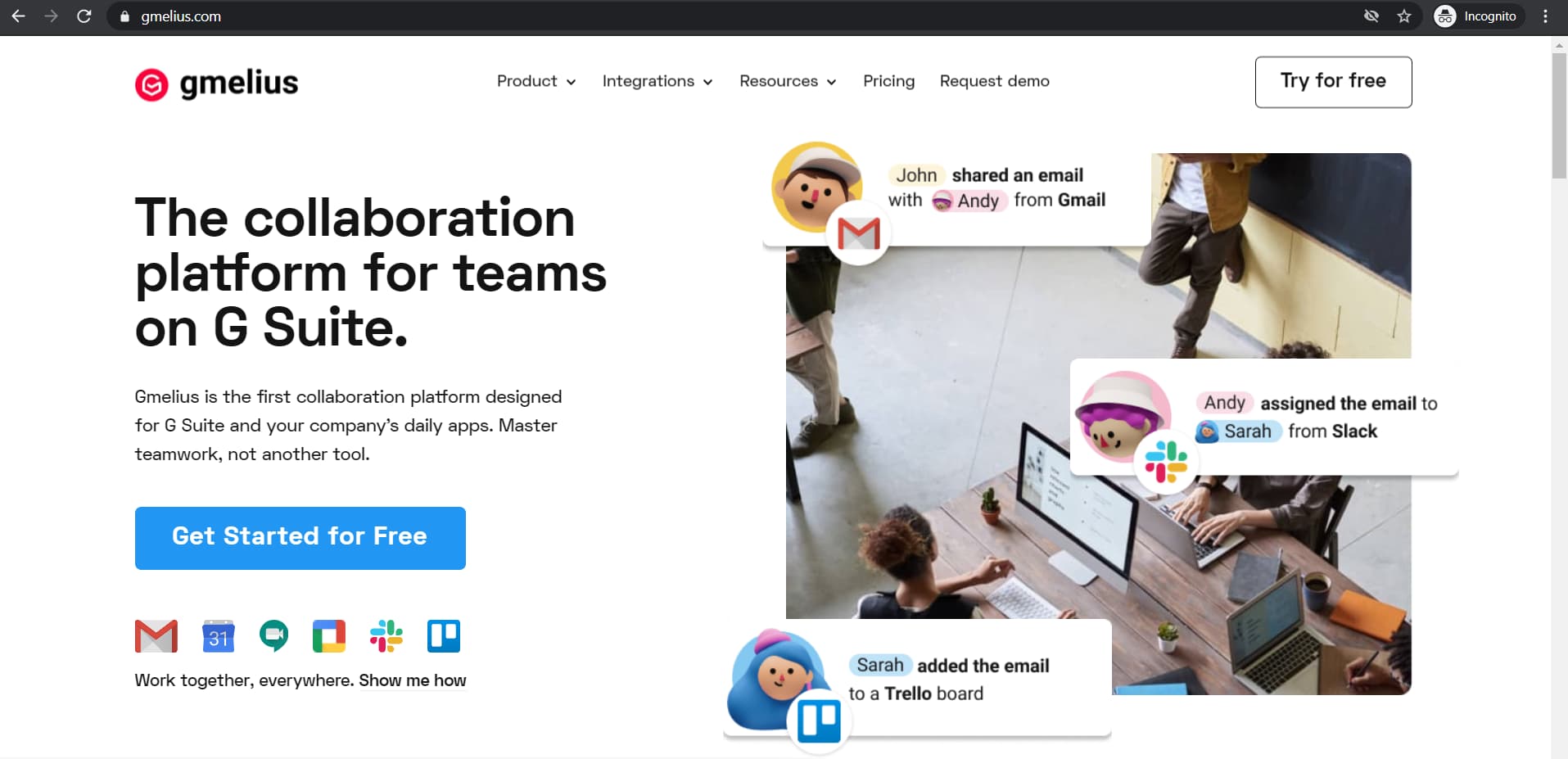 Gmelius tracks when your emails have been opened and how many clicks the recipient made. It informs you about this via a tracking pixel and a desktop notification feature.
Ideal for: Teams who want to collaborate on work without leaving their inbox.
Compatibility: Gmelius only works with Gmail.
Gmelius Key Features
Detailed email tracking to keep a check on unread emails
Can schedule emails to help you send them at the right time
Integrated Kanban boards to convert emails into task cards
Supports workflow automation to automate repetitive tasks and save time
Built-in email templates to quickly create your emails
Gmelius Pricing
Gmelius is available in four pricing plans:
Free plan: includes unlimited shared inbox, unlimited kanban boards, collision detection, unlimited shared Gmail labels, template
Plus: $12/user per month – includes everything in the free plan + CRM integration, priority sync, unlimited email templates, unlimited meeting types, unlimited shared emails
Growth: $24/user per month – in addition to everything in "Plus," the Growth plan comes with workflow automation, SLA rules, auto-assignments, analytics dashboard, meeting reminder
Enterprise: $49/user per month – includes everything in "Growth" + unlimited users, G Suite Admin sync, onboarding training, uptime SLA, custom user roles, dedicated CSM.
Gmelius Customer Ratings
5. Bananatag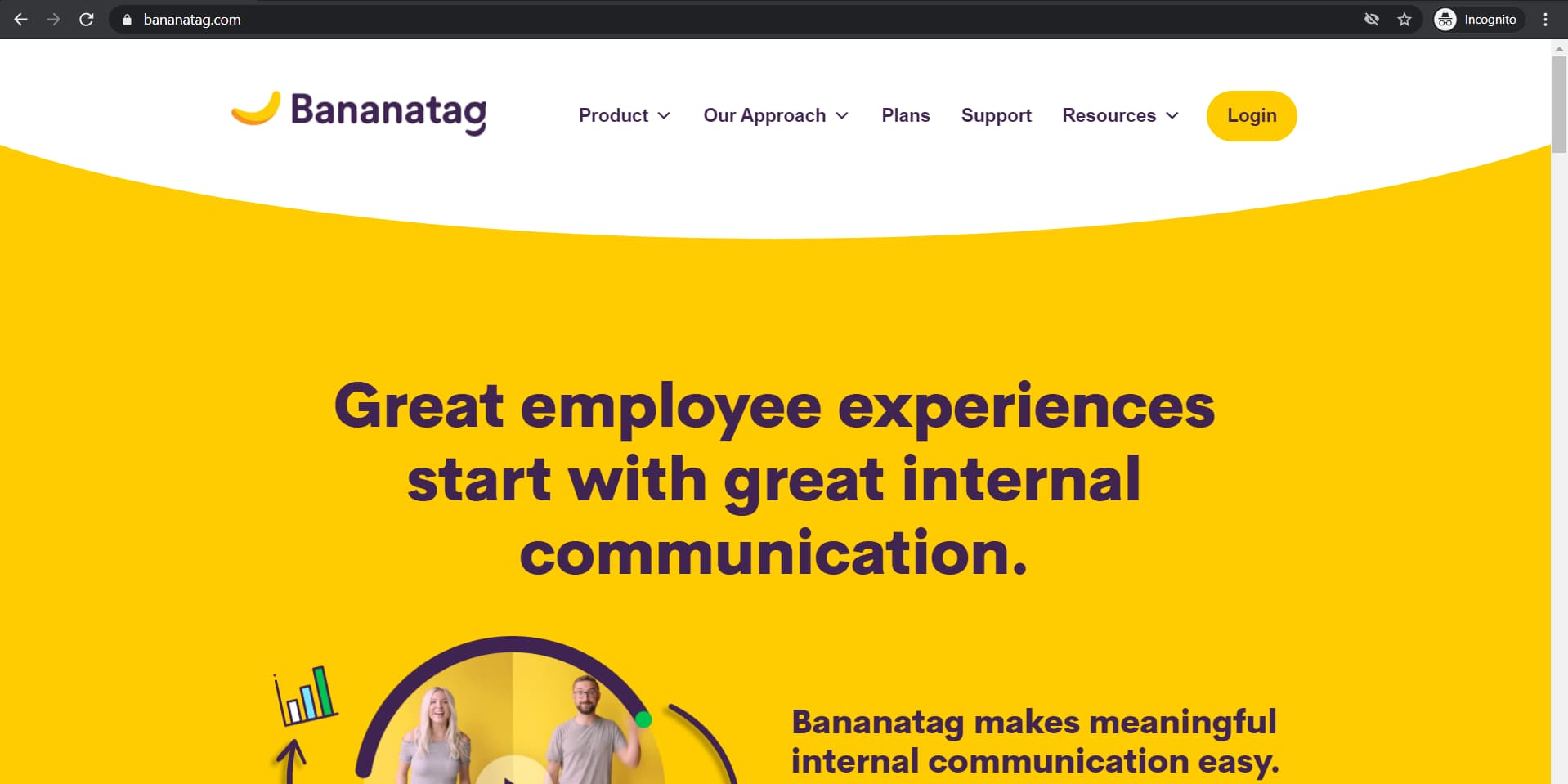 Bananatag is an internal communication app designed to help you create company memos and newsletters and measure open and click rates.
Ideal for: Internal communication needs. It ensures that employees are opening and responding to important company communications.
Compatibility: Bananatag works with both Gmail and Outlook.
Bananatag Key Features
Built-in email templates so you can personalize your emails with external images
Email analytics to easily track your emails while highlighting the average response time
Can create custom distribution lists for various email campaigns
Powerful CRM integrations to sync your emails to most CRMs
Link tracking to let you know when the recipient opens links in your email
Bananatag Pricing
You'll need to get in touch with Bananatag for their pricing options, but they offer three different plans:
Essential: includes email tracking and metrics, multi-user editing, email reporting, template library, and a drag-and-drop email designer
Power: includes everything in "Essential" + custom email reports, embedded pulse surveys, follow-up with non-openers, and active directory sync.
Enterprise: includes everything in "Power" + multi-domain and custom domain support, custom user permissions, branding restrictions, and segmented reporting.
Bananatag Customer Ratings
6. SalesHandy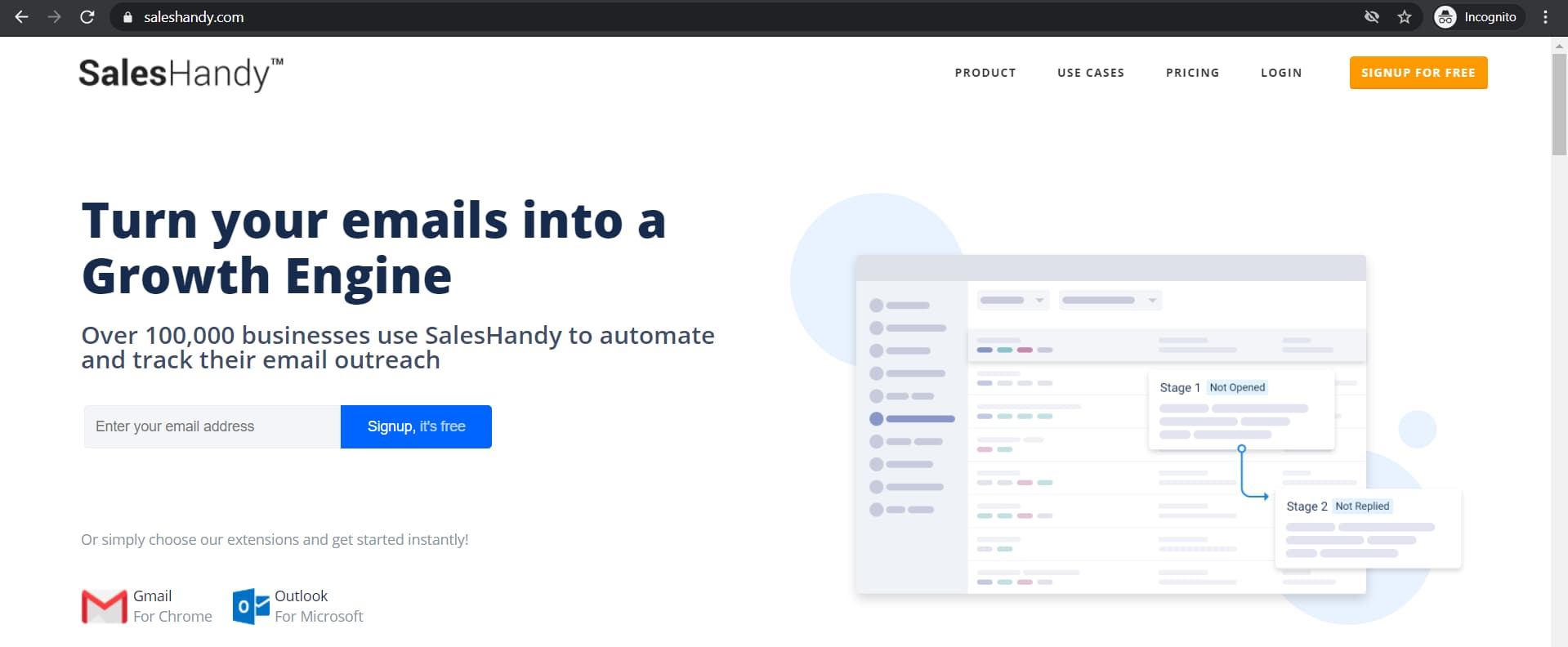 SalesHandy is a powerful browser extension with mail tracker capabilities that can track leads and emails with real-time notifications.
Read my comprehensive SalesHandy review here.
Ideal for: Sales reps looking for a straightforward email outreach tool.
Compatibility: SalesHandy is compatible with both Gmail and Outlook.
SalesHandy Key Features
Email templates for personalized email campaigns
Link tracking via a tracking icon to see who has clicked any links in your emails
Will send you a push notification to keep track of email reads
Built-in lead tracking icon to monitor all the leads in your funnel
Can integrate with tons of third-party tools
Pros
Detailed Email Tracking
Using Mail Merge, you can personalize your email campaigns.
Automated Follow-Up Emails
Allows you to import HTML templates into Gmail and Outlook Mail
Cons
Standard plans do not include automated follow-up or advanced mail-merge features.
Standard plans have low sending limits. To send a large campaign, you'll need the pricey Enterprise plan.
The most expensive enterprise plan allows you to send only 5,000 emails each day! As a result, if you can't email your entire mailing list at once, your marketing efforts may be restricted.
SalesHandy does not connect with bulk mail services like SendGrid to exceed Gmail or Microsoft's restrictions on the number of emails sent. A Gmail account has a daily sending limit of 500 emails, while a G Suite email user may send up to 2,000 messages each day. Even if you upgrade to SalesHandy's Enterprise plan, you can only send 2,000 emails per day.
SalesHandy Pricing
SalesHandy offers four pricing plans:
Free plan: only offers unlimited tracking
Regular: $12/user per month – includes everything in the free plan + custom domains and mail merges
Plus: $27/user per month – includes all features in "Regular" + mail merges with automatic follow-ups
Enterprise: $59/user per month – includes all the features in "Plus" and high-volume campaign support
SalesHandy Customer Ratings
7. Cirrus Insight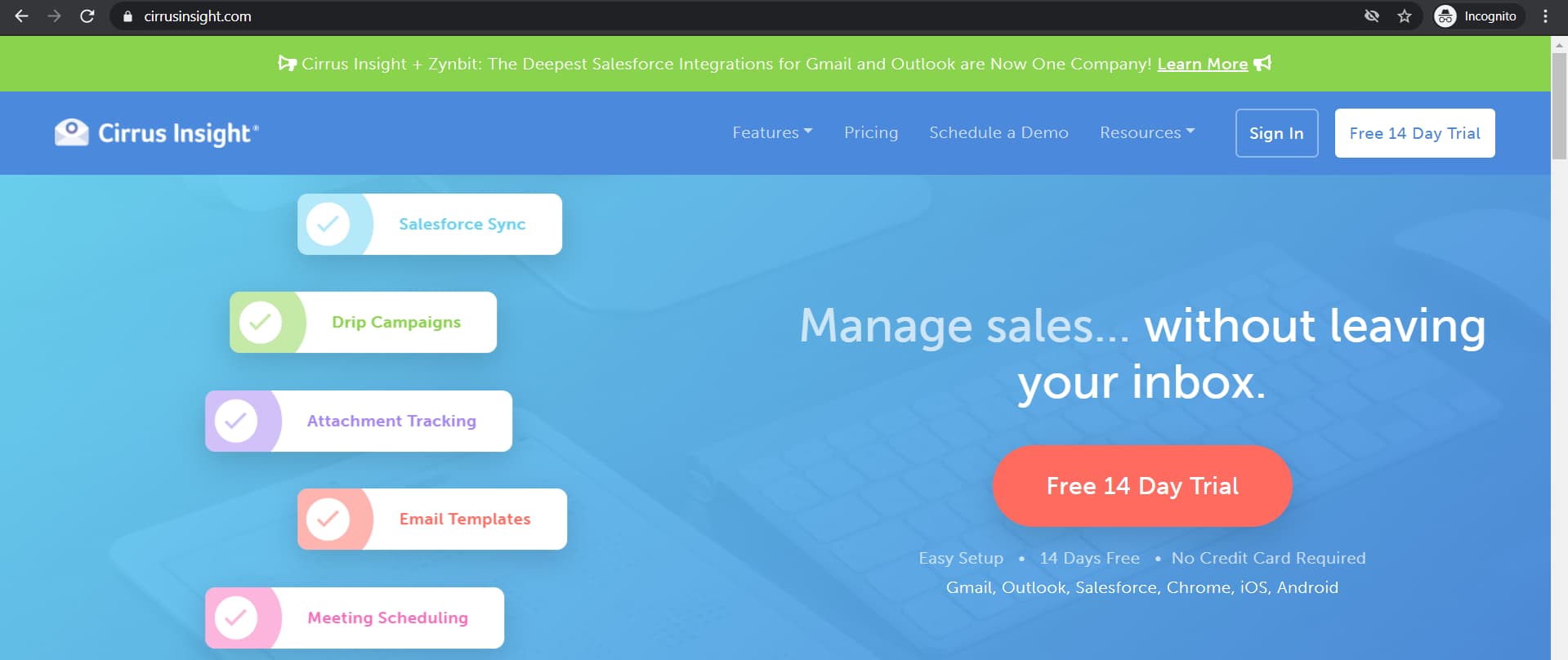 Cirrus Insight helps users log emails with a click and sync their calendars to keep their lead and contact management workflows organized and structured.
Ideal for: Any company that uses Salesforce as its CRM.
Compatibility: Works with both Gmail and Outlook.
Cirrus Insight Key Features
Supports all editions of Salesforce
Can automatically sync events between Google Calendar and Salesforce
Tracking icon helps you determine if your emails have been read; location tracking shows the recipient's geolocation
Built-in email scheduling icon to compose and send emails at specific times
Link tracking to see exactly how many clicks a link has obtained
Cirrus Insight Pricing
Cirrus Insight offers four pricing plans for your Google account (Starter, Closer, Rainmaker, and Enterprise), and three for Outlook (Starter, Closer, and Enterprise).
However, the pricing and features remain the same, irrespective of the email client you use:
Starter: $36/user per month – includes email tracking, follow-up alerts, email templates, email scheduling, Salesforce integration
Closer: $60/user per month – includes everything in "Starter" + enterprise scheduling, attachment tracking, and activities
Rainmaker: $96/user per month – includes everything in "Closer" + added campaign support
Enterprise: custom pricing – includes everything in "Rainmaker" + enterprise services like dedicated customer service managers and single sign-on access
Cirrus Insight Customer Ratings
8. LeadBoxer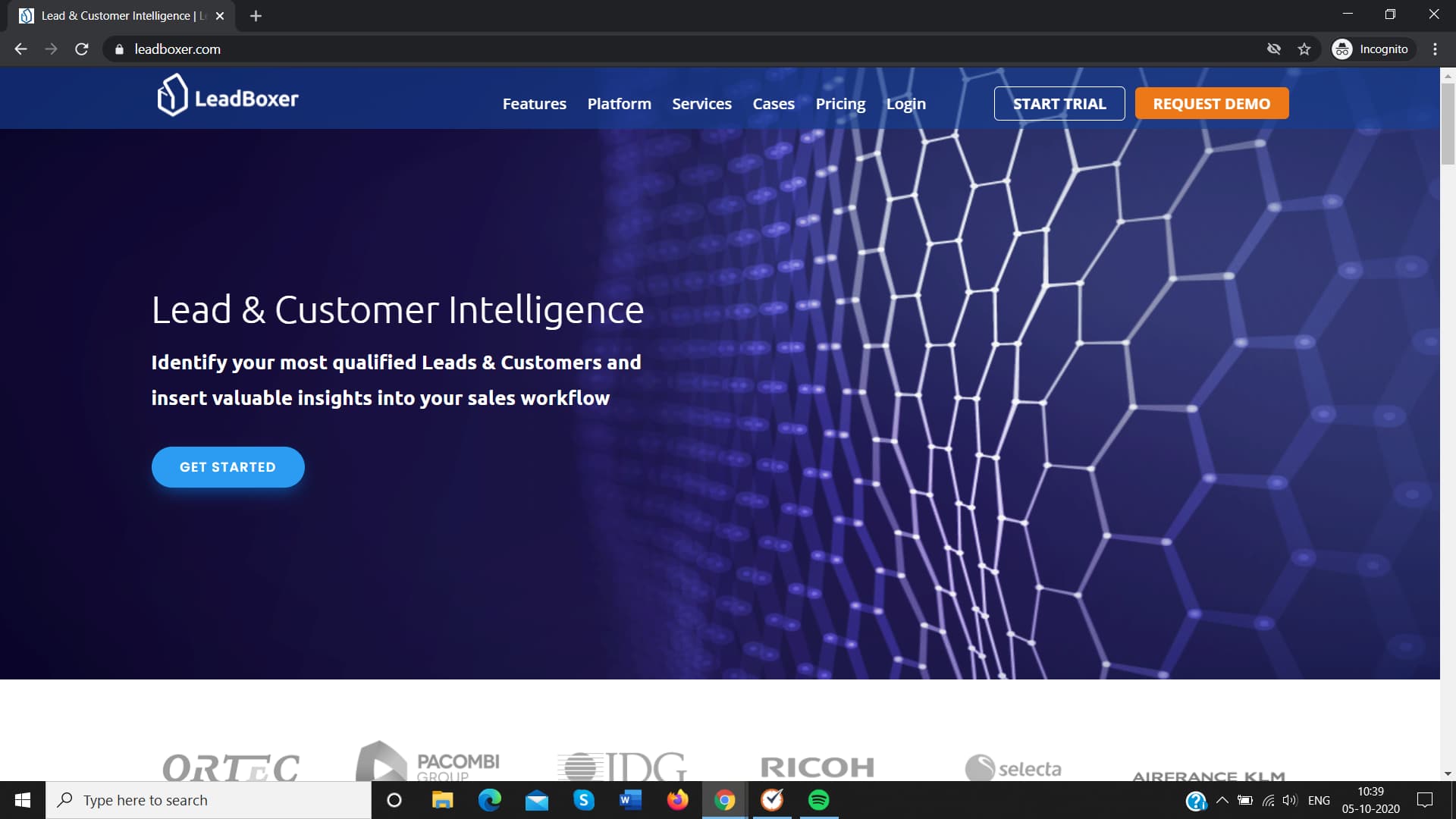 LeadBoxer is a lead generation app that provides real-time information about your email recipients and your sales workflow.
Ideal for: Sales reps looking to prioritize the most promising leads.
Compatibility: LeadBoxer works with Gmail and Outlook.
LeadBoxer Key Features
Built-in email tracking to keep a check on how your emails are doing
Dedicated lead management dashboards
Can identify both companies and individuals visiting your website
Automatic lead-scoring to calculate a lead's lead score to optimize sales workflows
Can set up an email notification for specific leads visiting your site or reading your emails
LeadBoxer Pricing
LeadBoxer doesn't offer a free plan. Here's a quick look at two paid plans:
Basic: $228.75 per month – includes unlimited leads and contacts, the ability to track web and email behavior, lead scoring, and real-time notifications.
Premium: $580.76 per month – includes all "Basic" features + custom integrations, cross-domain tracking, and priority support.
LeadBoxer Customer Ratings
9. Freshsales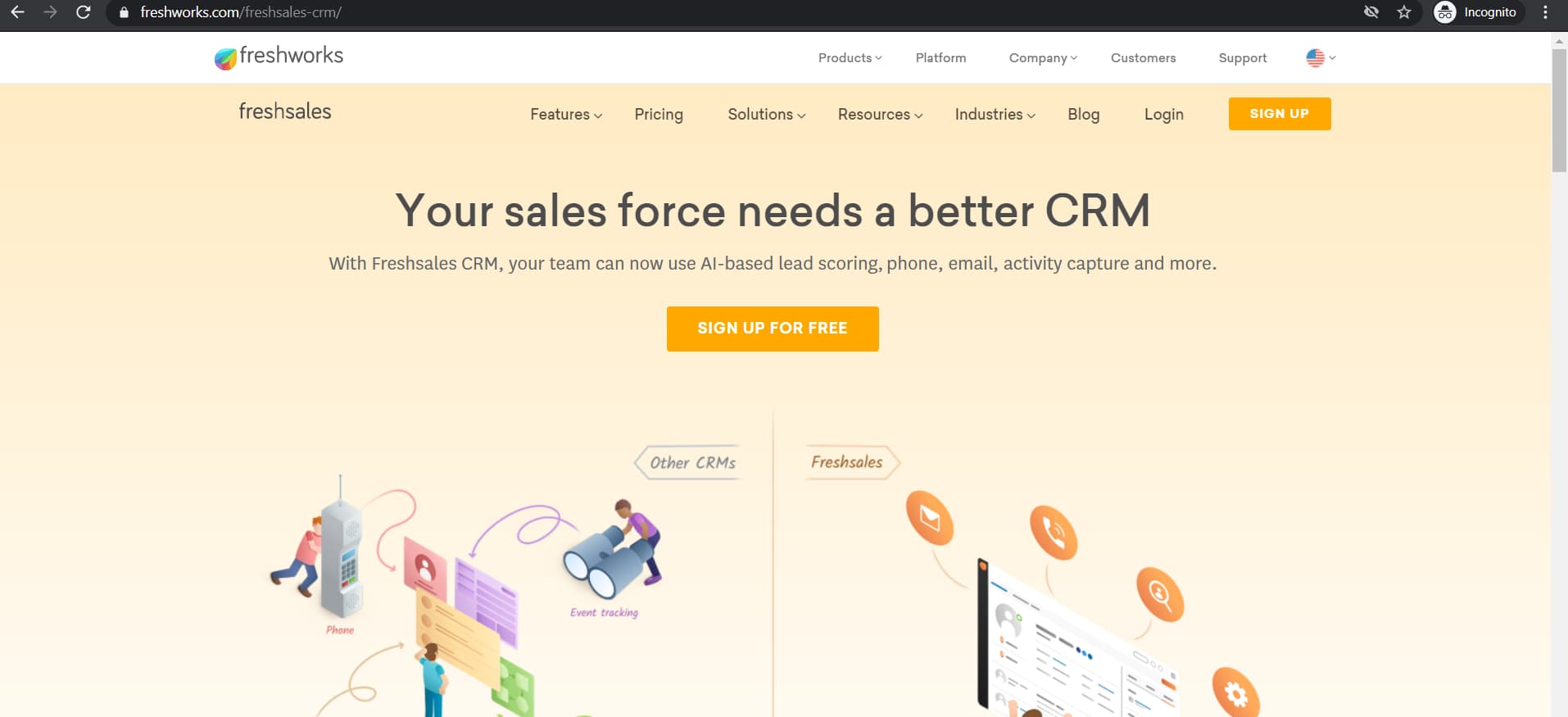 Freshsales is a customer relationship management tool developed by Freshworks. With an intuitive UI and a list of powerful features, Freshsales shows its users exactly what actions a lead has taken across various platforms.
Ideal for: Companies looking for a powerful CRM tool with built-in email tracking features.
Compatibility: FreshSales can integrate with whatever email client you use, ensuring that all your emails are synced across your inbox and CRM.
Freshsales Key Features
Email templates with placeholders for bulk emails
Can import data from other CRMs to track progress and view past reports
Can create workflow automations like automatic email follow-ups to save time
Revenue analytics so that you can analyze your most profitable campaigns
Behavior-based segmentation to split leads and personalize conversations
Freshsales Pricing
Freshsales offers four different paid options:
Blossom: $12/user per month – includes lead, contact and deal management, a visual sales pipeline, two-way email sync, lead scoring, and API access
Garden: $25/user per month – includes everything in "Blossom" + 250 bulk emails per user per day, five sales sequences per user, and ten workflow automations
Estate: $49/user per month – includes everything in "Garden" + advanced lead scoring, 1,000 bulk emails per user per day, ten sales sequences per user, and 25 workflow automations
Forest: $79/user per month – includes everything in "Estate" + 5,000 bulk emails per user per day, 25 sales sequences per user, 100 workflow automations, and IP whitelisting.
Freshsales Customer Ratings
10. HubSpot Sales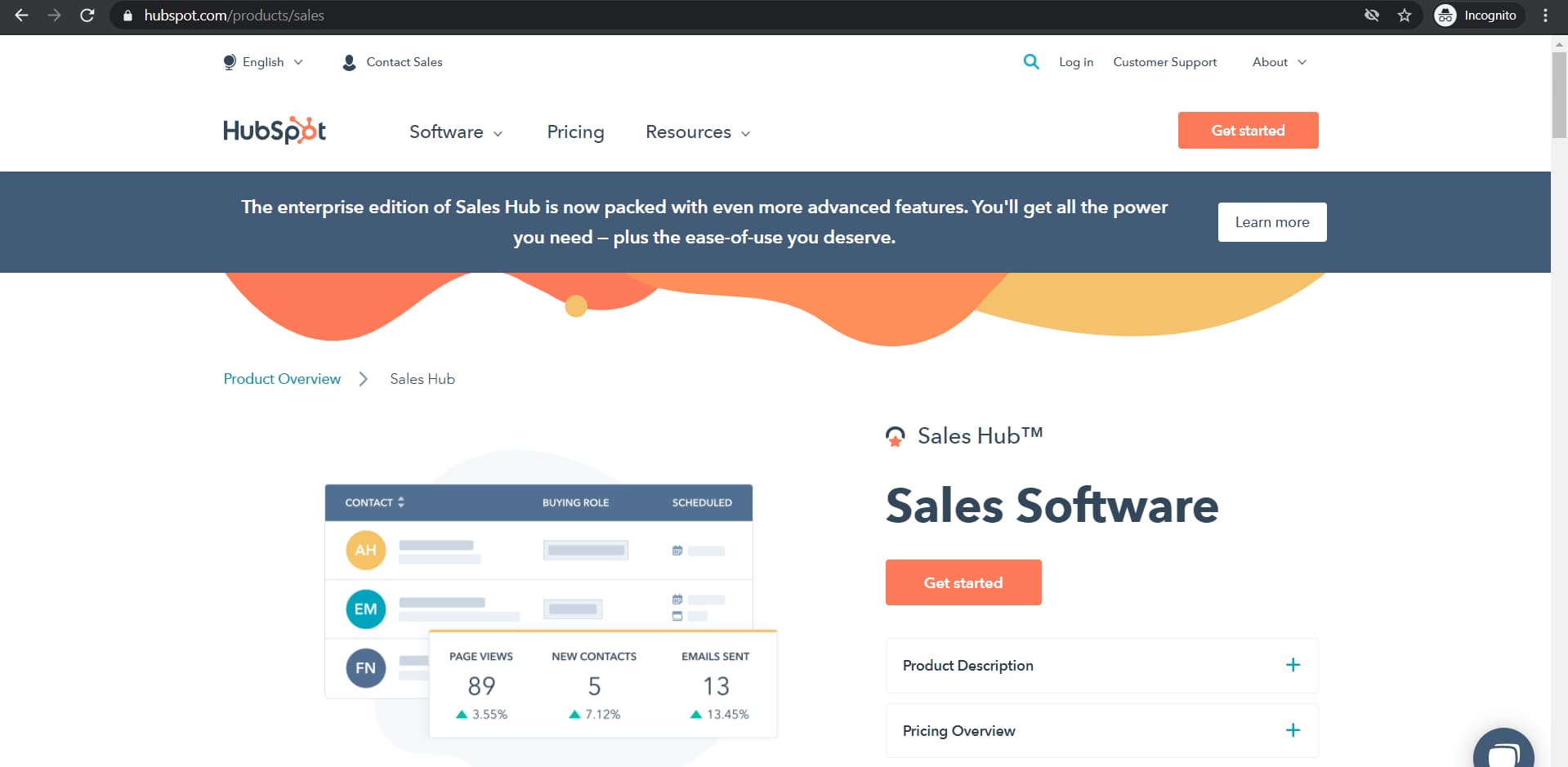 HubSpot Sales is a useful platform to help you identify who opened your emails via a powerful notification system.
Ideal for: Teams looking for a versatile CRM with additional email tracking capabilities.
Compatibility: HubSpot Sales can track emails from both Gmail and Outlook.
HubSpot Sales Key Features
Predictive lead scoring to rank leads automatically based on hundreds of factors
Supports tons of workflow extensions to streamline various processes
Supports canned snippets to create a bank of reusable answers
Powerful reporting dashboard to see detailed metrics on sales performance
Unread email filter icon to quickly identify unread messages
HubSpot Sales Pricing
HubSpot Sales offers three pricing plans:
Starter: $50/month starting with two paid users – includes a deal pipeline, custom properties, quotes, a reporting dashboard, and meeting scheduling
Professional: $800/month starting with five paid users – includes everything in "Starter" + sales analytics, record customization, custom reporting, 1:1 video creation, smart send times
Enterprise: $3,200/month starting with ten paid users – includes everything in "Professional" + single sign-on access, field-level permissions, call transcripts, and predictive lead scoring.
HubSpot Sales Customer Ratings
Capterra: 4.5/5 (250+ reviews)
G2: 4.5/5 (6,200+ reviews)
Conclusion
Choosing the right email tracker Chrome extension doesn't have to be tricky.
Just go through the tools I've covered here to determine what works well for you.
And while each of these extensions is great, GMass is clearly the best email tracker Chrome extension for Gmail users.
With advanced mail merge and email tracking capabilities, GMass can help take your email campaigns to the next level. So why not download its free Chrome extension today and streamline all your email sending activities?
See why GMass has

300k+

users and

7,500+

5-star reviews

Email marketing. Cold email. Mail merge. Avoid the spam folder. Easy to learn and use. All inside Gmail.

TRY GMASS FOR FREE

Download Chrome extension - 30 second install!
No credit card required
Love what you're reading? Get the latest email strategy and tips & stay in touch.