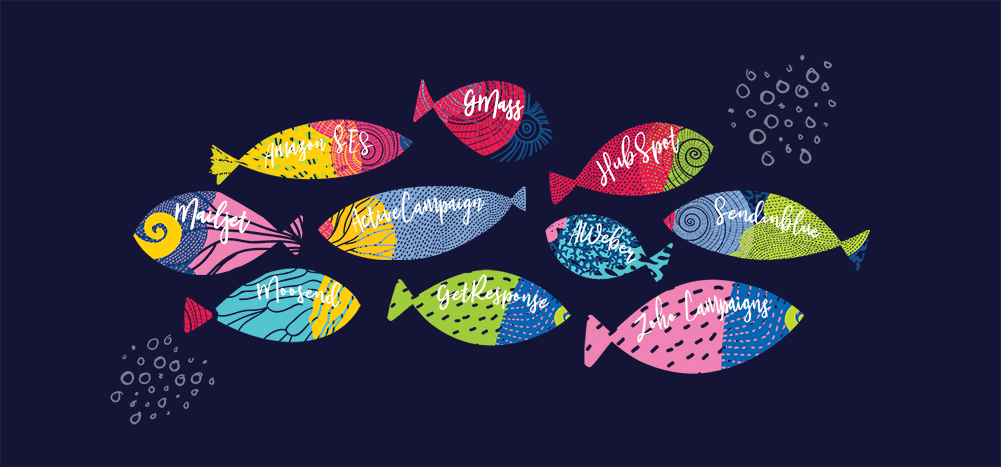 Looking for the best Mailchimp alternatives?
While Mailchimp is an excellent email marketing tool, it comes with several limitations. For example, the interface is difficult to navigate and it has fairly expensive pricing plans.
Even if you're on the free plan, you'll only get limited customer support — which makes it challenging to use Mailchimp's advanced features.
So it's understandable if you're looking for a change.
In this article, I'll highlight 10 powerful Mailchimp alternatives. I'll go over their key features, pricing, and user ratings to help you zone in on the right tool.
This Article Contains:
Let's jump right in.
Why Are Most Mailchimp Users Looking for a Change?
Mailchimp is an email marketing platform with several powerful features like advanced segmentation, multivariate testing, and more.
However, it's not perfect.
For starters, the email marketing features I mentioned above are only available in its Premium plan (starting at $306.15/month).
And while its Essentials plan (starts at $10.25/month) and Standard plan (starts at $15.31/month) seem affordable, you can only send up to 500 emails at that price. Once your contact count increases beyond 500, the prices can go above $100/month!
Additionally, Mailchimp's user interface can be complicated to use for novice users.
Another significant limitation is that nearly every HTML template that it comes with requires heavy editing.
And although Mailchimp offers landing page builder and social media marketing features like Instagram and Facebook ad management, it doesn't support affiliate marketing.
Read my in-depth Mailchimp review for more information.
10 Powerful Mailchimp Alternatives
Here are 10 great Mailchimp alternatives that can boost your email marketing activities immediately: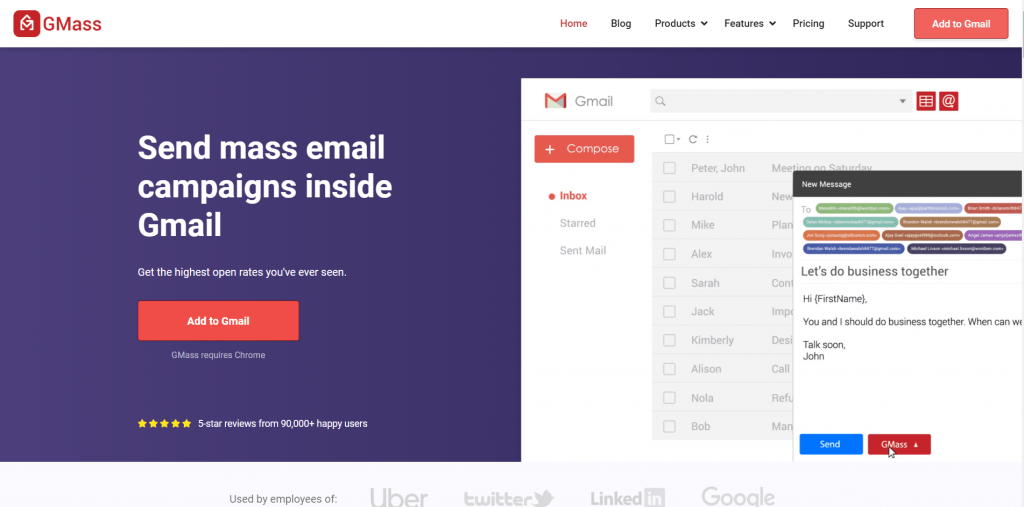 If you're looking for a quick, easy, and effective email marketing and outreach tool, look no further than GMass.
An excellent Mailchimp alternative, GMass is a comprehensive email marketing platform used by tech giants like Google and Uber and social media titans like Twitter and LinkedIn.
It works flawlessly within Gmail's interface and is also an ideal tool for solopreneurs, startups, SMBs, and even churches.
The best part?
To get started, all you have to do is download the GMass Chrome Extension and sign up with your Gmail account. It's that simple!
If you're an Android user, you can even use GMass's Gmail add-on to manage your campaigns on the go.
GMass Key Features
Here are the five powerful features of GMass.
A. Automatically Create Email Lists
Without an email list you can't run an effective email marketing campaign, right?
GMass helps you automatically create massive email lists right inside Gmail.
Using its Build Email List feature, you can get your desired email list based on:
Gmail search results.
Gmail labels, and
Transactional email notifications in your inbox.
Read this article to know more about the Build Email List feature.  
B. Automatic Personalization
The GMass email marketing tool improves your email marketing efforts by personalizing your automated emails.
You get advanced personalization settings like:
GMass generates Campaign reports to help you analyze and boost your email performance.
Once you send out an email campaign, GMass automatically starts collecting data on:
Unique email opens and clicks.
Replies and bounces.
Unsubscribe and block rates, etc.
Additionally, for maximum ease of use, you can access the reports right inside your Gmail inbox!
With GMass, you don't have to manually compose every follow-up mail separately.
Its follow-up automation feature helps you customize and automate your follow-up emails in one go by:
Personalizing the follow-up email content.
Customizing what triggers follow-ups.
Setting up the number of follow-ups each recipient receives and their frequency.
E. Bulk Email Sends
Want to send bulk emails to your massive customer base?
GMass helps you do exactly that with its SMTP integration.
By connecting with any SMTP service provider, GMass not only enables you to send mass emails in a snap but also ensures better inbox placement and email delivery.
This helps you send unlimited email marketing campaigns, transactional emails, and cold emails to your recipients
GMass's simple email scheduling feature lets you plan your emails well in advance.
All you have to do is draft your emails, schedule it, and sit back — GMass will do the rest. And if you want to change the schedule, just reschedule from your Gmail Drafts folder.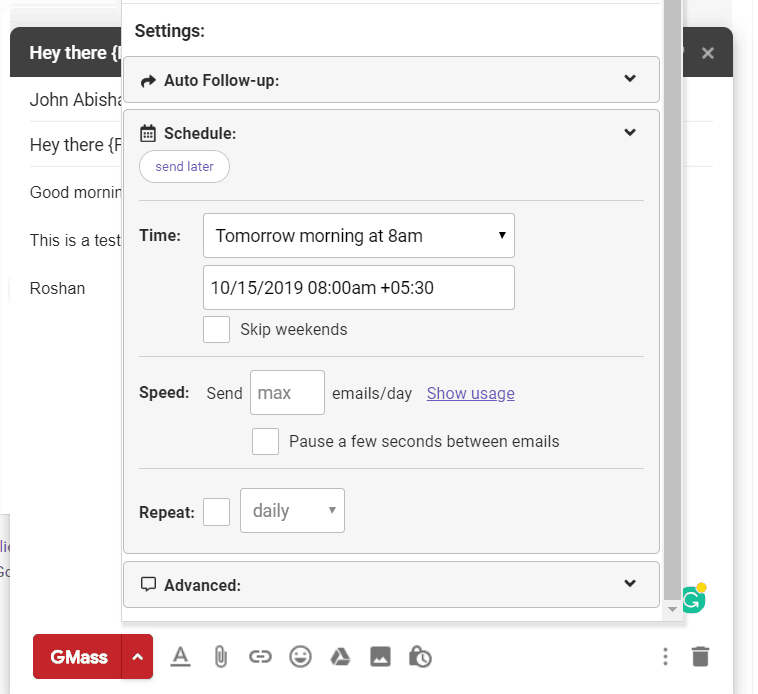 GMass Pricing
GMass' email marketing solution offers multiple flexible pricing plans for both individuals and teams:
Free: supports automated email tracking for 50 emails/day + all other features.
Individual:
Minimal ($8.95/month): supports all features (except auto follow-ups) + unlimited use.
Standard ($12.95/month): includes all Minimal features + removes GMass footer + unlimited use.
Premium ($19.95/month): includes all Standard features + auto follow-ups.

Team:

Premium (starts at $89/month for a team of five): supports unlimited use + auto follow-ups + removes GMass footer  + all other features.
GMass Ratings
Capterra: 4.9/5 (500+ reviews)
G2: 4.8/5 (500+ reviews)
Ideal For
Large organizations, schools, churches, entrepreneurs, SMBs, email marketers — pretty much anyone who uses Gmail.
2. ActiveCampaign
ActiveCampaign is a Mailchimp alternative that doubles up as an email marketing tool and sales automation platform. However, this email marketing service doesn't have a free plan.
Check out my comprehensive ActiveCampaign review.
ActiveCampaign Key Features
The email marketing software helps you create targeted emails, scheduled emails, etc.
Create landing pages with its landing page builder and use forms, chatbots and other automation features to grab more leads.
Create custom email content for better email engagement through Dynamic Content features.
Supports email list segmentation via tags and custom fields.
Automation Map helps you manage and analyze existing email automation and plan new ones based on advanced reports.
ActiveCampaign Pricing
ActiveCampaign's pricing plans start at $15/month. This includes 500 contacts, unlimited email sending, marketing automation, and more.
ActiveCampaign Ratings
Capterra: 4.6/5 (850+ reviews)
G2: 4.6/5 (5000+ reviews)
Ideal For
SMBs, email marketers.
3. HubSpot Marketing Hub
A great Mailchimp alternative, HubSpot Marketing Hub, is an all-in-one marketing and sales software suite. However, HubSpot doesn't support cold email marketing as it violates their user policies.
HubSpot Marketing Hub Key Features
Offers email templates to create email campaigns with ease,
Helps customize email body, subject lines, attachments, and calls-to-action based on your sales cycle, list memberships, etc.
Offers A/B tests and detailed engagement analytics to measure email performance and subscriber behavior.
Helps apply if-then logic in email automation to create email sequences based on individual customer actions.
Offers access to an analytics dashboard and landing page builders for added functionality.
HubSpot Marketing Hub Pricing
HubSpot Marketing Hub offers a free plan with limited features. Its paid plan starts at $50/month and includes list segmentation, live chat, and other features.
HubSpot Marketing Hub Ratings
Capterra: 4.5/5 (4000+ reviews)
G2: 4.3/5 (6000+ reviews)
Ideal For
Digital marketing agencies, startups, large organizations, ecommerce platforms, nonprofits, tech companies.
Ajay's Email Tip
Improve audience engagement by starting and ending your emails properly. Read my step-by-step guide on how to start and end emails to maximize email engagement.
4. Sendinblue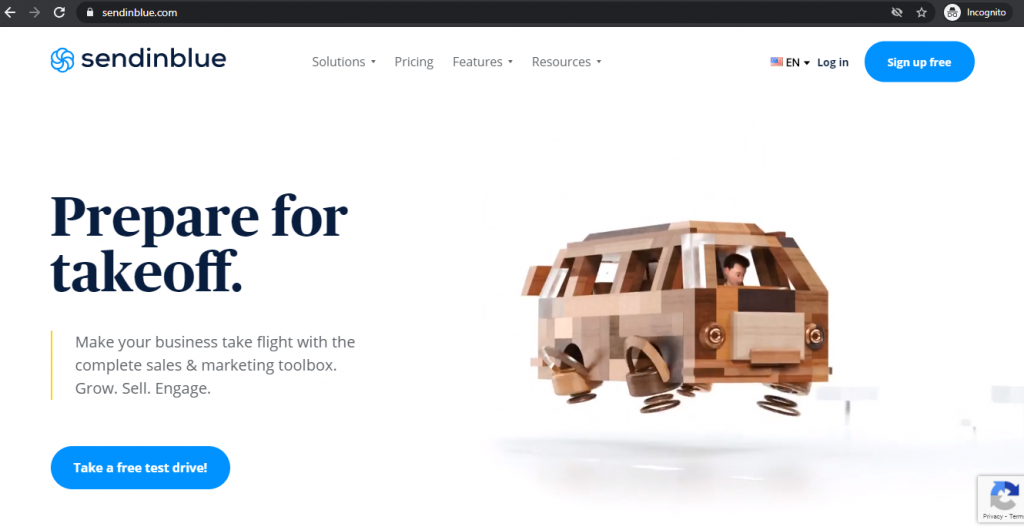 Sendinblue is an email marketing and marketing automation service provider.
By using its own SMTP servers, this Mailchimp alternative can bypass the email sending limits of an email service provider like Gmail and Yahoo.
Read my in-depth Sendinblue review.
Sendinblue Key Features
Can use its email template library to create campaigns from scratch.
Helps optimize send times via the "Send at the Best Time" feature based on customer behavior.
The Drag & Drop Editor's intuitive interface helps personalize emails as per every customer's needs.
Supports unlimited contacts listing and segmenting without additional charges.
Helps create email autoresponders and mailing lists with basic and advanced marketing automation workflows.
Sendinblue Pricing
Sendinblue's free plan offers up to 300 daily email sends with unlimited contacts. Starting at $25/month, its paid plan includes unlimited email sends, A/B testing, and more.
Sendinblue Ratings
Capterra: 4.4/5 (500+ reviews)
G2: 4.6/5 (1100+ reviews)
Ideal For
Small businesses, startups.
5. Moosend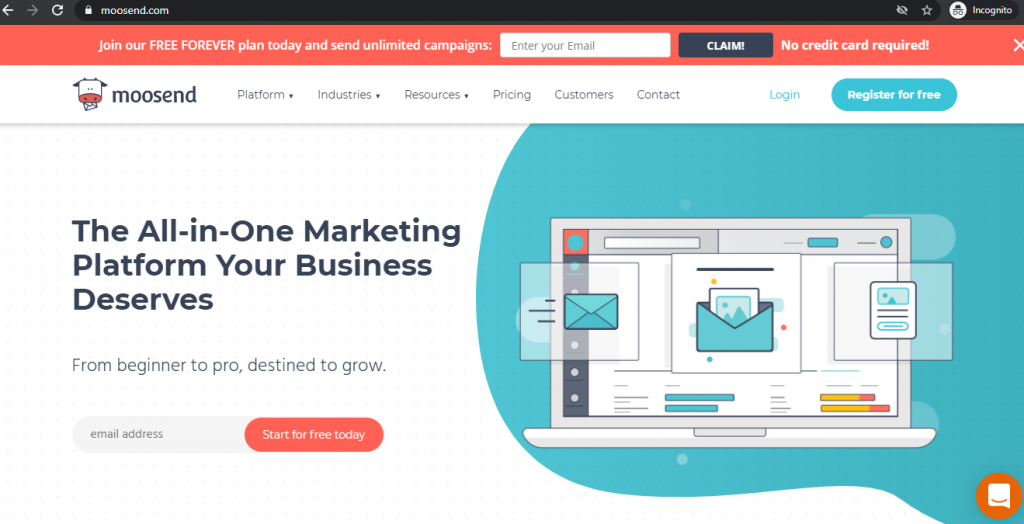 Moosend's email marketing platform is a powerful Mailchimp competitor that helps you create, send, and analyze email campaigns.
However, note that the sign-up forms offered by this email marketing service are basic and need additional customizations.
Check out my detailed Moosend review.
Moosend Key Features
The Campaign Editor helps you create regular, automation, and A/B testing campaigns.
The email automation feature helps automate email notifications like abandoned cart notifications, product promotions, etc.
Supports list segmentation based on customer behavior, product preference, type of browsers and devices used, etc.
The email marketing provider also offers live chat support for maximum customer experience.
Provides real-time reports and analytics to track customer activity, like the device or email client most customers use.
Moosend Pricing
Moosend's free forever plan supports unlimited email sends and sign up and subscription forms. Its paid plan starts at $8/month.
Moosend Ratings
Capterra: 4.8/5 (100+ reviews)
G2: 4.7/5 (200+ reviews)
Ideal For
Startups, large organizations, agencies, SaaS companies, nonprofits.
6. Amazon SES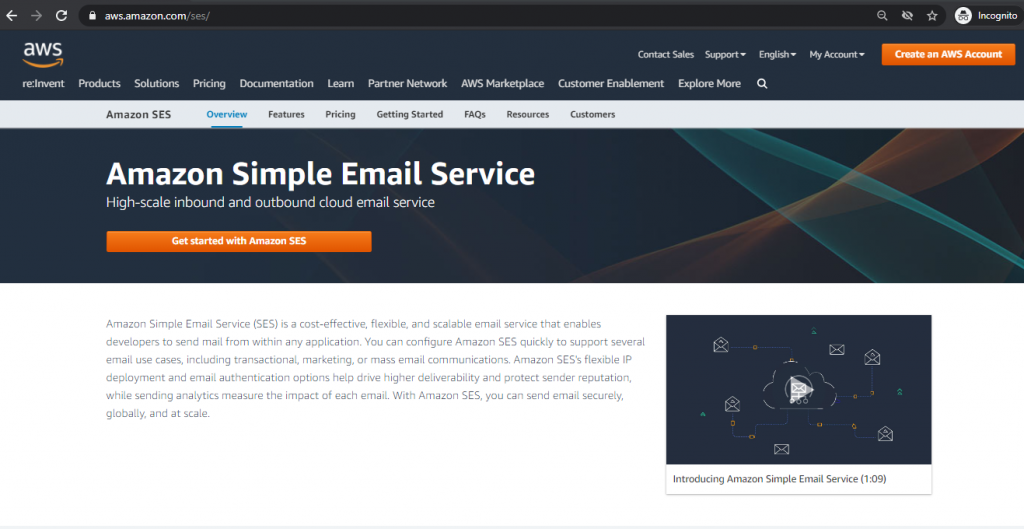 A cloud-based email outreach service, Amazon SES, helps you send both marketing and transactional emails.
However, this Mailchimp competitor can get expensive and can be extremely complicated for users without a tech background.
Read my detailed Amazon SES review.
Amazon SES Key Features
Helps send emails through both email API and SMTP.
Offers sender reputation monitoring via its Deliverability Dashboard.
Supports DKIM, SPF, and DMARC authentications for a secure email sending and verification process.
Connects seamlessly with other AWS services like Amazon EC2, AWS Beanstalk, AWS Lambda, etc.
Its BYOIP (Bring Your Own IP) feature allows you to use your own IP address for a better sender reputation.
Amazon SES Pricing
Amazon SES is a pay-as-you-go service.
It allows you to send 62,000 free emails under its Free Tier Usage when SES is integrated with applications running on Amazon EC2 (Elastic Compute Cloud).
After this limit is exhausted, SES charges $0.10 for every 1,000 emails.
However, even if you use the Free Tier, you'd have to pay additional costs like:
$0.12 for every GB of outgoing mail data.
$0.09 for each 1,000 incoming email chunk of and above 256KB.
Data transfer fees for other AWS services.
Amazon SES Ratings
Capterra: 4.7/5 (60+ reviews)
G2: 4.2/5 (100+ reviews)
Ideal For
Large organizations, developers.
7. AWeber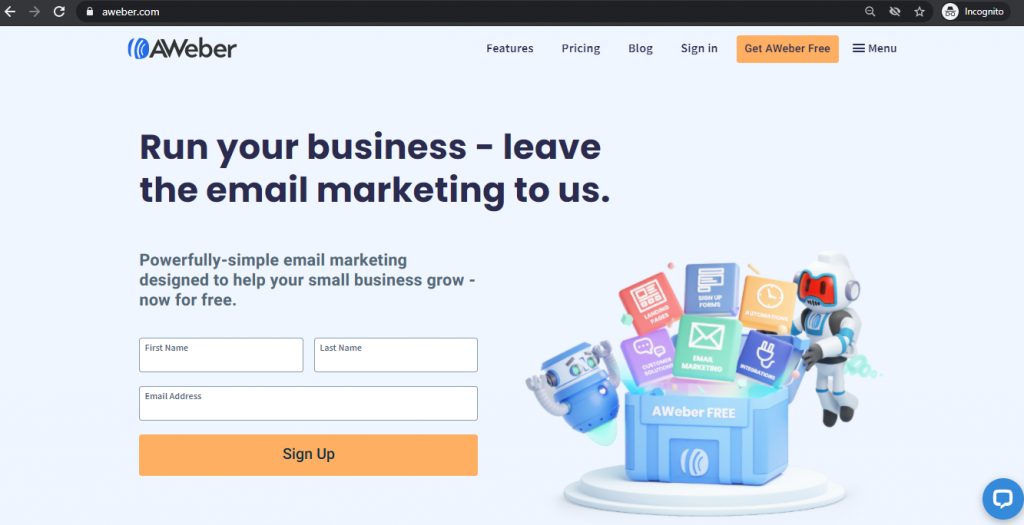 AWeber is an easily navigable email marketing platform best suited for small businesses. However, it lags behind other email marketing software providers in offering advanced templates.
AWeber Key Features
The marketing platform helps create branded emails automatically with its Smart Designer feature.
Supports email automation through automated workflow features and triggers.
Offers pre-built reports containing key performance indicators (KPIs) to measure email campaign performance.
Offers quick subscriber management via list segmentation and targeting.
Can create an email newsletter by using website blog content and then reformatting it via its Blog Broadcast feature.
AWeber Pricing
AWeber's free plan supports up to 500 subscribers and 3000 monthly email sends. Its paid plan starts at $19/month and offers unlimited email sends, subscribers, etc.
Aweber Ratings
Capterra: 4.3/5 (100+ reviews)
G2: 4.2/5 (500+ reviews)
Ideal For
Small businesses, startups, entrepreneurs, online content creators, and nonprofits.
8. GetResponse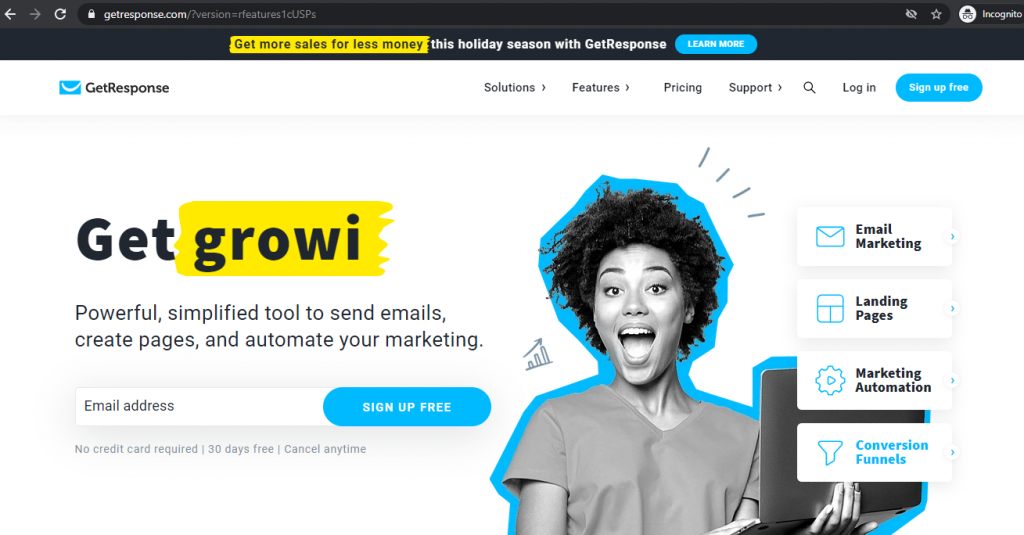 GetResponse is user-friendly email automation and marketing platform packed with several features like customizable templates and advanced segmentation.
However, this Mailchimp alternative doesn't offer two-factor authentication for added security.
GetResponse Key Features
Can share blog posts through emails and on social media via automated blog digest.
Can automate email campaigns using pre-built workflows or automated workflows created from scratch.
Access ready-made and mobile responsive landing page templates via its Landing Page Creator.
Perfect Timing and Time Travel delivery tools to help deliver emails at the right time.
Allows you to install website tracking codes to track website visits and sign ups that come via email links.
GetResponse Pricing
GetResponse's paid plan starts at $15/month for a contact base of 1000 contacts.
GetResponse Ratings
Capterra: 4.1/5 (200+ reviews)
G2: 4.1/5 (600+ reviews)
Ideal For
Both SMBs and large organizations.
9. Mailjet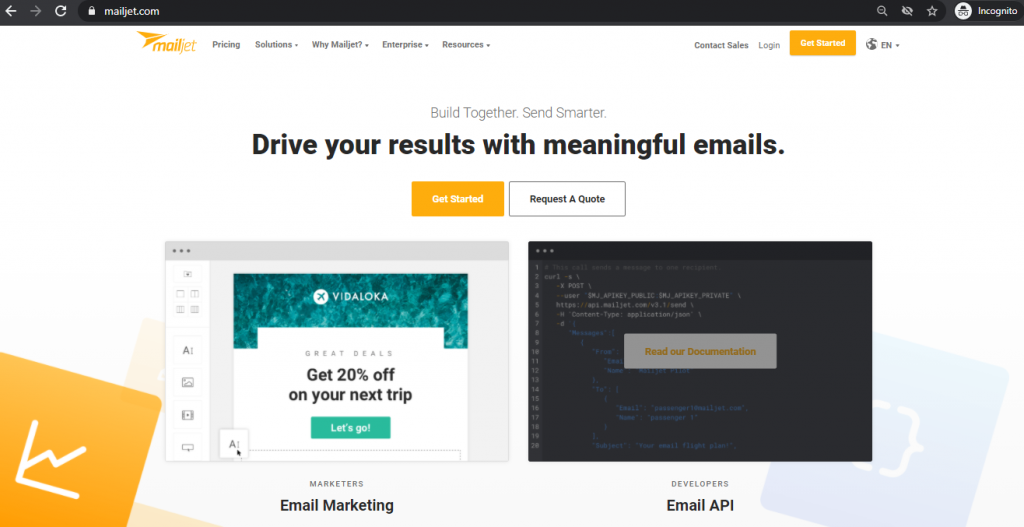 Mailjet enables email marketers to create and send bulk emails through both a free SMTP server and an email API. However, their email marketing automation features can be quite limited.
Check out my detailed Mailjet Review.
Mailjet Key Features
Compiles email performance data including deliverability, unsubscribe, and bounce rates.
Provides a free SMTP server for unlimited email sends.
Includes multi-user access for team collaboration.
Helps obtain customer feedback from web pages through its easily customizable subscriber widget.
The GDPR compliant double opt-in feature helps add website visitors to mailing lists with their consent.
Mailjet Pricing
Mailjet's free pricing plan offers 6000 free emails/month along with 200 daily email sends.
Starting at $9.65/month, its paid plan offers 30,000 monthly emails with unlimited daily email sends and online customer support.
Mailjet Ratings
Capterra: 4.3/5 (300+ reviews)
G2: 4.0/5 (80+ reviews)
Ideal For
Large and small organizations, online stores.
10. Zoho Campaigns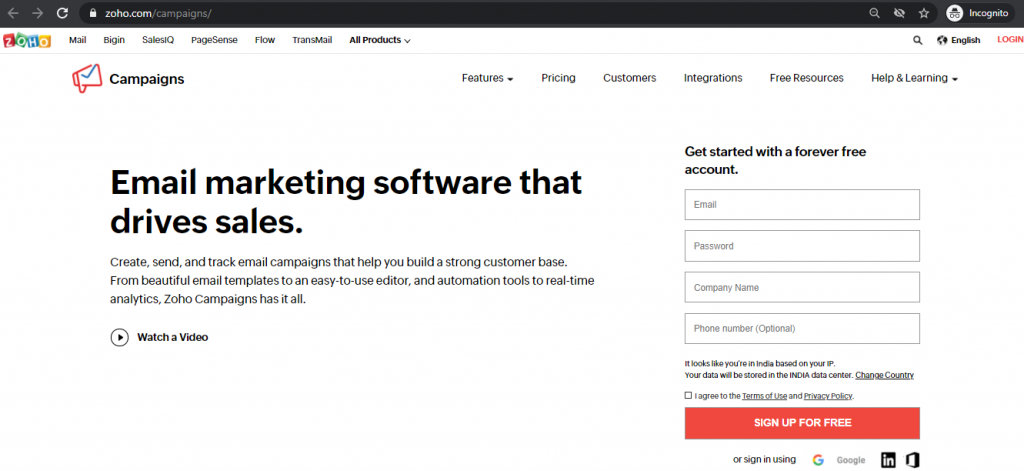 Zoho Campaigns has email marketing features to help improve your marketing game.
The issue is that this email marketing software can take a significant amount of time to get used to.
Zoho Campaigns Key Features
Supports easy subscriber list import from Zoho CRM and Google Workspace.
Supports lead-nurturing, customer engagement, and promotional email automation.
Creates in-depth email campaign reports highlighting clicks, opens, shares, unsubscribe counts, recipients' locations, devices, etc.
Automatically transfers spam addresses to a do-not-mail list.
Has a mobile app for Android and iOS devices.
Zoho Campaigns Pricing
Zoho Campaigns' prices start at $5/month.
Zoho Campaigns Ratings
Capterra: 4.1/5 (170+ reviews)
G2: 4.4/5 (750+ reviews)
Ideal For
Both SMBs and large organizations.
Final Thoughts
Mailchimp may claim to be the "best" all-in-one marketing platform.
But that doesn't make it perfect.
Apart from being an expensive marketing tool, Mailchimp's user interface can be complicated and its email templates require a lot of customizations.
So why settle for an email marketing tool like Mailchimp when the alternatives I mentioned here offer so much more for far less?
And while all these tools have some unique features, GMass is a tool that can suit any email marketer. It's easy to set up and use, and can easily automate your email marketing campaigns to boost overall email productivity.
So why not give GMass a try today to enhance your email marketing experience?
See why GMass has

300k+

users and

7,300+

5-star reviews

Email marketing. Cold email. Mail merge. Avoid the spam folder. Easy to learn and use. All inside Gmail.

TRY GMASS FOR FREE

Download Chrome extension - 30 second install!
No credit card required
Love what you're reading? Get the latest email strategy and tips & stay in touch.