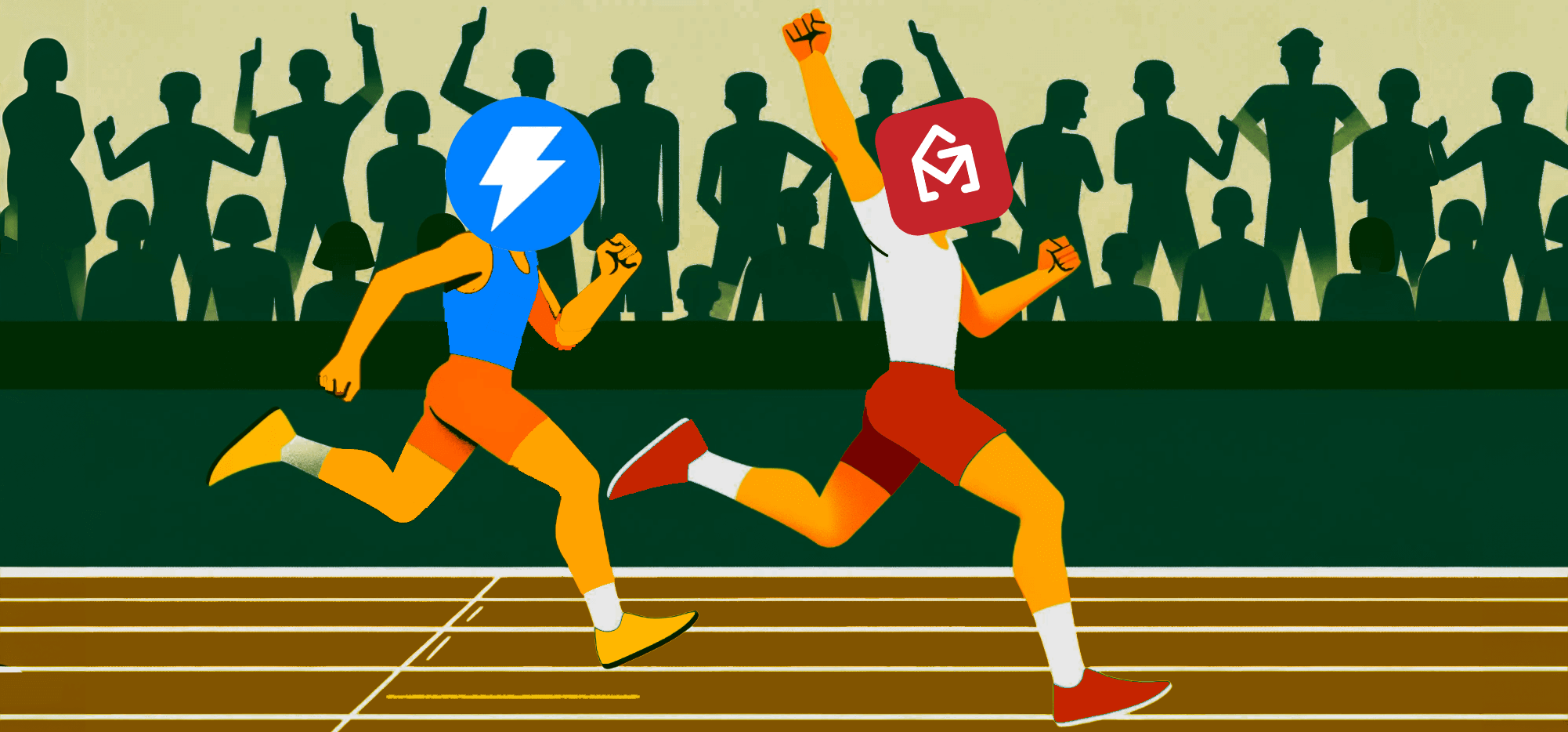 If you're deciding between GMass vs Instantly, here's everything you could possibly need to know.
GMass and Instantly are two popular cold email platforms — though there are some significant differences between them.
In this article, I'll go through all of the major differences between GMass and Instantly so you can better understand what you'll get from each service.
To address the elephant in the room: Yes, you're reading this on the GMass website. However, if anything, that made me work harder on my research for the sake of accuracy and credibility. I wanted to make sure everything I say here is fair and honest — and that everything you read here will accurately match your future experience with the platform you choose.
Let's compare GMass and Instantly, hands-on.
GMass vs Instantly: Table of Contents
A Quick Overview of GMass and Instantly
About GMass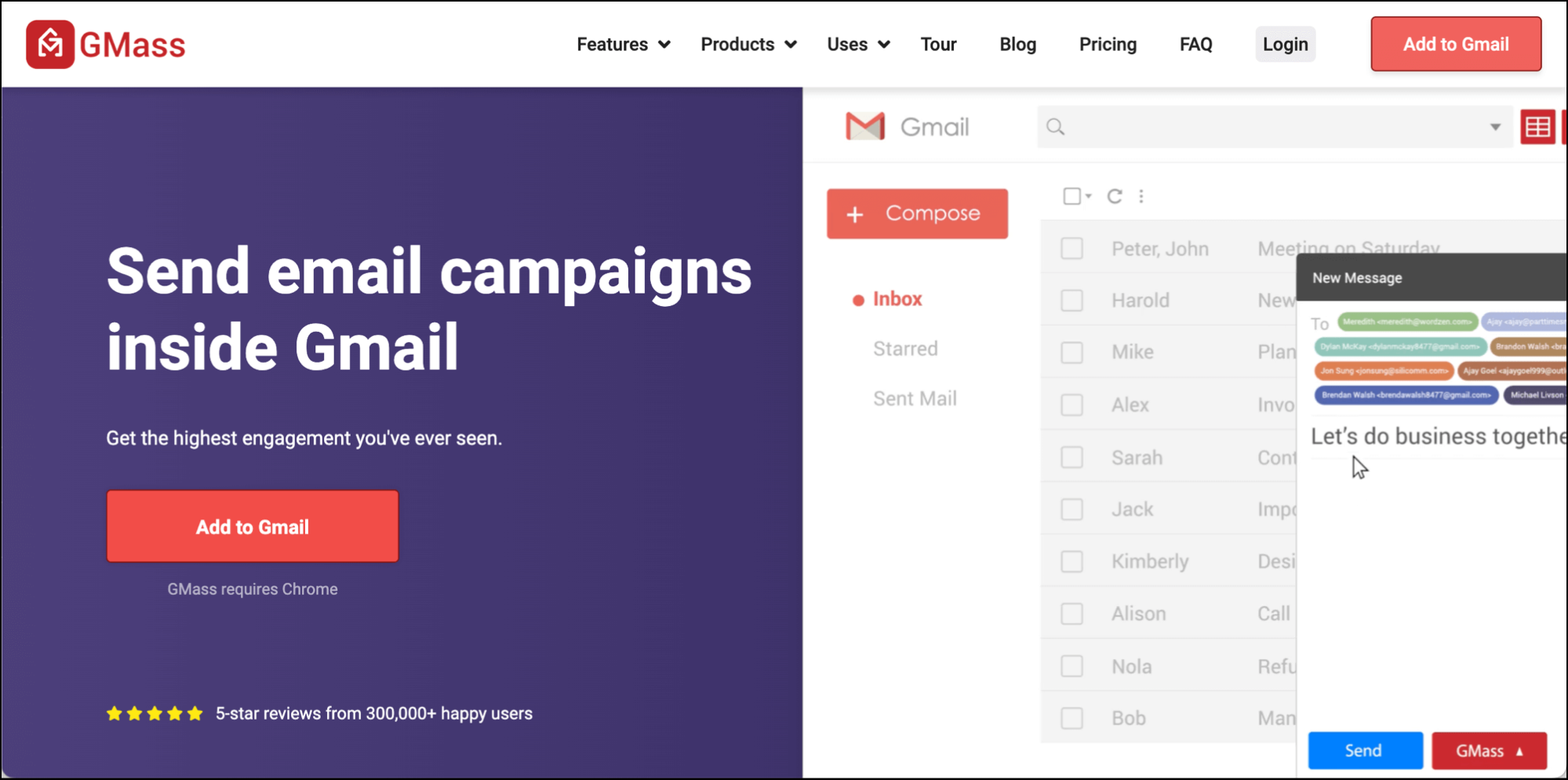 GMass pioneered the idea of sending email campaigns through Gmail — in fact, a lack of such a tool is what sparked the idea for GMass in 2015.
Since its launch, GMass has been a major name in the cold email and mail merge world.
GMass has more than 300,000 users and a 4.8/5-star rating after more than 7,700 reviews.
GMass works via a Chrome extension; all campaign creation and sending happens inside of Gmail itself. Your emails are sent using the Gmail API for reliability and deliverability.
About Instantly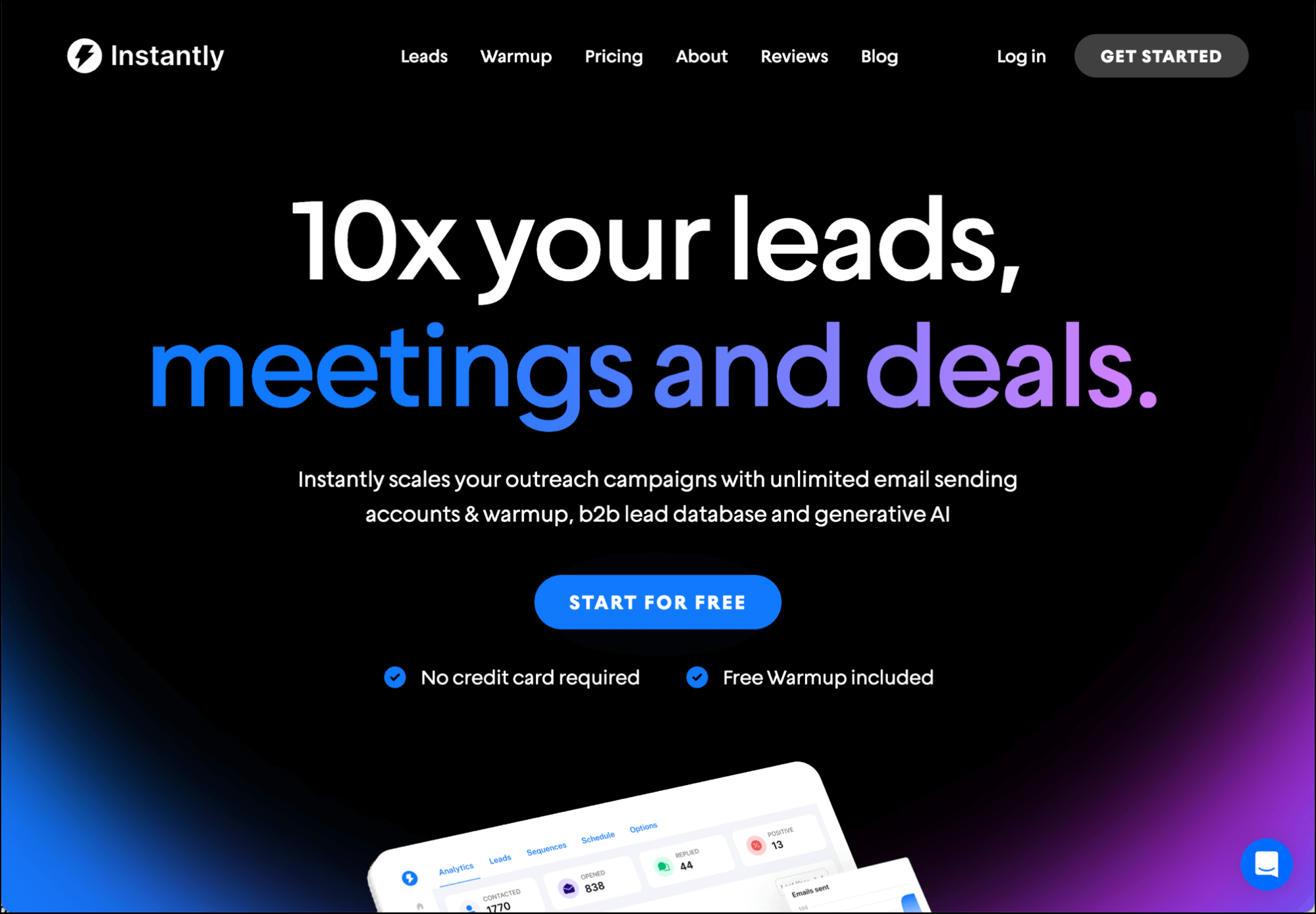 Instantly.ai was founded by a team of lead gen marketers in 2021. Their big hooks were a low-cost lifetime deal on AppSumo (which is no longer offered) as well as the ability to distribute a single email campaign across multiple accounts for one price.
With that, they attracted an early audience of cold emailers who had a habit of "burning" domains — that is, expecting their accounts to eventually be flagged as spam — and wanted to cycle through as many domains as possible at a fixed cost.
Instantly has its own platform and interface (you send campaigns by going to your account on their website). It sends your emails using IMAP, which allows them to connect to both Gmail and non-Gmail platforms, but has higher instances of account disconnections and deliverability issues.
GMass vs Instantly: Feature Comparison Table
What GMass Does Better and Different Than Instantly
GMass uses OAuth to connect additional sending accounts securely, quickly, and reliably; Instantly uses IMAP and workarounds
This is important: GMass offers you the ability to distribute your campaign across multiple email accounts for a single price, just like Instantly.
But the process of connecting your accounts to GMass is more reliable, secure, and intuitive than the process with Instantly.
With GMass, you enter an additional account you want to connect to your main account. The Google OAuth pop-up has you enter your password for that account, then GMass asks for the necessary permissions to send. And… that's it.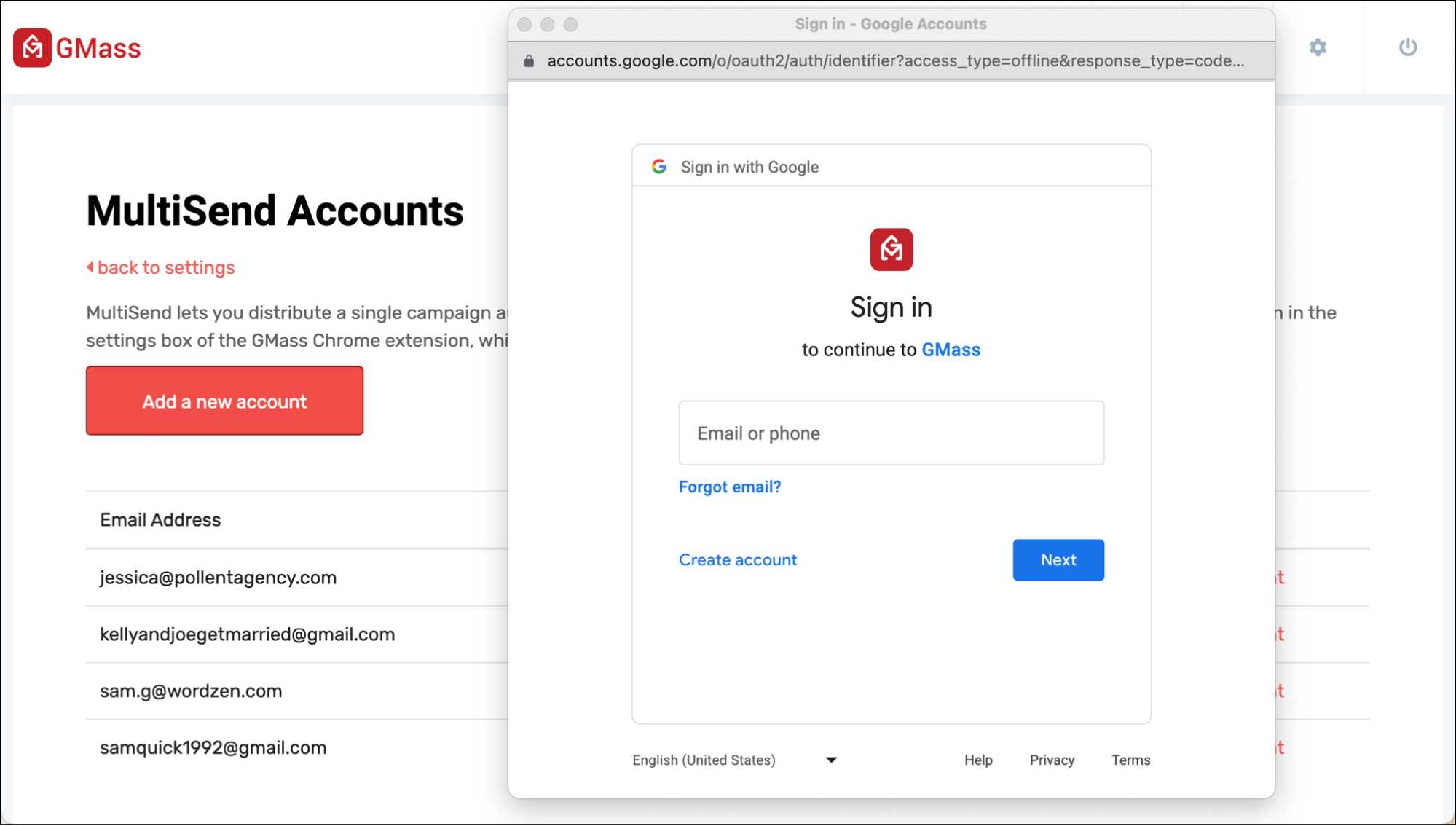 The Instantly process requires enabling IMAP for every single additional account individually.
Then you have to decide if you want to connect via OAuth or using an app password.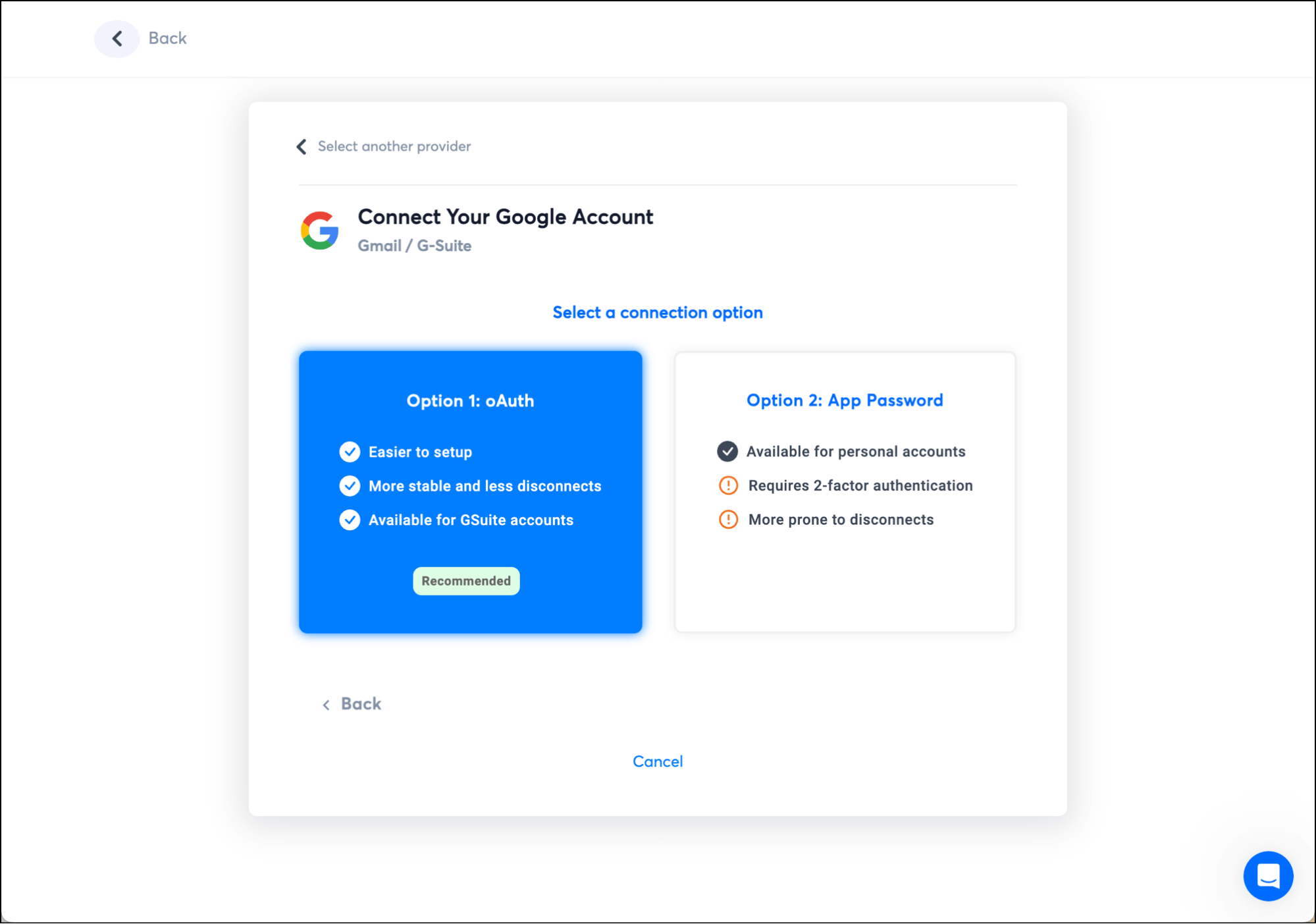 OAuth is the more secure choice. But… since this is happening through IMAP and not the Gmail API, there are lots of extra steps. You need to go to your Google Workspace admin panel (assuming you have those permissions) and add Instantly as an app. THEN you can connect it.
Also, OAuth is only available for paid Google Workspace accounts, not free gmail.com accounts.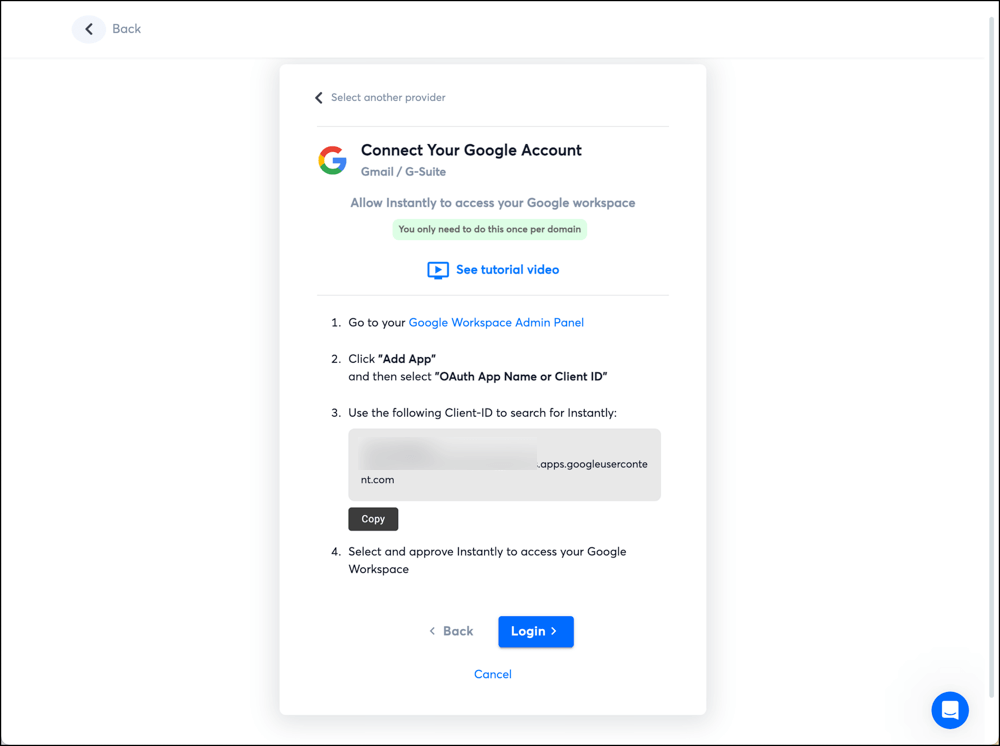 If you use the app password route, you need to set up two-factor authentication for the account and go through a multi-step process of generating and entering a password. Also, along the way you need to ignore the warnings you'll get from Google about how what you're doing is risky.
And after all that… app password connections are less stable and the accounts are more likely to get disconnected.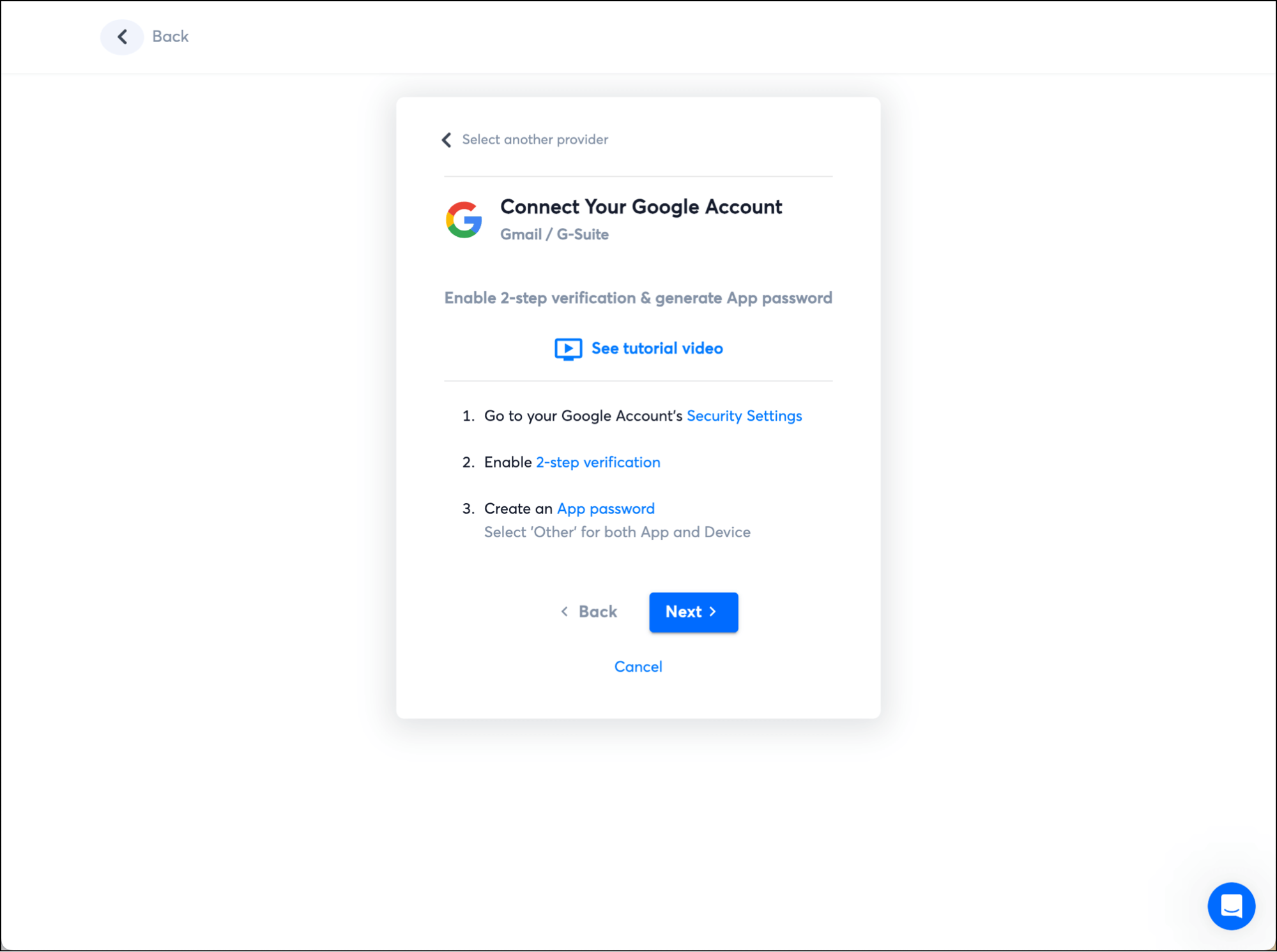 Instantly knows frequent disconnections are a potential issue — "Reconnect account" is one of the options built into their dashboard.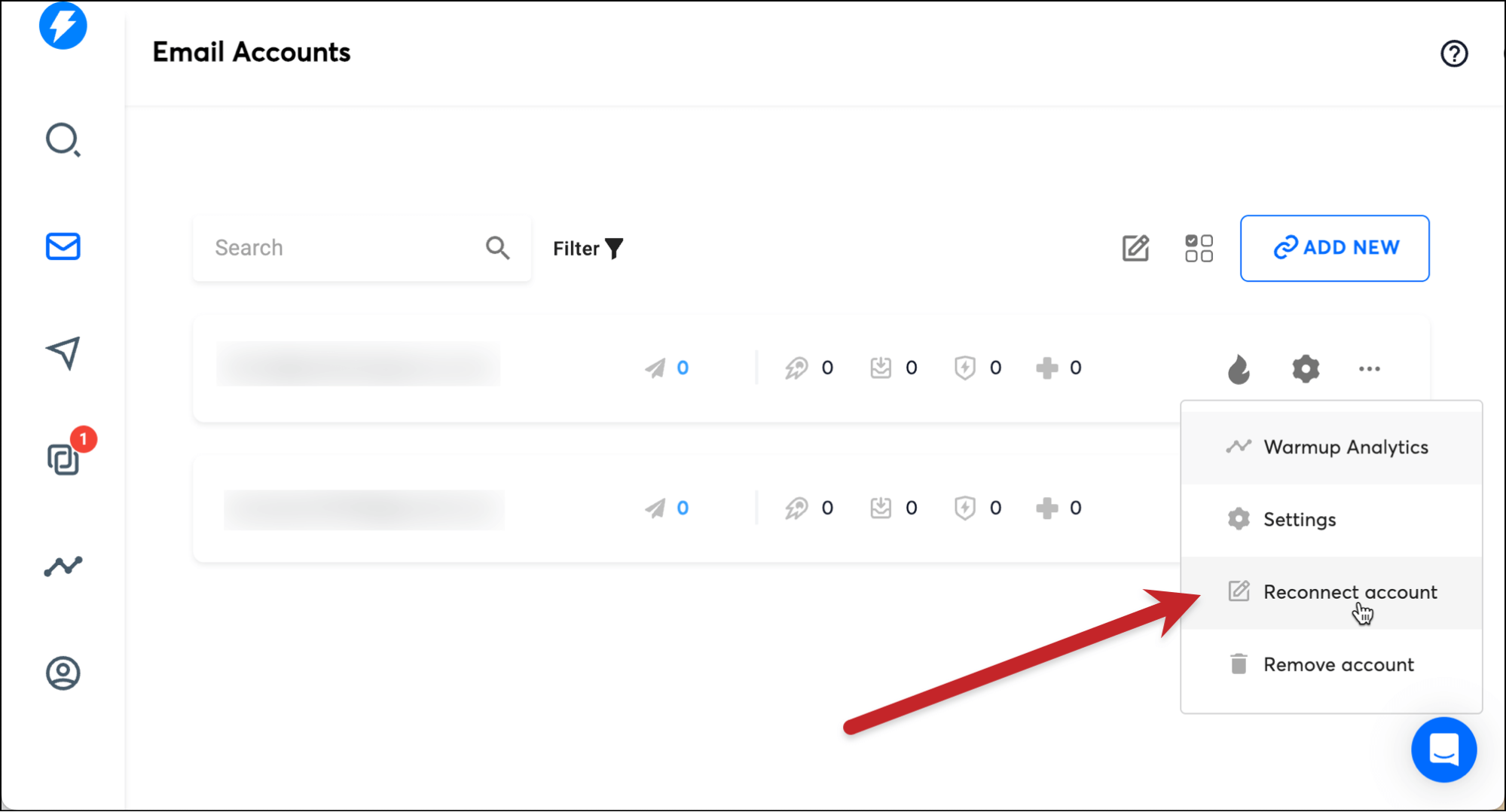 GMass's method takes a fraction of the time and creates much more stable and secure connections for your accounts.
GMass has a much faster process of connecting additional sending accounts
As I've just covered, adding each additional sending account to GMass takes maybe 20 seconds. Adding each additional sending account to Instantly takes at least a few minutes.
The Instantly process is so time consuming we see people regularly looking to hire someone to set up all their email accounts in the system. That's not necessary for GMass.
GMass has instant reply detection so you know the moment an interested lead replies; Instantly's reply detection can take hours
GMass instantly (no pun intended) detects when someone replies to your campaign or when an email bounces.
With Instantly, the detection process can take "anywhere from a few minutes to a couple of hours" according to their documentation. (I've confirmed this with my own testing as well.)
With instant reply detection, your campaign stats are always accurate and GMass's unified inbox has all your replies ready for responses.
After all, how fast you respond to prospects when they're already engaged and thinking about you can make or break deals.
At Instantly, you'll be waiting on replies — and waiting to send responses to interested and engaged leads if you're using their unified inbox on their most expensive plan.
GMass's instant reply detection also enables you to use triggered emails, which automatically go out when someone replies. You can send the triggered email immediately or with an intentional delay.
GMass stops sending from an email account as soon as it hits its Gmail limit; Instantly does not have instant bounce detection to do so
GMass also has instant bounce detection, which Instantly doesn't.
Instant bounce detection is indispensable for distributed email campaigns. Because: If one of your connected accounts starts bouncing emails (likely because it's over its Gmail daily send limit), you need to stop sending from that account.
GMass will immediately re-route your emails to another one of your connected accounts once an account starts bouncing. Instantly doesn't have instant bounce detection, so it won't be able to do that.
Instantly might send dozens (or hundreds, maybe even thousands) of emails to an address before it detects those messages are all bouncing.
With GMass you can send unlimited emails to unlimited contacts; all Instantly plan have caps on emails and contacts
Instantly puts caps on its plans.
With Instantly's Growth plan, you're limited to 1,000 contacts and 5,000 emails per month. With Instantly's Hypergrowth plan, you're limited to 25,000 contacts and 100,000 emails per month.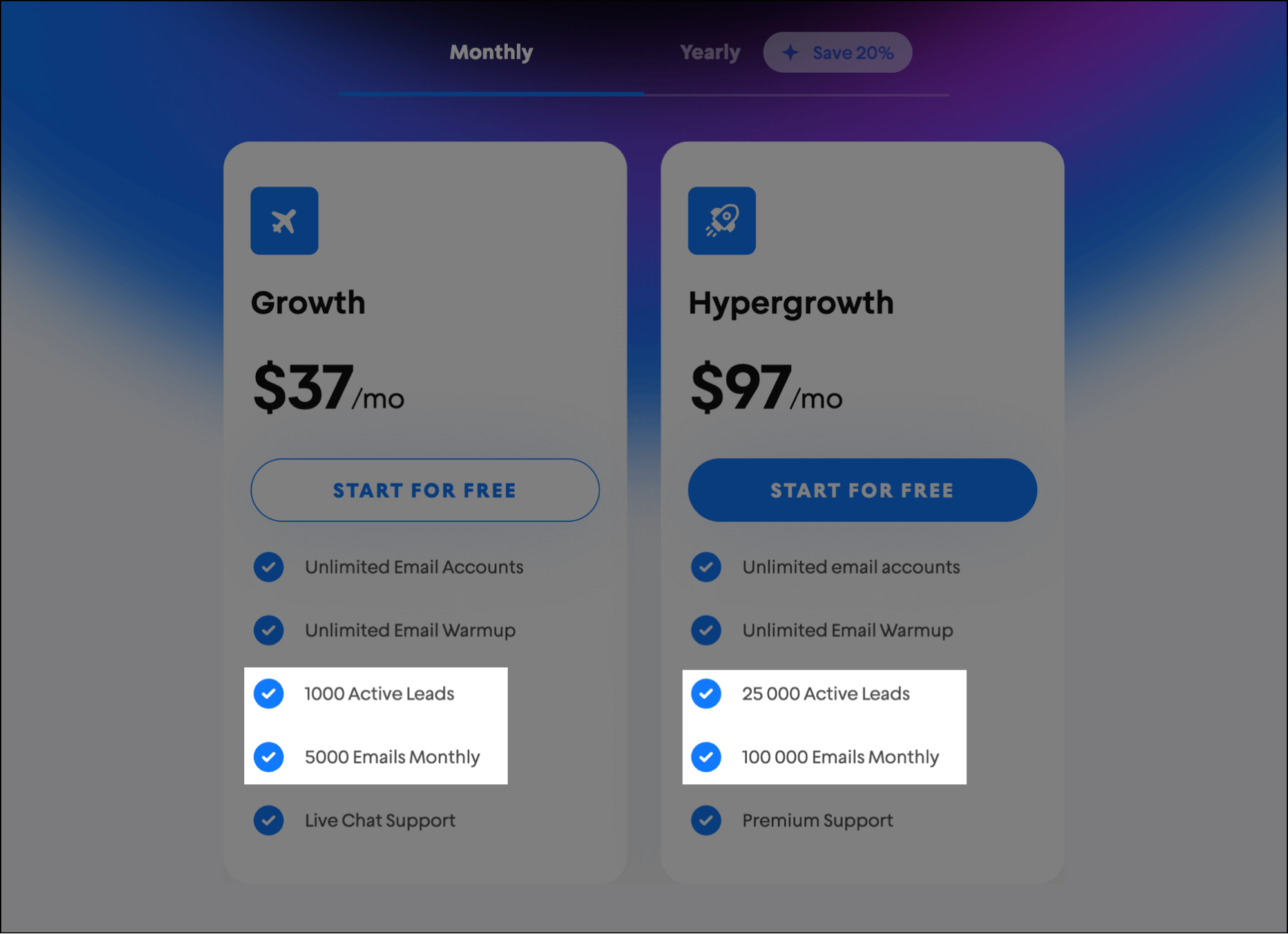 GMass offers unlimited contacts and unlimited emails on all paid plans.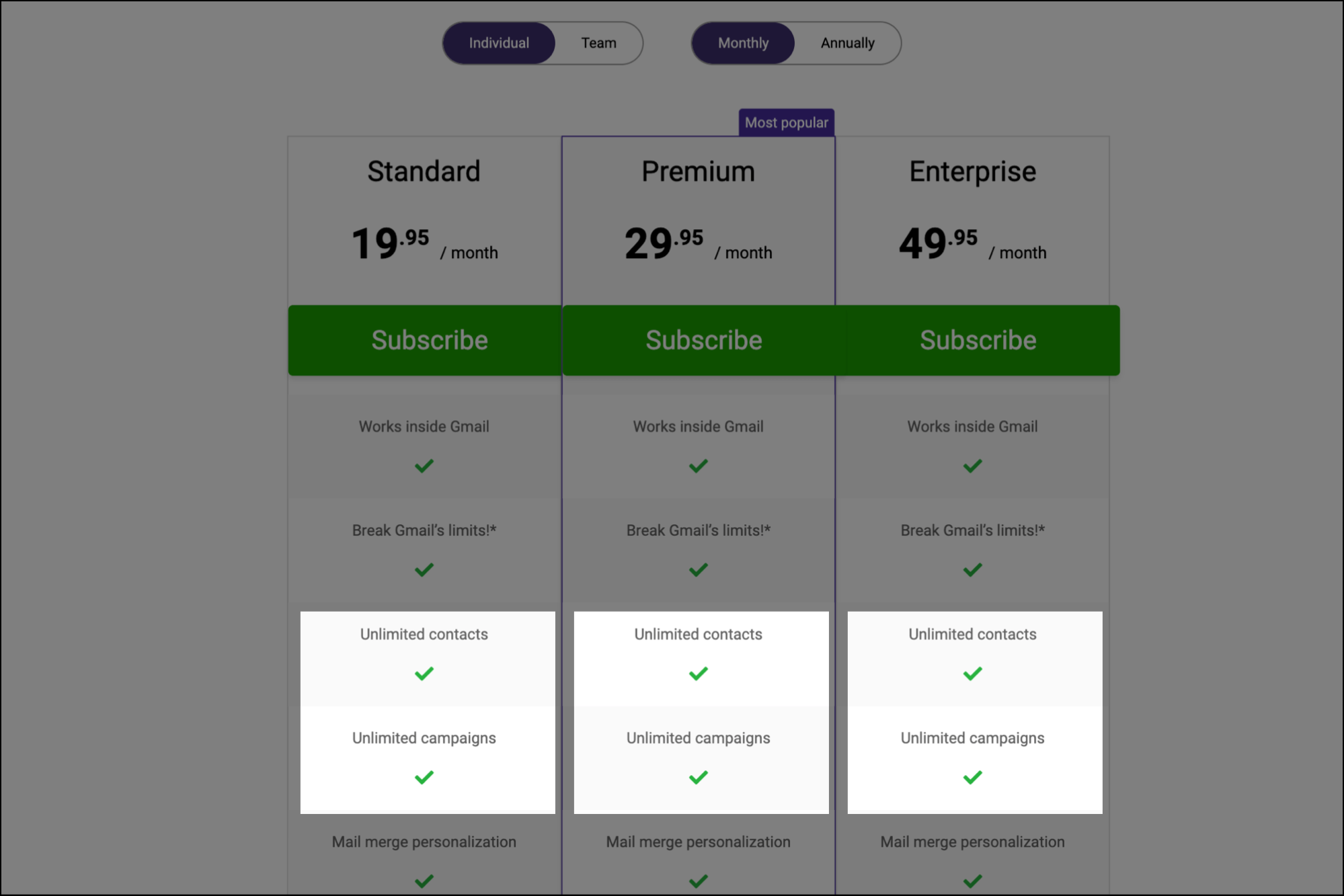 (You're subject to Google's daily sending limits, of course — but since you're distributing a campaign across multiple accounts, you really can send without any limits. Or, if you just want to use just one email account with GMass, you can connect an SMTP server to break Gmail's limits. Instantly does not offer a third-party SMTP option.)
GMass's pricing is lower than Instantly's and gives you more
GMass is far more cost effective than Instantly.
Instantly's plans cost $37/month or $97/month (or, if you pay annually, $30/month or $77.60/month). Both plans put limits on your contacts and number of emails.
And the $37/month plan does not include some of the fundamental features of Instantly, like a block list, A/B testing, the ability to invite team members to your account, and their unified inbox and lite CRM.
Basically… you're in for $97 per month.
GMass's plans cost $19.95/month, $29.95/month, or $49.95/month (or, if you pay annually, $16.58/month, $24.91/month, or $41.58/month). Those come with unlimited contacts and email sends, plus all of GMass's other features.
You get every GMass feature at the $29.95 plan.
That means you're likely going to spend about $67 less per month on GMass than you are on Instantly.
Note: Instantly's plans include email warmup. GMass does not offer email warmup, as it violates Google's policies. We'll cover more on the relevance of automated warmup services in modern email later in this article. But… is email warmup really worth spending an extra $800 per year? Especially since Instantly limits you on the number of emails you can send?
GMass works much, much better for teams; Instantly is set up for one person (or teams with no privacy)
Though both GMass and Instantly offer inbox rotation across unlimited sending domains, in both cases, those plans are really only meant for one main sender.
GMass offers team plans where each team member can use their own Gmail/Google Workspace account to initiate campaigns. (And the accounts don't have to be on the same domain.)
Team members can share templates, unsubscribe lists, and bounce lists. And a team leader can easily manage all the accounts and check campaign performance.
Each of the accounts on a team plan is paid, though you get a price break as you add team members. For instance, for five team members, each premium account is $25, which is lower than the individual price of $29.95. For 25 team members, each premium account is $19.80.
Instantly takes a different approach. In Instantly, you invite team members into your account with different permissions.
So you're all sharing the same inbox and connected accounts. You would all be accessing the emails together inside that account, initiating campaigns together, and spreading your campaigns across each other's addresses.
If you want team members to be able create their own campaigns or if you're an agency and you want to invite different clients to access different email accounts, that requires a separate subscription. There's no team plan price break on those.
And you can't share leads, campaign templates, stats, unsubscribe lists, or bounces across those subscriptions. You can't even have a sending email address in common across those subscriptions.
It's possible this is how some sales teams want to operate, with completely shared emails and everyone initiating campaigns together.
But in our experience, most sales team members like to send their own emails and have some degree of privacy with their email accounts and business relationships.
Either way, it's probably going to take multiple paid accounts on either service if you're running a legit sales team — but GMass is built for more logical and practical team management and performance.
GMass has a smoother campaign creation and sending workflow
GMass works inside Gmail.
You don't have to log into another website to send campaigns. You connect a Google Sheet and GMass automatically finds your merge variables. You use the regular Gmail compose window to type up your campaign, and there's one settings box you can access to tweak your campaign to your specifications.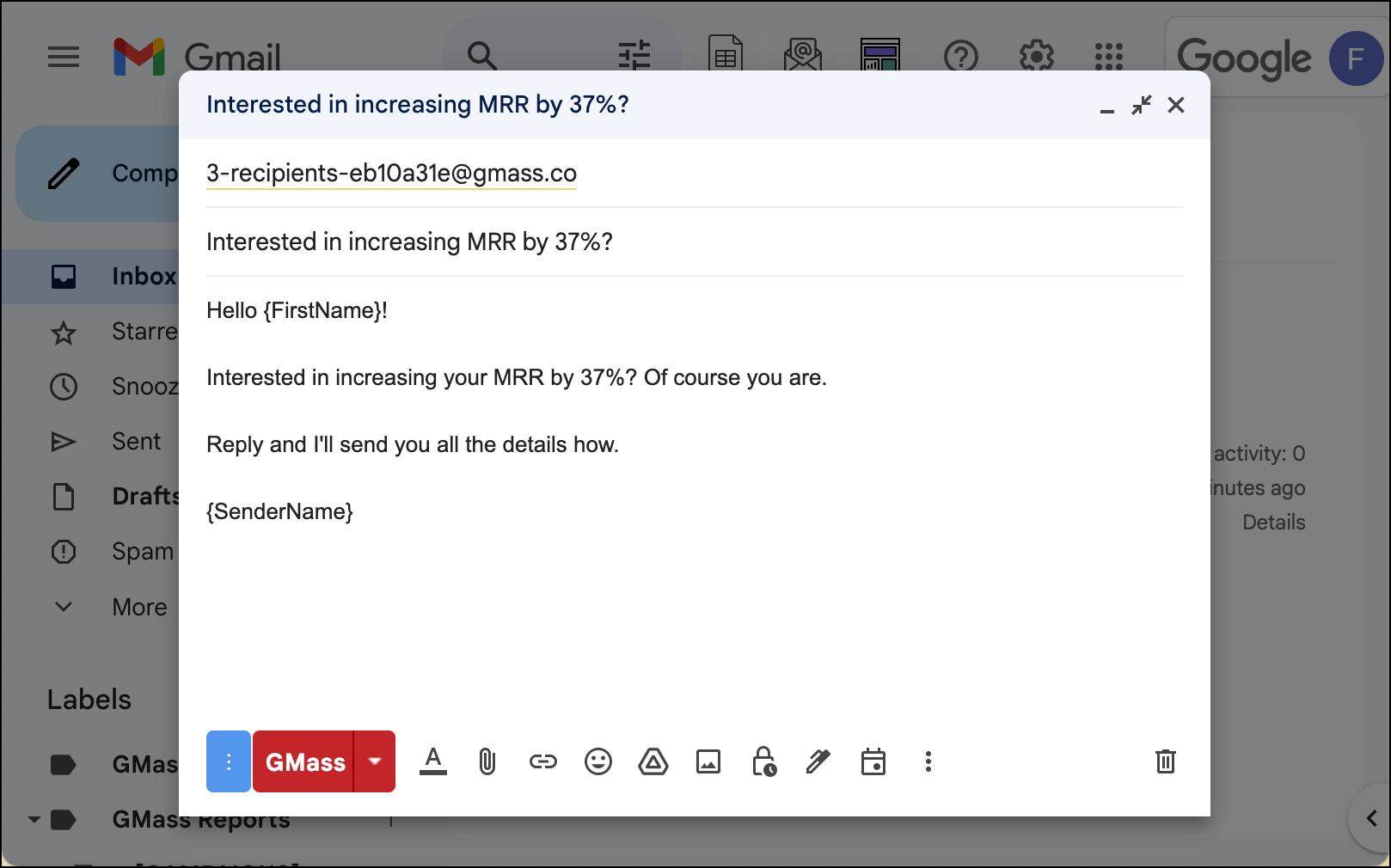 By working inside Gmail, it doesn't "feel" like a process to use GMass. GMass merges right into your sending workflow. It's why lots of GMass users send all their emails through GMass — it's easy and super fast.
Instantly does not work inside Gmail, you go to their website.
You upload contacts then have to manually assign merge variables. There's a four-tab process involving their own compose editor, different settings on different screens, and, oddly, a button to "Resume campaign" rather than "Send campaign."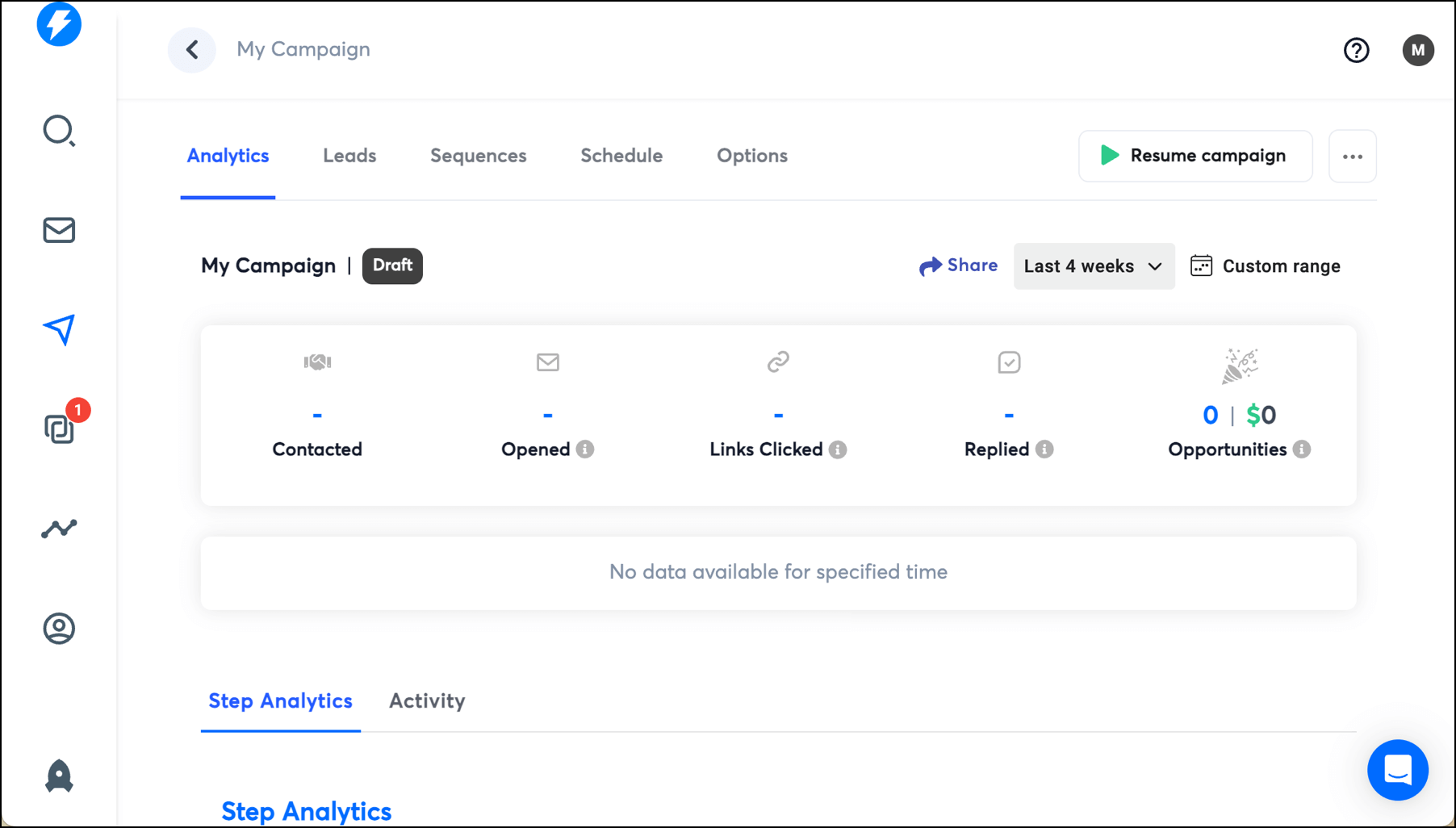 You've got to remember to save your progress a lot along the way or your campaign won't work and you'll get an ambiguous error message.
Also, with Instantly, you have to add sending accounts in a separate area, outside of your campaign creation process. In GMass, you have the option to add new sending accounts right from a campaign's settings.
In GMass you connect a Google Sheet (and do so without making it public); Instantly is a one-time upload of a public Google Sheet
Your contact lists for a campaign are not always finite at the moment you start a campaign.
When you're adding contacts from a Google Sheet to a campaign in Instantly, you have to make the Google Sheet public, then paste in the public link. Instantly then uploads your contacts from the Sheet — it's not having any back-and-forth with the spreadsheet.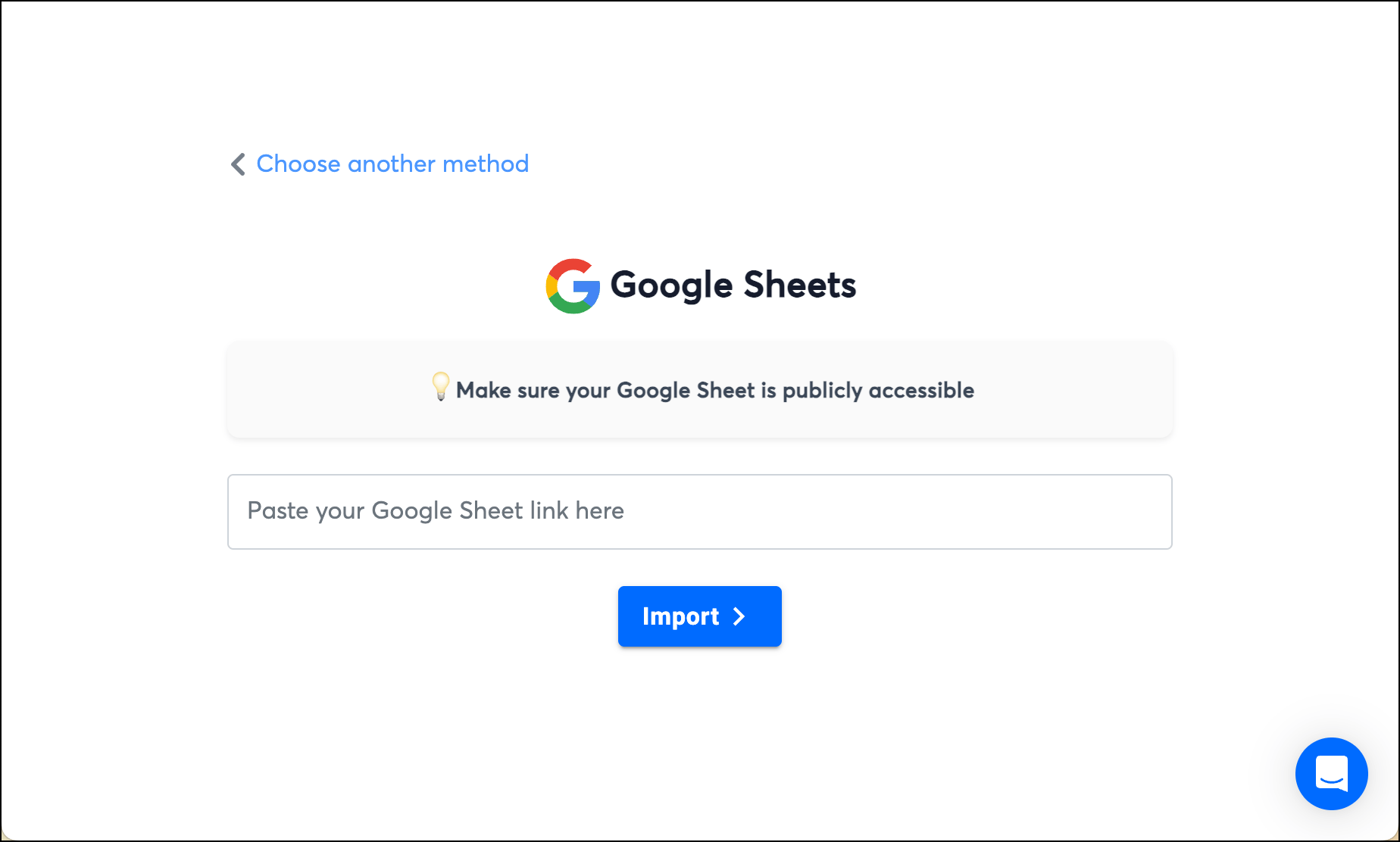 GMass's approach is different. GMass has a native Sheets integration where you connect the Sheet, not upload it.
So if you want to turn your campaign into a recurring campaign — say, you want GMass to send it whenever you add a new contact to the Sheet — GMass can do that automatically.
Also, with GMass, you're not making your sheet of contacts public. It can stay securely in your Google account.
One more thing: After you upload contacts to Instantly, there's an extra step of naming your different mail merge variables. GMass automatically makes the column headers in your Google Sheet your mail merge variables, saving you that step.
GMass is better for people who don't want to get neck deep in DNS records and worry about SPF, DKIM, and DMARC
We recommend you set up DMARC if you're sending emails through your own domain in Google Workspace. But there are lots of GMass users who don't set it up — and they're usually fine.
Also, Google essentially takes care of other email authentication protocols like SPF and DKIM for you if you're on a free Gmail account. If you're on a paid Google Workspace account, they take care of DKIM (you can set up SPF yourself).
But… there are plenty of people who do not and don't run into trouble. Lots of GMass users never manually touch their SPF and DKIM settings. I've talked to plenty who don't even know what those are.
Instantly, on the other hand, has a section in their Instantly Accelerator onboarding program where they have everyone set up SPF, DKIM, and DMARC at their domain registrar or DNS provider for every single sending account. Much of this is overkill and, again, adds a ton of time to the setup process.
It's also intimidating for less technical users.
GMass has smarter (and automatic) bounce management which you can share with your team; Instantly's process is manual and not shared
GMass has some of the smartest bounce management you'll find on any email platform — because you don't have to do anything.
If an email bounces, GMass will automatically add that address to your bounce list. You don't have to bother removing the address from your contact lists; anytime you try to email it in a future campaign, GMass will automatically suppress that message. (You can always override that setting if you want, though.)
Also, GMass's global bounces allow you to automatically share bounces with everyone on your team and/or Google Workspace domain.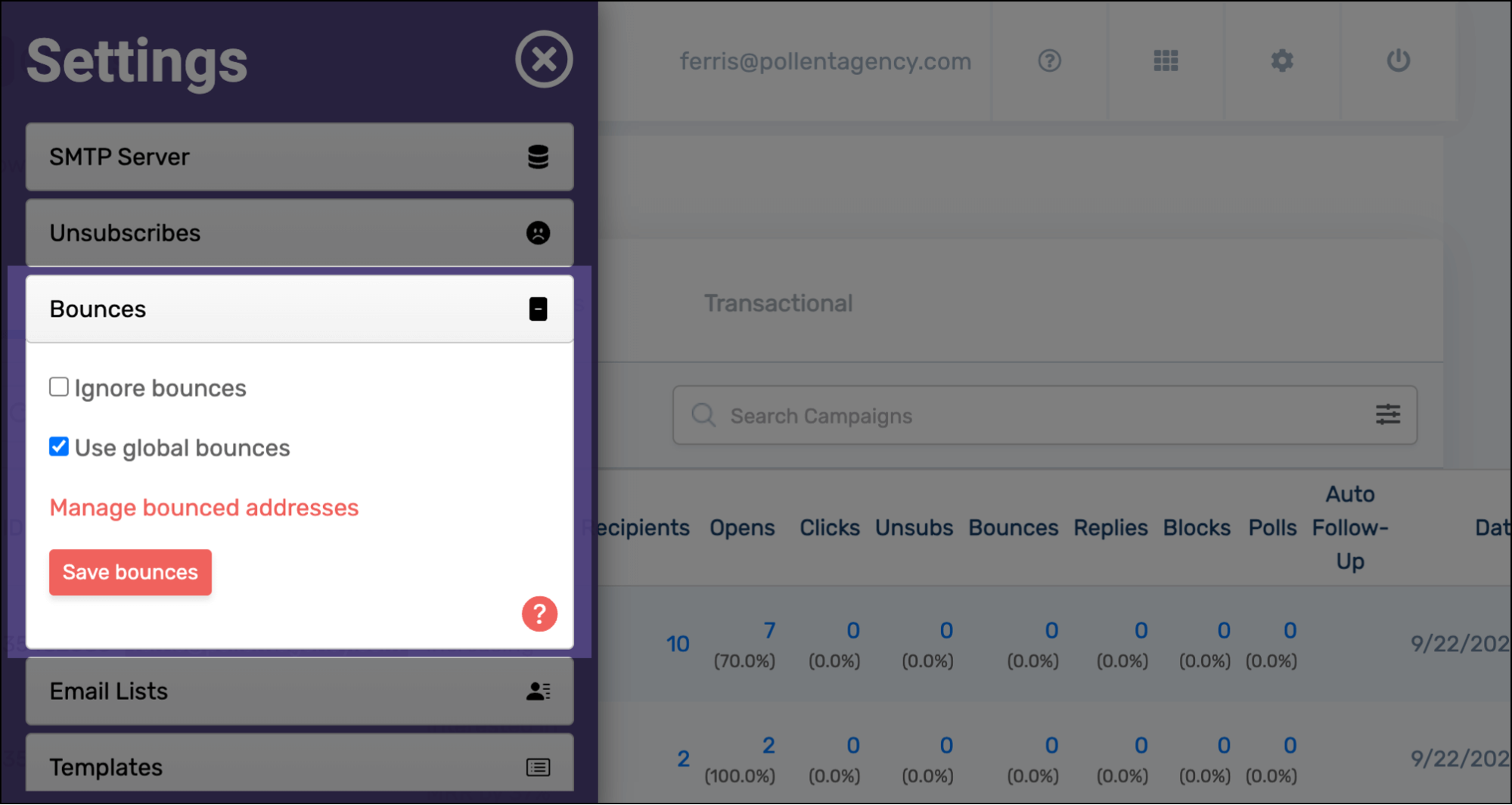 Instantly does not have automatic bounce management. They tell you to download your bounces from every campaign you send, then manually upload them to your account's block list.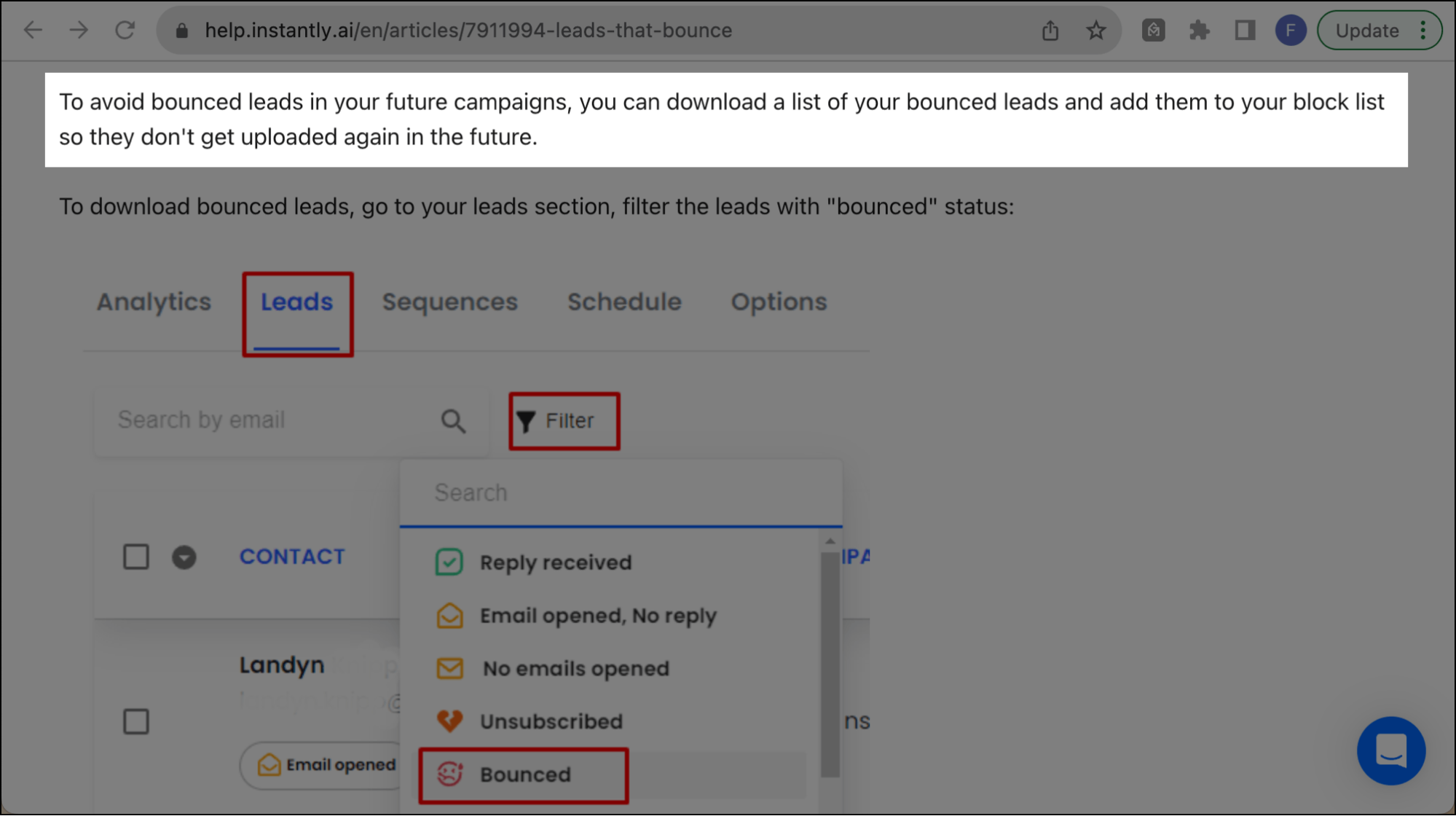 And there's no way to share your block list with your team unless they also manually upload your bounce lists to their account.
GMass has smarter (and automatic) unsubscribe management which you can share with your team; Instantly's process is manual and not shared
GMass's unsubscribe management works much like bounce management. When someone clicks an unsubscribe link in your message, they're automatically added to your unsubscribe list. GMass will suppress any future emails you try to send to them in any campaign.
And GMass has global unsubscribes, where you can share unsubscribes across a team and/or Workspace domain.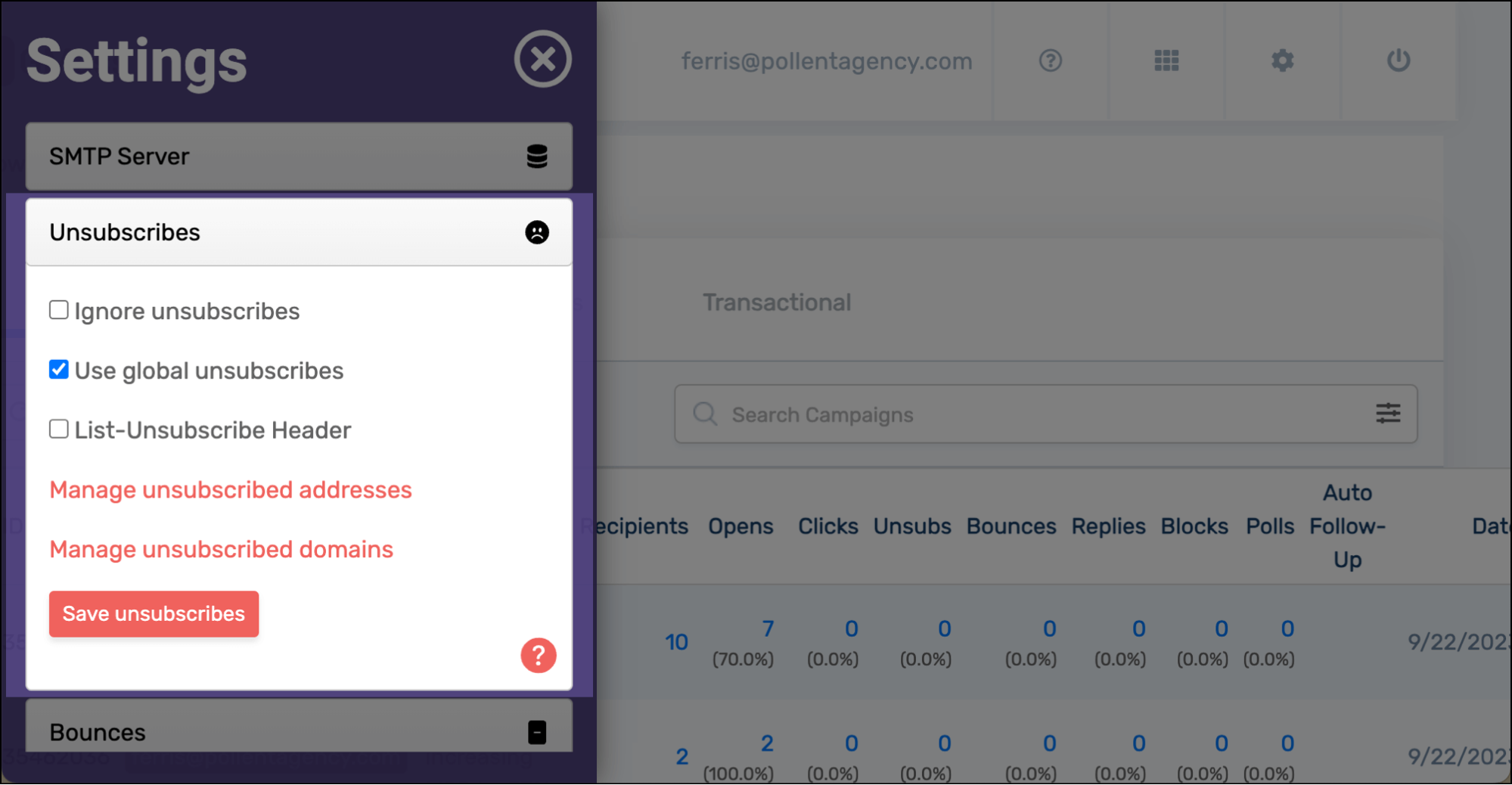 Instantly once again does not have any unsubscribe management. If someone clicks an unsubscribe link in one of your messages, they're only unsubscribed from that specific campaign and its follow-ups.
If you want to remove them from all future campaigns, it's a manual process of either clicking each person who unsubscribed and choosing to add them to your blocked list or tagging them all as Unsubscribed and then moving them to that list in bulk.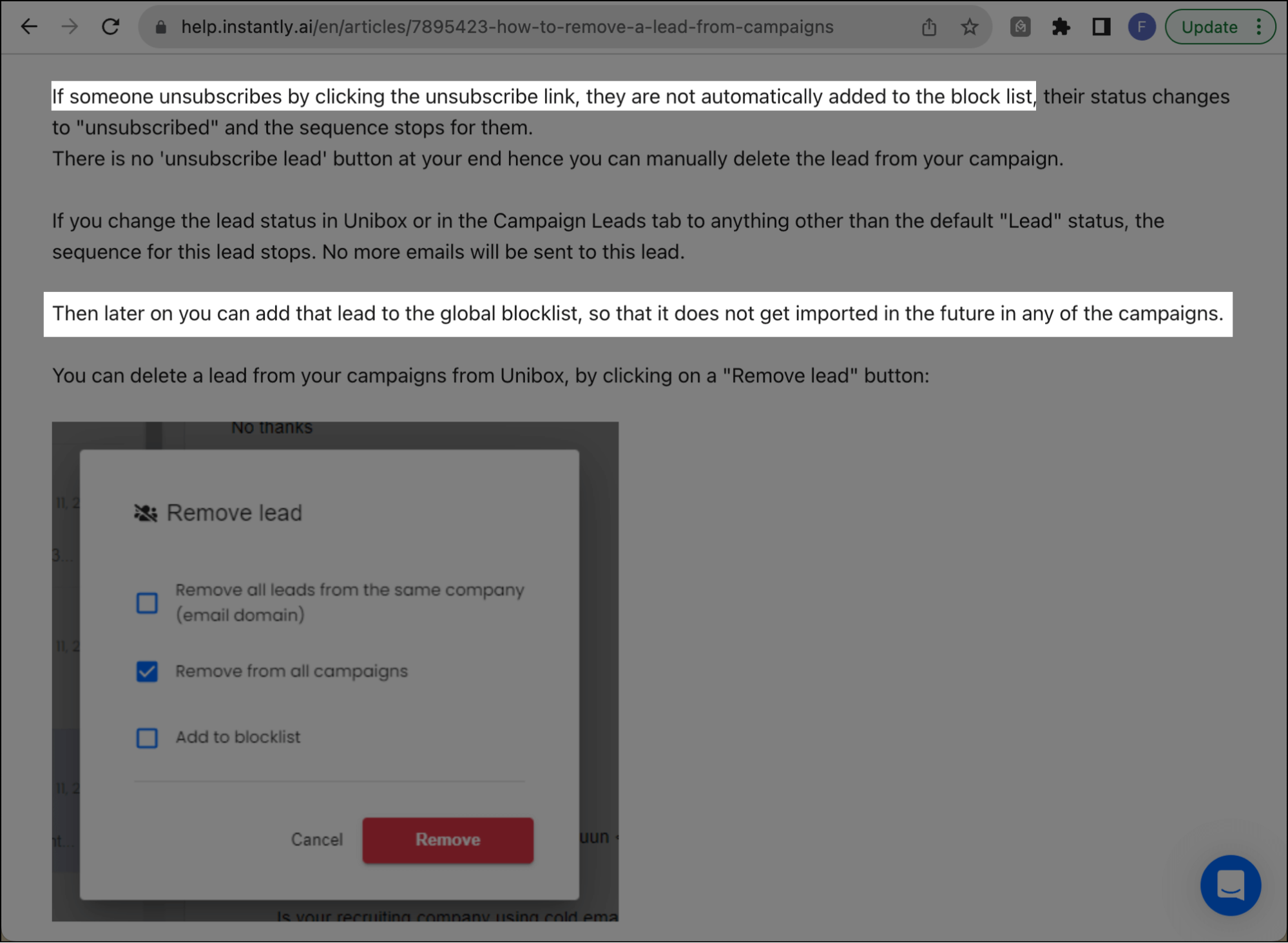 Cold email isn't supposed to be spam. GMass's features are much more focused on making sure you don't become a spammer.
Automatic bounce and unsubscribe management make it far easier — and far more likely — you and your team won't email bouncing addresses or contacts who've opted out.
GMass has its Spam Solver tool to diagnose problems before you send; Instantly does not have any equivalent
Instantly generally offers one piece of advice on avoiding spam with your campaigns: Send them as plain text. Sure, you miss out on tracking, formatting, and everything else you get with HTML… but still, they encourage you to send plain text.
Having sent more than 6 billion emails over GMass's eight years — we know people don't want to always and dogmatically send plain text emails.
Plus, we know there are plenty of other possible reasons why your emails might go to spam.
GMass's Spam Solver tool is built right into the settings box to help you.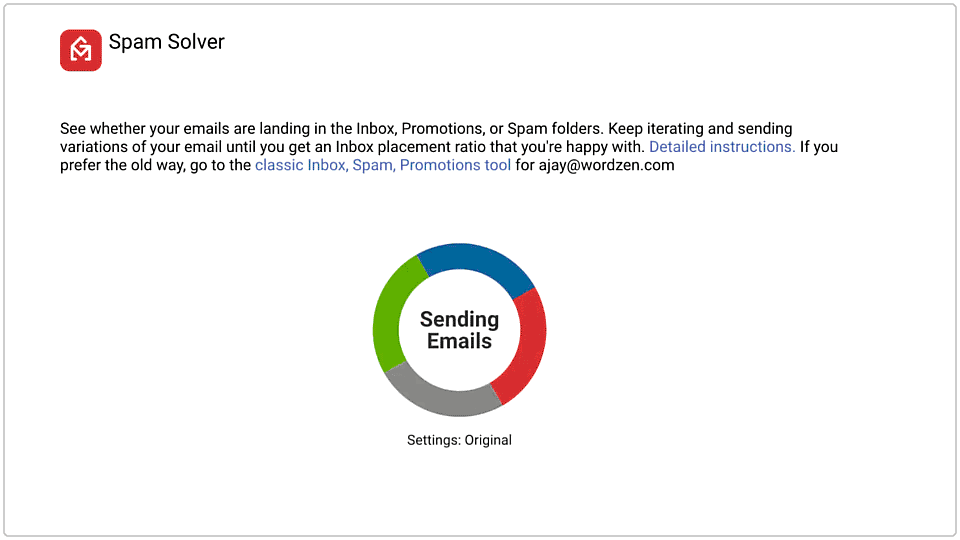 When you run your campaign through Spam Solver, GMass tests it by sending it to around 20 of our seed accounts, where we can monitor if you wound up in the inbox or not.
And if not… Spam Solver has recommendations you can try, then re-test until you're hitting the inbox every time.
GMass has built-in email verification; Instantly does not
Email verification is built right into the GMass settings box. When you enable it, GMass checks every address on your list before it sends your campaign to that address.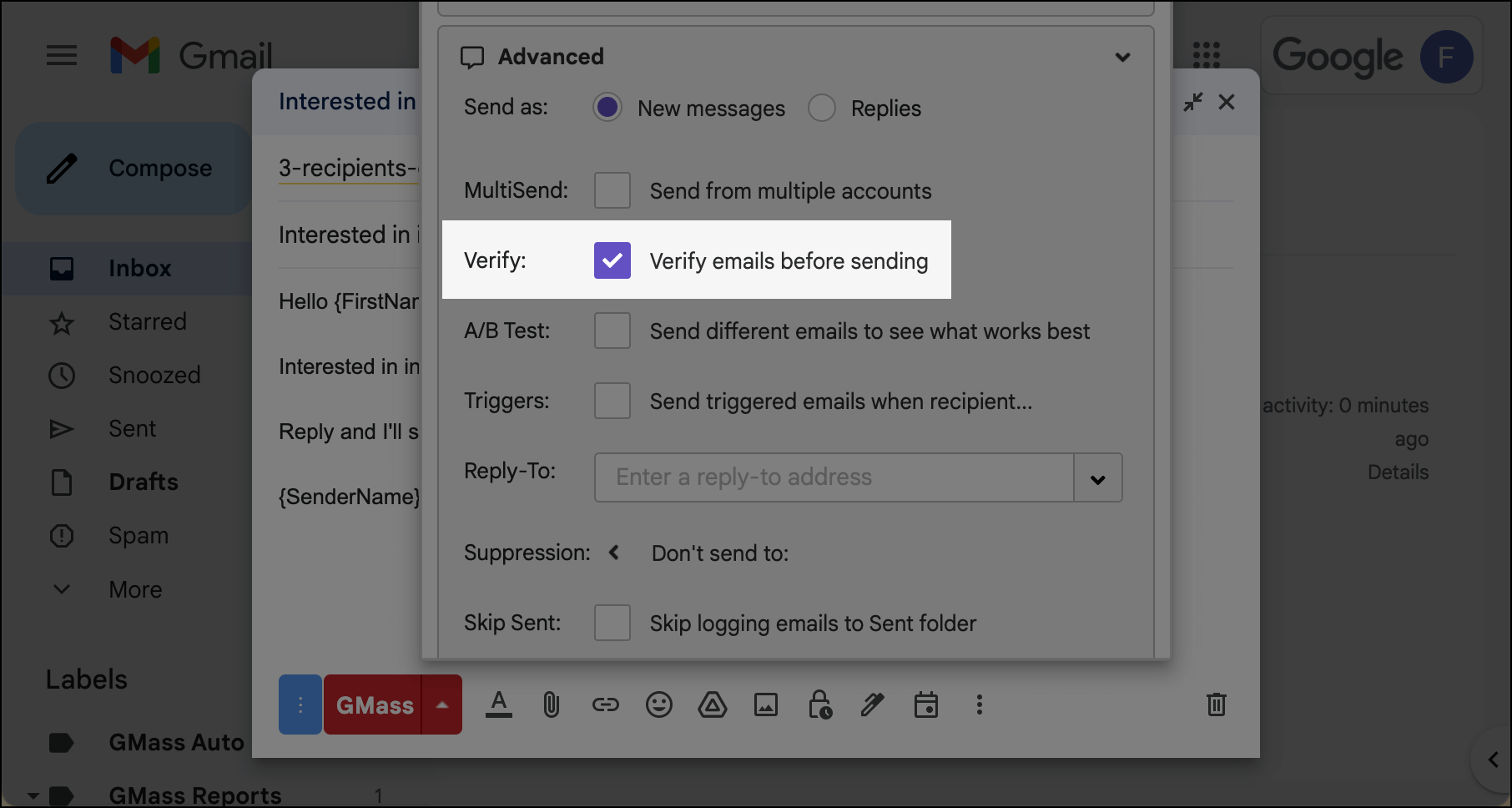 Instantly does not offer any sort of email verification, instead directing users to add the additional step and cost of validating with a third-party service.
GMass's email verification tool is good — though, as we always say, it's not quite as thorough as some of the companies out there that only do validation.
But it does catch a lot of addresses that would otherwise bounce — and it's integrated into the sending workflow it won't take up any of your time to use.
GMass can be your complete email platform; Instantly is only for a very specific type of cold email blasts
GMass is a world class cold email platform. Cold emailers have been some of GMass's core users since the beginning and remain that way today. For eight years, GMass has prioritized adding the features most important to cold emailers.
But GMass isn't only a cold email platform.
People also use it for sending newsletters and other email marketing messages to your opt-in list. Nonprofits use it. Organizations use it for internal comms. The mail merge features are popular in everything from wedding invitations to fantasy football leagues. You can use it to run quick email polls.
Because it's baked right into Gmail, some people send all their emails through GMass for tracking and analytics. With GMass's Reply Project, you can blaze through your inbox. Some people, like recruiters and real estate agents, use GMass for cold email, email marketing, and mail merge.
GMass can do everything you need when it comes to sending email. We hear from lots of GMass users who used to have a huge stack of email platforms and were able to reduce down to just GMass.
That's not Instantly. Instantly is only focused on cold email and, really, it's even more niched down than that. Instantly is focused on one specific type of cold email.
Instantly is aimed at high-volume cold emailers. Someone who's buying lists or using prospecting tools and sending lots of emails to try to land business. Instantly's accelerator course and founders' social media speak in lots of absolutes about how many accounts you should have, how many emails you should be sending, how many words you should have in each email, whether you should use links in your messages, how you should personalize (if at all), and what your results should look like.
At GMass, we look at the landscape differently and less rigidly. We see people having success with huge cold email campaigns — but also with smaller, hyper-personalized campaigns. We see people having success with 20-word cold emails and 500-word cold emails. We see people using one sending domain and people using dozens.
Our goal with GMass is to have a platform that's nimble, versatile, and malleable to whatever you need as a cold emailer (and any other type of "emailer" too).
We're not prescriptive. We have tons of incredible content to help you if you want guidance and strategy, but ultimately, GMass is ready for whatever approach works best for you.
Instantly is only built for cold email, and in particular the "blast at will" approach to cold email.
GMass has tons of other email features Instantly does not
Overall, GMass's maturity shows. The features listed above come from eight years of sending billions of cold emails, talking with thousands of customers, and developing and refining exactly what they want and need.
Instantly is off to a fine start… but it simply hasn't had the time or the product feedback to build out its platform to be close to as robust, thorough, or streamlined as GMass.
Features Instantly Has That GMass Doesn't
Alright. We've covered everything GMass does that Instantly doesn't do.
Here are the things Instantly does that GMass does not.
Instantly has built-in email warmup; GMass does not, in accordance with Google's policies
GMass used to offer email warmup. Then, in late 2022, Google sent us a strongly-worded email to stop. Automated email warmup was a violation of their policies, and they were now cracking down. So we shut it down.
Instantly still offers email warmup. Since Instantly uses IMAP, not the Gmail API, they can send warmup emails while staying off Google's enforcement radar (for now).
However, email warmup is a violation of Google's policies.
And beyond that… when you're sending distributed campaigns using lots of email addresses, warmup is highly overrated.
Odds are you're going to send a relatively low volume of emails from each of your distributed accounts. Most cold emailers will send about 20 to 50 per day, per account.
It's not that hard to get an account "warm" for such a reasonable sending volume.
You can ramp up to that manually in a few weeks or less. Or, even better: Send targeted, personalized, relevant cold emails that people open, click on, or reply to.
Google's goal is to make sure wanted emails get into the inbox and spam goes into the spam folder. So when you send a mass email, they'll actually test by having it go to some inboxes and some spam folders. If you get good engagement from the inbox cohort (and maybe even a few "not spam" marks from the spam cohort), next time, more of your emails will go to the inbox.
Soon enough, all automated email warmup is going to go extinct when Google decides to crack down even harder against the IMAP folks.
In the meantime, don't panic too much about warming up low-volume accounts. If you're sending quality emails that are generating engagement, they'll find their way to your recipients' inboxes. If you're sending spam… shouldn't it go into the spam folder?
Instantly offers an additional lead finding service; GMass does not
Instantly has a lead finding and enriching service, which costs $47/month for 1,000 leads or $197/month for 10,000. (It's $37.90 or $169.30 if you pay annually.)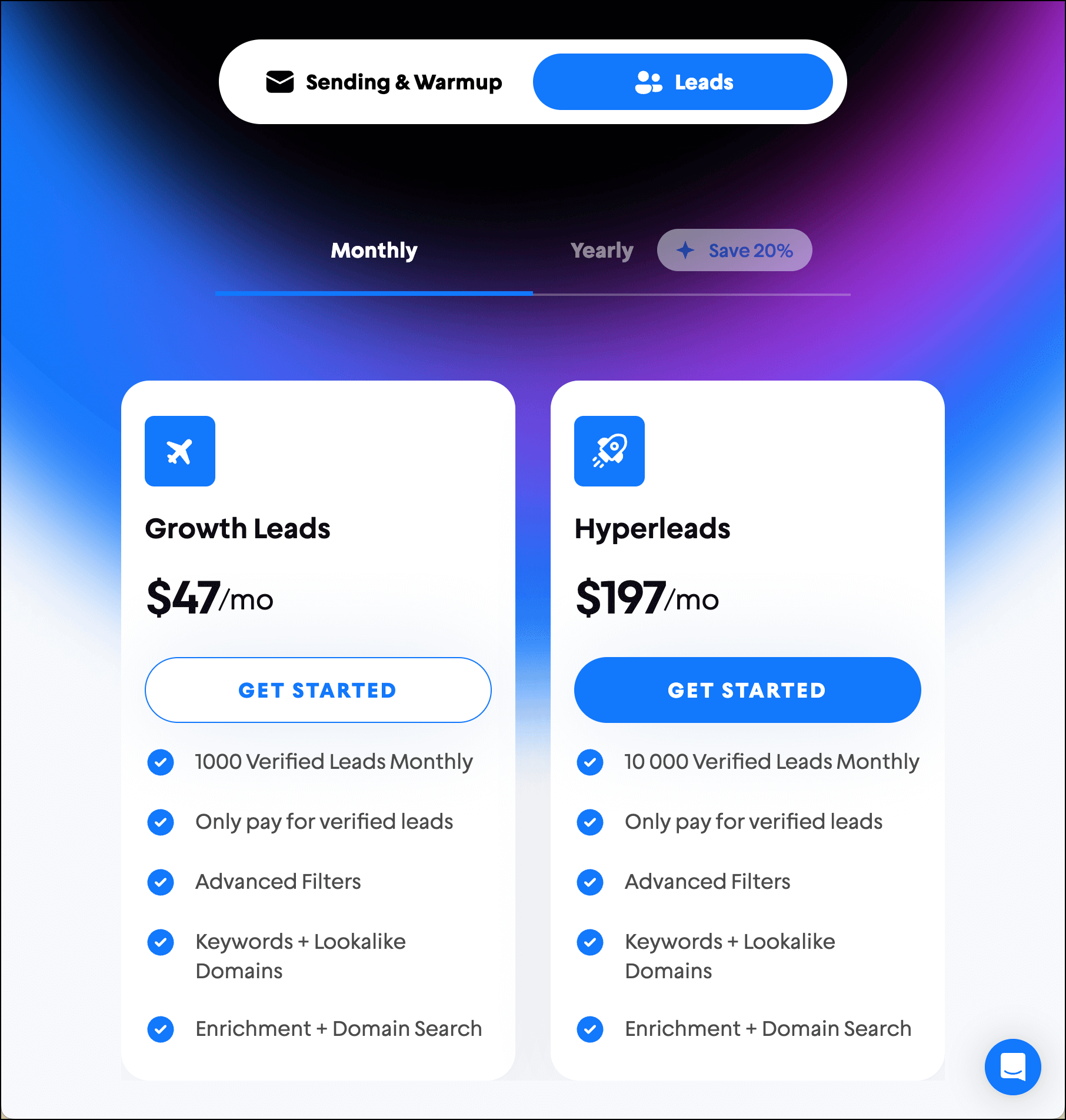 GMass does not offer a lead finding service, either paid or not.
You can use non-Gmail accounts with Instantly; GMass is Gmail/Google Workspace only
You can use Outlook email accounts in Instantly or any email provider with IMAP. (You can also specify if you want to try to match recipient email to the account you send from, like sending to people with Outlook addresses from your address.)
GMass is Gmail/Google Workspace only.
Is being able to send from non-Gmail providers a feature people want? Maybe. We've always found Gmail's servers have the best deliverability in the world. Other providers, even Microsoft, aren't at that level.
And it's not like using other providers helps on price. Back when cold emailers were using Zoho as a service provider, it was a lot cheaper than Google Workspace or Outlook. But once Zoho cut off cold emailers, that eliminated the go-to low-cost provider.
Instantly has lite CRM features built in; GMass does not
Instantly has a lite CRM (Customer Relationship Management) system, called Dealflow, built into the software if you pay for the $97/month package. You can enrich your contacts with various details and also keep track of their status in campaigns (interested, meeting booked, closed, and so on).
This doesn't replace a more robust CRM but can work as you track leads inside Instantly.
GMass does not offer any type of CRM.
The main reason for that: In our conversations with users, no one really wanted one.
In our experience, we've found salespeople and cold emailers tend to fall into two categories:
Those using a legit CRM, like Salesforce.
Those who don't want to mess with the bookkeeping and complexity endemic to a CRM so they manage things more casually through the spreadsheets where they're comfortable.
Neither of those situations warranted us building a CRM into GMass.
GMass vs Instantly: The Verdict
GMass has been around since 2015 and has the robust, complete feature set to prove it. (Not to mention the massive customer base and track record.)
Instantly is the new kid in the cold email world, starting in 2021. It's made big strides in its time as it tries to catch up with the industry veterans, but the platform is still young and the feature gaps really reveal themselves as you use it to send campaigns.
While Instantly made good headway in the cold email community thanks to distributed campaigns, an AppSumo lifetime deal, and the general buzz that comes with being "new," at this point there's little Instantly can do that GMass can't. But there's a ton that GMass can do that Instantly can't.
Meanwhile, you're paying 3x more for Instantly than GMass without getting unlimited contacts, unlimited emails, the security and reliability of the Gmail API, and the dozens of other essential features we've covered in this article.
You can get started with GMass easily: Download the Chrome extension and connect your Gmail account.
There's no credit card required and you can use GMass's free plan until you're ready to sign up for a paid plan, which will include distributed campaigns and no limits on emails or contacts.
See why

99%

of users say they've had their best deliverability ever with GMass

Email marketing, cold email, and mail merge all in one tool — that works inside Gmail

TRY GMASS FOR FREE

Download Chrome extension - 30 second install!
No credit card required
Love what you're reading? Get the latest email strategy and tips & stay in touch.