Email sequence software helps you nurture your existing customer base and convert new prospects through timely, automated follow-up messages.
However, finding the perfect email sequence software for your unique needs can be challenging.
In this article, I'll list the 12 best email sequence software solutions, including their key features, pricing, and customer ratings. Depending on your specific needs, this will help you pick the ideal email sequence tool from this list.
Additionally, I'll answer two FAQs about email sequences.
This Article Contains:
(Click on links below to jump to specific sections.)
Let's dive in!
Top 12 Email Sequence Software for 2022
Here are the 12 best email sequence software solutions that can level up the email outreach game for every marketer and sales rep: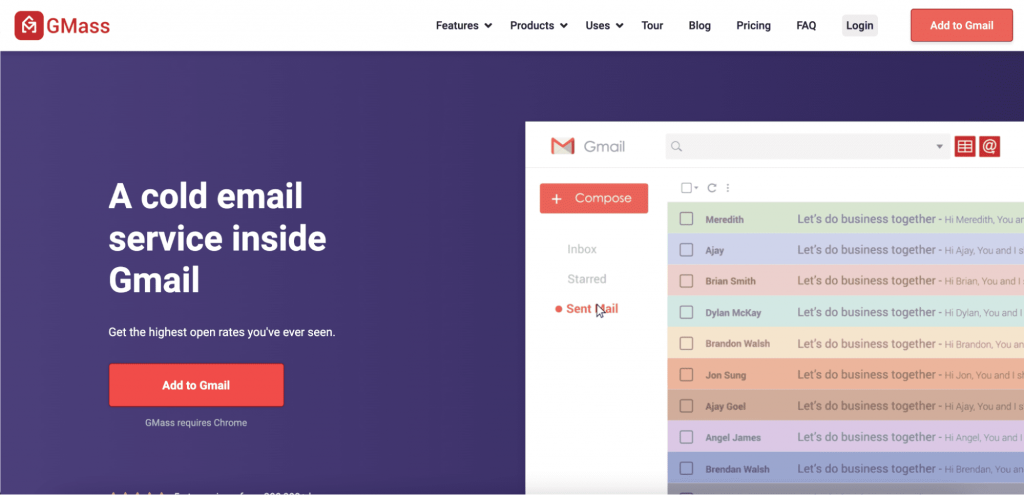 GMass is an efficient email outreach tool ideal for creating successful email sequences inside Gmail.
Its superior capabilities have made GMass popular among employees at social media giants like Twitter and LinkedIn. This email sequence software is also suitable for individuals, startups, small businesses, and established enterprises.
GMass Key Features
Here are five GMass features that can elevate your email sequencing efforts:
A drip campaign is a sequence of pre-written, automated emails you send to your email list.
With GMass, you can easily set up a drip campaign to send out a sequence of automated emails to your email list based on a set schedule.
Through these drip campaigns, you can provide ongoing value to prospects in the form of:
Helpful content
Product updates
Discount notifications, and more
And slowly but surely, these drip campaigns will nudge your prospect towards sales conversion.
Sending follow-up emails is an excellent way to boost prospect or lead engagement.
However, it's impossible to follow up on every lead in your sales pipeline manually.
Fortunately, with GMass' automatic follow-ups, you can create an automated workflow to follow up with prospects until they respond to your email.
It lets you customize:
What triggers the follow-up sequences
How many follow-ups to send
The time interval between subsequent emails, and more
You can even edit or cancel the automatic follow-up campaign at any time!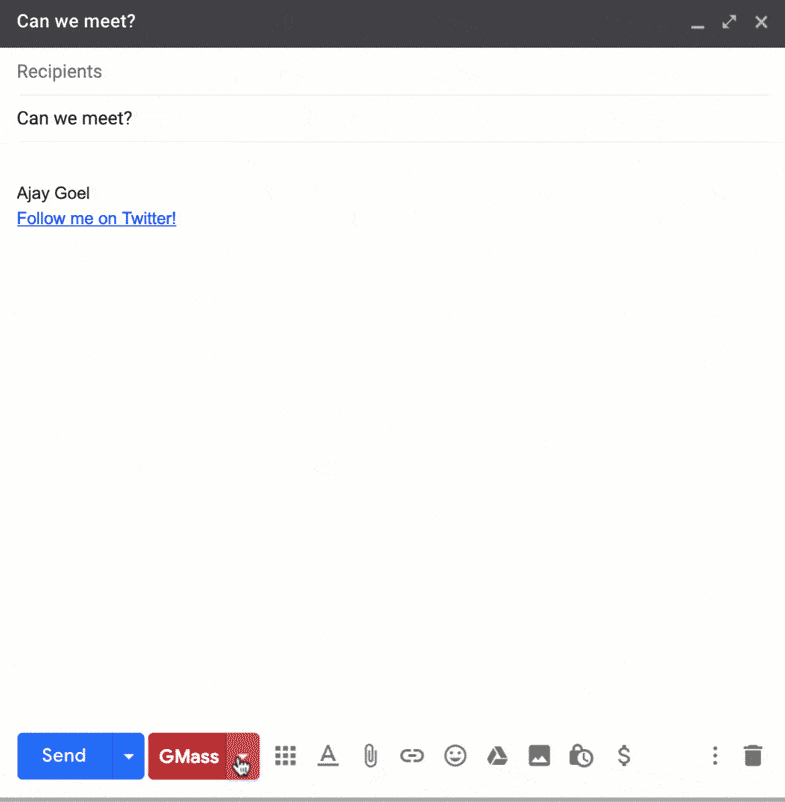 For better engagement, your email must be tailor-made to stand out in the prospect's inbox.
But if you have a long list of prospects, manually personalizing every outbound message is impractical.
Then how do you do it?
Simple: using GMass' automated personalization features!
GMass lets you automatically personalize: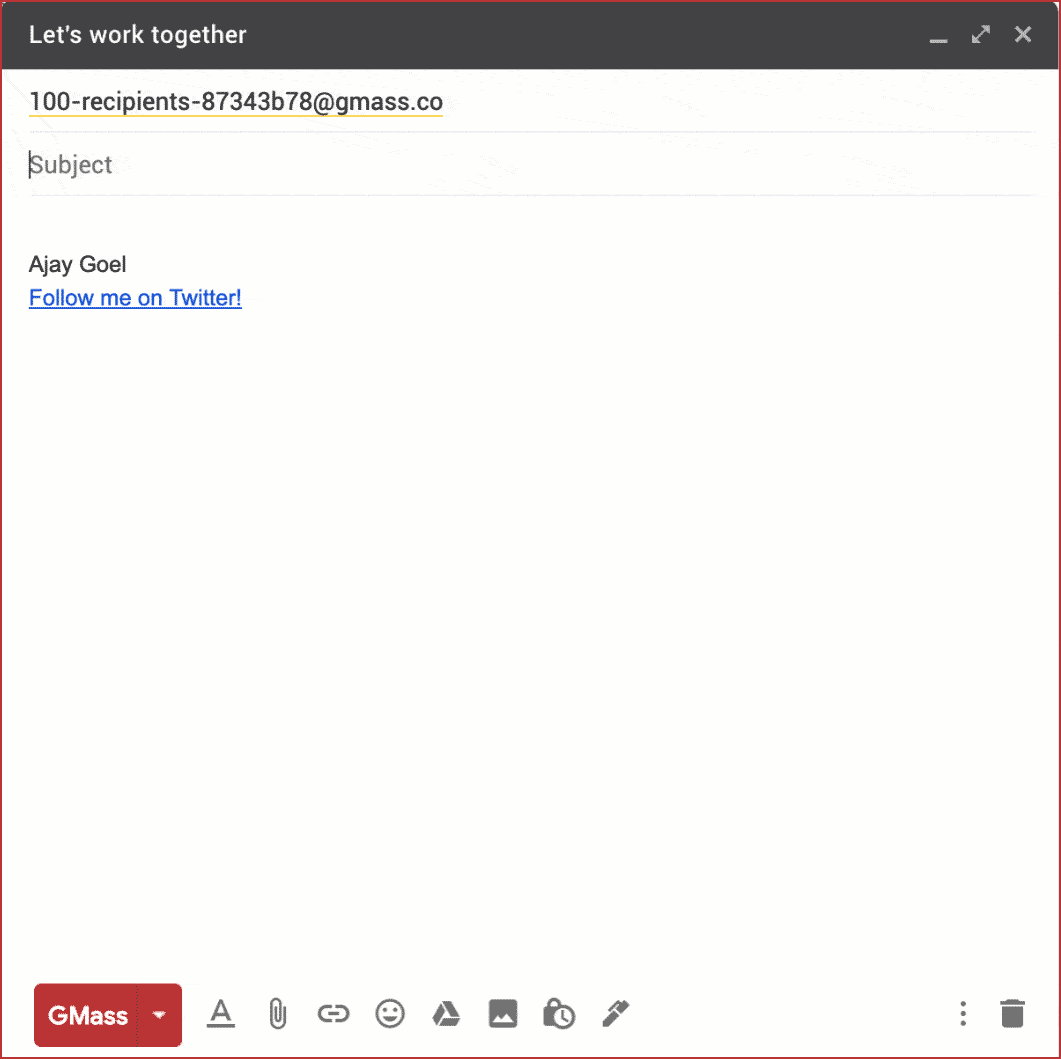 Reaching the right inbox at the right time is crucial to maximizing your email engagement.
To help you, GMass has a bulk email scheduling feature that lets you pick a pre-configured future time or select a custom date/time to send out your emails.
Once you've chosen a schedule for your bulk emails, you can also reschedule by picking a different date/time under the "Draft" folder in Gmail.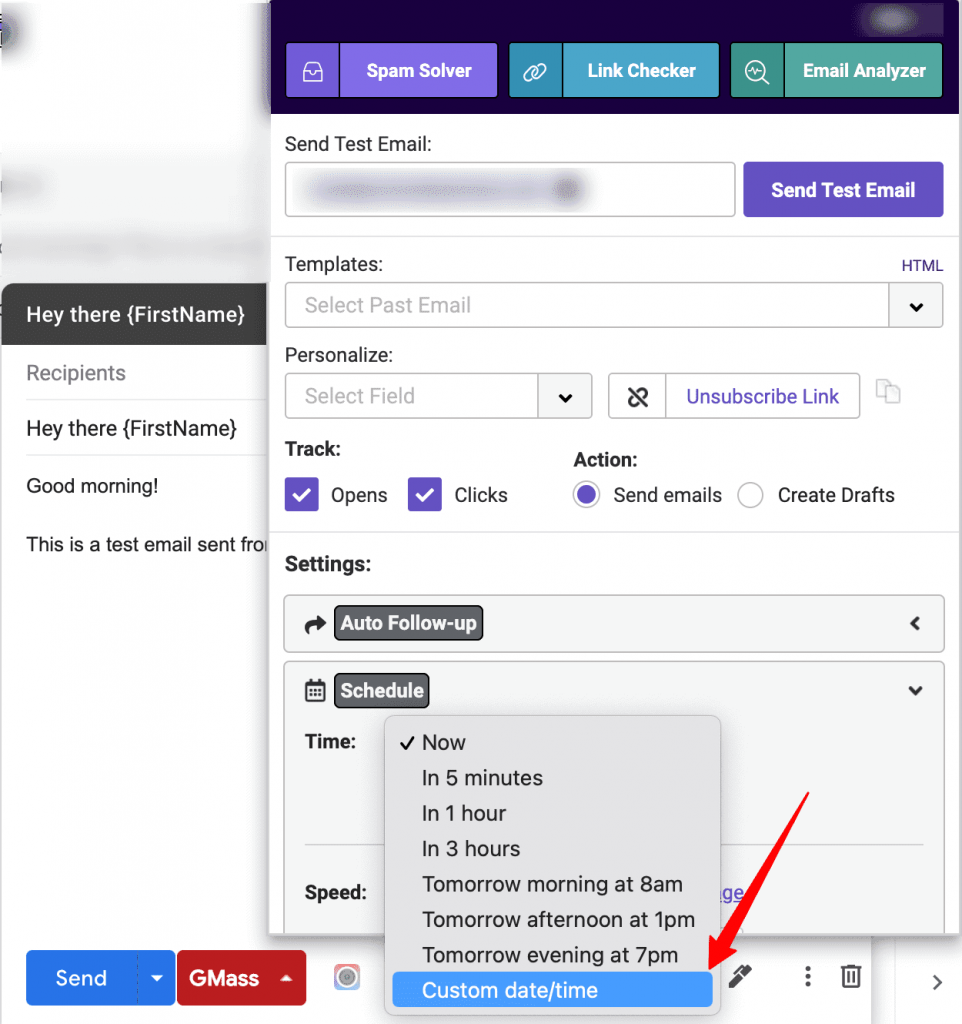 Sending email sequences isn't enough.
You'll also need to analyze their effectiveness to understand what's working and what's not.
Every time you send a campaign through GMass, you'll receive a Campaign Report in your Gmail inbox.
The report will contain key email metrics, like these:
Number of recipients
Open rate
Reply rate
Bounce rate
Unsubscribe rate, and more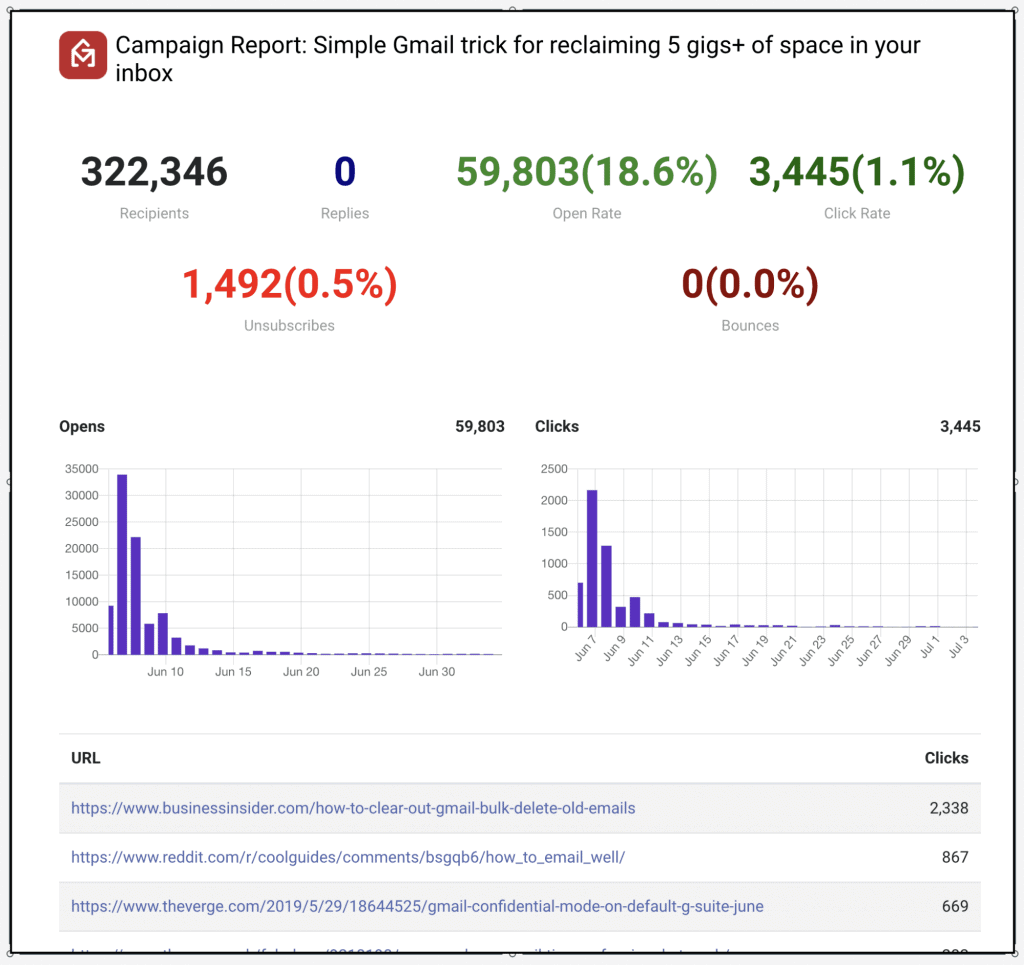 Additional GMass Features
GMass supports many more advanced features to help your marketing or sales team:
Want to get started with GMass?
Just download the Chrome extension and sign up for free with your Gmail or Google Workspace account.
GMass offers multiple pricing plans catering to various customer needs:
Free (up to 50 emails/day):
Individual:

Standard ($19.95/month):

Basic campaigns
Mail merge personalization
Overcome Gmail's limit
And more

Premium ($29.95/month):

Supports all "Standard" features
Email sequence and follow-up
API access
And more

Enterprise ($49.95/month):

Supports all "Premium" features
High priority customer support

Team ($125/month for 5 users):

Supports all "Enterprise" features
GMass Customer Ratings
Capterra: 4.9/5 (760+ reviews)
G2: 4.7/5 (740+ reviews)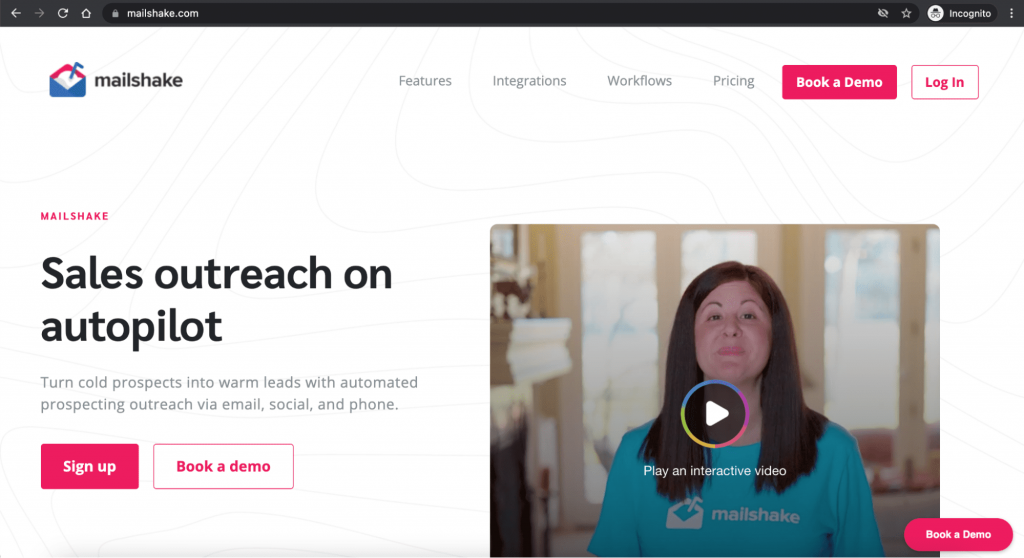 Mailshake is an email sequence software solution your sales team can use to convert leads into customers easily.
Mailshake Key Features
Set up follow-up email automation sequences to engage with prospects at scale.
Keep track of metrics like the email open rate, reply rate, and click rate.
Draft email messages using Mailshake's email template library.
Pause an email sequence automatically when a prospect unsubscribes.
Mailshake Pricing
Mailshake provides two pricing plans:
Email Outreach ($59/user per month):

Email personalization
Automated email sequences
Advanced scheduling & throttling
And more

Sales Engagement ($99/user per month):

Supports all "Email Outreach" features
10,000 recipients per campaign
Customer support
And more
Mailshake Customer Ratings
Capterra: 4.7/5 (90+ reviews)
G2: 4.7/5 (130+ reviews)
3. HubSpot Marketing Hub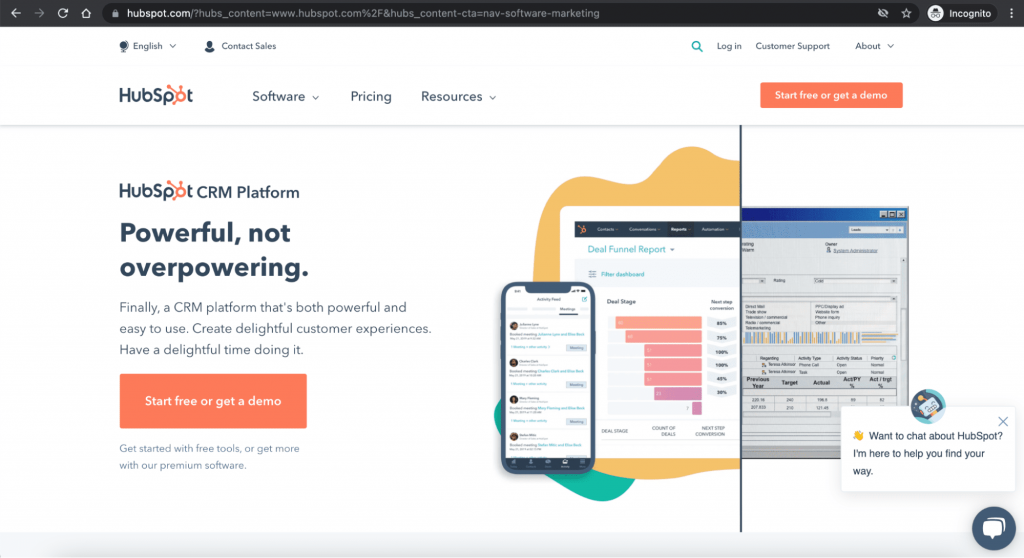 HubSpot Marketing Hub is an email marketing and email sequence software solution that helps you nurture prospects effectively.
HubSpot Marketing Hub Key Features
Personalize your bulk emails at scale and run A/B tests to enhance reply rates.
Create professional-looking email campaigns optimized for mobile devices.
Automate cross-functional operations like sales-marketing collaboration.
Identify which assets (sales emails, landing pages, etc.) bring the most revenue.
HubSpot Marketing Hub Pricing
HubSpot offers the following pricing plans:
Free:

Email marketing
Ad management
Landing pages
And more

Starter (starts at $50/month):

Supports all "Free" features
Email health insights
Email and in-app chat support
And more

Professional (starts at $890/month):

Campaign management
A/B testing
Email comparison reporting
And more

Enterprise (starts at $3,200/month):

Behavioral event triggers
Multi-touch revenue attribution
Adaptive testing
And more
HubSpot Marketing Hub Customer Ratings
Capterra: 4.5/5 (4,500+ reviews)
G2: 4.4/5 (7,400+ reviews)
4. Klenty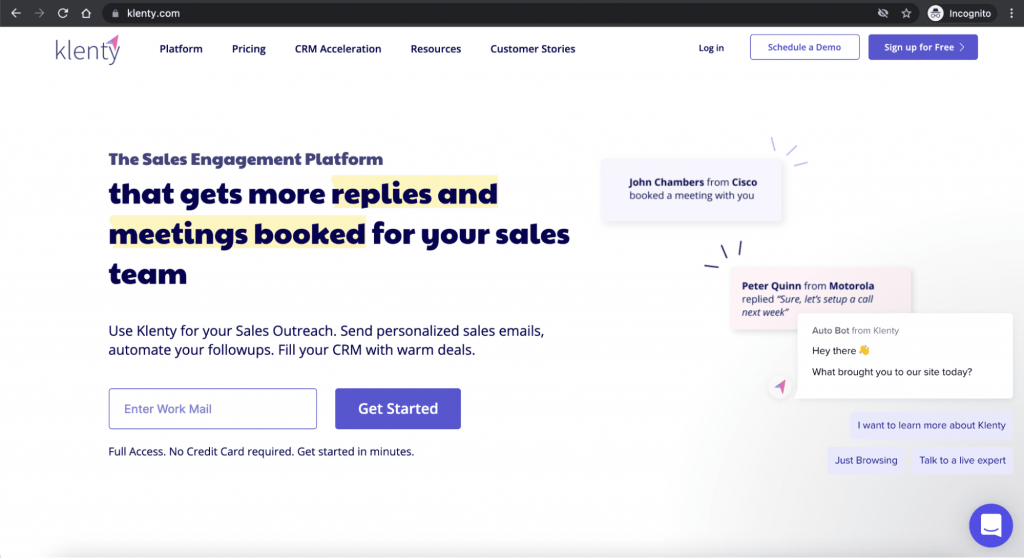 Klenty is a sales outreach tool and email marketing software solution that lets you follow up with leads using personalized sales email messages.
Klenty Key Features
Automatically monitor email bounces, unsubscribes, and responses.
Customize your email sequence based on recipient engagement.
Seamlessly import prospects from your CRM system or Google Sheets.
Automatically sync email analytics metrics to your CRM software.
Klenty Pricing
Klenty provides three pricing options:
Startup ($55/user per month):

Email cadences
Gmail plugin
Mail merge
And more

Growth ($85/user per month):

Supports all "Startup" features
Multichannel outreach
CRM integrations
And more

Enterprise ($145/user per month):

Supports all "Growth" features
IP based login restrictions
Monthly deliverability reports
And more
Klenty Customer Ratings
Capterra: 4.8/5 (30 reviews)
G2: 4.6/5 (150+ reviews)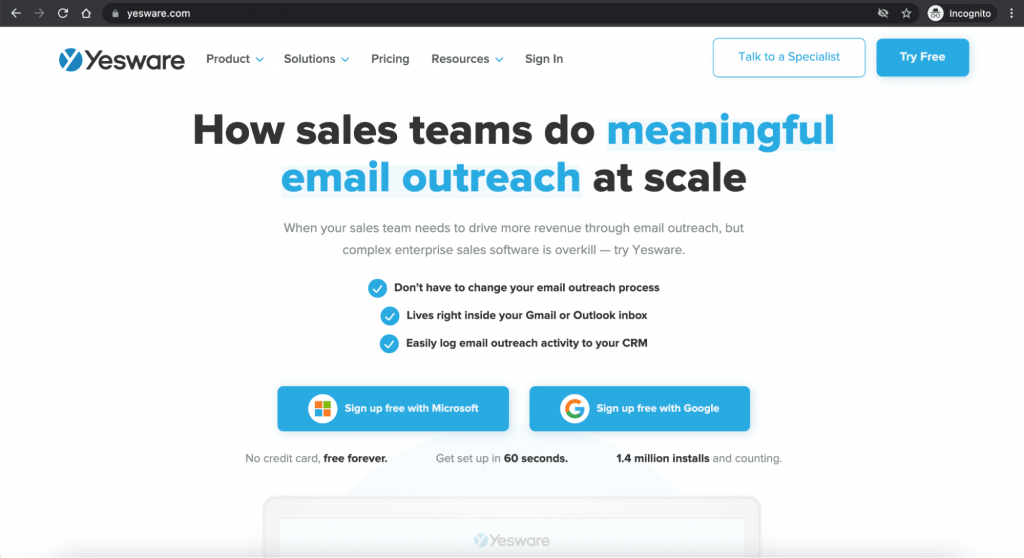 Yesware is a marketing automation software solution that enables you to send email outreach campaigns easily and set up an automated email sequence.
Yesware Key Features
Get notified when prospects open your automated email sequence messages.
View the complete engagement history of each prospect directly in your inbox.
Craft effective email messages using the email template feature.
Use email tracking and engagement reporting to track your progress with prospects.
Yesware Pricing
Yesware's marketing automation has three pricing tiers:
Pro ($15/user per month):

Unlimited email tracking
Unlimited attachment tracking
Unlimited email templates
And more

Premium ($35/user per month):

Supports all "Pro" features
Unlimited campaigns
Unlimited shared templates
And more

Enterprise ($65/user per month):

Supports all "Premium" features
Salesforce inbox sidebar
Import leads/contacts to campaigns
And more
Yesware Customer Ratings
Capterra: 4.3/5 (160+ reviews)
G2: 4.4/5 (725+ reviews)
6. Outreach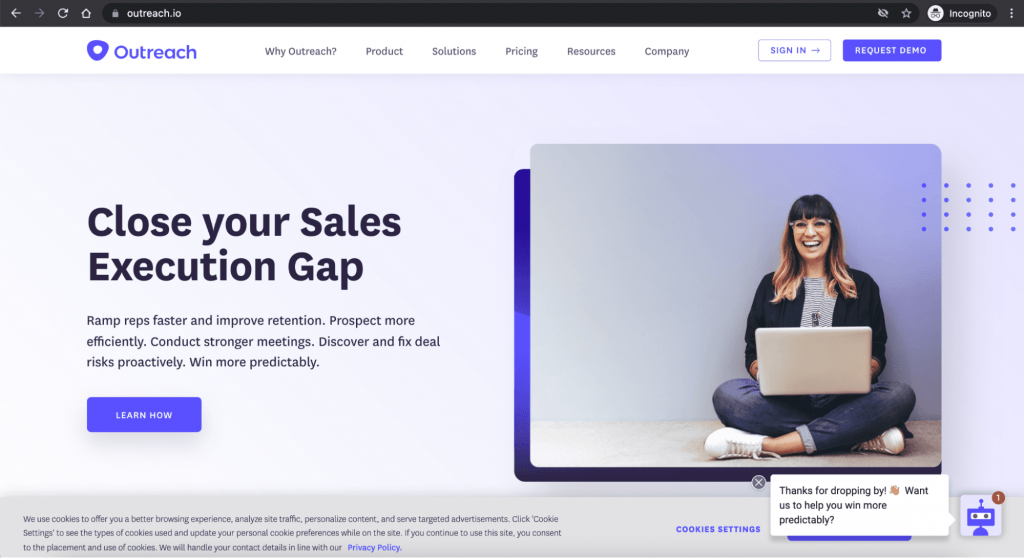 Outreach is a sales sequence and email marketing software solution that replaces manual outreach processes with automated workflows.
Outreach Key Features
Control how many prospects you approach per day with the "throttle" setting.
Remind clients of the context by replying to your own messages in the email sequence.
Level up your email sequences with proven email templates.
A/B test your emails to ensure that you're sending an effective email sequence.
Outreach Pricing
Outreach has an annual pricing plan. Contact their sales team for pricing details.
Outreach Customer Ratings
Capterra: 4.5/5 (250+ reviews)
G2: 4.3/5 (2,750+ reviews)
7. Cirrus Insight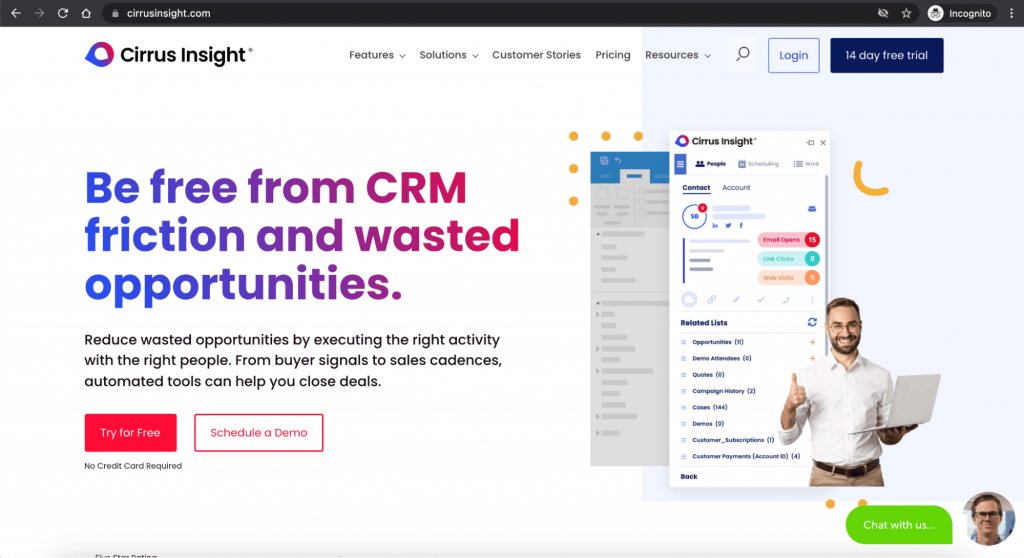 Cirrus Insight is a sales enablement platform and email marketing software solution that helps you create, track, and edit email sequences with ease.
Cirrus Insight Key Features
Create personalized email sequences for your prospects.
Monitor engagement metrics like email opens and click-through rates.
Automatically sync your email communications and attachments to Salesforce.
Integrate with Salesforce to manage sales activity data easily.
Cirrus Insight Pricing
Cirrus Insight offers three pricing plans:
Salesforce Sync ($10/month):

Email sync
Calendar sync
Task sync
And more
Pro ($21/month):

Supports all "Salesforce Sync" features
File emails and attachments
Supports Gmail and Outlook mobile
And more
Expert ($29/month):

Supports all "Pro" features
Email templates
Email tracking
And more
Cirrus Insight Customer Ratings
Capterra: 4.2/5 (100+ reviews)
G2: 4.2/5 (1,350+ reviews)
8. EngageBay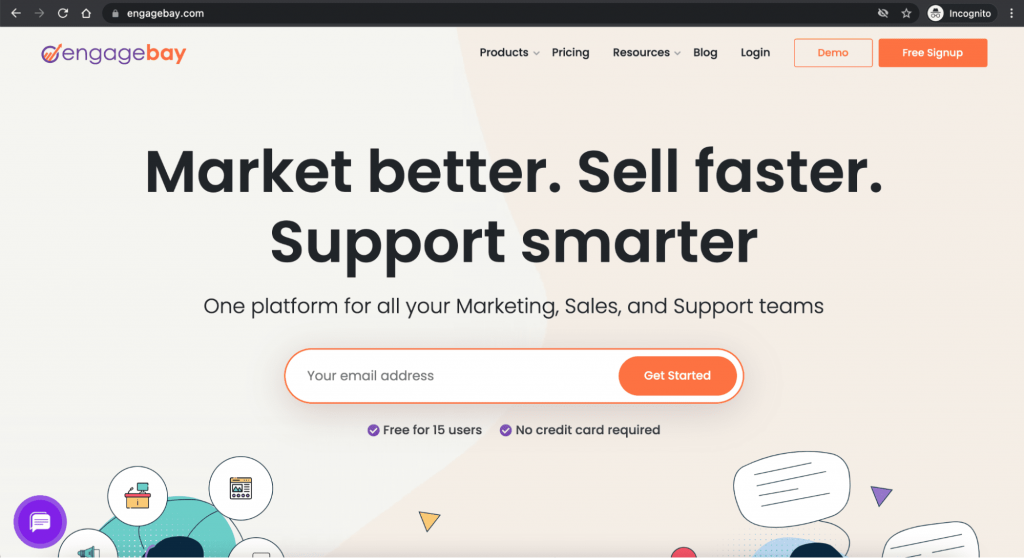 EngageBay is an email marketing software and CRM system that helps you send automated follow-up emails to your target audience.
EngageBay Key Features
Create tailor-made emails to connect better with your recipients.
Segment your contacts to send more targeted email sequences.
Monitor the performance of your email sequences through analytics reports.
Set up email sequences for lead conversion.
EngageBay Pricing
This marketing automation tool provides four pricing options:
Free


Email Marketing
Autoresponders
Sequences
And more
Basic ($14.99/user per month):

Email templates
Lead scoring
Third-party integrations
And more
Growth ($49.99/user per month):

Marketing automation
Push notifications
Broadcast A/B testing
And more
Pro ($79.99/user per month):

Marketing automation
Web analytics
SMS marketing
And more
EngageBay Customer Ratings
Capterra: 4.6/5 (150+ reviews)
G2: 4.6/5 (110+ reviews)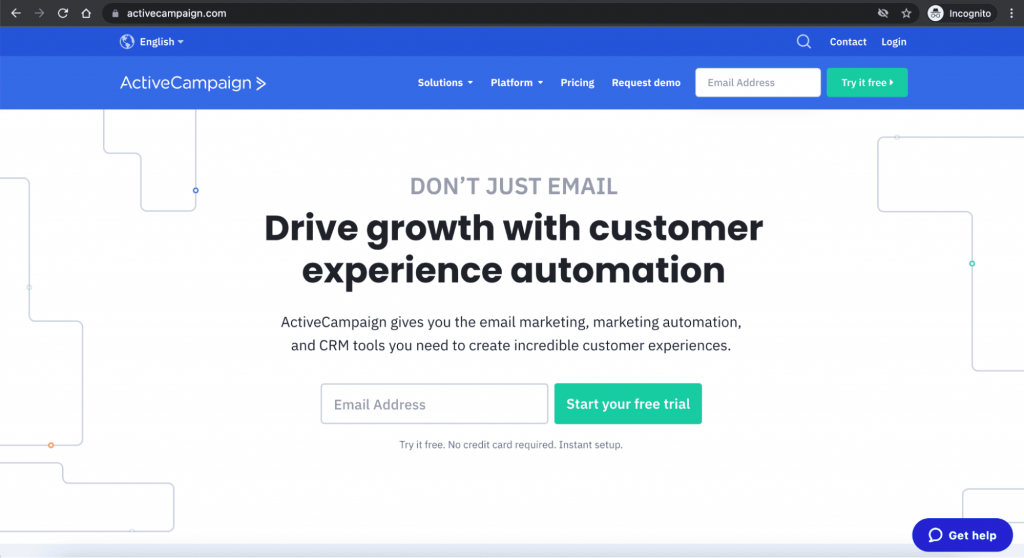 ActiveCampaign helps you enhance customer engagement through its email marketing and CRM capabilities.
ActiveCampaign Key Features
Automatically send welcome email messages to your leads and subscribers.
Schedule email based on customer triggers — time of purchase, site visit, open rate, etc.
Transform hot leads to customers with automated emailing.
Segment your leads based on gender, age, and so on.
ActiveCampaign Pricing
This email marketing software offers four pricing plans:
Lite (starts at $15/month):

Import leads from anywhere
Sales email messages
Segmented outreach
And more
Plus (starts at $70/month):

Supports all "Lite" plan features
Lead scoring
Sync inbox with CRM
And more
Professional (starts at $187/month):

Supports all "Plus" plan features
Conversion reporting
Split automations
And more
Enterprise (starts at $323/month):

Supports all "Professional" plan features
Custom sales reporting
Contact enrichment
And more
ActiveCampaign Customer Ratings
Capterra: 4.6/5 (1,400+ reviews)
G2: 4.6/5 (8,800+ reviews)
10. AWeber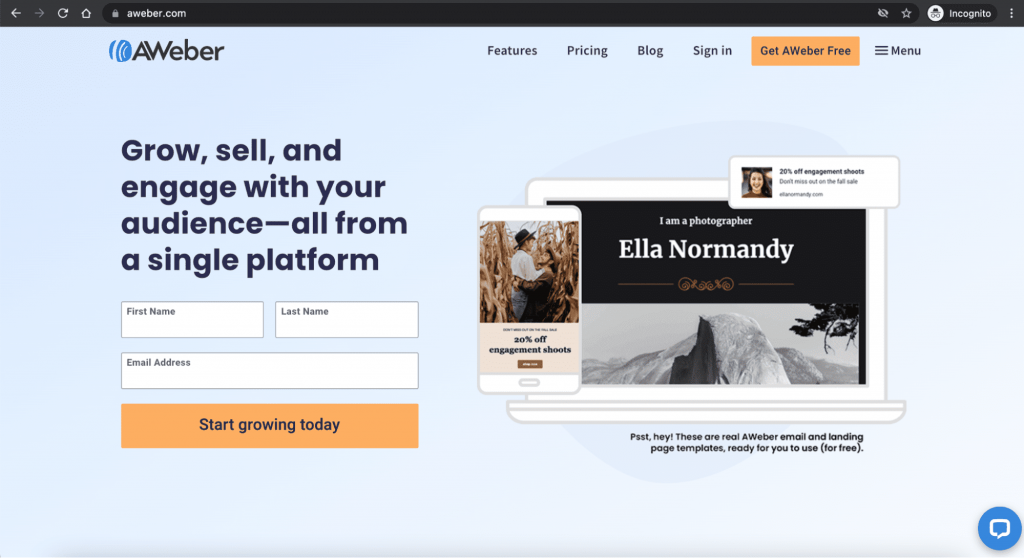 AWeber is an email marketing tool that lets you create mailing lists, design newsletters, and maximize customer engagement.
AWeber Key Features
Save time by quickly scheduling your follow-up email messages.
Send target emails to your prospects with the help of segmentation.
Organize subscribers under tags to send relevant emails to the right audience.
Create attractive emails with email templates.
AWeber Pricing
AWeber has a free plan and a paid plan:
Up to 500 email subscribers
Email templates
Sign up forms
And more
Pro (starts at $19.99/month):

All "Free" plan features
Unlimited email list feature
Advanced email automation
And more
AWeber Customer Ratings
Capterra: 4.3/5 (170+ reviews)
G2: 4.2/5 (580+ reviews)
11. ConvertKit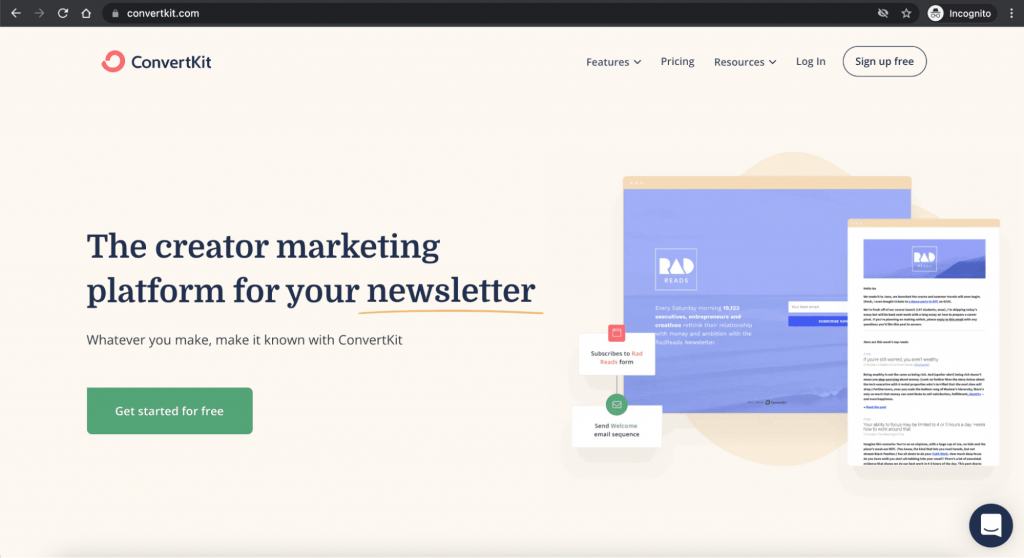 ConvertKit is an email marketing tool ideal for beginner and professional digital product creators.
ConvertKit Key Features
Easily customize your email sequences based on customer engagement.
Craft multiple branded email templates.
Create custom paths for sales funnels using visual automation.
Send perfectly timed messages with automated email marketing.
ConvertKit Pricing
ConvertKit's pricing plans include:
Free (up to 300 subscribers):

Unlimited landing pages & forms
Send email broadcasts
Sell digital products & subscriptions
Creator ($15/month for up to 300 subscribers):

Supports all "Free" features
Free migration from another tool
Automated funnels & sequences
And more

Creator Pro ($29/month for up to 300 subscribers):

Supports all "Creator" features
Advanced reporting
Newsletter referral system
And more
ConvertKit Customer Ratings
Capterra: 4.6/5 (130+ reviews)
G2: 4.4/5 (130+ reviews)
12. Snov.io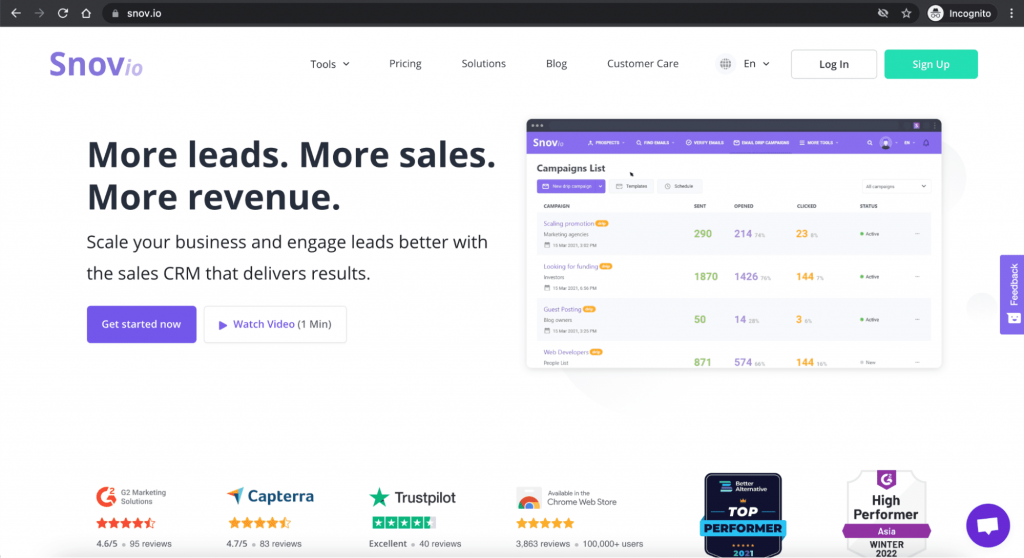 Snov.io is an email sequence software solution suited for email marketers and sales rep teams.
Snov.io Key Features
Personalize email messages and email follow-ups to increase your engagement.
Edit, A/B test, and add new recipients to your email campaigns.
Build customer loyalty with automated onboarding sequences.
Scale-up email and social media engagement to maximize prospect outreach.
Snov.io Pricing
Snov.io offers five pricing plans:
S ($39/month):

1,000 credits
5,000 unique recipients
Unlimited email campaigns, accounts, and follow-ups
Unlimited users

M ($99/month):

Supports all "S" features
5,000 credits
10,000 unique recipients
L ($189/month):

Supports all "S" features
20,000 credits
30,000 unique recipients

XL ($369/month):

Supports all "S" features
50,000 credits
50,000 unique recipients
XXL ($738/month):

Supports all "S" features
100,000 credits
100,000 unique recipients
Note: Users can spend credits on email search, validation, and verification.
Snov.io Customer Ratings
Capterra: 4.6/5 (112 reviews)
G2: 4.5/5 (157 reviews)
Now that you have a range of email sequence software solutions to choose from, I'll answer some of the questions you may have about email sequences.
2 FAQs about Email Sequences
Here are the answers to two frequently asked questions regarding email sequences:
1. What Is an Email Sequence?
An email sequence is a series of automated, follow-up email messages sent at predetermined intervals based on the recipient's actions.
Some commonly used email sequences include:
Welcome email sequence
Onboarding email sequence
Nurturing email sequence
Re-engagement email sequence
Abandoned cart email sequence
Renewal email sequence, and more
2. Why Should You Use Email Sequences?
Email sequences help you:
Acquire new leads and convert them into paying customers.
Nurture lasting relationships with existing customers and enhance brand awareness.
Ensure that email messages reach prospects when they're most receptive.
Improve your open rate for your email campaign by sending a follow-up email triggered by a lead's actions.
Wrapping Up
Choosing the right email sequence software for your sales rep or marketing team doesn't have to be difficult. Go through the tools I've covered here to select an email sequence tool that best fits your needs.
For instance, GMass lets you set up drip campaigns, automate personalized follow-up emails, monitor email analytics, schedule mass emails, and close deals faster right from your Gmail inbox.
So why not try GMass for free today to step up your email outreach game?
Email marketing, cold email, and mail merge

inside Gmail



Send incredible emails & automations and avoid the spam folder — all in one powerful but easy-to-learn tool

TRY GMASS FOR FREE

Download Chrome extension - 30 second intall!
No credit card required
Love what you're reading? Get the latest email strategy and tips & stay in touch.