Outreach email software makes it easy for you to establish contact with a potential customer.
And with the right software, you can quickly amp up your outreach efforts and build meaningful relationships with recipients.
In this article, I'll explain what you should look for in outreach email software and list down the 15 best outreach email software solutions, including their key features, pricing plans, and customer ratings.
This Article Contains:
(Click on links to jump to specific sections)
Let's dive in.
What to Look for in Outreach Email Software?
Here are five features to look for in outreach email tools:
Automatic Personalization: Since manually personalizing your outreach emails is a pain, you'll need the functionality to automatically personalize emails.
Email Scheduling: Reaching the prospects' inboxes at optimal times is a lot easier when you can schedule your outreach emails in advance.
Automated Follow Ups: With auto follow-ups, you won't have to worry about manually following up on all your outreach emails.
Email Tracking: Tracking email metrics will help you understand which outreach emails work best and which ones need improvement.
Email Templates: Whether it's for link building, blogger outreach, or approaching influencers, creating outreach email templates can save you a lot of time.
Let's now take a look at some great outreach email software solutions:
15 Best Outreach Email Software to Use in 2022
Here's a curated list of the top 15 outreach email software solutions: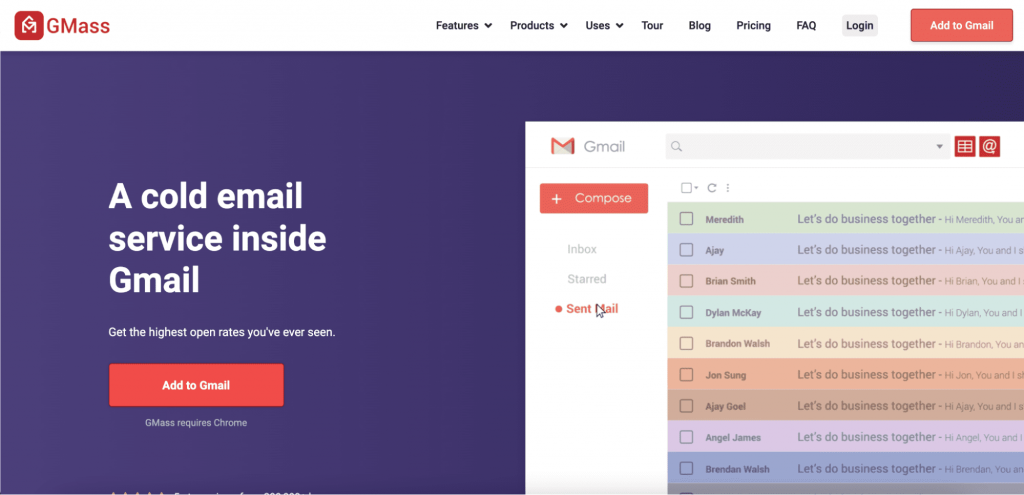 GMass is a powerful outreach email tool that works entirely inside Gmail.
Its advanced features have made GMass a top choice for startup founders, small business owners, salespeople, influencers, and even employees at social media powerhouses like Twitter and LinkedIn.
GMass Key Features
Here are five robust GMass features that can ramp up your email outreach efforts:
To grab a prospect's attention, your email must stand out in their inbox — instead of getting lost in the flurry of other emails.
How do you do that?
A great practice is personalizing your outreach messages based on who you're emailing.
However, manually personalizing each outreach email is impossible with a long prospect list.
Enter GMass' automatic personalization feature!
As one of the best cold email software solutions in the market, GMass lets you automatically personalize almost everything about your email, including: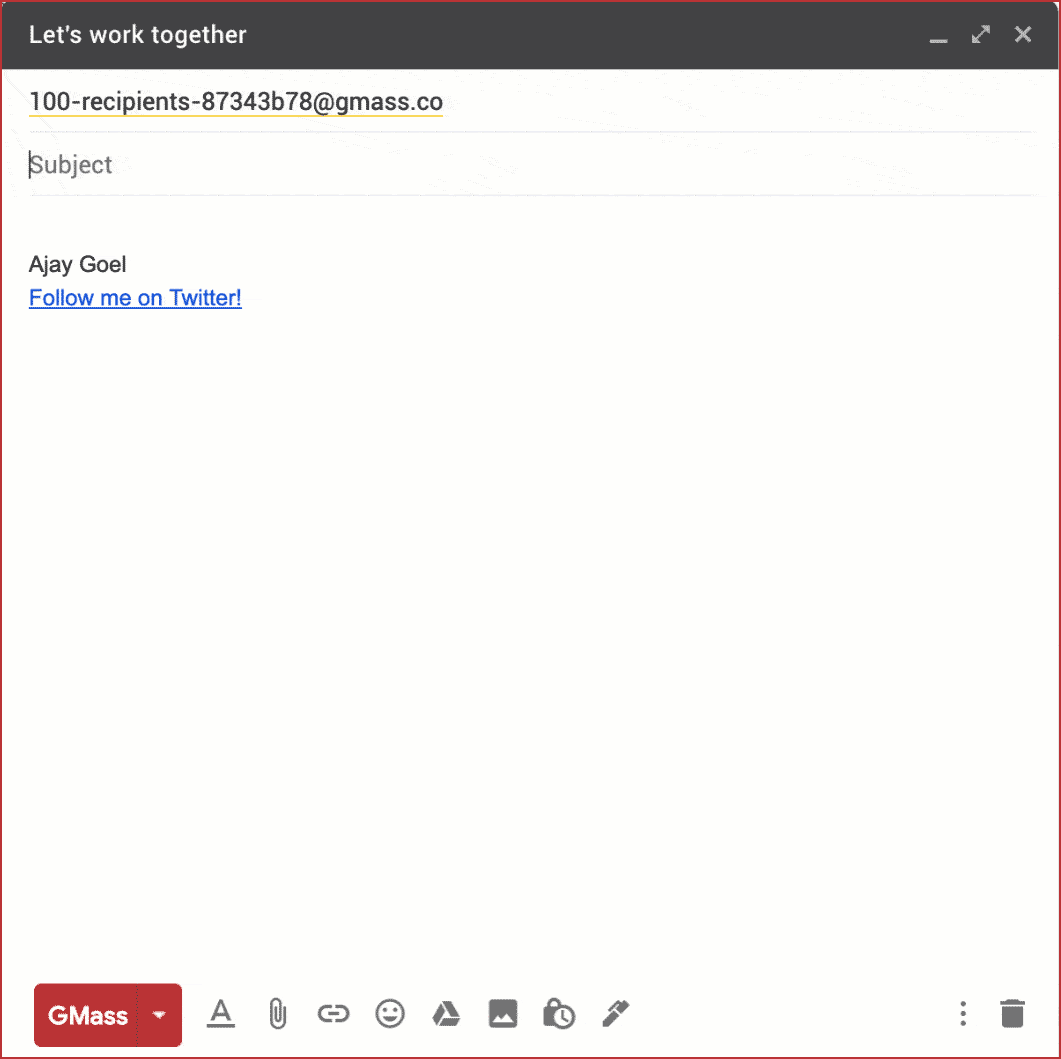 There's no guarantee that a lead or prospect will interact with you right after cold emailing them the first time
You'll need to send follow-up emails to drive them forward in the sales process.
However, manually sending follow-up emails to prospects is a daunting task.
With GMass' auto follow-ups feature, you can create an automated workflow and follow up with prospects until they respond to your email.
GMass also lets you customize:
The triggers for your follow-up sequences.
The number of follow-ups to send.
The interval between subsequent emails, and more.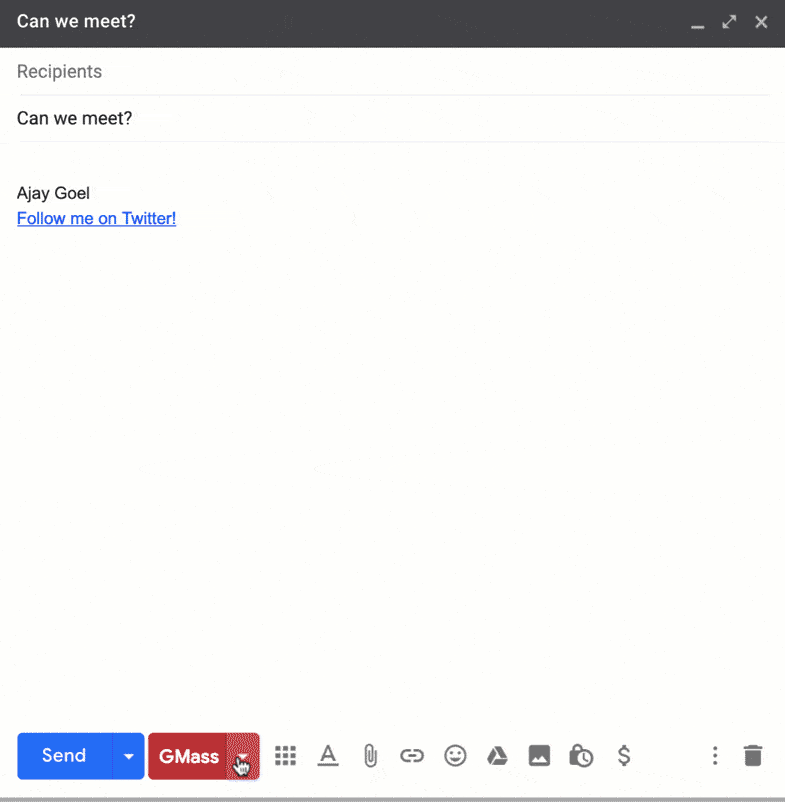 Your outreach efforts will be in vain if your email fails to reach the right inbox at the right time.
GMass provides you with a bulk email scheduling feature to maximize prospect engagement through timely outreach emails.
This outreach software lets you schedule your outbound messages to be sent at a pre-determined time or at a custom date/time of your choosing. You can also reschedule the email by altering its date/time in Gmail's "Draft" folder.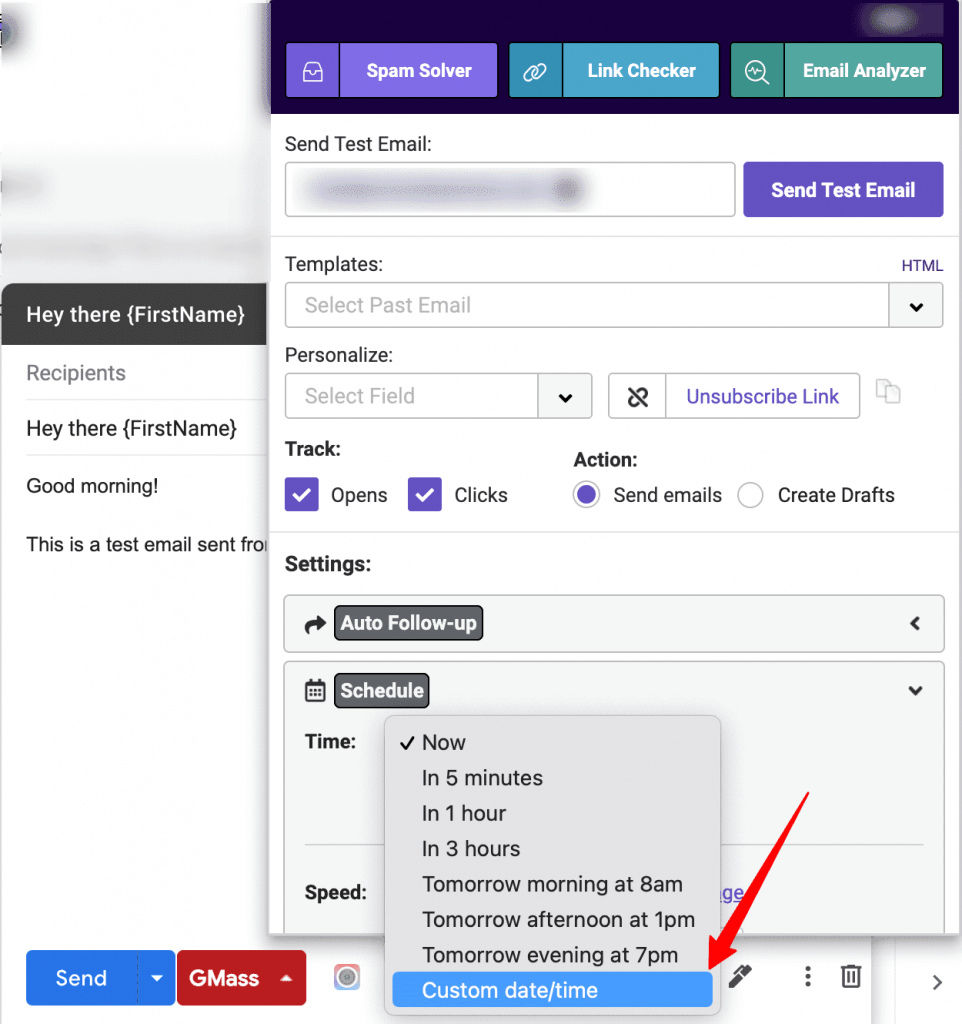 It's not enough to just send out an email campaign.
You also need to ensure that your outreach email campaign performs well.
How do you do that?
Every time you send an email campaign through GMass, a detailed report gets generated in your Gmail inbox.
It shows key metrics like:
Recipients: The number of people to whom you sent the outreach email campaign.
Open Rate: The number of unique recipients who opened your outreach email.
Click Rate: The number of recipients who clicked on a link in your outreach email.
Bounces: The number of outreach emails that failed to reach your prospects' inboxes.
Unsubscribes: The number of subscribers who have opted out of your mailing list.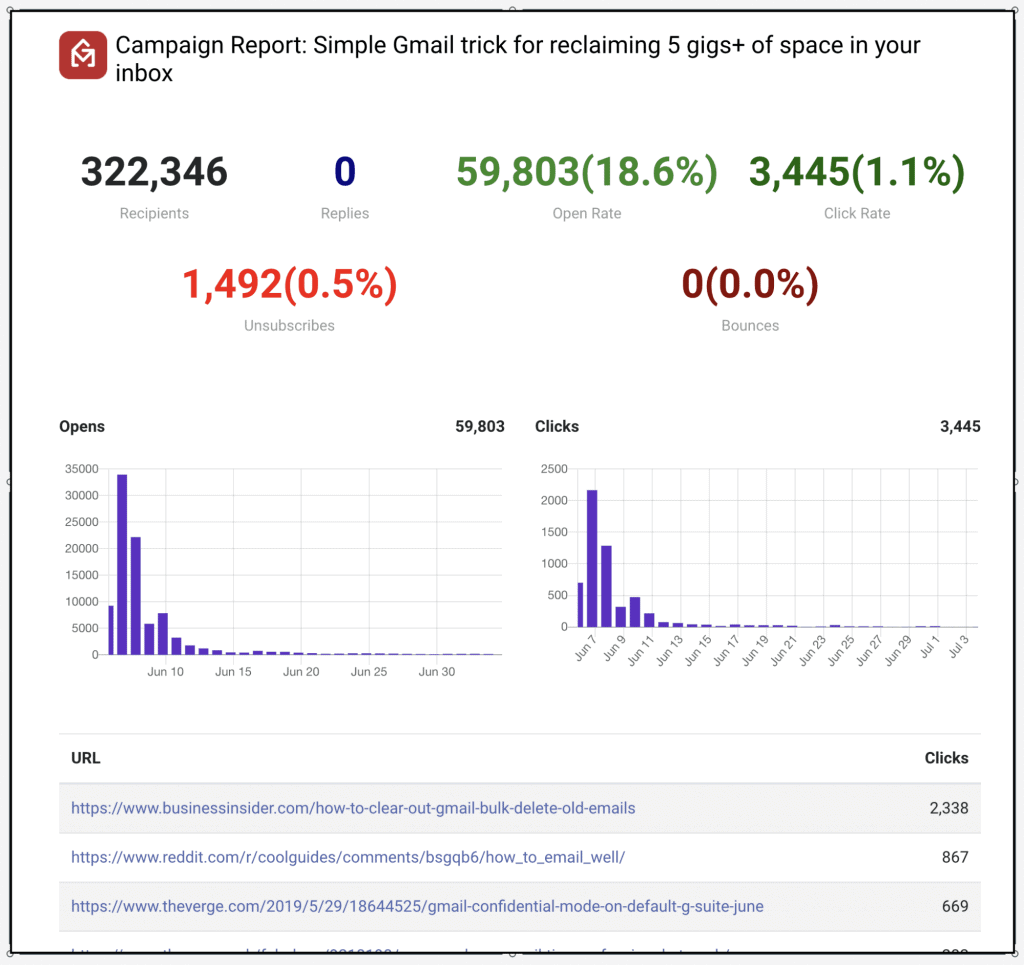 Your email outreach efforts become successful only if you reach out to the right people.
By creating an email list with GMass, you can send an outbound cold email campaign to a targeted group of people easily.

How do you do that?
Just search for keywords related to your target audience in Gmail, and GMass will automatically build an email list from your Gmail search results.
If you already have an email list stored in a Google Sheet, an Excel, or a CSV file, you can easily connect it to GMass.
In addition to these five features, GMass is equipped with other advanced capabilities.
Additional GMass Features
GMass offers several more advanced features to help your marketing and sales team members with their email outreach efforts:
Ready to get started with GMass?
Simply download the Chrome extension and sign up for free with your Gmail or Google Workspace account!
GMass Pricing
GMass offers multiple pricing plans to suit varying customer needs:
Free (up to 50 emails/day):
Individual:

Standard ($19.95/month):

Basic campaigns
Mail merge personalization
Conditional content
And more

Premium ($29.95/month):

Supports all "Standard" features
Email sequence and follow-up
A/B testing
And more

Enterprise ($49.95/month):

Supports all "Premium" features
High priority customer support

Team ($125/month for 5 users):

Supports all "Enterprise" features
GMass Customer Ratings
Capterra: 4.9/5 (770+ reviews)
G2: 4.7/5 (740+ reviews)
2. Outreach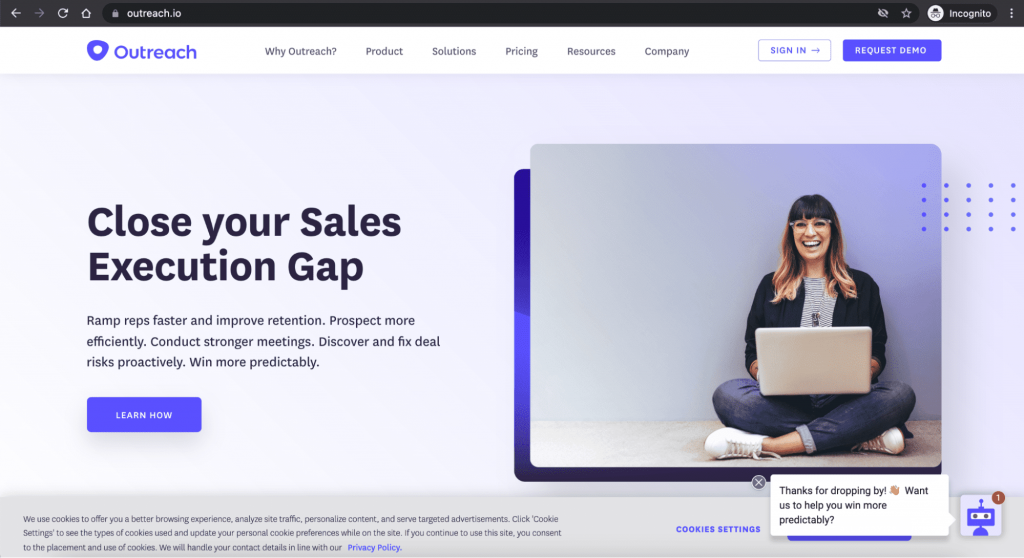 Outreach.io is a sales engagement platform that lets your sales reps connect with prospects through outreach emails.
Outreach Key Features
Connect your mailboxes with Outreach and send email campaigns from them.
Leverage email, phone, and social media interactions in your sales process.
Track the open and click rates when a prospect engages with your personalized email.
Let recipients opt out of your email campaign via unsubscribe links to protect your sender reputation.
Outreach Pricing
Contact their sales team for pricing details.
Outreach Customer Ratings
Capterra: 4.5/5 (250+ reviews)
G2: 4.3/5 (2,800+ reviews)
3. HubSpot Marketing Hub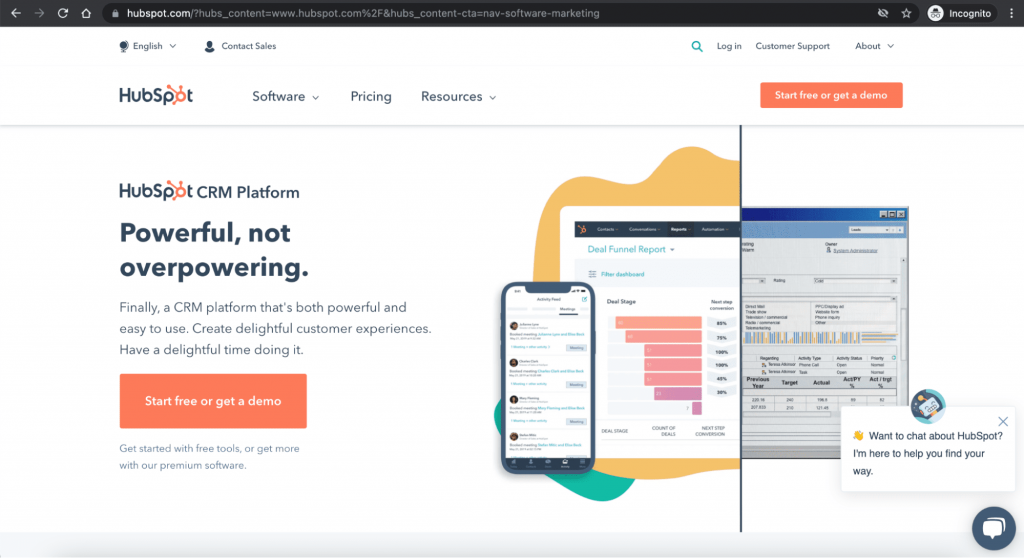 Hubspot Marketing Hub, a part of Hubspot's CRM platform, is an email marketing software solution you can use to send personalized outreach emails at scale.
HubSpot Marketing Hub Key Features
Personalize your emails to enhance open and clickthrough rates.
Create professional email campaigns with customizable email templates.
Schedule your emails to be delivered to your recipient's inbox at the right time.
Conduct A/B tests to understand which emails drive the most engagement and sales.
HubSpot Marketing Hub Pricing
HubSpot has a free plan that includes email marketing and reporting dashboard. Additional features are available with their paid plans starting at $50/month.
HubSpot Marketing Hub Customer Ratings
Capterra: 4.5/5 (4,500+ reviews)
G2: 4.4/5 (7,400+ reviews)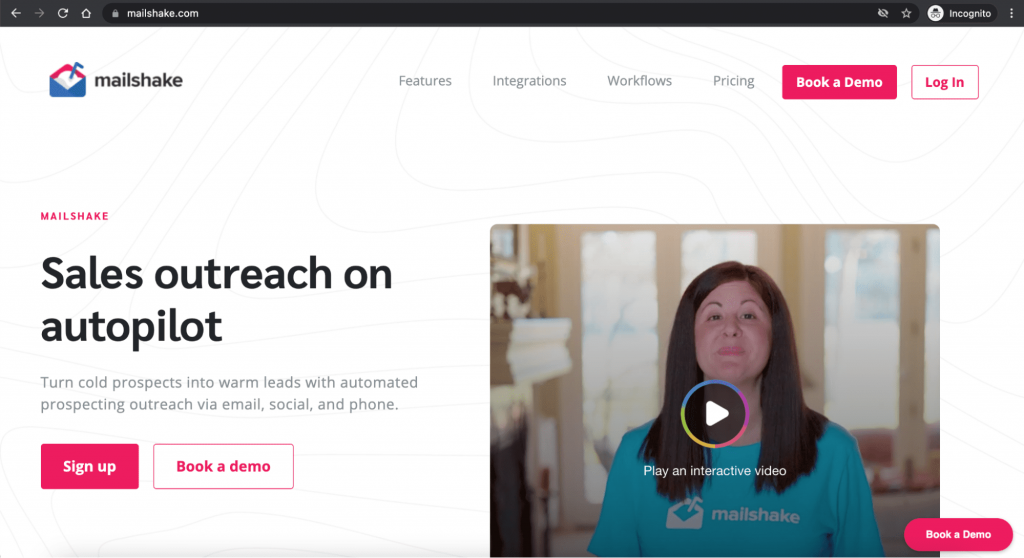 Mailshake is an email outreach tool that lets you transform cold prospects into warm leads through automated email prospecting as well as phone and social media outreach.
Mailshake Key Features
Connect with thousands of contacts simultaneously through cold email outreach campaigns and automated follow-ups.
A/B test your email campaigns and follow-up emails to boost engagement.
Use the Mailshake Lead Catcher to manage your leads and reply to them.
Incorporate LinkedIn and other social media in your outreach sequences to improve the customer response rate.
Mailshake Pricing
Mailshake provides an Email Outreach plan at $59/user per month and a Sales Engagement plan at $99/user per month.
Mailshake Customer Ratings
Capterra: 4.7/5 (90+ reviews)
G2: 4.7/5 (140+ reviews)
5. Salesmate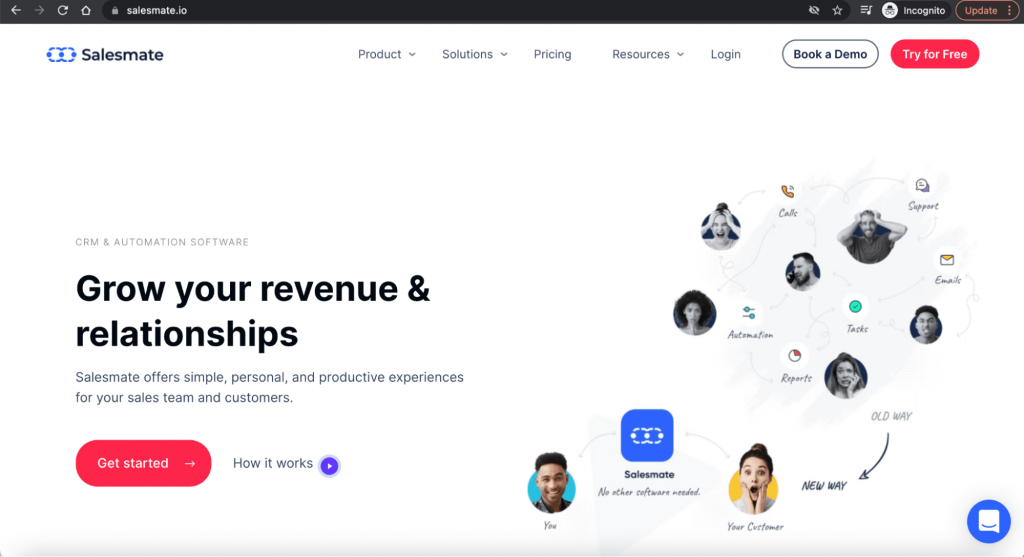 Salesmate is a sales outreach software solution that helps you connect with new prospects through simple and personalized outreach.
Salesmate Key Features
Import contacts from Google, CSV/Excel files, and mobile, or acquire them with Salesmate's form integrations.
Segment your contact list based on criteria like age, gender, geographic location, etc.
Automatically enter contacts' details and enrich the data with the Clearbit integration.
Easily update, delete, or merge your contacts when sending out bulk emails.
Salesmate Pricing
Salesmate has paid plans starting at $15/month per user.
Salesmate Customer Ratings
Capterra: 4.7/5 (70+ reviews)
G2: 4.6/5 (50+ reviews)
6. Klenty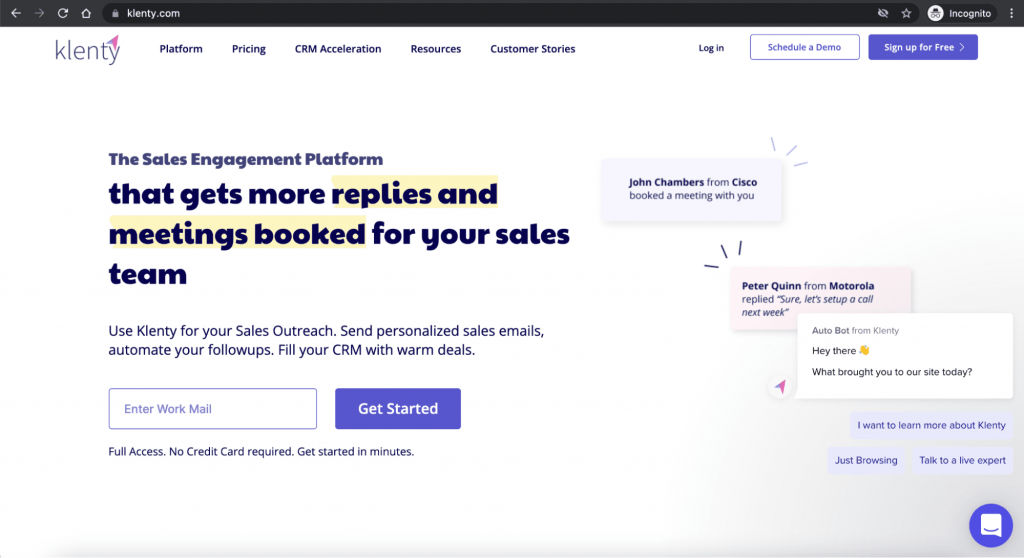 Klenty is a cold outreach software solution that allows you to send personalized sales emails and automated follow-ups to maximize your outbound sales conversions.
Klenty Key Features
Use "Playbooks" feature to filter prospects based on clicks, opens, or replies.
Filter prospects based on their intent and assign different email cadences to them.
Send the right volume of emails with each cadence through Cadence Throttling.
Add an unsubscribe link so recipients can opt out of receiving emails without marking them as spam.
Klenty Pricing
Klenty's paid plans begin at $55/user per month.
Klenty Customer Ratings
Capterra: 4.8/5 (30+ reviews)
G2: 4.6/5 (150+ reviews)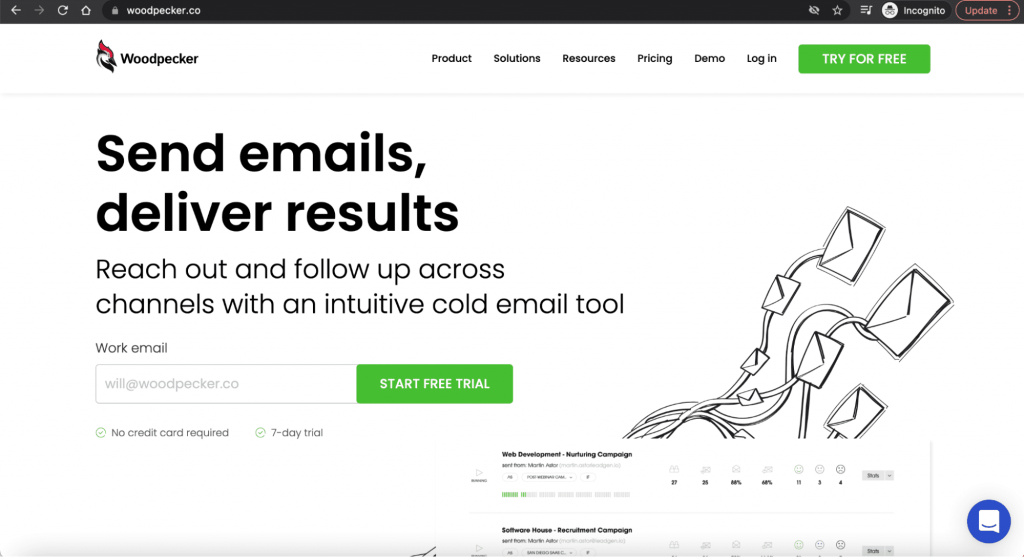 Woodpecker is an email marketing software solution and cold email tool that enables you to approach potential customers and follow up with them across multiple channels.
Woodpecker Key Features
Personalize every email for your prospects with advanced snippets.
Automatically analyze prospects' replies and mark them as interested or not.
Get email addresses of prospects verified in real-time to reduce bounce rate and improve deliverability.
Woodpecker Pricing
Woodpecker has a pricing plan that starts at $39/month per slot.
Note: A slot is a placeholder to connect one email account.
Woodpecker Customer Ratings
Capterra: 4.8/5 (15+ reviews)
G2: 4.4/5 (30+ reviews)
8. Snov.io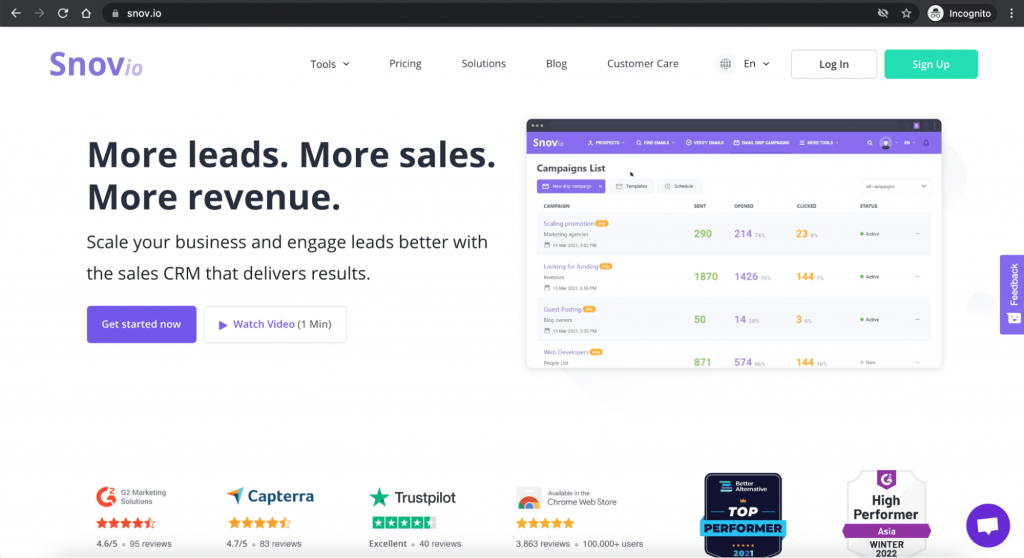 Snov.io is a sales CRM and outreach software solution that helps businesses scale up lead generation through cold outreach emails and follow-ups.
Snov.io Key Features
Quickly discover all email addresses on any given domain.
Use personalized email campaigns and automatic follow-ups to onboard and nurture new leads.
Keep track of email opens and link clicks from within Gmail.
Verify email addresses to build a credible email list.
Snov.io Pricing
The paid plan for Snov.io starts at $39/month.
Snov.io Customer Ratings
Capterra: 4.6/5 (100+ reviews)
G2: 4.5/5 (160+ reviews)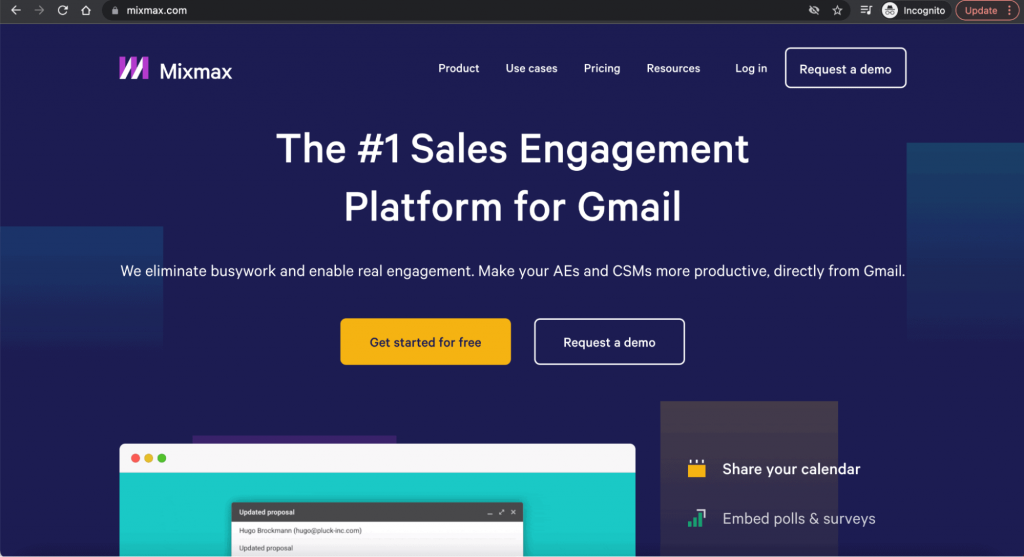 MixMax is a sales engagement platform and email tracking software solution for Gmail that lets you send personalized outreach emails to customers.
MixMax Key Features
Get real-time alerts whenever someone opens your message.
Identify messages that get the highest replies, content downloads, and link clicks.
Schedule your outbound emails to be delivered to the recipients at the right time.
Set smart reminders to follow up on outbound emails that haven't received a reply.
MixMax Pricing
MixMax offers a free plan with email templates and three paid plans for your sales teams, starting at $12/user per month.
MixMax Customer Ratings
Capterra: 4.5/5 (175+ reviews)
G2: 4.6/5 (530+ reviews)
10. Lemlist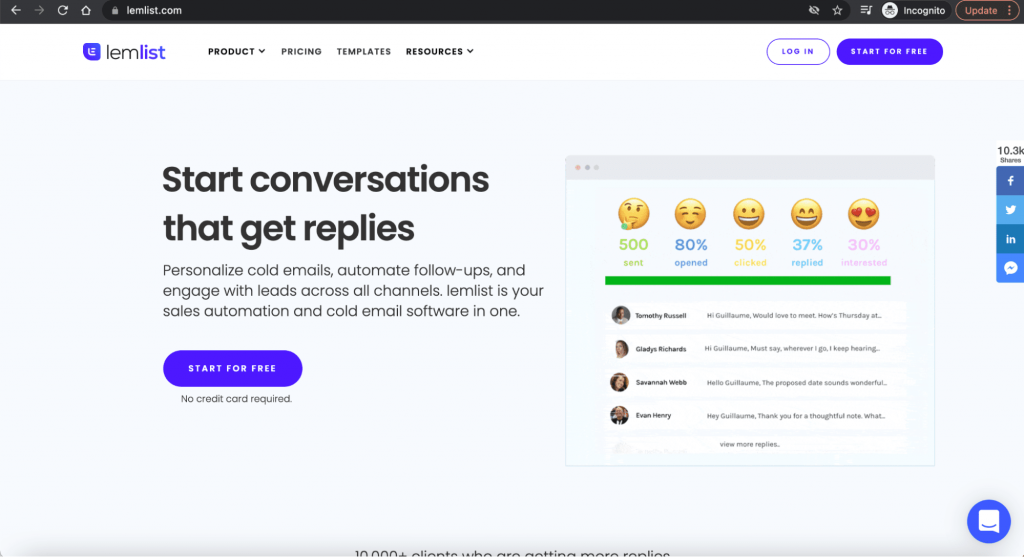 Lemlist is a sales automation tool and cold email software solution that uses personalized cold emails and follow-ups to improve prospect engagement.
Lemlist Key Features
Schedule emails so that they are delivered to the recipient's primary inbox and not the Promotions or Spam folder.
Personalize follow-up emails to stand out in the recipient's inbox and improve engagement.
Split test your emails and choose the version that offers the best open rate.
Lemlist Pricing
Lemlist offers free cold email outreach services and provides additional features under paid tiers, starting at $29/month per user.
Lemlist Customer Ratings
Capterra: 4.6/5 (320+ reviews)
G2: 4.3/5 (80+ reviews)
11. AutoKlose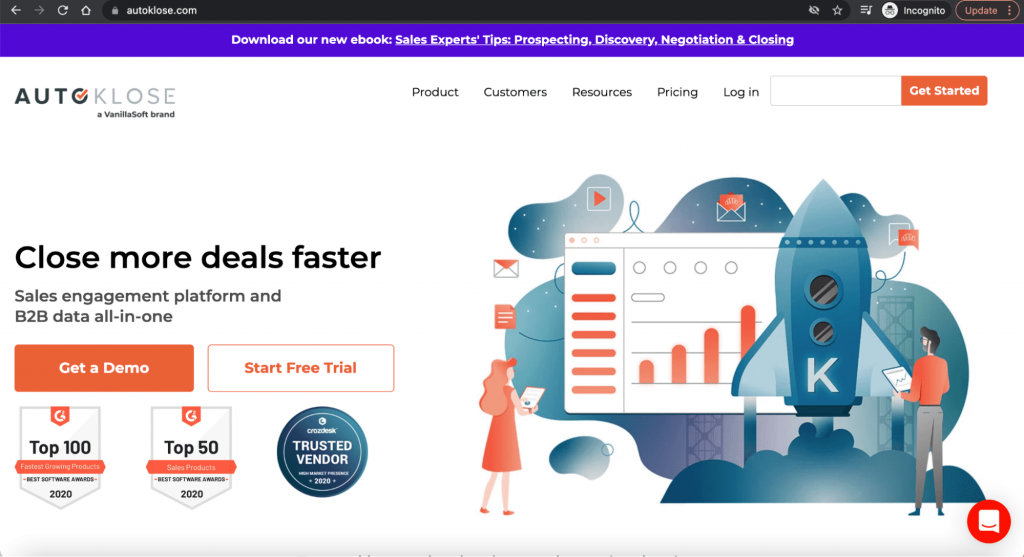 AutoKlose is a sales engagement platform ideal for entrepreneurs, sales, and marketing professionals.
AutoKlose Key Features
Send automated, personalized email campaigns to engage with your prospects.
Keep tabs on email metrics like clicks, opens, replies, and take action accordingly.
Add prospects to your email sequence and segment them based on their intent.
Use the AutoVerify feature to verify email addresses in bulk.
AutoKlose Pricing
The pricing plan for AutoKlose starts at $59.99/month per user.
AutoKlose Customer Ratings
Capterra: 4.5/5 (90+ reviews)
G2: 4.6/5 (250+ reviews)
12. SmartReach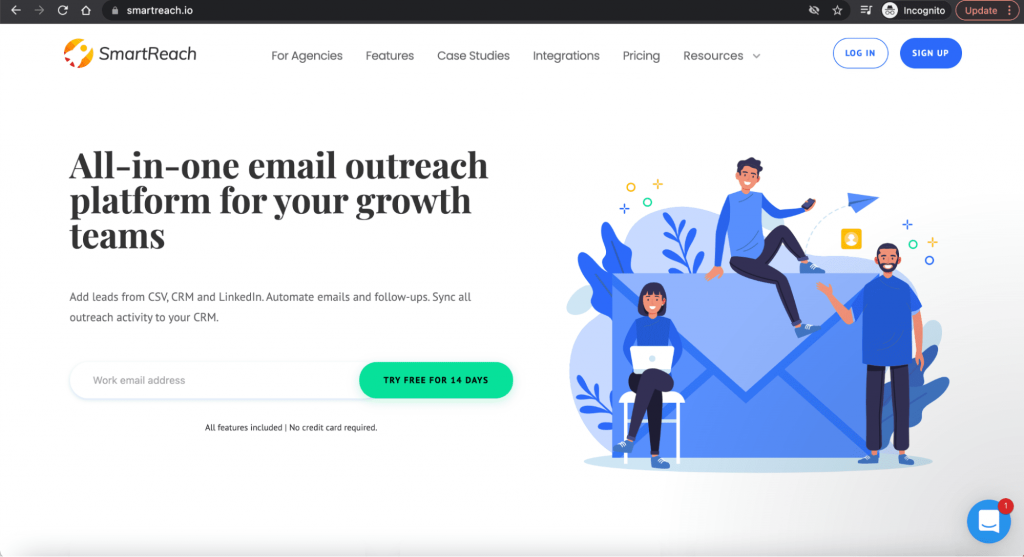 SmartReach is a cold email outreach tool that can sync all outreach activities to your CRM.
SmartReach Key Features
Automatically send cold outreach emails one by one to mimic manual sending.
Schedule personalized cold emails to go out at the same time in different time zones.
Integrate your emails accounts with SmartReach to send emails and receive replies.
Conduct A/B testing to identify subject lines that get the best open rates to take data-based outreach strategy decisions.
SmartReach Pricing
SmartReach offers paid plans, starting at $24/month per user.
SmartReach Customer Ratings
Capterra: 4.7/5 (5+ reviews)
G2: 4.9/5 (10+ reviews)
13. Hunter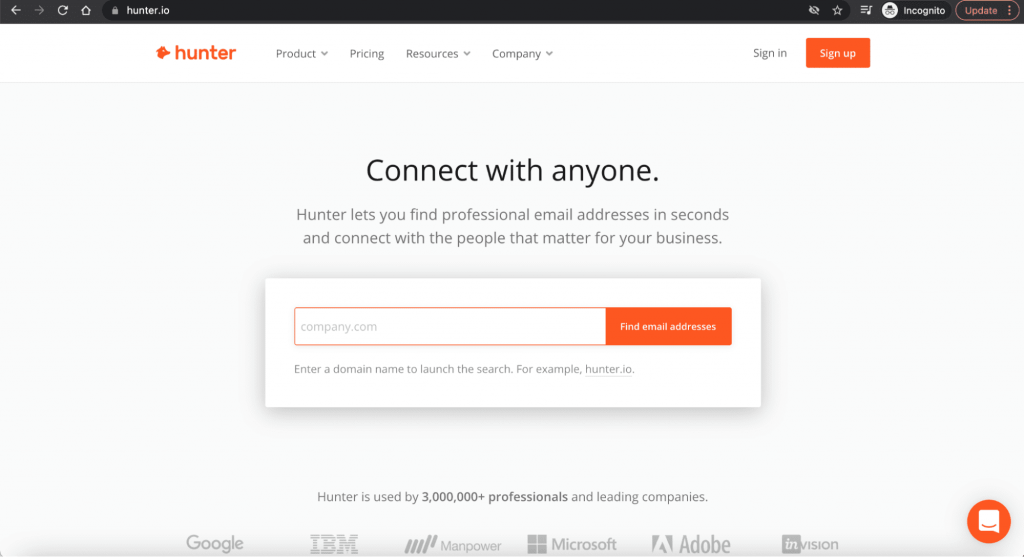 Hunter is an email finder tool and outreach platform lets you find professional email addresses and boost your cold outreach strategy through emails and follow-up messages.
Hunter Key Features
Personalize, review, and edit every email in a scheduled email campaign.
Track the click, open, and reply rate of the outreach emails.
Link Gmail and Outlook accounts to Hunter.
Choose from best-performing cold email templates for your campaigns.
Hunter Pricing
Hunter offers a free plan and a premium pricing plan costing $49/month.
Hunter Customer Ratings
Capterra: 4.6/5 (480+ reviews)
G2: 4.4/5 (400+ reviews)
14. Reply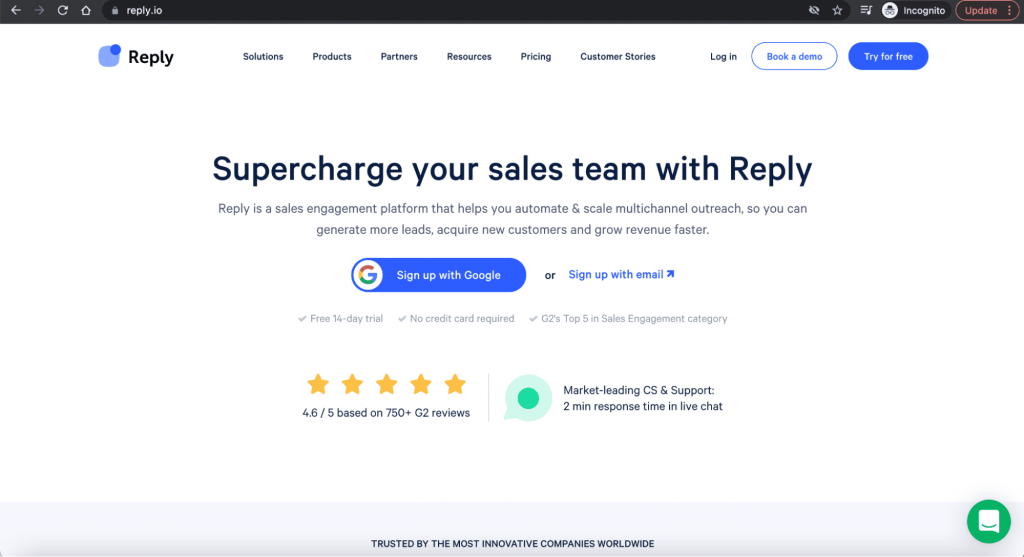 Reply.io is a sales engagement platform that automates cold email outreach and helps you with lead generation.
Reply Key Features
Draft emails and follow-ups quickly with the AI Sales Email Assistant.
Segment prospects based on different criteria for better sales targeting.
Track your outreach email performance through detailed reports.
Reply Pricing
Reply provides three pricing plans for different customers to fulfill their cold emailing goals, starting at $29/month per email account.
Reply Customer Ratings
Capterra: 4.6/5 (90+ reviews)
G2: 4.5/5 (790+ reviews)
15. QuickMail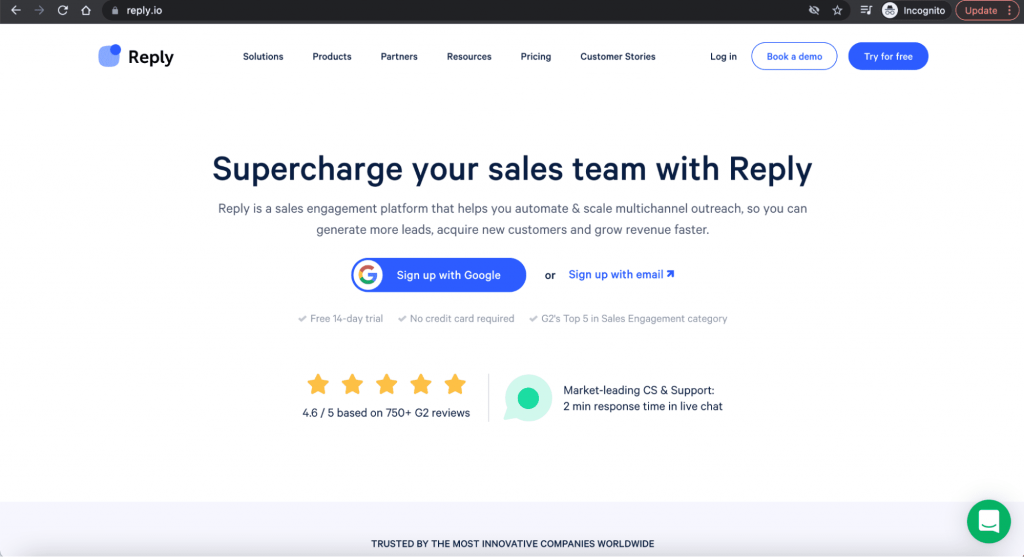 QuickMail is an outreach email software tool that helps improve email deliverability and prospect response rate.
QuickMail Key Features
Send your cold email campaign from multiple inboxes to avoid triggering spam filters.
Changes to an email campaign automatically get applied to all inboxes used to send campaigns.
A/B test your email sequences across all assigned inboxes simultaneously.
Track the analytics of every outreach campaign (across inboxes) from one place.
QuickMail Pricing
QuickMail offers a free plan as well as paid pricing options, starting at $59/month.
QuickMail Customer Ratings
Capterra: 4.8/5 (20+ reviews)
G2: 4.7/5 (50+ reviews)
Wrapping Up
An outreach email software solution lets you streamline sales outreach efforts and boost engagement with ease.
If you're looking for a powerful and easy-to-use outreach email tool, try GMass.
In addition to its advanced cold outreach and email automation features, GMass lets you A/B test, analyze prospect behavior using metrics like clicks and opens, and do so much more.
Download the GMass Chrome extension and step up your outreach email game today.
Email marketing, cold email, and mail merge

inside Gmail



Send incredible emails & automations and avoid the spam folder — all in one powerful but easy-to-learn tool

TRY GMASS FOR FREE

Download Chrome extension - 30 second intall!
No credit card required
Love what you're reading? Get the latest email strategy and tips & stay in touch.