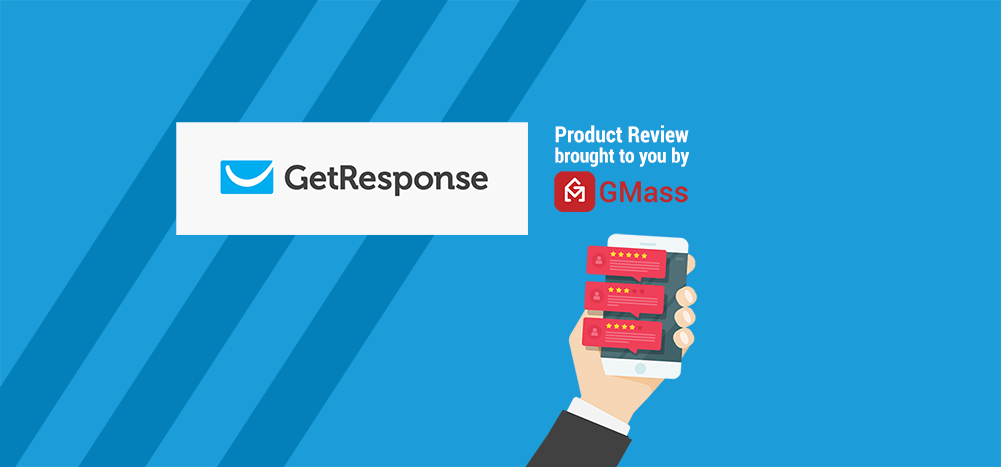 Searching for a detailed GetResponse review?
GetResponse is a comprehensive email marketing tool that also helps businesses grow their audience. Apart from basic email marketing features, it also offers marketing automation and landing page design tools.
However, GetResponse might not suit everyone's email marketing needs.
In this comprehensive GetResponse review, I'll highlight everything you need to know to determine if it's the right tool for you.
I'll talk about GetResponse's features, pricing, and the limitations you need to look for in the marketing automation tool. And if you're looking for a simpler email tool, I'll highlight the perfect alternative for you.
This GetResponse Review Contains:
Let's dive into it.
What is GetResponse?
GetResponse is an email marketing platform designed for lead generation and online sales. Its features are built for organizations looking to implement high-impact marketing campaigns to drive up their ROI.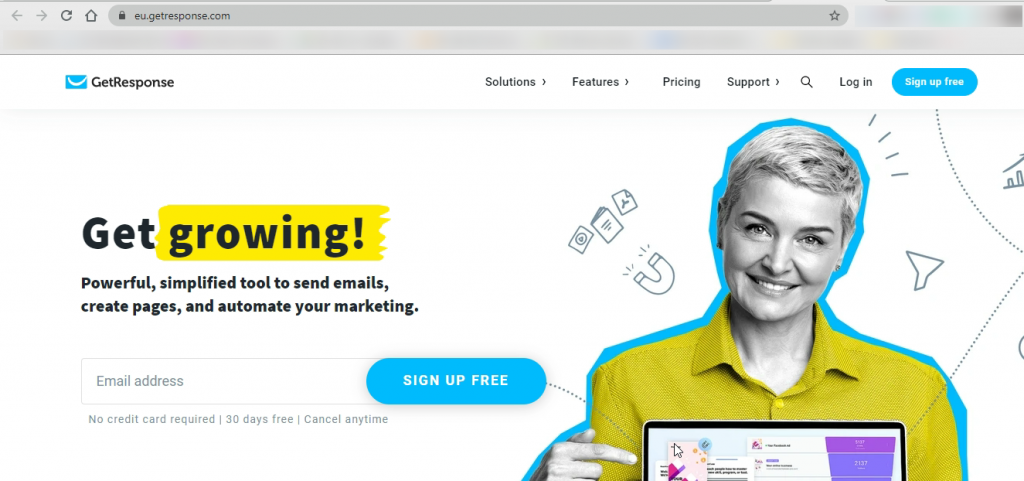 Some of the most important GetResponse features include marketing automation, email templates, landing page creator, and an autoresponder. (I'll dive into these in detail in a minute.)
GetResponse also allows users to run social media marketing campaign sessions on Facebook and host webinars on the platform.
It also has a mobile app that allows Android and iOS users to manage their email marketing campaigns on-the-go.
Five Key Features of GetResponse
Let's take a look at some features that make GetResponse a great online marketing tool:
1. GetResponse Autoresponder
When you're running a business and dealing with hundreds of leads, it's impossible to send marketing emails manually.
Fortunately, GetResponse has comprehensive autoresponder software to help you send automated email sequences to convert prospects easily.
You can use this GetResponse feature to design emails with drag-and-drop blocks or predefined templates that match your marketing campaign goals. There are hundreds of templates that fit different occasions — so you can easily connect with prospects and customers.
You can add videos, social media icons, and buttons — and even optimize them to look great on any mobile device.
You can set delivery times based on subscriptions and send emails with delays to get higher open rates. GetResponse also allows you to analyze how your autoresponder emails perform so that you can tweak future emails to improve open and click-through rates.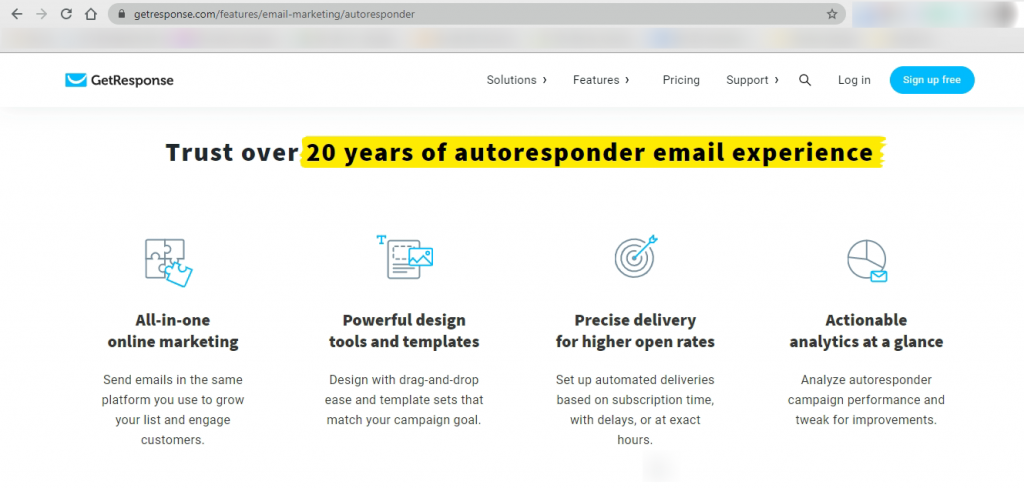 Ajay's email tip
While drag-and-drop email designers and prebuilt templates can help you compose beautiful emails, looks aren't everything. Make sure the rest of the tools and features of any email service or software help your business run smoothly and support your goals.
Read my guide on how to start an email to create stunning openings for all of your emails.
2. Easy-to-Use Automation
One of GetResponse's key selling points is its marketing automation feature.
An automated workflow helps you send autoresponder emails based on a predetermined sequence. You can build automation workflows that trigger based on users' behavior, too — like sending automated emails to a new subscriber and offering them discounts on their first purchase.
GetResponse users can utilize pre-built automation sequences or create custom workflows to save time.
You can even use the automation feature to create personalized emails by gathering customer data through your site's interactions. This helps you build better connections with your audience.
3. Email Analytics
GetResponse provides its users with email analytics to help them understand how their email campaigns are doing.
These analytics will help you better understand your subscribers and determine what resonates with them. You can also use it to learn which emails led to website visits, sales, and signups.
With their analytics, you can:
Analyze open rates, click-through rates (CTRs), number of unsubscribes, and sales
Monitor mobile vs. desktop performance
Conduct A/B tests on subject lines and tweak emails based on their performance
What's A/B testing?
With A/B testing (also known as split testing), you send one version of an email to one set of recipients and a variation of the same email to another group of recipients. Then, you analyze the results of those two email tests to see which one performed better. The email with the best performance is the version you send to the rest of your email list.
4. Conversion Funnel (Autofunnel)
With GetResponse's Conversion Funnel tool (previously known as Autofunnel), you get access to an automated and ready-made lead funnel creator.
You can use four types of funnels:
Simple opt-in funnels for lead generation
Sales funnel that helps you promote, sell, and deliver your products
Webinar funnels to help you build and nurture relationships
Lead-magnet funnels that allow you to share valuable content in exchange for email addresses
5. Webinar Hosting
Want to reach more people and provide value to them?
Just host a webinar to show how your business can solve your participants' problems!
GetResponse has webinar software that helps you broadcast to as many as 1,000 live attendees.
You can also share the stage with two other presenters and store up to 20 hours of recordings in the cloud.
With the GetResponse webinar feature, you can:
Create an unlimited number of recordings
Customize webinar URLs
Manage user registrations
Set subscription settings for attendees
What's more…
You can use GetResponse's built-in marketing tools to promote your webinar to your email list. For example, you can target your Facebook page visitors with relevant details about your webinar.
GetResponse Pricing
Now that I've covered GetResponse's essential features, let me answer some questions about its price:
1. Is GetResponse Free?
No, GetResponse doesn't offer a free plan for users.
However, you can try a 30-day free trial on each of their plans — without a credit card.
2. How Much Does GetResponse Cost?
GetResponse currently offers four plans for users: Basic, Plus, Professional, and Max.
Each plan's pricing depends on your contact list size — with the minimum number being 1,000 contacts.
A. GetResponse Pricing for the "Basic" Plan
This pricing plan starts at $15/month with support for 1,000 contacts and includes:
Email marketing
Autoresponder
Unlimited automation templates
Unlimited landing pages with the landing page creator
Mobile app access
Customer support via live chat
One sales funnel
Facebook Ads
Unlimited lead generation funnels
B. GetResponse Pricing for the "Plus" Plan
This GetResponse plan starts at $49/month with support for 1,000 contacts and includes:
Everything in the Basic plan
Support for three users
Automation builder with support for five automated workflows
Five sales funnels
Live webinar support for five attendees
Landing page creator
GetResponse contact scoring & tagging
Five webinar funnels
C. GetResponse Pricing for the "Professional" Plan
This pricing plan starts at $99/month with support for 1,000 contacts and includes:
Everything in the Plus pricing plan
Support for five users
Web push notifications
Unlimited automation builder
Support for paid webinars with up to 300 attendees
Landing page builder
On-demand live webinar support
Unlimited webinar funnel support
Unlimited sales funnels
D. GetResponse Pricing for the "Max" Plan
This is an enterprise plan with custom pricing — you'll have to contact GetResponse for a quote.
It includes:
Everything in the Professional plan
Dedicated customer support
Support for transactional emails (paid add-on)
Dedicated IP address
GetResponse integration with Microsoft Dynamics
Landing page creator
Deliverability and email campaign consulting
Three Limitations of GetResponse
Now that I've covered the GetResponse pros and pricing, let's check out some of its significant limitations:
1. No Free Plan
With a GetResponse account, you'll get access to a wide range of digital marketing tools — but all of them come at a cost.
You can always go for the 30-day free trial, but it's not long enough to see how the GetResponse platform can help your business. If you're serious about using GetResponse, you'll have to subscribe to a paid plan.
That's not the worst part.
Even if you run a small business with only four people or so on your marketing team, you'll still have to go for the "Professional" plan, which costs $99/month.
And if you have a contact list of around 5,000 people (as many small businesses have), your cost goes up to $139/month!
2. Email Templates Look Outdated
You can't use outdated email templates for your marketing campaign, right?
With a GetResponse campaign, that could be an issue.
Sure, GetResponse offers hundreds of templates.
However, they often need a lot of manual customization to suit modern email marketing needs.
And while they are rolling out a newer version of GetResponse with better templates, it still has limited customizability.
So if you want an email that doesn't look dated, you're better off designing the email yourself — instead of relying on GetResponse's pre-built templates.
3. Can Be Difficult to Use
While most of GetResponse's UI is pretty straightforward, some features, like the GetResponse landing page and contact form designer, can be challenging to use.
Several user reviews point out that it doesn't feel as user-friendly as the rest of the GetResponse UI.
A More Streamlined GetResponse Alternative: GMass
While GetResponse offers various features, it may not be the right tool for everyone.
After all, it lacks a free plan, and the user experience can vary depending on the features you use.
What you need is a more straightforward, no-nonsense email marketing tool that can help you:
Schedule email campaigns
Automatically personalize emails
Follow-up on emails with ease
Achieve a high deliverability rate
And measure email campaign performance
Basically, what you need is GMass!
What is GMass?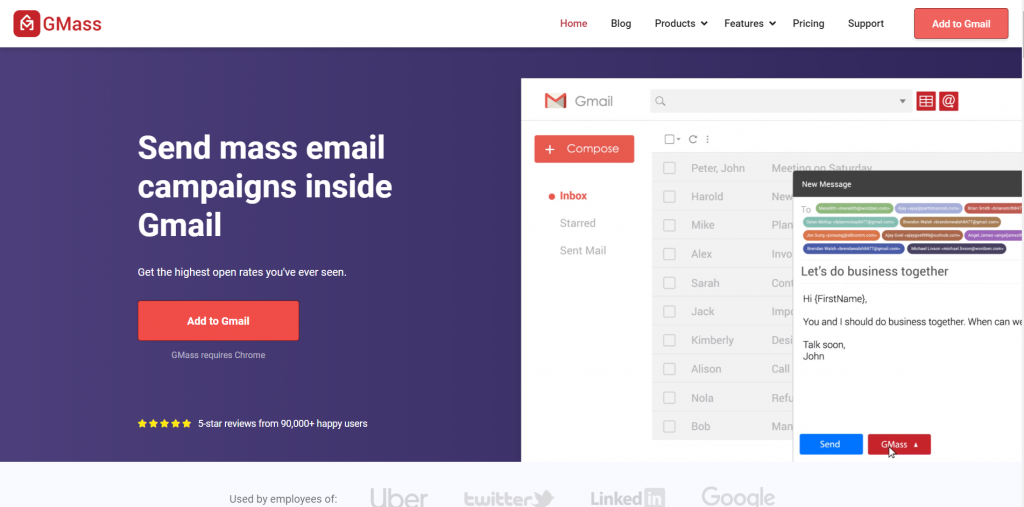 GMass is a powerful email tool that works entirely inside Gmail. Its outreach features have made it a popular tool used by employees from tech giants like Uber and Google, and social media platforms like LinkedIn and Twitter.
GMass is also perfect for SMBs, individuals, and institutions like churches that need to send email campaigns through Gmail, too.
You can use GMass to:
Schedule and send email campaigns
Personalize emails automatically to increase recipient engagement
Keep track of essential email metrics
Automate all of your email follow-ups
Set up custom tracking domains to improve email deliverability
You can even use GMass as an add-on to the official Gmail app.
But the best part?
Just add the Chrome extension to your browser, and you're good to go!
What Makes GMass the Perfect GetResponse Alternative?
Let's take a look at why GMass is the perfect alternative to GetResponse:
1. Has a Powerful Free Plan
Running a small business that can't afford to pay for an email marketing tool?
Don't worry!
GMass has a free plan that includes all features provided in its paid plans.
These features include:
Campaign reports
Campaign personalization and automated follow-ups
You can use the free plan to see how GMass can help you and then easily upgrade to a paid plan when that makes sense for you. If you need any help or further information, you can go through the GMass customer support guide.
2. Automatically Personalize Emails
Did you know that recipients are more likely to interact with personalized emails?
With GMass, you can automatically personalize every individual email in a campaign so that recipients feel like it was tailor-made for them.
GMass can automatically add customized text, images, and links, and pull a recipient's name from their email address.
3. Keep Track of Important Email Analytics
Whenever you send an email campaign with GMass, it generates a Campaign Report that highlights core email metrics like:
No. of unique opens
No. of unsubscribes
No. of replies
No. of unique clicks on a link
And more
You can quickly access this report from the Campaigns tab on Gmail's left sidebar.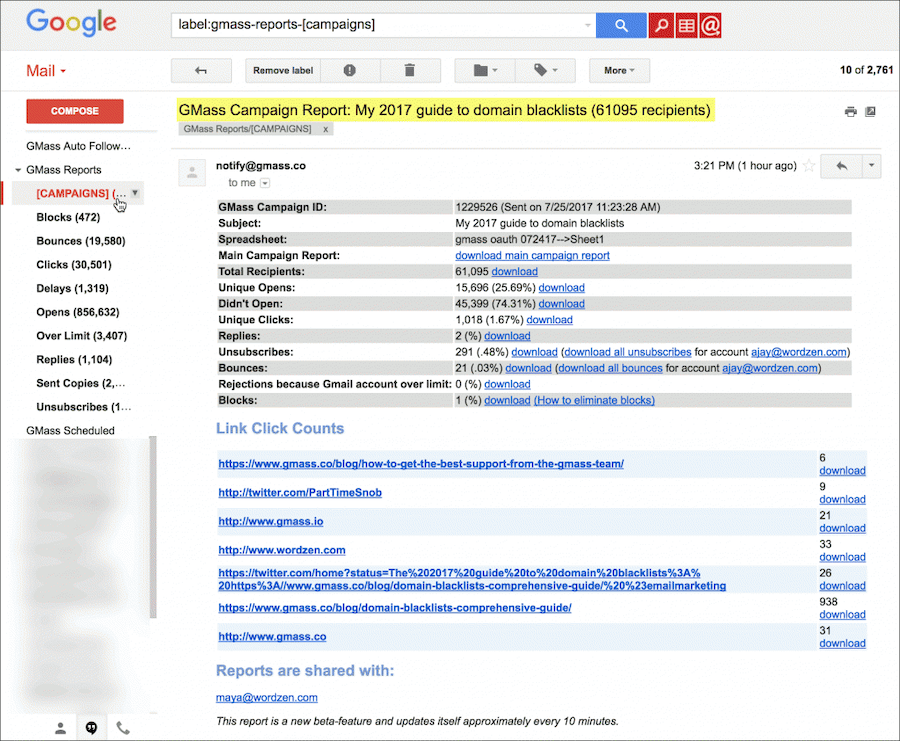 Generally, most recipients don't interact with the first email you send them.
So it's essential to send follow-ups.
GMass helps you automate these follow-ups to reach recipients at the perfect time and boost your engagement.
You can even customize these follow-ups — like the email content, how many follow-ups to send, and the time gap between follow-ups.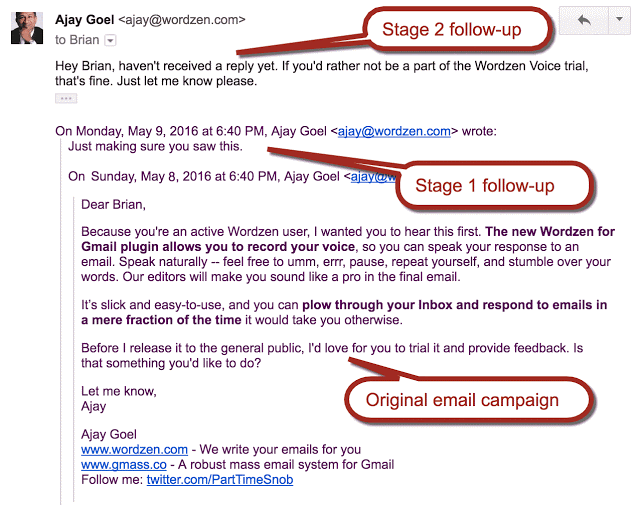 You can't manually insert email addresses for a massive email campaign, right?
GMass lets you link a Google Sheet to handle mail merges easily. It will automatically add all the email addresses in the Google Sheet to the email — without you having to do a thing!
Can't stay up to send emails at the right time?
Just let GMass handle it!
All you have to do is create the email, schedule it, and GMass takes care of the rest.
Want to reschedule an email?
Just head to the Drafts folder in Gmail and change the date and time to your new timing.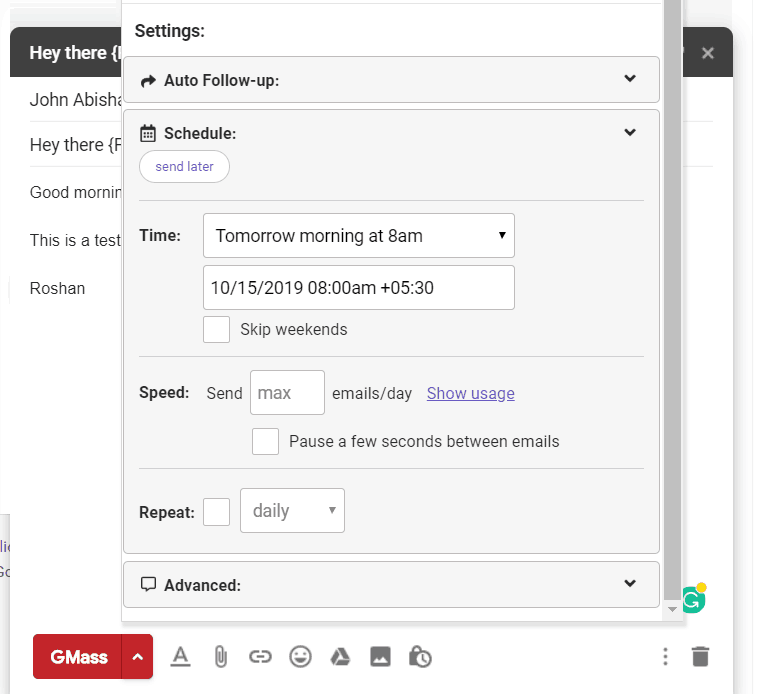 Wrapping Up
It's clear that GetResponse has tons of features that make it an all-in-one online marketing tool.
But that doesn't make it perfect.
If you really need all the features offered with GetResponse, you can give it a trial run before buying a plan.
However, if you're looking for a comprehensive and straightforward email marketing solution, look no further than GMass. It offers a free plan with advanced functionality and is super easy to use — making it the perfect email marketing tool.
So why not give GMass a try and see how it helps you boost your email campaigns immediately?
And remember, GMass isn't just the perfect GetResponse alternative. Check out how it's also the perfect alternative to all these other marketing tools: