As a lead gen agency (or any other type of agency in the world of outreach, from link building to PR), you need a cold email platform that can handle whatever you throw at it. Because you're throwing a lot at it.
In this article, we'll walk through the checklist of considerations for lead gen agencies that's hunting for cold email software.
Before we start, let's address the rather large elephant in the room, yes, this post is on the GMass blog and we hope you choose GMass as your email solution. But we're not recommending it blindly.
GMass is the cold email platform of choice for thousands of lead gen agencies and pros (you can read our ~6,700 glowing reviews from them and other users). They recommend and endorse GMass, so I feel like I can justifiably recommend it as well.
But feel free to email me calling me biased. (And if you happen to send that email via GMass, I'll reply and grab a time to see your demo. Probably.)
Cold Email for Agency Use: Table of Contents
Consideration 1: Reliable Deliverability
There's nothing worse than sending a mass email for a client and seeing a large percentage of those emails go to spam. Especially if one of the emails lands in, say, your client's husband's spam folders. (I say that from personal experience. It was rough. I hope the curse they put on me has expired by now.)
There are several ways to improve deliverability.
You need to send from reliable, trustworthy servers.
You need to be able to set up your own custom tracking domains, so you're not sharing with anyone else (and taking on their reputation in the process).
You need an efficient way to run email validation so you aren't bouncing lots of your messages.
You need a platform that makes the technical side of email (like SPF, DKIM, and DMARC) easy — preferably something you never even have to worry about.
And ideally, you need to diagnose whether a message is or isn't destined for spam before you send it.
Deliverability is a mandatory part of the cold outreach equation; you need to make sure the cold email platform you choose will help your emails hit the inbox where they belong.
What GMass does
99% of GMass users report the highest deliverability they've ever experienced. Not only does GMass use Google's servers (which have some of the best deliverability in the world), but it also provides the largest suite of deliverability tools in the industry.
GMass users can set up custom tracking domains. And GMass is the only cold email platform that gets an SSL certificate for your tracking domains to send secure links — which can provide a serious deliverability boost.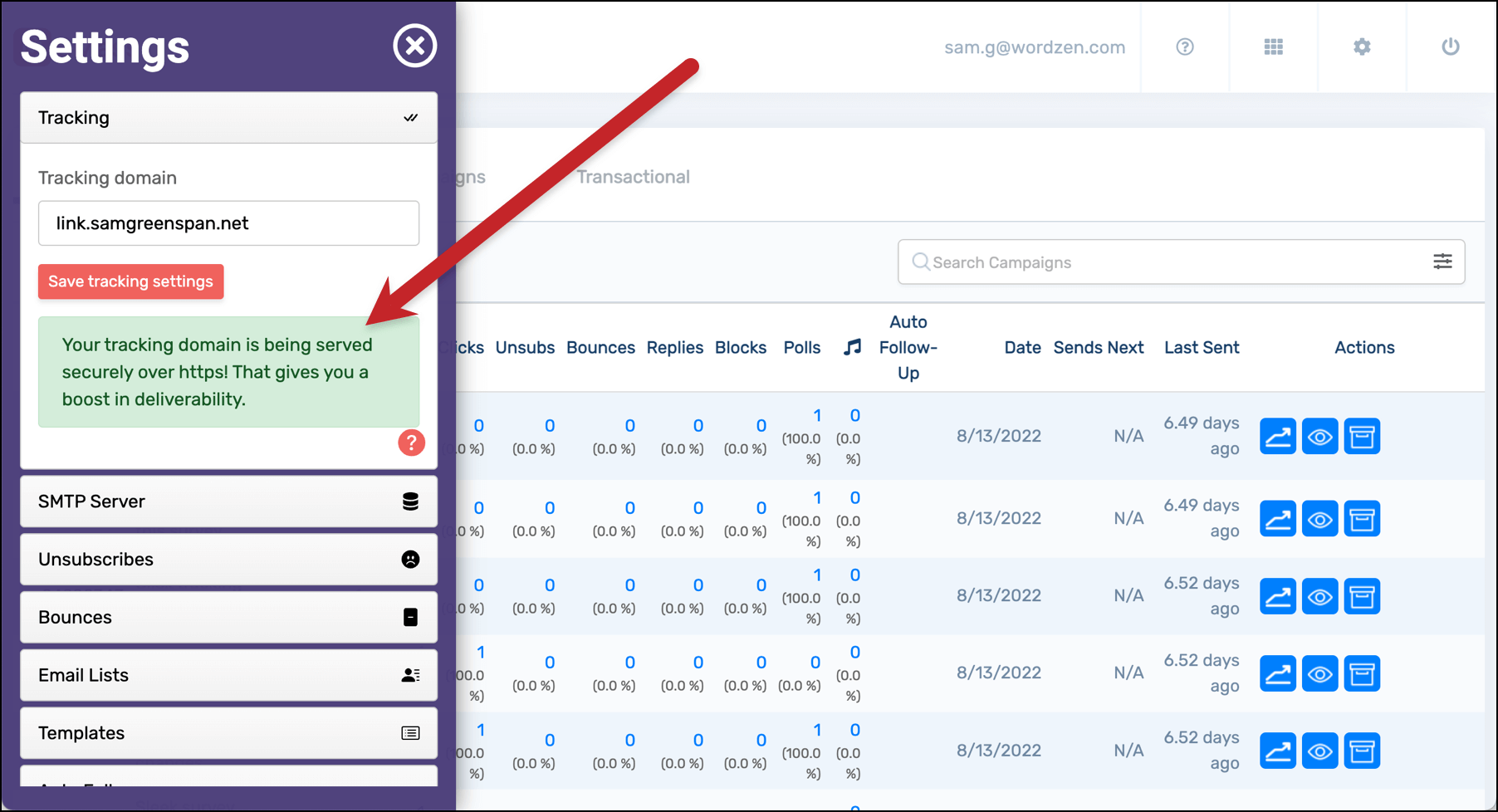 Free email verification is built into GMass — it can automatically validate each address before the email goes to that recipient. That will help you avoid reputation-killing bounces.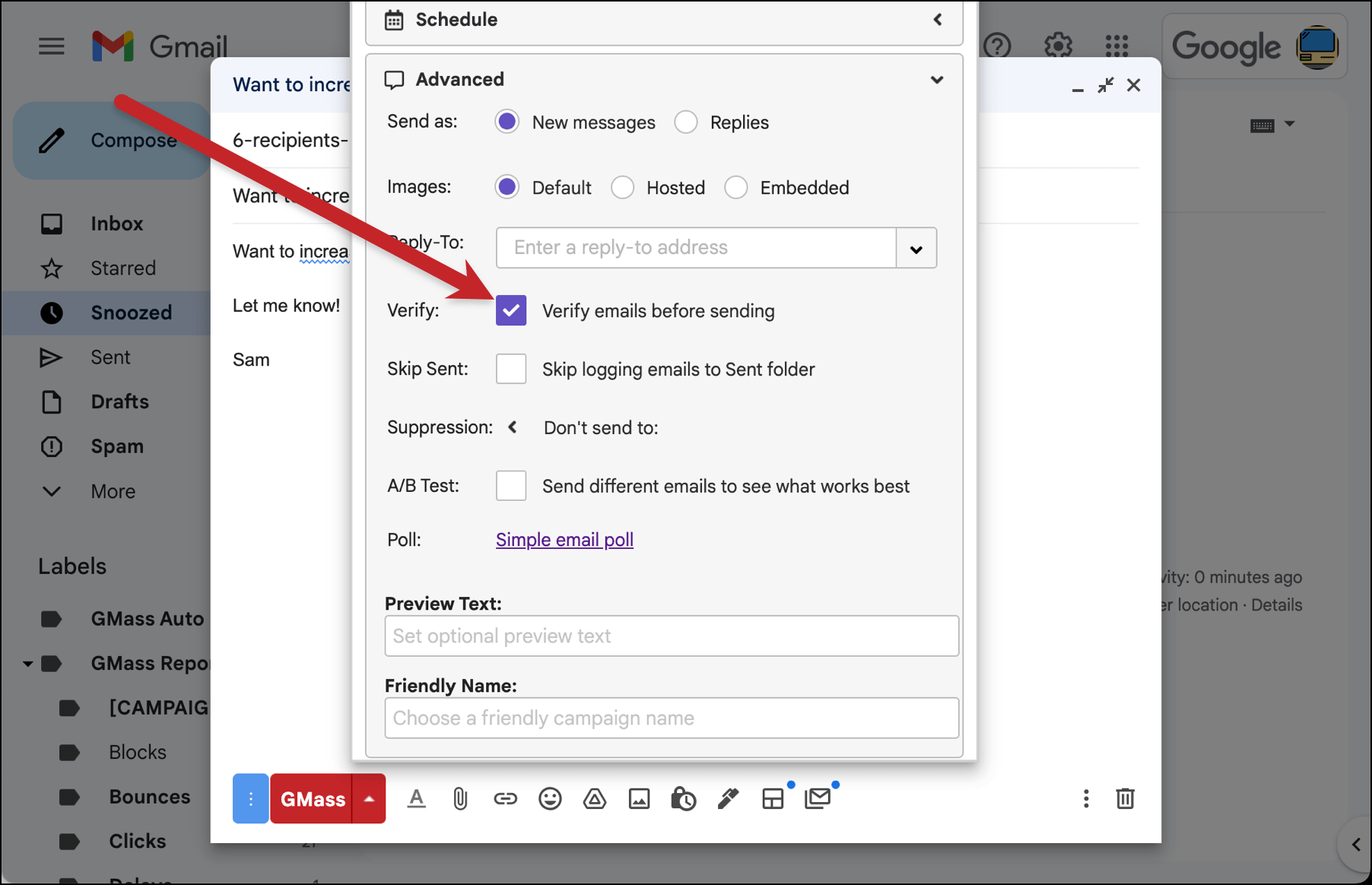 If you ever have an issue on the technical side of email (like SPF), GMass has a diagnostic tool that shows the entire technical journey of your messages.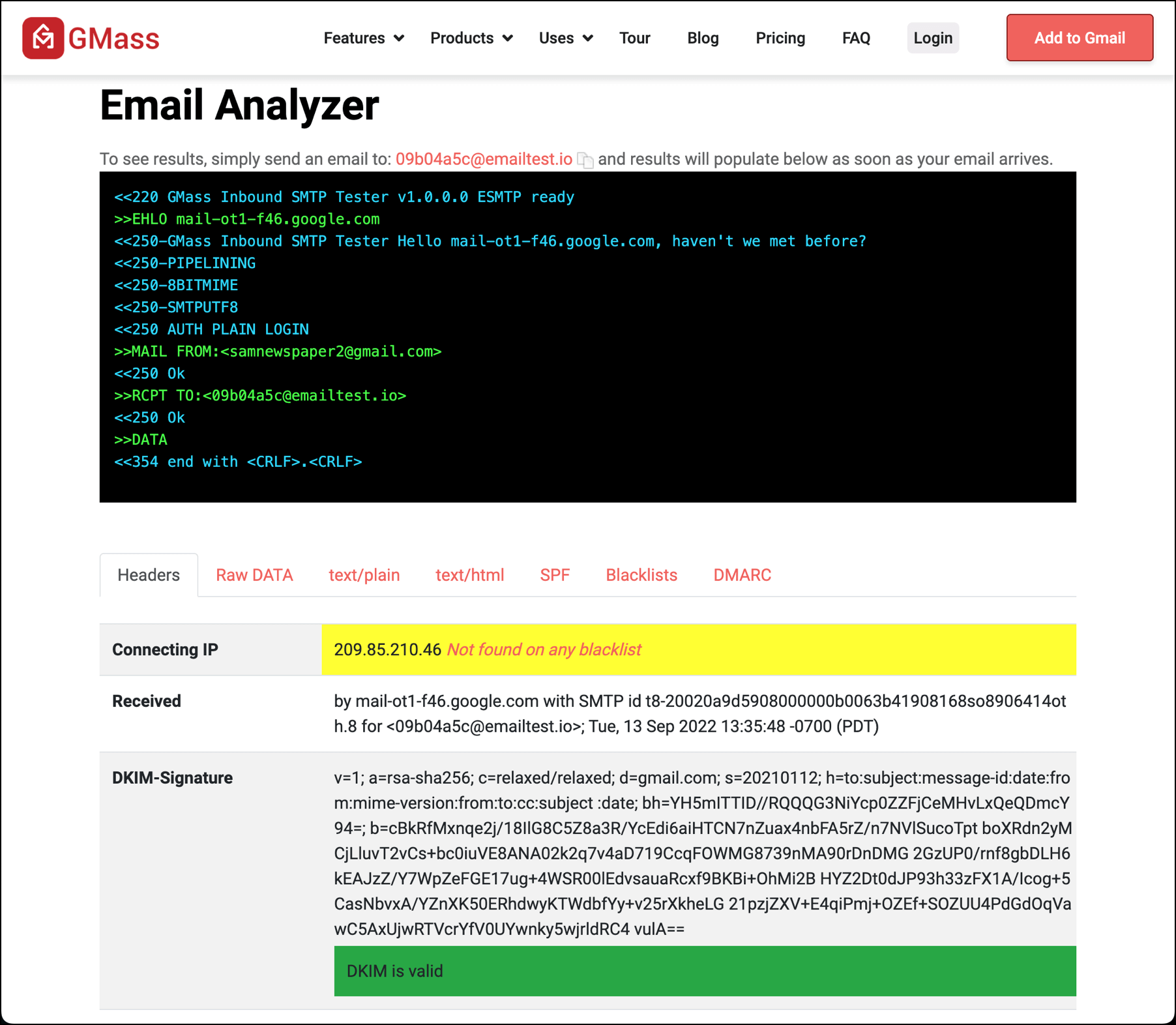 GMass has a unique tool called Spam Solver that tests an email to see if it's headed for the inbox or spam folder — and then allows you to tweak it until results improve.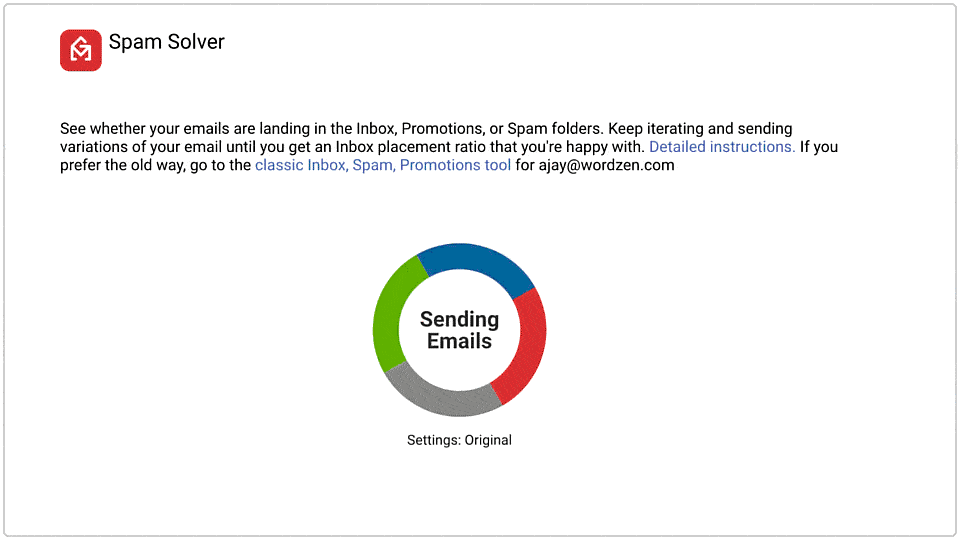 And finally, GMass has global bounces and unsubscribes. If anyone from your domain sends an email that bounces or has anyone unsubscribe, you can automatically suppress future messages to that email address from everyone on your team.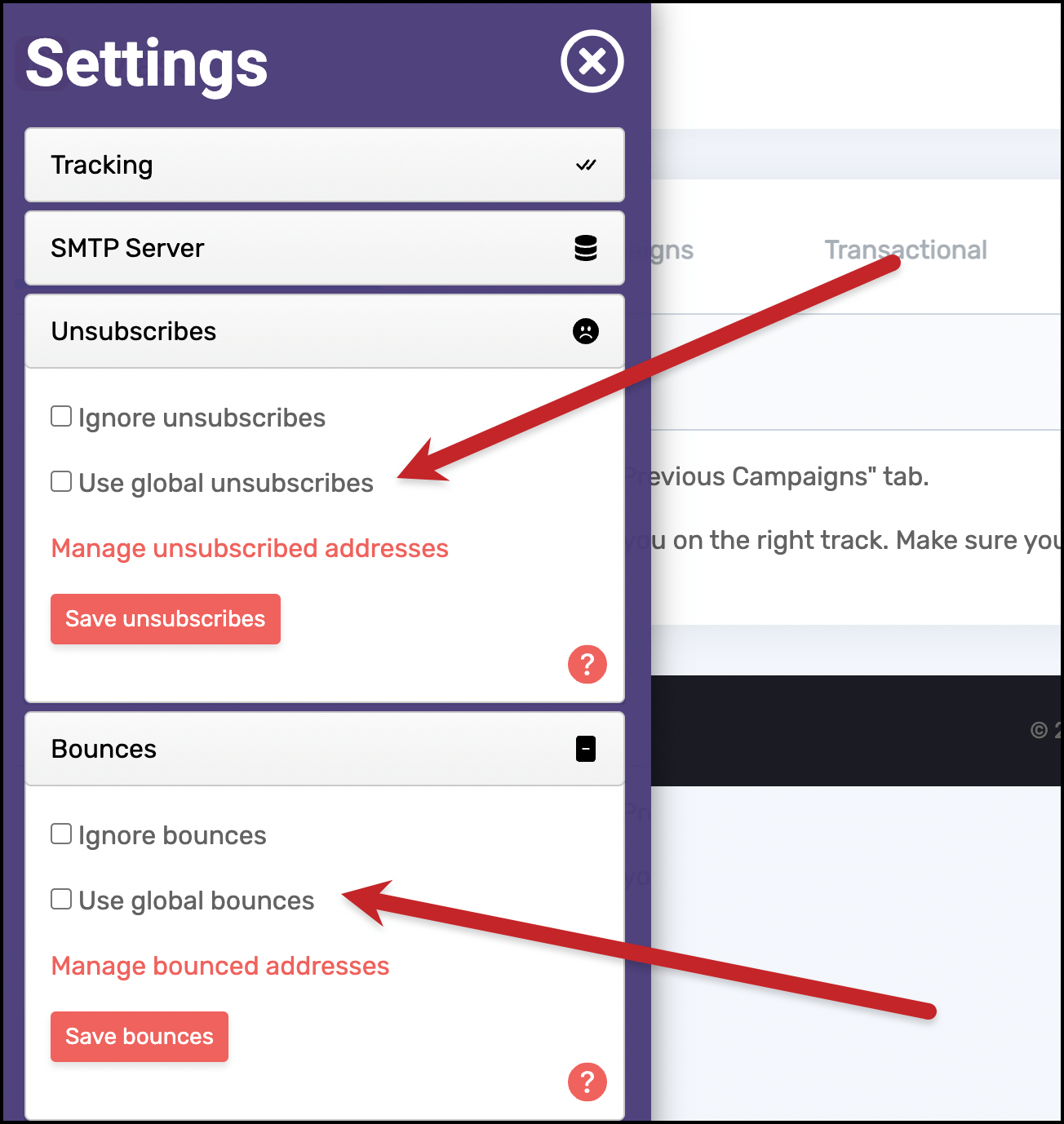 You can even unsubscribe an entire domain to stop all outreach to a particular company.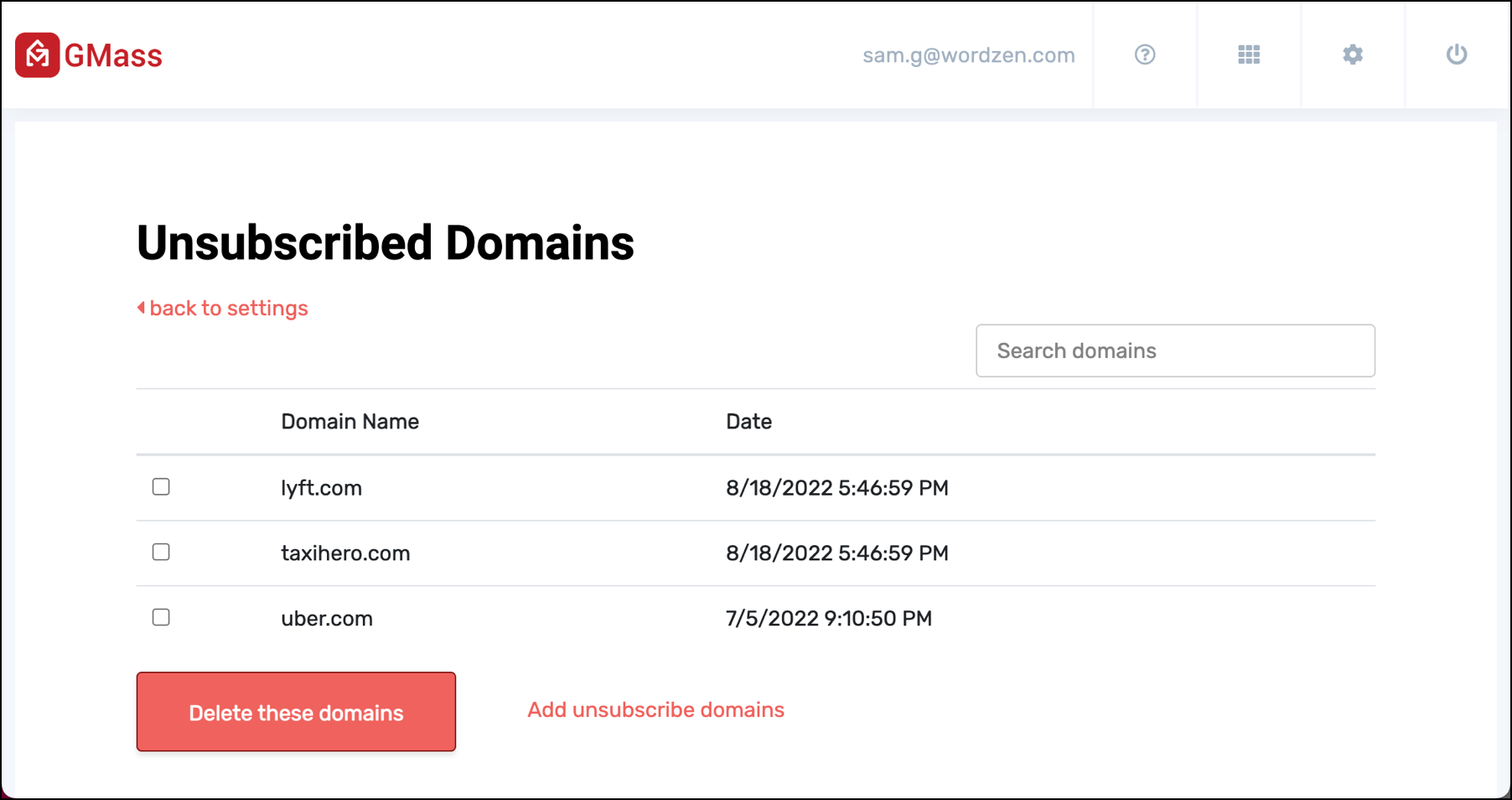 Consideration 2: Unified Management
As a lead gen agency you're running multiple email campaigns for multiple clients. Ideally, you'll have a way to get an overview on all of your current campaigns for all of your clients in one place.
You should be able to view and compare the analytics on those campaigns.
And, of course, you should be able to search, drill down by individual client, and manage campaigns from that unified dashboard.
What GMass does for team/account management
GMass's team plans give team leaders a dashboard where you can view all current and previous campaigns for all of your accounts. (Even if those accounts are on different domains.)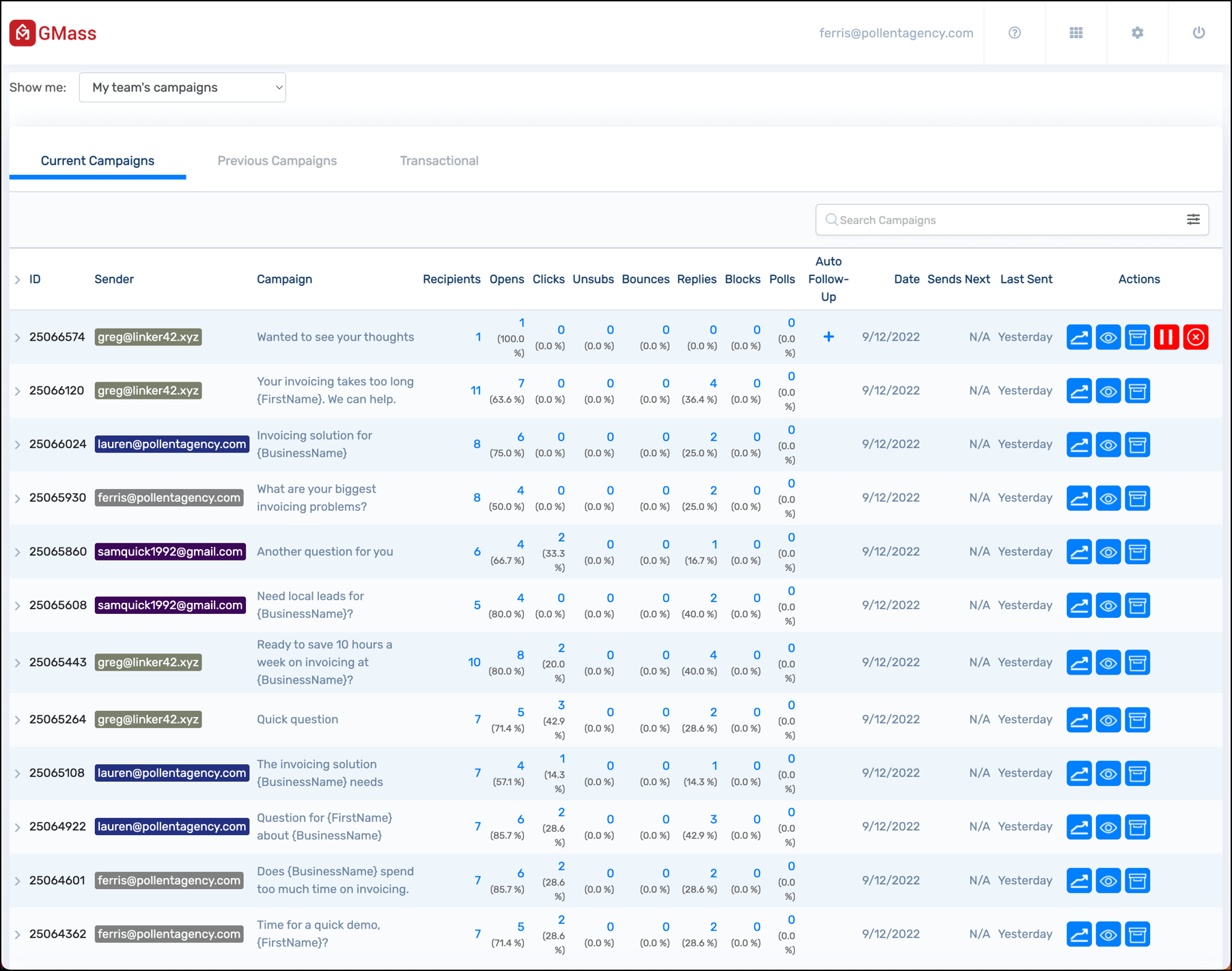 Team leaders can also…
View campaigns by team member (or client, if that's how you're setting up your accounts).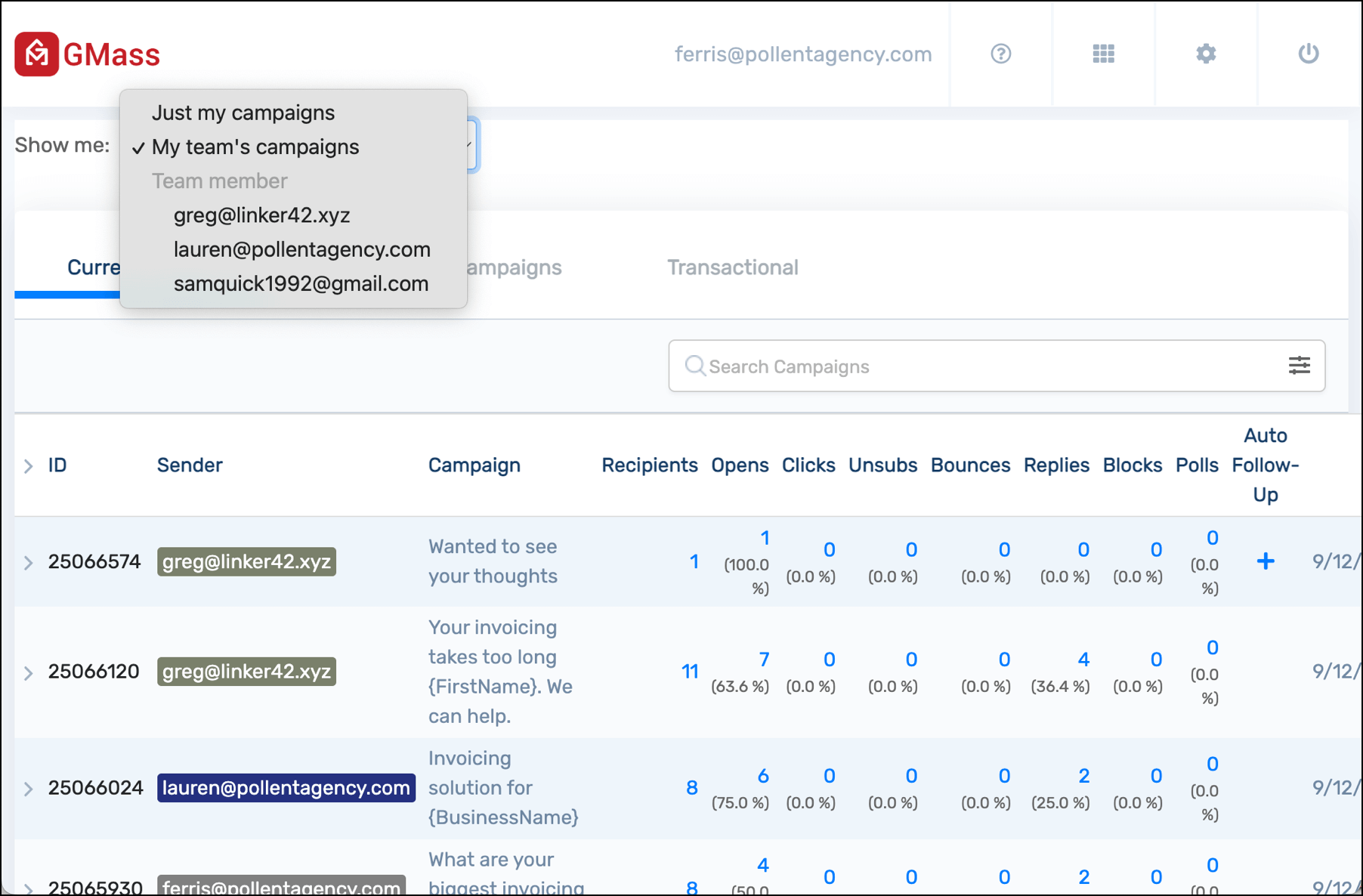 Search the campaigns using the advanced search functions in the GMass dashboard.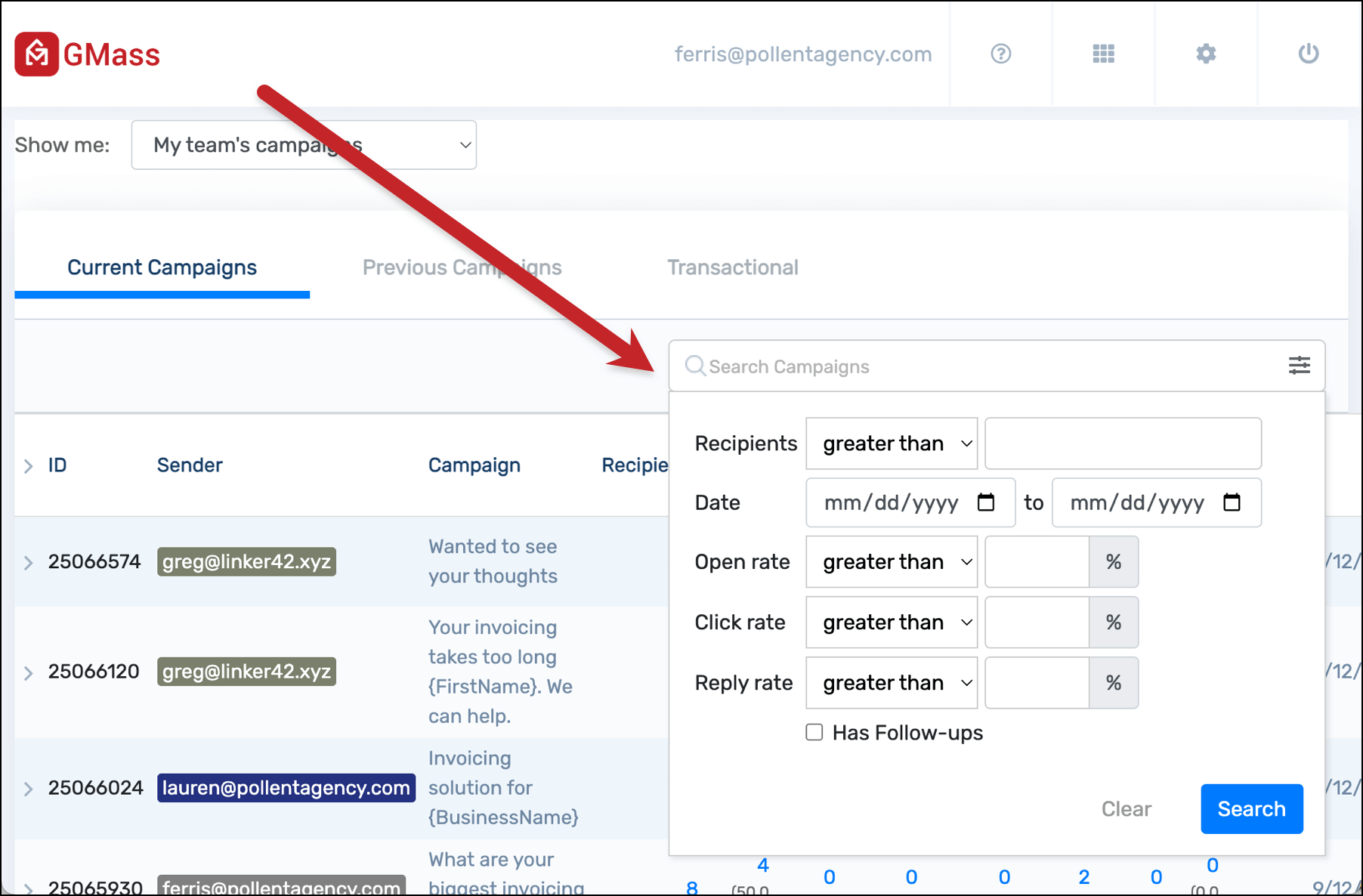 Dig into the analytics (getting a quick overview in the dashboard, then a more in-depth view by clicking into the web report).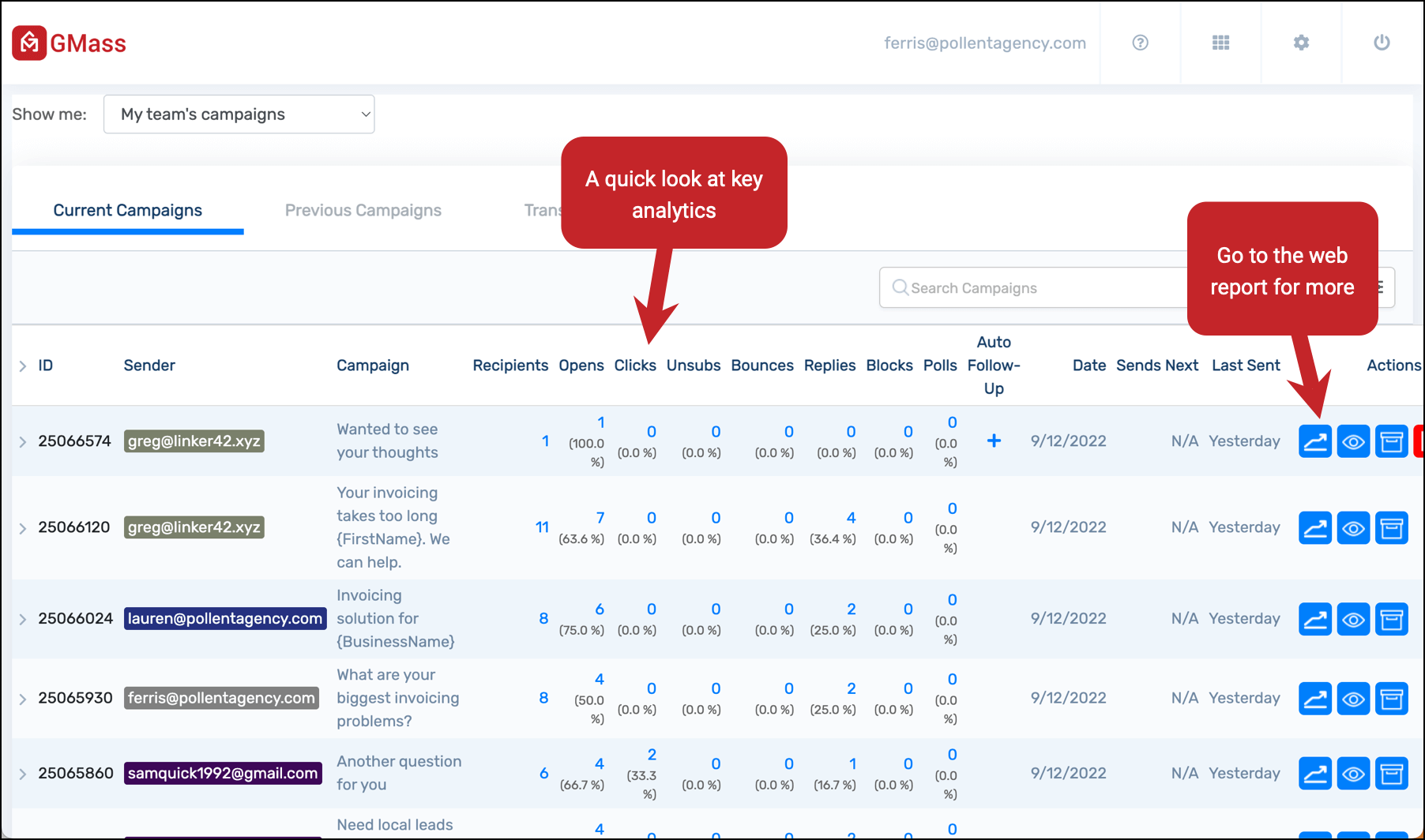 And pause, stop, or resume campaigns from any of the email addresses on your team.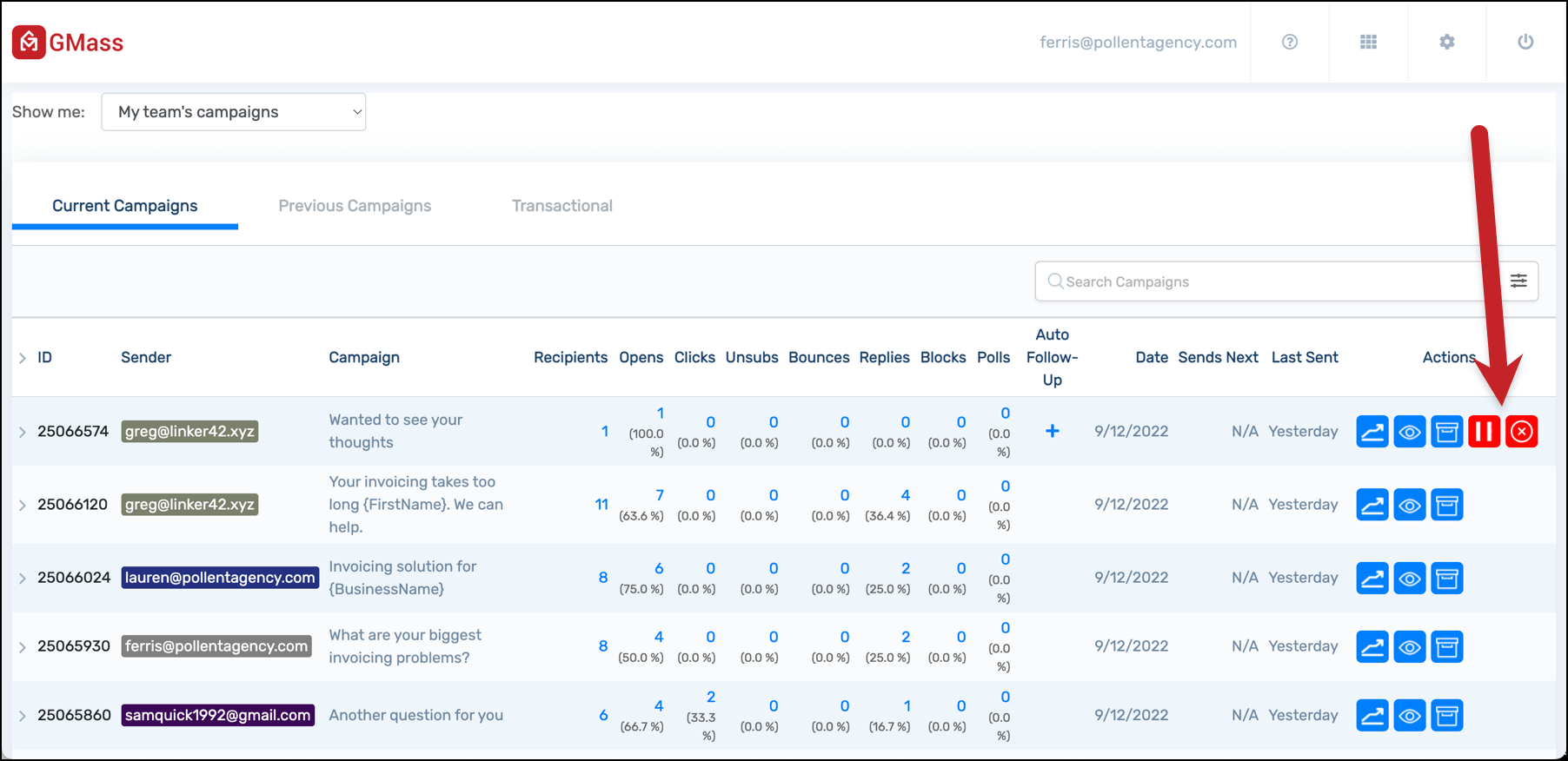 Plus, if you're the team leader but want another member of your team to handle all that reporting, you can give selective access to your GMass dashboard so they can view everyone's campaigns.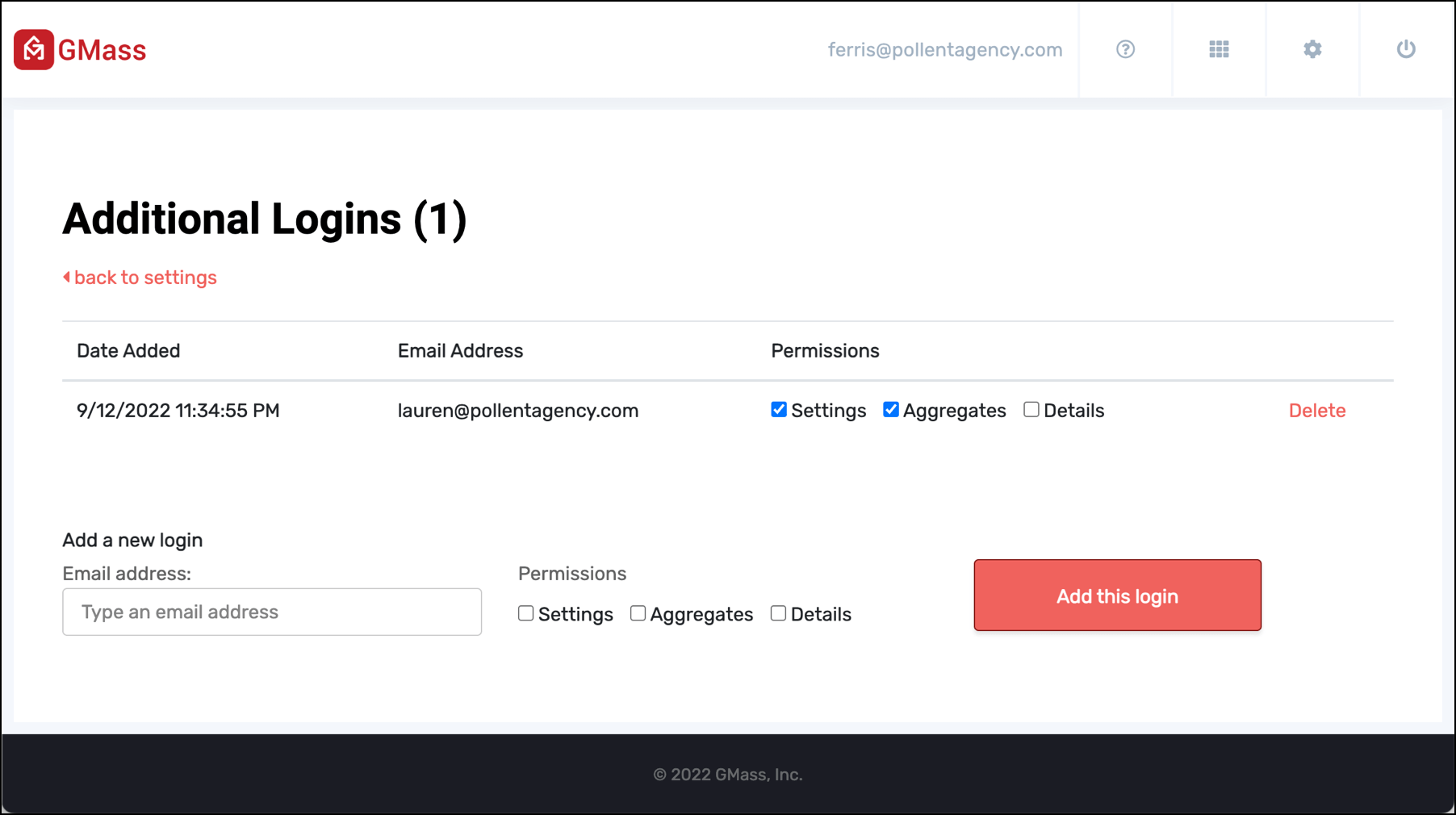 GMass also has template sharing. The team leader (or anyone on the team) can share an email template so it will be available to select team members.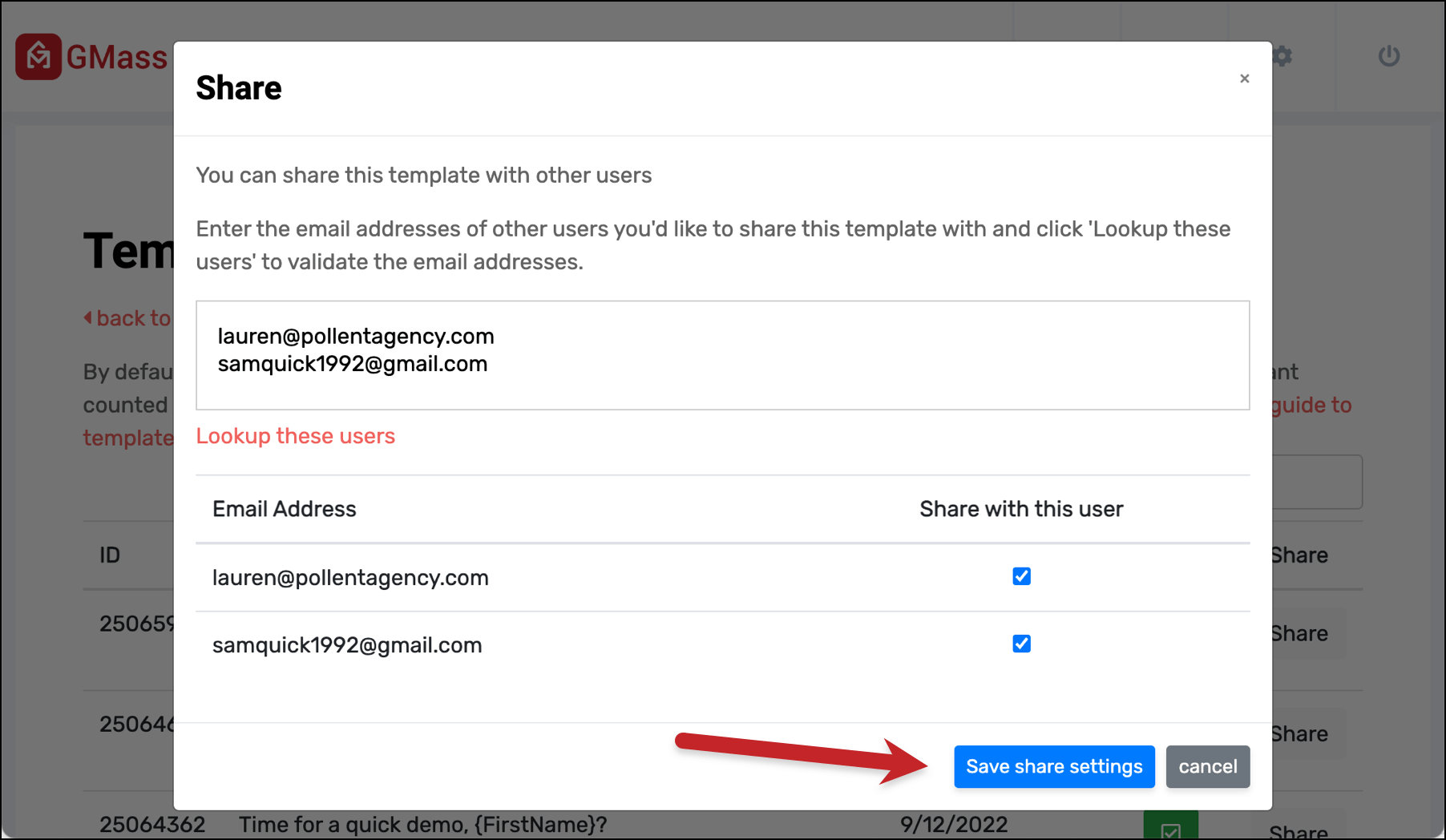 Any shared templates appear in a user's template list with a special icon to indicate they're shared.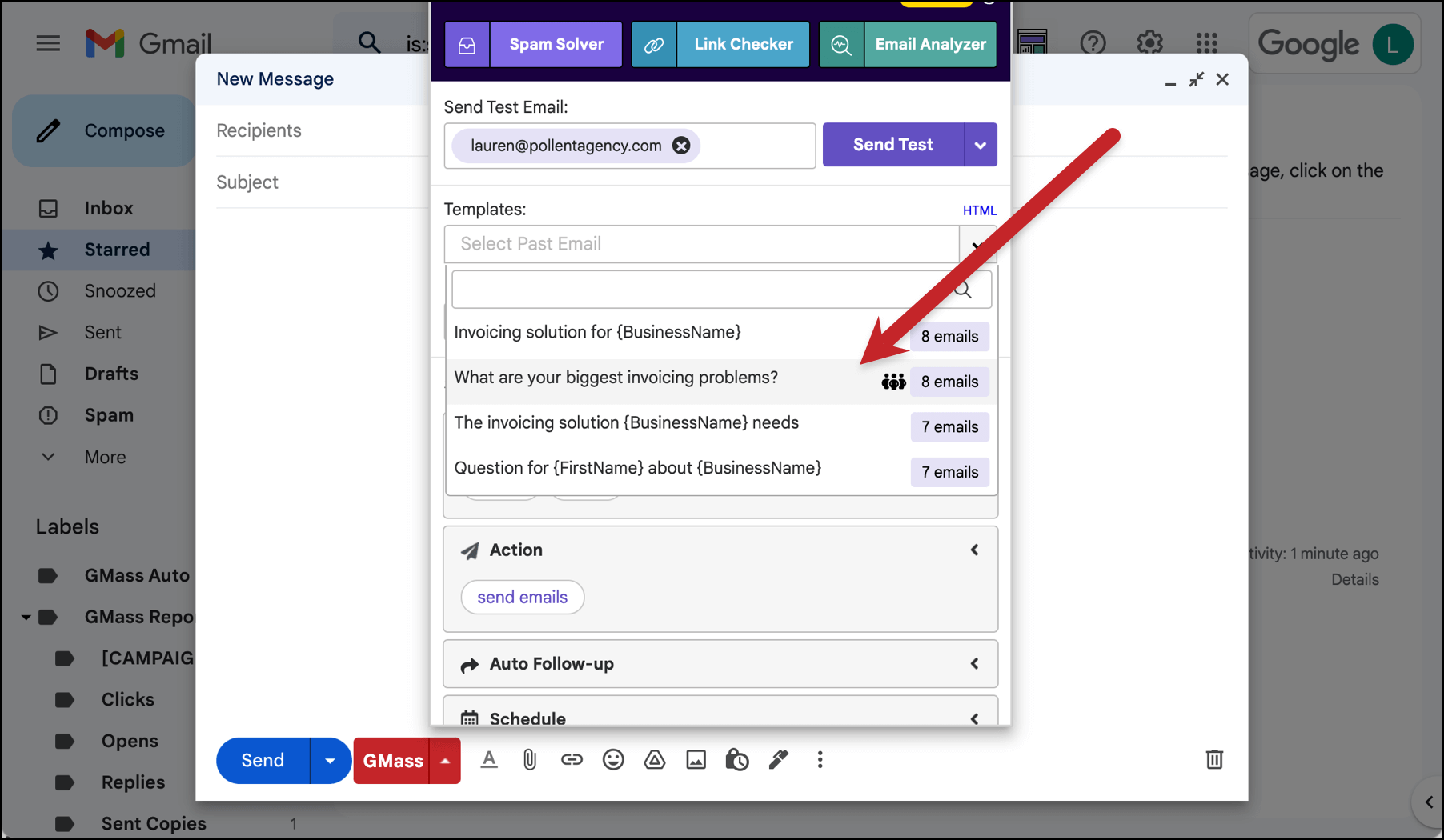 Consideration 3: Sharable Reports
Your clients are going to want to know how your campaigns are going.
Your teammates at the agency are also going to want to know.
So it's great if your email platform offers sharable reports, preferably real-time ones, that are easy for clients and team members to access. (You don't want to have to waste a ton of time downloading stats and designing reports every single time.)
What GMass does for reporting
GMass offers sharable web-based reports that people can view on any browser (including mobile) without needing to log in. Send these to team members, clients, investors, or anyone else who needs to know this info.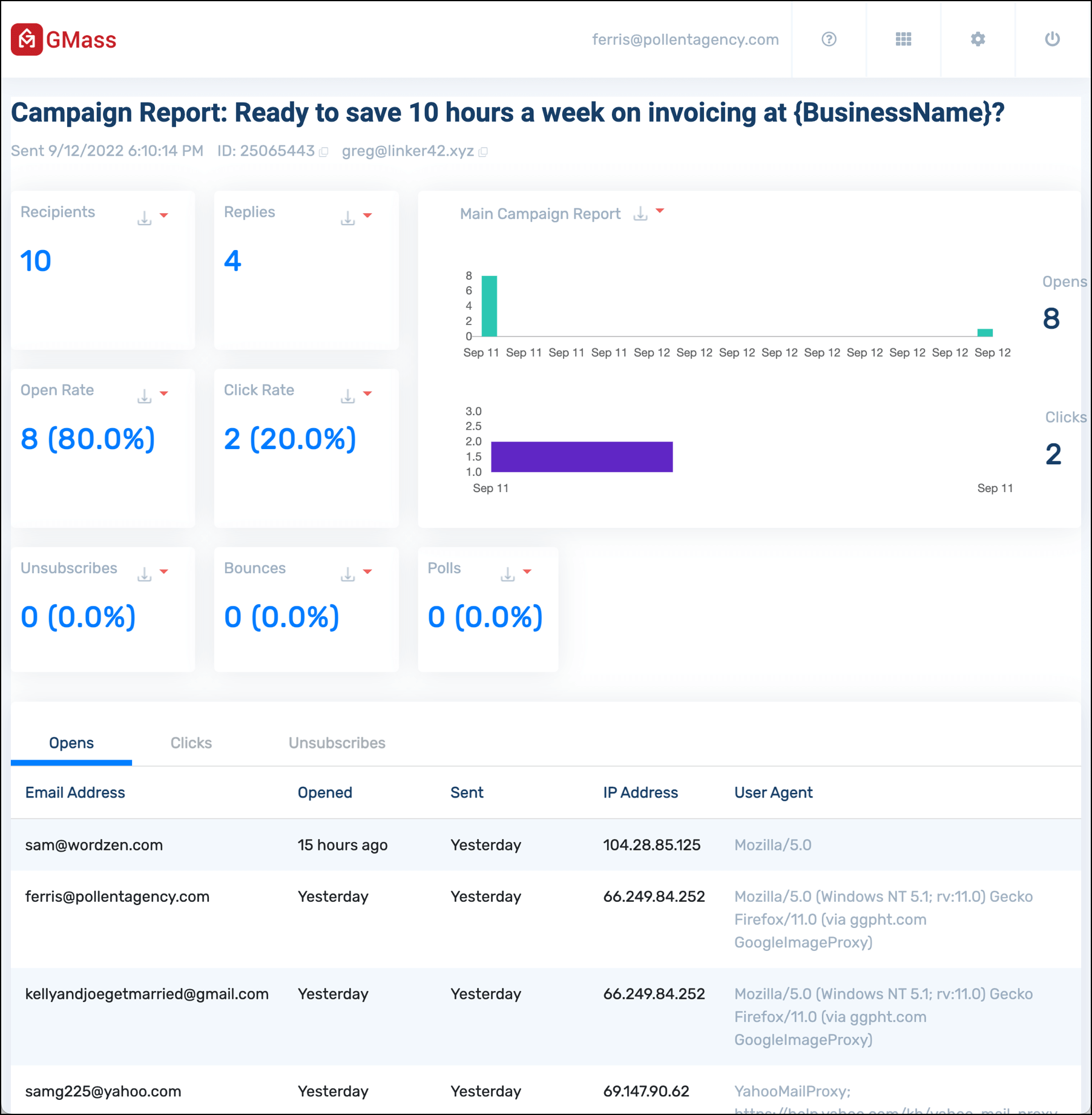 There's also an option to share reports without revealing recipients' emails, in case you need to keep your list confidential with whomever you're planning to share.
Consideration 4: Advanced Cold Email Features
You're sending cold emails — so you need a suite of cold email features to make your emails as effective as possible.
Make sure your platform includes at least these features — preferably more.
Automated follow-up sequences that stop when a recipient takes a specific action (like replying or clicking).
Mail merge personalization. (With fallback values.)
Scheduling.
Throttling messages.
High sending limits.
Options to turn off open and click tracking — or to use custom tracking domains to avoid reputational issues.
A/B testing.
What GMass does for cold emailers
GMass offers all of the features mentioned above and makes them easy to implement on a campaign-by-campaign basis.
Easy auto follow-ups with up to eight stages — and the option to send as replies or in new threads with new subject lines.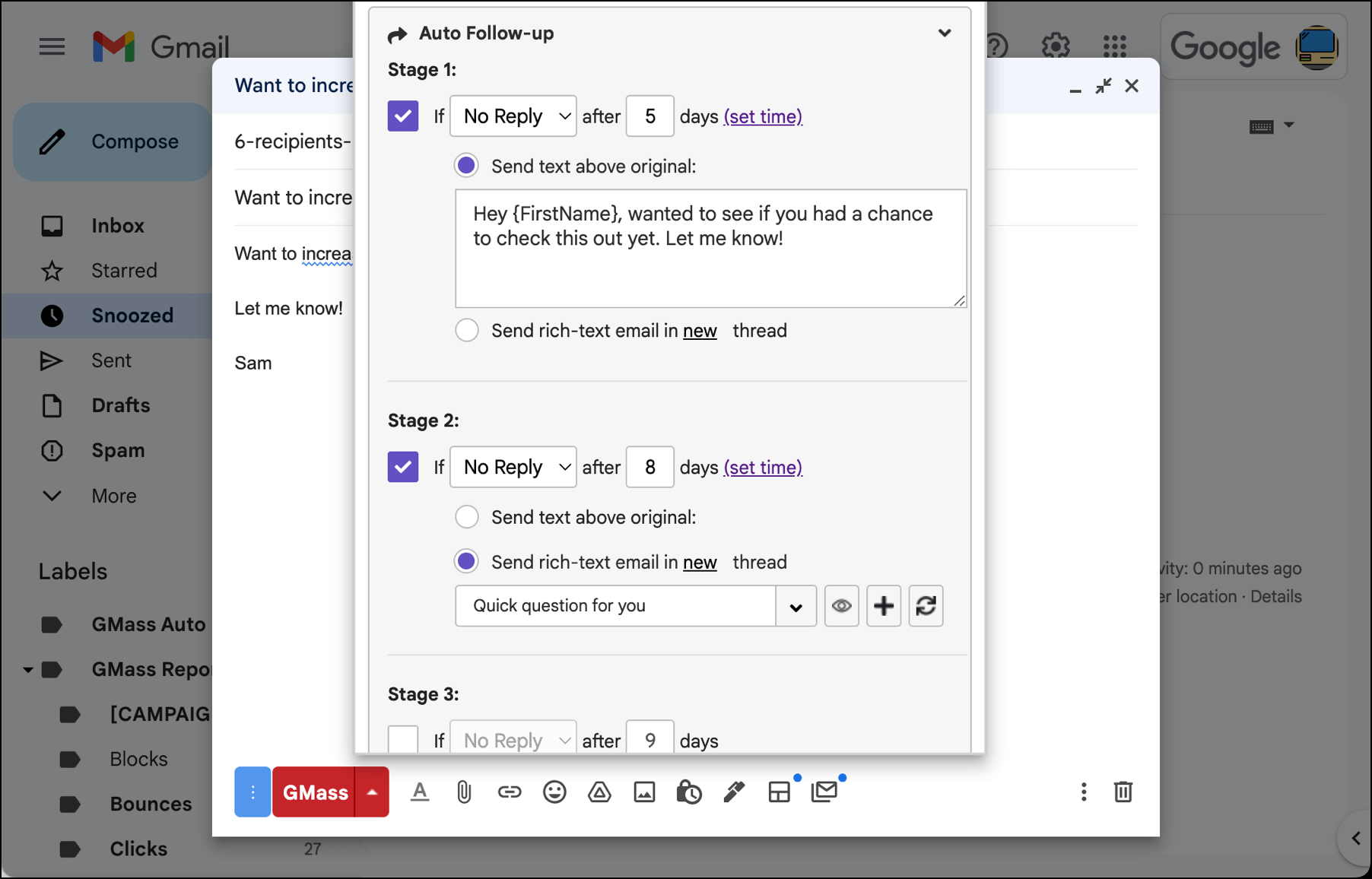 Advanced mail merge personalization, including personalized images, attachments, links, and paragraphs. Plus fallback values, auto first-name detection, and conditional, logic-based content.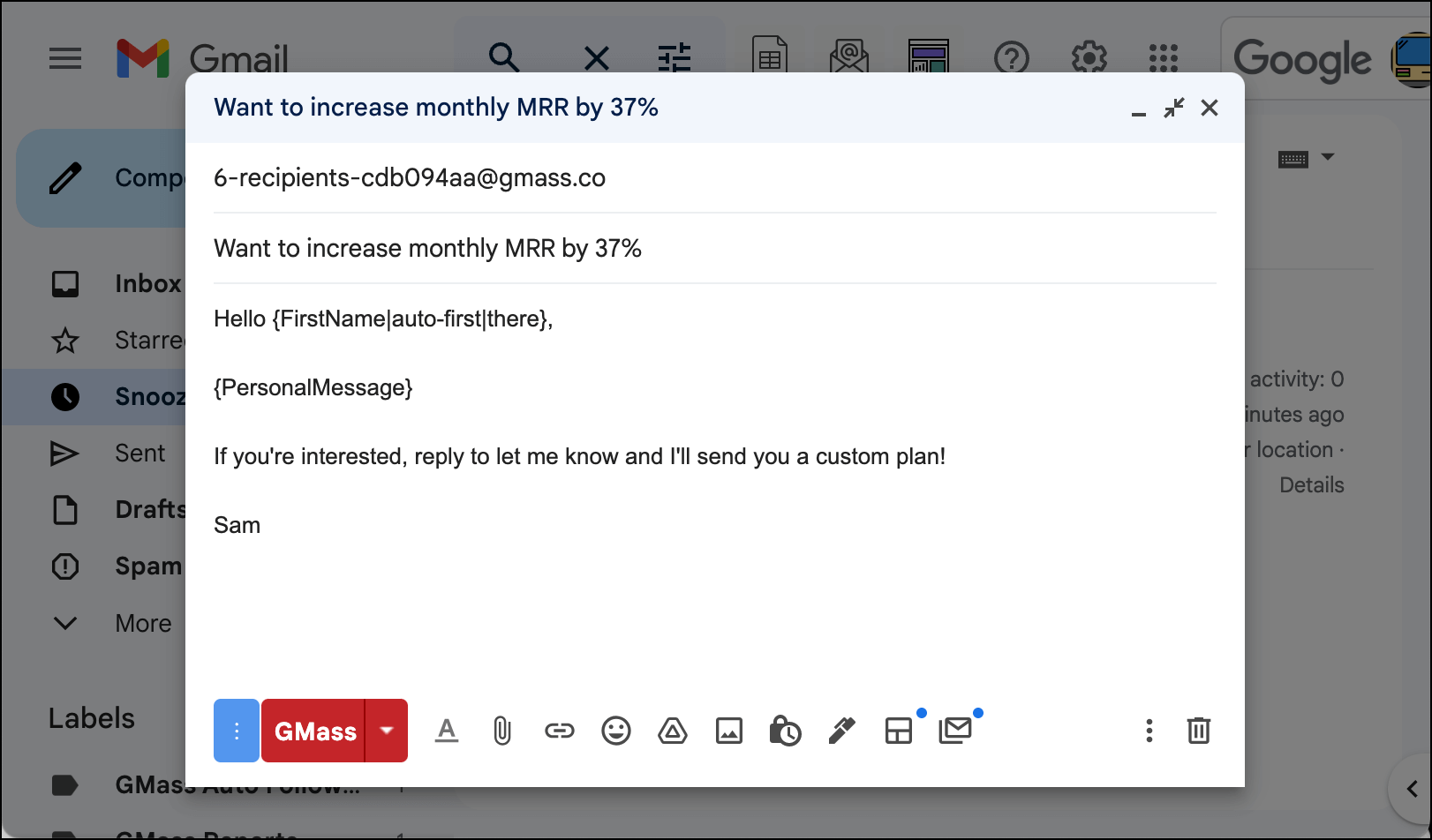 Scheduling for every message — including the option to skip weekends.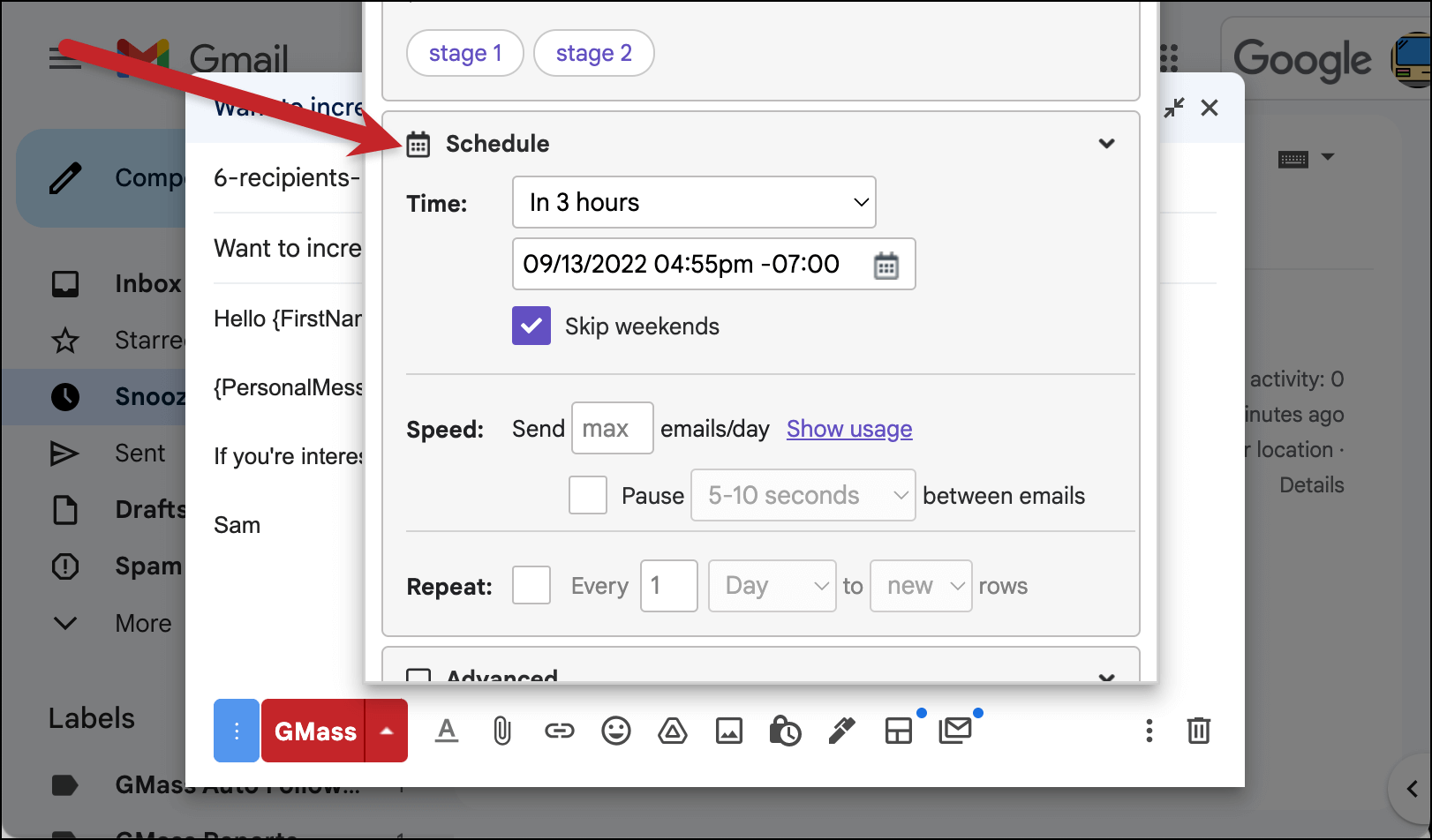 Throttle your campaign sending speed to add pauses between your messages.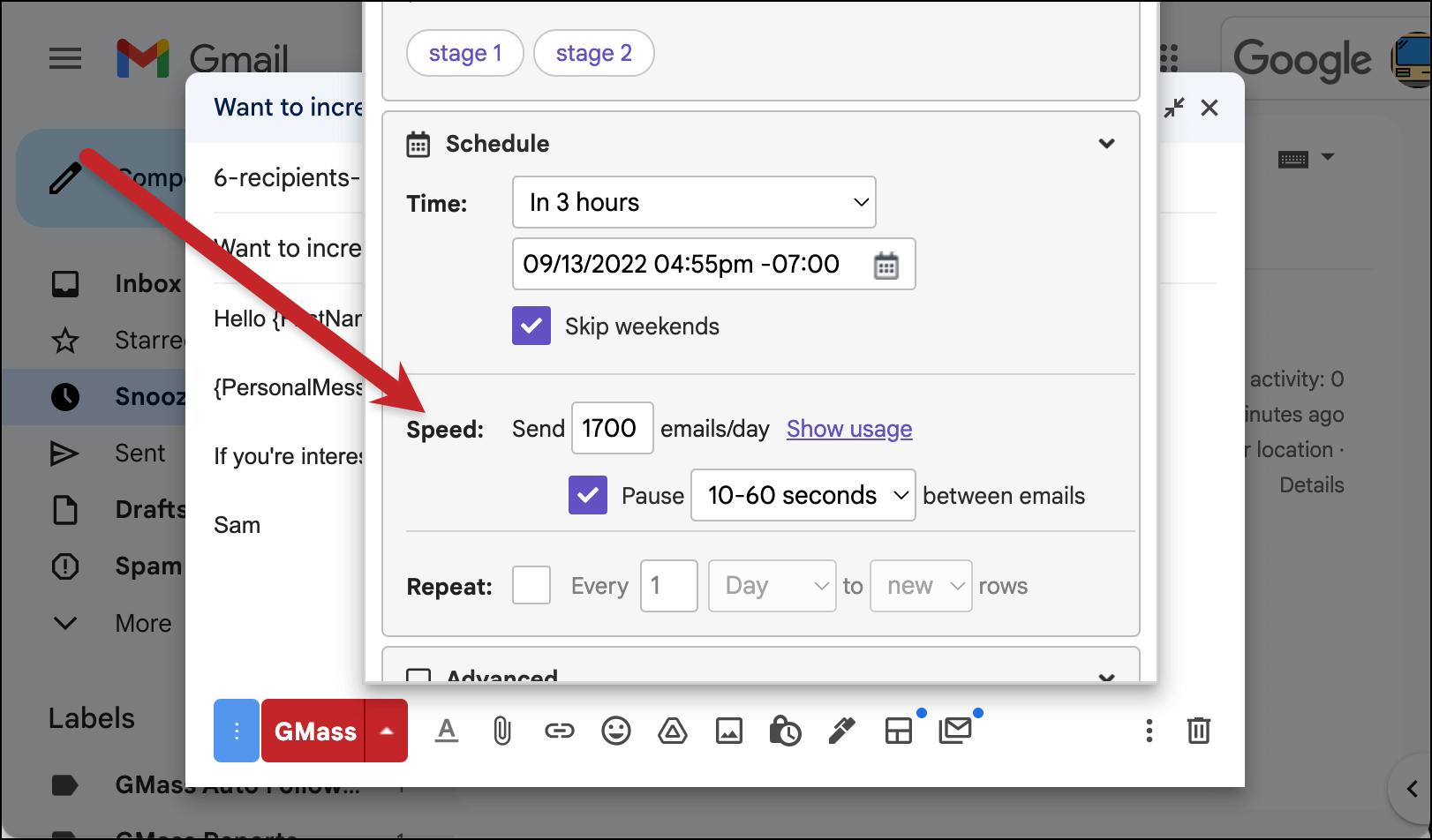 High sending limits — you can even break Gmail's limits with GMass.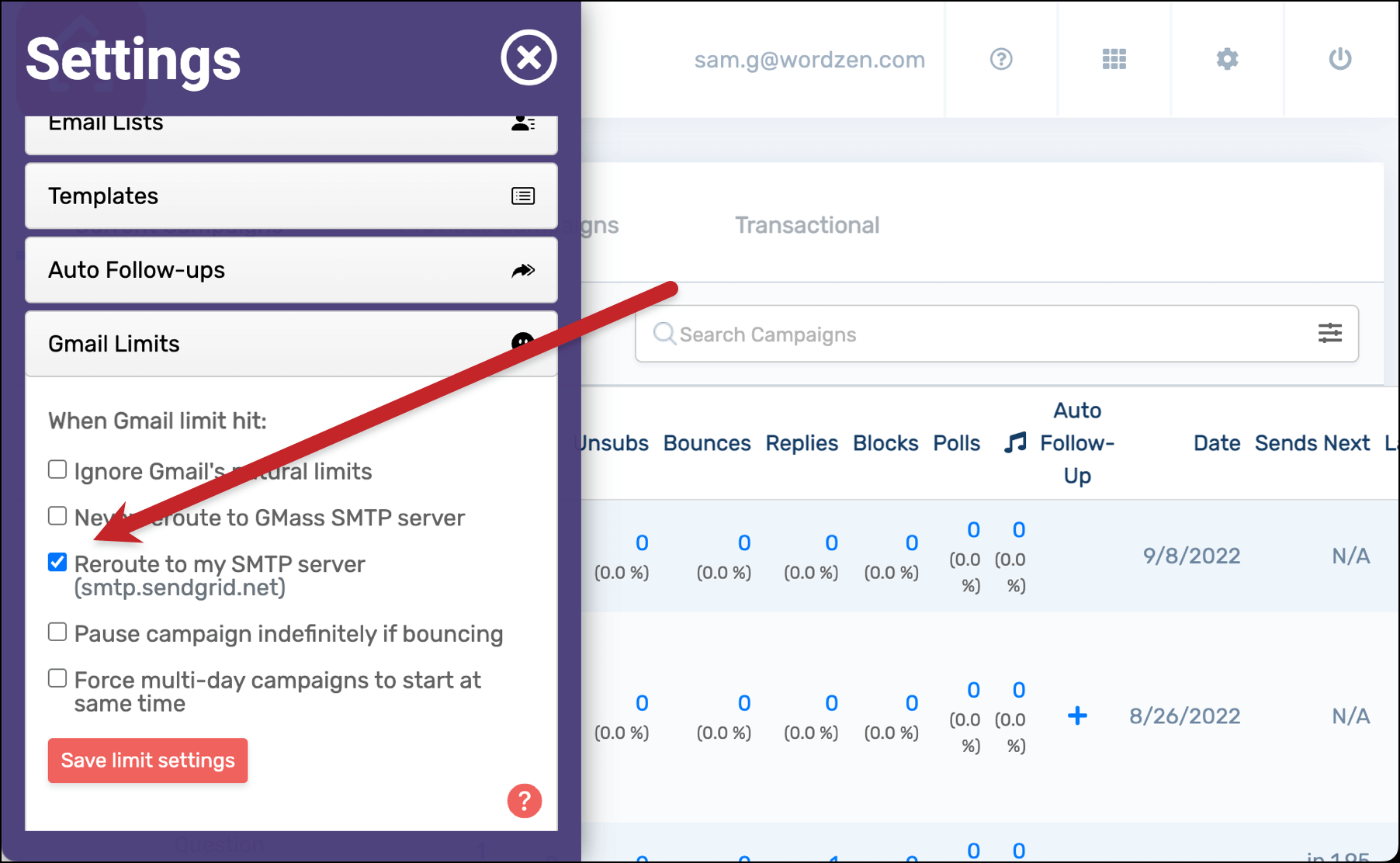 Optional open and click tracking — or use a custom tracking domain with SSL.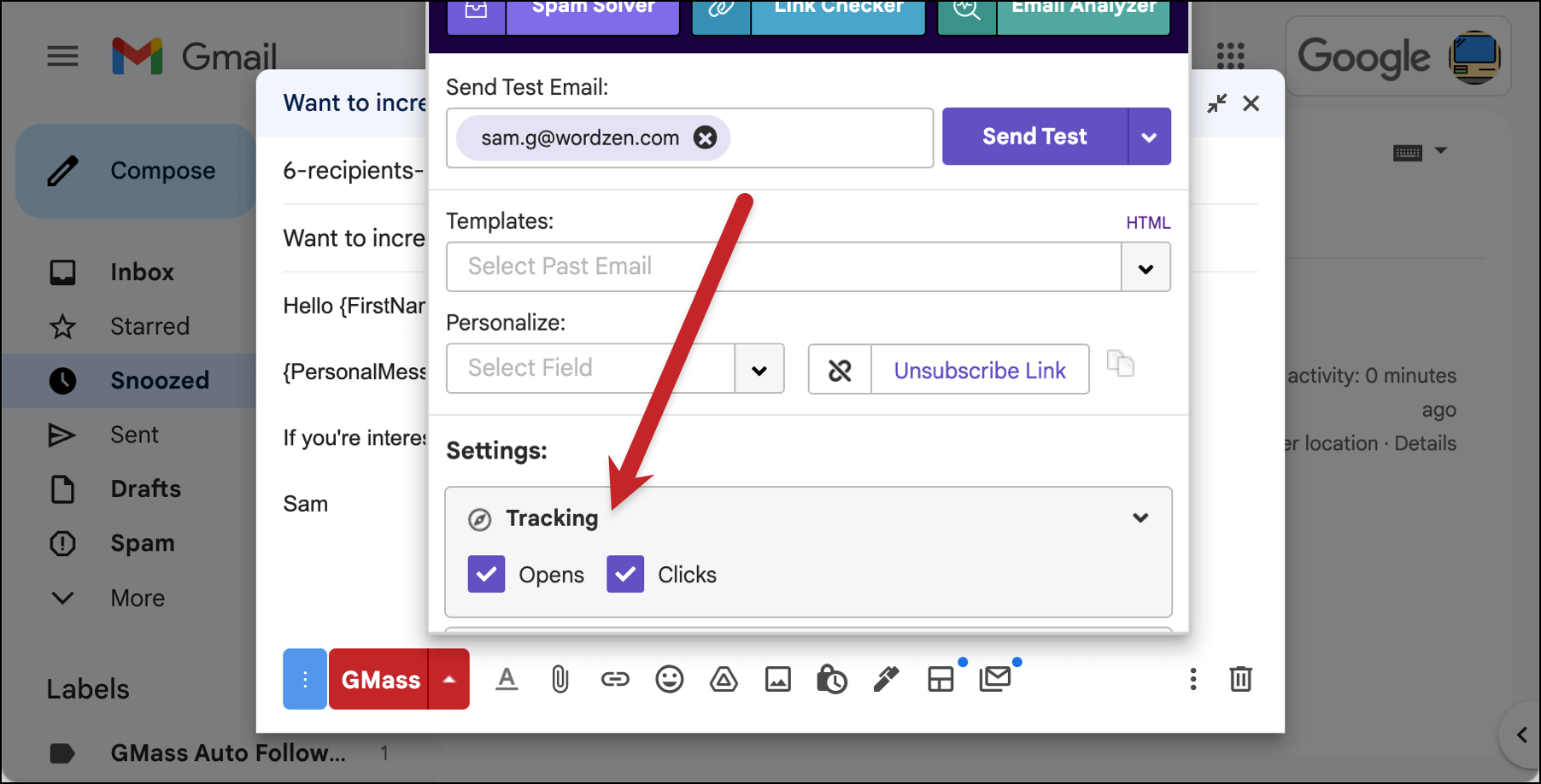 A/B testing that's easy to use for every campaign.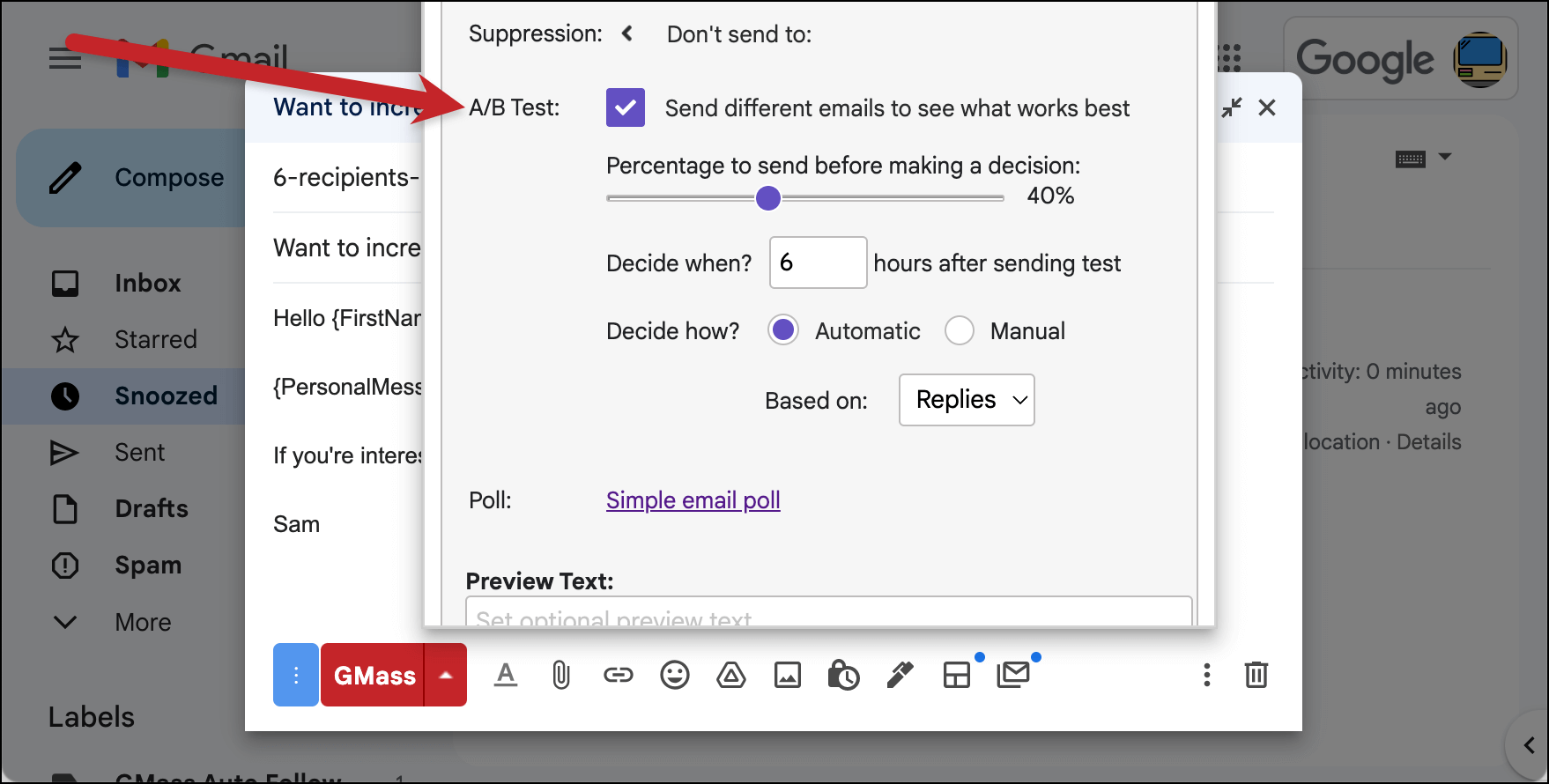 GMass also offers a huge selection of other features cold emailers and outreach agencies love:
Email address verification — verify every address before you send.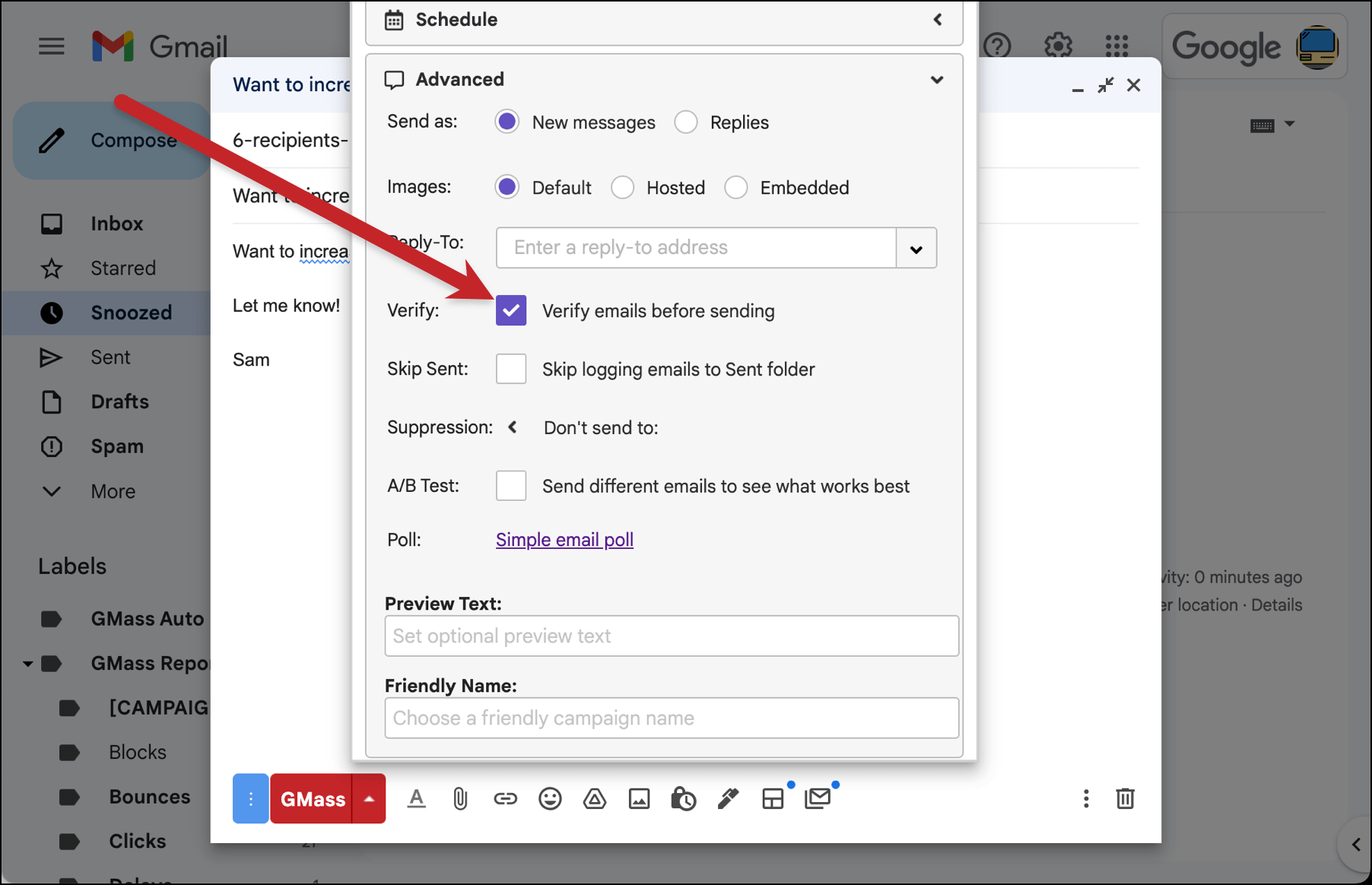 Embedded images in Gmail, rather than externally-hosted images. (Which better simulates one-on-one emails and can help deliverability.)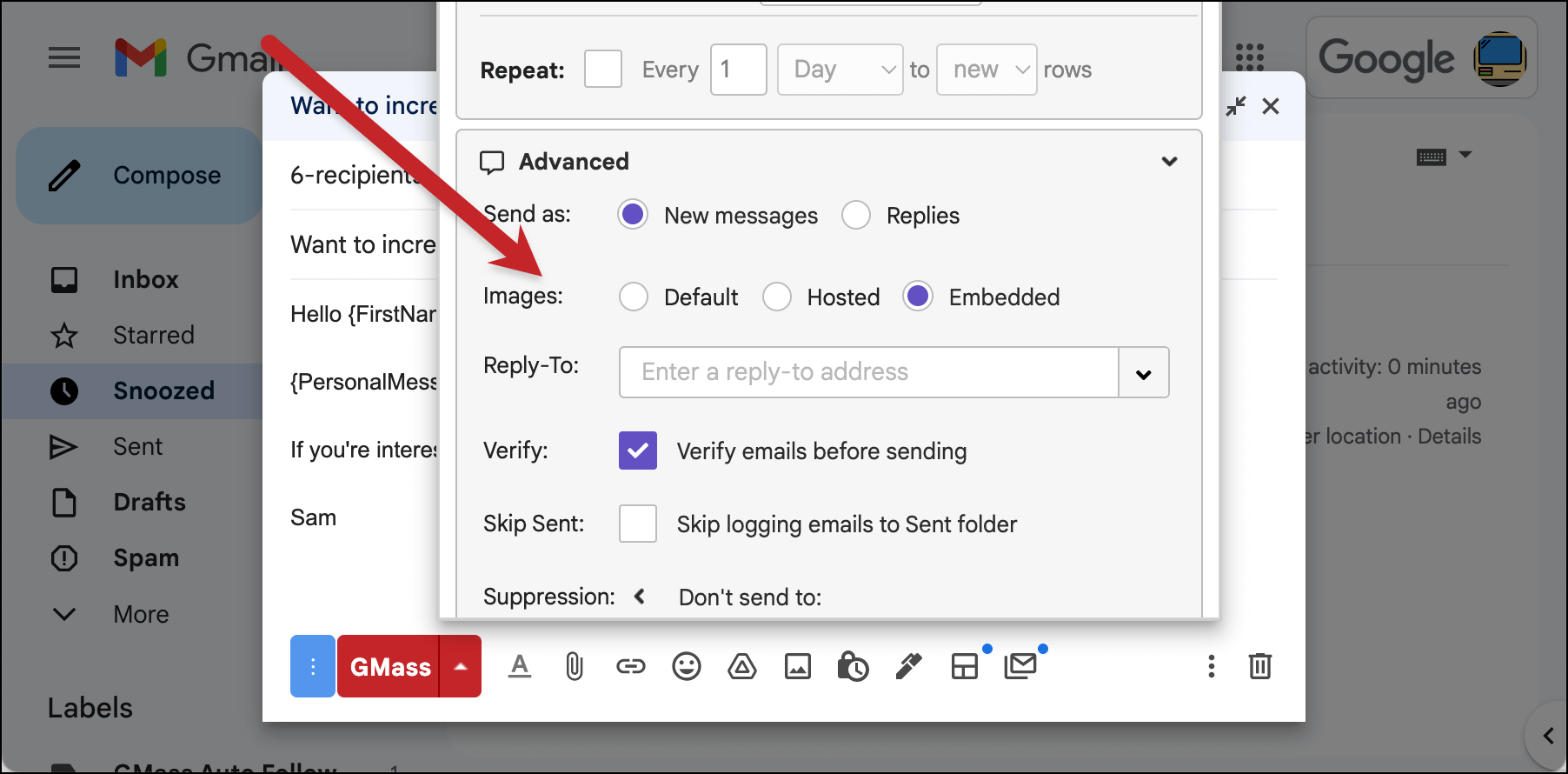 Build new outreach lists based on a Gmail search.

Recurring campaigns — GMass can monitor a Google Sheet and send a campaign whenever a new contact row is added.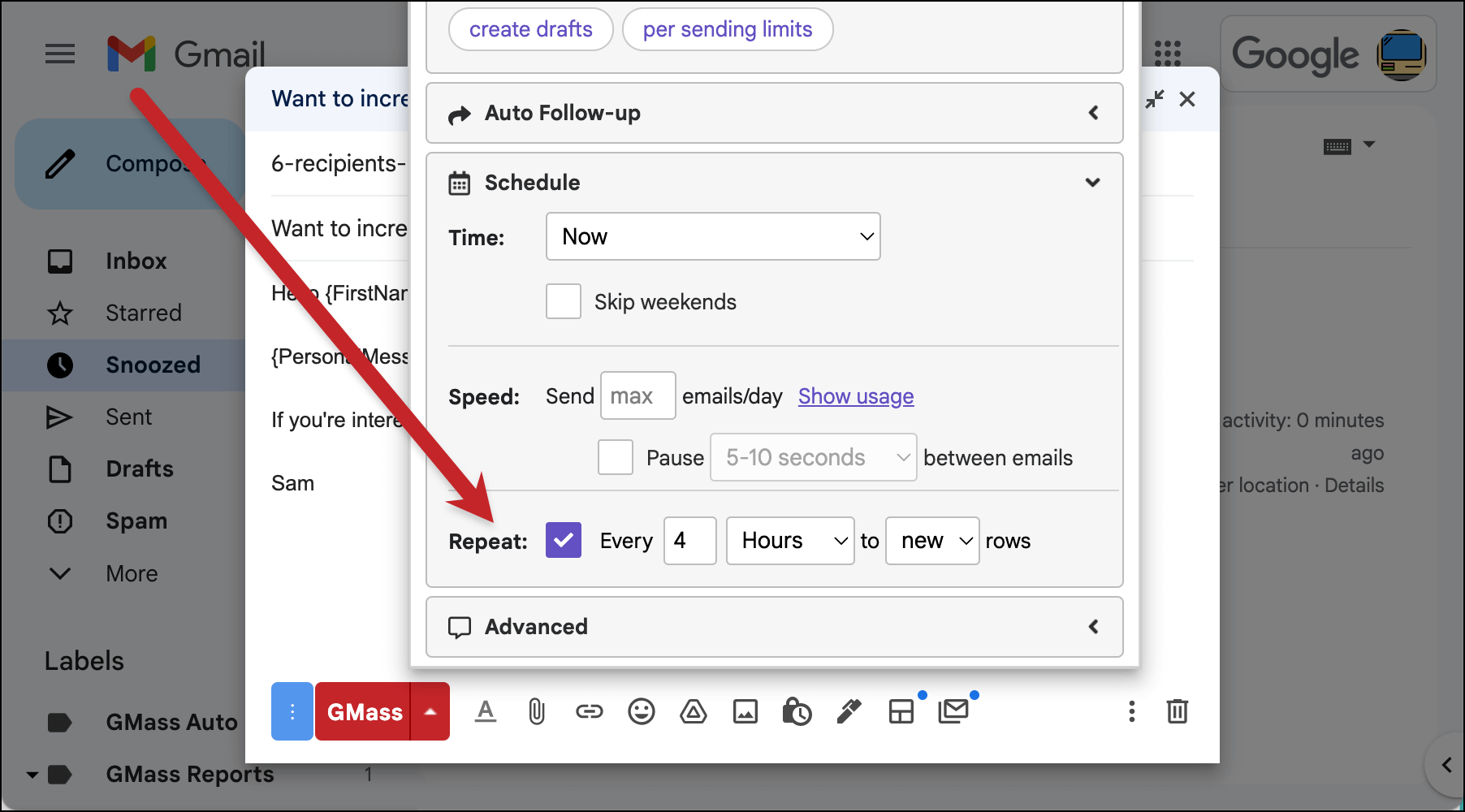 Send segmented campaigns based on recipients' behavior on a previous campaign (for instance, send a new campaign to everyone who opened but didn't reply).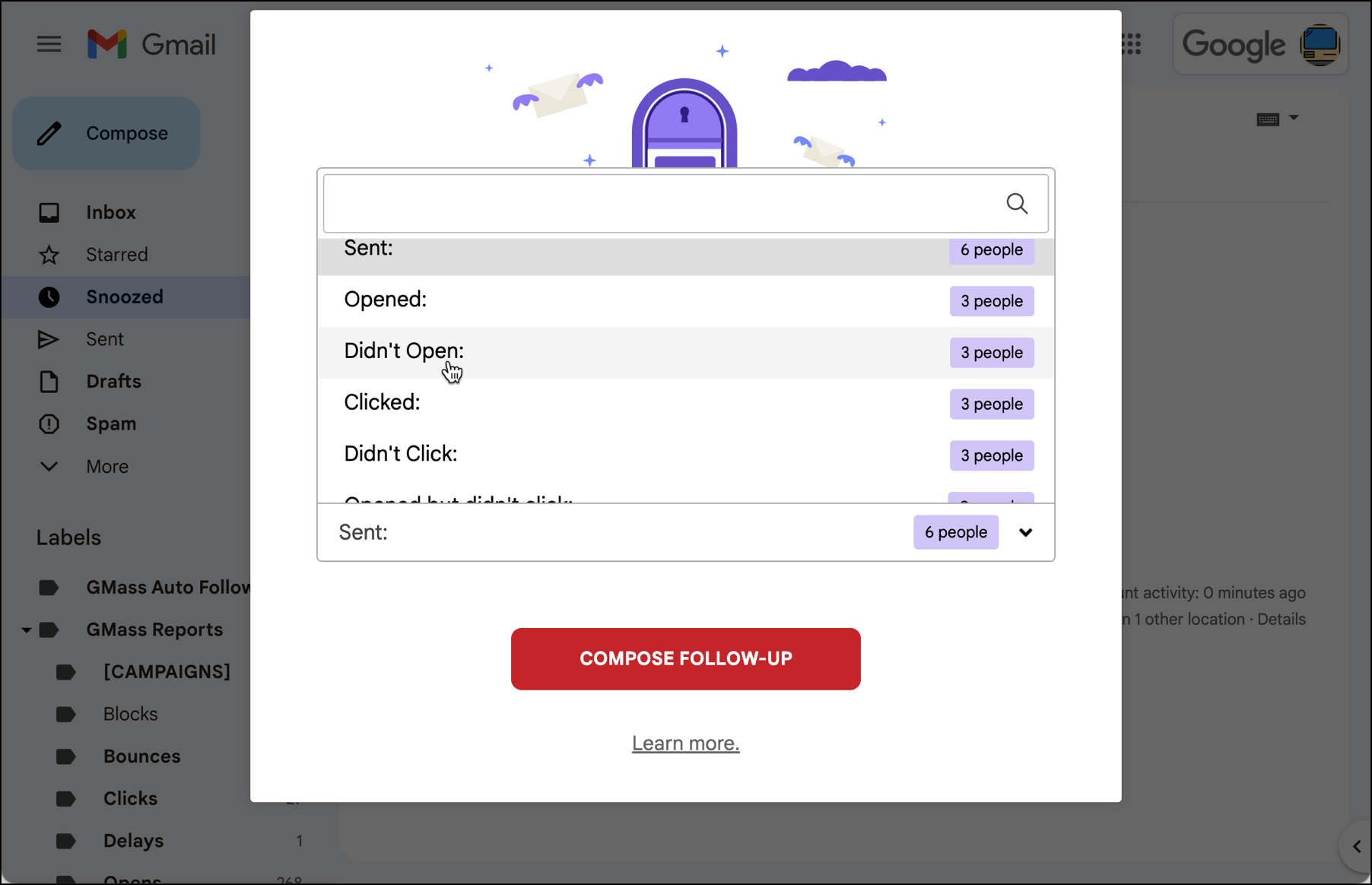 Reply management — sentiment analysis on the replies you get to your campaign, then use templates for one-click responses.
API to build custom applications with GMass (or integrate it with your other tools). Plus webhooks and a Zapier integration.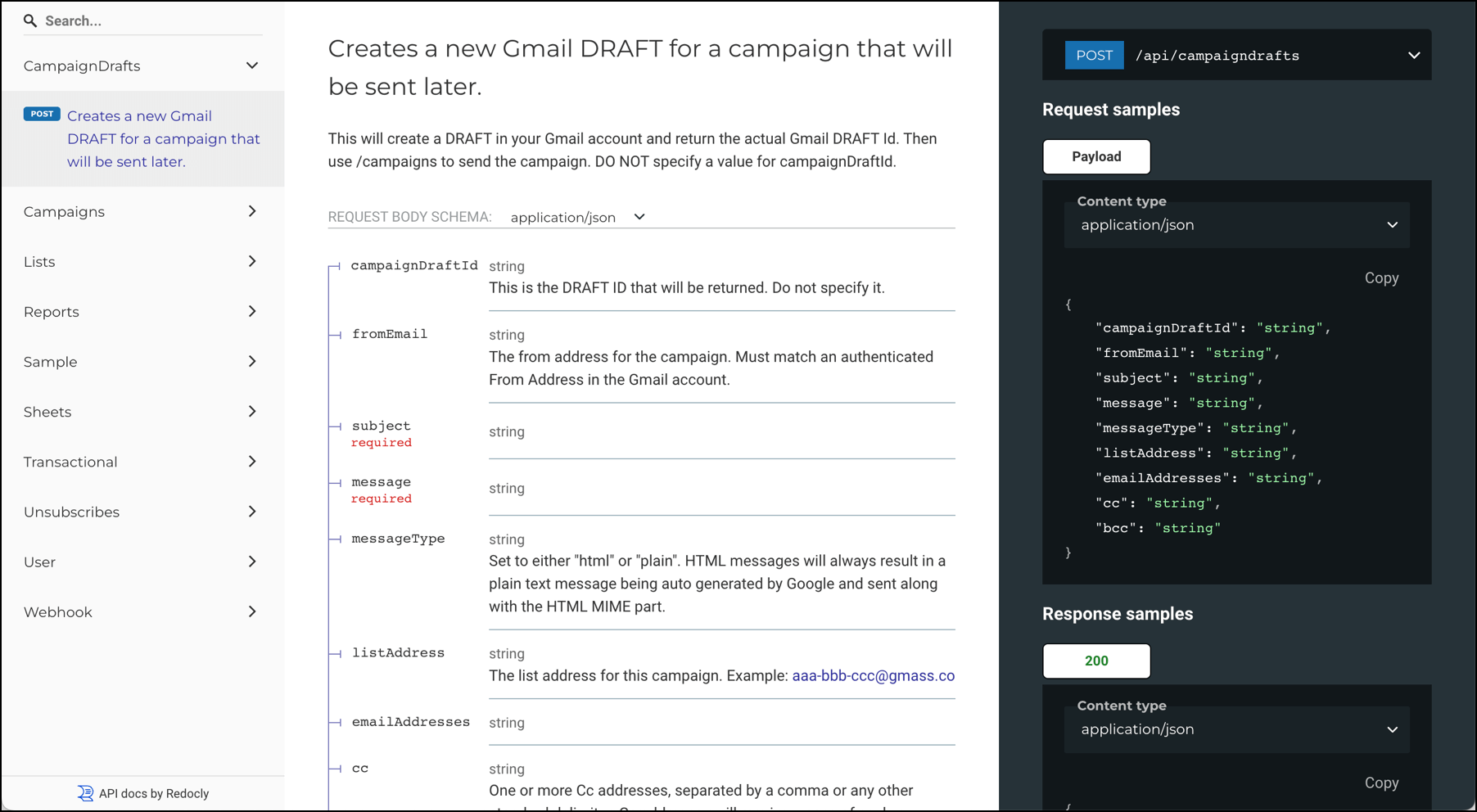 Quick email polls to send one-question surveys.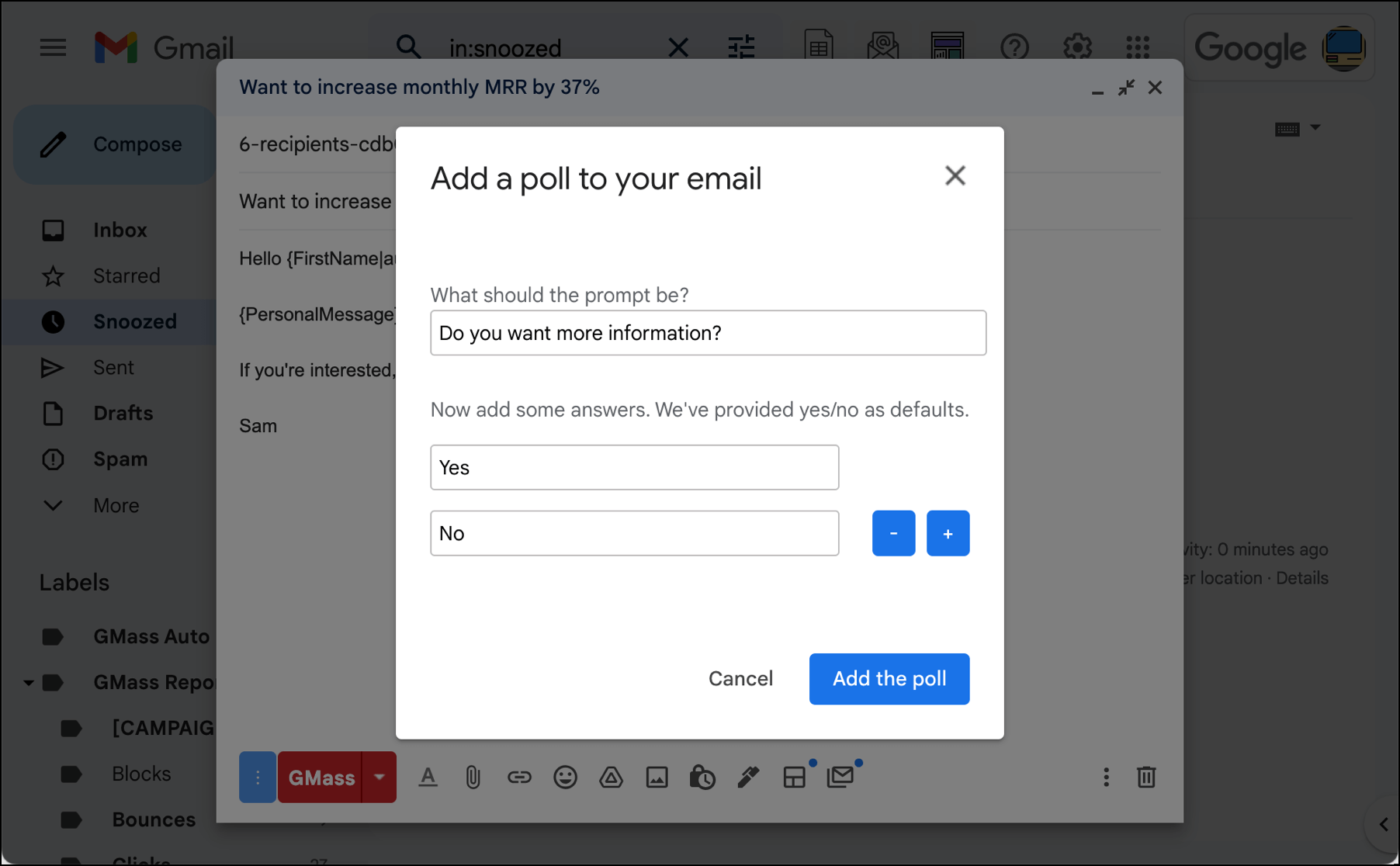 If there's a feature you and your team need to make your cold emails feel more personalized and/or more like one-on-one messages, GMass will almost certainly have it.
Consideration 5: How Long Will It Take Team Members to Learn the Platform?
Adding a new tool to your team's stack means everyone on the team has to learn to use it. That can lead to lots of collective hours wasted — hours that could've gone toward outreach.
You need to find a tool that has a reasonable learning curve — one that strikes the right balance between power and usability. Something between an overly-complex CRM or confusing email app… and just having everyone manually compose cold emails one-by-one.
What GMass does to shrink the learning curve
GMass works inside of Gmail — so there's no new app to learn. If your team members can write an email in Gmail, they can use GMass.
GMass has just one settings box for the campaign containing everything you need.
We recommend everyone on the team sets up their own GMass account using the quickstart guide — in a half hour or (likely) less, they'll be fully up to speed on how GMass works inside Gmail and how they can use it to send better cold emails.
GMass also has a ton of documentation on its features — search for a feature and there's likely a step-by-step walkthrough guide on how to use it.
Cold Email for Agencies: Takeaways and Next Steps
You need the right email outreach platform for your cold email agency. As you're evaluating different options, keep an eye out for these major considerations.
How reliable is the deliverability? And what tools are in place to help you improve?
How are the management features across your different team accounts?
How does the reporting work?
Does it have all the cold email features you need to send highly-effective outreach messages?
How long will it take to get your entire team comfortable with the platform?
We hope you'll give GMass a look. We believe GMass has the best balance of all the considerations above: Great deliverability, unified management, strong reporting, a huge suite of cold email features, and a quick learning curve.
You can try out GMass yourself by downloading the Chrome extension and setting up a free account.
And when you're ready to move to a paid team account for your agency, it's easy to upgrade (and quick to add team members and any other email addresses you need).
Email marketing, cold email, and mail merge

inside Gmail



Send incredible emails & automations and avoid the spam folder — all in one powerful but easy-to-learn tool

TRY GMASS FOR FREE

Download Chrome extension - 30 second intall!
No credit card required
Love what you're reading? Get the latest email strategy and tips & stay in touch.