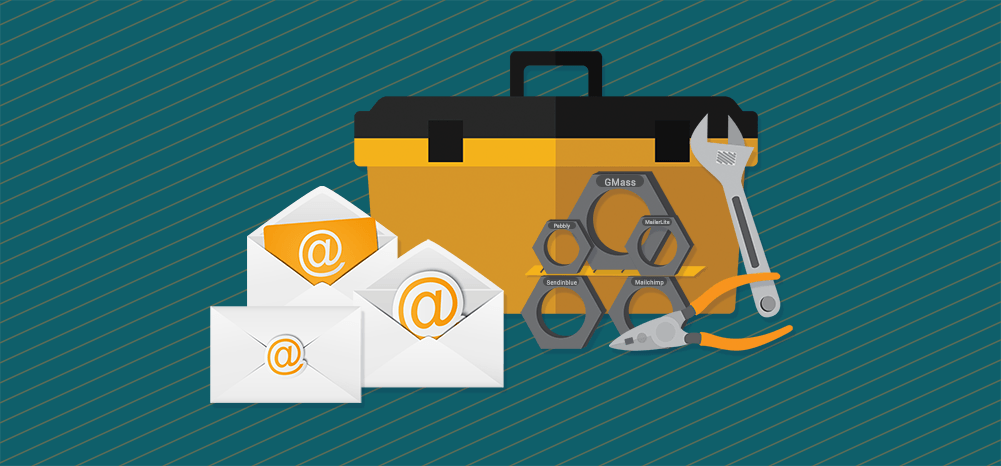 Looking for the best GetResponse alternatives for 2021?
GetResponse is an email marketing platform that offers landing page builders, marketing automation, and Customer Relationship Management (CRM) solutions.
However, GetResponse isn't perfect.
For example, it doesn't have a free plan and has an interface that many find confusing.
In this article, I'll highlight five excellent GetResponse alternatives to overcome those drawbacks. I'll cover their key features, pros, cons, and pricing to help you choose the right tool.
This Article Contains:
(Click on links to jump to a specific section.)
Let's jump right into it.
What Is GetResponse?
GetResponse is a popular email marketing tool that helps you create marketing lists, plan and manage email campaigns, and analyze their performance.
While it's primarily an email marketing service, GetResponse also offers features like:
Landing pages
Sales funnel management
Support for webinar funnels
Paid ad management
And more
Limitations of GetResponse
While GetResponse offers a ton of features, here are a few key drawbacks that hold it back from being the perfect tool for you:
GetResponse doesn't offer a free plan. This makes it unsuitable for small teams who don't want to commit to a paid plan.
Several user reviews mention that GetResponse's user-interface can be challenging.
Check out my in-depth GetResponse review for a clearer look at this tool.
Top 5 GetResponse Alternatives
Sure, GetResponse is a capable email marketing tool. However, its limitations could weigh your email marketing down.
Instead, why not try these GetResponse competitors?
To help you make an informed decision, I'll highlight their key features, pros, cons, and pricing.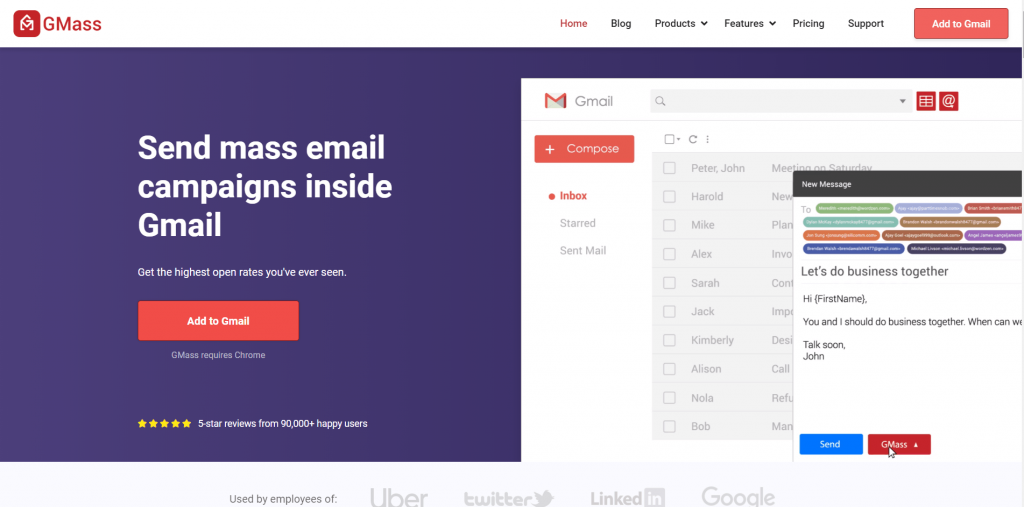 GMass is a powerful email marketing platform that works inside Gmail.
Its versatility and advanced outreach capabilities make it a popular GetResponse alternative used by employees at companies like Uber and Google and social media giants like Twitter and LinkedIn.
GMass is also the go-to tool for casual Gmail users, solopreneurs, small business owners, and even institutions like churches.
GMass Key Features
Here's what makes GMass an excellent GetResponse alternative:
Analytics and reporting help you understand how your campaigns performed and where you could do better.
Every time you send an email campaign, GMass generates a detailed Campaign Report in your inbox.
It breaks down your campaign performance and highlights metrics like:
Total recipients to whom you sent the campaign
Number of unique opens and clicks
Reply and unsubscribe rates
And much more
Additionally, GMass gives you highly accurate metrics as it bypasses most pixel tracking blockers.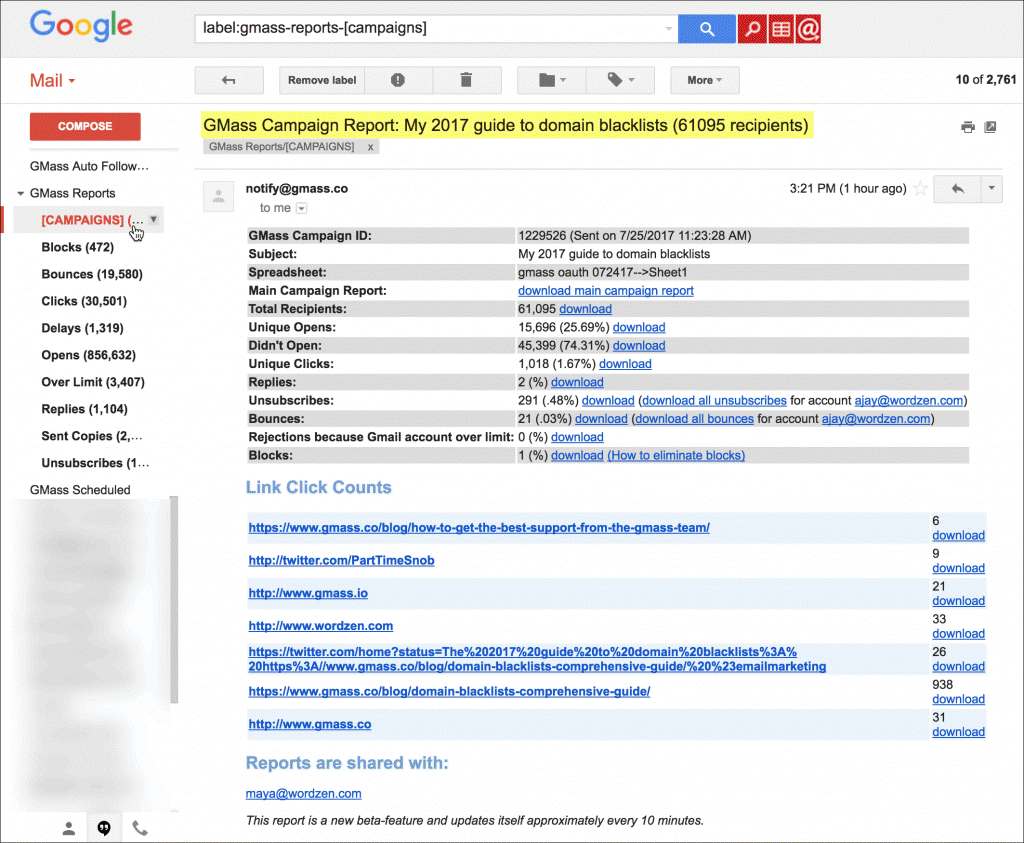 You can leverage this information to develop a better and more informed campaign strategy the next time.
If you want to boost email engagement, ensure that you personalize emails for each customer. This will improve their experience as they won't receive a generic email that feels mass-produced.
Unfortunately, it's impossible to manually customize every email you send if you've got an extensive subscriber list.
GMass helps you auto-personalize your bulk emails by automatically including recipient names, personalized paragraphs, links, and images.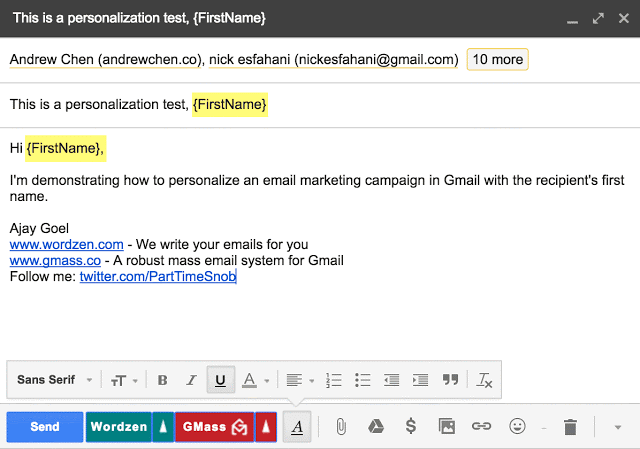 It's super easy to build your mailing lists in GMass.
All you have to do is enter a relevant keyword in the Gmail search bar and click Search. For example, if you wanted to create an email list for your book club, type "book club" into the search bar.
Then, GMass quickly builds an email list from the results, and they will be added automatically to your new email.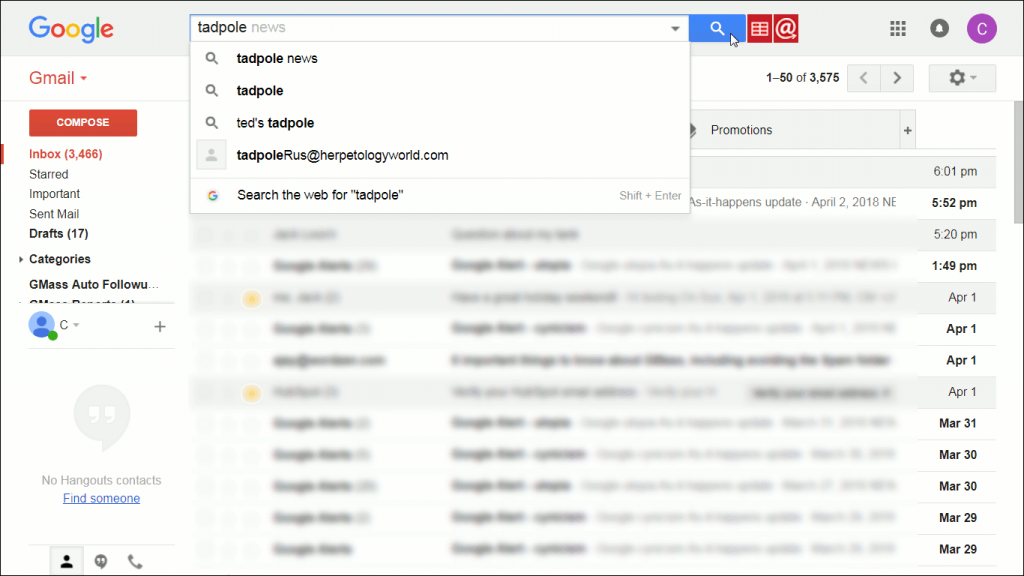 GMass also makes it easy to build an email list directly from your Google Sheets spreadsheets. Just connect your sheet with GMass, and your email list will be ready!
Sending follow-up emails is an easy way to improve subscriber engagement.
Follow up emails gently nudge subscribers who might have missed out on your previous emails and didn't open them.
With GMass, you can set up an automated workflow to keep sending follow-up emails until your recipient opens the email, clicks on a link, or responds to it.
GMass even lets you customize everything about those follow-up emails. You can automate elements such as:
Trigger to send a follow-up email
Number of follow-ups to send
Time interval between follow-up emails
Content of your follow-up messages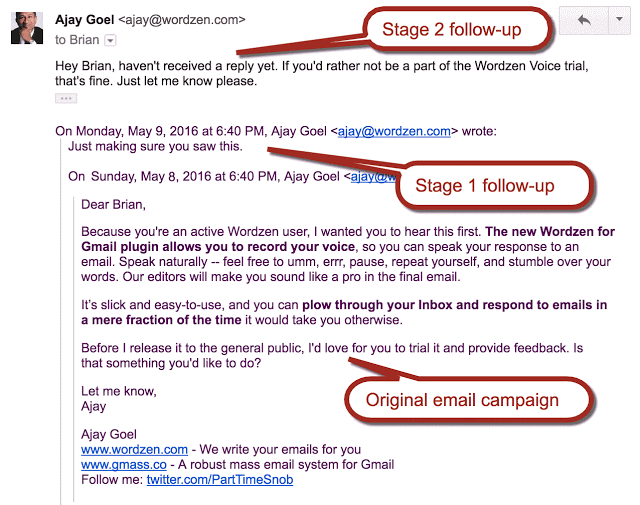 Sending your emails at the right time helps you improve customer engagement as your emails reach your customers' inboxes when they're most active.
Luckily, mass email scheduling is super-easy with GMass.
Just compose your message and then schedule it.
When the time arrives, GMass automatically sends out your email campaign.
And if you want to reschedule your emails, go to the Gmail Drafts folder, find the email, and make your adjustments.
GMass Pros
Works within the Gmail user interface
Automatically detects your recipients' first names from their email addresses
Can improve the delivery rates for bulk email campaigns
Saves older emails as templates to reuse in your future campaigns
Powerful free version
Access email marketing capabilities on your Android phone with the mobile add-on
GMass Cons
GMass Pricing
GMass offers three comprehensive pricing plans:
Free: supports all features except auto follow-ups + sending 50 emails per day
Individual:

Minimal: $8.95/month — supports all features except auto follow-ups + unlimited email sends
Standard: $12.95/month — supports all "Minimal" features + removes the GMass footer from emails
Premium: $19.95/month — supports all "Standard" features + auto follow-ups
2. Mailchimp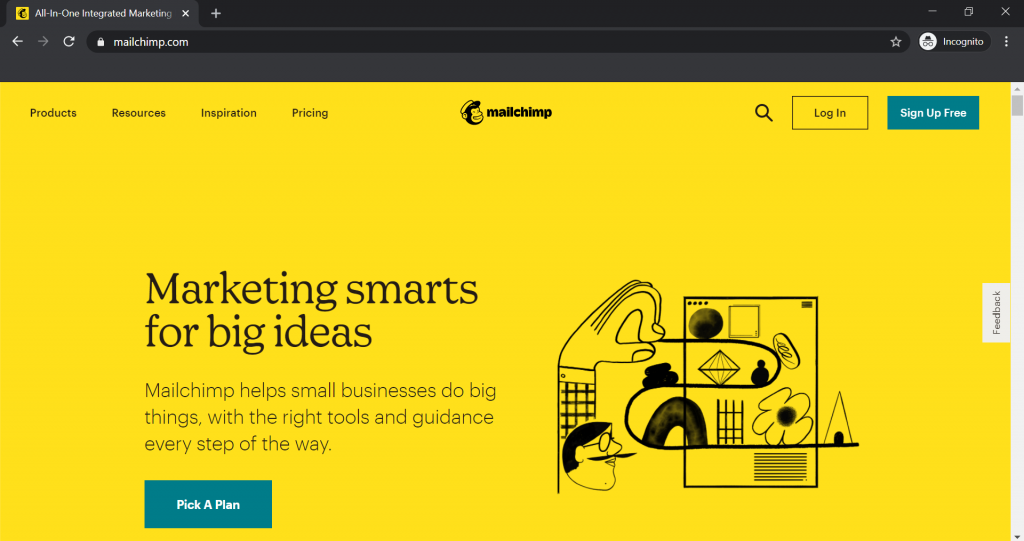 Mailchimp is an email marketing tool that helps you send bulk email campaigns, set up email automation, and create landing pages.
Check out my in-depth Mailchimp review.
Mailchimp Key Features
Marketing API to sync emails, manage campaigns, and send transactional or marketing emails directly from your website or app
Advanced list segmentation to organize your contacts into different segments for improved targeting
Integrations with apps like PayPal, Calendly, Asana, etc., to boost email management capabilities
Advanced automation to send transactional emails, build a personalized customer journey, and optimize email send times
Mailchimp Pros
Drag-and-drop editor makes it easy for any marketer to create email designs and templates.
Detailed reporting that includes clients, geo-tracking, Google Analytics, and social media
Easily import contacts from spreadsheet software like Google Sheets and Excel, and CSV or TXT files.
Mailchimp Cons
Difficult to navigate the user-interface and personalize settings
Pricing quickly gets expensive when adding more contacts
Limited customer support for users of the "Free" plan
Mailchimp Pricing
Mailchimp offers four pricing plans:
Free: supports up to 2,000 contacts and one audience (subscriber) + 10,000 monthly email sends + a free Mailchimp domain + more
Essentials: starts at $9.99/month — supports up to 50,000 contacts and three audiences + 500,000 monthly email sends + A/B testing + more
Standard: starts at $14.99/month — supports up to 100,000 contacts and five audiences + 1.2 million monthly email sends + custom templates + single-step and classic automation builder + more
3. Sendinblue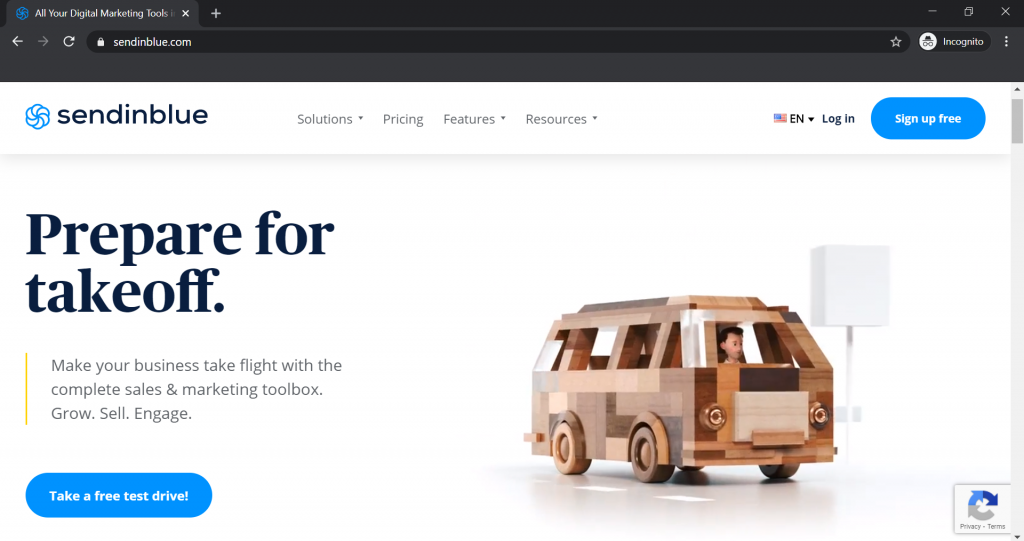 Sendinblue is a digital marketing platform that focuses on email marketing and marketing automation. It also has transactional email capabilities and supports Facebook Ads management.
Check out my in-depth Sendinblue review.
Sendinblue Key Features
Email template library to create quick email designs for your campaigns
Drag-and-drop editor to create personalized emails for your customer base
Marketing automation workflows to help you with autoresponder needs
Manage ads on a social media platform like Facebook to improve engagement
Personalized SMS marketing campaign support to approach any potential customer on mobile, too
Sendinblue Pros
Unlimited contact lists and segmenting without additional costs
Send Time Optimization improves engagement by choosing the optimal time to send emails
Automatically send transactional emails based on user-interactions on your website or app
Sendinblue Cons
Challenging to set up and has a user-interface that isn't intuitive
Only the "Enterprise" pricing plan allows multi-user access
Extra cost for critical features like A/B testing when on the basic plan (Lite).
Sendinblue Pricing
Sendinblue offers four pricing plans:
Free: supports 300 emails/day + unlimited contacts + SMS campaign management features + Zapier integration
Lite: starts at $25/month — supports 100,000 emails per month + all "Free" plan features + no daily email sending limit
Premium: starts at $65/month — supports 1 million emails per month + all "Lite" plan features + unlimited automation + Facebook Ads + live chat + landing page
4. Pabbly Email Marketing
Pabbly Email Marketing is an email marketing and marketing automation platform that helps you send promotional emails. It comes with built-in SMTP capabilities and can also integrate with other SMTP providers.
Check out my in-depth Pabbly review.
Pabbly Email Marketing Key Features
List management to organize and manage your subscribers from one place
SMTP routing to connect with SMTP providers like Amazon SES and Mailgun, etc.
Marketing automation to deliver your emails based on a pre-set schedule
MX cleaner to remove invalid or unresponsive email addresses from the mailing list
Email tracking to identify the number of emails delivered, opened, and clicked
Pabbly Email Marketing Pros
Drag-and-drop email builder lets you quickly create email designs for campaigns.
Zapier integration allows you to connect it with several external web applications.
Pabbly can add subscription forms to your websites to capture leads.
Pabbly Email Marketing Cons
Users can't send any emails using the "Free" plan.
The built-in SMTP service for sending your emails isn't easy-to-use.
There's no mobile app to manage email campaigns from your smartphone.
Pabbly Email Marketing Pricing
Pabbly Email Marketing offers four pricing plans:
Free: simply to explore the features
Rookie: $29/month — supports up to 5,000 subscribers + MX cleaner + drag-and-drop builder for emails + add multiple SMTPs + subscription forms + Zapier integration + list management + more
Advance: starts at $99/month — supports 50,000+ subscribers + all features are included
5. MailerLite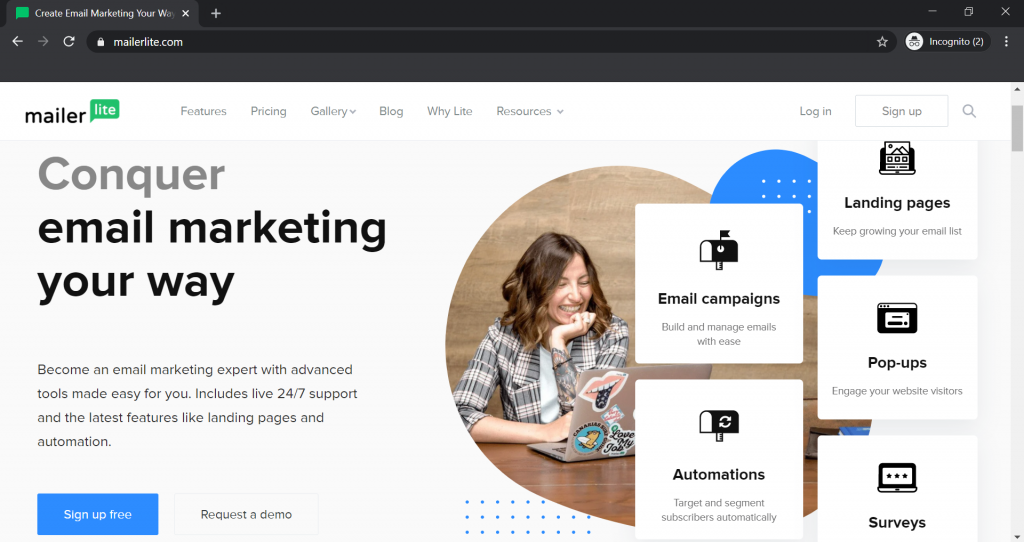 MailerLite is an email marketing tool with a built-in editor, subscriber management capabilities, automation features, and campaign reports.
MailerLite Key Features
A/B split testing to identify your most effective emails
Campaign reports to track opens and clicks, which devices your customers used to view these emails, and so on
Drag-and-drop landing page creator to help you design custom landing pages
Responsive website forms to generate new leads
MailerLite Pros
Send automated emails, such as abandoned cart emails, to customers directly from your ecommerce website.
Email templates help you save time while creating appealing email newsletters for your business.
Automatically personalize your emails by customizing the name, subject, and content, etc.
MailerLite Cons
Challenging to set up, and it takes time to get familiar with the user interface.
Users report deliverability issues like emails ending up in the promotions folder.
MailerLite Pricing
MailerLite offers the following pricing plans:
Free: supports up to 1,000 subscribers + drag-and-drop editor + file manager + landing pages + subscriber management + automated campaigns + email campaign reports + more
Premium: starts at $10/month — supports 1,000+ subscribers + all "Free" features + unlimited emails + live chat support 24/7 + remove MailerLite logo + newsletter templates + custom domains + more
Final Thoughts
GetResponse is a decent email marketing platform.
However, the tool still falls short because of its difficult-to-use interface and the lack of a free plan.
Fortunately, it has tons of capable email marketing software competitors like GMass.
GMass is the perfect GetResponse alternative since it offers superior outreach capabilities to businesses of all sizes.
With GMass, you can send personalized bulk emails, set up automated follow-ups, build custom mailing lists, and do so much more.
So why not try GMass today and skyrocket your campaign performance?
And while you're at it, check out why GMass is a fantastic Mailchimp alternative and a compelling rival to other email marketing software like: