GMass takes a different approach to reporting and analytics than most Email Service Providers, and in this article learn how to access and analyze email campaign data.
There are two places you can access detailed campaign reports: inside Gmail, and on the web. We take this dual approach so that you can easily access campaign reports while on the go, inside the Gmail app on iPhone and Android, and in a more real-time way on the web. The web-based report contains some extra charts and graphs showing a time-based distribution of opens and clicks.
Web-based Responsive Reports
The web-based campaign report is beautiful, easily accessible, and works on desktop and mobile. Here's what it looks like.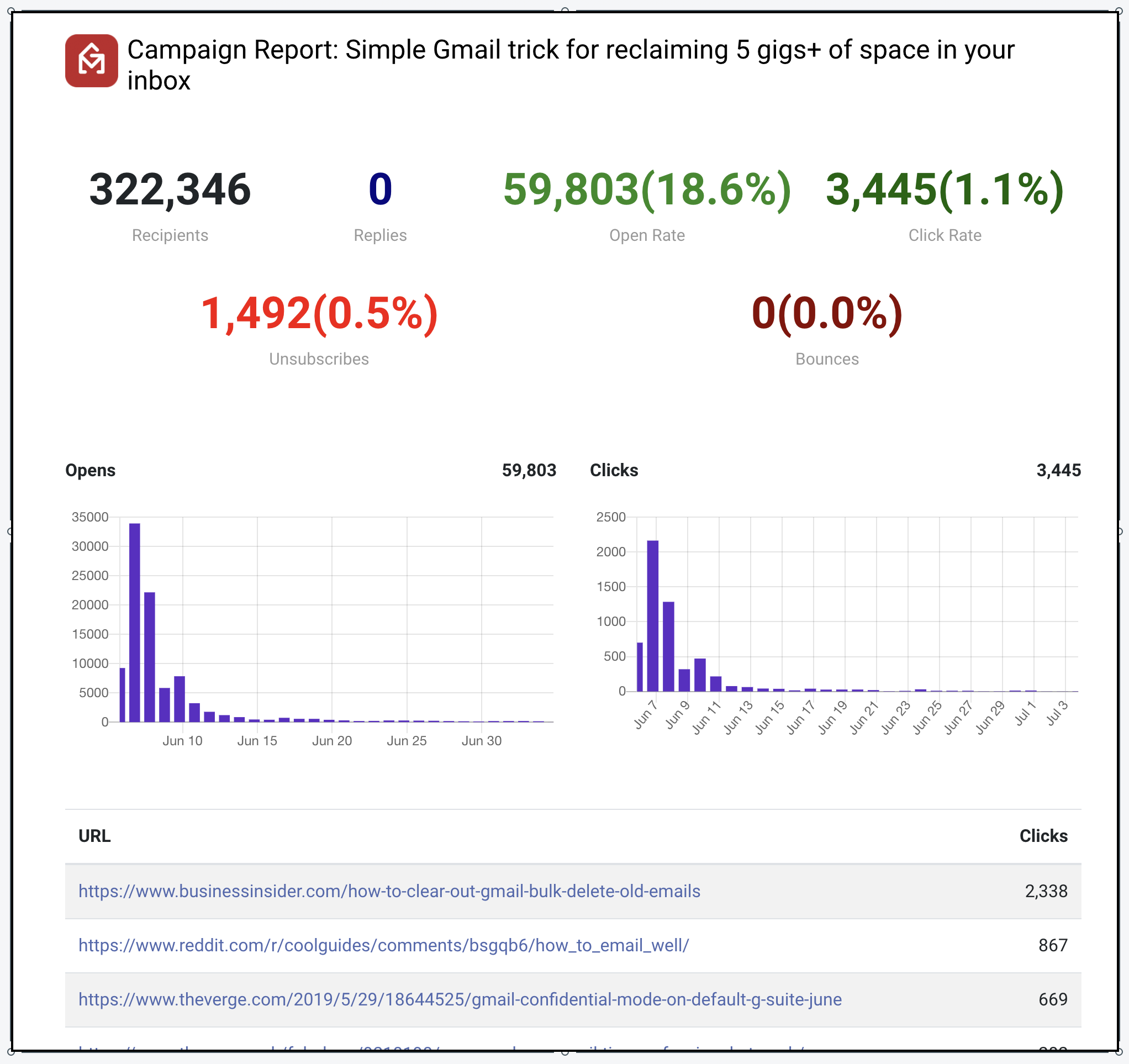 Where's the link?
You can get a link to new report from either a "send confirmation" email you get after a batch of emails is sent or from the Gmail-based report that is found under the GMass Reports –> [CAMPAIGNS] Label. Both contain a link to the campaign's real-time responsive report.
screenshot of link inside gmail
(highlight the fact that it's inside the GMass Reports–>CAMPAIGNS label AND the "realtime web report" link.
screenshot of link in a "send" notification
(highlight the "View Report" link without showing the URL it goes to)
Why the web-based report?
In the past, we've always kept the user experience of GMass inside Gmail, and as such, campaign reports were placed inside a Gmail Label, so they could be viewed easily on desktop or from the Gmail app on iOS and Android. This technique, while creative, limits the interactive capabilities of the report. Our new responsive campaign report is a launch pad for a lot of cool things to come, like the ability to search for a single recipient inside the campaign report and get detailed data, like the full list of open events, for that recipient.
Live Feed
The web-based report has a live feed showing opens, clicks, and unsubscribes in real-time. No need to reload this report — the stats update on their own via AJAX.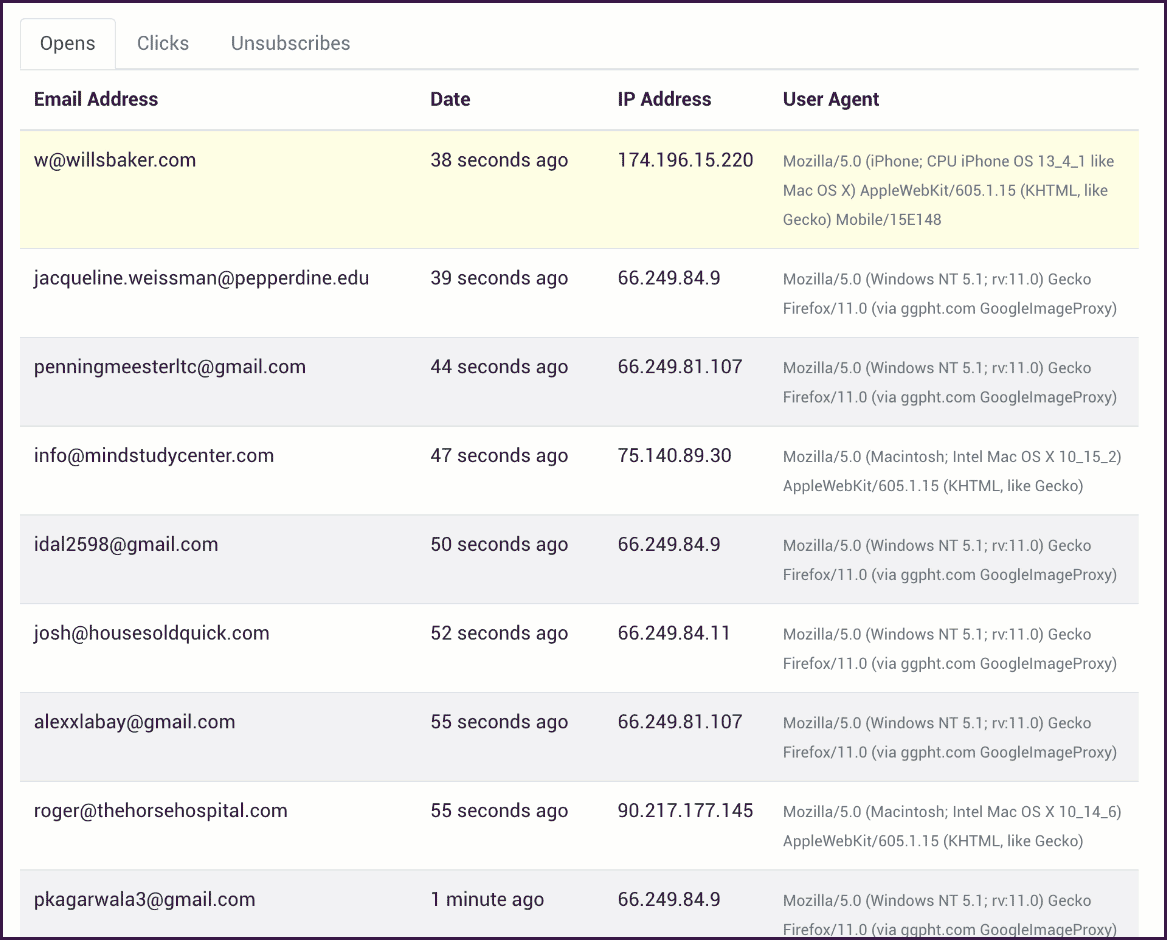 Inside Gmail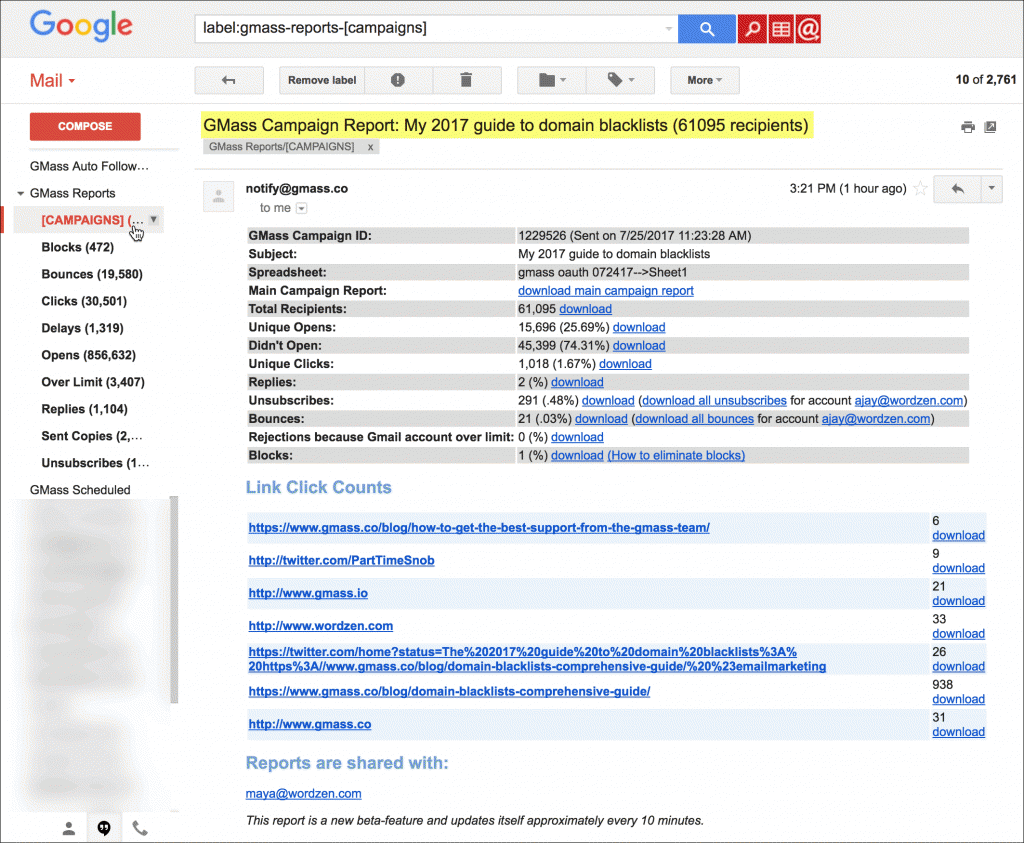 Why inside a Gmail Label?
We took this approach for several reasons:
It allows you to easily access your reports whether you're using Gmail on your desktop or whether you're using the Gmail app on your mobile device.
You never have to log in to a separate website. You only need to be logged into your Gmail account.
The rest of the GMass experience happens inside your Gmail account, and so we figured Reports should "happen" inside your Gmail account too.
We believe we've taken the best approach by keeping the entire GMass experience, including reports, inside your Gmail account.
The top level Campaign Report
The most important report you'll want to look at after sending an email campaign is the campaign-level report.
This report is founder the Label GMass Reports –> [CAMPAIGNS].
This is a report that summarizes all of your data in one screen. Important details like how many emails were sent, and out of those sent emails, how many people opened your email, and how many people clicked a link in your email, and so on.
Here's a sample campaign report from my own account: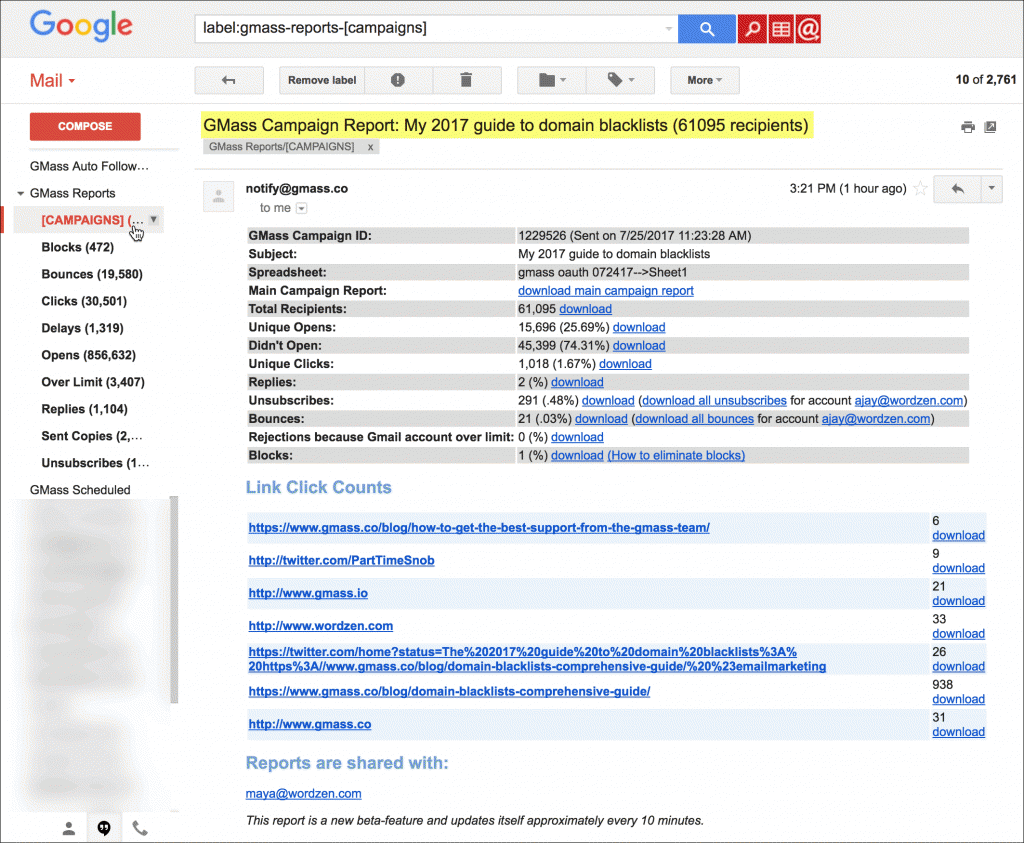 Let's start at the top and explore what this report shows.
It starts with a campaign ID. The campaign ID is a unique identifier for every mail merge campaign you send with GMass. If you ever need help understanding a campaign, make sure to provide our Support team with the campaign ID. Next is the Subject Line, which is self-explanatory. If your campaign was connected to a Google Sheet, the spreadsheet name is listed next.
If you're not getting reports inside Gmail
There could be a several reasons you're not seeing a report for your campaign:
You didn't enable Open Tracking. Campaign-level reports are triggered whenever there's an "open" on your campaign. That's how GMass "decides" when to generate this report and insert it into your [CAMPAIGNS] Gmail Label. If there are no opens, then this report will never be generated automatically.
You did enable Open Tracking, but your email was a plain text email rather than an HTML email, which means that opens still won't be tracked.
There haven't been any opens in a while, so the report hasn't been refreshed. There might have been other activity, like clicks or replies or bounces, and so your statistics have been updated internally, but no report has been generated.
If any of these are the case, you should manually request a campaign report.
Event Logs for Opens, Clicks, and Unsubscribes
Anytime an email is opened, clicked, or unsubscribed from, GMass places a notification in a corresponding Label. The notifications in these Labels serves as an event log for activity in your overall account. For example, you can see a live feed of all opens for all your GMass campaigns in the GMass Reports –> Opens Label.
A notification is added to the GMass Reports –> Opens Label anytime an email is opened.
A notification is added to the GMass Reports –> Clicks Label anytime a link in an email is clicked.
A notification is added to the GMass Reports –> Unsubscribes Label anytime someone unsubscribes.
Why do this? First, if you ever want to send a new campaign to everyone that's ever opened any email from you, or anyone that's ever clicked a link in any email from you, can easily do so by going to the appropriate Label, and clicking the magical build email list button. Secondly, if you're monitoring your campaign activity from your mobile device and you use the Gmail app, you can go to the appropriate Label and watch notifications appear and feel confident that people are engaging with your campaign. It's an easy way to watch real-time activity on your campaign wherever you are and whatever device you're using, whether it's a laptop or mobile phone.
Replies, Bounces, and Blocks
After you send an email campaign, GMass scans your Inbox looking for replies, bounces, and blocks.
Replies are left in your Inbox and labeled GMass Reports –> Replies.
Bounces are removed from your Inbox and placed in the GMass Reports –> Bounces Label.
Blocks are left in your Inbox and also labeled GMass Reports –> Blocks.
Typically, the Replies, Bounces, and Blocks Labels are applied within a couple hours after they arrive in your Inbox. For more information on how GMass categorizes and labels these messages, see the post on automated reply management. To understand how replies are found and the timing of GMass detecting replies, see our detailed article about replies.
Manually request a campaign report inside Gmail
As a GMass user sending mail merge campaigns from your Gmail account, you are likely aware that campaign-level reports are sent to the [CAMPAIGNS] Label, which is a sub-Label of the GMass Reports Label. Campaign-level reports are updated every 10 minutes, as new campaign activity is recorded, like opens and clicks, however, if open-tracking is turned off, then a campaign report may never appear.
Therefore in certain situations, you may want to manually request a campaign report. These situations include:
You haven't received a particular campaign report, because you had open-tracking turned off.
You have turned off GMass report notifications, in which case you will never receive a campaign report.
You wish to see the campaign report for an old campaign that was sent before GMass campaign reports existed.
To request a campaign report on demand, follow these instructions:
I've set 552127 as the Subject, since that is the Campaign ID. After hitting the GMass button, my campaign report will be generated.
Launch a new Compose window in Gmail.
Set the To field to report@gmass.co.
Enter the campaign ID of the campaign whose report you would like in the Subject field. If you do not know the campaign ID, you can find it in the email confirmation you received after the campaign finished sending. This email message will contain the campaign ID or a "Schedule ID". Either ID is acceptable.
Click the red

GMass

button. Do not click the Gmail Send button. You must click the red

GMass

button.
Go to the [CAMPAIGNS] Label under GMass Reports and you will see your new report.
Share Reports with other Gmail accounts
If you have team members, whether internal or external to your organization, with whom you would like to share your GMass Campaign-level Reports, you can now do that. By sharing reports with others, every time a report is updated under your GMass Reports –> [CAMPAIGNS] Label, each person with whom you are sharing will get the same updated report in his/her account.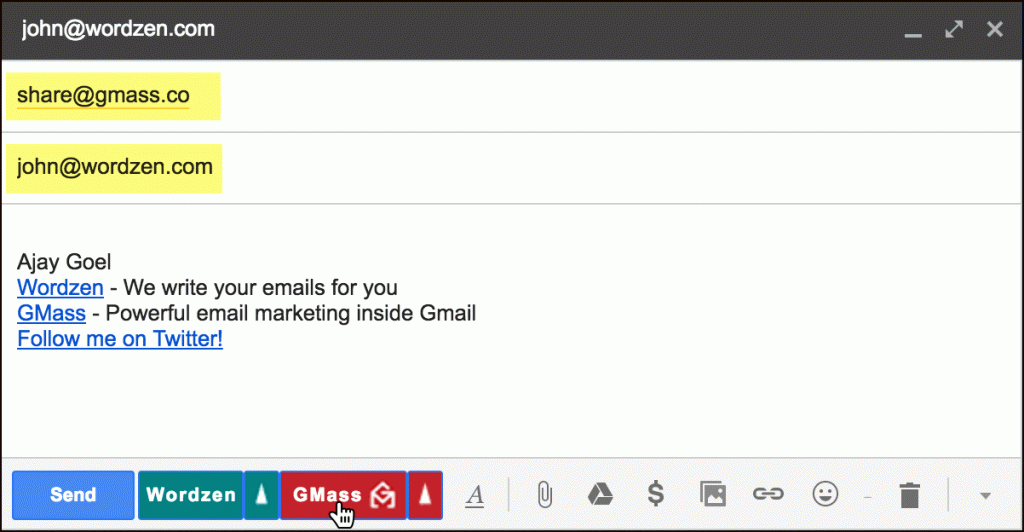 Click Compose to launch a new window.
Set the To field to share@gmass.co.
Set the Subject to the email address of the account with whom you wish to share your reports. My email address is ajay@wordzen.com and I want to share my reports with john@wordzen.com, so I would set the Subject to john@wordzen.com.
Hit the GMass button. Do not hit the Send button.
Revoke access to your campaign reports
Follow the same procedure as above except set the To field to revoke@gmass.co.
FAQ on Report Sharing
Q: Does sharing my reports with another user give them any other access to my Gmail account?
A: No. Sharing your reports only sends a copy of your campaign-level reports to them. People you share with cannot see anything in your Gmail account, nor can they send GMass campaigns on your behalf.
Q: Can I share my reports with people who don't use Gmail?
A: No. You can only share reports with existing GMass users, and all GMass users obviously have Gmail accounts.
Q: Can I share my reports with people who aren't paying GMass subscribers?
A: Yes. You can share reports with any other GMass users, whether they have free accounts or paid accounts.
Q: How can I see everyone I'm currently sharing reports with?
A: If you're sharing reports, then each campaign report in GMass Reports –> [CAMPAIGNS] will have a section at the bottom detailing with whom the report is being shared.
Understanding the Main Statistics
The core statistics for an email campaign are:
Total Recipients: Total number of email addresses that this campaign sent to.
Unique Opens: Total number of email addresses that have opened the email. This is NOT the total number of Opens, since usually there are multiple opens registered for a single email address.
Didn't Open: Total number of email addresses that have NOT opened the email.
Unique Clicks: Total number of email addresses that clicked at least one link in the campaign. Will only show if click tracking was turned on and your email contained trackable clicks.
Replies: Total number of email addresses that replied to the campaign. Note that GMass may take a couple hours after a reply is received in your Inbox to detect the reply and update this stat.
Unsubscribes: Total number of email addresses that clicked the Unsubscribe Link, if it was inserted into the campaign.
Bounces: Total number of email addresses that came back as undeliverable because the address is invalid. Bounce detection is part of the automatic reply management feature.
Rejections because Gmail account over limit: Total number of email addresses that were not sent to because Gmail limited your account's sending ability.
Blocks: Total number of email addresses that came back as undeliverable because the address rejected your email as spam.
Download Campaign Data
All of the reporting data is downloadable directly from this report. Just click the download link next to each statistic. If you use the download main campaign report option, you will download a CSV that contains a full list of your recipients, any personalization data that was a part of the original spreadsheet, and columns indicating whether that recipient opened, clicked, unsubscribed, bounced, or replied. You can then import this CSV file a new Google Sheet for safekeeping and future mail merge campaigns.
Access this report from the [CAMPAIGNS] Label under "GMass Reports" on the left side of Gmail.
Just click the "download" link shown above to download a CSV file of the report. It will look like this.
This is the actual CSV file containing all the reporting data for this email marketing campaign.
You can also download your account's complete Unsubscribe and Bounce lists using the download all link next to each statistic.
Warning: Don't forward this report
Because the campaign report contains download links to your full recipient lists, we recommend you only forward this report to people you trust to have access to your email marketing data.
Domain Reports
The domain report shows a breakdown of all domains sent to for a particular campaign, along with the opens, clicks, bounces, and blocks on a per-domain basis.
Here's an example of the domain-level report from a campaign I recently sent to all of my users:
You don't need to do anything to get this update. Starting now, you'll notice that new Campaign Reports that arrive under the GMass Reports –> CAMPAIGNS Label will include the domain-level report.