Searching for a knockout transactional email service?
Transactional email services help you send one-to-one transactional emails to customers. These emails are usually automated real-time responses to specific customer actions on your website, web app, or mobile app.
In this article, I'll highlight the five best transactional email services, as well as their key features, pricing, and limitations. I'll also mention how you can easily enhance the functionalities of these email services.
This Article Contains:
(Click on a link to jump to that specific section.)
Let's dive right in.
What Are Transactional Email Services?
Transactional email services help you send automated emails to users based on their mobile application or website interactions. For example, an e-commerce store that runs on a WordPress website can send you automatic email notifications about your purchases.
These automatic, one-to-one messages are known as transactional emails.
Some other common examples of transactional emails are:
Password reset emails
Account creation emails
Order confirmation emails
Financial transaction emails
App notification emails
Subscriber welcome emails
When talking about transactional emails or transactional email services, there are two technical terms you'll come across regularly: SMTP service and email API.
What is an SMTP service?
An SMTP (Simple Mail Transfer Protocol) service allows you to bypass the sending limits imposed by most email clients. For example, Gmail restricts the number of emails you can send to 500 emails/day in a regular account.
Using an SMTP service provider, you can bypass that limit and send virtually unlimited emails without getting your account suspended by mailbox providers like Gmail.
Read more about SMTP in my detailed guide.
What is an email API?
An email API (Application Programming Interface) allows you to access the functionalities of an email marketing tool to send marketing messages and transactional emails directly from your website or app.
5 Best Transactional Email Services
Five of the best email services for sending transactional messages are:
Let's take a closer look at each one.
I'll cover their key features, pricing details, and limitations to help you decide which service best fits your needs.
1. SendGrid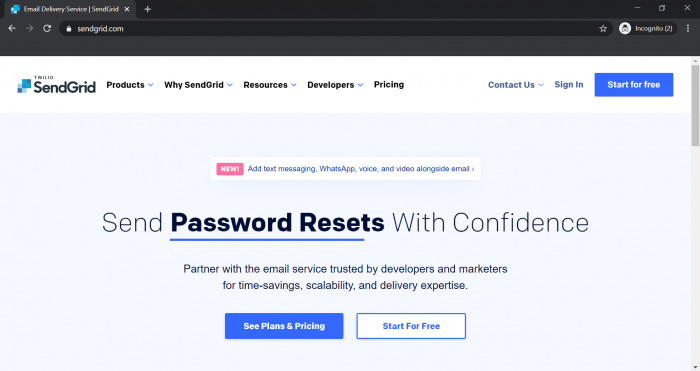 Twilio SendGrid is a cloud-based email marketing and SMTP service provider that helps you send both transactional and promotional emails.
Check out my in-depth SendGrid review.
What You Can Do with SendGrid
Send account creation emails, password reset emails, purchase receipt emails, and other types of transactional emails easily.
Use transactional email integration with your website or app using flexible email APIs or Sendgrid's SMTP setup.
Utilize a dedicated IP address (if needed) with email authentication, sending reputation monitoring, A/B testing, and more.
Track how your transactional emails perform based on metrics like the number of emails opened, clicked, and bounced, etc.
SendGrid Pricing
SendGrid offers you four pricing plans for its email API services:
Free plan: supports 40,000 emails for the first month, then 100 emails/day + API key, SMTP relay and webhooks + delivery optimization + drag-and-drop editor to create HTML emails easily
Essentials plan: starts at $14.95/month for 50K emails – includes all "Free" features + live chat customer support
Pro plan: starts at $89.95/month for 100K emails – includes all "Essentials" features + email validation + dedicated IP + sub-user management + additional customer support
Premier plan: Custom pricing (get in touch with the sales support team) — includes all "Pro" features + customer success manager + prioritized customer support
SendGrid Limitations
Confusing user-interface
The SendGrid user-interface can seem complicated and confusing, especially if you're a new user. Several features aren't easily visible at first glance, and you have to toggle through multiple menus to set up your system for sending transactional emails.
Limited features in the basic plan
Although SendGrid offers flexible pricing options, many critical features are missing in the free and basic plans.
For example, in the free plan, you can't set up access for multiple users and sub-users. If you're a business with multiple teams, this could severely restrict your growth.
2. Amazon SES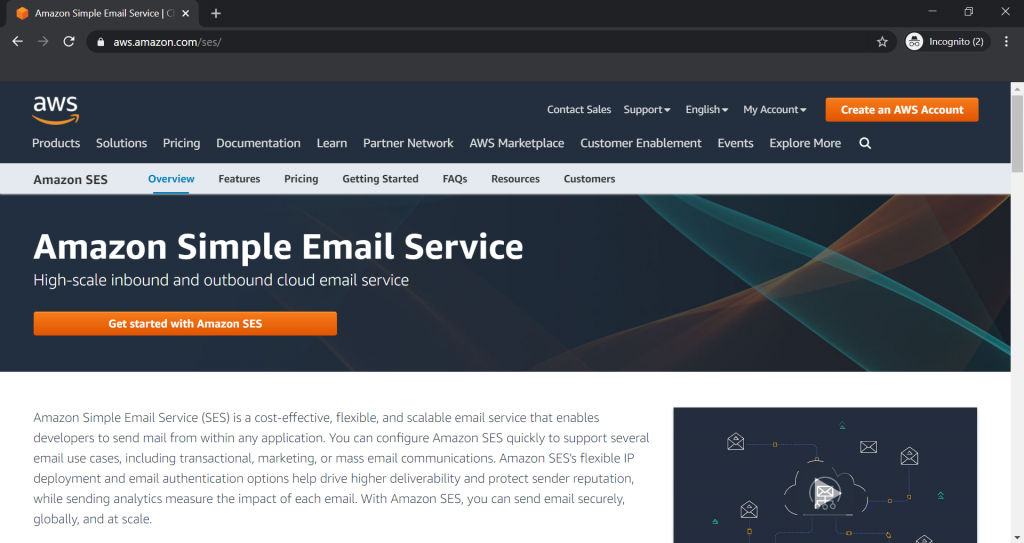 Amazon SES (Simple Email Service) helps you send transactional and bulk emails to your customers.
Read my in-depth Amazon SES review.
What You Can Do with Amazon SES
Send transactional emails efficiently using their cost-effective SMTP service or email APIs.
Access detailed performance reports about your transactional emails. You can view metrics like email deliverability, bounce, delivery rates, and more.
Integrate it with various platforms and web applications like Gmail, Stripe, and WordPress.
Utilize multiple user types such as Sandbox and IAM (Identity and Access Management) to suit various needs.
Amazon SES Pricing
Amazon SES' pricing model includes two tiers:
Free Usage Tier:

62,000 emails each month when Amazon SES is called from an application that's hosted in Amazon EC2 (Elastic Compute Cloud)
Supports 1,000 incoming emails

Paid Tier:

$0.10 for every 1,000 emails sent after the 62,000 emails sending limit if you're using an application hosted in Amazon EC2
$0.10 for every 1,000 emails sent if you're using a separate software package or an email client
$0.10 for every 1,000 emails received after the 1,000 free emails quota
$0.12 per GB of attachment sent and maybe additional charges of using EC2
$0.09 per 1,000 incoming email chunks
Amazon SES Limitations
Requires technical know-how
Amazon SES is super technical and highly complicated to use.
You'll need developer-level knowledge and skills to effectively use their SMTP service, their API capabilities, or to configure their email security protocols.
Limited SMTP capabilities
The number of emails you can send using Amazon SES is limited to 10,000 per day. This pales in comparison to most other dedicated SMTP providers.
Moreover, to cater to geographically dispersed customers, you'll need separate SMTP credentials for different AWS regions. This can be inconvenient, especially if you want to run a  global email marketing campaign.
3. Mailgun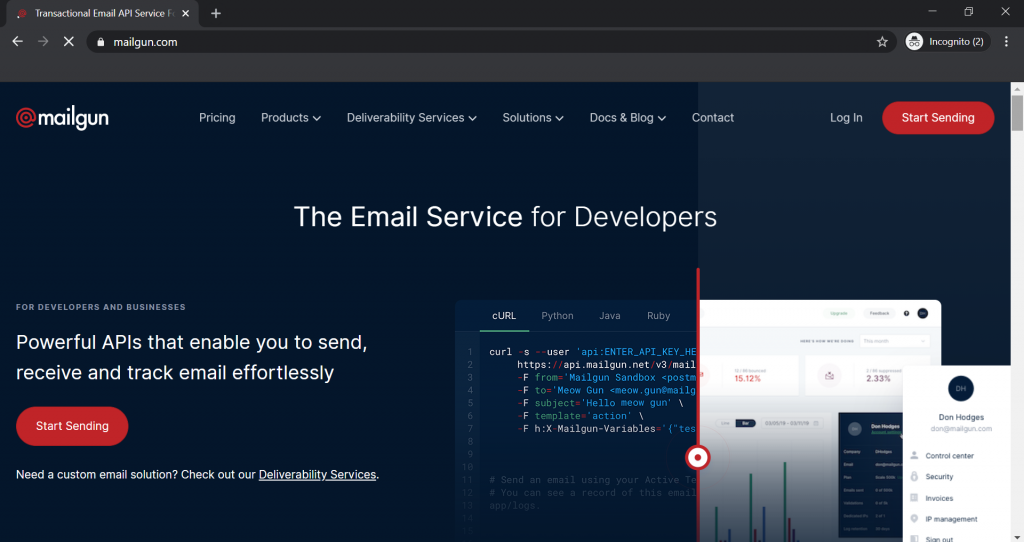 Designed for developers, Mailgun helps you manage emails using professional-strength API and SMTP relay tools.
Read my in-depth Mailgun review.
What You Can Do with Mailgun
Improve your sender reputation through its real-time email validation API and bulk list validation tools. It can also filter out inactive and undeliverable email addresses before you send an email.
Send emails in bursts at a predetermined rate or even send high volumes of emails round the clock using Mailgun's Rapid Fire feature.
Use the Inbox Placement feature to predict email deliverability issues in advance and resolve them proactively. You can determine if your emails made it to the recipients' inboxes, were labeled as spam, or sent directly to the spam folder.
Mailgun Pricing
Pricing plans offered by Mailgun are:
Flex:

5,000 emails/month for free for 3 months
$0.80/1000 emails after the first 3 months
Powerful API for emails, SMTP relay, and webhook forwarders
Email tracking and analytics

Foundation ($35–75 per month):

Everything in the Flex plan
Support for sending 50,000 to 100,000 emails/month
1 dedicated IP for foundation 100K and up
Inbox placement

Growth ($80–650 per month):

Everything in the Foundation plan
Support for sending 100,000 to 1,000,000 emails/month
1 dedicated IP address
10 inbox placement tests

Scale ($90–1,250 per month):

Everything in the Growth plan
Support for 100,000 to 2,500,000 emails/month
1 dedicated IP address
15 inbox placement tests

Enterprise (custom pricing):

Everything in the Scale plan
Support for sending 2,500,000+ emails/month
1 dedicated IP
Advanced deliverability services
Mailgun Limitations
Difficult to set up
For non-developers, setting up and maintaining Mailgun can be complicated. To properly benefit from its mail server and email API capabilities for sending emails, you need good programming knowledge.
If you don't have professional coding experience with Python, PHP, Java or Ruby, Mailgun may not be a suitable tool for you.
Lower-tier users get limited support
Mailgun offers a wide range of pricing options with varying features. However, some crucial features are unavailable in the more affordable plans.
For example, instant chat and live phone service are available only for the upper-tier plans.
4. Postmark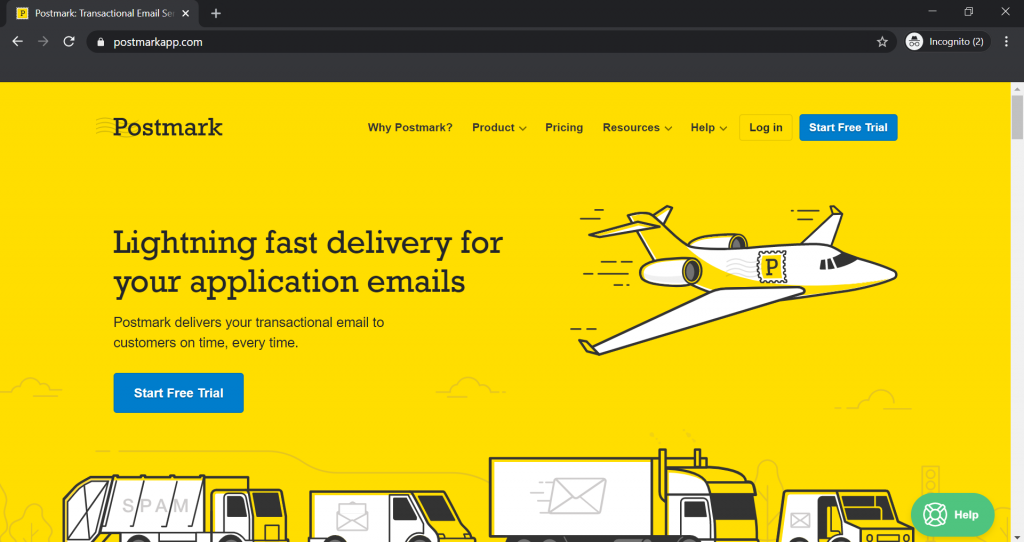 Postmark is an email service provider that helps you send application emails. It offers SMTP and email API services, transactional email services, detailed analytics, and more to businesses of all sizes.
Check out my in-depth Postmark review.
What You Can Do with Postmark
Postmark tries to maintain competitive deliverability rates for transactional emails to improve your email sender reputation.
Use its comprehensive email analytics regarding bounce rates, open rates, and click-through rates, which give you detailed insights into email performance.
You can choose from a wide variety of pre-made, compatible, and responsive email templates to put your emails together easily.
If you are a high-volume sender, you can request a dedicated IP to match your business needs and comfort level.
Postmark Pricing
Here is Postmark's pricing structure breakdown:
10,000 emails – $10 + 1.25 per 1,000 additional emails
50,000 emails – $50 + 1.00 per 1,000 additional emails
125,000 emails – $100 + 0.85 per 1,000 additional emails
300,000 emails – $200 + 0.60 per 1,000 additional emails
700,000 emails – $400 + 0.45 per 1,000 additional emails
1,500,000 emails – $700 + 0.35 per 1,000 additional emails
3,000,000 emails – $900 + 0.30 per 1,000 additional emails
5,000,000 emails – $1,200 + 0.25 per 1,000 additional emails
Postmark Limitations
Expensive pricing
Compared to other transactional email services like Pepipost, Postmark is expensive.
For example, at $50/month, you can only send 50,000 emails. And for every additional 1,000 emails, you'll have to pay $1 extra.
No SMS updates
With Postmark, you can't receive transaction updates on your phone. It also doesn't provide support for transactional message updates as SMS messages.
5. Pepipost
Designed for developers, Pepipost offers SMTP and email API services that focus on efficient inbox delivery.
Check out my in-depth Pepipost review.
What You Can Do With Pepipost
Pepipost's SMTP relay service helps you achieve efficient inbox delivery without having to worry about sending limits placed by your email service provider (for example, Gmail).
The email API service offers integrations with various applications to help send a transactional message effectively. For example, Pepisost has an official plugin for WordPress to directly access your WordPress website's email API capabilities.
You can create multiple subaccounts within a master account. Each subaccount is complete with its account settings, login and SMTP credentials.
SPF and DKIM security protocols come built-in with the system, and users can also use the DMARC policy for additional email security.
What are SPF, DKIM and DMARC?
SPF (Sender Policy Framework) and DKIM (DomainKeys Identified Mail) are security protocols used to prevent malicious senders from sending emails on your behalf.
DMARC (Domain-based Message Authentication, Reporting, and Conformance) checks if incoming emails from a sender are protected by SPF or DKIM and reports back to the sender if both protocols fail.
Pepipost Pricing
The pricing breakdown for Pepipost is:
150,000 emails at $17.5/month, and $0.60 for every 1000 extra emails.
400,000 emails at $59.5/month, and $0.55 for every 1000 extra emails.
600,000 emails at $101.5/month, and $0.50 for every 1000 extra emails.
1,000,000 emails at $171.5/month, and $0.45 for every 1000 extra emails.
2,000,000 emails at $311.5/month, and $0.40 for every 1000 extra emails.
They also offer a free plan that lets you send 30,000 emails in the first 30 days and a "forever free" account limited to 100 emails a day.
Pepipost Limitations
Complicated user-interface
The Pepipost interface is challenging to use. For example, to send a test email, you'll have to scroll and toggle through multiple windows.
No mobile support
Pepipost doesn't offer a mobile app for Android or iOS devices. This makes it inconvenient to monitor transactional emails when you're on the move.
Want to take a look at other transactional email services? Read my in-depth reviews of:
How To Enhance The Functionality Of Transactional Email Services: Using GMass
While the five transactional email services I covered above are excellent, each tool comes with its downsides.
Don't worry. To overcome these limitations, just connect these transactional email services with GMass — the best email outreach platform for Gmail.
Wait, what's GMass?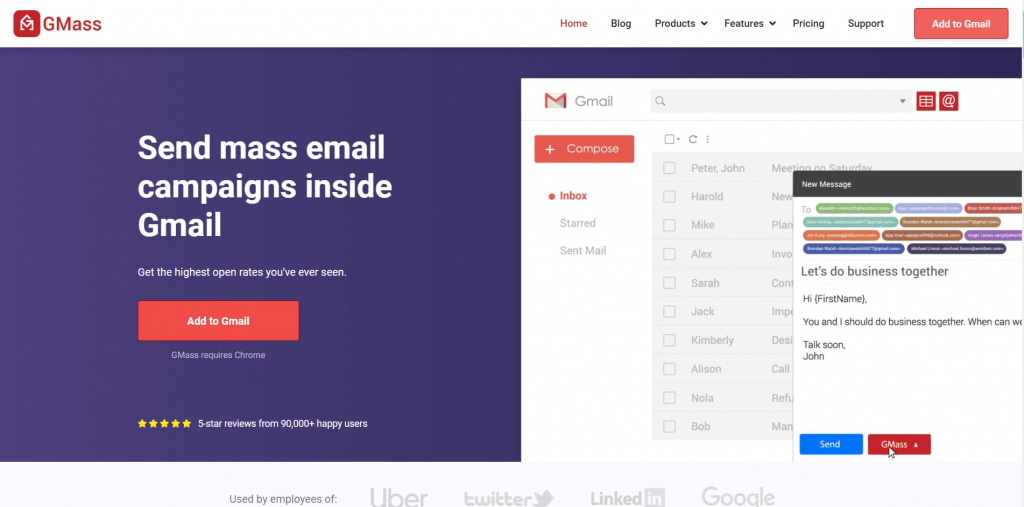 GMass is a powerful email marketing platform and marketing automation software that works within Gmail. It's used by employees across social media firms like Twitter and LinkedIn, and large companies like Google and Uber for its superior outreach capabilities.
GMass' simple interface and advanced customizations also make it an ideal software for small businesses, churches, and solopreneurs.
The best part?
To use GMass to enhance your transactional emails, simply download the Chrome extension and sign up using your Gmail account.
How GMass Enhances Your Transactional Email Service: Using GMass
Here's a quick look into how GMass elevates your transactional email experience:
And that's not all.
You can also schedule bulk emails in advance, send personalized bulk emails, perform a Google Sheets mail-merge, and more!
To know more about modifying the SMTP server settings to connect GMass to your transactional email service, read my guide on Gmail SMTP settings.
Final Thoughts
Transactional email services help you deliver automated emails triggered by user interactions on a website, web app or mobile app.
While the transactional email services I've covered here are all great, it's clear that each tool comes with specific limitations.
Luckily all you have to do to overcome that is to use GMass' SMTP integration.
With its powerful outreach features and ease-of-use, GMass helps you take your ideal transactional email service to a whole other level.
So why not sign up for GMass today and take your transactional email game up a notch?